[All notes below by Tom Gross]
THE VILLAS OF HEBRON: NOT WHAT YOU SEE ON THE BBC
Last week I went to Hebron for a meeting with the mayor, a prominent Palestinian businessman. Then we dined at a restaurant called "Abu Mazen's" (complete with a large photo of Saddam Hussein and Yasser Arafat embracing each other up on the restaurant wall) and then I went to Palestinian police headquarters where I met the head of PA (Fatah) police.
I won't write about the content of our conversations here, but I do want to remark that the sheer number of enormous villas one sees springing up all around the Arab parts of Hebron (as opposed to the Jewish quarter where there is a housing freeze), the packed Palestinian shops and restaurants, the many Mercedes and other plush cars jamming Hebron's streets, offer a very different picture from the myth of dire Palestinian poverty that many international journalists try to sell to their readers. In Nablus too last week a new cinema complex, called Cinema City, opened.
And as I noted in a dispatch earlier this month, a luxury new shopping mall also opened a few weeks ago in Jenin. There are photos of it if you scroll down here.
***
An exception to the biased media coverage was an article last week in The Christian Science Monitor, headlined "In Palestinian town, business booms."
The article began: The downtown streets in this Palestinian city bustle with pedestrians and echo with the bleating of taxis vying for road space… "Work is great. We have not had this amount of business in years," says Hamada Abu Islam, a toy-store owner in central Nablus who attributed the change to improved local law enforcement and the easing of Israeli checkpoints near the city. "I hope it will stay this way." …
DOZENS OF CONFLICTS IN THE MIDDLE EAST HAVE NOTHING TO DO WITH ISRAEL
Below I attach a piece by Dennis Ross and David Makovsky – both of whom are subscribers to this email list – from The New York Times.
They point out that there have been dozens of conflicts and countless coups in the Middle East since Israel's birth in 1948, and most were completely unrelated to the Arab-Israeli conflict. Many of these conflicts were long, bloody, and very costly.
Since the origins of so many regional tensions and rivalries are not connected to the Arab-Israeli conflict, it is hard to see how resolving it would solve them, as Tony Blair and others claim. In addition, as tragic as the conflict between Israelis and Palestinians may be, it has not spilled over to destabilize the Middle East.
ISRAELI LEFT ALSO DISMAYED WITH OBAMA'S CLUMSY APPROACH TO PEACEMAKING
The hard-hitting and clumsy approach that the Obama administration has adopted towards Israel continues to be criticized across the political spectrum in the Jewish state, by the left as well as by the right. Obama and Rahm Emanuel appear to be in the grip of the outdated 1990s-style approach to Middle East peacemaking that the radical American-Jewish group J-Street (with whom Rahm Emanuel has links) advocates.
For example, Ari Shavit, the leading center-left columnist for the leftist paper Ha'aretz, writes:
"The new United States is trying to wean Israel from its bad habits by means of the teacher's ruler. Even as it bows and scrapes to Saudi Arabia and is scrupulously careful of Iran's honor, it humiliates Israel. The president's feet on the table were a message. The goal is a well-trained, obedient Israel.
"The United States is a superpower. If the United States wants a broken, battered Israel, it will get a broken, battered Israel. This is a collision between a tank and an ATV, between a stealth bomber and a glider. But the question the White House ought to be asking itself is whether riding roughshod over Israel serves its goals – whether a crushed Israel is an American interest.
"The answer is unequivocal: no. Already, Israel's public humiliation is hurting America. It is making even moderate Arabs unwilling to contribute anything to advancing the diplomatic process. And without a significant Arab contribution, there will be no diplomatic process.
"But a continued tough love policy toward Israel is liable to do damage that is far more serious – and irreversible. Without a strong Israel, a Middle East peace can neither be established nor survive. Without a strong Israel, the Middle East will go up in flames."
***
For some amusing anecdotes about Rahm Emanuel, please see here.
"THEY HAVE ONLY ONE OBSESSION"
In an editorial, the Israeli paper Ma'ariv derides Irish Nobel Peace Prize laureate Mairead Corrigan-Maguire who was recently detained – and subsequently released – when she and other international activists attempted to breach the naval blockade on the Hamas-controlled Gaza Strip.
Ma'ariv writes: "Of all the injustices in the world, and there are many, she is bent on identifying with a population that elected a strongly anti-Semitic movement, the goal of which is the destruction of Israel, and whose charter is based on the Protocols of the Elders of Zion… Why the silence of left-wing activists over recent events in Iran? Because neither global justice nor genuine suffering interests them. They have only one obsession – Israel."
THE IDIOCIES OF NAOMI KLEIN
There are many naïve and utterly ill-informed Western activists who have adopted the Palestinian cause, but one of the most foolish is Naomi Klein, the Canadian anti-globalization celebrity author of "No Logo".
In her latest ridiculous pronouncement on Middle East politics, speaking to Ramallah's intellectual elite in a packed auditorium last week as part of her Palestine tour, Klein announced:
"I'm a Jew by the way. Never again to everyone, or never again to us? [Some Jews] think we get one get-away-with-genocide-free card."
Before that, on arriving at Ben Gurion airport last week, Klein went straight to a demonstration against Israel's separation barrier, which has saved countless Israeli Arab and Jewish lives, before moving on to an event at the American Colony Hotel in east Jerusalem. The invitation to the event was one of the most pompous I've ever seen.
Klein has repeatedly called for an economic and cultural boycott of Israel. "It certainly would have been a lot easier not to have come to Israel, and I wouldn't have come had the Palestinian Boycott National Committee asked me not to," said Klein in an interview at her Toronto home before she left for Israel.
"I try to be consistent in the way I act in conflict areas; I don't want to act in a normal way in a place that seems very abnormal to me. When I was in Sri Lanka after the tsunami, I didn't go to cocktail parties and also in Iraq no cocktail parties," she added.
Last April Klein attended the Durban 2 conference in Geneva, and strongly criticized the Jewish students who demonstrated against Iranian President Mahmoud Ahmadinejad.
ISRAELI ASSESSMENT: MUBARAK IS EXHAUSTED AND WILL NOT COMPLETE HIS TURN
The Israeli paper Ma'ariv reports that Israeli intelligence has concluded that Egyptian President Hosni Mubarak, who is 81, is exhausted and will probably not complete his current presidential term. Instead, they believe, he will retire beforehand and try to transfer power to his son Gamal.
The death of Mubarak's 12-year old grandson Mohammed two months ago greatly weakened the president and lowered his spirits and this may hasten his decision to retire early from political life, according to the article.
Mubarak has recently looked "very weak, his speech is slow and his public appearances look forced. He is not the same Mubarak as in the past."
Mubarak has been in office for 28 years. He assumed power in 1981, after the assassination of his predecessor Anwar Sadat. In September 2005 he was "elected" for a fifth term, which is due to end in two years.
"EGYPT DROPS BID FOR PALESTINIAN UNITY GOVERNMENT"
Egypt has ceased its efforts to mediate the formation of a Palestinian national unity government between the rival factions Hamas and Fatah, Israel Radio reported over the weekend.
Israeli officials who met with senior Egyptian intelligence officers said that Cairo is instead proposing that two separate governments – the Hamas regime in Gaza and the Fatah-led Palestinian Authority in the West Bank – continue to function until general elections are held at an unspecified date in the future.
Hamas told the Egyptians that it is demanding that Fatah release all of the group's members who are currently in Palestinian Authority prisons before the resumption of reconciliation talks in Cairo.
A sixth round of Egyptian-brokered talks between Fatah and Hamas adjourned without agreement two weeks ago. The Palestinian parliamentary elections were initially supposed to be held in January this year, but were postponed due to the continued divide between Fatah and Hamas.
***
Hamas's "morality police" continue to impose Islamic rule in Gaza. Young Palestinian women have been banned from swimming unless they are covered from top to bottom. And women have been banned from entering coffee shops, restaurants and other public places unless they are escorted by male relatives.
EU'S SOLANA CALLS FOR UN TO RECOGNIZE PALESTINIAN STATE EVEN IF PALESTINIANS DON'T
The European Union's foreign policy chief called for the UN Security Council to recognize a Palestinian state by a certain deadline even if Israelis and Palestinians have not reached agreement among themselves.
Solana made his comments on Saturday at a lecture in London. "After a fixed deadline, a UN Security Council resolution should proclaim the adoption of the two-state solution," he said, adding "this should include border parameters, refugees, control over the city of Jerusalem and security arrangements."
"It would accept the Palestinian state as a full member of the UN, and set a calendar for implementation. It would mandate the resolution of other remaining territorial disputes and legitimize the end of claims. If the parties are not able to stick to it (the timetable), then a solution backed by the international community should be put on the table."
ISRAEL: SOLANA'S REMARKS ARE "DANGEROUS"
Israel's foreign ministry yesterday dismissed Solana's remarks as "dangerous" ones that could lead to war.
"Resolutions 242 and 338 of the United Nations, the roadmap peace plan and agreements between Israel and the Palestinians all cautiously determine that the solution to the Israeli-Palestinian conflict will only be reached through negotiations by the sides," the ministry said in a statement.
The Foreign Ministry added: "Israel has called more than once for the immediate renewal of the talks without preconditions.
ABBAS AGAIN REFUSES NETANYAHU'S OFFER TO MEET
Meanwhile, Palestinian Authority President Mahmoud Abbas reiterated again yesterday his refusal to resume peace talks with Israel or to meet Prime Minister Benjamin Netanyahu at the present time. Abbas's remarks came in response to an appeal from Netanyahu made during the Sunday cabinet meeting in which the Israeli prime minister called for the two leaders to revive the stalled peace process.
Abbas was speaking to reporters in Ramallah after meeting with visiting Romanian President Traian Basescu.
A BAD DAY FOR CHRISTIANS IN BAGHDAD
Yesterday was a bad Sunday for Christians in Baghdad. Seven churches were bombed in Palestine Street, Kerada and Dora. At least fourteen people were killed, many as they attended services in church. Please refer to past dispatches on this last for further details about the ongoing persecution of Arab Christians by Islamic radicals in the Middle East.
DETAINED IRANIAN ELECTION PROTESTERS REPORTEDLY TORTURED
A man released from a Tehran detention center told Radio Farda that Iranians arrested during post-election protests are being beaten with batons and given electric shocks. "Those whose bodies were burned during the protests were forced to lie naked on hot asphalt in the sun," he said. "They begged for water, and although there was a tap nearby, they were not allowed to drink."
Story and photo here.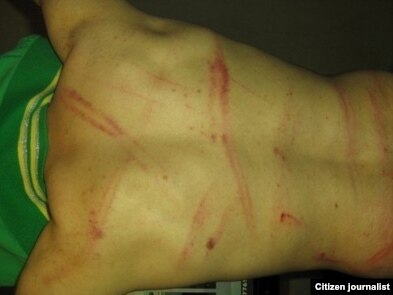 PRESIDENT OBAMA IN GHANA: WHAT HE REFUSED TO SAY IN CAIRO
Professor Anne Bayefsky, a subscriber to this email list, points out that in Ghana on Saturday President Obama lectured Africans on local repression, corruption, brutality, good governance and accountability. The startling contrast to his June speech in Cairo was very revealing, she says.
In Egypt, he failed to mention "corruption" or "repression" in the Arab world.
But in Ghana, with a majority Christian population, he mentioned "good governance" seven times and called upon his audience to "make change from the bottom up." He praised "people taking control of their destiny" and pressed "young people" to "hold your leaders accountable."
He made no such calls for action by the people of Arab states – despite the fact that not a single Arab country is "free," according to the latest Freedom House global survey.
Addressing African Christians, Obama said: "It's easy to point fingers and to pin the blame of these problems on others. Yes, a colonial map that made little sense helped to breed conflict ... But the West is not responsible for the ... wars in which children are enlisted as combatants ... tribalism and patronage and nepotism ... and ... corruption." And in his Cairo address to the Muslim world?
"The disparity between the scolding he gave in Ghana and the love-in he held in Cairo illuminates an incoherent and dangerous agenda," says Bayefsky.
OBAMA MEETS JEWISH LEADERS TODAY AMID CONCERNS
President Obama will today meet with the heads of over a dozen American Jewish organizations (although excluding some right-wing ones) amidst concerns even among many left-leaning Jewish organizations that the White House is over-pressuring Israel while soft-pedaling some of Israel's worst enemies.
These concerns have been discussed, though quietly, ever since Obama's June 4 speech to the Muslim world in which Obama rewrote the history both of Islam's relationship with the West and the reasons for the founding of the state of Israel.
***
Britain's relations with Israel are even worse and it has now imposed a partial arms embargo on Israel, refusing to supply replacement parts and other equipment while continuing to heavily arm the Arab dictatorships that threaten the Jewsih state. The Israeli embassy in London said the decision stemmed from heavy pressure by both members of Parliament and British human rights organizations, such as Amnesty International.
THE BRIDES WORE BLACK: HAMAS WIDOWS RE-MARRY ON GAZA BEACH
One hundred women whose militant husbands were killed in last January's fighting with Israel staged a mass wedding ceremony on a Gaza beach on Saturday. The women who were re-marrying all wore black to the ceremony. According to Palestinian sources, most of the brides were wed to members of their dead husbands' families. Hamas gave $2,800 (probably derived from international aid money) to anyone marrying one of the widows.
TEL AVIV "MOST EXPENSIVE" MIDEAST CITY, AHEAD OF DUBAI AND ABU DHABI
Despite dropping from 14th to 17th place in the latest Mercer rankings of the world's most expensive cities, Israel's business capital Tel Aviv remains the most expensive city in the Middle East, followed by Dubai and Abu Dhabi.
The survey is designed to help multinational companies and governments determine compensation allowances for expatriate workers. It measures the comparative cost of over 200 items in each location, including housing, transport, food, clothing, household goods and entertainment.
HISTORIC FIRST AS ISRAEL ENTERS TENNIS' TOP FOUR TEAMS
Israel has reached the semi-final of the Davis Cup tennis tournament for the first time. The team's previous best was a quarter-final loss to India in 1987. On Saturday, Andy Ram and Yoni Ehrlich completed a 3-0 victory for Israel over the overwhelming favorites, Russia, by defeating Igor Kunitsyn and Marat Safin. The Russians have won the Davis Cup twice. Israel will play the defending champions Spain in the semifinals in September.
The headline in yesterday's Ma'ariv, referring to the tennis victory, was: "On Top of the World."
More on the Davis Cup website here.
IRAQ BEATS PALESTINE IN FIRST HOME SOCCER GAME SINCE INVASION
The Iraqi national soccer team defeated the visiting Palestinian team 3-0 on Friday, winning the first home game it has played since the U.S.-led invasion of Iraq in 2003. The game was played in the Kurdish autonomous region in the northern part of the country. The Palestinian team moves on to China where it will play the Chinese team on July 18th.
CARTOONS: THE NEWS MEDIA'S PRIORITIES

[All notes above by Tom Gross]
FULL ARTICLE
LINKAGE: THE MOTHER OF ALL MYTHS
Linkage: The Mother of all Myths
By Dennis Ross and David Makovsky
The New York Times
July 8, 2009
Of all the policy myths that have kept us from making real progress in the Middle East, one stands out for its impact and longevity: the idea that if only the Palestinian conflict were solved, all the other Middle East conflicts would melt away. This is the argument of "linkage."
Neoconservatives have always rejected it, given their skepticism about Arab intentions and their related belief that the Israeli-Palestinian conflict cannot be resolved. While realists have been the most determined purveyors, this myth transcends all others and has had amazing staying power here, internationally, and in the Middle East. In fact, few ideas have been as consistently and forcefully promoted – by laymen, policymakers, and leaders alike.
One need not look too far for examples of linkage's pervasiveness. Note the words of Egyptian president Hosni Mubarak in early 2008 when, standing next to George W. Bush at a joint press conference following their talks in the Sinai resort town of Sharm al-Sheikh, he recounted their conversation: "I emphasize that the Palestinian question, of course, is the core of problems and conflict in the Middle East, and it is the entry to contain the crisis and tension in the region, and the best means to face what's going on in the world, our region – I mean by that, the escalation of violence, extremism and terrorism."
King Abdullah of Jordan made much the same argument during an interview with an American television network in 2006: "I keep saying Palestine is the core. It is linked to the extent of what's going on in Iraq. It is linked to what's going on in Lebanon."
Not only Middle Eastern leaders see the Palestinian issue at the heart of all other regional problems. Brent Scowcroft, former national security advisor to Presidents Gerald Ford and George H.W. Bush, echoed this basic point of view in an essay published in early 2007:
A Vigorously renewed effort to resolve the Arab-Israeli conflict could fundamentally change both the dynamics in the region and the strategic calculus of key leaders. Real progress would push Iran into a more defensive posture. Hezbollah and Hamas would lose their rallying principle. American allies like Egypt, Saudi Arabia, and the Gulf states would be liberated to assist in stabilizing Iraq. And Iraq would finally be seen by all as a key country that had to be set right in the pursuit of regional security.
Similarly, the Iraq Study Group, co-chaired by James Baker and Lee Hamilton, placed special emphasis on the idea of linkage: "To put it simply, all key issues in the Middle East – the Arab-Israeli conflict, Iraq, Iran, the need for political and economic reforms, and extremism and terrorism – are inextricably linked.
Such bold statements are rarely qualified. In effect, they are guided by a central premise: that ending the Arab-Israeli conflict is prerequisite to addressing the maladies of the Middle East. Solve it, and in doing so conclude all other conflicts. Fail, and instability – even war – will engulf the entire region.
The major problem with this premise is that it is not true. There have been dozens of conflicts and countless coups in the Middle East since Israel's birth in 1948, and most were completely unrelated to the Arab-Israeli conflict. For example, the Iraqi coup of 1958, the Lebanon crisis of 1958, the Yemini civil war of 1962-68 (including subsequent civil wars in the 1980s and '90s), the Iraqi Kurdish revolt of 1974, the Egyptian-Libyan Border War of 1977, the Iran-Iraq War of 1980-88, the Persian Gulf War of 1990-91 (including Iraqi Kurdish and Iraqi Shiite revolts of the same year), the Yemeni-Eritrean and Saudi-Yemeni border conflicts of the mid-1990s, and the US-Iraq War, begun in 2003.
Many of these conflicts were long, bloody, and very costly. The Iran-Iraq War lasted eight and a half years, cost in the hundreds of billions of dollars, and took between six hundred thousand and one million lives. Yet this conflict, like the others listed above, would have taken place even if the Arab-Israeli conflict had been resolved.
Since the origins of so many regional tensions and rivalries are not connected to the Arab-Israeli conflict, it is hard to see how resolving it would unlock other regional stalemates or sources of instability. Iran, for example, is not pursuing its nuclear ambitions because there is an Arab-Israeli conflict. Sectarian groups in Iraq would not suddenly put aside their internal struggles if the Palestinian issue were resolved. Like so many conflicts in the region, these struggles have their own dynamic.
In addition, as tragic as the conflict between Israelis and Palestinians has become, it has not spilled over to destabilize the Middle East. There have been two Palestinian Intifadas, or uprisings, including one that lasted from 2000 to 2005 and claimed the lives of 4,000 Palestinians and 1,000 Israelis – but not a single Arab leader had been toppled or a single regime destabilized as a result. It has remained a local conflict, contained in a small geographical area. Yet the argument of linkage endures to this day, and with powerful promoters. Why does it persist? And why has it been accepted among top policymakers as if it is factually correct?