[All notes below by Tom Gross]
Additional note / breaking news
Iran's semiofficial Fars news agency is reporting that Iran has obtained four S-300 surface-to-air missiles despite Russia's refusal to deliver them. It says two missiles are from Belarus and two from another unspecified source.
The acquisition of S-300s may not be true and could be Iranian propaganda. But if true, the sale may well tip the entire military balance in the Middle East and make it almost impossible for Israel or any other country to bomb Iran's nuclear facilities.
ISRAEL ATTACKED FROM THE NORTH…
There has been a significant increase in attacks on Israel in recent days.
* Yesterday, a senior Israeli officer was killed and another seriously wounded by a sniper unit of the Lebanese army after an IDF engineering team was trimming trees along Israel's side of the border. The evidence suggests that the attack on Israel was pre-planned and pre-meditated on the basis of information provided by Israel to UNIFIL and then passed on to the Lebanese army.
* The Lebanese army has increasingly been infiltrated by Hizbullah, according to experts. Hizbullah allies in the Lebanese army are believed to be behind the attack.
* While the United Nations peacekeeping contingent, UNIFIL, has acknowledged that the Israelis were on Israeli territory when they were shot at without provocation, some media – notably the Reuters news agency – went out of their way yesterday to wrongly suggest that Israel had opened fire first, and that Israeli troops had crossed the border. There has been outrage in Israel at some of the international media coverage yesterday which completely misreported events to Israel's detriment.
* The New York Times also misreported the events yesterday, even though it was completely clear from the outset that Israel was telling the truth and the Lebanese army and Hizbullah were lying. The Times merely told its readers: "Each side blamed the other for the flare-up, trading accusations of violating the United Nations Security Council resolution that underpins the four-year cease-fire."
* Today, finally, on its website, The New York Times ran a headline that many of us thought we'd never see: U.N. Supports Israeli Account of Border Clash.
* Even Al-Jazeera acknowledged this (at least on their English-language service) while some leading British newspapers didn't.
* Israel has set its border fence with Lebanon many meters inside Israel precisely so that Israeli soldiers can work on it, and cut down bushes growing against it as they were trying to do yesterday, without crossing into Lebanese territory.
* UPDATE: From an article in The Washington Post: "Although the maintenance work was fully coordinated with the U.N. peacekeeping force in southern Lebanon, and the fatal shot was fired by the nominally independent Lebanese Armed Forces, Hassan Nasrallah, the head of Hezbollah, sent a television crew to film the ambush."
* Last night, U.S. President Obama, acknowledging that Israel was attacked without provocation, sent his personal condolences to the family of the dead Israeli.
* The guns the Lebanese army used yesterday may well have been American. Since 2006, Washington has given nearly $500 million in military aid to Lebanese security forces and has allocated $100 million for 2011, making Lebanon the second-largest recipient of American military aid per capita in the world, according to The Los Angeles Times.
* Hizbullah head Hasan Nasrallah today boasted that Hizbullah forces are deployed in southern Lebanon (in contradiction of UN Security Council resolutions). Where is UNIFIL? Where is the media reporting on this?
* You can see an aerial photograph of the location of the incident along the Lebanese border here:
* Here is a list of other recent attacks on northern Israel from Lebanon.
* Yesterday's incident is, for example, similar to this one.
… AND ISRAEL ATTACKED FROM THE SOUTH AND WEST TOO
* At least five rockets were fired on Monday at the Israeli Red Sea resort town of Eilat, three of them landing in open areas and the sea, but two others striking the Jordanian port city of Aqaba. One of the rockets, believed to be a GRAD-type, exploded near the Intercontinental hotel, killing a Jordanian taxi driver and injuring four other people and destroying two cars. According to Jordanian Prime Minister Samir Rifai and others the attack was launched from the Egyptian-controlled Sinai Peninsula and is similar to one last April when a number of rockets fell on Eilat and Aqaba.
* There has been an increase in rocket fire from Gaza at civilians in southern Israel over the past week.
* One rocket landed inside Ashkelon, a major Israeli city south of Tel Aviv on Friday.
* On Saturday a rocket hit the child hydrotherapy rehabilitation center adjoining Sderot's Sapir Academic College.
All those who believe European journalists' claims that Hamas rockets are homemade and harmless should view this one minute video of the aftermath of Saturday's attack and imagine what would have happened had the children been inside.
* Israel is demanding an international investigation into the unprovoked attacks on it.
Prime Minister Benjamin Netanyahu said this evening: "Firing missiles on civilians is a war crime, and unprovoked attacks on soldiers are blatant acts of aggression. Israel expects the international community to condemn such attacks in the strongest possible terms."
Video here:

* Six members of the Israeli airforce taking part in joint exercises between the Israeli and Romanian air forces died last week when their Sikorsky CH-53 helicopter crashed in central Romania. Four of the Israelis were senior officers.
GAZA MALL FOLLOW UP
The dispatch of July 17, revealing the opening of the Gaza shopping mall that day, has become the most read dispatch ever on my website, with over 300,000 people from more than 100 different countries now having viewed it, according to my website monitor. It has been linked to in hundreds of blogs and news websites around the world, and the large numbers of people reading it may be a result of popular news personalities such as Glenn Beck and Sean Hannity of Fox News, and The Drudge Report and The Huffington Post, recommending it.
While I am happy that Fox and others have drawn attention to it, being the centrist that I am, I am disappointed that major liberal media such as The New York Times and BBC seem so blinkered by their prejudices that they have still refused to draw attention to the shopping malls and crowded markets of Gaza.
There have been some exceptions. The National Post, one of Canada's largest newspapers, almost alone among Western media has run a comment piece about the Gaza mall, referring to my Gaza mall webpage.
And yesterday Tim Marshall, the Foreign Affairs Editor of Sky News, who is a far more impartial correspondent than his counterparts on the BBC, mentioned the economic advances in Gaza and linked to my dispatch in a footnote he added here.
But in general the Western media's refusal to show an objective picture of Gaza is very disappointing. By presenting a distorted view of life there, including life for ordinary people, gullible politicians such as British Prime Minister David Cameron make incendiary remarks that set back efforts to advance Israeli-Palestinian peace.
***
Here are more pictures of the mall here, here and here from The Palestine Times.
The mall has now been widely featured in media throughout the Arab world, for example here (courtesy of AP) but why the continuing silence from Western media who subscribe to AP and who continue to cover "the situation in Gaza" day after day without mentioning the economic progress there?
Tens of thousands of shoppers from Rafah to Beit Hanoun had already visited the mall within days of its opening, according to Palestinian press reports.
***
You might also want to look at these Palestinian websites which I added to my July 17 dispatch shortly after I sent it out:
* The campus of the Islamic University of Gaza
The site is down at present, but when I looked at it before, it indicated that the hotel has a sauna, jacuzzi, massage, multiple restaurants, 24-hour room service and a luxurious swimming pool – picture below: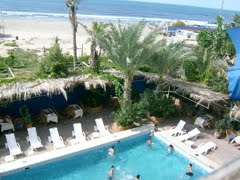 There are also a couple of photos up on Trip Advisor.
***
Egyptian journalist Ashraf Abu Al-Houl reported from Gaza in Al-Ahram last week:
"A sense of absolute prosperity prevails, as manifested by the grand resorts along and near Gaza's coast. Further, the sight of the merchandise and luxuries filling the Gaza shops amazed me. Merchandise is sold more cheaply than in Egypt."
U.S. DENIES PALESTINIAN CLAIM OF AMERICAN THREAT TO CUT TIES
U.S. State Department spokesman Philip Crowley has denied claims by senior Palestinian politician Hanan Ashwari in the London-based Arabic newspaper Al-Quds Al-Arabi that Washington is growing so exasperated with Palestinian Authority President Mahmoud Abbas's continuing refusal to accept Benjamin Netanyahu's offer to open direct negotiations, that President Obama is threatening to cut ties with the PA.
But Crowley did tell reporters that "absent a direct negotiation, there will be no end to the conflict, there will be no peace agreement, and there will be no Palestinian state. That's a fact."
Last week a whole succession of Western leaders – including French President Nicolas Sarkozy, Italian Premier Silvio Berlusconi and German Chancellor Angela Merkel* – phoned Abbas imploring him to accept Netanyahu's offer of peace talks.
Abbas told Voice of Palestine radio on Sunday that he's resisting pressure from "the entire world."
***
(* Note: New British Prime Minister David Cameron is now considered to have made himself irrelevant to Middle East peacemaking among both Israel and the Fatah-led Palestinian Authority, following what are interpreted to be his extraordinary pro-Hamas remarks about Gaza being "a prison camp" in front of the pro-Hamas Prime Minister of Turkey last week. During his remarks, Cameron failed to include any criticism of the Hamas regime. These are the strongest remarks any leader in the world has made about Gaza other than those by the Iranian, Syrian and Venezuelan dictators and show the depths of hatred for the Jewish state – and sometimes for Jews in general – among some who advise Cameron in the British Foreign Office.)
WASHINGTON POST CARTOONIST SHOULD KNOW BETTER
Tom Toles, the Pulitzer-prize winning editorial cartoonist for The Washington Post, claimed in his cartoon on Monday (below) that neither Netanyahu nor Abbas want to engage in direct talks.
Although that might be the message that anti-Israel media in Europe are falsely relaying to their readers, it bears no relation to the leaders' actual positions and statements, and one would expect more from the editorial pages of The Washington Post, one of the few papers whose op-ed pages have made an attempt to be fair and balanced in their Middle East coverage recently.

The cartoons of Tom Toles are also syndicated by The Washington Post to nearly 200 publications nationwide.
NATIONAL GEOGRAPHIC'S TOP TEN
Since it's summer, here are the world's top beaches. In this new survey by National Geographic magazine, one Middle East city comes in at Number 9.
Meanwhile, Travel and Leisure Magazine has declared Jerusalem as the "Best City in Africa and the Middle East."
Tel Aviv came in third, up from seventh place last year.
ISRAELI BORDER POLICE SAVE LIFE OF PALESTINIAN SNAKE BITE VICTIM
The life of a young Palestinian from the West Bank has been saved by Israeli Border Police officers after he was bitten by a viper.
Rami Hariziat Hassan, 20, from Rantis in the West Bank, was taken to Tel Hashomer hospital near Tel Aviv, where doctors treated him.
Hassan's friend Raja Talam Va'ada said: "We rushed to a local checkpoint and asked the soldiers for help. They really helped us. He nearly died. He wasn't breathing."
Border policemen also ensured that the snake arrived at the hospital so that doctors would know which anti-venom to use.
Before Hassan was released from the hospital, Border Police officers came to check on his condition and brought him some chocolate, as well as calling his parents.
The Israeli police have been singled out by EU-funded anti-Israel groups for supposedly not caring about the wellbeing of Palestinians. There have been several other examples of the police helping Palestinian civilians recently. (Meanwhile, police brutality against Roma, migrants and others in EU continues such as France continues apace.)
CONGO'S PRESIDENT THANKS ISRAEL FOR BEING ONLY COUNTRY TO QUICKLY AID VICTIMS
Congolese President Joseph Kabila has thanked Israel, after the Jewish state was the only country to rush doctors and burn specialists to treat victims of the massive oil tanker blast in eastern Congo last month which left more than 230 people dead.
The Israeli specialists have been treating dozens of burn victims who survived the blast. Some of the burn victims were said to be "psychotic from pain." Working around the clock, the Israelis treated the wounded, trained Congolese doctors on how to perform skin grafts, and donated large quantities of medicines and equipment to local medical facilities.
Israel has acted with remarkable speed and resourcefulness in response to dozens of disasters around the world in recent decades, for example in Haiti earlier this year. See this dispatch for more details on that: And his name will be 'Israel': Mother of Haitian baby honors IDF rescuers.
Unfortunately Israeli doctors and nurses have considerable experience treating burn victims following a wave of hundreds of suicide bomb attacks against Israeli civilians over the last decade.
(See, for example, this article of mine in The Wall Street Journal about one such victim, a victim who is a subscriber to this email list.)
ISRAEL APPLAUDED BY CAMPAIGNERS: SET TO BE FIRST COUNTRY IN WORLD TO BAN FUR TRADE
Far from being right-wing, as the media like to label it, Israel is in many respects one of the most liberal societies in the world.
In the latest in a long line of examples of progressive thinking, last week the "Humane Society International" praised Israel for being the first country in the world to attempt to go fur-free" after the Knesset passed the first round of legislation which would ban the fur trade throughout the country.
Israel was at "the forefront of responsible and humane behavior," said Humane Society International's spokespersons Rebecca Aldworth and Mark Glover. "A ban on all fur throughout Israel would be a world first – a major stand against the animal cruelty inherent in the worldwide fur trade – and it would set an example that other countries would look to and follow," they added in a press release.
The bill, introduced by Knesset Member Ronit Tirosh, seeks to outlaw the production, processing, import, export and sale of fur from all animal species not already part of the meat industry. There is a small exemption for the use of fur in hats for certain religious purposes.
It was unanimously endorsed in its first reading in the Knesset, although in recent days there have been some delays: www.antifurcoalition.org/israel-fur-bill
ISRAELI COMPANY DEVELOPS PAINT THAT MAKES PLANES DISAPPEAR OFF RADAR
In what could become one of Israel's most important new weapons, an Israeli company, Nanoflight, has used nanotechnology to develop paint that makes drones, missiles or planes disappear off radar.
The paint particles don't make the missile's detection on the radar disappear completely, but make it exceedingly difficult to positively identify the object as a missile. In the future, this development will allow any missile or jet to have significantly decreased radar detection.
One Israeli expert said: "Even though they may not entirely disappear from radar screens, this technology is a considerably more cost-effective method to evade radar detection than purchasing an American stealth plane for $5 billion."
HIZBULLAH VICTIMS SUE AL-JAZEERA TV FOR AIDING TERRORISTS
Dozens of people injured by Hizbullah rocket attacks on Israel have launched a legal action in New York's Manhattan federal court against the Al-Jazeera television network, for allegedly helping the terrorists aim their deadly missiles.
The suit says Al-Jazeera journalists "repeatedly and intentionally" transmitted "real-time audiovisual footage" of rocket strikes in Israel between July 12 and August 14, 2006.
Broadcasts of the "precise impact locations" allowed Hizbullah to adjust the direction and trajectory of the rockets, it says.
The victims' spokesperson added: "Al-Jazeera camera crews in Israel during the war were repeatedly detained by the Israeli police for broadcasting real-time information regarding the location of missile strikes, which Hizbullah utilized to more accurately aim their missiles at civilian population centers."
* For background on the media coverage of that war, please see this article.
* A full copy of the complaint can be read here.
SAUDI ARABIA CRUCIFIES AND BEHEADS A MURDERER
Capital punishment may be declining in Saudi Arabia, with "only" 67 people executed in 2009 compared to over 100 executed in 2008, but recently the Saudi authorities took the unusual step of first crucifying one of two Yemeni men they executed.
The condemned Yemeni was nailed to a cross before his head was sliced off with a sword. The second Yemeni was "only" beheaded. No anesthetics were used. Saudi officials said that crucifixion is "only" applied in extreme cases.
Remind me, where is the criticism from David Cameron and others? Or can he not afford to take a little time off from criticizing Israel?
[All notes above by Tom Gross]