"DANCING UNDER THE GALLOWS"
[Note by Tom Gross]
This is the first in a series of "Video dispatches". The other dispatches will each contain several videos related to the Middle East. This one, however, is about a very special woman and I wanted it to stand apart from the others.
Below, is a newly-released preview clip of a longer documentary which is scheduled to appear next year, directed by Oscar-nominated director Malcolm Clarke (who is a non-Jewish, British-born Canadian). There is a piece by me after the video.
(Update, Jan. 2014: The original clip I posted in 2010 is no longer available so below is a new clip, followed by my piece from 2010.)

(Update, March 2, 2014: This evening, the film won the Oscar for Best Short Documentary at the Academy Awards in Los Angeles. Alice passed away one week ago, on Feb. 23, aged 110.)


A TRUE SURVIVOR
By Tom Gross
Alice Herz-Sommer lives alone in a small single-room apartment in north London, and considers herself one of the luckiest people alive.
Besides being the world's oldest known Holocaust survivor, Alice is also the second oldest person in London. She was a leading pianist in Prague before the war, and even now (she turns 107 this month), continues to play the piano for three hours or more every day, performing Schubert, Smetana and Beethoven in a style long forgotten, the style of Artur Schnabel, who was one of her teachers.
She was born in 1903 in Prague, then still part of the Austro-Hungarian Empire. Growing up in the Jewish cultural circles of Prague, as a young girl she knew Franz Kafka, who was a very close friend of her elder sister's husband. She started playing the piano when she was five, taking lessons with a distinguished pupil of Liszt, Conrad Ansorge. At 16, she became the youngest member of the master class at Prague's prestigious German musical academy.
Alice Herz-Sommer, in Prague before the war

"MUSIC WAS MY FOOD"
In March 1939, Hitler occupied Czechoslovakia and Jews were forced out of their jobs and banned from public transport, parks, theatres, concert halls and swimming pools, and forbidden to have jewelry, cash or own telephones. "Although we were poor, had nothing to eat and the Nazis and their Czech collaborators took away all our belongings," Alice says, "for me the greatest punishment was having to wear the yellow star. When I went on the street my best non-Jewish friends didn't dare to look at me."
After two years in the Prague ghetto, she was deported with her husband and son to the Theresienstadt concentration camp (known as Terezín in Czech), north of Prague, where tens of thousands of Jews were killed. She became part of the camp orchestra and even managed to play Chopin's 24 Etudes from memory.
"We were hardly given any food in Theresienstadt. We lost weight. We scavenged for potato peelings as people starved to death around us. People ask, 'How could you make music?' We were so weak. But music was special, like a spell. Music was my food. There were excellent musicians there in the camp orchestra, really excellent. Violinists, cellists, singers, conductors and composers."
ONE OF ONLY 130 CHILDREN TO SURVIVE
Her husband (a well-known violinist who she married in 1931) was moved from Theresienstadt to Auschwitz in 1944, and then to Dachau, where he was killed along with most other members of her family. In 1942, her adored elderly mother (who, as a child, was a friend of Gustav Mahler) was deported from Theresienstadt to the Treblinka extermination camp.
Above: A memorial at Treblinka.
Each stone represents a Jewish town or city,
the population of which was exterminated at the camp
Alice's 6 year-old-son Raphael, who was a talented singer, took part in performances of Hans Krasa's children's opera Brundibar, given as part of the Nazis' attempts to show how "normal" life was in Theresienstadt for the visiting Red Cross. Out of 15,000 children who were sent to the camp, he was one of only 130 to survive.
Alice and her son (now aged 8) were liberated by the Red Army on May 9, 1945, the last day of the war. "When I came back home it was very, very painful because nobody else came back. The whole family of my husband, several members of my family, all my friends, all the friends of my family, nobody came back. Then I realized what Hitler had done."
She then moved to Israel (joining one of her sisters who had managed to escape there before the war) and taught music in Jerusalem and Tel Aviv. "I must say, when I moved to Israel there was not a day without political tension, but to experience democracy! After Hitler and Stalin, you feel what it means. You can read, speak, trust everyone. It was a beautiful life in Israel, inspiring. Musicians, scientists and writers – they all came and lectured. It was a cultural centre. I was very happy."
In Israel she taught at the Jerusalem Academy of Music and performed in concerts attended by dignatories such as Golda Meir. Her son Rafi became a concert cellist.

Alice said she loved her 37 years living in Israel, but in 1986 when Rafi, who was her only child, decided to move to London to take up a job opportunity, she accompanied him. Rafi died at age 65 in 2001, but Alice decided to stay in her small flat, No. 6, in a North London apartment block.
"LIFE IS BEAUTIFUL"
One of the other women featured in the video clip above is Anita Lasker-Wallfisch, who was born in 1925 in Breslau (which was then in Germany but is now part of Poland and has been renamed Wroclaw). Anita is a cellist of world renown, and one of the only surviving members of the 40-piece Women's Orchestra at Auschwitz. The orchestra was conducted by Alma Rosé, the daughter of Gustav Mahler's sister Justine, before she died in Auschwitz in 1944.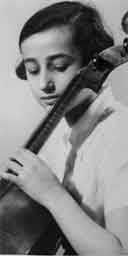 Anita Lasker-Wallfisch, aged 12, in Berlin in 1938.
Although Anita was only 16 when she was transported to Auschwitz, her ability to play the cello saved her life. The orchestra was forced to play when Jews were marched to the gas chambers, and as slave laborers left the camp for each day's work and when they returned in the evening. The orchestra also gave concerts for the SS.
By October 1944, the Red Army was advancing and Auschwitz was evacuated. Anita was taken on a train with 3,000 others to Bergen-Belsen. There, aged 19, she survived six months with almost nothing to eat. (Her parents were murdered at Isbica, near Lublin in Poland, where they were forced to dig their own graves into which they were then shot dead.)
She resumed her musical career after the war, joining the English Chamber Orchestra, and is mother to the distinguished cellist Raphael Wallfisch. She has written a very moving memoir, Inherit the Truth.
Anita continues to play Scrabble at weekends with Alice Herz-Sommer. Each of them speaks many languages fluently. "We don't score," says Anita. "We play for the beauty of the words, the beauty of life."
-- Tom Gross
* UPDATE: For another remarkable story of a Czech Jewish Holocaust survivor, please see:
"A shy little bird hidden in my rib cage"
And for another related article, please see:
The tombstones were so overgrown that he carried gardening tools on his bicycle
Other dispatches in this video series can be seen here:
* Video dispatch 2: Iran: Zuckerberg created Facebook on behalf of the Mossad
* Video dispatch 3: Vladimir Putin sings "Blueberry Hill" (& opera in the mall)
* Video dispatch 4: While some choose boycotts, others choose "Life"
* Video dispatch 5: A Jewish tune with a universal appeal
* Video dispatch 6: Carrying out acts of terror is nothing new for the Assad family
* Video dispatch 7: A brave woman stands up to the Imam (& Supporting Bin Laden in London)
* Video dispatch 8: Syrians burn Iranian and Russian Flags (Not Israeli and U.S. ones)
* Video Dispatch 9: "The one state solution for a better Middle East..."
* Video dispatch 10: British TV discovers the next revolutionary wave of Israeli technology
* Video dispatch 11: "Freedom, Freedom!" How some foreign media are reporting the truth about Syria
* Video dispatch 12: All I want for Christmas is...
* Video dispatch 13: "The amazing Israeli innovations Obama will see this week (& Tchaikovsky Flashwaltz!)
* Video dispatch 14: Jon Stewart under fire in Egypt (& Kid President meets Real President)
* Video dispatch 15: A rare BBC recording from 1945: Survivors in Belsen sing Hatikvah (& "No Place on Earth")
* Video dispatch 16: Joshua Prager: "In search for the man who broke my neck"
* Video dispatch 17: Pushback against the "dictator Erdogan" - Videos from the "Turkish summer"
* Video dispatch 18: Syrian refugees: "May God bless Israel"
* Video dispatch 19: An uplifting video (& 'Kenya calls in Israeli special forces to help end mall siege')"