ARTICLES
"A VERY CLASSY AFFAIR"
Big Turn Out for Gross
By Michael Coveney
What's on Stage magazine
March 18, 2011
www.whatsonstage.com/blog/theatre/london/E8831300439211/Big+Turn+Out+for+Gross.html
The memorial for the former Sunday Telegraph critic John "Box Office" Gross at the Royal Institute of British Architects, RIBA, in Portland Place yesterday evening was a very classy affair, with Robert Lloyd singing Schubert, Claire Tomalin reading Auden and Barry Humphries reciting Stevie Smith.
The programme for the event had been chosen by Gross himself, his son Tom revealed, and Humphries, for one, was stumped, well stymied.
After spouting Smith's four brief lines on the death of a German philosopher, he said that he'd give a box of Black Magic to anyone who could explain it to him. He glanced down at the front row, where sat Tomalin, Anthony Thwaite, Martin Amis and Christopher Ricks. Answer came there none.
Humphries then said that the critics had, quite rightly, given his last London show at the Haymarket, bad reviews. "Every critic gave me a stinker. John, too, gave me a stinker. But in a nice way."
Above: Barry Humphries, best known for his role as Dame Edna
A few actors joined the throng: Angharad Rees, Louise Gold (his niece), Peter Eyre, Nickolas Grace, joined by opera singer Jill Gomez and theatre critics Susannah Clapp, Georgina Brown, Charles Spencer, Patrick Carnegy, Robert Butler and Benedict Nightingale.
But theatre was a relatively small part of the Gross product: "the best read man in London" was a supreme man of letters on every serious publication going, including the Times Literary Supplement, which he edited.

This eminence was noted in speeches by Lord Weidenfeld and David Pryce-Jones, and in the presence of Antonia Fraser, Blake Morrison, Philip French, Victoria Glendinning (who read from a wonderful poem by Swinburne, "The Garden of Prosperine") and two of Gross's successors as TLS editor, Ferdinand Mount and Peter Stothard. It was right and fitting that the champagne reception was hosted by News International.
Amis languidly evoked Gross's diffidence and discretion and said that he'd never, before working with him on the New Statesman, encountered someone in whom brain power and self-effacement were so simultaneously apparent. He represented, he said, a pocket of discernment in the city, and gave some hilarious examples of his coaxing brilliance as an editor.
"Everything I write," concluded Amis, "I send by John's desk. I still do, and I always will."
Other recordings Gross had ordered up were Ella Fitzgerald singing Cole Porter's "What Is This Thing Called Love"; Kathleen Ferrier singing "The Keel Row"; "Oft in the Stilly Night" sung by the peerless Irish tenor Count John McCormack; and "Shenandoah" sung by Paul Robeson.
The absolute highlight, though, may have been Christopher Ricks reading a Robert Frost poem, "Provide, Provide" and giving a short masterclass in comic tone, gravity and phrasing all at once:
"No memory of having starred
Atones for later disregard,
Or keeps the end from being hard.
Better to go down dignified
With boughten friendship at your side
Than none at all. Provide, provide!"
John Gross had provided all right, but the friendship that flooded the RIBA had cost him nothing; everyone there just dug him in spades.
MEMORIAL SERVICE: JOHN GROSS
Published in The Times (of London)
March 19, 2011
www.thetimes.co.uk/tto/life/courtsocial/article2951909.ece
A memorial meeting for the life of John Gross, writer and editor, was held on Thursday, March 17, at the RIBA, Portland Place, London.
Mr Tom Gross, son, bade welcome and Lord Weidenfeld, Mr David Pryce Jones and Mr Martin Amis gave addresses.
Mr Edward Mirzoeff read Tennyson's poem Tears, Idle Tears, Ms Claire Tomalin read the poem Who's Who by W. H. Auden; Mr Anthony Thwaite read the poem The Voice by Thomas Hardy; Sir Christopher Ricks read the poem Provide, Provide by Robert Frost; Mr Barry Humphries read the poem On the Death of a German Philosopher by Stevie Smith; Ms Susanna Gross, daughter, read Wants by Philip Larkin; Mr Eric Ormsby read the poem The Divine Image by William Blake and the Hon Victoria Glendinning read the poem The Garden of Proserpine by Swinburne.
During the meeting Mr Robert Lloyd introduced his performance of Frühlingstraum from Die Winterreise before a recording of it was played. Other recordings played were of Ella Fitzgerald singing What Is This Thing Called Love?; Kathleen Ferrier singing The Keel Row; John McCormack singing Oft In the Stilly Night; Ira Pilgrim singing Der Rebbe Elimelech (in Yiddish), and Paul Robeson singing Shenandoah.
Among those present were: Mr Anthony Gross; Mr and Mrs Esmond Gross; Ms Judith Grinshpon; Mr John Preston; Mr and Mrs Victor Tunkel; Sir Geoffrey and Lady Miriam Owen.
Lady Baring; Lord Donoughue; Lady Duff Gordon; Clarissa Eden, Countess of Avon; Lady Antonia Fraser; Lord and Lady Gowrie; Sir Ronald and Lady Harwood; Lady Hastings; Sir Jeremy Isaacs; Lord and Lady Norwich; Lord Kalms; the Hon Dominic Lawson; Lady Leach of Fairford; Lady Lever; Lady Amabel Lindsay; the Hon David McAlpine and the Hon Mrs Angharad McAlpine; Lord and Lady Moser; Sir V.S. and Lady Naipaul; Marquis and Marchioness of Normanby; the Earl of Northesk; Lady Jane Rayne; Sir Piers Rodgers; Viscount Runciman of Doxford; the Hon William Shawcross and the Hon Olga Polizzi; Lord Stevenson of Coddenham; Lord Thomas; Lady Weidenfeld; Baroness Whitaker; Lord Young of Graffham; Count Adam Zamoyski.
Mr Mark Amory; Ms Judy Astor; Ms Caroline Backhouse; Mr Anthony Bailey; Ms Laura Barlow; Mr Andrew Barrow; Ms Elizabeth Beckman; Mr Philip Beckman; Mr Matthew Bell; Mr Len Blavatnik; Ms Leslie Bonham-Carter; Ms Janet de Botton; Mr Craig Brown; Ms Georgina Brown; Mr Alan Brownjohn; Ms Katherine Bucknell; Mr Claus von Bülow; Mr Robert Butler; Mr John Byrne; Mr David Campbell; Mr Francis Carnwarth; Ms Anne Carr; Mr John Casey; Professor Robert Cassen; Ms Hélène Celier; Mr Ned Chaillet; Mr Alexander Chancellor; Ms Melissa Chassay; Mr Tchaik Chassay; Ms Monica Chong; Ms Susannah Clapp; Mr and Mrs Alan Cohen; Ms Leonora Collins; Mr Matthew Conrad; Mr Charles Corman (with apologies from Lord and Lady Heseltine); Mr Michael Coveney; Mr Anthony Daniels; Mr and Mrs James Delingpole; Ms Jemima Dimbleby; Professor Martin Dodsworth; Ms Ruth Dudley Edwards; Mr Christopher Edwards; Ms Harriet Evans; Mr Peter Eyre; Ms Catherine Fairweather; Mr Nicholas Faith; Mr Hubert Faure; Ms Aisling Foster; Ms Celina Fox; Ms Sheila Fox; Ms Rebecca Fraser; Ms Virginia Fraser; Ms Jill Frayn; Mr and Mrs Philip French; Mr and Mrs Bamber Gascoigne; Mr Dean Godson; Ms Louise Gold; Ms Judith Goldman; Ms Jill Gomez; Mr Nickolas Grace; Mr and Mrs Philip Graham; Ms Victoria Gray; Mr Simon Griffith; Ms Louise Guinness; Ms Vivienne Guinness; Ms Sheila Hale; Mr James Harding (The Times); Ms Connie Harman; Mrs Linda Heathcoat-Amory; Professor Victor Hoffbrand; Mr James Hughes-Onslow; Mrs Barry Humphries; Mr Robin Hyman; Ms Sue Hyman; Mr Edmund Ions; Mr Gerald Jacobs; Mr David Jenkins; Mr Daniel Johnson (Standpoint); Mrs Paul Johnson; Mr J Kasmin; Mr Richard Kershaw; Ms Mary Killen; Mr Roger Kimball; Mr Jeremy King; Mr David Kynaston; Ms Dolly Langham; Mr Raphael Langham; Ms Susan Lasdun; Dr Antony Laurent; Ms Isabelle Laurent; Ms Barbara Lauriat; Mr Paul Levy; Mr Jeremy Lewis; Ms Linda Lloyd; Mr Robert Lloyd; Mr Peter Loose; Ms Susan Lourenco; Ms Judith Luna; Mr Paul Luna; Ms Louisa McCarthy; Mr Maurice McCarthy; Mr Jim McCue; Mr Martin McKeand; Mr James MacManus (on behalf of Rupert Murdoch); Ms Marion Maitlis; Ms Jessica Mann; Ms Minette Marrin; Mr Stoddard Martin; Ms Jane Martineau; Mr Douglas Matthews; Mrs Derwent May; Ms Diana Melly; Mr and Mrs Neil Mendoza; Professor Kenneth Minogue; Ms Vivien Minto; Ms Judith Mirzoeff; Ms Liora Modiano; Mr Michael Modiano; Ms Michelle Montague; Mr and Mrs Charles Moore; Professor and Mrs J Mordaunt Crook; Mr Blake Morrison; Mr Martin Myers; Ms Nicole Myers; Mr Benedict Nightingale; Mr Geoff Noble; Mr Jay Nordlinger; Mr Jeremy O'Grady; Mr Ben Okri; Mrs Eric Ormsby; Mr John O'Sullivan; Mr Kevin O'Sullivan; Mr and Mrs Gabriel Pearson; Mr Neil Pearson; Mr James Penrose; Mr and Mrs Stanley Price; Mrs David Pryce-Jones; Mr Antony Quinn; Ms Doris Rau; Mr and Mrs Piers Paul Read; Mr John Ryle; Mr Kamran Sadeghi; Mr John Saumarez Smith; Mr Martin Scurr; Mr Simon Sebag-Montefiore; Ms Karen Segal; Mr Mark Shanker; Mr Simon Shaw; Ms Alexandra Shulman; Mr Crispin Simon; Mr Charles Spencer (The Telegraph); Mr Christopher Sinclair-Stevenson; Professor Norman Stone; Sir Peter Stothard (Times Literary Supplement); Mrs Jennifer Strang; Mr Galen Strawson; Mr John Sturrock; Ms Susan Swift; Ms Vivienne Taylor; Mr Gregory Taylor; Ms Gina Thomas; Mr Michael Thomas; Ms Emily Thomas; Mr George Thwaites; Mr and Mrs William Topley; Ms Kate Trevelyan Kee; Mr Ed Victor; Ms Valerie Wade; Ms Mary Waldegrave; Ms Marilyn Warnick; Ms Frances Welch; Ms Teresa Wells; Mr Geoffrey Wheatcroft; Mr and Mrs Donald Winch; Professor Blair Worden; Ms Ann Wroe; Mr Francis Wyndham; Mr and Mrs Irving Yass; Mr Toby Young; Mr Michael Zilkha, and many other friends and former colleagues.
"BRAIN POWER COMBINED WITH SELF-EFFACEMENT"
Bidding John Gross hail and farewell
Evening Standard: Londoners Diary
March 18, 2011
http://londonersdiary.standard.co.uk/2011/03/bidding-john-gross-hail-and-farewell-.html
Martin Amis (pictured above), Lord Weidenfeld, Claire Tomalin and Barry Humphries paid tribute to John Gross, former editor of the Times Literary Supplement, at a memorial meeting at RIBA last night.
Amis told how they met in the Seventies when he was a trainee sub-editor at the TLS and Gross was literary editor of the New Statesman. "I had never come across such brain power combined with self-effacement," said the novelist, explaining how Gross came to join the TLS.
"John didn't like the atmosphere of Left-wing activism led by James Fenton and Christopher Hitchens so we used to meet in obscure pubs with no New Statesman writers."
Publisher George Weidenfeld described Gross as a compassionate observer of human frailty, a good shepherd of literary talent and a grand master of high gossip.
Recalling Gross's parties at the Basil Street Hotel, he said: "Let's hope the parties will go on in a celestial place."
Barry Humphries read a poem by Stevie Smith, On the Death of a German Philosopher, which he didn't understand:
He wrote the I and the It
He wrote the It and the Me
He died at Marienbad
And now we are all at sea.
"I admire Stevie Smith as much as anyone," said Humphries. "Anyone who can explain that poem will win a box of Black Magic."
"JOHN WAS A DEEPLY CIVILISED AND COMPASSIONATE OBSERVER OF HUMAN FRAILTY"
A tribute to John Gross
By George Weidenfeld (pictured below)
Remarks delivered on March 17, 2011
It is fitting and moving that it was David Pryce-Jones, the next speaker, who introduced me to John Gross about half a century ago. He predicted that we would be instant friends. He was right: John became an indispensable road companion – as indeed has been the incomparable Miriam.
It was with stunned disbelief that I heard of his passing, although of course knowing about his protracted illness. His running commentaries on the telephone or as joint onlooker at events, his self-ironising descriptions of individuals and milieus, classifying characters, relationships, events with a side-glance at literary or historical models, were unique. John was a deeply civilised and compassionate observer of human frailty, a good-humoured sceptic who never forgot but almost always forgave. Trollope and Proust stood in good stead for conjuring up manners and morals of our times, but so did literal quotations from Casablanca, a Cole Porter lyric, or sociologically interesting television series such as The Brothers, or most recently Mad Men.
I am proud to have been the publisher of his masterly Rise and Fall of the Man of Letters. Grateful, too, for his help as editorial adviser and good shepherd of literary talent.
However what bound us together I think more than anything else was our common Jewish background. John's and my family hailed only a generation away from the Jewish world of east central and eastern Europe. His childhood was spent in the London of pre-Second World War, the years of the dictators and mine in the post-Hapsburg/World War 1 years in Vienna. He was brought up on English nursery rhymes and I on German Heldensagen, but we both believed from our earliest days in the Zionist redemption, and shared to the end the love of Israel.
John was not only an omnivorous reader and trenchant critic, he was the grand master of high gossip. Essentially British and yet wholly cosmopolitan, his friends on both sides of the Atlantic, in the most diverse circles and generations, remember him for the apt phrase, the telling code-word for a literary hostess, an overly-correct and modish scribe or a to him obnoxious political commentator. In fact the last of such damming labels referred to a group of current commentators in Britain's press and television who constantly and predictably hammered against causes dear to our hearts. He called them the Catalinas, drawn from the masterful opening of Cicero's speech against that Roman conspirator: "How long, O Catalina, will you abuse our patience?"
At our last meeting in his flat, he talked to us, to Annabelle and me, with warmth and pride about Tom and Susanna, delighting that they had more than lived up to his hopes for them.
For years, just about this time of year, John used to invite many of his friends to his jour fixe at the Basil Street Hotel. Those parties were exceptionally enjoyable rendezvous of friends across milieus and generations, with John as the gentle, sure-footed host. The hotel is long gone and there will never again be such occasions, but perhaps some of us inveterate agnostics may look with envy at those who believe these parties will go on in a celestial setting.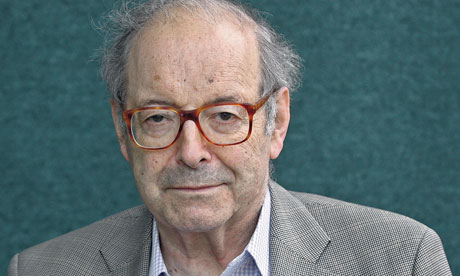 "LE TOUT LONDON WAS THERE"
London Journal, Part I
By Jay Nordlinger
The National Review
March 22, 2011
www.nationalreview.com/articles/262662/london-journal-part-i-jay-nordlinger
As you may remember, John Gross, the remarkable man of letters, died in January. There was an outpouring of appreciation for him all over. He struck a chord in a great many of us. He was sparkling, erudite, kind, and lovable. Well-nigh unique.
I did a note about him in Impromptus (last but certainly not least item here). And I would like to print, below, the editorial paragraph that appeared in The National Review. It may be helpful to those who are learning of this writer for the first time:
"John Gross was the most civilized man you could have known. He had superb manners, and was versed in literature, theater, art, history, and virtually everything else. He was once called 'the best-read man in Britain,' no less. But there was nothing stuffy or pompous about him. He was perpetually generous and amusing. He was born in London's East End in 1935. He became a famous man of letters, both in Britain and in America. He held a number of important positions. For example, he was the editor of The Times Literary Supplement. And senior book editor of the New York Times. He compiled many Oxford anthologies, the last of which came out only last year: a book of literary parodies. He was a trustee of London's National Portrait Gallery, a judge of the Booker Prize. People regarded him as a conservative, and he was, in a way. But this was mainly not a political matter. It was a matter of high standards in art, letters, and life. It was a matter of sticking up for the Judeo-Christian civilization. John Gross has died at 75. The last of a breed? Maybe not, but there are precious few specimens left."
In London last week, there was a memorial service for him. He did not want it called a "service"; he wanted it called a "meeting" — a memorial meeting. Actually, he didn't want it at all. But I think he acceded to the wishes of his family. And he specified what he wanted at the "meeting": a few addresses, and a selection of poems and music (mainly songs).
Le tout London was there — certainly le tout Londres litéraire. David Pryce-Jones once wrote, in an article about a row between Salman Rushdie and V. S. Naipaul (a dear friend of David's), "Literary London is a small town." I will give you a taste of how the program went.
John's son Tom led it off, welcoming everybody. Then Lord Weidenfeld spoke. He said that David had introduced him to John more than 50 years ago. Next at the podium — or a podium, because there were two, one on either side of the stage — was Robert Lloyd, the distinguished British bass. I was surprised to hear he was 70, or past 70: He said that John had attended his 70th-birthday party. Lloyd is damn well preserved — and still performing.
He did not sing on this occasion, but introduced a recording — a recording of his own, as was only right. This was Schubert's song cycle Die Winterreise, from which we heard one song. In Lloyd's voice is a special glow. I have remarked on it many times, in reviews over the years.
The first of the poems was "Tears, Idle Tears," by Tennyson. In due course, we heard poems by Auden, Hardy, Frost, others. John Gross had memorized reams of poetry, along with other literature.
An Ella Fitzgerald recording of "What Is This Thing Called Love?" was played. I thought of what Liza Minnelli said, when asked who was the best singer. "You mean, besides Ella?" Many years ago, a radio host had fun with "What Is This Thing Called Love?" — with the title, I mean. He said you could place a comma almost anywhere: "What Is This Thing Called, Love?" "What, Is This Thing Called Love?" "What Is This Thing, Called Love?"
Ella Fitzgerald
Naturally, John wanted P-J to speak, and he was — again, naturally — top-notch. He knew John well, and did not shrink from saying that he, John, took part in the "culture wars." John was subtle, polite, and "noncontroversial," and he was loved by people of varying political stripes. But he took part in those wars all the same — on the side of culture, of course, real culture. David's address was a version of a piece he wrote for The New Criterion, found here.
The voice of voices — Kathleen Ferrier's — was heard. She was singing "The Keel Row." My oh my, did John love British culture, along with other people's cultures. We also heard John McCormack in "Oft in the Stilly Night," not to be confused with "In the Still of the Night" (which is a Cole Porter song, like "What Is This Thing Called Love?"). In Impromptus recently, I told the famous story about McCormack and Caruso, meeting for the first time. One or the other says, "It's an honor to meet the world's greatest tenor." The other says, "I was just about to say the same thing."
Barry Humphries — famous for his character Dame Edna — was a screech. He read Stevie Smith's little poem "On the Death of a German Philosopher." He said he had no idea what it meant (that made at least two of us). And he recalled that he was once in a terrible show, "excoriated" by every critic. John wrote a "stinker" of a review, along with everyone else. But he did it "in a nice way." That was definitely John Gross.
John was not religious, so far as I know, but he sure as hell was not de-Judaized, and neither was this memorial service. We heard an old Yiddish song — a novelty — called "Der Rebbe Elimelech." I later learned that someone in the audience wept on hearing this — because, he explained, people had sung this in the camps, as they went to the gas chambers.
Martin Amis gave the last of the three addresses (after Weidenfeld and P-J). He spoke of John's extraordinary combination of "brainpower" and "self-effacement." John's daughter, Susanna, read a poem: "Wants," by Philip Larkin. Later we had a little tribute to America, or nod to America: "Shenandoah," sung by Paul Robeson.
A final poem, "The Garden of Proserpine" by Swinburne, was read by Victoria Glendinning. Then we all filed out to a recording of Mozart's String Quintet in B flat.
In another room, there was a "drinks reception" (characteristic British phrase). ("I'm going to see Jenny at a drinks party next week.") I said to Robert Lloyd, "It was good to hear that Lloyd glow. I don't know how it got there — I don't know what you do — but it's there." Lloyd did not demur or protest or say, "Aw, shucks." He said, "I don't know how it got there either. It's just a gift. Has always been there."
I loved that.
I chatted with Charles Moore, that star of the Telegraph and The Spectator — that star of conservative journalism generally. I said that he had made me read an article about banking. Ordinarily, I would not read an article about banking. I would turn the page, or click on something else, fairly quickly. But I will read an article about anything, if written by Charles Moore. (I once said the same about Bill Buckley, after he had written a piece about cigars.)
Moore has long been engaged in writing the authorized biography of Margaret Thatcher. It will be multivolume, I suspect. And I have every reason to believe it will be a great biography: the "literary event of the season," for the likes of us (or of several seasons).
In his address, David P-J remarked that John (Gross) had not been invited to appear on the BBC — had not been invited for 25 years or something like that. John himself mentioned this to David. I'm sure he wasn't complaining; I'm sure he was just sort of perplexed.
A good many of Britain's treasures are not invited on the BBC — treasures who are conservative or conservative-leaning. This is indeed perplexing. The BBC is a goliath with multiple outlets, and chat pretty much 24/7. Paid for by the taxpayers, it is supposed to be politically balanced and neutral. What a crock. Some of the best conservatives are excluded perpetually.
A network that doesn't have David Pryce-Jones talking about Libya is a network with its head up its arse.
How could you find a better conversationalist — a better guest — than John Gross? Freakishly knowledgeable, wide-ranging, amusing, sympathetic. Churchill once said that being with Franklin Roosevelt was like opening a bottle of champagne. John was like that: perfect for the BBC.
Stupid, stupid BBC.
And stupid, stupid honors system: or stupid, stupid people who run the honors system. By "honors" I mean Sir This, Sir That, Lord This, Lord That. After the service, or meeting, Roger Kimball hosted a wonderful dinner at the Athenaeum. "To John," went the toast. The diners included some of your favorite writers: John O'Sullivan, Anthony Daniels (a.k.a. Theodore Dalrymple), and so on. We were saying that John ought to have been Sir John. And that Robert Conquest should definitely, definitely be Sir Robert (or "Sir Bob"). That P-J should be Sir David. That Paul Johnson should be Sir Paul. Etc., etc.
Name a left-wing horror show — such as Eric Hobsbawm — and he has an honor. Can't Britain give honors to people who actually like the country, and wish it well? Can't the country give honors to people who like Britain more than they do Stalin? (I have a strong suspicion that Hobsbawm favors Stalin — whose mass murdering he has defended.)
"HE SHOULD HAVE BEEN SIR JOHN"
London Journal, Part II
By Jay Nordlinger
The National Review
March 23, 2011
www.nationalreview.com/articles/262763/london-journal-part-ii-jay-nordlinger
Yesterday, I had an account of the memorial service for John Gross, the late literary critic, and all-around intellectual star.
www.nationalreview.com/articles/262763/london-journal-part-ii-jay-nordlinger?page=2
At John Gross's memorial service, Martin Amis explained how John had taught him not to begin consecutive paragraphs with the same word. There's no hard-and-fast rule. But "good writers don't," John told Amis, as reported by the latter. And Amis has never done it again.
I used to think the same — but don't anymore. I think you should begin a paragraph with the natural word. And if that word is the same one that began the previous paragraph, so be it. Basically, I think you should always, in all circumstances, write the natural word. Worry about repetition will drive you to the funny farm — will prevent you from writing at all.
That said, I'm loath to begin three consecutive paragraphs with the same word! (That's in real writing, I mean. In breezy lil' web columns, all bets are off.)
You may remember something I said about John shortly after he died (here). More than once, he said to me, "It's amazing how you can write about concerts and not keep using the word 'perform' or 'performance.' You have so many ways of saying those things." While writing my "New York Chronicle" for the February New Criterion, I was conscious of using the words "perform" and "performance" a lot — more than usual. I was going to e-mail John to tell him so. It was in that period that we learned of his death.
I'm sure I'll never overuse "perform" and its cousins without thinking of him!
***
There is another piece by Jay Nordlinger in The National Review here:
www.nationalreview.com/corner/262753/honor-honor-jay-nordlinger
"THE LAST OF A LINE"
The Age of Amnesia
By Daniel Johnson
Editorial
Standpoint magazine
April 2011
http://www.standpointmag.co.uk/node/3832/full
With the death of John Gross in January, there departed from this world the last of a line. At the outset of his career, he had written the obituary in advance: The Rise and Fall of the Man of Letters. Now the species seemed finally to be extinct. On a bleak January morning, a relatively small gathering of family and friends said their farewells at Golders Green crematorium. Last month a broad cross section of London and New York literati gave the great critic his final review at a memorial celebration at the Royal Institute of British Architects. The transatlantic flavour of the occasion was underlined by the fact that it was hosted by News International, a token of the esteem in which John's long service as editor of the Times Literary Supplement and independent director of The Times was held by Rupert Murdoch himself.
The works that John Gross had chosen gave an inkling of his frame of reference. There was poetry by Tennyson, Auden, Hardy, Frost, Larkin, Blake and Swinburne; the readers included Barry Humphries, Claire Tomalin, Victoria Glendinning, Eric Ormsby, Anthony Thwaite and Christopher Ricks. The recorded music was no less richly varied: Robert Lloyd sang a song from Schubert's Winterreise, Ella Fitzgerald sang Cole Porter's "What Is This Thing Called Love", Kathleen Ferrier sang "The Keel Row", John McCormack sang "Oft In The Stilly Night", Ira Pilgrim sang "Der Rebbe Elimelech" in Yiddish, and Paul Robeson sang "Shenandoah". Though this selection represented only an infinitesimal smattering of Gross's vast and eclectic erudition, it was enough to conjure up his presence.
So too did the addresses by Lord Weidenfeld, David Pryce-Jones and Martin Amis. The latter told one or two stories against himself, explaining what a good TLS editor Gross had been: correcting him for beginning successive paragraphs with the same word ("careful writers don't do it; careless writers do"), or telling him that he could not possibly mean to describe his subject (The Picture of Dorian Gray) as "scatological". "How about eschatological?" Amis replied. "Not that either," said Gross. "Then what do I mean?" "Mythopoeic?" "Ah, that's exactly what I mean!" Barry Humphries read Stevie Smith's "On the Death of a German Philosopher" with due solemnity, then brought the house down by adding: "Can anyone here tell me what it means?" The assembled lords, ladies and laureates were reminded of their mortality by Robert Frost: "Too many fall from great and good/For you to doubt the likelihood." Copious quantities of champagne were not enough to drown our sorrow at the loss, not only of a great man, but of the intellectual life that he lived and that future generations may live no more.
The heirs of Western civilisation had gathered together to honour the last man of letters. It was a unique gesture. But was it futile? They could not resurrect a vanished way of life. What kind of civilisation, then, do we have? And is it worth living and dying for? Books are still written and some are read, even if most are gathering dust as readers migrate to instant forms of cultural gratification. Music and drama are still performed; art is still exhibited. History, philosophy, science and religion are still debated; universities are more universal than ever. Humanity is flourishing and so are the humanities. At least, so we are assured by, for example, David Willetts, the universities minister, who told the British Academy last month: "Quite simply, the humanities and social sciences are essential to a civilised country." Do we care any longer, though, about whether Britain is a civilised country? If so, how do we know?
In his book-length poem, The Age of Anxiety, W.H. Auden tried to capture the zeitgeist of his era. Well, we long ago entered a different period: the age of amnesia. It is an age in which everything is stored, but nothing is remembered. It is not only the men and women of letters who are passing away. It is also the men and women who would once have read their books and magazines. Is amnesia an improvement on anxiety?
In a grim mood, Larkin wrote "Wants", which begins: "Beyond all this, the wish to be alone", and concludes: "Beneath it all, desire of oblivion runs." We have all been through such dark times. But does Larkin's line apply to our civilisation as a whole? No, not if Standpoint can help it. The age of amnesia has lasted long enough. It is time to usher in the age of remembrance, the remembrance of things past. It is time to recall what we have lost and to make sure that our children are not deprived of the civilisation that our ancestors fought to preserve. As Clive James says in his great critique of our age, Cultural Amnesia, "There never was a time like now to be a lover of the arts[...]One can plausibly aspire to seeing, hearing and reading everything that matters." Indeed one can – but how many do so? Intellectual ambition should be valued, not despised. That is why the example that John Gross leaves us is so precious. Polymaths of the world, unite: you have nothing to lose but your modesty.
"A PRIZE TO ANYONE WHO CAN PROVE OTHERWISE"
In a class of his own
By Matthew Bell
The Independent on Sunday (diary)
March 20, 2011
www.independent.co.uk/opinion/commentators/matthew-bell-the-iiosi-diary-200311-2246973.html
Martin Amis has revealed he never begins two consecutive paragraphs with the same word, after being rebuked for doing so by a favourite former editor.
The author of Experience disclosed this stylistic obsession in a tribute to the late John Gross at a memorial service on Thursday.
Gross was an eminent critic and writer, once described as "the best-read man in Britain". He had an astonishing memory. Amis recalled how Gross, when literary editor of the New Statesman, sent back one of Amis's reviews to question his use of the same word to open two successive paragraphs. "I remember thinking, 'Can you not do that?'," said Amis. "In any case, I've never done it again." A prize to anyone who can prove otherwise.
"HE WAS THE BEST OF FUN"
A toast to John Gross
By Ruth Dudley Edwards (a leading Anglo-Irish writer)
March 19, 2011
http://ruthdudleyedwards.wordpress.com/2011/03/19/a-toast-to-john-gross/
I was at John Gross's memorial meeting on Thursday. He had read everything worth reading – aided by having a photographic memory so he didn't need to reread – and he also read that which was not worth reading, adored good gossip, was utterly self-effacting and the best of fun. He was one of those people I made friends with rather too late, but I'm grateful for what I got and enjoyed every moment of our dinners. There are too few people who can relate to Wittgenstein and Katie Price.
JOHN GROSS AS THE LITERARY JEEVES TO AMIS'S BERTIE WOOSTER
The Spectator's Notes
By Charles Moore
The Spectator
March 26, 2011
[Extracts from this week's column]
www.spectator.co.uk/politics/all/6809063/part_3/the-spectators-notes.thtml
Another of Garland's claims to fame is that, through the Barry Mackenzie strip in Private Eye, which he and Barry Humphries invented in the 1960s, Edna Everage first reached a wider audience. She had not, at that time, been honoured, and was not a housewife-superstar. She was plain Mrs Everage (the name being the Australian pronunciation of 'average'), and her only raison d'etre was that she was Barry Mackenzie's aunt. But perhaps it is fitting that, in the age of female emancipation, her fame eventually outstripped even that of her creators.
Barry Humphries attended the memorial meeting for John Gross at the RIBA last week. Very beautifully, he read out, 'On the Death of a German philosopher' by Stevie Smith, which is only four lines long. Then he paused and said, 'I love Stevie Smith, but I haven't the slightest idea what that poem means.'
I may have written before that memorial meetings are much better, for celebrating the life of people who were not religious, than memorial services. They contain fewer dissonances, and none of the manner of religion which is so irritating without its matter. So it proved at the meeting for John. There was nothing but secular music, poetry (no prose), and tributes.
Martin Amis gave one of these last. He wanted to illustrate John's verbal refinement, tact and quickness. When he was a young reviewer, he said, he submitted an article to John Gross (then literary editor of the New Statesman), which ended by saying that The Picture of Dorian Gray was more 'scatological' than people realised. 'I don't think you mean "scatological",' said John. 'Oh, do I mean "eschatological"?' said Amis. 'No, I don't think you do,' said John. 'What do I mean then?' asked Amis. 'Perhaps you mean "mythopoeic",' said John. 'Yes, that's exactly want I mean,' said Amis. The idea of John Gross as the literary Jeeves to Amis's Bertie Wooster was very pleasing.
THE PROGRAM FOR JOHN GROSS'S MEMORIAL MEETING
A celebration of the life of
John Gross, 12th March 1935 – 10th January 2011
In words and music
Thursday 17th March 2011
***
Welcome – Tom Gross
***
Address – Lord Weidenfeld
***
Robert Lloyd introduces
Fruehlingstraum from Die Winterreise
by Franz Schubert
Sung by Robert Lloyd, piano Julius Drake.
***
Tears, Idle Tears by Alfred, Lord Tennyson
Read by Edward Mirzoeff (filling in for Jonathan Cecil who was unwell)
Tears, idle tears, I know not what they mean,
Tears from the depth of some divine despair
Rise in the heart, and gather to the eyes,
In looking on the happy Autumn-fields,
And thinking of the days that are no more.
Fresh as the first beam glittering on a sail,
That brings our friends up from the underworld,
Sad as the last which reddens over one
That sinks with all we love below the verge;
So sad, so fresh, the days that are no more.
Ah, sad and strange as in dark summer dawns
The earliest pipe of half-awakened birds
To dying ears, when unto dying eyes
The casement slowly grows a glimmering square;
So sad, so strange, the days that are no more.
Dear as remembered kisses after death,
And sweet as those by hopeless fancy feigned
On lips that are for others; deep as love,
Deep as first love, and wild with all regret;
O Death in Life, the days that are no more.
***
Who's Who by W.H. Auden
Read by Claire Tomalin
A shilling life will give you all the facts:
How Father beat him, how he ran away,
What were the struggles of his youth, what acts
Made him the greatest figure of his day;
Of how he fought, fished, hunted, worked all night,
Though giddy, climbed new mountains; named a sea;
Some of the last researchers even write
Love made him weep his pints like you and me.
With all his honours on, he sighed for one
Who, say astonished critics, lived at home;
Did little jobs about the house with skill
And nothing else; could whistle; would sit still
Or potter round the garden; answered some
Of his long marvellous letters but kept none.
***
What Is This Thing Called Love by Cole Porter
Sung by Ella Fitzgerald
***
Address – David Pryce Jones
***
The Keel Row
Sung by Kathleen Ferrier
***
The Voice by Thomas Hardy
Read by Anthony Thwaite
Woman much missed, how you call to me, call to me,
Saying that now you are not as you were
When you had changed from the one who was all to me,
But as at first, when our day was fair.
Can it be you that I hear? Let me view you, then,
Standing as when I drew near to the town
Where you would wait for me: yes, as I knew you then,
Even to the original air-blue gown!
Or is it only the breeze in its listlessness
Travelling across the wet mead to me here,
You being ever dissolved to wan wistlessness,
Heard no more again far or near?
Thus I; faltering forward,
Leaves around me falling,
Wind oozing thin through the thorn from norward,
And the woman calling.
***
Oft In the Stilly Night
Sung by John McCormack
***
Provide, Provide by Robert Frost
Read by Christopher Ricks
The witch that came (the withered hag)
To wash the steps with pail and rag,
Was once the beauty Abishag,
The picture pride of Hollywood.
Too many fall from great and good
For you to doubt the likelihood.
Die early and avoid the fate.
Or if predestined to die late,
Make up your mind to die in state.
Make the whole stock exchange your own!
If need be occupy a throne,
Where nobody can call you crone.
Some have relied on what they knew;
Others on simply being true.
What worked for them might work for you.
No memory of having starred
Atones for later disregard,
Or keeps the end from being hard.
Better to go down dignified
With boughten friendship at your side
Than none at all. Provide, provide!
***
On The Death of a German Philosopher
by Stevie Smith
Read by Barry Humphries
He wrote the I and the It
He wrote the It and the Me
He died at Marienbad
And now we are all at sea.
***
Der Rebbe Elimelech
(A Yiddish song about a Rabbi who has one too many at a party)
Sung by Ira Pilgrim
***
Address – Martin Amis
***
Wants by Philip Larkin
Read by Susanna Gross
Beyond all this, the wish to be alone
However the sky grows dark with invitation cards
However we follow the printed directions of sex
However the family is photographed under the flagstaff
Beyond all this, the wish to be alone.
Beneath it all, desire of oblivion runs:
Despite the artful tensions of the calendar,
The life insurance, the tabled fertility rites
The costly aversion of the eyes from death -
Beneath it all, desire of oblivion runs.
***
The Divine Image by William Blake
Read by Eric Ormsby
To Mercy, Pity, Peace and Love
All pray in their distress;
And to these virtues of delight
Return their thankfulness.
For Mercy, Pity, Peace and Love
Is God, our Father dear,
And Mercy, Pity, Peace and Love
Is man, His child and care.
For Mercy has a human heart,
Pity a human face,
And Love, the human form divine,
And Peace, the human dress.
Then every man, of every clime,
That prays in his distress,
Prays to the human form divine,
Love, Mercy, Pity and Peace.
And all must love the human form,
In heathen, Turk or Jew;
Where Mercy, Love, and Pity dwell
There God is dwelling too.
***
Shenandoah
Sung by Paul Robeson
***
The Garden of Prosperine (Four of the last five stanzas)
by Algernon Charles Swinburne
Read by Victoria Glendinning
She waits for each and other,
She waits for all men born;
Forgets the earth her mother,
The life of fruits and corn;
And spring and seed and swallow
Take wing for her and follow
Where summer song rings hollow
And flowers are put to scorn.
There go the loves that wither,
The old loves with wearier wings;
And all dead years draw thither,
And all disastrous things;
Dead dreams of days forsaken,
Blind buds that snows have shaken,
Wild leaves that winds have taken,
Red strays of ruined springs.
We are not sure of sorrow,
And joy was never sure;
Today will die tomorrow;
Time stoops to no man's lure;
And love, grown faint and fretful,
With lips but half regretful
Sighs, and with eyes forgetful
Weeps that no loves endure.
From too much love of living,
From hope and fear set free,
We thank with brief thanksgiving
Whatever gods may be
That no life lives for ever;
That dead men rise up never;
That even the weariest river
Winds somewhere safe to sea.
***
While people are leaving the hall
Mozart's String Quintet in B flat, K 174
***
John Gross's family would like to thank Times
Newspapers (UK) for their generosity in helping
to host this event.