Those killed in Bin Laden's compound: The graphic photos
May 05, 2011
[Note by Tom Gross]
According to the Reuters news agency, the pictures below show the results of the U.S. raid on Osama Bin Laden's compound in the Pakistani town of Abbottabad.
Reuters said: "The photos were taken by a Pakistani security official who entered the compound after the early morning raid on Monday. The official, who wished to remain anonymous, sold the pictures. Reuters is confident in their authenticity."
U.S. President Barack Obama yesterday cited "national security" as the reason for his decision not to make public any photos of Bin Laden himself.
The photos below are believed to show Bin Laden's son Khalid (dressed in a T-Shirt in the third photo below), a trusted courier Arshad Khan (in the second photo below), and another aide killed in Monday's raid.
Based on the time-stamps on the pictures, the earliest one was dated May 2, 2:30 am, approximately an hour after the completion of the raid in which Bin Laden was killed.
Warning: The first three of these photos are graphic.
For more on the death of Osama Bin Laden, please see here.
(Please see the end of this page for an update from Syria.)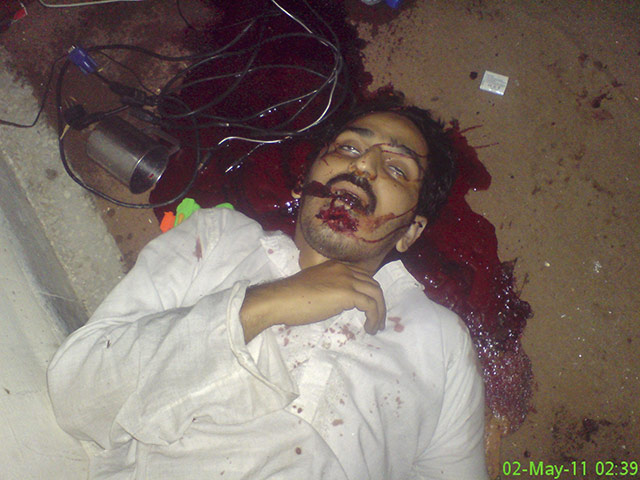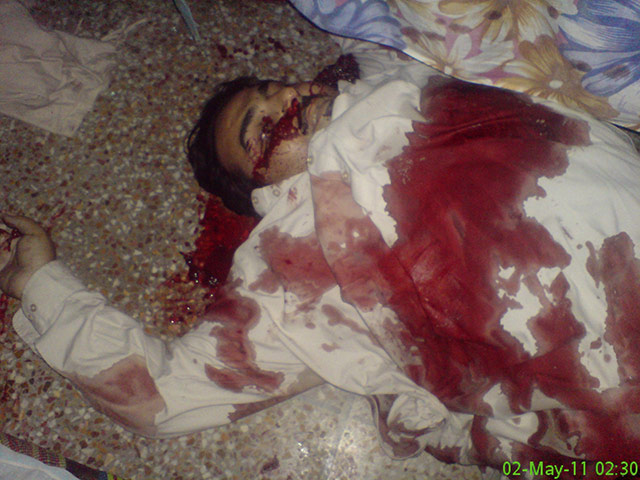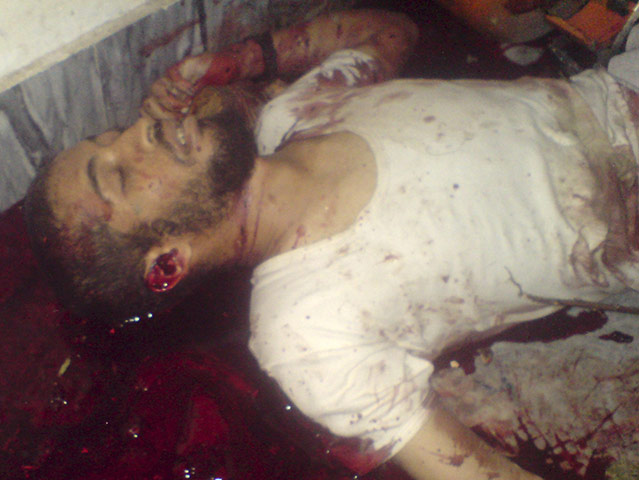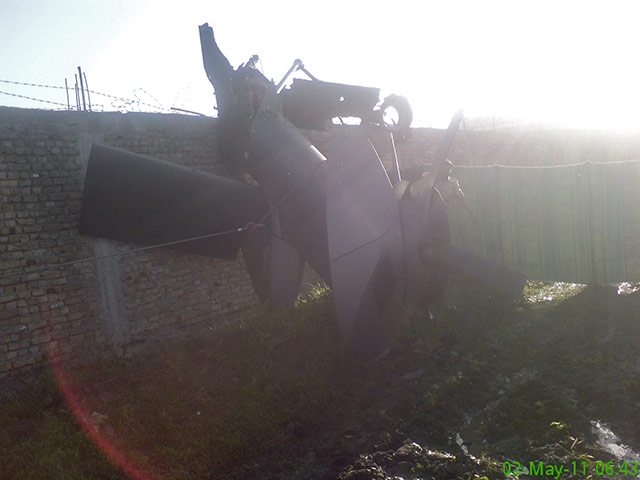 Part of a damaged helicopter is seen lying near the compound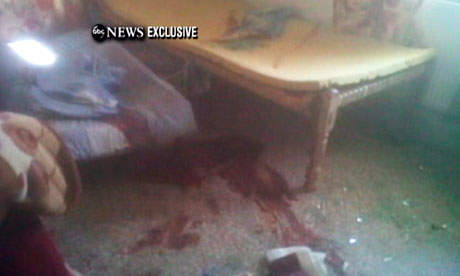 This last photo, showing a section of a room in the interior of the compound where bin Laden lived, is not from the same Reuters photo collection, but is from ABC News
High walls: A Pakistani security official passes by Bin Laden's compound yesterday
Pakistani security officials grant access to journalists to cover the compound where Bin Laden was killed
* For more on the death of Osama Bin Laden, please see here.
* You can comment on this and other dispatches here: www.facebook.com/TomGrossMedia. (You first have to press "Like" on that page.)
BIN LADEN LIVES IN SYRIA
The regime in Syria has used the opportunity of Bin Laden's death to intensify its crackdown on peaceful demonstrators in recent days, while the media looks elsewhere (and the BBC World Service continues to bring us endless reports from Gaza, where the situation is considerably better than in Syria).
The pan-Arab daily Al Hayat reports that "Syrian security forces are moving from one neighborhood to another, backed by tanks and armored vehicles, entering houses and arresting one or two people each time... The authorities are choking the population. There is no water, no food, and no electricity."
As leading Middle East commentator Lee Smith points out "You starve a population by denying it food and water, but to cut off its electricity is, in today's media climate, effectively a death sentence. Without the ability to recharge the cell-phone cameras that have documented the Syrian uprising from its outset, demonstrators will be consigned to a silent death… Bin Ladenism lives on, embodied now by the rulers in Damascus"
"It's different from Hama," adds New York Times columnist Thomas Friedman, referring to the massacre of between 25,000 and 40,000 people there in 1982 by President Assad's father and uncle. "They're doing it now in slow motion, bit by bit."
Compared to their demands that Egyptian President Hosni Mubarak, a U.S. ally, step down, Western governments have been relatively silent about Assad.
Bashar Assad knows that after Hama, his father continued to be feted in European and other capitals for the next 18 years, and then U.S. Secretary of State Madeleine Albright even embarrassed herself by grieving at Hafez's funeral. Will the leaders of the democratic world continue to treat Bashar Assad with respect too?
Among past recent dispatches on Syria, please see:
* Syria's Assad is worse than Gaddafi in many ways
* Carrying out acts of terror is nothing new for the Assad family
* They couldn't even muster a press statement (& The Syria Lobby)