* "Rich Jews threaten Obama," reads headline in Norway's biggest daily paper
* Deep Purple drummer says pop stars who boycott Israel are "wimps"
* Bob Geldof to visit Israel, accept honorary degree
* Coen Brothers: Boycotting Israel is a mistake
This dispatch concerns boycotts of Israel and the political use of anti-Zionism as a front for anti-Semitism.
ADDITIONAL NOTE: BIBI'S SPEECH
For those who haven't seen it, I think it is worth watching in full the speech yesterday by Israeli Prime Minister Netanyahu before a joint session of the U.S. Congress.
Whether or not you agree with Netanyahu, this was an important speech that goes to the heart of the issues of the Israeli-Palestinian / Arab conflict.
The version I have posted here is from America's PBS – which unlike BBC World and CNN International didn't interrupt and editorialize and pepper its coverage with remarks by PLO spokespersons telling us (in the case of the BBC's coverage) that "Netanyahu has declared war on the peace process".

Extract: "Of the 300 million Arabs in the Middle East and North Africa, only Israel's Arab citizens enjoy real democratic rights... think about that. Of those 300 million Arabs, less than one-half of one-percent are truly free, and they are all citizens of Israel. This startling fact reveals a basic truth: Israel is not what is wrong with the Middle East. Israel is what is right about the Middle East... "
Thank you to those commentators who have written about items in this dispatch, such as Jay Nordlinger at The National Review.
CONTENTS
1. Application form for the upcoming Gaza flotilla
2. Organizers of flotilla condemn Bin Laden killing; claim U.S. used chemical weapons in Iraq
3. U.S. urges Turkish government to stop Gaza flotilla
4. UN Secretary General calls on "all governments to discourage new flotillas to Gaza"
5. "Rich Jews threaten Obama," reads headline in Norway's biggest daily paper
6. Anger as Scottish council bans Israeli books from local libraries
7. World Press Photo exhibit closes after Lebanon objects to Israeli's work
8. Deep Purple drummer: Israel concert cancellers are "wimps"
9. Bob Geldof to visit Israel, accept honorary degree
10. Coen Brothers: Boycotting Israel is a mistake
11. Cannes film festival bans Danish movie director after pro-Hitler rant
12. Belgian justice minister under fire for suggesting Nazi collaboration "be forgotten"
13. Director of Jewish school in Argentina brutally assaulted
14. Hamas Minister: "Jews are despicable"
[All notes below by Tom Gross]
APPLICATION FORM FOR UPCOMING GAZA FLOTILLA
Here is the application form (in Turkish) for those extremists among you that might want to sail to Gaza next month:
www.ihh.org.tr/filo-katilim-formu/tr/
Registration for the flotilla began on May 8. The IHH, the organization behind last year's flotilla and which is playing a central role in organizing the upcoming flotilla, says they expect "a million potential candidates" will apply "from whom a limited number will be chosen."
IHH leader Bülent Yildirim said that 15 ships would participate in the flotilla and added "we are not afraid, we are willing to sacrifice shaheeds [martyrs] for this cause." He said a number of Israeli and Diaspora anti-Zionist Jews had already signed up.
The convoy is set to depart in mid-June, after the Turkish general elections on June 12.
Nine Turks were killed and a number of Israelis injured, as Turkish militants fought pitched battles with Israeli commandos last May 31 on the vessel Mavi Marmara, which was part of a convoy trying to infiltrate Gaza.
For pictures, please see here and here.
And for cartoons, please see here.
ORGANIZERS OF FLOTILLA CONDEMN BIN LADEN KILLING; CLAIM U.S. USED CHEMICAL WEAPONS IN IRAQ
The IHH joined other Turkish Islamist organizations in denouncing the killing of Osama bin Laden by America earlier this month. IHH leader Yildirim made the remarks at a press conference convened with other Turkish Islamist organizations at the Reşadiye Hotel in Istanbul.
The IHH representative spoke under a banner which read "We condemn American terrorism." Osman Atalay, another IHH representative (who participated in the Mavi Marmara flotilla last year) said at the meeting that "America was a terrorist nation". He boasted that IHH has raised $100 million this year (compared with $10 million last time) to give to Hamas.
Atalay also claimed that "millions" of people had been killed in Iraq, and he said that the United States used chemical weapons in Fallujah.
(Amazingly, but perhaps not surprisingly, many supposedly progressive European politicians continue to side with the right-wing Islamist extremists of the IHH in its struggle with the democratic state of Israel.)
U.S. URGES TURKISH GOVERNMENT TO STOP GAZA FLOTILLA
For the first time, the U.S. administration has openly warned the Turkish government not to allow another "aid" convoy to Gaza. In a move aimed at avoiding a repetition of last year's crisis on the Mavi Marmara, U.S. Assistant Secretary of State for European and Eurasian Affairs Philip Gordon last week openly urged the Turkish authorities not to dispatch another flotilla to Gaza.
If they want to send goods to Gaza, they could do so across Israel's land border, along with all the goods and produce that Israel and others send in on a daily basis, he said.
"It is very clear that there are alternative ways to get humanitarian assistance to Gaza," Gordon added.
UN SEC-GEN. CALLS ON "ALL GOVERNMENTS TO DISCOURAGE NEW FLOTILLAS TO GAZA"
From an official statement issued by the UN on May 19, 2011:
"The Secretary-General is also following with concern media reports of potential new flotillas to Gaza that can provoke unnecessary confrontations. The Secretary-General calls on all Governments concerned to use their influence to discourage such flotillas, which carry the potential for escalation. He further calls on all to act responsibly to avoid any violent incident."
Full text here: www.unsco.org/Documents/Statements/MSCB/2008/SCB%2019%20May.pdf
"RICH JEWS THREATEN OBAMA," READS HEADLINE IN NORWAY'S BIGGEST DAILY PAPER
The headline on Saturday in the print edition of Norway's largest paper, Aftenposten, which read "Rich Jews threaten Obama," has been changed online after several readers complained that the Norwegian media was again using its conflict of the Middle East to incite anti-Semitism in the country.
I have noted the questionable reporting of Israel by Aftenposten several times in the past on this website, and was quoted in a story on this yesterday in an article by The Jerusalem Post's European correspondent Benjamin Weinthal, as follows:
Political and media analyst Tom Gross told the Jerusalem Post that "this was by no means the first time there had been questionable reporting of Israel by Aftenposten. For example, in 2006 the paper ran an article titled 'God's chosen people,' (by Jostein Gaarder, author of the bestselling book 'Sophie's World') saying that Tzipi Livni and Ehud Olmert were so evil that Israel 'should be dismantled'."
Tom Gross added: "The article compared Israel's then center-left government to the Taliban regime in Afghanistan and added that 'the first Zionist terrorists started operating in the days of Jesus.'"
Benjamin Weinthal's full report is here.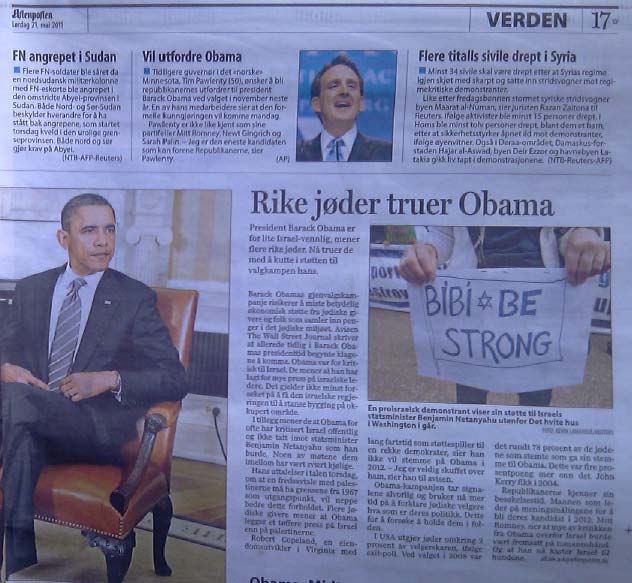 Aftenposten's headline
ANGER AS SCOTTISH COUNCIL BANS ISRAELI BOOKS FROM LOCAL LIBRARIES
West Dunbartonshire Council in Scotland has sparked outrage after it ordered that its libraries ban "any new volumes by Israeli authors, printed or published in the Jewish state."
It follows an earlier decision by the local authority to boycott Israeli goods and produce as part of a pro-Palestinian display.
Now, it has emerged the district's libraries have been told not to stock any new books at all from Israel, depriving readers of novels such as "A tale of love and darkness" by Amos Oz and "See under, love" by David Grossman.
A similar boycott move by Dundee City Council (also in Scotland) was abandoned because legal experts advised such a move is illegal under EU law.
Other Scottish politicians strongly criticized the move by West Dunbartonshire Council. Labour member of the Scottish parliament and the party's newly-appointed Culture and External Affairs spokesman, Ken McIntosh said the council's ban was "deplorable".
He said: "This is not just anti-Israel, it is anti-knowledge. While everybody, including councils have the right to express opinions, this simply smacks of a closed minds and actually shuts down debate. I find the move pretty deplorable. This reflects not so much on Israel, but on West Dunbartonshire Council."
However, a West Dunbartonshire Council spokesman stood by their Israeli ban, saying that "ten other Scottish Councils responded to our request to join the boycott."
In separate news last week, West Dunbartonshire emerged as the worst unemployment blackspot in Britain, with more than 40 people in the area chasing every vacancy.
WORLD PRESS PHOTO EXHIBIT CLOSES AFTER LEBANON OBJECTS TO ISRAELI'S WORK
A World Press Photo exhibit in Beirut is being closed early after Lebanese authorities ordered the removal of an Israeli photographer's prize-winning work.
The Netherlands-based organization said on Friday that they would prefer to close the exhibit 10 days early rather than have photos censored. The World Press award is one of the industry's most coveted prizes.
The award-winning Israeli photographer in question, Amit Sha'al pointed out that his photos include the depiction of Palestinians in a sympathetic light – but denouncing Israel didn't stop the Lebanese authorities boycotting him as an Israeli Jew.
DEEP PURPLE DRUMMER: ISRAEL CONCERT CANCELLERS ARE "WIMPS"
Ian Paice, the drummer for the rock band Deep Purple, said that performers who had canceled their concerts in Israel due to politics are "real wimps". He made the statement at a news conference ahead of two scheduled concerts in Israel.
BOB GELDOF TO VISIT ISRAEL, ACCEPT HONORARY DEGREE
Musician and campaigner Bob Geldof has agreed to accept an honorary degree from Ben Gurion University, awarded to thank him for his anti-poverty activism, including his organization of the Live Aid and Live 8 concerts.
This will be a first visit to Israel for the former front-man of the Boomtown Rats. Geldof will also attend a conference on humanitarian aid while in Israel. The "Israel in Africa – Past, Present and Future" event, organized by IsraAID (The Israel Forum for International Humanitarian Aid) will take place in Herzliya.
In 2004 it was revealed that Geldof's grandmother Amelia, who ran a tea shop in Dublin, was Jewish.
COEN BROTHERS: BOYCOTTING ISRAEL IS A MISTAKE
While on a visit to Israel to collect an award from Tel Aviv University, American filmmakers Joel and Ethan Coen said that they did not believe that boycotting Israel would help bring about a more peaceful Middle East.
The production-direction team responsible for a string of successful Hollywood dramas in the last two decades, from The Big Lebowski to Miller's Crossing, came to Israel to receive the prize for their creative contribution to filmmaking.
Responding to a question about musicians and film makers who boycott the Jewish state, screenwriter and director Ethan Coen said, "People respond to real problems from the heart, and they think that's the right thing to do. We don't agree with that opinion, that that's how to deal with these problems."
Unlike many other boycotting American and European artists, the Coen brothers were modest enough to admit that they don't really know much about Israel. "We don't really know Israel – we write American stories. That's what we know," added Ethan at a press conference.
It was the Coen Brothers first trip to Israel. This year they were nominated for twelve Academy Awards for their movie "True Grit".
CANNES FILM FESTIVAL BANS DANISH MOVIE DIRECTOR AFTER PRO-HITLER RANT
The Cannes International Film Festival last week declared Danish film director Lars von Trier "persona non grata" following pro-Hitler remarks he made at a press conference.
Von Trier later claimed his comments were "just a joke". If so, they are in extraordinarily bad taste and it is nevertheless highly disturbing he would air or even think such remarks. One wonders what the media reaction would have been if he had called for the gassing of Muslims, or black people.
At a special meeting convened on Friday the Cannes organizers condemned the comments and said von Trier would be banned from the rest of the event, effective immediately. They said: "The festival provides artists from around the world with an exceptional forum to present their works and defend freedom of expression and creation. The board profoundly regrets that this forum has been used by Lars von Trier to express comments that are unacceptable, intolerable, and contrary to the ideals of humanity and generosity that preside over the very existence of the festival."
Von Trier had claimed to be a Nazi and also made remarks disparaging Israel at a press conference in Cannes. He finished his remarks saying "OK, I admit it, I'm a Nazi. We Nazis like to do things on a big scale. Maybe I could do the Final Solution."
The European Jewish Congress said the director's comments were the latest in a string of "respectable anti-Semitic comments" by well known European personalities. "Just as the fashion industry has made John Galliano an outcast because of his hate speech, so the film industry should do the same with von Trier," it said.
***
The Israeli film "Footnote" won "Best Screenplay" at Cannes Film Festival. The story centers around a father-son rivalry; both are Talmudic scholars in Jerusalem.
BELGIAN JUSTICE MINISTER UNDER FIRE FOR SUGGESTING NAZI COLLABORATION "BE FORGOTTEN"
Belgium's minister of justice, Flemish Christian Democrat Stefaan De Clerck, is facing calls to resign following his remarks during a TV debate in which he voiced support for a general pardon of all Belgians who helped in the Holocaust and collaborated with Nazi Germany.
A number of other politicians and Jewish groups called his remarks "disgraceful".
However, in a 30 to 26 vote last week, the Belgian Senate accepted draft legislation proposed by the far-right and xenophobic Vlaams Belang party that would grant amnesty to those who collaborated with the Nazis during the war. The bill still needs approval by the lower house of parliament.
The Forum of Jewish Organizations (FJO) in Antwerp said they were "shocked and dismayed by the amnesty proposal."
Over 25,000 Belgian Jews were deported to Auschwitz from the Mechlin army barracks, north of Brussels, after being rounded up by the Belgium authorities.
After years of delay, in 2007 the Belgian government formally apologized for "collaboration unworthy of a democracy". Belgium has also been one of the most anti-Israeli countries in Europe.
DIRECTOR OF JEWISH SCHOOL IN ARGENTINA BRUTALLY ASSAULTED
Jewish groups have strongly condemned a vicious anti-Semitic attack against the director of an Orthodox Jewish school in Buenos Aires, which occured last week on Monday night. Rabbi Moshe Cohen was accosted by a man who yelled "Dirty Jew," "Go to the ovens" and other insults against him and was repeatedly hit on the head with a martial-arts weapon. Cohen is undergoing treatment in hospital for serious head injuries.
Around 250,000 Jews live in Argentina, which has the largest Jewish community in Latin America.
In Argentina, as elsewhere, hatred of Jews is often fueled by media hysteria and out-of-context reporting about Israel by international news agencies and TV networks.
HAMAS MINISTER: "JEWS ARE DESPICABLE"
Former Hamas Culture Minister Atallah Abu Al-Subh told Palestinian Al-Aqsa TV that "The Jews are the most despicable and contemptible nation to crawl upon the face of the earth".
"Allah will kill the Jews in the hell of the world to come, just like they killed the believers in the hell of this world," he added.
President Obama, the UN, the European Union and the so-called international community last week again insisted to Israel that it must cede land to the new Fatah-Hamas government in the Palestinian Authority, despite these kinds of genocidal comments.
"WE MUST RELIEVE HUMANITY OF THE JEWS' EVIL"
And earlier this month (on May 11) Hamas MP and Cleric Yunis Al-Astal told Al-Aqsa TV that "the Jews were brought to Palestine for the 'Great Massacre'."
He said: "All the predators, all the birds of prey, all the dangerous reptiles and insects, and all the lethal bacteria are far less dangerous than the Jews."
"The [Jews] are brought in droves to Palestine so that the Palestinians – and the Islamic nation behind them – will have the honor of annihilating the evil of this gang."
"In just a few years, all the Zionists and the settlers will realize that their arrival in Palestine was for the purpose of the great massacre, by means of which Allah wants to relieve humanity of their evil."
You can watch the clip here:

[All notes above by Tom Gross]