[All notes below by Tom Gross]
THE NEW YORK TIMES, SIMPLY MAKING THINGS UP
In the latest in a series of reports slanted against Israel, Ethan Bronner, the Jerusalem bureau chief of The New York Times, today claimed Israel imprisoned a Palestinian child merely for "throwing stones and hanging Palestinian flags from telephone poles." In fact the teenager in question was convicted for attempted murder and possession of explosives.

Bronner's report, concerning yesterday's second stage of the Gilad Shalit prisoner swap, named only one of the 550 Palestinian prisoners being released by Israel.
Bronner wrote in the paper of record (which, as I noted in my dispatch on Friday, has become one of the more biased papers in the world concerning Israel):
www.nytimes.com/2011/12/19/world/middleeast/israel-begins-second-part-of-prisoner-swap.html
Sarah Abu Sneineh came with her family to greet her grandson Izzedine Abu Sneineh, who was arrested three years ago at age 15 for throwing stones and hanging Palestinian flags from telephone poles.
"He was just a schoolkid when he was arrested," she said as she waited for him outside the tomb of Yasser Arafat. "We want him to go back to school. Only education is the way forward."
But Bronner (who is a subscriber to this email list) is on the same Israel Government Press Office email list that I am.
In an email sent on that list on December 14, the Israeli Prison Service offered to provide journalists with full details of the prisoners being released. Izzedine Abu Sneineh was convicted and sentenced for "Weapons training; attempted murder" and possession of "weapons and explosives."
Readers might wait to see whether The New York Times runs a proper correction.
UPDATE: The New York Times has now made a correction in its online version at the footof its article online. We will wait and see if they inform print readers too.
VIDEO OF WOMAN BRUTALIZED IN EGYPT WATCHED BY 2 MILLION ONLINE
While BBC World TV was again using its resources to run lengthy, partisan reports from Gaza yesterday (even though Gaza and the West Bank are two of the quietest places in the Middle East at present, both sustaining good economic growth and a relative lack of violence), much of the rest of the international media, and in particular Arab networks like Al Arabiya, were focusing on important developments in neighboring Egypt.
Indeed, social media throughout the Arab world is abuzz in outrage at this video, which shows a female protester being stripped of her black headscarf and then viciously kicked and beaten by the Egyptian security forces, before leaving her unconscious lying on the street:
The video has been watched more than two million times on YouTube since it was posted on Saturday evening. (Update: now more than 3 million times.)
Ed Husain, the former Islamist radical who is now at the Council on Foreign Relations in Washington (and is also a longtime subscriber to this email list), tweeted yesterday:
"If Israel did this to a hijab-wearing woman, we'd have uproar - yet Arab capitals silent. Shame."
(Incidentally, Saudi billionaire Prince Alwaleed bin Talal has just bought a $300m stake in Twitter.)
At least 11 civilians were killed in protests in Egypt over the weekend, and over 300 others treated in hospital.
There was also dismay among many as fire gutted the Egyptian Scientific Institute, which houses archives, historic documents and 200,000 books dating back to 1798. Many of the books were saved as some protesters risked their lives to run in and out of the building rescuing them.
"HAD THE AMERICAN ADMINISTRATION LEARNED THIS IRAQI LESSON…"
The events in Egypt, while not being highlighted by many Western media, haven't been ignored in neighboring Israel.
A headline on the front page of yesterday's Ha'aretz read:
"Harsh clashes in Cairo: police beat demonstrators to death in front of the cameras"
In editorials yesterday, other Israeli papers noted the first anniversary of the burning to death of a Tunisian market vendor, an act credited with giving rise to the so-called "Arab Spring".
Israel's largest paper, Yediot Ahronot, commented: "This is the first anniversary of the 'Islamic winter' and all of the perceptions of Islam arising from it have one common denominator: Nullification of the existence of Israel. In the view of Sunnis, Shiites, religious and secular, there is but one verdict for us all."

Ma'ariv wrote: "The first anniversary of the 'Arab Spring' has almost come to be known as the day the Americans folded up their flag in Iraq and went home. Had the American administration learned this Iraqi lesson, perhaps it would not have hurried a year ago to stab the dictator Mubarak in the back before being certain that the foundation had been laid in the direction of real democracy in Egypt."
The Jerusalem Post commented: "When Obama administration senior figures, including Defense Secretary Leon Panetta, publicly caution Israel against a preemptive strike on Iranian nuclear facilities, another unfortunate perception is produced. Intentional or not, the impression is that Washington has tied Israel's hands and that Mahmoud Ahmadinejad has less to fear. Whatever misgivings exist in Washington, they need to be discussed with Israel in private and not aired in a manner that engenders glee in Tehran. This is no time to build up the ayatollahs' confidence."
***
Meanwhile, in Syria, dozens more civilians were killed over the weekend, including several children. Around 70 more people were killed today. And while Egyptian authorities may be trying to make some political advances by holding at least partly fair elections, the country's economic situation looks dire, as its foreign currency reserves continue to fall.
OTHER EUROPEAN STATES OBJECT TO BRITAIN'S OBSESSIVE FOCUS ON ISRAEL
The European Union should consider Israel's treatment of its Arab population a "core issue, not second tier to the Israeli-Palestinian conflict," according to a classified working paper produced by European embassies in Israel, parts of which were obtained by Ha'aretz.
"This is an unprecedented document in that it deals with internal Israeli issues. According to European diplomats and senior Foreign Ministry officials, it was written and sent to EU headquarters in Brussels behind the back of the Israeli government."
"According to a European diplomat involved in drafting the report, work on it began more than a year ago at Britain's initiative," added Ha'aretz.
Several other European Union countries, including the Czech Republic, Poland and the Netherlands, have expressed objections to Britain's "unwarranted" attempt to interfere in internal Israeli affairs.
Indeed Israeli Muslims are proportionately better represented in the Israeli parliament and other public bodies than British Muslims are in the UK.
Britain might not welcome the Israeli embassy in London demanding all the other 26 European Union countries spend their taxpayers' money on conducting extensive research into the "apartheid" neighborhoods in which Muslims live in northern English towns.
HOLLAND TO RECONSIDER UNRWA FUNDING
The Netherlands will "thoroughly review" its policy on the UN Agency for Palestine Refugees in the Near East (UNRWA), the Dutch Foreign minister told the parliament in The Hague.
He said UNRWA's role in deliberately sustaining the Israeli-Palestinian conflict by classifying as "refugees" the grandchildren and great-grandchildren of those who left in disputed circumstances, and today do not in any meaningful sense of the word live like refugees, is "worrisome."
Holland is UNRWA's 6th largest donor, with an annual contribution of $30 million. "UNRWA uses its own unique definition of refugees, different from the rest of UN's. The refugee issue is a big obstacle to peace. We therefore ask that the government acknowledge this discrepancy, which leads to third- and fourth-generation Palestinian refugees," VVD party speaker Hans Ten Broeke said.
Last year Canada withdrew its $10 million annual funding for UNRWA.
In 2011 UNRWA enjoyed a budget of $1.23 billion, half provided by the U.S., Sweden, Britain and Norway.
Among previous dispatches on UNRWA, please see: Exclusive: This is CNN (& BBC-UNRWA connection revealed)
ISRAELI MINISTER: J STREET'S LOBBYING AGAINST IRAN SANCTIONS WAS THE FINAL STRAW
Yuli Edelstein, Israel's minister for Public Diplomacy and Diaspora affairs, says Israel has "had it" with the leftist Washington-based Jewish organization, J Street.
J Street's lobbying against Iran sanctions was said to be the final straw for Israel.
"They're not pro-Israel. They're anti-Israel," Edelstein, said.
J Street describes itself as "pro-Israel, pro-peace" but few in Israel familiar with J Street believe this to be the case. J Street, whose main funder is George Soros, and which claims to have the ear of the Obama administration, has lobbied against Israeli positions on a range of issues over the last few years.
ANGER AT ANTI-ISRAEL STATEMENTS BY GUTMAN ...
There is also despair among Jewish leaders in Europe, Israel and the U.S. at what one British-Iraqi Jew termed "the sheer ignorance" of Howard Gutman, Obama's ambassador to Belgium, who seemed to imply in a speech earlier this month that anti-Semitism in the Middle East was a new phenomenon caused by Israel.
It may not have been as bad as in Europe but that doesn't mean the pogroms, murders, rapes and general discrimination against Jews in the Arab world for the last 1000 years were not absolutely terrible.
And this month marked the 70th anniversary of the meeting between the Mufti of Jerusalem and Hitler, where the two of them conspired to wipe out European and Middle East Jewry.
A wide range of European Jewish leaders have denounced Gutman, and editorials in all leading Israeli papers said Obama should distance himself from Gutman. (Gutman is one of the leading fundraisers for Obama, and Obama has not done so.)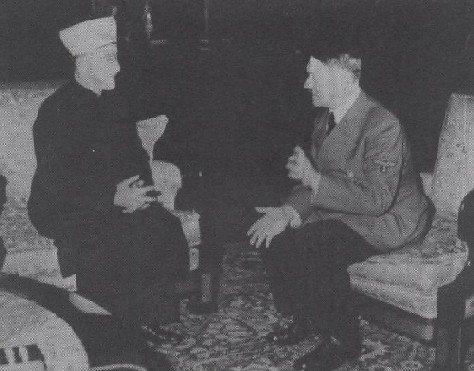 Hitler greets the mufti in Berlin
… AND THOSE BY PANETTA AND HILLARY CLINTON
There is also outrage by many in Israel at recent comments by Obama's Secretary of Defense Leon Panetta that it is Israel that is refusing to sit at the negotiating table with the Palestinians, when in fact the reverse is true.
Indeed, over the past three years the Palestinian Authority has realized it has no need to sit down with Israel and actually agree to some kind of compromise that would make a peace deal possible, when President Obama will instead merely pressure Israel into making one-sided concessions on their behalf.
Secretary Panetta's remarks can be found at the end of this transcript: www.defense.gov/transcripts/transcript.aspx?transcriptid=4937
***
Hillary Clinton's remarks comparing Israel and Iran also caused outrage in Israel.
(I attach an article about this, from today's Jerusalem Post, at the end of this dispatch.)
APPLE "TO CHOOSE ISRAEL FOR ITS FIRST NON-AMERICAN DEVELOPMENT CENTER"
The Israeli paper Ha'aretz says that the computer giant Apple is drawing up plans to make Israel its first off-shore development center. Apple is reportedly initially planning to employ about 200 people near Haifa.
The move follows Apple's acquisition of Anobit, the Israeli company that is a world leader in the manufacture of flash memory for various devices.
JORDAN PLANS TO CREATE HUB WITH AIRPORT EXPANSION
Jordan is planning to challenge Qatar and Dubai as a regional airport hub. The kingdom has hired the leading firm headed by British architect Norman Foster to transform the relatively small and run down Queen Alia International Airport into a new billion dollar state-of-the-art building.
The roofs of the new terminal will be topped by distinctive sculpted domes that resemble the shape of Jordan's traditional Bedouin tents.
GANG OF MOSTLY FEMALE CAR-JACKERS CAUGHT IN LEBANON
The Lebanese armies say they have finally managed to apprehend a gang of car-jackers in northern Lebanon that included four women. The Beirut Daily Star newspaper said the gang sometimes brought their children along so that those targeted to be robbed would first let down their guard.
Unlike a previous gang arrested in Lebanon recently that killed some of its victims, this group didn't physically injure its victims, but merely stole their cars.
NETANYAHU SENDS CHRISTMAS GREETINGS IN SEVEN LANGUAGES.
Here is the version with Arabic subtitles, which was watched over 50,000 times within days of being posted: www.youtube.com/watch?v=vRm0NV88bbA
While perhaps welcomed by Israel's Christian supporters, these kinds of gimmicks don't substitute for a more sustained and thoroughly thought-out diplomatic and public relations effort by Israel.
CHRISTMAS CARTOON

In a letter, Christian Solidarity International have pleaded with President Obama to come to the aid of more than 12 million "endangered non-Muslim minorities in North Africa and the broader Islamic Middle East."
They said that "The crisis of survival for non-Muslim communities is especially acute in Iraq, Syria, Egypt, Sudan, Iran and Pakistan."
***
I attach one article below.
[All notes above by Tom Gross]
ARTICLE
Pro-Israel advocacy group runs ads against Obama
By Benjamin Weinthal
Jerusalem Post
December 19, 2011
www.jpost.com/International/Article.aspx?id=249982
WASHINGTON – The Emergency Committee for Israel (ECI) launched a new round of ads last week slamming US President Barack Obama's policies toward the Jewish state.
The ad by the American right-wing political advocacy group poses the question: "Why does the Obama administration treat Israel like a punching bag?" and lists a series of anti-Israeli actions initiated by the Obama administration since early November.
The ad shows a punching bag with a Star of David superimposed on it, and closes with the words, "Enough with the cheap shots. It's time for the Obama administration to stop blaming Israel first."
The escalating series of attacks on Obama's record appeared Thursday in the New York Times, the Miami Herald, the Palm Beach Post, the Las Vegas Review-Journal and Variety.
The ad asserts Obama's complicity with French President Nicolas Sarkozy to mock Prime Minister Binyamin Netanyahu's veracity at a G-20 meeting. When Sarkozy was caught on a hot microphone calling Netanyahu a liar, Obama replied, "You're sick of him, but I have to deal with him every day."
Additional examples cited by the ECI in the ad were Secretary of State Hillary Clinton's comparison between Israel and the Islamic Republic of Iran and US Ambassador to Belgium Howard Gutman, who blamed the Jewish state for the outbreak of Muslim-animated anti-Semitism.
Defense Secretary Leon Panetta's statement, which seemingly attributed the breakdown in peace talks mainly to the Israeli side, was also highlighted in the hard-hitting ad.
When asked about the aim of the ad, Noah Pollak, executive director of ECI, wrote The Jerusalem Post by e-mail Saturday that "It's an election year, and American voters are strongly pro-Israel. President Obama is trying, as we saw in his speech to the Union of Reform Judaism on Friday, to paper over the past three years of hostility to Israel and failure in the peace process.
"ECI is going to keep reminding Americans that this is a blame Israel first-administration, and we're going to hold the president accountable for the attacks on our ally that members of his administration keep making."
The ECI jolted the political landscape in September with billboards in New York City and a New York Times ad placing giant questions marks over Obama's commitment to Israel's security interests. The ad stated: "Tell President Obama: Enough. It's time to stand with Israel."
Last week's ad contains quotes from Israeli newspapers, including a December Post editorial that states, "In recent days there has been a truly frightening articulation of the US administration's perception of Israel. It is downright scary, especially in light of Israel's growing need for American support as radical changes sweep the region."
Tom Gross, a leading Middle East commentator, told the Post Saturday "The Emergency Committee and its chairman Bill Kristol and director Noah Pollak are proving a very important counterweight to the intense J-street lobbying on the Obama administration and Congress."
"I think these ads in the New York Times and elsewhere will really rattle the administration as they gear up for what could be a very tight presidential election next year," added Gross.
ECI Chairman William Kristol said, "The Obama administration has been using Israel as a punching bag. The pro-Israel wing of the pro-Israel community is punching back."
Pollak said that "Obama has made it clear over and over again that he views the conflict between Israel and the Palestinians as a 'constant sore,' as he once put it, that 'does infect all our foreign policy' in the region."
He continued, "It's a view shared by many European governments, but it has the effect of excusing political dysfunction in the Middle East, excusing acts of terror and incitement, and blaming Israel for it."
"Israel has perhaps been hit hardest by Obama's policy of 'engagement' – because to cooperate with the world is to cooperate with the world's obsession with Israel."