* Bangkok Post reveals pictures of the three Iranian men arrested for the Bangkok bomb attack cavorting with prostitutes on the night before the attempted assignation of Israeli diplomats
* Singapore security agencies holding three members of a joint Hizbullah-Iranian terror cell who tried to murder Israeli Defense Minister Ehud Barak this week
* Palestinians detained for daring to criticize Abbas on private Facebook accounts
* Saudis "severely punished" for celebrating Valentine's Day
* The Saudi government "Organization for Promoting Virtue and Discouraging Evil" claims they were merely saving women from "deceiving men" who used Valentine's Day to give the false impression that they were "harmless lambs"
There is another dispatch today, here: Israel first country to have three political parties led by women (& NYT's careless tweets)
You can comment on this dispatch here: www.facebook.com/TomGrossMedia. Please also first press "Like" on that page.
CONTENTS
1. Times of India: Mossad chief visited New Delhi days before attack
2. "Mossad thwarts assassination attempt on Ehud Barak in Singapore"
3. PA warns Palestinians: Write only nice things on Facebook about your leaders
4. Saudi blogger to be deported by Malaysia could face death penalty
5. Saudi Arabia, the "land of opportunity"
6. Saudis arrest more than 140 people for celebrating Valentine's Day
7. Israel defense ministry team visits eastern Turkey to help victims
[All notes below by Tom Gross]
TIMES OF INDIA: MOSSAD CHIEF VISITED NEW DELHI DAYS BEFORE ATTACK
The Times of India reported yesterday that Tamir Pardo, the director of Israel's Mossad intelligence agency, together with other senior Mossad officials, visited New Delhi just days before the attack on Israeli diplomats in the Indian capital earlier this week. Sources said that Pardo's discussions with Indian intelligence heads did not concern a potential terror attack in India.
On Monday, the wife of an Israeli diplomat was badly wounded when a car bomb exploded in New Delhi. The attack was one of three this week that targeted Israeli diplomats in Asia. There were failed attempts to kill Israeli diplomats on the same day in the Georgian capital Tbilisi and on the following day in the Thai capital Bangkok.
The Thai authorities have arrested three Iranians in connection with the Bangkok attack and yesterday Malaysia said they had arrested another Iranian over suspected links to that attack and would extradite him to Thailand.
The three Iranian men arrested for the Bangkok bomb attacks met with prostitutes on the night before the explosion. Pictures revealed today by the Bangkok Post show the three arrested suspects in the company of two female escorts.
For more on those attacks, please see here.
"MOSSAD THWARTS ASSASSINATION ATTEMPT ON EHUD BARAK IN SINGAPORE"
The Kuwaiti newspaper Al-Jarida reported yesterday that Mossad officials, working with local intelligence chiefs in Singapore, have prevented a plot to assassinate Israeli Defense Minister Ehud Barak during his visit to Singapore this week.
Barak was in Singapore from Monday until Wednesday to attend the biennial Singapore Airshow.
Three members of a joint Hizbullah-Iranian cell were planning to kill Barak during the trip. Al-Jarida said the suspects were arrested by Singapore's security agencies.
(Incidentally, the head of Singapore intelligence is a subscriber to this email list and has told me in the past that he is a keen reader of it.)

In the past, Al-Jarida has been considered to be a reliable source.
An enquiry is under way in Israel about how Hizbullah apparently managed to gain a copy of Barak's schedule.
PALESTINIAN AUTHORITY WARNS PALESTINIANS: WRITE ONLY NICE THINGS ON FACEBOOK ABOUT YOUR LEADERS
The Palestinian Authority has let it be known to the Palestinian population that its security forces are monitoring Palestinian users of Facebook.
It has warned Palestinians not to criticize Fatah leaders, and instead said they will only be permitted to criticize Israel. According to reports, those who fail to do this may, at best, lose their jobs, or worse, be imprisoned.
The Palestinian Authority security forces, under the overall control of President Mahmoud Abbas, are largely paid for by the U.S. and European countries.
Palestinian analysts say that the Palestinian leadership is aware of the power of Facebook and other social networking sites in rousing dissent against corrupt and dictatorial leaders in Tunisia, Egypt, Libya and Syria, and want to prevent similar protests against them.
After Rami Samara, from Ramallah, last week posted a comment on his private Facebook page saying "Ok, no joking now, do the members of the 'sole legitimate leadership of the Palestinian people' believe that this announcement is worth their sitting in their seats, turning on the heaters and drinking coffee and tea in their offices in Ramallah?" he was then taken in for interrogation by both Palestinian Military Intelligence and Palestinian General Intelligence.
Mamdouh Hamarneh, a TV journalist from Bethlehem, was held in custody for over 7 weeks last year after he compared Abbas on Facebook to a Syrian actor who portrayed a villain in a Syrian soap opera shown on Palestinian TV.
Hamza Kashgari faces death for daring to express his opinion

SAUDI BLOGGER TO BE DEPORTED BY MALAYSIA COULD FACE DEATH PENALTY
Malaysian authorities have arrested Hamza Kashgari, a blogger who fled his native Saudi Arabia after sending out tweets about the Prophet Mohammed. He now faces extradition to face blasphemy charges in Saudi Arabia and a possible death sentence.
Kashgari, 23, was detained in Malaysia as he boarded an early-morning flight to seek asylum in New Zealand. Interpol has also been criticized by human rights groups for helping the Saudis track Kashgari down in Malaysia.
Among Kashgari's tweets for which he may be beheaded, are: "I have loved the rebel in you [Mohammed] but I do not like the halos of divinity around you. I shall not pray for you."
In another tweet, sent on Mohammed's birthday, he wrote: "On your birthday I find you in front of me wherever I go. I love many things about you and hate others, and there are many things about you I don't understand."
More than 15,000 people have joined a Facebook group titled (in Arabic) "The Saudi People Demand the Execution of Hamza Kashgari".
Kashgari issued an apology and removed the tweets and closed down his account, but the Saudi king issued an arrest warrant for Kashgari.
SAUDI ARABIA, THE "LAND OF OPPORTUNITY"
In Saudi Arabia itself other users of twitter are continuing to call for Kashgari to be killed.
A popular new Twitter hash-tag in the kingdom translates as "Hamza Kashgari the dog."
Former Canadian justice minister Irwin Cotler, who is a subscriber to this email list, tells me he has offered to serve as Kashgari's international legal counsel. In the past, Cotler has served as legal advisor to prominent dissidents elsewhere, including Natan Sharansky, Nelson Mandela and Sa'ad Eddin Ibrahim.
The controversy over Kashgari's tweets is reminiscent of the 2005 furor against a Danish newspaper that published a series of cartoons about Mohammed. The Danish cartoonist in question continues to face death threats and lives under 24 hour police protection. (For a photo essay of those cartoons and the reaction to them, please see here.)
More recently, in November last year, the French magazine Charlie Hebdo published a satirical "Sharia Hebdo" edition that was "guest-edited" by Mohammed. Hours before publication of the issue, the magazine's offices in Paris were almost entirely destroyed in a firebomb attack.
This week the Saudi ambassador to the United Nations, Abdallah Y. Al-Mouallimi, told a packed hall of students at New York University that Saudi Arabia was a "land of opportunity" where there was no oppression of dissidents.
Saudi Arabia regularly arrests, and sometimes beheads or whips liberals, women and dissidents that have displeased the regime.
SAUDIS ARREST MORE THAN 140 PEOPLE FOR CELEBRATING VALENTINE'S DAY
Saudi Arabia's religious police have arrested more than 140 people for celebrating Valentine's Day, the BBC reported.
The "Organization for Promoting Virtue and Discouraging Evil" says officers have punished those caught so far, and that its campaign of arrests is continuing as the week draws on.
In a six-page statement, the religious police said they were saving women from "deceiving men," who used the day to give the fake impression that they loved a woman while pretending to be a "harmless lamb."
The religious authorities say Muslims who take part in Valentine's Day are in fact "weak, lacking imagination", and far removed from the "sublime and virtuous" objectives of their religion.
In advance of Valentine's Day on Monday, the Saudi authorities confiscated all red roses from shops.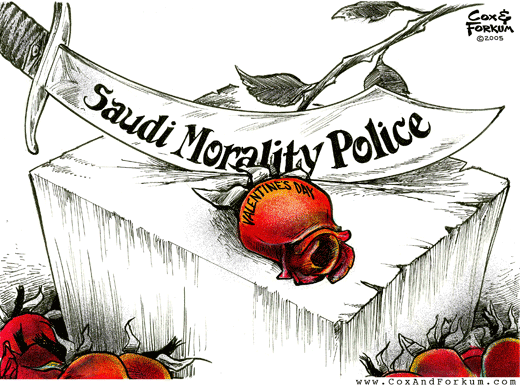 ISRAEL DEFENSE MINISTRY TEAM VISITS EASTERN TURKEY TO HELP VICTIMS
On Monday, a team from the Israeli Defense Ministry visited the Van district in Turkey to continue offering logistical help to the thousands of people who remain homeless, in freezing winter conditions, following the devastating earthquake there four months ago.
The team was led by the head of Israel's Emergency Preparedness Department, and by Israel's Coordinator of the Humanitarian Aid.
The government in Ankara, headed by the anti-Israel Prime Minister Erdogan, had initially refused Israeli and international aid, in part (critics said) because most of the victims were Kurds. (For more, see "Erdogan would rather see Turks die than have them rescued by Israelis" Oct. 24, 2011.)
But Erdogan relented after a few days and Israel has since built 50 mobile structures and 80 housing structures for victims.
The Vice-Governor of Van district, Ahmet Kazankyeh, said at a ceremony inaugurating the new Israeli-built housing on Monday: "After the harsh quake that occurred here, you came, you the Israelis, with a lot of material and a lot of willingness to help. And for this I thank you very much, from the bottom of my heart. You are our true friends, and the proof is what we see here. Only true friends can help so quickly and with such concern for their partners."
He continued: "More than 800 people will now be able to inhabit the structures provided by the Israeli Defense Ministry. Thanks to these structures we will be able to put life back on track here."

[All notes above by Tom Gross]