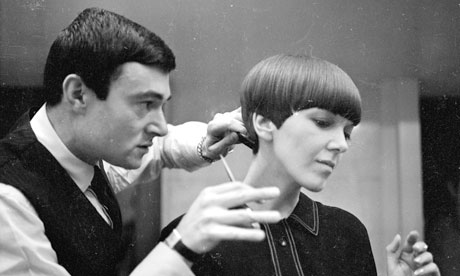 Vidal Sassoon cutting Mary Quant's hair
* Charles Krauthammer: "Such a fateful decision [on Iran] demands a national consensus. By creating the largest coalition in nearly three decades, Netanyahu is establishing the political premise for a preemptive strike, should it come to that. The new government commands an astonishing 94 Knesset seats out of 120, described by one Israeli columnist as a 'hundred tons of solid concrete.'"

* "So much for the recent media hype about some great domestic resistance to Netanyahu's hard line on Iran. Two notable retired intelligence figures were widely covered in the U.S. for coming out against him. Little noted was that one had been passed over by Netanyahu to be the head of Mossad, while the other had been fired by Netanyahu as Mossad chief (hence the job opening). For centrist Kadima (it pulled Israel out of Gaza) to join a Likud-led coalition whose defense minister is a former Labor prime minister (who once offered half of Jerusalem to Yasser Arafat) is the very definition of national unity – and refutes the popular 'Israel is divided' meme."
* Yossi Klein Halevi: "Much of the international community has profoundly misread the attitude of the Israeli public toward the occupation and peace. Contrary to what many foreign commentators have suggested, the Israeli mainstream has not accepted the status quo with smug indifference. Instead, most Israelis keenly understand the long-term dangers posed by the occupation to Israel's international standing and to its ability to remain both a Jewish and a democratic state. All major Israeli parties now accept a two-state solution."
***
(You can comment on this dispatch here: www.facebook.com/TomGrossMedia. Please first press "Like" on that page.)
CONTENTS
1. Peter David, a talented journalist and good-humored companion
2. Vidal Sassoon, helping Israel to gain independence
3. Irshad Manji, brutally attacked by Islamic fundamentalists in Indonesia
4. "Echoes of '67: Israel unites" (By Charles Krauthammer, Washington Post, May 10, 2012)
5. "Israel's new kind of coalition" (By Yossi Klein Halevi, Foreign Affairs, May 11, 2012)
[Notes below by Tom Gross]
Following-up the note about Israel's new government in the dispatch earlier in the week (Netanyahu's "political masterstroke" (& Gaza restaurant allows female waitress), attached below are two articles about it from the Washington Post's Charles Krauthammer, and Yossi Klein Halevi, writing in Foreign Affairs. (Both are subscribers to this email list.) Before that are three other notes.
PETER DAVID, A TALENTED JOURNALIST AND GOOD-HUMORED COMPANION
Peter David, the Washington bureau chief of The Economist and before that, from 2001-09, The Economist's foreign editor, tragically died in a car crash in the American state of Virginia on Thursday night. Peter was in many ways an exceptional journalist, and always lively company and a pleasure to talk to. He was for many years a subscriber to this email list and while he said he didn't always agree with me (especially when I criticized The Economist) he said he made sure to read all these dispatches and was glad that the views in them were being aired.
Before taking up the job of foreign editor Peter was a writer on the Middle East for The Economist. He retained a keen interest in the region and just last weekend at The Washington Institute's annual conference Peter gave an interesting talk on Syria. He was also among the last journalists to interview Yasser Arafat in his compound in Ramallah.
Peter David was 60. The driver of the other car has been charged with reckless driving. Peter was the only casualty in the accident. His wife Celia, who was also in the car and was injured, is being released from hospital today.
Above: Peter David
VIDAL SASSOON, HELPING ISRAEL TO GAIN INDEPENDENCE
Noted in some, but not all of the obituaries of the London-born celebrity hairstylist Vidal Sassoon (who died aged 84 at his home in Los Angeles earlier this week) was that he said that fighting in Israel's 1948 war of independence from the British was one of his "proudest moments."
When Israel declared its independence, Sassoon – who had already battled Oswald Mosley's Fascist black shirt gangs on the streets of east London – joined an international group of Jewish volunteers to fight for the creation of a Jewish homeland. He spent a year in Israel's Negev desert, where his unit took heavy casualties. "That was the best year of my life," Sassoon told a British newspaper decades later. "After 2,000 years of being put down we created our own nation, it was a wonderful feeling. There were only 600,000 people defending the country against five armies, so everyone had something to do. It was this year that gave me the most confidence about my life."
He remained an active supporter of Israel. In the early 1980s he co-founded The Vidal Sassoon Center for the Study of Anti-Semitism at Jerusalem's Hebrew University with Professor Yehuda Bauer (who is one of the world's leading Holocaust historians) and traveled there regularly.
The Guardian's obituary said he was a "militant Zionist". Another British paper, The Daily Telegraph, called him an "anti-fascist warrior-hairdresser".
Sassoon began his career as a teenager at Cohen's Beauty and Barber Shop in London's working class East End and went on to capture the attention of the fashion world in 1963 when he crafted an architectural haircut for Mary Quant, then one of London's leading young fashion designers who is credited with inventing the miniskirt.
Flown in from London, Sassoon then trimmed the tresses of Mia Farrow in Hollywood for her role in the film "Rosemary's Baby" – a $30 haircut that he calculated cost $5,000, including the airfare. The 1967 event was staged inside a makeshift "salon" in a boxing ring. The film's director, Roman Polanski, looked on as Sassoon gave the actress a pixie cut that would be copied by women the world over.
IRSHAD MANJI, BRUTALLY ATTACKED BY ISLAMIC FUNDAMENTALISTS IN INDONESIA

Muslim reformist thinker Irshad Manji was attacked by Islamic fundamentalists wielding iron bars and sticks in Jakarta, Indonesia this week. Irshad (who is a longtime subscriber to this email list) was presenting her latest book "Allah, Liberty and Love" – which has been translated into Indonesian – at an event in Yogyakarta, when the building was stormed by masked Islamic extremists. A group of women activists who attended the discussion formed a human cordon around Irshad, protecting her from the worst of the blows. However, her assistant was rushed to hospital with head injuries, having been hit with iron bars.

Irshad said after the attack: "Four years ago, I came to Indonesia and experienced a nation of tolerance, openness and pluralism. Things have changed. Islamic radicals have been allowed to close down legitimate debate about issues which Indonesians hold dear to their hearts – the reform of Islam from within. But we will not be silenced. We are not going away and will continue to fight for freedom of speech."
ARTICLES
WHY DID THE HIGH-FLYING NETANYAHU CALL OFF ELECTIONS HE WAS SURE TO WIN?
Echoes of '67: Israel unites
By Charles Krauthammer
The Washington Post
May 10, 2012
www.washingtonpost.com/opinions/echoes-of-67-israel-unites/2012/05/10/gIQA9tUaGU_story.html
In May 1967, in brazen violation of previous truce agreements, Egypt ordered U.N. peacekeepers out of the Sinai, marched 120,000 troops to the Israeli border, blockaded the Straits of Tiran (Israel's southern outlet to the world's oceans), abruptly signed a military pact with Jordan and, together with Syria, pledged war for the final destruction of Israel.
May '67 was Israel's most fearful, desperate month. The country was surrounded and alone. Previous great-power guarantees proved worthless. A plan to test the blockade with a Western flotilla failed for lack of participants. Time was running out. Forced into mass mobilization in order to protect against invasion – and with a military consisting overwhelmingly of civilian reservists – life ground to a halt. The country was dying.
On June 5, Israel launched a preemptive strike on the Egyptian air force, then proceeded to lightning victories on three fronts. The Six-Day War is legend, but less remembered is that, four days earlier, the nationalist opposition (Menachem Begin's Likud precursor) was for the first time ever brought into the government, creating an emergency national-unity coalition.
Everyone understood why. You do not undertake a supremely risky preemptive war without the full participation of a broad coalition representing a national consensus.
Forty-five years later, in the middle of the night of May 7-8, 2012, Prime Minister Benjamin Netanyahu shocked his country by bringing the main opposition party, Kadima, into a national unity government. Shocking because just hours earlier, the Knesset was expediting a bill to call early elections in September.
Why did the high-flying Netanyahu call off elections he was sure to win?
Because for Israelis today, it is May '67. The dread is not quite as acute: The mood is not despair, just foreboding. Time is running out, but not quite as fast. War is not four days away, but it looms. Israelis today face the greatest threat to their existence – nuclear weapons in the hands of apocalyptic mullahs publicly pledged to Israel's annihilation – since May '67. The world is again telling Israelis to do nothing as it looks for a way out. But if such a way is not found – as in '67 – Israelis know that they will once again have to defend themselves, by themselves.
Such a fateful decision demands a national consensus. By creating the largest coalition in nearly three decades, Netanyahu is establishing the political premise for a preemptive strike, should it come to that. The new government commands an astonishing 94 Knesset seats out of 120, described by one Israeli columnist as a "hundred tons of solid concrete."
So much for the recent media hype about some great domestic resistance to Netanyahu's hard line on Iran. Two notable retired intelligence figures were widely covered here for coming out against him. Little noted was that one had been passed over by Netanyahu to be the head of Mossad, while the other had been fired by Netanyahu as Mossad chief (hence the job opening). For centrist Kadima (it pulled Israel out of Gaza) to join a Likud-led coalition whose defense minister is a former Labor prime minister (who once offered half of Jerusalem to Yasser Arafat) is the very definition of national unity – and refutes the popular "Israel is divided" meme. "Everyone is saying the same thing," explained one Knesset member, "though there may be a difference of tone."
To be sure, Netanyahu and Kadima's Shaul Mofaz offered more prosaic reasons for their merger: to mandate national service for now exempt ultra- Orthodox youth, to change the election law to reduce the disproportionate influence of minor parties and to seek negotiations with the Palestinians. But Netanyahu, the first Likud prime minister to recognize Palestinian statehood, did not need Kadima for him to enter peace talks. For two years he's been waiting for Mahmoud Abbas to show up at the table. Abbas hasn't. And won't. Nothing will change on that front.
What does change is Israel's position vis-a-vis Iran. The wall-to-wall coalition demonstrates Israel's political readiness to attack, if necessary. (Its military readiness is not in doubt.)
Those counseling Israeli submission, resignation or just endless patience can no longer dismiss Israel's tough stance as the work of irredeemable right-wingers. Not with a government now representing 78 percent of the country.
Netanyahu forfeited September elections that would have given him four more years in power. He chose instead to form a national coalition that guarantees 18 months of stability – 18 months during which, if the world does not act (whether by diplomacy or otherwise) to stop Iran, Israel will.
And it will not be the work of one man, one party or one ideological faction. As in 1967, it will be the work of a nation.
"ISRAEL'S LEADERS CAN NO LONGER IGNORE THE LONGING OF THEIR PEOPLE FOR A POLITICS OF NORMALCY"
Israel's New Kind of Coalition
What Netanyahu Can Do With Three-Quarters of the Knesset
By Yossi Klein Halevi
Foreign Affairs
May 11, 2012
In forming a vast new coalition government earlier this week – which now includes the centrist party, Kadima, in addition to right-wing factions – Israeli Prime Minister Benjamin Netanyahu has one overriding purpose: to strengthen his hand on Iran. He now has uncontested political legitimacy with which to pressure the United States against protracted negotiations with Iran and to continue threatening a preemptive attack of his own.
Yet although Netanyahu cares most about stopping the Iranian nuclear program, the immediate impetus for the unity government was domestic: a call for electoral reform and ending the exemption of ultra-Orthodox seminary students from serving in the military. Even as Netanyahu forms the expanded coalition to advance his position on Iran, he cannot ignore these internal issues – a sign that the Israeli electorate increasingly demands that its leaders address foreign and domestic concerns simultaneously.
The unity deal is Netanyahu's attempt to reiterate to the United States his resolve to stop Iran from acquiring atomic weapons. In March, when U.S. President Barack Obama attempted to reassure Israel that he would not allow Iran to become a nuclear power by declaring that "the United States will always have Israel's back," Jerusalem essentially responded, "No thanks." Israelis will not entrust their security to any outsider, even a friend. They recall that weeks before the 1967 Six-Day War, U.S. President Lyndon Johnson, as good a friend as Israel has had in the White House, refused an Israeli request to lead an international flotilla to open the Straits of Tiran, which Egypt had shut to Israeli shipping – even though Washington had promised to do precisely that in return for an Israeli withdrawal from Sinai following the 1956 Suez War. After Johnson's refusal, Israel launched a successful preemptive strike against Egypt.
The creation of a unity government confirms that preemption remains an option for Israel toward threats perceived as existential. And that policy has broad potential support. What's more, the much-publicized attacks on Netanyahu's Iran policy have to some extent been misunderstood abroad. Not even Netanyahu's most bitter critics – such as Meir Dagan, the former head of the Mossad, Israel's intelligence agency, and, more recently, Yuval Diskin, the former head of the Shin Bet, Israel's internal security service – have suggested that Israel could live with a nuclear Iran. The debate, instead, has been over timing. That is especially the case with Kadima head Shaul Mofaz, who said in March that an attack on Iran would be "disastrous." Some have claimed that he may use his position in the cabinet to oppose a strike. Yet Mofaz merely condemned a "premature" operation, and stated that he would back Netanyahu if it became apparent that only an Israeli attack could stop Iran's nuclear program. In fact, in 2008, Mofaz said that "if Iran continues with its program for developing nuclear weapons, we will attack it… [it] will be unavoidable."
In creating a resilient government, Netanyahu has, in effect, put Obama's diplomatic initiative with Iran on probation. If negotiations fail to produce tangible results soon, or if, as Israeli policymakers fear, Obama is prepared to allow Iran to reach breakout capacity without actually producing a bomb, Israel is better positioned to strike alone.
The coalition has also strengthened Netanyahu's policy toward the Palestinians. Although Netanyahu suggested that the new government would make advancing the peace process one of its top objectives, negotiations will likely remain stalled. Even if Netanyahu were to impose another settlement freeze, as he did in 2009, no Israeli government, let alone this one, would stop building in Jewish neighborhoods in East Jerusalem – a Palestinian precondition for resuming peace talks. And little public pressure exists to resume the process. Even many Israelis who oppose Netanyahu agree that blame for the lack of progress hardly belongs to Israel alone. Most Israelis – around 70 percent, according to repeated polls conducted by the Truman Institute for the Advancement of Peace – support a two-state solution. But that same majority, those polls reveal, doubts the possibility of an agreement in the near future and questions whether any territorial concessions will win Israel real peace and legitimacy. That is one reason that, in six weeks of anti-government social protests last summer led by young liberal activists, the peace process went unmentioned. And now, given the uncertainty of relations with Egypt, with whom Israel shares its only successful land-for-peace agreement, Israelis are hardly prepared to risk another territorial withdrawal, especially from territories that border Tel Aviv and Jerusalem.
Much of the international community has profoundly misread the attitude of the Israeli public toward the occupation and peace. Contrary to what many foreign commentators have suggested, the Israeli mainstream has not accepted the status quo with smug indifference. Instead, most Israelis keenly understand the long-term dangers posed by the occupation to Israel's international standing and to its ability to remain both a Jewish and a democratic state. All major Israeli parties now accept a two-state solution. Twenty years ago, the Labor Party opposed a Palestinian state in the West Bank and Gaza; today, even Yisrael Beiteinu, the party of right-wing Foreign Minister Avigdor Lieberman, accepts the principle of Palestinian statehood. In endorsing the idea of two states for two peoples, Netanyahu negated a core ideological principle of the Likud, and has helped transform the debate over the territories from an ideological to a pragmatic issue: Under what conditions can Israel withdraw in relative safety? For many supporters, Netanyahu offers the best reassurance of protecting vital Israeli security interests in any future withdrawal.
Netanyahu now has over three-quarters of the Knesset in his government. When the prime minister founded his government three years ago, he hoped to create a unity coalition. But he failed in efforts to include Kadima, and although he did bring in Labor, it eventually quit. (A small breakaway faction, led by Defense Minister Ehud Barak, remained.) Still, he did exclude the Knesset's most right-wing party, the National Union, which supports the most militant settlers. And with this new coalition, Netanyahu can credibly claim to represent the broad Israeli center.
Although the new unity government will allow Netanyahu to focus on Iran, it will also force him to address critical domestic issues. For the first time, the political system is positioned to deal with long-standing structural and ideological distortions that threaten the cohesion of Israeli society. Foremost among those is the wholesale exemption of thousands of ultra-Orthodox seminary students from the military draft – a separatism that is, thanks to coalition politics, subsidized by the Israeli mainstream. Along with ending the mass exemptions, this coalition will need to reform the electoral system to prevent the ultra-Orthodox minority from continuing to dictate terms to every coalition.
The new government will aim to implement a system of universal conscription that will allow the ultra-Orthodox to perform alternative national service instead of joining the military. This has significant implications for another community outside the mainstream – Israel's 1.2 million Arab Israelis. Aside from the Druze, a minority Islamic sect, Arab Israelis are exempt from the draft. Yet some form of national service is essential in strengthening the Arab case for equality in a society whose Jewish men devote three years to the nation's defense and then continue in reserve duty into their forties.
Initial polls suggest that the Israeli public largely doubts that the new coalition will change the electoral system or enact universal conscription. Given the cynical nature of Israeli politics, the skepticism is understandable. But this time it may be wrong. Mofaz knows that his political future depends on showing results. And Netanyahu understands that if he fails to exploit the historic opportunity for change that he has created, he will face the public's harsh judgment.
Still, with the issue of Iran pressing, time is not on the government's side. Domestic change must begin quickly. And given that Netanyahu prefers to negotiate with ultra-Orthodox leaders and establish a gradual transition to conscription, that process has to start before potential security emergencies intervene and sideline internal affairs.
Whether or not Netanyahu can solve these problems, the fact that he cannot ignore them, even at this fateful moment with Iran, indicates a profound transformation of Israeli politics. Israelis are no longer willing to defer domestic change. Ironically, the more daunting Israel's external threats, the more the public has turned inward. That is an expression of Israeli pragmatism: since the average Israeli believes that he personally cannot affect developments in the region, then better focus on problems closer at hand.
Zionism once promised that Israel would become an equal, accepted member of the community of nations. Besieged and embattled, it is hardly that. But Zionism did fulfill one pledge: to teach Jews how to defend themselves. For now, at least, self-defense from existential threat defines Israeli politics. Yet as even this coalition of national emergency proves, Israel's leaders can no longer ignore the longing of their people for a politics of normalcy.