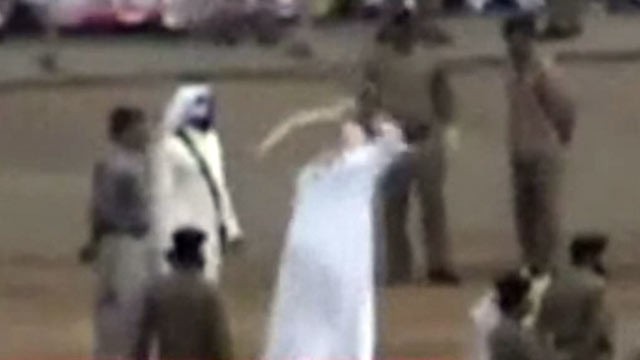 Saudi Arabian officials execute an Indonesian maid on June 18, 2011, in this grainy amateur picture
* Saudi teen has her marriage to 90-year-old annulled
* Sri Lankan maid beheaded in Saudi Arabia
* Hamas PM says Western Wall is really Muslim
* While Syrian warplanes kill 83 students sitting exams, academic boycotters in America, Britain, Canada and elsewhere still campaign against Israeli universities, the only truly free universities in the Middle East, instead of expressing solidarity with Syrian students
***
I attach a variety of items from around the Middle East. Some are shorter than usual because I'm continuing to suffer from carpal tunnel syndrome.
(You can comment on this dispatch here: www.facebook.com/TomGrossMedia. Please also press "Like" on that page.)
CONTENTS
1. Iranian TV: U.S. planned 9/11 attacks to invade Middle East
2. Pakistan and Saudi Arabia hold joint naval exercise
3. Iran could have nuclear bomb by next year
4. Iran developing "Smart Control" software to police Facebook
5. Kuwait begins imprisoning tweeters, bloggers
6. Malaysian Premier visits Gaza, while Hamas PM says Western Wall is really Muslim
7. Syrian refugee influx into Jordan reaches "record levels"
8. Saudi teenager has her marriage to 90-year-old man annulled
9. Saudi man arrested after "seeking Jewish wife"
10. Sri Lankan maid convicted of "killing infant" in her care beheaded in Saudi Arabia
11. Palestinian Authority President Abbas claims Zionism connected to Nazis
12. Al Jazeera America is hiring
[All notes below by Tom Gross]
IRANIAN TV: U.S. PLANNED 9/11 ATTACKS TO INVADE MIDDLE EAST
The Iranian government seems to have changed its mind. It is no longer blaming Ariel Sharon for ordering the 9/11 attacks, but is pointing the finger at George W. Bush instead.
A senior Iranian commander told Iran's Press TV that "the United States planned the 9/11 terrorist attacks to use them as pretext to invade the energy-rich Middle East."
"The US, looking for a pretext to invade the Middle East, masterminded the 9/11 incident and pointed an accusing finger at Muslim countries," Commander of the Iranian Army Ground Forces Brigadier General Ahmad-Reza Pourdastan said on Saturday.
Full report: here.
(Tom Gross adds:: The 9/11 attacks were – of course – carried out by al-Qaeda, who proudly took responsibility for the murders.)
PAKISTAN AND SAUDI ARABIA HOLD JOINT NAVAL EXERCISE
The Kuwait News Agency reports that the Pakistani and Saudi navies have conducted joint exercises, named Naseem Al Bahr (Sea Breeze). During the exercise, both ships and aircraft fired off many live rounds, according to a statement issued by the Pakistan navy.
Tom Gross adds: If (Shia) Iran acquires a nuclear arsenal, (Sunni-ruled) Saudi Arabia is expected to purchase nuclear weapons from (Sunni-ruled) Pakistan.
IRAN COULD HAVE NUCLEAR BOMB BY NEXT YEAR
A new report by a group of U.S. nonproliferation experts has concluded that Iran could produce enough weapons-grade uranium for one or more nuclear bombs by the middle of 2014. The report, co-written by David Albright, the president of the Institute for Science and International Security, says the U.S. and its allies should intensify sanctions on Iran before that point is reached.
Others believe that only an American-led airstrike will prevent Iran from acquiring a nuclear arsenal.
IRAN DEVELOPING "SMART CONTROL" SOFTWARE TO POLICE FACEBOOK
Iran's chief of police, Esmail Ahmadi Moghadam, has said that the country is developing software to control social-networking sites, including Facebook. He said the "smart control" of social-networking sites, will be a more useful tool to keep an eye on "anti-Islamic" elements in the country than the complete filtering of Facebook and twitter accounts.

Last month saw the launch of a Facebook page devoted to Iran's Supreme Leader Ali Khamenei, which is believed to have been created and administered by his office.

In recent months, several anti-regime activists have been threatened and detained over their Facebook postings, including blogger Sattar Beheshti, who was tortured to death in custody after being arrested by Iran's cybercrime police unit.
KUWAIT BEGINS IMPRISONING TWEETERS, BLOGGERS
A Kuwaiti teenager has became the first defendant of what are believed to be many, to receive a jail sentence for tweeting messages that the regime disliked.
Rashed Al-Enezi received a two-year sentence in a gruesome Kuwaiti prison for sending tweets critical of the emir. As many as 200 others are reportedly awaiting trial on similar charges after criticizing the regime prior to last month's Kuwaiti "election".
MALAYSIAN PREMIER VISITS GAZA, WHILE HAMAS PM SAYS WESTERN WALL IS REALLY MUSLIM
The Prime Minister of Malaysia, Mohamed Najib Abdul Razeq, visited the Gaza Strip on Tuesday, the first non-Arab prime minister to visit the Hamas-controlled territory.
Razak was accompanied by his wife and an official delegation including his foreign minister. Razeq told a joint news conference in Gaza City with Hamas leader Ismail Haniyeh that he came "to express my solidarity with the Palestinian people."
During the press conference, the Hamas leader said the Western Wall, Judaism's holiest existing prayer site, was "a Palestinian, Arab and Islamic Wall" and Jerusalem was an "an Islamic, Arab and Palestinian city."
***
Efforts to reconcile the rival Palestinian factions Hamas and Fatah, which respectively control the Gaza Strip and the West Bank, are at risk after Hamas yesterday arrested dozens of Fatah loyalists, along with a half-dozen journalists, according to the Associated Press.
SYRIAN REFUGEE INFLUX INTO JORDAN REACHES "RECORD LEVELS"
The Jordan Times reports that more than 10,000 Syrians are now managing to escape into Jordan every week. Over 160,000 Syrian refugees now live in Jordan, many in desperate conditions.
3932 Syrian refugees crossed the border into Jordan the past 12 hours alone:
www.petra.gov.jo/Public_News/Nws_NewsDetails.aspx?lang=2&site_id=1&NewsID=98017&CatID=13
Hundreds of thousands of other Syrians have sought refuge in Turkey, Lebanon, or have been internally displaced.
The Palestinian Authority recently refused entry of Palestinians in Syria fleeing the country, despite the fact that Israel said it would have no problem with these Palestinians settling in the West Bank.
* See UN remains silent as Syria bombs and kills Palestinians; UN instead passes 9 more resolutions against Israel on a single day (Dec. 20, 2012)
***
Meanwhile the Syrian Government's daily bombardments of civilians are intensifying
In one attack last week, rockets fired by Syrian warplanes killed 83 students and wounded dozens, many critically, at the University of Aleppo on the first day of student exams.
Yet academic boycotters in America, Britain, Canada and elsewhere are still campaigning against Israeli universities, the only truly free universities in the Middle East, instead of expressing solidarity with Syrian students.
SAUDI TEENAGER HAS HER MARRIAGE TO 90-YEAR-OLD MAN ANNULLED
The marriage between Shareefa Ali Shuwai, 15, and a 90-year-old Saudi man has been annulled after an international outcry. Ali Shuwai lives with 14 other members of her family, including her parents, in a straw hut near the border with Yemen and the 90 year old had promised a large sum of money to the family.
SAUDI MAN ARRESTED AFTER "SEEKING JEWISH WIFE"
A 49-year-old Saudi man has been arrested in Mecca after he went around telling people he wanted to find a Jewish bride, according to a report in the Al-Hayat newspaper.
Saudi police spokesman Lieutenant Abdulmohsen Maiman said in a statement that the man could have a "mental disorder".
Al-Hayat said he would face prosecution on undisclosed charges and then see a "specialist physician".
***
Among other recent dispatches with items on Saudi Arabia, please see: Saudi detains dozens for "celebrating Christmas" (& "Jesus was a Palestinian") (Dec. 31, 2012)
SRI LANKAN MAID CONVICTED OF "KILLING INFANT" IN HER CARE BEHEADED IN SAUDI ARABIA
A Sri Lankan woman who was convicted of killing a baby in her care has been beheaded in the Saudi Arabian town of Dawadmy.
Rizana Nafeek was 17 years old in 2005, when her employer accused her of killing his infant daughter while feeding her.
Nafeek says she has nothing to do with the baby's death, and that the baby died of natural causes.
The Sri Lankan government pleaded with the Saudis to commute the sentence, but to no avail.
Western governments allied with the Saudis, notably the Americans and the British, don't seem to have pressured the Saudis enough over this case.
***
A young Afghan woman was recently beheaded by her husband for refusing to work as a prostitute.
PALESTINIAN AUTHORITY PRESIDENT ABBAS CLAIMS ZIONISM CONNECTED TO NAZIS
In an interview with the Lebanese TV station Al-Mayadeen, that is affiliated with Iran and Hizbullah, Palestinian leader Mahmoud Abbas made the outrageous claim that the Zionist movement had links with the Nazis.
Asked about allegations that he denied the Holocaust Abbas said that he had "70 more books that I still haven't published" about links between the Zionist movement and the Nazis. "I challenge anyone to deny the relationship between Zionism and Nazism."
Abbas's spokesman tried to clarify the comments, claiming that Abbas had been "misunderstood" and remains committed to the peace process with Israel.
***
Tom Gross adds: Abbas chose to write his entire PhD thesis (at Moscow's Oriental College) on this subject and follow it up with a book in 1983, "The Other Side: The Secret Relationship Between Nazism and the Zionist Movement," which denies the Holocaust. Abbas has never specifically repudiated his book, which purports to refute "the fantastic lie that six million Jews were killed" in the Holocaust.
Western news outlets such as The New York Times like to conveniently ignore this fact when reporting on Abbas's supposed "moderate" qualities.
* For background, see this 2003-2005 dispatch: Abu Mazen (Mahmoud Abbas) and the Holocaust.
AL JAZEERA AMERICA IS HIRING
Al Jazeera, which is set to replace Current TV with the launch of Al Jazeera America, has posted adverts for 105 new jobs in the United States – 98 in New York City, where Al Jazeera America will be based, and seven in Washington.
Al Jazeera spokesman Stan Collender added that in the coming weeks the network will also be creating "hundreds of additional new positions" and launching new bureaus around the U.S.
Al Jazeera – which bought Current TV from former American Democratic Presidential contender Al Gore for a reported $500 Million – says it will launch its American station within the next six months.
[Notes above by Tom Gross]