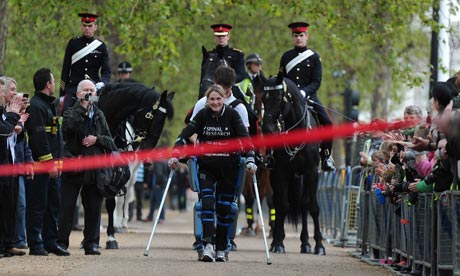 Claire Lomas approaches the London Marathon finishing line in her Israeli-developed ReWalk bionic suit
CONTENTS
1. Israeli technological achievements to be shown to President Obama
2. Tchaikovsky Flashwaltz at Jerusalem's Hadassah Hospital
3. In the field of energy alternatives – Phinergy: revolutionizing how we drive
4. In the field of the struggle against traffic accidents – Mobileye
5. In the field of medicine – Rewalk
6. In the field of search and rescue – robot snake
7. In the field of medicine – BNA technology by ElMindA
8. In the field of medicine – MiniDesktop
9. Israel develops the next generation operating room
ISRAELI TECHNOLOGICAL ACHIEVEMENTS TO BE SHOWN TO PRESIDENT OBAMA
[Notes below by Tom Gross]
There has been considerable coverage already devoted by papers such as New York Times to Barack Obama's forthcoming visit to Israel this week, his first as American President. Much has been written about the prospects for reviving (or not reviving) the Israeli-Palestinian peace process, and about the issue of Iran's race towards a nuclear weapon, which is said to be high up the president's agenda.
But during his visit, Obama will also be shown a special exhibit put on for him highlighting a few of the technological breakthroughs made by Israeli universities and start-ups -- in the fields of renewable energy, the fight against traffic accidents, medicine, search and rescue, and robotics.
Israel was recently ranked first country in the world in "research and development intensity" in a comprehensive study published by the Bloomberg news agency.
The innovations that Obama will see are outlined below, with accompanying videos.
TCHAIKOVSKY FLASHWALTZ AT HADASSAH HOSPITAL
But before that, you may also wish to view this remarkable "Tchaikovsky Flashwaltz" performed last week by forty students from the Jerusalem Academy of Music and Dance, who adopted a classical approach to the flashmob trend as they flashwaltzed Tchaikovsky's Waltz of the Flowers at the new wing at Jerusalem's Hadassah hospital. Doctors, patients and passers-by joined in the fun.
The surprise concert was part of Good Deeds Day, an annual event that originated in Israel in 2007 and now takes place in over 50 countries worldwide.
The Academy students enjoyed the performance so much that they have decided to schedule regular concerts at the hospital. The Hadassah Medical Organization treats over one million patients annually, without regard to race, religion or national origin.
***
For another video of an impromptu performance by Israeli classical musicians – in which members of the Israel Philharmonic Orchestra sing the chorus from Verdi's Il Trovatore at Tel Aviv's Dizengoff shopping center, to the surprise of Friday morning shoppers, please see this video dispatch from 2010.
Six of the seven products that Obama will see, are:
IN THE FIELD OF ENERGY ALTERNATIVES – PHINERGY: REVOLUTIONIZING HOW WE DRIVE
Phinergy has developed an aluminum-air battery designed for electric vehicles, which allows a significant increase in travel range (three times that of a regular electric vehicle). Based on research conducted at Bar-Ilan University near Tel Aviv, the technology will allow for a reduction in global oil consumption. The system is based on metal air technology, including aluminum air and zinc air. The technology also has the significant advantages of zero CO2 emissions, full recyclability, safety and low cost. It could revolutionize the amount of oil used by motorists, with all the political, economic and environmental implications this will have worldwide.
IN THE FIELD OF THE STRUGGLE AGAINST TRAFFIC ACCIDENTS – MOBILEYE
Developed in association with the Hebrew University, the goal of Mobileye (a global pioneer in developing Advanced Driver Assistance Systems (ADAS), is to create vision-based systems that will help drivers keep passengers safe on the roads and decrease traffic accidents by alerting them in advance to dangerous situations and even causing the vehicle to slow down or stop when necessary. To date, Mobileye's technology has been used by BMW, Volvo, GM and Ford in over one million vehicles. Beginning in 2014, the system will become standard for new vehicles as per the standards set by Euro-NCAP.
IN THE FIELD OF MEDICINE – REWALK
Developed by a student at the Technion, the ReWalk aims to give persons with lower limb disabilities, such as paraplegia, an experience that is as close to natural walking as possible.
The ReWalk exoskeleton suit uses a patented technology with motorized legs that power knee and hip movement. Battery-powered for all-day use, ReWalk is controlled by on-board computers and motion sensors, restoring self-initiated walking without needing tethers or switches to begin stepping. ReWalk controls movement using subtle changes in center of gravity, mimics natural gait and provides functional walking speed.
A forward tilt of the upper body is sensed by the system, which triggers the first step. Repeated body shifting generates a sequence of steps, which allows natural and efficient walking. The ReWalk also sits, stands, allows turning and has the ability to climb and descend stairs.
***
I carried an article about ReWalk in this dispatch last year:
"Paralysed Claire Lomas finishes London Marathon 16 days after it began" (The Guardian, sports pages, May 8, 2012)
IN THE FIELD OF SEARCH AND RESCUE – ROBOT SNAKE
Developed in association with Israel's Technion university, this robot is designed to enter spaces in collapsed structures (after accidents, earthquakes or bomb attacks) with minimal disturbance. The robot assists in location and rescue operations.
The robot is said to be unique in its manner of crawling and is very flexible thanks to its great number of segments. Each joint is motorized and has a computer, sensors, wireless communications and batteries. Its head carries a camera.
Thanks to its flexible structure, the snake is able to crawl through wreckage without causing additional structural collapses and provide vital information about inaccessible areas, including the status of people who might be trapped, and the location of hazardous materials.
IN THE FIELD OF MEDICINE – BNA TECHNOLOGY BY ELMINDA
Developed in association with Bar Ilan University, ElMindA's Brain Network Activation technology platform provides a non-invasive tool for the visualization and quantification of BNAs of specific brain functions, disease development and rehabilitation from injuries, reactions to treatment, psychiatric and neurological problems, and pain.
IN THE FIELD OF MEDICINE – MINIDESKTOP
A headset has been developed that enables computers to be controlled by brainwaves or facial movements. The computer is controlled without a mouse or keyboard by means of a headset that images the user's brainwaves from 14 separate points.
The system, which was developed by three software engineering graduates from Ben-Gurion University of the Negev, is designed to serve the physically handicapped who could not otherwise operate a computer or other devices.
See here.
ISRAEL DEVELOPS THE NEXT GENERATION OPERATING ROOM
Here is one more video, although this is not something included in President Obama's itinerary.