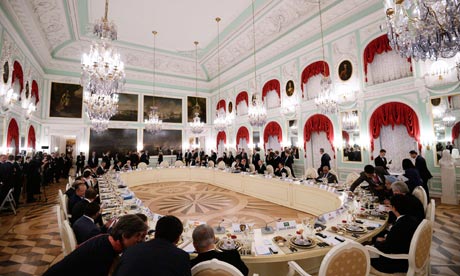 G20 leaders in St Petersburg, Russia discuss Syria yesterday
* Elizabeth O'Bagy: "Since few journalists are reporting from inside the country, our understanding of the civil war is not only inadequate, but often dangerously inaccurate... In the past year, I have made numerous trips to Syria, traveling throughout the northern provinces of Latakia, Idlib and Aleppo. I have spent hundreds of hours with Syrian opposition groups ranging from Free Syrian Army affiliates to the Ahrar al-Sham Brigade. Contrary to many media accounts, the war in Syria is not being waged predominantly by dangerous Islamists and al Qaeda die-hards."
* Anne Applebaum: "Twenty-one years ago this summer, Bill Clinton was crisscrossing the United States, campaigning for president and denouncing the White House for its failure to stop the Bosnian war. In July 1992 he spoke of the "renegade regime" in Serbia, called on the UN to tighten sanctions and, after the publication of particularly harrowing photographs from a Serbian concentration camp, declared that Americans must do "whatever it takes to stop the slaughter of civilians." If elected, he declared, he would begin "with air power against the Serbs."
"Alas, Clinton had not, at that point, learned about the power of language or about the ways in which an American president's words can be interpreted around the world. What seemed like mere campaign rhetoric to him – "renegade regime," "whatever it takes" – seemed like a promise to those who were fighting. Croats and Muslims took heart... They were to be disappointed: What was useful to Candidate Clinton was problematic to President Clinton, who spent the next several years delaying until major diplomatic and then military intervention became clumsily inevitable."
* David Aaronovitch on Ed Milliband, the British opposition leader who made it easier for Assad to continuing gassing his own people: "And in this moment of crisis it became clear – as it does – what Mr Miliband is. He is Oedipal Ed, the negator of the unpopular actions of the fathers; the anti-Blair, the non-Brown. His technique for victory to is follow behind the leader, wait for a slip-up and exploit his or her mistakes. He did it to his brother. He hopes to do it to David Cameron. He is neither hunter nor prey, he is scavenger. He is a political vulture. Mission creep? His mission is all about creeping."
* You can comment on this dispatch here: www.facebook.com/TomGrossMedia. Please also press "Like" on that page.
CONTENTS
1. "On the front lines of Syria's civil war" (by Elizabeth O'Bagy, Wall St. Journal, Aug. 31, 2013)
2. "Obama's mixed messages on Syria" (by Anne Applebaum, Washington Post, Sept. 4, 2013
3. "Ed Miliband is no leader. He is a vulture" (By David Aaronovitch, The Times of London, Sept. 5 2013)
I attach three articles below.
THE WESTERN MEDIA BUYS INTO ASSAD'S PROPAGANDA
On the Front Lines of Syria's Civil War
The conventional wisdom – that jihadists are running the rebellion – is not what I've witnessed on the ground
By Elizabeth O'Bagy
Wall Street Journal
August 31, 2013
With the U.S. poised to attack Syria, debate is raging over what that attack should look like, and what, if anything, the U.S. is capable of accomplishing. Those questions can't be answered without taking a very close look at the situation in Syria from ground level.
Since few journalists are reporting from inside the country, our understanding of the civil war is not only inadequate, but often dangerously inaccurate. Anyone who reads the paper or watches the news has been led to believe that a once peaceful, pro-democracy opposition has transformed over the past two years into a mob of violent extremists dominated by al Qaeda; that the forces of President Bashar Assad not only have the upper hand on the battlefield, but may be the only thing holding the country together; and that nowhere do U.S. interests align in Syria – not with the regime and not with the rebels. The word from many American politicians is that the best U.S. policy is to stay out. As Sarah Palin put it: "Let Allah sort it out."
In the past year, I have made numerous trips to Syria, traveling throughout the northern provinces of Latakia, Idlib and Aleppo. I have spent hundreds of hours with Syrian opposition groups ranging from Free Syrian Army affiliates to the Ahrar al-Sham Brigade.
The conventional wisdom holds that the extremist elements are completely mixed in with the more moderate rebel groups. This isn't the case. Moderates and extremists wield control over distinct territory. Although these areas are often close to one another, checkpoints demarcate control. On my last trip into Syria earlier this month, we traveled freely through parts of Aleppo controlled by the Free Syrian Army, following roads that kept us at safe distance from the checkpoints marked by the flag of the Islamic State of Iraq. Please see the nearby map for more detail.
Contrary to many media accounts, the war in Syria is not being waged entirely, or even predominantly, by dangerous Islamists and al Qaeda die-hards. The jihadists pouring into Syria from countries like Iraq and Lebanon are not flocking to the front lines. Instead they are concentrating their efforts on consolidating control in the northern, rebel-held areas of the country.
Groups like Jabhat al Nusra, an al Qaeda affiliate, are all too happy to take credit for successes on the battlefield, and are quick to lay claim to opposition victories on social media. This has often led to the impression that these are spearheading the fight against the Syrian government. They are not.
These groups care less about defeating Assad than they do about establishing and holding their Islamic emirate in the north of the country. Many Jabhat al Nusra fighters left in the middle of ongoing rebel operations in Homs, Hama and Idlib to head for Raqqa province once the provincial capital fell in March 2013. During the battle for Qusayr in late May, Jabhat al Nusra units were noticeably absent. In early June, rebel reinforcements rallied to take the town of Talbiseh, north of Homs city, while Jabhat al Nusra fighters preferred to stay in the liberated areas to fill the vacuum that the Free Syrian Army affiliates had left behind.
Moderate opposition forces – a collection of groups known as the Free Syrian Army – continue to lead the fight against the Syrian regime. While traveling with some of these Free Syrian Army battalions, I've watched them defend Alawi and Christian villages from government forces and extremist groups. They've demonstrated a willingness to submit to civilian authority, working closely with local administrative councils. And they have struggled to ensure that their fight against Assad will pave the way for a flourishing civil society. One local council I visited in a part of Aleppo controlled by the Free Syrian Army was holding weekly forums in which citizens were able to speak freely, and have their concerns addressed directly by local authorities.
Moderate opposition groups make up the majority of actual fighting forces, and they have recently been empowered by the influx of arms and money from Saudi Arabia and other allied countries, such as Jordan and France. This is especially true in the south, where weapons provided by the Saudis have made a significant difference on the battlefield, and have helped fuel a number of recent rebel advances in Damascus.
Thanks to geographic separation from extremist strongholds and reliable support networks in the south, even outdated arms sent by the Saudis, like Croatian rocket-launchers and recoilless rifles, have allowed moderate rebel groups to make significant inroads into areas that had previously been easily defended by the regime, and to withstand the pressure of government forces in the capital. In recent months, the opposition has achieved major victories in Aleppo, Idlib, Deraa and Damascus – nearly reaching the heart of the capital – despite the regime's consolidation in Homs province.
At this stage in the conflict, barring a major bombing campaign by the U.S., sophisticated weaponry, including anti-tank and anti-aircraft weapon systems, may be the opposition's best chance at sustaining its fight against Assad. This is something only foreign governments, not jihadists, can offer. Right now, Saudi sources that are providing the rebels critical support tell me that they haven't sent more effective weaponry because the U.S. has explicitly asked them not to.
There is no denying that groups like Jabhat al Nusra and the Islamic State of Iraq and al-Sham have gained a foothold in the north of Syria, and that they have come to dominate local authorities there, including by imposing Shariah law. Such developments are more the result of al Qaeda affiliates having better resources than an indicator of local support. Where they have won over the local population, they have done so through the distribution of humanitarian aid.
Yet Syrians have pushed back against the hard-line measures imposed on them by some of these extremists groups. While I was last in northern Syria in early August, I witnessed nearly daily protests by thousands of citizens against the Islamic State of Iraq and al-Sham in areas of Aleppo.
Where does this leave the U.S. as the White House contemplates a possible strike? The Obama administration has emphasized that regime change is not its goal. But a punitive measure undertaken just to send a message would likely produce more harm than good. If the Syrian government is not significantly degraded, a U.S. strike could very well bolster Assad's position and highlight American weakness, paving the way for continued atrocities.
Instead, any U.S. action should be part of a larger, comprehensive strategy coordinated with our allies that has the ultimate goal of destroying Assad's military capability while simultaneously empowering the moderate opposition with robust support, including providing them with anti-tank and anti-aircraft weapon systems. This should be combined with diplomatic and political efforts to first create an international coalition to put pressure on Assad and his supporters, and then working to encourage an intra-Syrian dialogue. Having such a strategy in place would help alleviate the concerns of key allies, like Britain, and ensure greater international support for U.S. action.
The U.S. must make a choice. It can address the problem now, while there is still a large moderate force with some shared U.S. interests, or wait until the conflict has engulfed the entire region. Iran and its proxies will be strengthened, as will al Qaeda and affiliated extremists. Neither of these outcomes serves U.S. strategic interests.
(Ms. O'Bagy is a senior analyst at the Institute for the Study of War.)
AN AMERICAN PRESIDENT'S WORDS
Obama's mixed messages on Syria
By Anne Applebaum
Washington Post
September 4, 2013
Twenty-one years ago this summer, Bill Clinton was crisscrossing the United States, campaigning for president and denouncing the White House for its failure to stop the Bosnian war. In July 1992 he spoke of the "renegade regime" in Serbia, called on the United Nations to tighten sanctions and, after the publication of particularly harrowing photographs from a Serbian concentration camp, declared that Americans must do "whatever it takes to stop the slaughter of civilians." If elected, he declared, he would begin "with air power against the Serbs."
Alas, Clinton had not, at that point, learned about the power of language or about the ways in which an American president's words can be interpreted around the world. What seemed like mere campaign rhetoric to him – "renegade regime," "whatever it takes" – seemed like a promise to those who were fighting. Croats and Muslims took heart, remained wary of peace talks and kept fighting – on the assumption that the new U.S. administration would come to their rescue.
They were to be disappointed: What was useful to Candidate Clinton was problematic to President Clinton, who spent the next several years delaying until major diplomatic and then military intervention became clumsily inevitable. One analyst of the war described the Clinton administration's early policy in Bosnia as: "to pronounce on principle, prevaricate in practice and preempt the policies and plans of others."
Fast-forward two decades, and another administration is in a remarkably similar position. To be clear: The central problem of the Obama administration's Syria policy is not that the president has failed to use military force but that both the president and his top officials have implied that they might use force, then backed away, then once again picked up the rhetoric. To put it bluntly, President Obama has also failed to understand the ways in which an American president's words will be interpreted around the world.
For example, in August 2011 Obama declared: "For the sake of the Syrian people, the time has come for President Assad to step aside." To Syrians fighting on the ground, that may have sounded like a promise that U.S. military support, or at least substantial military aid, was imminent. Neither was forthcoming. This June, the White House authorized the CIA to begin arming some of the Syrian rebels. This sounded even more like a promise, but as of last week that aid also had yet to arrive.
The president famously declared a year ago that the use of chemical weapons constituted a "red line" in Syria. But now that the red line has been crossed, the president has decided that he needs congressional support before he can respond. This is perfectly legitimate – but shouldn't it have been obtained earlier, at the time the promise was made? Certainly the Syrian regime interpreted the president's sudden and unexpected desire for congressional support as a "historic American retreat." Its media gloated accordingly.
If you wanted to do so, you could read something sinister into these tactics. Perhaps, some unnamed officials suggested to the Wall Street Journal this week, these delays and sudden changes are intentional: Perhaps the administration's point is to "tilt" the fighting away from Assad but to prevent an outright rebel victory – in other words, to prolong the war. If so, this administration is even more ruthlessly cynical than its critics have maintained, and Syrian conspiracy theorists are right on the mark.
But whether that is true hardly matters because the effect is the same: As happened in Bosnia, American pontification, prevarication and postponement in Syria have preempted the policies of others and delayed negotiations. The civil war continues; with every month the devastation increases, the refugees multiply and the levels of political extremism rise. Back in June, the Group of Eight called for "urgent" peace talks. But there are no negotiations to speak of, in part because the Syrian rebels continue to hang on for Western military support that always seems to be just around the corner but never quite materializes.
Two decades ago, five years ago and today, the source of the problem is the same: The president of the United States wishes to represent things – justice, fairness, international norms – that he cannot, or will not, or doesn't know how to defend in practice. In the future, it would be far more just, and far less cruel, for the president, and the rest of us, simply to say nothing at all.
"A VULTURE, NOT A LEADER"
Ed Miliband is no leader. He is a vulture
The Syria vote crystallised his failings. He waits for mistakes, then like a scavenger exploits them
By David Aaronovitch
The Times (of London)
September 5 2013
At the weekend a left-leaning colleague from another newspaper came home from holiday abroad and began asking his associates how Ed Miliband had come by his position on Syria. And no one could really tell him. It was a mystery. Somehow the Labour leader had ended up being the agent of Britain bowing out of any military response to the use of chemical weapons by the Syrian regime.
This colleague realised that last week's vote was the biggest moment of Mr Milband's leadership. It is the act that tells you more about him than anything else he has done.
In deciding to oppose the Government's motion – which incorporated most of the caveats to action which Labour had previously asked for – Mr Miliband and his Shadow Foreign Secretary, Douglas Alexander, went far beyond duffing up poor old post-beach, red-shouldered David Cameron. Mr Cameron, after all, is their day-to-day foe. They also rejected the call by President Obama that Mr Assad "be held accountable" for an action that, dreadful in itself, posed a huge risk to others if it went unpunished.
They turned down the appeal of John Kerry, the US Secretary of State, for a response both punitive and exemplary against Syria's armed capacity. They decided not to heed President Hollande's assertion that "when a chemical massacre takes place, when the world is informed of it, when the evidence is delivered, when the guilty parties are known, then there must be an answer".
These leaders are not Bush and Cheney, they are not the semi-mythical veins-in-my-teeth rocket-penised neocons. Labour supported Mr Kerry for president in 2004 (maybe Ed, in the US and silent during the Iraq war even campaigned for him), they backed Mr Obama in 2008 and 2012, and celebrated when Mr Hollande won the French presidency. These men are not just Britain's allies. They are Labour's natural friends. No one could accuse Mr Obama of having rushed into anything over Syria.
So how did Ed Miliband end up hindering these friends? What was his strategy? What did he actually want to happen?
The simple fact is that everyone knew where David Cameron stood. He believed that Assad's forces had used chemical weapons on a large scale on August 21. And he believed that it was necessary for an armed response to that attack to punish Assad, to weaken his military, to deter him from further use of chemical weapons and to deter others.
But what did Labour want? A couple of months ago I had a conversation about Syria with Douglas Alexander, a man I've always liked and – until that moment – thought highly of. He was being critical in a sort of nitpicking, legalistic way of the Government's position on Syria. I said to him that people had a right to expect an idea of Labour's foreign policy strategy in broad outline. It was the job of the Opposition, he replied to me, to hold the Government to account.
So, in the first instance Labour said they wanted evidence. Remember? "First the evidence and then the decision"? With the suggestion surely that if the evidence was forthcoming, then the decision would be for action. After all, if you were already decided on inaction, then why wait for the evidence?
The Government's motion, if passed, would have allowed for that process, but it was opposed and defeated. In the absence of a commitment by Labour to support the Government when the evidence was available, Mr Cameron cannot bring another motion to the House.
Since then the Labour position has mutated. Forget the evidence. Forget the plans. Forget the argument. Forget the legality. It was being put about this week that Labour would now only back action if "there is a very significant change. There are two examples: if al-Qaeda got possession of very large stockpiles of weapons or if there is a direct threat to national security". By next week it will only be if a member of the Assad family with a pot marked "anthrax" jumps on the Duchess of Cambridge.
How has Labour ended up in a situation whereby a major attack with chemical weapons could happen without a significant reponse by this country in concert with its allies? Mr Miliband could have accepted the government motion last week and taken the credit for getting a proper process established before action.
And he was presumably aware that the casualties would not just consist of David Cameron, but of any future Prime Minister's incapacity to suggest a course of action – however essential – that might be unpopular in the country. Of his own future capacity to take action.
Peter Hain in an article this week argued that there could be no military victory but only "a negotiated settlement between Assad and his enemies". That at least is a position. An impossible one, but it's a position.
Does Labour believe it, though? Does Labour, in fact, believe anything? Anything at any rate that it is prepared to risk actually saying? During the debate it sunk itself into the Coalition of the Unwilling. There was the usual heavy nodding during routine invocations of "exit strategies" and "mission creeps". Let them fight it out between themselves. The Tory Right and pro-Assad George Galloway commended Mr Miliband for his blow for democracy. From outside Parliament Nigel Farage did the same.
And perhaps here we do come to it. We are living through a bad-tempered and isolationist moment in British politics. When Mr Galloway and Mr Farage agree it is because something sounds good to both of them. It was well put by Lord Ashcroft this week. "People," he wrote, "see the pace of change continuing and even accelerating, and they know Britain in 20 years will look different from the Britain of today, let alone that of 20 years ago. Some welcome that, many are ambivalent and others are scared."
Many want to stop the world. No entanglements. Fewer immigrants. Stop this, don't build that. Get out of Europe. Above all a section of the electorate wants to stop things from happening.
And Ed Miliband intuited that the British people, overall, probably didn't want something to take place over Syria, and decided that instead of arguing with them, he'd join them. Just as he has done over immigration. He'd become the spokesman for nothing. He wouldn't outline his own alternative strategy – he'd just defeat Mr Cameron's.
And in this moment of crisis it became clear – as it does – what Mr Miliband is. A personable man (and he is a very pleasant companion), politically he is not a presence at all, he is an absence. He is Oedipal Ed, the negator of the unpopular actions of the fathers; the anti-Blair, the non-Brown. His technique for victory to is follow behind the leader, wait for a slip-up and exploit his or her mistakes. He did it to his brother. He hopes to do it to David Cameron. He is neither hunter nor prey, he is scavenger. He is a political vulture. Mission creep? His mission is all about creeping.
And though you can just about see how in a bad year Ed Miliband could become prime minister, what I cannot any longer pretend, after three years of his leadership, is that he would be a good one. On the contrary. I think he would be a disaster. Strangely, I think both the country and his party already know it.