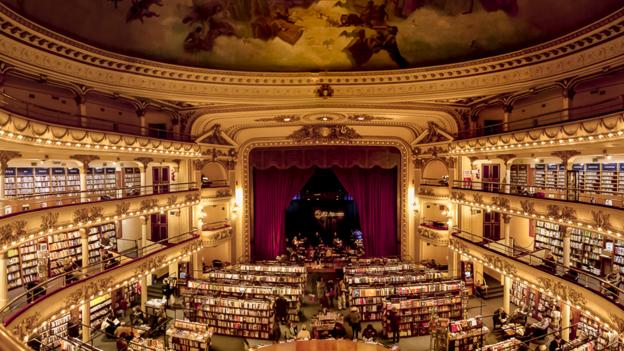 The El Ateneo bookshop, Buenos Aires, housed in the former Teatro Grand Splendid
* Assad's forces accused of new poison gas attack
* Pakistan court puts nine-month-old baby on trial for "planning a murder" and "and interfering in state affairs"
* London Evening Standard cites Avraham Stern as "one of the most dangerous men in the world" -- in 1942!
* Video: The Putin-Palin phone call
[Note by Tom Gross]
Below are a variety of items I have read in recent days, which I thought were under-reported, interesting or amusing. Some are lighter items, unconnected to the Middle East, to counterbalance the often intense and depressing items in these "Middle East dispatches". (I also posted a number of these items on my public and private Facebook pages in recent days, and if you want to get other such items, please "like" this page.)
I have also read editorials and comment pieces (some dressed up as news reporting) on Israel in recent days in the New York Times and Financial Times which I found to be so duplicitous, so utterly skewered about Israel, that it is too depressing and too time-consuming to pick them apart here. I can only say that the Arab, and even in some cases the Iranian reports I have read on the same matters in the last couple of days, are in some ways more balanced and give readers a more accurate sense of what actually happened.
CONTENTS
1. Assad's forces accused of new poison gas attack
2. Former Arsenal soccer star "joins Jihadi fighters waging war in Syria"
3. Bin Laden even watched the European Cup Winners' Cup final
4. U.S. government allows Boeing to sell plane parts to Iran
5. Afghan photos
6. Pakistan: Nine-month-old baby accused of planning murder
7. What passes as intelligent writing about "Zionists"
8. Deaf woman hears for first time
9. Ten of the world's most beautiful bookshops
10. The Vladimir Putin & Sarah Palin phone call on the "Tonight Show"
11. The European Disunion
12. Putin announces historic G1 summit
13. Fifteen things you didn't know your iPhone could do
14. Can you die of a broken heart?
15. It was 50 years ago today…
[Notes below by Tom Gross]
ASSAD'S FORCES ACCUSED OF NEW POISON GAS ATTACK
The increasingly bloody war in Syria (and the fate of millions of Syrian refugees) remains disgracefully under-reported. There has been even less reporting since President Obama and other Western leaders made it clear last summer that they would not become involved even after Assad used chemical weapons to murder hundreds of children. Most of the savagery is still being committed by regime units, often under Iranian command and using Russian weapons.
The leading Arab TV news network Al Arabiya (which has generally been proven correct in its reporting on Syria) reports yesterday:
Syrian opposition activists on Friday again accused President Bashar al-Assad's forces of using chemical weapons near the capital Damascus on Thursday, publishing the video of an apparently unconscious man lying on a bed and being treated by medics.
Activists from the opposition "Jobar Revo" group posted the video on YouTube of a man being treated with oxygen and being injected by medics. A voice off-screen said Thursday's date and that there was "a poison attack in Jobar."
(The rest of the piece is here.)
FORMER ARSENAL SOCCER STAR "JOINS JIHADI FIGHTERS WAGING WAR IN SYRIA"
From the print edition of today's (London) Daily Mirror:
Former Arsenal footballer 'joins Jihadi fighters waging war in Syria'
By Josh Layton
Daily Mirror
April 5, 2014
A former Arsenal star is thought to have joined a band of ruthless Jihadi fighters waging war in Syria.
The gun-toting fanatic is said to have grown up playing with Real Madrid galactico Cristiano Ronaldo.
The militia man turned his back on a footballer's playboy lifestyle after becoming radicalised two years ago, it is claimed
He is filmed wielding an AK47 and proclaiming holy war in two terror videos on an extremist website.
Fellow jihadists say the fighter – who now calls himself Abu Issa Al-Andalusi – was brought up in Portugal before signing for the Gunners.
In the footage he appears in a mask calling on Muslims to join the Islamic State of Iraq and Syria (ISIS) – an al-Qaeda off-shoot group behind murders and beheadings.
The faction has been blamed for extreme violence against other Islamist groups, Kurds and Syrian President Bashar al-Assad's brutal regime.
(The rest of the piece is here.)
BIN LADEN EVEN WATCHED THE EUROPEAN CUP WINNERS' CUP FINAL
The Daily Mirror adds:
Osama bin Laden was an Arsenal fan during his time living in London.
Fans even used to chant: "Osama, woah-woah, Osama, woah-waoh, he's hiding in Kabul, he loves the Arsenal".
The figurehead for global terror was said to have attended a number of matches at Highbury [TG adds: The then Arsenal stadium] in the 1990s.
He watched the Gunners' run to the European Cup Winners' Cup final in the 1993/94 season.
Bin Laden was also said to have bought his eldest son, Abdullah, an Ian Wright [TG: who was an Arsenal star] replica shirt.
Arsenal enacted a ban in when the reports first emerged in late 2001. A club spokesman said: "We've seen the reports in the papers. Clearly he wouldn't be welcome at Highbury in the future."
U.S. GOVERNMENT ALLOWS BOEING TO SELL PLANE PARTS TO IRAN
(What about the regime stopping its nuclear weapons program first? -- TG)
Iran News reports:
U.S. Government Allows Boeing To Sell Plane Parts To Iran
April 5, 2014
Aircraft manufacturer Boeing says it has been granted a license from the U.S. Treasury Department to export spare parts for commercial airplanes to Iran.
A spokesman for the company said on April 4 that the license covered a "limited period of time" and allowed the company only "to provide them spare parts that are for safety purposes."
The sales would be the first acknowledged dealing between U.S. aerospace companies and Iran since the 1979 Islamic Revolution.
(The rest of the piece is here.)
AFGHAN PHOTOS
Here is a selection of photos from the wonderful Associated Press photographer Anja Niedringhaus who was murdered in Afghanistan on Friday, shot dead by a policeman because she was not wearing a face covering.
PAKISTAN: NINE-MONTH-OLD BABY ACCUSED OF PLANNING MURDER
Pakistan is supposed to be a democracy where the rule of law is applied in a reasonable way. Not so.
WHAT PASSES AS INTELLIGENT WRITING ABOUT "ZIONISTS"
British historian, author, and BBC broadcaster Dominic Sandbrook, writing in Friday's (London) Evening Standard, cites Avraham Stern as "one of the most dangerous men in the world" -- in 1942!!
DEAF WOMAN HEARS FOR FIRST TIME
This is a very moving video. The moment a 40-year-old woman hears for the first time in her life, thanks to cochlear implants.
TEN OF THE WORLD'S MOST BEAUTIFUL BOOKSHOPS
The BBC has a nice round-up and some beautiful pictures here.
I particularly like the picture of Buenos Aires' El Ateneo bookshop, housed in the former Teatro Grand Splendid.
THE VLADIMIR PUTIN & SARAH PALIN PHONE CALL ON THE "TONIGHT SHOW"
One has to hand it to Sarah Palin for her good humor and self-deprecation here.
THE EUROPEAN DISUNION
Atlas of Prejudice – 20 ways to slice the European continent.
PUTIN ANNOUNCES HISTORIC G1 SUMMIT
Some satire from Andy Borowitz in The New Yorker:
MOSCOW (The Borowitz Report) – Russian President Vladimir Putin made history today by scheduling the first-ever summit of the newly formed group of nations called the G-1.
The summit, which Putin has set for June in Sochi, is expected to be attended by the G-1 member nation Russia.
Putin pronounced himself delighted by Russia's attendance, telling reporters, "It is an auspicious start for the G-1 to have the participation of all its member nations."
In addition to what he called "a free exchange of ideas on issues of importance to the G-1," the summit is expected to elect the first president of the G-1, a position for which Putin is widely considered the frontrunner.
Putin denied he was a candidate for the post, but added, "It's an honor just to be in the mix."
15 THINGS YOU DIDN'T KNOW YOUR IPHONE COULD DO
Here. #2 is pretty neat. If #4 had been used, someone might have spotted that missing Malaysian plane.
CAN YOU DIE OF A BROKEN HEART?
Apparently, love can kill. But then poets have always known that – science is catching up.
IT WAS 50 YEARS AGO TODAY…
This weekend marks the 50th anniversary of the only time any band or artist has occupied all five top positions in America's Billboard charts.
It was, of course, The Beatles. The Fab Four's Fab five.
The top 5 of the Billboard Hot 100 ranking on April 4-11, 1964 was:
1. Can't Buy Me Love
2. Twist and Shout
3. She Loves You
4. I Want to Hold Your Hand
5. Please Please Me
[Notes above by Tom Gross]