[All notes below by Tom Gross]
HAPPY IN GAZA
This is a follow up to my dispatch of March 23, 2014 titled "Video dispatch 22: And on a happier note… Jerusalem. Tel Aviv. Beirut. Happy."
A version of Gazans singing along to Pharrell Williams's hit song Happy, can be seen here if you scroll halfway down this page.
This is what Gaza looks like, not the propaganda version put out by certain politicized NGOs and journalists trying to peddle the myth that Gaza is some kind of (Israeli) concentration camp.
Gaza is, however, ruled, by the highly authoritarian Hamas Islamist movement, and you can note that no men and women can be seen dancing together in this video.
ARRESTED FOR DANCING TO THE SONG "HAPPY" IN TEHRAN
A group of Iranians who created a tribute to Pharrell Williams' hit song "Happy" have been arrested in Tehran. The video shows three men and three unveiled women dancing to the song on the streets and rooftops of Tehran.
The official ISNA news agency quoted Police chief Hossein Sajedinia as saying that the "vulgar clip" had "harmed public chastity".
Iran's state-run TV broadcast a program on Tuesday showing the men and women confessing to the "crime" on camera.
Their video, which was made several weeks ago, having been inspired to do it after seeing versions created by young people in Jerusalem, Tel Aviv and elsewhere, has become a hit on Iranian social media sites.
You can see the video if you scroll halfway down this page.
Williams has protested at the arrests. The singer wrote on his Facebook page yesterday that "It is beyond sad that these kids were arrested for trying to spread happiness".
Some of the Iranian dancers have now been freed on bail but the director of the video clip remains under arrest and is and is believed to be under interrogation in one of Iran's harsh detention facilities.
IRANIAN WOMEN POST PHOTOS FREE OF HIJAB – BUT ONLY FOR A FEW SECONDS
In the past month, hundreds of Iranian women have been defying the rules requiring them to cover their heads in public, by sending photographs of themselves without headscarves to a newly created Facebook page.
"To those who say I should leave the country if I don't want to wear the hijab, I say the hijab wasn't my choice. I want to have freedom in my country," wrote one.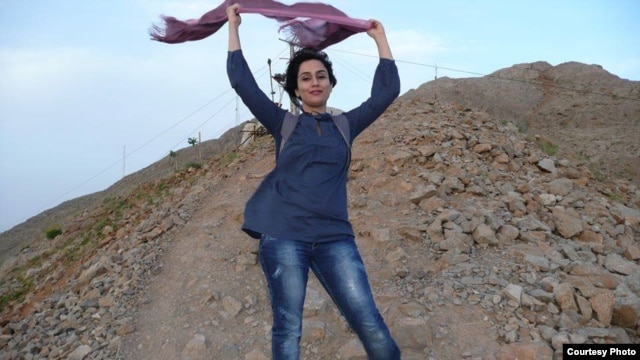 "Freedoms that last only for a few seconds."

In another, an unveiled young woman stands in front of a sign that reads: "Sisters, observe your hijab."
The caption for the photograph of the woman standing near the Persepolis reads: "Freedoms that last only for a few seconds."
The administrators of the Facebook page, titled "Iranian Women's Freedoms Stealthy," say they do not belong to any registered political group and merely want Iranian women to be free.
The site was launched on May 3, and has garnered tens of thousands of likes.

The hijab was made compulsory for women in Iran following the 1979 Islamic revolution.
The brave women who have posted their photos without the veil on a public page face arrest if they can be identified, but quickly put their hijabs back on after taking the photos.
TURKEY'S ERDOGAN SHOUTS ANTI-ISRAEL SLUR WHILE SLAPPING MINE DISASTER PROTESTER
Turkish media reported that Turkey's Islamist Prime Minister Recep Tayyip Erdogan screamed an anti-Israel slur at a Turkish citizen protesting last week's coal mine fire that left 301 people dead.
"Why are you running away from me, you Israeli sperm," Erdogan reportedly said, according to TV footage of the incident published online. (For example, here: http://
sozcu.web.tv/video/acitlr6ttri )
Erdogan is seen in the video surrounded by security personnel who proceeded to beat the man following the incident.
Erdogan has come under heavy criticism following the mining accident for not supporting social security benefits for miners, and for failing to require coal mining companies to use updated equipment, which might have saved many lives.
The incident is the latest in a growing number of anti-Semitic slurs by Erdogan, who in the past has been naively praised by western leaders.
A few months ago, a group of Erdogan's supporters, leaving a party rally, shouted "you are Jewish" as they attacked a (non-Jewish) woman as she was walking down an Istanbul street. Turkish media showed pictures of the woman with severe cuts and bruises on her face and body following the attack.
Last year, when protests against the Erdogan government were carried out by were carried out by Turkey's middle classes, Erdogan's spokesperson blamed "the Jewish Diaspora" for organizing unrest.
Erdogan is widely expected to run in Turkey's presidential election in August, although he has not yet announced his candidacy. He has already served the maximum three terms as prime minister.
JEWS BLAMED FOR COAL MINE DISASTER BY PRO-ERDOGAN NEWSPAPER
In a front-page article, Turkey's pro-government daily Yeni Akit has sought to blame Jews for the country's recent Soma coal mine disaster, Turkish daily Hurriyet reported yesterday.
Yeni Akit also blasted the "Zionist-dominated media" for distorting the coal mining story, suggesting it wasn't as bad as the media made out.
You can see the front page of Turkey's pro-government daily Yeni Akit implicating Jews if you scroll down here:


The front page of Turkey's pro-government daily Yeni Akit implicating Jews

Hurriyet said Yeni Akit "has a long track record of anti-Semitic slurs".
In separate development, Germany's Der Spiegel magazine said it was withdrawing its Turkish-based reporter, Hasnain Kazim, after he received over 10,000 death threats from Erdogan supporters via e-mail, Facebook and Twitter, including threats to "cut his throat." He had written an article which included quotes by Turks critical of Erdogan over his response to the mining disaster.
POPE TO VISIT PA MUFTI WHO PREACHED JEWS SHOULD BE KILLED
There is concern in Israel that in the course of his forthcoming visit to Israel and the Palestinian Authority, Pope Francis, as a matter of protocol, is scheduled to meet with the most senior religious figure in the PA, the Mufti Sheikh Muhammad Hussein, who has an ongoing record of stirring up anti-Semitic hatred and saying it was a religious duty for Muslims to kill Jews.
For example, below is a video of his speech at an official Palestinian Authority celebration in East Jerusalem in 2012, organized by the Palestinian Authority.


(Video and information courtesy of Palestinian Media Watch.)

Britain's then Minister for the Middle East, Alistair Burt, said afterwards: "I condemn the inflammatory words used by the Grand Mufti of Jerusalem and others at a recent event marking the 47th anniversary of the Fatah movement. To refer to the Jewish people in such a way and to talk of killing Jews is anti-Semitism, pure and simple."
(Britain and other governments continue to fund the Palestinian Authority without preventing the regular recurrence of similar hate speech in Palestinian Authority media.)
In another speech, the Mufti praised suicide bombers who had murdered Israeli civilians.
In other sermons, the Mufti has consistently denied that a Jewish Temple ever existed in Jerusalem.

He has also rejected Christian tradition, teaching that Jesus was not a Judean, but a Palestinian who preached Islam.

I wonder what he is going to discuss with the Pope.
9/11 MUSEUM FILM'S CRITIC SAYS JEWS KILLED JESUS
During a news conference in New York last week called to criticize a short film to be shown at the new 9/11 museum which some claim is prejudiced toward Muslims, a speaker invoked one of the oldest and most deadly anti-Semitic claims, that Jews killed Jesus.
Talat Hamdani, whose son Salman Hamdani was a Muslim New York Police Department cadet killed on 9/11, said at the news conference: "Who crucified Jesus? Do we ever question that? Bring in the fact that not only the Romans but there were Jews who crucified Jesus?"
Jewish groups say the claim that Jews killed Jesus is one of the strongest notions fueling violent anti-Semitism and pogroms for the past 2000 years. (There have, of course, also been many anti-Semitic conspiracy theories doing the rounds following the 9/11 attacks.)
Former Pope Benedict wrote in 2011 that Jews were not responsible for the crucifixion of Jesus and people should stop repeating this dangerous myth, used as an excuse to attack Jews.
According to news reports, no one at the New York news conference tried to correct Hamdani's statement.
The September 11 National Memorial Museum opened to the public on May 21.
SPANISH WEB USERS POST THOUSANDS OF ANTI-SEMITIC MESSAGES FOLLOWING BASKETBALL LOSS TO MACCABI TEL AVIV
Agence France Presse (AFP) reports that Twitter users in Spain posted over 17,500 messages of anti-Semitic abuse after Israeli basketball team Maccabi Tel Aviv beat Real Madrid last weekend, to become European Basketball champions in a surprise defeat for Madrid.
Twelve Jewish groups have lodged a legal complaint over the messages, which flooded the Twitter network, as well as Facebook and other sites, after Maccabi's win in the Euroleague final on Sunday.
Angry Spanish supporters created an expletive anti-Semitic hashtag in their messages after the match, which briefly became the most popular keyword on Twitter in Spain.
Some of the tweets referred to death camps and called for remaining Jews to be gassed.
"Incitement to hatred and discrimination" is a crime punishable by up to three years' jail in Spain.
The recent report by the Anti-Defamation League, (please see here), said Spain ranked third in Western Europe for prejudice against Jews, after Greece and France.
Jews have been scarce in Spain since the countries large Jewish communities were killed or expelled by Roman Catholic authorities in the late 15th century.
"Hardly anyone here knows any Jews, but the clichés and stereotypes persist and are also fed by Catholicism," one of the country's few remaining Jews told AFP.
SAUDIS VISIT A LONELY DISABLED MAN IN DROVES
Here is a much nicer story concerning twitter.
A tweet by Ibrahim, a paralyzed Saudi man, asking for someone to visit him in hospital, has become the most retweeted message in Saudi history
The bedbound Ibrahim, who had become paralyzed as the result of a car accident over half a year ago, tweeted that he had not had a visitor from his family in months and was in desperate need of life-changing surgery that he could not afford.
He tweeted that he hoped that at least one sympathetic person might provide him with some much needed company.
Not only has his message been retweeted over a million times, but also many hundreds of visitors have now gone to the King Khalid University Hospital in the country's capital Riyadh to meet Ibrahim, bringing him gifts, flowers and pizza.
Others have provided donations that will allow him to travel to Germany for specialist surgery.
8 MONTHS' PREGNANT WOMAN TO BE FLOGGED, HANGED FOR MARRYING A CHRISTIAN
A Sudanese woman doctor who was convicted last week on charges of "apostasy" for marrying a Christian man, has been sentenced to death, Sudanese judicial officials said.
The woman, 26-year-old Meriam Ibrahim, whose mother was an Orthodox Christian and whose (absent) father was Muslim, was convicted on Sunday and given four days to repent and escape death. She was sentenced after the grace period expired, the officials said. She is eight months pregnant.
Authorities said the woman's death by hanging will not be carried out until two years after the birth of her child, who the government said would be raised a Muslim after her death.
The court in the Sudanese capital, Khartoum, also ordered Ibrahim be given 100 lashes for committing "zena" – an Arabic word for illegitimate sex – for having sexual relations with a non-Muslim man.
Stories of this type are often ignored by mainstream Western liberal media, but this one has been covered by the BBC, and some other major news outlets.
Western embassies in Khartoum, and international rights groups, including Amnesty International, have condemned her flogging and execution. Amnesty called the sentence "appalling and abhorrent."
Sudan's current ruler, Omar Bashir, is an Islamist who seized power in a coup in 1989.
DIVORCE PARTIES ALL THE RAGE IN MAJOR IRANIAN CITIES
Iranian media report that divorce parties are becoming very popular as more marriages come to an end. (20% of Iranian marriages now end in divorce.)
"You go to a florist to order a bouquet of black roses. Next you come to us to order invitation cards," reported the Jomhuri-ye Eslami newspaper (in Farsi here.)
"I don't miss you at all," says one invitation, quoting the lyrics of a Persian pop hit. "I swear I will not fall in love again as long as I live. Even if I do, it's ok, as long as it's not with you," the lyrics continue inside the card.
The demand for divorce cards has been growing over the past two years, a card shop owner told the Shahr-e Khabar news website.
A NEW LOW IN AUSTRALIAN REPORTING?
Even by biased Western media standards, the lies crammed into this piece are shocking.
The piece, by Australian radio host Peter Goers published last Sunday in The Adelaide Sunday Mail, starts:
"Jesus wept. In Palestine, Jesus wept and so did I. I weep for the Palestinians living under the Israeli apartheid."
Among the lies Goers tells:
"I weep for all 720km of this barbaric wall in Israel."
"I weep for the many Israelis who want to destroy the 1400-year-old Dome of the Rock, the Al-Aqsa Mosque and Christian churches in this land whence prophets come."
"Jesus was a Palestinian born under another occupation."
"I weep for the 1004 Palestinian children arrested, tortured, abused and abducted last year."

www.adelaidenow.com.au/news/opinion/peter-goers-the-shame-of-israels-palestine-apartheid/story-fni6unxq-1226921167044