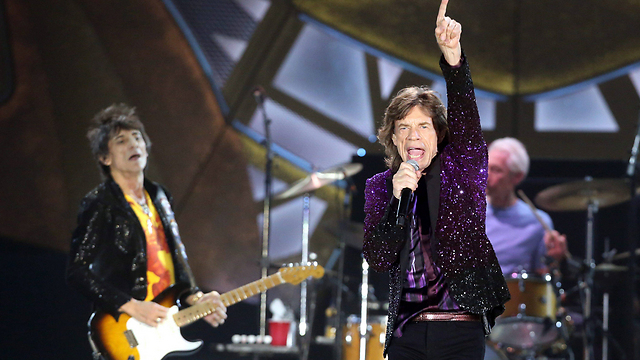 The Rolling Stones performing in Tel Aviv last night. Mick Jagger spoke some words in Hebrew (video below)
* Lee Smith: "By funding Hamas, Obama is dragging all Americans into a moral swamp."
* "Some major turning points in the lives of nations announce their importance in plain sight, in front of TV cameras, while the whole world is watching: Sept. 11, the repressive violence of the Chinese Communist Party in Tiananmen Square, the fall of the Berlin Wall, the signing of the Camp David Peace Accords between Israel and Egypt all come to mind. Others happen in secret. And still others try to slink away from the lights while clothed in the drab, everyday disguise of bureaucratic double-speak, as happened at a State Department press conference in Washington on Monday, at which a reporter wondered how America, once the leader of a global war on terrorism, would respond to the announcement of a Palestinian unity government that would include Hamas, which the State Department has clearly and repeatedly designated as a global terrorist organization. "We intend to work with this government," Kerry's spokesperson Jen Psaki told the press."
* "Hidden beneath this deliberately boring verbiage was a shocking change in American foreign policy: Instead of making war on terrorists, America would henceforth be directly funding one of the largest and most deadly terrorist armies in the world."
* "Trading five Taliban honchos from Guantanamo for one lost American soldier in Afghanistan may be denounced by some Americans as a bad deal and applauded by others as proof of how highly we value the lives of our servicemen. But it is hard to imagine any significant number of Americans who would endorse blowing up women and children on buses, or sending shrapnel-laden suicide bombers into pizza parlors and discos, or sending volleys of rockets against kindergartens – let alone would want their tax money to wind up in the pockets of people who dream up and carry out such atrocities."
* Arafat was a hard case. But now the United States has been outfoxed by Mahmoud Abbas, a dull 79-year-old bureaucrat who is also regularly proclaimed to be "a man of peace" but who displays little interest in any aspect of governance besides collecting tribute from Western powers and daring them to call his bluff… the Obama Administration will continue to pay out hundreds of millions of dollars to whatever he proclaims to be the new Palestinian government. The White House is desperate, and so it doesn't matter that including Hamas in a government is against the letter of U.S. law – indeed, a number of U.S. laws."
***
* David Horovitz: "This is only the Obama administration's latest abrogation of leadership, logic and leverage at Israel's expense. Rather than rushing to embrace a Palestinian government in which an unreformed Hamas is a central component, what was to stop the U.S. conditioning its acceptance on a reform of Hamas? What was to stop Washington saying that it would be happy to work with Abbas's new government, the moment its Hamas backers recognized Israel, accepted previous agreements and renounced terrorism? Not a particularly high bar. What was to stop the US making such a demand, one of tremendous importance to its ally Israel?"
* Horovitz: John Kerry's approach to the Israeli-Palestinian conflict has become the very "definition of insanity…. it would have been better for the U.S. and its international allies to start working systematically, investing time, money and leverage in, among other spheres, education and media, in order to create a climate conducive to progress. Peacemaking is going to require a gradual process, grass-roots change; there is no quick fix. Every credible, peace-supporting voice on the ground here told the Americans exactly this before they set out. And was ignored. And now we all have to brace for the dangerous consequences of the all-too-predictable failure."
* "No matter how frustrated or defensive Kerry might have been feeling, you'd think a friend of Israel would know better than to lob the toxic term "apartheid" into the public debate over Israel's future. Israel's embattled democracy provides equal rights for its 25 percent non-Jewish minority, who enjoy freedom of religion, assembly and press. Arabic is an official language in this country. An Israeli Arab judge sent our president to jail."
* "You'd think a powerful ally would insist that a state (Iran) that calls for, and works toward, the destruction of Israel be denied the capacity to achieve that goal. There is simply no justification for allowing Tehran a uranium enrichment capability. It lied to the international community about its nuclear program. It built secret facilities to advance towards the bomb. It has no "right" to enrichment. The Obama administration's curious disinclination to use its economic leverage to achieve a deal that dismantles Iran's nuclear program leaves Israel in real danger, undermines the security of other U.S. interests in the region, and risks sparking a Middle East nuclear arms race – the very opposite of the president's cherished vision of eventual nuclear disarmament."
***

You can see these and other items that are not in these dispatches if you "like" this page: www.facebook.com/TomGrossMedia.
CONTENTS
1. Even Obama's fans at the NY Times seemed to have been stunned into silence
2. Australia drops "occupied" from references to Israeli settlements
3. Video of Rolling Stones performing last night in Tel Aviv
4. "12 ways the U.S. administration has failed its ally Israel" (By David Horovitz, Times of Israel, June 3, 2014)
5. "By funding Hamas, Obama is dragging all Americans into a moral swamp" (By Lee Smith, Tablet, June 3, 2014)
6. "Fatah leaders: Abbas is a dictator" (By Khaled Abu Toameh, Gatestone Institute, June 3, 2014)
EVEN OBAMA'S FANS AT THE NY TIMES SEEMED TO HAVE BEEN STUNNED INTO SILENCE
[Notes below by Tom Gross]
This dispatch chiefly concerns the Obama administration's decision to work with a new Palestinian government that includes Hamas, in spite of the fact that Hamas is still firing rockets into Israel and attempting to carry out suicide bombings and has vowed to destroy Israel.
Of course, were Hamas to moderate and renounce terrorism and agree to make peace with Israel, all of which seem unlikely, then their inclusion in a new government would be a positive step in helping the Palestinians to meet Israelis halfway and assist in bringing the Israeli-Palestinian conflict to a peaceful conclusion.
But so far Hamas has clearly stated they will do nothing of the sort. And yet the Obama administration will continue to fund the new government. According to the report of the Congressional Research Service titled "U.S. aid to the Palestinians," since the start of 2008, "annual regular-year U.S. bilateral assistance to the West Bank and Gaza Strip has averaged around $500 million."
As the 2013 CRS report states, "No aid is permitted for a power-sharing PA government that includes Hamas as a member, or that results from an agreement with Hamas and over which Hamas exercises 'undue influence.'" Obama and Kerry appear to have decided to ignore this provision.
Even Obama's supporters at the New York Times seemed to have been stunned into silence. On the day after the U.S. made clear it would continue to fund the new Palestinian government to the tune of hundreds of millions of dollars – even though Hamas was a partner in it – and this money may help go to fund attacks on Israeli civilians, neither the New York Times nor the Washington Post and had an editorial or comment piece about the new government or the administration's endorsement of it.
Obama has also, of course, gone back on repeated promises made to Israel. For example, in the 2008 presidential campaign, he said:
"My position on Hamas is indistinguishable from the position of Hillary Clinton or John McCain. I said they are a terrorist organization and I've repeatedly condemned them. I've repeatedly said, and I mean what I say: since they are a terrorist organization, we should not be dealing with them until they recognize Israel, renounce terrorism, and abide by previous agreements."
Israeli Prime Minister Benjamin Netanyahu used some of the bluntest language yet (he is still usually more cautious and diplomatic with his words than, for example, John Kerry) telling The Associated Press on Tuesday:
"I'm deeply troubled by the announcement that the United States will work with the Palestinian government backed by Hamas, a group that has murdered countless innocent civilians."
"All those who genuinely seek peace must reject President Abbas' embrace of Hamas, and most especially, I think the United States must make it absolutely clear to the Palestinian president that his pact with Hamas, a terrorist organization that seeks Israel's liquidation, is simply unacceptable," Netanyahu said.
Dore Gold, the former Israeli ambassador to the UN and a foreign policy adviser to Netanyahu (and also a subscriber to this list), told the Washington Post: "I don't think that people in Washington understand the depth of Israel's disappointment over the decision to support this government. Hamas isn't just a terror organization. Hamas is an organization that has adopted an agenda to annihilate Jews."
John Kerry sought to clarify the position of the United States vis-a-vis the new Palestinian unity government yesterday. Speaking during a visit to Beirut, Kerry said that the Obama administration is willing to "work with" the Palestinian government, but that "the United States does not recognize that government".
***
On a separate note, I previously criticized New York Times Jerusalem bureau chief Jodi Rudoren, who is a subscriber to this list, for making it seem that only the governments of Israel and America believe that Hamas is a terrorist group (and failing to tell Times readers that dozens of European countries, as well as Canada, Japan, Egypt, Australia, New Zealand and others, categorize Hamas as a terrorist organization). See "Waiting for Godot: Abbas, the Palestinian Yitzhak Shamir" (April 25, 2014).
Earlier this week, however, Rudoren wrote that Hamas is a "militant Islamic faction that Israel and much of the West deem a terrorist organization."
***
Below, I attach pieces by three of the more seasoned subscribers to this list, Times of Israel editor David Horovitz, the independent Washington-based commentator Lee Smith, and Palestinian journalist Khaled Abu Toameh. Horovitz and Smith are (like myself), broadly speaking, centrists. Following commentators such as Haaretz columnist Ari Shavit, they are exasperated by the Obama administration's serious missteps in the Middle East.
AUSTRALIA DROPS "OCCUPIED" FROM REFERENCES TO ISRAELI SETTLEMENTS
Countries such as Canada, Australia and the Czech Republic are now more sympathetic to Israeli political positions than the Obama administration.
The Australian Associated Press reports today as follows:
The new Australian government has ruled out using the term "occupied" when describing Israeli settlements in East Jerusalem, prompting suggestions about a shift in Australia's foreign policy. The attorney general, George Brandis, on behalf of the minister for foreign affairs, Julie Bishop, said it was "unhelpful" to refer to historic events when describing these areas, given the ongoing Middle East peace process.
"The description of East Jerusalem as 'occupied' East Jerusalem is a term freighted with pejorative implications which is neither appropriate nor useful," Brandis told a Senate estimates hearing.
"It should not and will not be the practice of the Australian government to describe areas of negotiation in such judgmental language."
VIDEO OF ROLLING STONES LAST NIGHT IN TEL AVIV, INCLUDING MICK JAGGER IN HEBREW
On a lighter note, the Rolling Stones gave a concert to 50,000 fans in Tel Aviv last night. The band defied calls to boycott Israel and said they liked the country nothing would stop them coming.
Here are two videos of Mick Jagger greeting the fans in Hebrew before the start of the show.
-- Tom Gross
ARTICLES
12 WAYS THE US ADMINISTRATION HAS FAILED ITS ALLY ISRAEL
12 ways the US administration has failed its ally Israel
* The Obama administration's ongoing abrogation of leadership, logic and leverage
* Washington's rush to recognize the new Hamas-backed Palestinian government is only the latest in a dismal series of missteps, failures and betrayals
By David Horovitz
The Times of Israel
June 3, 2014
www.timesofisrael.com/12-ways-the-us-administration-has-failed-its-ally-israel/
Mere hours after Palestinian Authority President Mahmoud Abbas swore in a government backed by the Islamic extremist Hamas group, the US State Department legitimized the arrangement, declaring that it would work with the new government because it "does not include members affiliated with Hamas."

What was saddest about Washington's insistence on accepting Abbas's paper-thin veneer over his government's new nature – his "technocrat" ministers were all approved by Hamas – is that it represents only the Obama administration's latest abrogation of leadership, logic and leverage at Israel's expense. Rather than rushing to embrace a Palestinian government in which an unreformed Hamas is a central component, what was to stop the US conditioning its acceptance on a reform of Hamas? What was to stop Washington saying that it would be happy to work with Abbas's new government, the moment its Hamas backers recognized Israel, accepted previous agreements and renounced terrorism? Not a particularly high bar. What was to stop the US making such a demand, one of tremendous importance to its ally Israel? Only its incomprehensible reluctance to do.
Unfortunately, however, such lapses and failures are not the exception when it comes to the US-Israel alliance of late. This administration has worked closely with Israel in ensuring the Jewish state maintains its vital military advantage in this treacherous neighborhood, partnering Israel in offensive and defensive initiatives, notably including missile defense. It has stood by Israel at diplomatic moments of truth. It has broadly demonstrated its friendship, as would be expected given America's interest in promoting the well-being of the region's sole, stable, dependable democracy. But the dash to recognize the Fatah-Hamas government was one more in a series of aberrations – words and deeds that would have been far better left unsaid or undone, misconceived strategies, minor betrayals.
1. So, yes, where Hamas is concerned, you'd think that an ally would not legitimize, as part of the Palestinian government, an organization bent on the destruction of Israel, an organization declaredly refusing to change that goal, an organization with a proven, mass-murdering track-record.
2. Going back to the start of the latest failed peace effort, you'd think an ally would listen to the advice of well-meaning experts warning that attempting to do the same thing that failed in the past in the belief that it will turn out differently – in this case, strong-arming two hostile, untrusting parties into an acutely sensitive and complex agreement in a very short period – is the definition of insanity. Rather than setting an impossible nine-month timeframe for negotiating a permanent accord, when all reasonable evidence and past experience showed that this would fail, it would have been better for the US and its international allies to start working systematically, investing time, money and leverage in, among other spheres, education and media, in order to create a climate conducive to progress. Peacemaking is going to require a gradual process, grass-roots change; there is no quick fix. Every credible, peace-supporting voice on the ground here told the Americans exactly this before they set out. And was ignored. And now we all have to brace for the dangerous consequences of the all-too-predictable failure.
3. While we're talking about producing a more conducive climate, you'd think an ally would use its regional clout and leverage to work with partners in the region to rehouse Palestinian refugees, first of all in Gaza, where there is no Israeli military or civilian presence and no reason for the festering wound to be artificially maintained. This is humanitarian work of the highest order, to which no organization or individual genuinely committed to the well-being of the Palestinian people could object. It would be opposed only by those whose ostensible sympathy for the Palestinian plight is outweighed by their hostility to Israel.
4. You'd think an ally would have made plain to the Palestinians that their demand, as a precondition for renewing peace talks, that Israel set free terrorists who have killed large numbers of its innocent citizens was outrageous and unacceptable, certainly at the outset of negotiations. Perhaps such prisoner releases might have some justification as the concluding act of a successful process. By contrast, freezing the expansion of settlements in areas that Israel does not envisage retaining under a permanent accord is a win-win – beginning the needed process of spelling out to Israelis, to the region and to the international community Israel's vital territorial red lines. But this, the Americans did not demand. In short, a smart and firm ally would have rejected Abbas's demand for killers to go free rather than pressing Prime Minister Benjamin Netanyahu to accept it, and insisted on at least a partial settlement freeze. Think you need to save us from ourselves? That's the place to start.
5. Elaborating, you'd think an ally would want to distinguish between isolated settlements in the heart of Palestinian territory and Jewish neighborhoods in Jerusalem. By lumping all "settlements" together, and relentlessly criticizing all building, you alienate the Israeli middle ground, which supports the retention of Jewish neighborhoods built over the pre-1967 lines in Jerusalem, on the one hand, and would relinquish most West Bank settlements in the cause of a viable peace treaty, on the other. So the lack of subtlety and nuance on the settlement issue winds up complicating America's own efforts to broker progress.
6. Trapped in the inevitable deadlock, with that nine-month deadline fast approaching, you would think that an allied president would eschew giving an interview to the American media essentially accusing the prime minister of leading Israel to disaster at the very hour that said prime minister was on his way to a meeting at the White House. For one thing, such withering public comments are hardly likely to bolster the prime minister's faith in the president's judgment and solidarity – and thus are likely to undermine efforts to build his trust. For another, it's downright rude.
7. And when it all went conclusively pear-shaped, you'd think an ally would respect its own rules about not leaking the content of the negotiations. Secretary of State John Kerry repeatedly urged the two sides to keep the content of their talks confidential, yet it was his own special envoy, Martin Indyk, reportedly, who gave a lengthy briefing to Israeli journalist Nahum Barnea, a respected columnist but one who is hardly empathetic to Netanyahu, which yielded an article that unsurprisingly placed overwhelming and at least somewhat unwarranted and distorted blame for the collapse of the process on the prime minister.
8. You'd think an ally would man up about its own dismal role in the frictions and misunderstandings that doomed the talks at the end of March. "The prisoners were not released by Israel on the day they were supposed to be released, and then another day passed and another day, and then 700 units were approved in Jerusalem and then poof – that was sort of the moment," Kerry told the Senate Committee on Foreign Relations in early April, by way of explanation for the impasse. Actually, "the prisoners were not released on the day they were supposed to be released" because Israel opposed freeing Arab Israeli convicts, whose fate it reasonably considered not to be any of the Palestinian Authority's business. That issue only became problematic because Kerry had earlier misled the Palestinians into thinking that Israel was prepared to set them free. Furthermore, the announcement of the reissuing of an old tender to build 700 homes in Gilo was not a critical factor in the collapse – "poof" – of the talks.
9. No matter how frustrated or defensive Kerry might have been feeling, you'd think a friend of Israel would know better than to lob the toxic term "apartheid" into the public debate over Israel's future. Israel's embattled democracy provides equal rights for its 25 percent non-Jewish minority, who enjoy freedom of religion, assembly and press. Arabic is an official language in this country. An Israeli Arab judge sent our president to jail. That's only part of the story, of course: Ruling another people is already deeply corrosive; if we cannot separate from the Palestinians, if we annex the West Bank, still graver dangers await. Warning Israel privately of the threats posed to our democracy is the duty of a concerned friend. But publicly invoking the spectacularly loaded term "apartheid" in critiquing Israel is the lowest of blows – a gift to enemies who can be counted on to seize upon such comments to distort Israel's reality and delegtimize its very existence.
10. Further afield, you'd think an ally would maintain an empathetic silence rather than repeatedly tell the world that Israel has struck weapons shipments in Syria en route to Hezbollah. This when Israel was deliberately avoiding acknowledging responsibility for such actions because of concern that President Bashar Assad would be provoked into counterattacks at Israel.
11. To the south, you'd think an ally would avoid rushing to support Islamic extremists (see a pattern here?) when they come to power in a neighboring state. The fact that the Israel-Egypt peace treaty survived the Muslim Brotherhood's brief period of misrule in Cairo is a critical and inadequately appreciated success, achieved despite Washington's foolish embrace of the short-lived Morsi government.
12. And finally, you'd think a powerful ally would insist that a state that calls for, and works toward, the destruction of Israel be denied the capacity to achieve that goal. There is simply no justification for allowing Tehran a uranium enrichment capability. It lied to the international community about its nuclear program. It built secret facilities to advance towards the bomb. It has no "right" to enrichment. It can receive nuclear fuel, like well over a dozen nations worldwide, from legitimate nuclear powers for its ostensibly peaceful nuclear program. The central goal of US policy in this regard should not be merely denying Iran nuclear weapons but denying Iran the capacity to build nuclear weapons. Iran can be relied upon to abuse any leniency in this regard, with immense consequent threat to Israel and others in the region. The Obama administration's curious disinclination to use its economic leverage to achieve a deal that dismantles Iran's nuclear program leaves Israel in real danger, undermines the security of other US interests in the region, and risks sparking a Middle East nuclear arms race – the very opposite of the president's cherished vision of eventual nuclear disarmament.
You might think the above list is the least that Israel might reasonably expect from the US administration. But no. The peace process has collapsed and Israel is getting a disproportionate amount of the blame. Hamas, committed under its own charter to the obliteration of Israel, is now part of an internationally recognized Palestinian government. And the P5+1 nations, led by the US, are working toward a deal that will enshrine Iran's uranium enrichment capabilities. Israel may not be a perfect ally, but we deserve better than this.
"BY FUNDING HAMAS, OBAMA IS DRAGGING ALL AMERICANS INTO A MORAL SWAMP"
By funding Hamas, Obama is dragging all Americans into a moral swamp: What a unity government bringing together Hamas with Palestinian Authority President Mahmoud Abbas' Fatah party means
By Lee Smith
Tablet
June 3, 2014
Some major turning points in the lives of nations announce their importance in plain sight, in front of TV cameras, while the whole world is watching: Sept. 11, the repressive violence of the Chinese Communist Party in Tiananmen Square, the fall of the Berlin Wall, the signing of the Camp David Peace Accords between Israel and Egypt all come to mind. Others happen in secret. And still others try to slink away from the lights while clothed in the drab, everyday disguise of bureaucratic double-speak, as happened at a State Department press conference in Washington on Monday, at which a reporter wondered how America, once the leader of a global war on terrorism, would respond to the announcement of a Palestinian unity government that would include Hamas, which the State Department has clearly and repeatedly designated as a global terrorist organization.
"Based on what we know now," State Department spokesperson Jen Psaki told the press, "we intend to work with this government," adding that "if needed" the United States might "recalibrate our approach." Hidden beneath this deliberately boring verbiage was a shocking change in American foreign policy: Instead of making war on terrorists, America would henceforth be directly funding one of the largest and most deadly terrorist armies in the world.
Israel denounced the United States for accepting Abbas' government, but many of the reporters in the room found nothing all that shocking in Psaki's announcement. That's not entirely their fault. Generations of American diplomats working on the Arab-Israeli conflict have been motivated by the conviction that there's nothing to be lost – and plenty to be gained – by trying to make peace between the two sides. Sure, the Israelis and Palestinians might seem far apart, the leadership of one side or another might not have the ability to sign a deal, but what harm could there be in getting the two sides in the same room to feel each other out, to explore possibilities and find common ground? Certainly that was the idea that inspired Secretary of State John Kerry, compelling him to make dozens of trips to Jerusalem and Ramallah over the past two years.
Yet Psaki's announcement is, in fact, shocking. Palestinian Authority President Mahmoud Abbas' move on Monday to bring Hamas into a unity government with his own Fatah party means that U.S. taxpayers will be paying the salaries of men and women who belong to an organization sworn to the destruction of an American ally – and who repeatedly endorse and employ the murder of innocent civilians through the grim arsenal of terror as a means of achieving their goals. Trading five Taliban honchos from Guantanamo for one lost American soldier in Afghanistan may be denounced by some Americans as a bad deal and applauded by others as proof of how highly we value the lives of our servicemen. But it is hard to imagine any significant number of Americans who would endorse blowing up women and children on buses, or sending shrapnel-laden suicide bombers into pizza parlors and discos, or sending volleys of rockets against kindergartens – let alone would want their tax money to wind up in the pockets of people who dream up and carry out such atrocities.
How did this happen? After all, it was Washington that invented the Palestinian Authority, in the heady moment after the Soviet collapse had brought the Cold War – and even history itself, some said – to an end, leaving the United States as the world's sole remaining superpower. The purpose of the PA was to placate America's Arab partners, like Egypt and Saudi Arabia, while ensuring that the remaining regional troublemakers – from Saddam Hussein to the Islamic Republic of Iran – would be unable to use the Palestinian cause to their advantage. Moreover, it was believed that the easiest way to neutralize Yasser Arafat and the PLO was to suffocate him in a warm American embrace that would reward the scruffy old terrorist for good behavior, and hold out the promise of a late-life transformation into the Palestinian Nelson Mandela. It came as a shock to American policymakers that Arafat didn't want to be Mandela; he wanted to be Saladdin, and if he couldn't free Jerusalem with fire and blood he would rather die trying than go down in history as the traitor who relinquished the dream of a Palestinian homeland, the way that the Palestinians – not the Americans – imagined it.
Arafat was a hard case. But now the United States has been outfoxed by Mahmoud Abbas, a dull 79-year-old bureaucrat who is also regularly proclaimed to be "a man of peace" but who displays little interest in any aspect of governance besides collecting tribute from Western powers and daring them to call his bluff. In Abbas' view, the Americans and the Israelis are not in control; he is. Without him, the White House loses control of the peace process, which is a key part of the American diplomatic patrimony in the region – an asset that the Obama Administration can ill afford to lose, especially now.
Abbas is therefore gambling that the Obama Administration will continue to pay out hundreds of millions of dollars to whatever he proclaims to be the new Palestinian government. The White House is desperate, and so it doesn't matter that including Hamas in a government is against the letter of U.S. law – indeed, a number of U.S. laws. The 2006 Palestinian Anti-Terrorism Act, for instance, prohibits any U.S. funds from going to Hamas, Hamas-controlled entities, or a power-sharing PA government that includes Hamas as a member, or results from an agreement with Hamas. Most recently, the 2014 Consolidated Appropriations Act prohibits "assistance to Hamas or any entity effectively controlled by Hamas, any power-sharing government of which Hamas is member, or that results from an agreement with Hamas and over which Hamas exercises undue influence."
That last clause regarding "undue influence," say some analysts, represents a loophole the administration may try to crawl through. "The White House may argue that since Abbas is still president of the PA, and since there aren't really that many new Hamas members in the cabinet, Hamas does not have 'undue influence,' " says a senior official at a Washington-based pro-Israel organization. "But if that's true, then why won't the new PA cabinet disarm Hamas?"
That's not going to happen, of course. One purpose of the deal is for Fatah to protect Hamas' arsenal, which, so long as it's pointed at Israel, will enhance the prestige of a PA president whose term in office was over five years ago, and who has failed at both the small-bore work of ending corruption, fixing roads, and providing real jobs for his people, as well as big-picture tasks like winning his people a state. Protecting the weapons of his rival, in other words, is all that Abbas has left to offer the Palestinians and that suits Hamas fine.
"If anyone expects Hamas to hand over its missile network to the PA, he's making a big mistake," said one Hamas official. The reality is that Fatah has embraced Hamas.
To be sure, neither side has forgotten about the Palestinian civil war of 2006-2007, which culminated with Hamas fighters throwing Fatah members off of roofs in Gaza. Presumably there are Fatah loyalists unhappy with the deal, most notably Abbas' key rival Mohamed Dahlan, who led the Fatah side in the conflict with Hamas almost exactly seven years ago. As it happens, hatred for Dahlan and his faction in Fatah is one more thing that Abbas and Hamas have in common. Dahlan was poised to make a comeback earlier this spring with backing from then Saudi intelligence chief Prince Bandar bin Sultan and the man assured to be next president of Egypt, Abdel Fattah al-Sisi. But by striking a deal with Hamas, Abbas has outflanked Dahlan, who had made an earlier play for reconciliation with Hamas and is now out in the cold.
Hamas has plenty to gain from the deal, too. Without the Iranian assistance that Hamas once enjoyed, what Gaza's Islamic resistance needs most is some relief on the Egyptian side of the border. The Egyptians have been closing tunnels and effectively starving Gaza's economy, and Hamas believes that the deal with Abbas will bring better days. Even if Hamas backed Sisi's predecessor as president, the Muslim Brotherhood's Mohamed Morsi, Cairo's new ruler can afford to be magnanimous with Hamas, especially if it means he will inherit the Palestinian file in toto. Indeed, some Palestinians hope that Sisi will choose to confront Israel. In short, Palestinian reconciliation is good for everyone – except the United States and Israel.
The results for Israel are likely to be particularly unpleasant. Both Bush and Obama White Houses boasted that the security cooperation between Israel and the PA was excellent. But that seems over now since there is reportedly a clause in the Palestinian unity agreement that "criminalizes" security coordination with Israel. Perhaps, as many have feared over the last decade, those U.S.-trained Palestinian security forces will now turn their American weapons on an American ally, as they did during the second intifada. Indeed, just hours after the formal announcement of the unity government, and the State Department's press conference, a Palestinian gunman was killed after opening fire on Israeli troops in the West Bank.
More such attacks will certainly follow, and some of them will be more successful – whether perpetrated directly by Hamas, or by Fatah, or some new terror entity in which both parties cooperate together.
Meanwhile, as crazy as it sounds, U.S. diplomats will continue searching for loopholes that allow us to fund officially designated terrorist organizations with taxpayer dollars. As Jonathan Schanzer, director of research at the Foundation for Defense of Democracies, explains "there are waivers embedded in the legislation, with which the president can override stipulations for reasons of national security or national interest. The assumption," says Schanzer, "is that Obama is going to override everything."
The administration will also be able to cite a regional precedent for its likely next step of embracing the new Palestinian "unity government" as a "partner for peace" while claiming that America is not funding terrorism. Hamas officials boast that they are now employing the "Hezbollah model" – i.e., becoming a political party that avoids responsibility for governance, while also maintaining an independent military organization that engages in terrorism. In other words, the PA will serve as legitimate cover while the Islamic resistance continues to wage its war of liberation against Israel. After all, Washington continues to fund the Lebanese Armed Forces, even as it is common knowledge that the LAF is under Hezbollah control. So, why wouldn't the White House fund the PA?
It is depressingly easy to imagine the State Department spokesperson making the same argument about "the Lebanese model" at her next press conference. But the difference is this: Lebanon is a sovereign state that would exist regardless of American support. The Palestinian Authority is an entity created by the United States, and it cannot exist without massive U.S. financial, political, military, and diplomatic support. Rather than finding ways around American law, the Obama Administration should be looking for ways to snap Abbas' spine. If Kerry's assiduous and careless peace processing was evidence of the administration's incompetence, the decision to work with Hamas is evidence of the White House's cravenness. The bill for this moral rot will be paid by Israelis – and by American taxpayers who will now be directly covering the salaries of thousands of card-carrying members of a terrorist organization. It's not just Obama who will be crossing a red line by funding Hamas – he's dragging the rest of us along with him into a political and moral swamp, in which America will combat terrorism with one hand, while paying for terror with the other.
FATAH LEADERS: ABBAS IS A DICTATOR
Fatah leaders: Abbas is a dictator
By Khaled Abu Toameh
Gatestone Institute
June 3, 2014
www.gatestoneinstitute.org/4341/fatah-abbas-dictator
Hamas's chances of winning elections do not seem to be bad at all. Eight years after the last parliamentary election, Fatah is likely to be defeated at the ballot box once again.
***
Palestinian Authority President Mahmoud Abbas has finally made peace with Hamas. But will he able to extinguish the fire that has erupted in his own backyard?
Earlier this week, Abbas decided to expel five "unruly" officials from Fatah, plunging the faction into turmoil and triggering calls for a revolt against the Palestinian Authority [PA] president.
The five men – Majed Abu Shamala, Sufyan Abu Zaida, Rashid Abu Shbak, Nasser Juma'a and Abdel Hamid Masri – were expelled because of their close links to ousted Fatah strongman Mohammed Dahlan.
Dahlan was expelled from Fatah three years ago after falling out with Abbas and his two sons, Yasser and Tarek. Since then, Dahlan, a former security commander of the Gaza Strip and an elected member of the Palestinian Legislative Council, has been living in the United Arab Emirates.
In the context of the ugly dispute between the two, Abbas has accused Dahlan of being responsible for the murder of six Palestinians and involvement in the "poisoning" of former PLO leader Yasser Arafat.
Abbas's decision to expel the five Fatah officials came on the eve of the inauguration of the new Palestinian unity government with Hamas. Some Palestinians believe the decision is aimed at sending a message of warning to Fatah members against opposing the unity government with Hamas.
Others, however, believe that the expulsion of the five men is connected to preparations for holding Fatah's seventh general conference, where the faction's leaders are selected. The conference is expected to take place in August.
Abbas's move is seen in the context of his efforts to "cleanse" Fatah of "unruly" officials who pose a direct challenge to his autocratic leadership. Obviously, the 79-year-old Palestinian Authority president has no plans to retire or pave the way for the emergence of new and younger leaders.
But judging from the strong reactions of the ousted Fatah officials and their supporters, it's clear that Fatah is facing one of its worst crises in years - one that is likely to lead to a split in the faction. This, of course, will play into the hands of Hamas and improve its chances of winning the presidential and parliamentary elections, when and if they are held in the West Bank and Gaza Strip.
The expulsion of the five officials saw Fatah activists take to the streets in some parts of the Gaza Strip, where they condemned Abbas as a "dictator."
Responding to Abbas's move, Dahlan told the PA president that he can "go to hell," adding: "Fatah will never become the private fiefdom of Abbas and his sons, Yasser and Tarek." Dahlan went on to accuse Abbas and his sons of steering Fatah toward "national and moral deviation."
Referring to the ousted officials, Dahlan said: "These leaders did not come to Fatah from five-star hotels; rather, they come from the school of struggle and Israeli prisons. These are men who put their lives at stake while Abbas and his family were enjoying the money of Fatah and the people in Syria, Lebanon and Tunisia. We won't allow Mahmoud [Abbas] and Tarek and Yasser to steal Fatah from us."
Sami Mashharawi, a Fatah leader closely associated with Dahlan, also lashed out at Abbas. "Mahmoud Abbas has decided, in his capacity as Chief Executive Officer, to fire those who he believes work for his royal family. Abbas's trivial decision shows that the man is full of hatred."
Mashharawi also denounced Abbas for having brought "disgrace" to Fatah and all Palestinians.
Commenting on his expulsion from Fatah, Abu Zaida denounced the decision as illegal. "My relationship with Fatah and its members and cadres cannot be canceled through an illegal decision," he said. "Apparently, this is the fate of anyone who dares to express his opinion or believes that we live in a democratic society that respects freedom of expression."
The unprecedented verbal attacks on Abbas reflect the deepening crisis in Fatah. Dahlan and the five senior Fatah officials who were expelled by Abbas enjoy widespread support among Palestinians, particularly in the Gaza Strip. And it is obvious that Dahlan and his loyalists do not intend this time to let Abbas get away with his controversial decision.
The renewed tensions in Fatah came as Abbas announced that he has instructed the new unity government to prepare for long overdue presidential and parliamentary elections. He said he is hoping that the elections will be held within six months and that he wants Hamas to participate in the vote, as was the situation in January 2006.
In the wake of the infighting in Fatah, Hamas's chances of winning the elections, when and if they are held, do not seem to be bad at all. In 2006, Fatah lost the parliamentary election due to internal squabbling and tensions, as well as financial and administrative corruption. Eight years later, Fatah appears to be suffering from the same problems and is likely to be defeated once again at the ballot box.