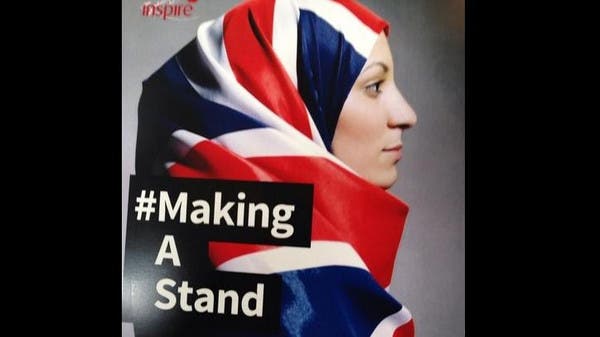 Some British Muslim women have launched an anti-ISIS culture drive
***
You can see these and other items that are not in these dispatches if you "like" this page: www.facebook.com/TomGrossMedia.
***
There is also another dispatch today, titled Israel delivers aid to Iraqi refugees (& Lady Gaga: Media is wrong on Israel)
CONTENTS
1. Israeli-released Turkish "aid worker" killed by U.S.-led airstrike in Syria
2. The sound of silence
3. BBC news anchor suddenly sounds like Israeli government spokesperson
4. Unlike most Western media, Reuters has reported on civilian deaths
5. American voters favor more action against ISIS
6. British jets using Israeli technology intelligence
7. A tale of two acronyms
8. Campaign by Western Muslims against extremism grows
9. India continues to draw closer to Israel: leaders hold unprecedented meeting
10. Mossad reaches out to new candidates
[Notes below by Tom Gross]
ISRAELI-RELEASED TURKISH "AID WORKER" KILLED BY U.S.-LED AIRSTRIKE IN SYRIA
Turkish media report that 40-year-old Yakup Bulent Alniak has been killed in a U.S.-led air strike targeting ISIL positions in the Syrian city of Idlib. Alniak is a member of the Turkish militant group, the IHH. He was on the IHH boat Mavi Marmara, which was found to be carrying arms to Gaza in 2010. Western media and NGOs were near hysterical in their attacks on Israel at the time for intercepting the boat, and Western media described Alniak as an "aid worker".
Alniak (along with other IHH members) went to Syria to fight with the al-Qaeda offshoot the al-Nusra Front, according to Turkish reports.
The exact same Western governments and media who lambasted Israel for intercepting the Mavi Marmara (in which Alniak was uninjured and peacefully repatriated to Turkey) are strangely silent now that they have killed this "aid worker" in Syria.
***
As I reported at the time in 2010, IHH has been linked to al-Qaeda. Among other things, in April 2001, French intelligence expert Jean Louis-Bruguiere told a New York court trying Ahmed Ressam for the New York millennium bomb plot that IHH played an "important role" in the al-Qaeda planned plot. Bruguiere said that IHH was "basically helping Al Qaeda when (Osama) bin Laden started to want to target U.S. soil."
THE SOUND OF SILENCE
The same western media that criticized Israel in sensational terms this summer ("Israelis are a nation of child killers" said one British paper) have barely a word to say about all the many civilians their governments are now accidentally killing in airstrikes on Iraq and Syria. Photos of dead and distressed civilians have appeared in Arab media in recent days but I could hardly find any in the Western media I scrutinized. (In some of the cases reported in Arab media, Western warplanes hit the wrong targets and only civilians died.)
By contrast, The New York Times on Friday yet again published a weeks-old photo of the destruction last summer in Gaza on its main international news page (top of Page A4) (and a sports photo from a baseball game at the top of page A1), but nowhere could I find the New York Times showing photos, or even providing details, of any of the civilians dying in U.S. led airstrikes in Iraq and Syria. (Of course, if it was a Republican president ordering the strikes, rather than President Obama, it might at least mention the civilian deaths…)
***
Past analysis has shown that the U.S., which has worse intelligence on the ground than Israel, has inadvertently killed a higher proportion of civilians than Israel:
Israel's record on civilian casualties compares well to America's
BBC NEWS ANCHOR SUDDENLY SOUNDS LIKE ISRAELI GOVERNMENT SPOKESPERSON
BBC Radio's flagship Today program interviewed the Baghdad-based Reverend Canon Andrew White (who is a long standing subscriber to this email list). He spoke of the civilians being killed in Western and Arab airstrikes in Iraq.
The BBC presenter replied in some exasperation, saying they are sophisticated, targeted strikes, and are "essential" for fighting terror.
As a friend of mine points out, did it not occur to the BBC news anchor that he sounded exactly like the Israeli government spokesperson who he so furiously attacked only a month ago.
UNLIKE MOST WESTERN MEDIA, REUTERS HAS REPORTED ON CIVILIAN DEATHS
Unlike most Western media, Reuters has reported on civilian deaths. For example, its report today (September 29) gives one such example. It begins:
U.S.-led raids hit Syria grain silos, killing civilians
REUTERS - U.S.-led air strikes hit grain silos and other targets in Islamic State-controlled territory in northern and eastern Syria overnight, killing civilians… "The aircraft may have mistaken the mills and grain storage areas in the northern Syrian town of Manbij for an Islamic State base, said the Britain-based Syrian Observatory for Human Rights. There was no immediate comment from Washington.
The strikes in Manbij appeared to have killed only civilians, not fighters, said Rami Abdulrahman, who runs the Observatory which gathers information from sources in Syria. "These were the workers at the silos. They provide food for the people," he said…
***
Tom Gross adds: Not only the Western media, but Western human rights groups and the UNHRC, which seem never to tire of attacking Israel when Israel is defending itself from thousands of rockets fired at its cities, is also now strangely silent.
And unlike the IDF, which made considerable efforts to minimize civilian casualties ahead of every attack – making phone calls to homes in each targeted area, sending text messages to cell phones in Arabic, and dropping leaflets from aircraft into the targeted neighborhoods days in advance, warning residents to leave for their own safety, and calling off airstrikes it if spotted civilians in the locality – those countries currently bombing Iraq and Syria (including the U.S., UK and France) don't appear to be doing as much.
***
Tom Gross adds: Fresh on the ground analysis by the Syrian Observatory for Human Rights – which has proved itself to be a reliable organization these past three years (and if anything has been too conservative in its estimates) say that coalition airstrikes killed at least 28 civilians on Saturday, and 26 civilians on Friday.
These are in addition to the airstrikes on Sunday that hit grain silos instead of ISIS bases. The number of casualties in that attack has not yet been determined, only that strike killed many civilians – the exact same people who had already survived bombing raids by the murderous President Assad.
The aircraft may have mistaken the mills and grain storage areas in the northern Syrian town of Minbej for an ISIS base.
The double standards of government spokespeople and the media are remarkable.
"It's slaughter" as Juan Williams called Israel's actions in Gaza on Fox News several weeks ago. "It's indiscriminate, asinine," said Joe Scarborough on MSNBC.
A TALE OF TWO ACRONYMS
The media almost always calls Hamas by its acronym. Hamas stands for "Islamic Resistance Movement." A reader points out that they don't call the Islamic State by its acronym, Daish. "If the media did then more people might gain a better understanding of what kind of movement Hamas is," he says.
AMERICAN VOTERS FAVOR MORE ACTION AGAINST ISIS
A poll released today (Monday, September 29) shows that, by significant numbers, voters back President Obama's decision to step up action against ISIS (or ISIL) and think involvement by Muslim nations increase the mission's chances of success. But voters are less confident that this latest offensive will improve relations between the United States and the Muslim world.
Among the questions:
Do you agree or disagree with President Obama's decision to step up the use of U.S. military force in the Middle East?
Agree 65% Disagree 19% Undecided 16%
Full results here.
(The survey of 1,000 likely U.S. Voters was conducted on September 25-26, 2014.)
BRITISH JETS USING ISRAELI TECHNOLOGY INTELLIGENCE
Two British Royal Air Force Tornado fighter jets that took off on Saturday for the first offensive operation by British armed forces against the Islamic State in Iraq failed to find any targets, Haaretz reported.
However, they did collect information on potential targets through their Litening reconnaissance and targeting pod, manufactured by Israel's Rafael Advanced Defense Systems, which has become an integral component in missions carried out in recent years by RAF Tornado and Typhoon jets.
British forces in Afghanistan have been using Israeli Elbit Hermes drones for years.
CAMPAIGN BY WESTERN MUSLIMS AGAINST EXTREMISM GROWS
Moderate Muslims in several countries have launched a campaign to let people know that Islamic extremists don't speak for them. They have sent out tweets, written open letters and held street gatherings to criticize the recent spate of beheadings of westerners "in the name of Islam."
The rector of the Bordeaux mosque in France, Tareq Oubrou, said "We are doubly affected, because this crime (the beheading of the French tourist in Algeria) touched one of our countrymen and because this crime was carried out in the name of our religion."
The twitter hashtag campaign #notinmyname – and #pasenmonnom in French – was initiated by British Muslims who wanted to show their opposition to extremist violence.
But it has also resulted in a #MuslimApologies backlash by those who thought the apology for the beheadings was wrong. Tweets "apologized" for algebra, soap and coffee.
INDIA CONTINUES TO DRAW CLOSER TO ISRAEL: LEADERS HOLD UNPRECEDENTED MEETING
India – whose population is forecast soon to surpass China and become the world's largest – continues to forge closer links with Israel.
Indian Prime Minister Narendra Modi yesterday held an unprecedented bilateral meeting in New York with Israeli Prime Minister Benjamin Netanyahu.
According to press reports, no previous Indian leader has had an official meeting with an Israeli counterpart at any multilateral setting before, let alone the United Nations General Assembly.
More here, from the Hindustan Times.
(Please see previous dispatches on this list for past notes on warming Israeli-Indian ties.)
***
Tom Gross adds: In fact the meeting was not "unprecedented". But it is the first meeting between an Israeli and Indian prime minister in over a decade.
Israel is helping India cooperate in the realm of technology – especially that related to agriculture in arid areas and water management – as well as various security-related and cyber-defense issues.
In the meeting, Prime Minister Narendra Modi said he wished to expand trade and other links with Israel and he also noted historic good relations between India and Jews: "There is a deep recognition in Israel that India is the only country where anti-Semitism has never been allowed to come up, where Jews have never suffered and lived as an integral part of our society. There was a time in the city of Mumbai that Hebrew was officially taught in the university and even one of the mayors of Mumbai city was from a Jewish family."
Tom Gross adds: Anti-Semitism was also historically almost completely absent from China and one or two other countries.
MOSSAD REACHES OUT TO NEW CANDIDATES
The Israeli intelligence agency, the Mossad, has upgraded its website, with the aim (among others) of recruiting new candidates. A spokesperson for the Mossad said "The goal of the upgraded site is to make the organization more accessible to potential recruits who may not be exposed to the variety of positions – in operations, intelligence, technology and cyber, and administration – available."
The new website is in a variety of languages, here:
Mossad Director Tamir Pardo said, "We must continue to recruit the best people into our ranks so that the Mossad can continue to lead, defend and allow for the continued existence of the State of Israel. The Mossad's qualitative human capital is the secret of our success. The Mossad will continue to operate wherever and whenever necessary in order to defend the security of the State of Israel."
Positions are available for men and women alike.
Click here for a YouTube clip (in Hebrew): https://www.youtube.com/watch?v=qX9ZoKO1H8E&feature=youtu.be
***
[All notes above by Tom Gross]