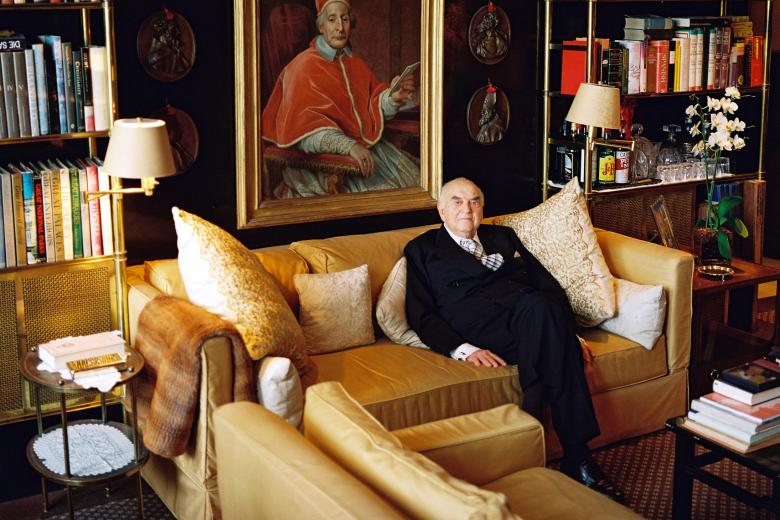 CONTENTS
1. A note about George Weidenfeld
2. "A marvellous conversationalist who befriended them all" (By Tom Gross, Jewish Chronicle, Jan. 20, 2016)
3. "A mentor, example, hero, and friend" (By Michael Gove, Jewish Chronicle, Jan. 20, 2016)
4. "He fought a duel, fled Nazi Austria and became Britain's leading publisher" (By Matt Schudel, Washington Post, Jan. 20, 2016)
5. "One of the great advocates for high European culture" (By Douglas Murray, The Spectator, Jan. 20, 2016)
6. "Lord Weidenfeld's European century" (By Jeffrey Gedmin, Politico, Jan. 20, 2016)
7. "The brilliant publisher who fought a duel with a Nazi" (By Sam Leith, The Spectator, Jan. 20, 2016)
GEORGE WEIDENFELD
[Note by Tom Gross]
There will be another dispatch later today (concerning the Islamic state) but I would like to write a quick note now about George Weidenfeld, who has sadly died overnight.
There is probably no one who has been a greater inspiration to me for my own work on the Middle East than George Weidenfeld, who I have known since I was a small child (he was a great friend of my parents).
As an adult, he helped me with various work concerning the Middle East, and also helped build up this Middle East email list by introducing me to important friends of his and subscribing them to this list (a head of a major European intelligence agency, Israeli cabinet ministers, American senators and many others of you have joined this list at George's suggestion).

There will no doubt be obituaries of him fairly soon and I may then add them to this webpage later today, though I doubt they will quite be able to convey the full breadth of George's talents and impact globally, especially behind the scenes.
He was intellectually as sharp and insightful as ever at the age of 96. In our most recent meeting a few weeks ago (photo below) George not only outlined highly imaginative proposals and predictions for the future of the world but (the British official secrets act prohibition on revealing secrets having recently been lifted) George revealed some of the incredible additional work he did on behalf of British intelligence against the Nazis during the war.
* Here is a short clip from George Weidenfeld's interview on BBC HardTalk recorded three months ago in October 2015.
* For those who know me personally, here is the tribute that George, then aged 91, gave at my father's memorial service in 2011.
UPDATE: The (London) Jewish Chronicle asked me to write a tribute to George Weidenfeld. It is posted below, followed by the piece that will run alongside it in the print edition by British government minister Michael Gove, and various other pieces.
With George Weidenfeld in his apartment two months ago. We spent about three hours speaking about the future of the world. He was intellectually as sharp and insightful as ever at the age of 96. – Tom Gross
A MARVELLOUS CONVERSATIONALIST WHO BEFRIENDED THEM ALL
A marvellous conversationalist who befriended them all
By Tom Gross,
(London) Jewish Chronicle
January 20, 2016
http://www.thejc.com/comment-and-debate/comment/152505/a-marvellous-conversationalist-who-befriended-them-all
George Weidenfeld was still so intellectually sharp and insightful at the age of 96 that we all thought he'd live for ever.
In our most recent meeting a few weeks ago George not only outlined highly imaginative proposals and predictions for the future of the world, but (the British official secrets act prohibition on revealing secrets having recently been lifted) he revealed some of the remarkable additional work he did on behalf of British intelligence against the Nazis during the war.
There will no doubt be many obituaries of him but I doubt they will quite be able to convey the full breadth of George's talents and his impact globally, especially behind the scenes. For at least the past six decades George knew everyone of influence one could imagine.
At his dinner parties in his sumptuous Chelsea apartment, one wouldn't only meet former heads of Israeli and German intelligence, or U.S. senators, but also world famous composers and film stars -- and of course distinguished authors. In previous decades one might have sat next to Jascha Heifetz or Leonard Bernstein or Vladimir Nabokov, all of whom were close to George. Now it would be Daniel Barenboim or Murray Perahia. And age was no hindrance. Less than two months ago he flew to New York for a series of meetings with Henry Kissinger and others. Until a week or so ago, he wrote a regular column for the leading German paper Die Welt.
There was probably no wiser or more influential British friend of Israel stretching over the entire period since Israel's independence -- from the days when George was chief of staff to the country's first president Chaim Weizmann, right up to his role as advisor on the Middle East to members of the current British government.
George was on good terms not only with political friends, but with "enemies" too, though he didn't agree to help everybody. I remember when in the 1980s, he told me that an old school friend from pre-war Vienna called him up to ask for his help. Would George please put in a good word on his behalf with the two rotating Israeli prime ministers of the day, Yitzhak Shamir and Shimon Peres, as well as with the head of the World Jewish Congress? His former school friend had been exposed as a Nazi and sought George's help in an attempt to avoid becoming a persona non grata. The friend? The former UN Secretary-General Kurt Waldheim.

Then there was the dispute between the Catholic Church and international Jewish leaders after Carmelite nuns set up a convent in the former Zyklon B gas storehouse at Auschwitz. Who did Pope John Paul II turn to in an effort to mediate reconciliation behind the scenes? None other than Weidenfeld, who successfully helped shepherd a resolution to the dispute. The convent relocated outside the camp.

George was also a dear and generous friend to many far less important persons, such as myself. He was sweet to me as a child (he was a close friend of my parents) and supportive of me as an adult, especially regarding my work on the Middle East. He helped shape my ideas, as he no doubt did those of many others.
Until the end, he was a marvellous conversationalist. The great Russian-born pianist Evgeny Kissin tells me that he had a short chat on the phone with George – in German – just a few hours before he died.
A MENTOR, EXAMPLE, HERO, AND FRIEND
A mentor, example, hero, and friend
By Michael Gove
(London) Jewish Chronicle
January 20, 2016
http://www.thejc.com/comment-and-debate/comment/152504/a-mentor-example-hero-and-friend
George Weidenfeld was one of the men of the century.
In his life and work the tumult and triumphs of the last hundred years found their witness and their shaper. It has been one of the privileges of my life to have been able to call him a friend. But he was much more – a mentor, an example, a hero.
Born in a Vienna emerging from the wreckage of the Habsburg empire, educated for a career in the Austrian diplomatic service and escaping from that country as it fell under the dark shadow of Nazi control, he was the last survivor of a lost Europe.
The cosmopolitan, liberal and cultured values of his upbringing were those of so many exiles from totalitarianism – figures such as Stefan Zweig and Isaiah Berlin – and George exemplified them beautifully. His perfect manners, his gorgeously decorated Chelsea flat, his spell-binding conversation ranging from high politics to literary gossip, his generosity as a host, his humanity and breadth of sympathy were all reminders of the virtues which European civilisation, at its best, imbued in its children.
From his publishing house George developed a web of relationships – across politics, literature, the arts and humanities, and across France, Germany, the UK and the US – which brought the finest minds of our time into communion with one another. The idea of the West – the belief that democratic liberal nations should work together to defend freedom and advance enlightenment – found in him its greatest advocate and embodiment.
George was always, however, aware of the fragility of our civilisation and he recognised, from personal experience and acute historical study, that the health of any society is reflected in the way it treats its Jewish citizens.
It was, George once observed to me, a fact that the most liberal nation at any time in history was always the one in which Jewish citizens felt most safe – the Netherlands in the 17th century, England in the late 19th century, America in our own time – and those countries which were most hostile to Jewish individuals were those nations heading into darkness – Spain at the time of the Inquisition, Germany and Austria in the Thirties and Russia now.
Europe's unforgivable failure to protect its Jewish citizens – the horrific, brutal and inescapable fact that the greatest crime in history was committed on the continent he loved so much – left a profound impact. It made him a committed Zionist.
Israel's flourishing and success – its democratic vigour, its liberal values, its people's generosity – were a source of joy to George. But the terrible regrowth of antisemitism in the last few years, with both Israel and the world's Jewish population coming under increasing attack, was a profound sadness to him.
He worked tirelessly to understand the causes of this recrudescence of prejudice and to fight it in every way. He used his unparalleled range of contacts to help foster understanding of Israel's position, awareness of the dangers inherent in Islamist extremism and solidarity in defence of democracy.
Even in his tenth decade he would devote long hours to lobbying European leaders, writing in the German media, commissioning expert authors and convening academic seminars to advance understanding of the threat our civilisation faces from extremism. It was an honour to be able to help him, in the smallest of ways, in that work.
It was also an inspiration to see George in this past year devote so much time energy and money to helping save those fleeing Islamist extremism in its darkest form, by supporting Christian refugees escaping Islamic State.
That tireless energy, that resolution in the fight against evil are lost to us now. I am sadder than I can ever say at George's passing because he was more wonderful than words can tell in his commitment to the best in this world.
Michael Gove is Lord Chancellor and Secretary of State for Justice
HIS INNER CIRCLE OF WORLD LEADERS, POPES, SCHOLARS AND ARTISTS
He fought a duel, fled Nazi Austria and became Britain's leading publisher
By Matt Schudel
Washington Post
January 20, 2016
https://www.washingtonpost.com/entertainment/books/george-weidenfeld-british-publisher-of-lolita-politcos-and-a-pope-dies-at-96/2016/01/20/3f03eec6-bf93-11e5-9443-7074c3645405_story.html
George Weidenfeld, an Austrian-born British publisher whose well-connected life brought him into the inner circle of world leaders, popes, scholars and artists, and who led many efforts to bridge divisions among the world's faiths, died Jan. 20 in London. He was 96.
His death was confirmed by Weidenfeld & Nicolson, the publishing company he founded in 1949 and continued to run until his death. The cause was not disclosed.
Mr. Weidenfeld arrived penniless in London in 1938 after fleeing anti-Semitic persecution in his native Vienna, and through charm, determination and tireless networking he became the best-known publisher in Britain.
He published many landmark literary works, including the first British edition of Vladi­mir Nabokov's "Lolita," and books by world leaders such as Lyndon B. Johnson, Israeli prime minister Golda Meir, French president Charles de Gaulle and, after years of persuasion, Pope John Paul II.
Mr. Weidenfeld embodied so many contradictory notions that a British journalist once suggested he could almost be seen as a fictional character: He was a central European Jew who became an authority on the papacy and a member of the British House of Lords. He was a teetotaler who was renowned for giving glittering parties that flowed with fine liquor and wine. Short and chronically overweight, he once fought a duel and was considered one of Europe's most dashing ladies' men, with four marriages and a long list of romantic liaisons.
His party-going advice was to sidle up to the most interesting person in the room and listen. By that standard, it came as no surprise that Mr. Weidenfeld found himself surrounded by others at his frequent gatherings.
"What I do in this seemingly endless networking is a means to an end, not an end in itself," he told the British newspaper the Independent in 1994. "For me, conviviality in the widest sense, being with people, having intellectual discourse, is what for other people is sport and entertainment."
At Mr. Weidenfeld's parties, novelist Martin Amis might brush elbows with Henry Kissinger and Bianca Jagger might be chatting with opera star Plácido Domingo. Mr. Weidenfeld was constantly traveling and often joined John Paul II at Castel Gondolfo, a papal retreat near Rome.
Earlier in his life, Mr. Weidenfeld was close to many of the founders of Israel and served as chief of staff to Chaim Weizmann, the country's first president, in 1949 and 1950.
"The essential cause of my life is the survival of the Jews," Mr. Weidenfeld said in 1994. "For me, the existence of Israel is the most important event of the 20th century."
Yet he also published the memoirs of several high-ranking Nazi figures, including Albert Speer, the chief architect and minister of armaments in Hitler's Germany.
"You develop the attitude of an anthropologist towards a tribe," Mr. Weidenfeld said. "You want to know how it really happened."
Artur Georg Weidenfeld was born Sept. 13, 1919, in Vienna. His father was in the insurance business, but the family had a scholarly bent, and Mr. Weidenfeld studied law and diplomacy at the University of Vienna.
In 1937, he challenged a Nazi sympathizer to a duel, fought with sabers. It was ruled a draw.
After World War II, Mr. Weidenfeld said in a 2009 interview with Britain's Jewish Chronicle, "I looked him up in the phone directory and we shared a salami sandwich. He had been terribly injured on the Russian front."
Soon after his father was jailed in 1938, Mr. Weidenfeld left Vienna for good. (His father was later released.)
With the help of Christian groups, he reached London and found work with the BBC. He also wrote newspaper columns and launched his first publishing efforts in the mid-1940s.
In 1949, he and writer Nigel Nicolson founded Weidenfeld & Nicolson, which had its first great success in 1953 with "The Hedgehog and the Fox," by Oxford don Isaiah Berlin.
Mr. Weidenfeld was a longtime friend of Nabokov, the Russian-born writer whose novel "Lolita," about an older man's infatuation with a 12-year-old girl, was published in Paris in 1955 and in the United States three years later.
Defying the threat of legal action, Mr. Weidenfeld circulated a few copies of the book among influential critics, who pronounced "Lolita" a masterpiece. He invited Nabokov to a literary gathering in 1959, Mr. Weidenfeld later recalled to a German newspaper. Nabokov recited the names of Tolstoy, Chekhov and other Russian writers, then asked, "But who still remembers the name of a single police chief or censor from St. Petersburg?"
"The next day," Mr. Weidenfeld said, "the government permitted publication."
Mr. Weidenfeld was knighted in 1969 and was named a British life peer in 1976.
Over the years, he published books by many leading international figures, including John Paul II, who agreed to write a book of reflections after 15 years of cajoling by Mr. Weidenfeld. The pope's "Memory and Identity" was published in 2005.
Weidenfeld & Nicolson merged with the Orion Publishing Group in 1992, but it remained an independent publishing house under Mr. Weidenfeld's control until his death. (Nicolson died in 2004.)
Mr. Weidenfeld's marriages to Jane Sieff, Barbara Skelton and Sandra Payson Meyer ended in divorce. Survivors include his wife of 23 years, Annabelle Whitestone; a daughter from his first marriage; and several grandchildren and great-grandchildren.
Recalling his youth in a 1990 interview with the BBC, Mr. Weidenfeld said, "I feel very grateful to Christians who saved my life when I had to leave Nazi Austria as a 19-year-old."
Last year, he launched the Safe Havens Fund, an effort to resettle Christians under siege by the Islamic State in Syria and other embattled regions.
"We owe a debt of gratitude," he said.
ONE OF THE GREAT ADVOCATES FOR HIGH EUROPEAN CULTURE
George Weidenfeld was one of the great advocates for high European culture
By Douglas Murray
The Spectator (UK)
January 20, 2016
http://blogs.spectator.co.uk/2016/01/george-weidenfeld-was-one-of-the-great-advocates-for-high-european-culture/
I am far abroad at the moment but have just learnt the sad news from home of the death of George (Lord) Weidenfeld, at the age of 96. As a publisher, philanthropist, convener, guru and friend he was one of the most extraordinary people in 20th and 21st-century Britain.
Born in Vienna in 1919, he fled the Nazis and came to the UK in the 1930s where he was housed and looked after by a Christian family. Throughout the extraordinary life and career that followed he constantly acted on the gratitude he felt towards the country and people that had taken him in. Only last year he set up a fund to help save Christian children from the fighting in Syria. Asked in a BBC interview why he was prioritising Christian children, he stated with typical clarity that it was because these were the children most under threat.
As a publisher and mentor he knew and helped almost everybody. His friendships with statesmen, writers and other public figures were legendary, and apart from his warmth, kindness and huge encouragement, one of the great pleasures of knowing him was to spur him to reminisce. It was always a profound opportunity to hear him talk of pre-war Austria. But it was equally extraordinary to hear him speak of almost everything that had happened in the world of culture and politics since. No one else could speak with such insight and with such personal experience of Nabokov, Picasso, Isaiah Berlin and a thousand others besides. Before one recent dinner I mentioned a book by Stefan Zweig that I had been reading. 'Ah, yes, Stefan Zweig' George began. Of course he had known him in London when Zweig too was in flight from Hitler. I'm sure I can't have been the only friend of George's to worry that he may have been not just one of the greatest receptacles and advocates for high European culture, but also perhaps one of the last.
George Weidenfeld was also a passionate Zionist. At a recent public talk on Theodor Herzl he spoke of his his own association with the State of Israel since its inception, during which he had been at Chaim Weizmann's side. But he also focussed on what an extraordinary thing it was that in any single human lifespan such an magnificent and necessary vision could have been achieved.
Yet perhaps even more than the past, George Weidenfeld was passionately concerned with the future. He never stopped befriending, encouraging and inspiring the young. There was never any social or formal event at which he did not arrange for students and other young people to be present. He set up countless scholarship schemes and similar learning opportunities for students in the UK and abroad. This was always born of the knowledge that the study of history is not an abstract thing but something vital in order to take better steps in the future. Many people who had left a country as he had done would have shaken the dust from their feet. But George always retained a deep pleasure in the success (despite all the vicissitudes) of postwar German politics and society – a success in which he played a part.
In recent years he was desperately concerned by the rise of Islamic fanaticism, concerned for the state of Israel and concerned for Christian civilisation – indeed concerned for civilisation everywhere.
There is much more to be said. A proper estimate of George Weidenfeld's life would require many, many words from many, many writers. In the meantime everyone who knew George will be thinking of his family and especially his wife Annabelle. In the Jewish tradition people say of the dead, 'May his memory be a blessing'. George Weidenfeld's long life was, and his memory already is.
LORD WEIDENFELD'S EUROPEAN CENTURY
Lord Weidenfeld's European century
The publisher, who died at the age of 96, had an extraordinary life, and seemingly knew everyone of importance.
By Jeffrey Gedmin
Politico
January 20, 2016
http://www.politico.eu/article/lord-george-weidenfeld-europe-germany-obituary/
The last time I saw George Weidenfeld was two years ago at his club in central London. Anyone who knew "Lord" Weidenfeld was aware that any conversation with him would invariably flow rapidly through politics, art, music, theater, literature, history, travel, you name it. It could be dizzying. It was always charming and illuminating.
In that final conversation, I remember his energetic praise for the conducting of Christian Thielemann, director of the Salzburg Easter Festival. Of course, Weidenfeld had enjoyed dinner with the Berlin-born conductor the week before, following a performance of Beethoven in Austria.
Weidenfeld hobnobbed with everyone. I can't recall whether it was over a glass of wine that evening, or over a previous lunch, that he told me he'd be having breakfast the next morning with German Chancellor Angela Merkel in Berlin. He seemed like a kid in a candy store.
The hobnobbing had been a passion and a pastime of his for decades. My young economist friend Dalibor Rohac tells me that when he first met Weidenfeld at a conference a few years ago and introduced himself as being from Czechoslovakia, Weidenfeld told him he had once known Edvard Beneš, the Czechoslovak president who famously opposed Nazi claims to the Sudetenland in 1938.
Who hadn't been part of the Weidenfeld circle over the decades? After establishing in 1945 what would become the legendary publishing house Weidenfeld & Nicolson, Weidenfeld helped bring into the world three years later Vladimir Nabokov's "Lolita." That same year, when the state of Israel was founded, Weidenfeld became an advisor to the Jewish state's first president, Chaim Weizmann.
* * *
One might have the feeling that Weidenfeld, who died on Wednesday, began to sense the frantic pulse of history in the womb. He was born in Vienna on September 13, 1919, a year when Freud was feuding with Jung in the Austrian capital and the English physicist and astronomer Arthur Eddington was performing, thanks to a total eclipse of the sun, the first experimental test on Einstein's theory of relativity. It was also the year that a small group of nationalists established the German Workers' Party and started selling a tobacco known as "anti-Semite" to raise funds for what would become Hitler's National Socialist German Workers' Party.
The major events of the last 100 years defined Weidenfeld's life. In 1939 he fled the Nazis, arrived in London with not much more than the shirt on his back, and joined the BBC. As a radio commentator and newspaper columnist he came into contact with the likes of Tito and Charles de Gaulle. As a publisher after World War II, in addition to "Lolita," he helped give birth to Isaiah Berlin's 1953 essay "The Hedgehog and the Fox," "The Group" (1963) by Mary McCarthy, and "The Double Helix" (1968) by the Nobel prize winning geneticist James Watson.
I got to know Weidenfeld in the 1990s. We stayed in touch during my dozen years in Europe, starting in 2001, while I was running think tanks in London and Berlin and Radio Free Europe/Radio Liberty in Prague. I think he found me a curiosity; an American who spoke German who had once studied music in Salzburg and a U.S. foreign policy hawk who remained engaged and committed to Europe in a period when the United States was being jerked by events to the Middle East, Africa, and Asia.
Weidenfeld himself was a man with a strong center of gravity. As someone else who knew him put it on Wednesday, Weidenfeld was "the last British European — though he wasn't British, he was certainly European."
* * *
In recent years, Weidenfeld had become deeply involved in educational work aimed at countering violent extremism. He told an interviewer for the German daily Die Welt in December that his friend Merkel, while well intentioned, was guilty of sloppy thinking if she believed that large numbers of refugees from Syria and other Muslim-majority countries would be easily absorbed by Germany and other European states. He never stopped advancing the argument that America must remain close to Europe. He deemed it essential that European integration stay on track, and that both Europe and America remain firmly committed to the defense of Israel. Other than that, he was refreshingly resistant to ideology, and always strongly opinionated.
I confess there was a time some years ago when I found Weidenfeld's thinking about Europe antiquated. I was more of the Thatcher school and saw an association of free trading, Atlantic-minded, liberal, democratic nation-states as the most obvious basis for a prosperous and secure European future. It seemed absurd to me when Helmut Kohl and other EU leaders would posture that introducing the euro had something to do with the future of peace in Europe. Of course, a single currency per se has nothing to do with it. But with signs now that Europe may be coming unglued — the Greek bailout, the piecemeal suspension of Schengen, the attacks in Paris and the antics of populist governments in Warsaw and Budapest, not to mention the prospect of a British exit from the EU — I've come to the view that Euroskeptics ought to be forewarned. A soft landing for any of this is hardly pre-ordained.
Weidenfeld's thinking wasn't antiquated at all. He seemed to grasp, as Mark Twain put it, that while history seldom repeats itself, it more than occasionally rhymes. In Weidenfeld's birth year of 1919 the USSR intervened in Ukraine, Mussolini started his fascist party in Italy, and America placed its faith in the League of Nations as a guarantor of world peace.
In the 1933 novel "The Shape of Things to Come," H.G. Wells was predicting the outbreak of World War II, war between Germany and Poland, and fighting between the United States and Japan. His science fiction book also envisaged a benevolent dictatorship of elites, burgeoning globalization, English as the global lingua franca, and the eradication of religions. At least some of these things seem to be the very matters that provoke anxiety and anger in America and Europe today.
There will be a great deal to miss in the passing of Weidenfeld, including his civility and charm, his erudition and deep personal connection to some of the great figures and events of modern history. In a time when most of the modern world finds itself buried in information and technical expertise, however, I think what we'll miss most about Weidenfeld are his experience, his wisdom and his lively and energetic imagination.
THE BRILLIANT PUBLISHER WHO FOUGHT A DUEL WITH A NAZI
George Weidenfeld, 1919- 2016: the brilliant publisher who fought a duel with a Nazi
By Sam Leith
The Spectator (UK)
January 20, 2016
http://blogs.spectator.co.uk/2016/01/george-weidenfeld-1919-2016/
My last contact with George Weidenfeld was when I asked him to review a book for The Spectator: a life of Stefan Zweig, who has been enjoying a bit of a moment lately. George didn't fancy it, but I received – very courteous and friendly, as his communications always were – a postcard declining. You could see why I asked, though: George was the one of the last people alive who actually lived in Zweig's world – that cultured and cosmopolitan Mitteleuropean moment at the tail end of the Habsburg Empire, smashed up irrevocably by the Nazis.
I first met him a couple of years ago when I was sent to interview him by Tatler. I've seldom been so in awe of an interviewee. He arrived in London with a postal order for sixteen shillings and sixpence. He founded Weidenfeld and Nicolson. He was Chaim Weizmann's chef de cabinet (for this, like Bill Deedes moonlighting as a cabinet minister while still working on the Daily Telegraph's Peterborough column, he took a sabbatical from publishing). He published Lolita. He was drinking buddies with Pope John Paul II. And – I know he'd probably have regarded this as no big thing, but I was agog – he fought what he guessed was probably the last duel in Vienna before the Anschluss.
The duel involved George – all of about five foot seven, at my guess – seeking out and deliberately insulting the biggest, most Aryan Nazi he could find. 'Your shoelaces are undone,' he told Fritz. Realising he'd been tricked, the big man demanded satisfaction – only, on discovering George was Jewish, refused to fight him. So George sought him out and called him a coward in front of his friends. A duel was fought – a no-shit duel, with swords – which went 92 rounds before a draw was declared.
After the Nazis took over, and George fled to the UK, a big brownshirt showed up at George's mother's door, asking for George. She told him George was gone – and the brownshirt said he had been the one who fought him: 'Is there anything I can do for you? Because he was such a brave opponent…' Still later, in postwar Vienna George looked the guy up – found him hungry and having lost a leg in the war. He 'plied him with sausages and beer and so forth'.
That conciliatory moment seems to stand for something in him. He was a great bridge-builder, a great introducer, a great oiler of the wheels, a great plier of people with sausages and beer; or, latterly, Champagne and canapés. Much of his life was dedicated to fostering European stability and the survival of the state of Israel – he never wanted what happened in his adult memory to happen again.
He talked in that interview about Torschlusspanik – the lodger's anxiety about not getting back before the door shuts for curfew – as explaining why, the older he got, the busier he got. Well, the door has shut now. And what a lot he got done.
I asked him, incidentally, whether he'd known Orwell well – he'd worked down the corridor from him in the BBC propaganda department during the war — and he made a bit of a face. Apparently they'd had a slight falling out because George didn't want to publish one of Orwell's essays in the magazine he ran. 'What was the essay?' I asked. 'Politics and the English Language,' said George, cheerfully. Even Homer nods. RIP.