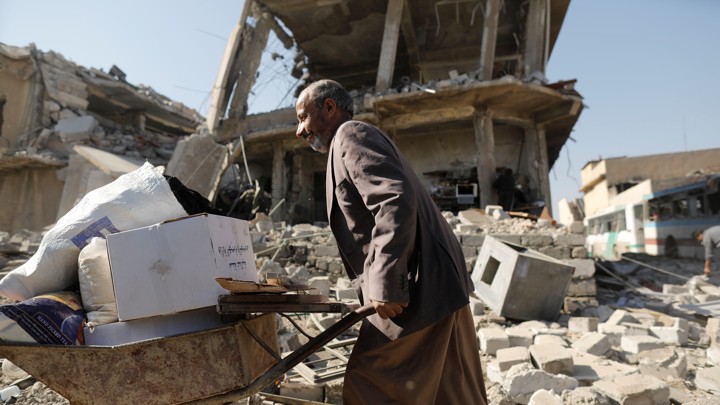 This is just one of many districts in Mosul that were all but destroyed in the heaviest western bombing since the Vietnam war

AS UK GOVERNMENT DEMANDS ISRAEL INVESTIGATION, WHY NOT FIRST INVESTIGATE 2017 UK BOMBING IN MOSUL & RAQQA?
[Note by Tom Gross]
On multiple occasions I have asked why western governments, human rights groups and media have all but ignored the American-British-French bombing of Raqqa in Syria and before that of Mosul in Iraq during the last three years.
The bombing of Raqqa, which concluded in October 2017, and in which over 30,000 munitions were fired by the US, UK and France, is believed to be the heaviest western bombing since the Vietnam War. More civilians are estimated to have been killed by western bombing in Raqqa than by Islamic State.
Here is a short clip from a TV interview with me last week in which I again raise the issue, this time in a debate with senior British conservative MP and former chief whip Mark Harper:


***
Video: As UK government demands Israel investigation, why not first investigate 2017 UK bombing in Mosul?
Also here.
AT LAST, AMNESTY ISSUES A REPORT
Finally, today, Amnesty International has issued a report accusing America, Britain and France of "indiscriminate bombing" and "possible war crimes" in Raqqa in 2016-17.
But the coverage this morning on the BBC and other media is very different from the often hysterical and greatly exaggerated coverage of Israel's recent defensive actions as Hamas tried to breach Israel's border.
The BBC barely scratches the surface of what went on in Raqqa in its reports so far this morning, and the very same news presenters who have been bashing Israel day in, day out, sometimes eagerly lapping up (without even attempting to fact check) what turned out to be fake news slurs, are very dismissive of the overwhelming evidence of what happed in Raqqa and Mosul. An estimated 10,000 civilians died, as some (but not many) reporters did make clear in respect of Mosul.
https://www.nbcnews.com/storyline/isis-terror/liberating-mosul-isis-left-more-9-000-civilians-dead-report-n831431
https://www.theatlantic.com/international/archive/2018/04/counting-the-dead-in-mosul/556466/
https://www.telegraph.co.uk/news/0/coalition-forces-killed-civilians-islamic-state-study-finds/
http://www.newsweek.com/mosul-battle-us-coalition-killed-ten-times-more-civilians-it-claims-753349
I am not seeking to pre-judge western military tactics, only commenting on the very different approaches by media and others towards Israel and towards every other country, an approach that has done so much to whip up hatred of Israel and stir up anti-Semitism.
SILENCE FROM THE GUARDIAN AND NY TIMES THIS MORNING
At the present time (7.30 am UK time), both The Guardian and New York Times websites – despite each having over 30 stories and headlines on their home pages – don't mention the Amnesty accusations against the US and Britain even though other British media are running the story as their second most prominent headline. (President Obama ordered the military action. Perhaps if it had been initiated by President Trump, the New York Times would cover it.)
OTHER CLIPS
For those interested, here are some other very short clips from the same panel discussion:
* Should the UK now move its embassy to Jerusalem? Will it help peace?
* Rise in British anti-Semitism: Is the Conservative party government to blame?
***
And here is an on stage interview I conducted with a former French Islamic State hostage who was held in Raqqa with the U.S. and British hostages who were then beheaded (including James Foley and Steven Sotloff .)
* You can also find other items that are not in these dispatches if you "like" this page on Facebook www.facebook.com/TomGrossMedia