[Notes below by Tom Gross]
FRENCH CITIZEN, TRAINED IN SYRIA, ARRESTED FOR BRUSSELS MUSEUM ATTACK
French police announced today that 29-year-old French citizen, Mehdi Nemmouche, has been arrested in the southern French port city of Marseille, and charged with last weekend's terror attack at the Jewish Museum in Brussels that left four people dead.
Police sais that Nemmouche, from the northern French town of Roubaix, was captured Friday in Marseille, and had in his possession a gun, a Kalashnikov assault rifle, and a video camera, used in the Brussels attack.
Nemmouche is believed to have links to Syrian jihadists. Nemmouche last visited Syria in 2013.
Nemmouche was meant to have been under surveillance, according to intelligence sources, following his return from Syria, but as is the case with hundreds of other European jihadis returning from Syria, the surveillance is less than perfect.

Nemmouche was picked up at Marseille's coach station on board a bus arriving from Amsterdam. He is not believed to have been acting alone.
The shooting last Saturday left four Jews dead, including a 24-year-old Belgian museum employee and a French woman who did volunteer work at the museum, both of whom were executed point blank in the head and neck, as well as an Israeli couple on a trip to Europe to celebrate their wedding anniversary.
***
DUPED BY HAARETZ?
Tom Gross adds:
The Israeli newspaper Haaretz have been accused by many in recent years of stirring things up by implying that anti-Semitism and anti-Zionism barely exist.
Although the suspect has not been convicted yet, the police have a video confession by him boasting of the attack and his motives, and it in any case seemed beyond doubt from the beginning that some form of anti-Semitism was a factor in shooting up a Jewish museum. Yet Haaretz ran what many are terming a prominent conspiracy theory piece in the news pages following last week's Brussels attack (by Amir Oren), citing "anonymous sources" saying that the attack was neither anti-Semitic nor anti-Zionist but merely a crime, that had nothing to do with prejudice against Jews.
Many western media outlets, under the impression that Haaretz is a reliable paper, repeated Haaretz's "conspiracy theory" about the Jewish museum attack, including for example, the (London) Daily Telegraph, which ran a lengthy piece mirroring Haaretz's conspiracy.
This is not to say that Haaretz doesn't also have some fine writing in other respects – but it is making too many mistakes in its eagerness to suggest that the only bad people in the world are the Israelis themselves.
***
Update: In the last hour, Belgian police have conduct raids in Kortrijk, arresting two additional suspects in connection with the Brussels attack.
(This item was written by me before today's news about the apprehension of the Brussels museum killer.)
BRUSSELS MURDERER "VIDEOTAPED HIS ATTACK" JUST LIKE TOULOUSE AND OTHER KILLERS DID
Belgian media report that the Brussels museum shooter may have videotaped last weekend's terror attack. According to police sources involved in the investigation, the museum security cameras indicate the suspect documented the shooting with a personal GoPro camera mounted on his chest.
In recent years, recording and then broadcasting on the Internet the murders of Jews has become a favorite tactic of Muslim anti-Semites.
For example, Mohamed Merah, the French-Algerian who murdered four Jews (including three young children) at the Otzar HaTorah school in Toulouse in March 2012 (and two French soldiers in separate attacks), also recorded the killing in this way, but the tapes were never aired.
Update: The French police now say that the video that the suspect was carrying showed the attack together with a confession by the perpetrator.
DOWNPLAYING ANTI-SEMITISM IN BELGIUM
One of the most inaccurate claims made by some of the media that reported on the Brussels terror attack, is that there is little anti-Semitism in Belgium and there were no previous similar attacks in the post-war era.
In fact, only last month there was an anti-Semitic rally in Belgium which had to be broken up by riot police using water cannon, organized by the anti-Semitic Belgian MP Laurent Louis. Speakers included the notorious anti-Semitic "comedian" Dieudonné. I mentioned the rally in the dispatch of May: Item 7 here.
And among past attacks was the bombing in 1981 of an Antwerp synagogue that left three dead.
Last year a survey of 4,000 Belgian children aged between 14 and 18, found about 75 per cent of young Belgian Muslims held " hard-core anti-Semitic beliefs." Non-Muslim children were less anti-Semitic, according to the poll.
And more recently, a worldwide poll published last month found that 34 per cent of Belgian men, and 27 per cent of men and women combined, are anti-Semites.
***
Shira and Ayelet Riva, the two 16 and 15 year old-daughters of the Israeli couple killed in the Brussels shooting, wrote a final letter to their parents as their bodies landed in Israel, which was reprinted in an Israeli newspaper.
They wrote: "We know that you will always be in our hearts and souls. We couldn't ask for better parents. Loving, caring and good-hearted, who most of all wanted the best for us."
The daughters added that their parents went abroad to celebrate their 18th anniversary. "Before the trip they promised us we would do a lot of things together after they return, but they won't come back to us."

Belgium's interior minister, Joelle Milquet, said that police would now guard all Jewish institutions in the country for the foreseeable future.
(This item was written before the news about the apprehension of the Brussels killer. I include it because it marks a change for the LRB to run something sympathetic to Jewish concerns.)
"FIFTY THOUSAND BELGIAN JEWS CAN WONDER WHO'S NEXT"
The London Review of Books, which is often particularly unsympathetic to Israeli or Jewish concerns, has this short piece by Glen Newey about the Brussels shootings. (extracts only):
"Sleek, complacent Brussels takes its alfresco chocolate and beer and waffles in the early summer sunshine, untroubled by the European elections or a few anti-Semitic murders. The bo-bo Sablon district, which hosts the Jewish Museum, scene of Saturday's shootings, was thick with drinkers again twenty-four hours later; indeed, the gratification of a man interviewed by Flemish VTM Nieuws soon after the attacks remained undimmed …
"Policemen, some toting automatic weapons, were posted at either end of the partly barricaded Miniemenstraat… Knots of Jewish people, the men in yarmulkes, milled and conferred on the street … Why were they there? 'It's a nice evening,' one of the (non-Jewish) men said in Flemish, with a twinkle in his eye. The women turned away…
"The Belgian police have so far failed to arrest or even (as far as is known) identify the Jewish Museum murderer. Until they do, fifty thousand Belgian Jews can wonder who's next. They can witness the triumph of the anti-Semitic FN in neighboring France: in a tweet on Saturday, Luc Le Garsmeur, an FN candidate, described the philosopher Alain Finkelkraut as not being French 'de souche' – one of the weasel-phrases used to label Jews. What do you say to people when their civic status is attacked at its root?"
www.lrb.co.uk/blog/2014/05/26/glen-newey/in-brussels-2/
ISRAELI POLICE CATCH SUICIDE BOMBER WEARING BOMB BELT
(I have included this item because many international media have completely ignored it, even though it was, naturally, the main story in the Israeli media on Friday.)
On Friday morning, Israeli border police apprehended a Palestinian man who tried to enter Israel wearing an explosive vest, thus preventing what seems almost certain to have been a major suicide bombing.
Police first became suspicious when the 20-year-old man, from Nablus, was wearing a heavy coat, despite the 35-degree-Celsius heat (95 degrees Fahrenheit). The policemen, keeping their distance, called on the man to stop, and lay down in the road.
Eventually, the suspect allowed policemen to remove his coat, revealing an explosive belt composed of 12 pipe bombs connected with electric wires strapped around his waist. Police sappers neutralized the bomb. The man was arrested (but will no doubt be released by Israel, just as previous terrorists were, after pressure from John Kerry and other Western leaders).
Israeli media reported that the attack was planned for an Israeli city. An Israeli government minister praised the alert policeman for "saving many lives."
ONE DAY SHE WASN'T THERE
As far as I am aware, Israeli Prime Minister Netanyahu didn't actually say the words in the cartoon below. However, in a press event on Jerusalem's Mount Herzl the day after the Pope's photo-op at the security barrier on the outskirts of Bethlehem last week, Netanyahu did say the following to the Pope:

"When my son was 10 years' old, his best friend was a beautiful Ethiopian girl who sat next to him in class. One day she didn't come; she was blown up in a bus not far from here because there was no fence. There was no wall."

I am drawing attention to these words again because I couldn't find a single printed or online international media outlet that bothered to report on them, despite devoting considerable coverage to the Pope's visit to the security barrier, and despite many journalists from major Western media outlets being present when Netanyahu said them.



U.S. OFFICIALS CONFIRM THAT SYRIA SUICIDE BOMBER WAS AMERICAN CITIZEN
The U.S. State Department on Friday confirmed that an American citizen, Moner Mohammad Abu-Salha from Florida, has carried out a suicide bombing in Syria.

Abu-Salha, who used the nom de guerre Abu Hurayra al-Amriki, carried out one of four suicide bombings on May 25 in Syria's Idlib province on behalf of Jabhat al-Nusra, al Qaeda's affiliate who are fighting to oust President Bashar Assad.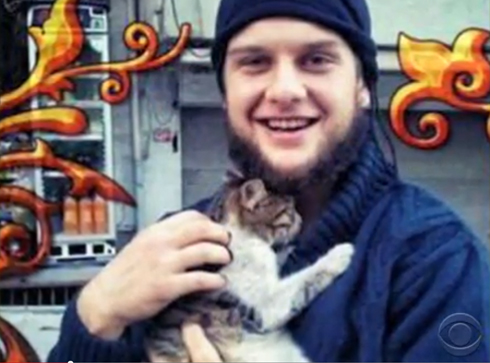 The American suicide bomber in Syria

CANADIAN MAN, WHO WAS A SENIOR HIZBULLAH COMMANDER, KILLED BY SYRIAN REBELS
Fawzi Ayoub, a naturalized Canadian citizen, was shot dead by Syrian rebel forces in Aleppo last Sunday, Lebanese media reported. Ayoub, who had previously been convicted of airline hijacking, was a senior member of the Lebanese terror group Hizbullah
The 48-year-old former Toronto supermarket employee, who became a senior Hizbullah commander, was declared a "martyr" on a Facebook page filled with photos of him in battle fatigues.
The Lebanese-Canadian had been on the FBI's "Most Wanted Terrorist list" since 2009.
Ayoub was a longtime Hezbollah operative and former member of an elite unit headed by the late terrorist Imad Mugniyah, who died in 2008 in a mysterious explosion in Damascus.
Ayoub had previously been captured by Israel but was released in 2004 as part of prisoner swap that saw Israel release 436 Palestinians and Lebanese terrorists in exchange for one kidnapped Israeli civilian hostage.
While several Canadian jihadists have died over the past year fighting against the Assad regime, Ayoub is the first known to have lost his life fighting for Assad.
Thousands of Iranian revolutionary guards and Hizbullah operatives are fighting on behalf of Assad, and have been responsible for some of the worst atrocities against Syrian civilians in the last two years.
***
For a dispatch on how the New York Times got itself into a linguistic tizzy over the death of Imad Mugniyah, please see here.
CRITICISM IN CANADA OF TAXPAYER-FUNDED "ART" TRIBUTE TO PALESTINIAN TERRORISTS
A new art exhibit in the Canadian capital Ottawa includes a video in which the names and faces of "assassinated Palestinian figures" are flashed on screen, while an accompanying booklet explains that the images consist of "lost artists, activists, writers and leaders."
What the leaflet and video don't explain is that those memorialized include a number of notorious terrorists responsible for the murder of dozens of civilians.
They included Abu Iyad (also known as Salah Mesbah Khalaf) who helped masterminded the Munich Olympics massacre. Iyad's face and name appear on the cover of the exhibit's booklet just inches away from the City of Ottawa's logo.
Karen James, a member of the 1972 Canadian Olympic Team, who witnessed the massacre of the Israeli Olympic athletes, said she felt sick that such an exhibit honoring terrorists was being put on.
She wrote in Canada's National Post newspaper this week: "No mention is made of Iyad's role in Black September, let alone the slain athletes of Munich and the scores of other victims murdered by those memorialized in the exhibit. To add salt to the wound, Ottawa taxpayers will be paying a fee to Nazzal for her 'art.' I can only imagine the outrage that would be generated were the City to host an "art" display memorializing Osama Bin Laden and the 9/11 hijackers. The Munich attacks may have been more than 40 years ago, but the passage of time does nothing to mitigate the loss of life and the pain of victims' families."
"We all embrace freedom of expression. Indeed, it is one of the values that make Canada the envy of much of the world. But the glorification of murderers is something that no taxpayer should be forced to subsidize, let alone host at our public institutions."
"The others in the exhibit are members of the infamous squad of terrorists that would murder 11 athletes at the Munich Summer Games. On that evening – September 5th, 1972 – I was one of those naïve athletes who unwittingly brushed with evil."
***
As I noted in a dispatch last year, a similar exhibit was displayed in Paris at the Jeu de Paume museum, but despite repeated protests (and despite the fact it may have contributed to an upswing in anti-Semitic attacks in France) the Minister of Culture refused to close it.
CALIFORNIAN TAXPAYERS FUNDED PROFESSORS' MEETING WITH TERRORISTS
San Francisco State University spent thousands of dollars to send two of its professors to the West Bank and Jordan for a series of meetings with convicted Palestinian terrorists, according to documents obtained this week under the California Public Records Act, the Washington Free Beacon reported.
During the trip in January, SFSU professors Rabab Abdulhadi and Joanne Barker met with, among others, terrorist Leila Khaled, a convicted airline hijacker and member of the Popular Front for the Liberation of Palestine, which has launched dozens of terrorist attacks and is responsible for the deaths of more than 20 Americans.
They also met with Sheikh Raed Salah, who has been convicted of funding Hamas and served prison time for inciting violence.
Of course, there is nothing inherently wrong with meeting the enemy, if for example, the professors were trying to convert them to renounce violence against civilians, but we have no indication that this was the purpose of their visit.
TEMPLE UNIVERSITY REFUSES TO CONDEMN PROFESSOR WHO DOUBTS TRUTH OF HOLOCAUST
Temple University has been criticized by Jewish groups for refusing to condemn one of their professors, Alessio Lerro, for his doubting whether 6 million Jews died in the Holocaust and his use of anti-Semitic discourse on a secret listserv.
Other professors on the secret listserv operated by members of the Modern Language Association – which is currently campaigning to boycott Israel – also used anti-Semitic rhetoric, the Free Beacon reported.
Temple University spokesman Brandon Lausch told the Free Beacon that the university would not condemn Lerro. Questioning the Holocaust was a part of a "vigorous exchange of ideas," Lausch claimed.
REPORT: HAMAS PAYS HUNDREDS OF YOUTHS TO HARASS JEWS AT TEMPLE MOUNT
Mahmoud Toameh, a top-ranking overseas operative of Hamas, has revealed that Hamas pays hundreds of young Israeli Arab citizens to harass Jewish worshippers at the Temple Mount area, according to press reports.
These Israeli-Arabs, who ostensibly are studying Islamic theology at the site, are paid a monthly salary of NIS 4,000 to NIS 5000 ($1,150-$1,440) to attack Jews, sometimes with rocks.
Mahmoud Toameh, a married father of eight, born in 1951, previously lived in Saudi Arabia, and is now a member of the Shura Council, the body headed by Khaled Mashaal which oversees "military" policy for Hamas. Hamas receives substantial funding from mosque networks in Saudi Arabia and other Gulf states.
[Notes above by Tom Gross]