Media backtracks on Gaza (& UK Foreign Office chief's PLO connection)
August 31, 2010
* Time magazine this month: "Gaza's residents will concede that there is no hunger crisis in the Strip. Residents do love the beach, and the store shelves are stocked. But if you're focused on starvation, they say, you're probably missing the point."
* Time magazine in 2008: "Please spare a thought for the starving Palestinians of Gaza. There are 1.5 million of them, most of them living hand to mouth."
***
* New York Times this month: "The poverty of Gaza is often misconstrued, willfully or inadvertently. The flotilla movement is not about material aid; it is about Palestinian freedom."
* Yet on at least 15 occasions in recent weeks, The New York Times described the ships sailing for Gaza as "aid ships."
***
* Nobel peace-prize winner Jimmy Carter in 2008: Gazans are being "starved to death."
* Jimmy Carter in 2009: "the people in Gaza are literally starving."
* Jimmy Carter now: sudden silence on Gaza.
* Tom Gross: "If the media and NGOs had told the truth about the situation in Gaza earlier, Western governments might have sent a larger proportion of aid to where it is more urgently needed in Africa and elsewhere. The unnecessary flotillas that led to the tragic deaths of nine people might also have been avoided."
***
New head of UK foreign office stepped down from previous government job after he became romantically involved with a PLO official. Yet only one of Britain's two dozen Israel-obsessed newspapers bother to report on this.
***
In a predictable move (something like this happens every time "peace talks" about to start) there are reports that four Israeli civilians (including a pregnant woman and a mother of six) have been shot dead in the last few minutes by Palestinian gunmen.
UPDATE 11.45 pm
Hamas has claimed responsibility for the attack and described it as a "heroic operation" on its website. This is the most deadly attack against Israeli civilians since the 2008 massacre of 8 Israeli teenagers in a Jerusalem yeshiva. This evening's shooting confounds recent Hamas signals that it might refrain from resuming attacks on Israeli civilians.
Below, Hamas supporters (including in the third photo, children) take to the streets of Gaza this evening to celebrate the murder of Israelis.
Please note how a Palestinian boy has been given a gun to hold by his father in the first of these photos. Amazingly, in its report the Associated Press suggests (without any concrete evidence at all) that the victims, including a pregnant woman, were "ultranationalist Jewish settlers" but employs no such adjectives to describe Hamas and its supporters.
Below, a Hamas supporter distributes sweets last night to celebrate the attack.
UPDATE 2: Sept. 1, 2010
MEDIC DISCOVERS WIFE'S BODY AT SCENE OF ATTACK
Zaka volunteer Maimon Ben-Haim was dispatched to the scene of the terrorist attack with his colleagues. "We saw a crying volunteer, and at first we did not understand what was happening – he has seen many disasters before," Zaka volunteer Isaac Bernstein told The Jerusalem Post. "Then he started shouting, 'That's my wife! That's my wife!' We took him away from the scene immediately."
Above: Maimon's wife, Kokhava Even-Chaim, 37, a special education nursery teacher. She left behind an 8-year-old daughter.
Above: Hodaya Ames, 9, cries at her parents' funeral after they were killed by Hamas terrorists. Hodaya's mother was nine months pregnant.
UPDATE 3: Sept. 1, 2010, 11 pm
Two more Israelis have been wounded this evening, one critically, in the second West Bank shooting attack in two days.
UPDATE 4: Sept. 2, 2010
After The New York Times's unfortunately predictable (but nevertheless disgraceful) "blame the victim" news coverage of the attack, they did print two critical letters of their own coverage today.
www.nytimes.com/2010/09/02/opinion/l02mideast.html
In summary:
For some, the terrorist attack in the West Bank on Tuesday killed four nameless settlers. For us, the attack snuffed out the life of the loving special education nursery teacher who greeted our developmentally delayed son with boundless love and dedication every day for the last two years.
Kochava Even Chaim was on her way home to her own family after attending the nursery's "welcome back" party at which her adoring special students, who are incapable of understanding hate, decorated new school bags with her just one hour before her murder.
Jennie Goldstein, Neve Daniel
•
… Talk about [the Times's] blaming the victim! Settlements are an issue that must be addressed in the peace negotiations, but doesn't this incident underscore that Hamas must cease its unprovoked violence if we are to have any hope of regional peace? …
Amy N. Lipton, Greenwich, Conn.
CONTENTS
1. New UK Foreign Office chief left previous job over love affair with PLO official
2. NY Times finally covers the Gaza shopping mall (and links to my dispatch)
3. CNN, Time, NY Times and others suddenly backtrack on years of Gaza misreporting
4. Yes, there are poor areas of Gaza too
5. The New York Times tells it as it is about the West Bank too
6. More West Bank Progress
7. Ramallah's fancy restaurants, bars and discotheques
8. From one of the most syndicated columnists in America
9. "The 'two-state' delusion" (By George Will, Washington Post, Aug. 22, 2010)
10. "Skip the lectures on Israel's 'risks for peace'" (By George Will, W. Post, Aug. 19, 2010)
[All notes below by Tom Gross]
NEW UK FOREIGN OFFICE CHIEF LEFT PREVIOUS JOB OVER LOVE AFFAIR WITH PLO OFFICIAL
(This note was first written and sent to my smaller email list on August 1, 2010, the day on which this story appeared.)
The Sunday Telegraph of London reports that Simon Fraser, the new head of the British Foreign Office, stepped down from a previous position working for a Conservative party minister during the last Conservative government in Britain (that of John Major), after he became romantically involved and began living with an official of the Palestine Liberation Organization (PLO). At the time, the PLO was officially classified by the British and other governments as a terrorist organization. (For those who don't know, the Foreign Office is Britain's foreign ministry.) Fraser was given another job by the Foreign Office that year, working for its policy planning staff.
Interestingly, although the Telegraph is one of Britain's best-selling quality newspapers, to my knowledge no other British newspaper has bothered to follow up on this story in the last four weeks, despite their obsession with all things Israeli and Palestinian.
The Telegraph notes that "Having provoked anger with his description of Gaza as a "prison camp", [Prime Minister] David Cameron's latest appointment is likely to raise further suspicions among supporters of Israel about the direction of his policy in the Middle East."
William Hague, the British Foreign Secretary, announced Fraser's appointment as the department's Permanent Under Secretary last month. He will take up his position at the end of August (i.e. this week).
In 1992, David Mellor, one of Prime Minister John Major's trusted Cabinet ministers, was forced to resign after it was disclosed that he had enjoyed a free holiday two years earlier as the guest of Mona Bauwens, a daughter of the late PLO official Jaweed al-Ghussein.
NY TIMES FINALLY COVERS THE GAZA SHOPPING MALL (AND LINKS TO MY DISPATCH)
(This note was first written and sent to my smaller email list on August 23, 2010.)
Since the opening of the Gaza shopping mall was revealed to an Israeli and international audience on July 17, a growing number of major media worldwide have written about and linked to this dispatch.
At the top of the dispatch, I suggested that The New York Times – the world's most influential paper – show pictures of the mall and write about it, and I have repeatedly sent the dispatch to various New York Times editors. Today, the paper finally wrote about the mall (on page A7) and linked to my dispatch (in the sentence "How did they build a mall if no building materials are permitted into Gaza?")
As The New York Times writes: "'Gaza is not poor in the way outsiders think,' said Nida Wishah, a 22-year-old information technology student who was at the mall one recent afternoon. 'You can't compare our poverty with that of Africa.'"
(The New York Times-owned International Herald Tribune also ran this story together with the photo of the shopping mall I had used in my July 17 dispatch, on page 2 of the IHT August 24 edition.)
Since the existence of fancy restaurants, crowded food markets for ordinary Gazans, Olympic size swimming pools, and other signs of prosperity in Gaza, were revealed, there has also been a noticeable and dramatic reduction in the number of newspaper reporters and commentators talking of a "humanitarian crisis" in Gaza, let alone of "starvation".
Obviously, the political problems of Gaza remain, but that is another matter.
CNN, TIME, NY TIMES AND OTHERS SUDDENLY BACKTRACK ON YEARS OF GAZA MISREPORTING
It appears that The New York Times and other media – having misled readers about the situation in Gaza for years – are now trying to rewrite what they said.
Because they don't want to look retroactively as though they weren't telling the truth when they uncritically carried statements like those from former U.S. President Jimmy Carter, who said in 2009 that "the people in Gaza, who are literally starving" and in 2008 that Gazans are being "starved to death," all of a sudden the international media are trying to suggest that they had never been implying to readers and viewers that Gazans were suffering mass hunger of some kind.
(No wonder, Hamas has repeatedly thanked Carter. See, for example, here.)
Yesterday on air, the CNN's Middle East business correspondent, reporting from Gaza, admitted that "Gazan shops have always been well-stocked even in the worst days of unrest here."
And here is what Time magazine's reporter wrote this month:
"Gaza's residents will concede that there is no hunger crisis in the Strip. Residents do love the beach, and the store shelves are stocked. But if you're focused on starvation, they say, you're probably missing the point."
Could this be the same Time magazine that wrote in 2008:
"Please spare a thought for the starving Palestinians of Gaza. There are 1.5 million of them, most of them living hand to mouth."
In previous reports, New York Times correspondent Ethan Bronner wrote of the "severe humanitarian crisis" in Gaza, but now in his piece about the Gaza mall he writes that "the poverty of Gaza is often misconstrued, willfully or inadvertently… The flotilla movement is not about material aid; it is about Palestinian freedom and defiance."
Yet on at least 15 occasions The New York Times (in its news reports and pontificating editorials and columns by the likes of Roger Cohen) described the ships trying to sail to Gaza as "aid ships."
This kind of media distortion, which has been going on for years, has been unhelpful, to say the least. It makes it much more difficult for policy makers to formulate good policy for the region for the benefit of Palestinians and Israelis alike.
Just as it was unhelpful when they failed to report the truth about the non-existent Jenin massacre, or the death of Mohammed al-Dura, and so many other aspects of the Israeli-Palestinian conflict.
YES, THERE ARE POOR AREAS OF GAZA TOO
Obviously, there are many poor areas of Gaza too. There are also plenty of slums in Paris (and London and Rome and New York), but the media tend to focus their pictures on the Eiffel Tower and Champs Elysee instead.
Not so in Gaza where many journalists (who in private conversation, even more than in public, constantly disparage Israel) are doing their best to paint a distorted picture of the economic situation there, showing off the worst possible aspects – and using words like "devastated economy" (BBC) and "dire humanitarian situation" (Sky News) – in order to mislead everyone from the common reader right up to politicians such as British Prime Minister David Cameron into thinking conditions in Gaza resemble some kind of prison camp.

For more pictures of Gaza, please see:
The Islamic University of Gaza: www.iugaza.edu.ps/en
Gaza Al-Quds University: www.qou.edu/homePage/english/index.jsp?pageId=176
The Gaza Grand Palace Hotel: www.grandpalace.ps
The Al Deira Hotel: www.aldeira.ps
THE NEW YORK TIMES, TELLING IT AS IT IS ABOUT THE WEST BANK TOO
Today on a Page 1 cover story, The New York Times's Middle East correspondent Ethan Bronner (under the headline "Outlines Emerge of Future State in the West Bank") notes many of the same things that I outlined in my article about Nablus last year for The Wall Street Journal (sub headlined "A promising, independent Palestine is quietly being developed, with Israeli assistance.")
The New York Times today tells readers that "movie theaters are opening and public parks are packed with families late into the summer nights". "I've never seen Nablus so alive," it quotes one local as saying.
I also cited Palestinians saying "Palestinians need the IDF to help protect them from Hamas, as their own security forces aren't ready to do so by themselves yet".
And the Times today reports: "A Western security official, who spoke on the condition of anonymity said… he thought that the Palestinian forces, while making progress, were not yet able to take control."
It is good that such a highly regarded journalist as Ethan Bronner is telling it as it is in the West Bank. Will correspondents for the BBC and other major media now follow suit?
MORE WEST BANK PROGRESS
On the eve of the resumption of direct peace talks with the Israelis in Washington on Thursday, Palestinian Prime Minister Salam Fayyad announced some of the progress his government has made toward his two-year goal of laying the institutional foundations for a Palestinian state.
Fayyad told journalists that in the past year the Palestinian Authority has opened 34 new schools, launched 44 new housing projects and paved 16 roads. Fayyad said they plan to strengthen the justice system further, build new prisons, reinforce anti-corruption measures, modernize health and education, and empower women. Fayyad also said the PA was able to increase tax revenue by 20 percent.
All this was done with quiet help from persons such as Stanley Fischer, the governor of the Bank of Israel (with the encouragement of Benjamin Netanyahu and of Ehud Olmert before him), and without undue interference from Western politicians and diplomats and the UN. Let us hope that the resumption of the peace process that Barack Obama and Hillary Clinton have insisted upon doesn't spoil the considerable advancements on the ground.
RAMALLAH'S FANCY RESTAURANTS, BARS AND DISCOTHEQUES
The article below by Palestinian journalist Khaled Abu Toameh (who is a longtime subscriber to this email list) adds weight to the various articles about the strong economic performance in the Palestinian territories, a performance which we can trace directly to the policies of recent years initiated by the Israeli authorities with the encouragement of the much maligned Bush administration.

'Palestine's new bride'
By Khaled Abu Toameh
Jerusalem Post magazine
August 20, 2010
Fancy restaurants, five-star hotels, glitzy bars, discotheques, luxury apartments and scores of new construction sites. Welcome to the new Ramallah, the de facto capital of Palestine.

It's hard to believe that Orjuwan is located in the West Bank. Until a few years ago, Palestinians could have only dreamed about having an Italian bar and cuisine like this. But the Orjuwan Lounge in the fashionable neighborhood of Al-Masyoun in Ramallah has become a symbol of the dramatic change that has taken place in this city in the past three years.
Fatah gunmen and thugs who once used to roam the streets have been replaced by policemen and security officers who don't hesitate to use an iron fist against anyone who breaks the law.
The improved security has encouraged Palestinians and foreigners to inject money into the city or even move to live there. Luxury apartments are on sale in most parts of the city. The prices are still very attractive. A three-room apartment in a new building was sold last week for $160,000. Three years ago, the same apartment would have been sold for half the price.
"I sell at least three apartments a month," said building contractor and developer Hussein Mansour. "What's helping us is the fact that local banks are now prepared to give mortgages to almost everyone. In the past, these banks refused to give mortgages to Palestinian Authority employees because there was no guarantee that they would continue to receive salaries."
Tareq Abu Shousheh, a carpenter from Jerusalem, said he bought a new apartment in the Al-Masyoun neighborhood last month. "I paid only $140,000 for a wonderful apartment," he said. "In Jerusalem I couldn't even find a smaller apartment that cost less than that. It's impossible to find a small apartment in an Arab neighborhood in Jerusalem for less than $300,000."
Abu Shousheh said many of his friends were now considering following suit and purchasing new homes in Ramallah or other Palestinian cities such as Jericho and Bethlehem. The famous Nazareth-based Mahroum Oriental Sweets recently opened a branch in the city, offering yet more traditional Middle Eastern pastries, fragrant with honey, pistachio paste, almonds and spices.
Sources in the Ramallah Municipality revealed that more than 100 Palestinians from Jerusalem have relocated their businesses to Ramallah in the past few months. "Here they pay less taxes and have more customers," the sources said. "East Jerusalem goes to sleep at sunset and the streets are completely deserted.
East Jerusalem has become a ghost town, especially when you compare it with Ramallah."
THE POPULAR Orjuwan restaurant and nightclub attracts a diverse crowd – young and old, Palestinian and Israeli, Americans and Europeans, as well as Christians, Muslims and even Jews. Orjuwan was opened less than a year ago by two brothers and a sister from the famous Sakakini family. The Orjuwan Lounge is among dozens of fancy restaurants, bars and discotheques that have cropped up in Ramallah in the past three years, in addition to scores of construction sites that may be seen in almost every neighborhood of the city. Another popular site is the Tche Tche Cafe and Restaurant, which has become a favorite spot among Ramallah's young men and women. Tche Tche has at least 20 operational branches in the Middle East and is considered one of the leading chains of cafes and restaurants in the region.
Five-star hotels and gourmet restaurants are popping up like mushrooms. Many residents are already excited about the new Swiss-run Mövenpick Hotel, which is expected to open shortly. The new hotel is located about three kilometers from the city center and has a spectacular view overlooking the suburbs of Jerusalem. The hotel has 172 rooms and suites, as well as Italian restaurants, swimming pools and a shopping center.
The five-star hotel, like many businesses, is situated not far from the Al-Ama'ri refugee camp, home to thousands of disgruntled and unemployed Palestinians. Some residents of the refugee camp expressed anger over the Palestinian government's failure to improve their living conditions. "They are building all these nice and expensive restaurants and bars for the rich people," said Jamal Abu Kwaik, a local Fatah activist. "The Palestinian Authority has forgotten about the three refugee camps in the Ramallah area. You will never see a refugee eating or drinking in these places because we can't afford to go there."
The general mood in Ramallah these days is reminiscent of the one that prevailed immediately after the signing of the Oslo Accords and the establishment of the Palestinian Authority.
Then, Ramallah witnessed an economic boom as many investors from all around the world converged on the city and its surroundings with high hopes. But many of the investors ran away after discovering that the Palestinian government was, in the words of one Palestinian businessman, a "mafia." Back then, many wealthy Palestinians ran back to the US and the Gulf countries because, they said, they had fallen victim to corrupt Palestinian government officials who were demanding kickbacks and commissions.
"You couldn't open a business then without paying a commission to senior officials associated with [Yasser] Arafat," said a restaurant owner. "Many businessmen ran away with their money because they could not put up with the corruption."
The restaurant owner and other businessmen in Ramallah agreed that the situation today was different. "Today there's less corruption," said Omar Salman who, together with his brother, is planning to build a new boutique hotel in a Ramallah suburb. "Also, people today feel safer to invest their money in Ramallah because of the government's efforts to restore law and order."
"Ramallah is becoming the de facto capital of Palestine," said Hani Saadeh, a local engineer.
"The city is the political and economic capital of Palestine."
Sani Meo, publisher of This Week in Palestine, a popular magazine that covers cultural and economic events in the West Bank, says, "Capital or no capital, Ramallah has done well and Palestine is proud of its achievements." Meo noted that while other Palestinian cities strive to compete, Ramallah has, in fact, "replaced Jaffa and has indeed become the new bride of Palestine. I only pray that the relative calm that the West Bank is witnessing is not the lull before another storm hits our area and that the enduring norm for people will be live and let live."
But many Palestinians are wondering whether the transformation of Ramallah into a modern and flourishing city is part of an Israeli "conspiracy" to make them forget about Jerusalem as the capital of a Palestinian state. As the Ramallah publisher pointed out, representative offices that serve as embassies of many foreign countries already operate in Ramallah, the financial and political center of the Palestinians.
"The most that Palestinians can aspire to today is that Al-Quds [Jerusalem] become Bonn and Ramallah Berlin [prior to becoming reunited Germany's capital again]," said Meo.
The presence of the "embassies" in Ramallah has only reinforced the feeling that the city has indeed become the internationally recognized capital of Palestine. Among the countries that have "ambassadors" and "representative offices" in the city are Argentina, Australia, Austria, Korea, South Africa, Norway, Sri Lanka, Switzerland, China, Poland, Portugal, The Netherlands, Russia, Jordan, Brazil, Finland, Denmark, Ireland, Germany, India, Japan, the Czech Republic, Canada and Mexico.
"Whether we like it or not, Ramallah has become the real capital of Palestine," said Munir Hamdan, a local businessman and Fatah operative. "The president and prime minister have their offices here. So do the parliament and all the government ministries."
Hamdan and other Palestinians accused the Palestinian Authority of "collusion" with Israel in turning Ramallah into the political and financial capital of the Palestinians. The latest project to build a government complex in Ramallah has left many residents here wondering whether their leadership has abandoned the dream to turn Jerusalem into their capital.
"If they are building a new government compound here, that means they have no plans to be based in Jerusalem," complained Hatem Abdel Kader, a Fatah legislator from Jerusalem. "Unfortunately, the Palestinian government of Salam Fayyad has abandoned Jerusalem in favor of Ramallah."
Abdel Kader is perhaps one of the few people who know what they are talking about when it comes to Jerusalem. About two years ago Fayyad appointed him as minister for Jerusalem affairs.
However, Abdel Kader resigned a few weeks later, saying he had discovered that his ministry did not even have enough money to buy a desk and a chair for him.
"I have to be honest with you and tell you that we have lost the battle for Jerusalem," Abdel Kader lamented. "One of the reasons is because the Palestinian government doesn't really care about Jerusalem."
FROM ONE OF THE MOST SYNDICATED COLUMNISTS IN AMERICA
After a long absence from writing about Israel, George Will has produced a string of five columns written from Jerusalem.
Will says "The biggest threat to peace might be the peace process – or, more precisely, the illusion that there is one."
I would like to remind readers that I don't necessarily agree with all aspects of the articles I send out (including these by Will) but they are a counter-balance to the opinions that dominate the global media with the most wide-ranging influence, such as the BBC, New York Times, International Herald Tribune, and Economist. Or nonsense of the kind that dominated the Financial Times's comment page last week written by the paper's former opinion editor (and now international affairs editor) David Gardner.
Below, I attach two of the pieces by Will (who is a subscriber to this email list).
(All five pieces of his from Jerusalem can be read here:
The Mideast mirage (By George F. Will, August 26, 2010)
The 'two-state' delusion (By George F. Will, August 22, 2010)
Skip the lectures on Israel's 'risks for peace' (By George F. Will, August 19, 2010)
Israel's best defense (By George F. Will, August 15, 2010)
Israel's anti-Obama (By George F. Will, August 12, 2010)
What is of interest is that George Will is believed to be the most syndicated newspaper columnist in America. But I wonder how many papers will run these latest columns of his.
[All notes above by Tom Gross]
FULL ARTICLES
"RHETORIC ABOUT A 'TWO-STATE SOLUTION' IS DELUSIONAL, GIVEN RECENT EXPERIENCES"
The 'two-state' delusion
By George Will
The Washington Post
August 22, 2010
JERUSALEM – 'Twas a famous victory for diplomacy when, in 1991 in Madrid, Israelis and Palestinians, orchestrated by the United States, at last engaged in direct negotiations. Almost a generation later, U.S. policy has succeeded in prodding the Palestinians away from their recent insistence on "proximity talks" – in which they have talked to the Israelis through American intermediaries – and to direct negotiations. But negotiations about what?
Idle talk about a "binational state" has long since died. Even disregarding the recent fates of multinational states – e.g., the former Soviet Union, the former Yugoslavia, the former Czechoslovakia – binationalism is impossible if Israel is to be a Jewish state for the Jewish people. No significant Israeli constituency disagrees with Prime Minister Binyamin Netanyahu: "The Palestinian refugee problem will be resolved outside Israel's borders."
Rhetoric about a "two-state solution" is de rigueur. It also is delusional, given two recent, searing experiences.
The only place for a Palestinian state is the West Bank, which Israel has occupied – legally under international law – since repelling the 1967 aggression launched from there. The West Bank remains an unallocated portion of the Palestine Mandate, the disposition of which is to be settled by negotiations. Michael Oren, now Israel's ambassador to the United States, said several years before becoming ambassador:
"There is no Israeli leadership that appears either willing or capable of removing 100,000 Israelis from their West Bank homes. . . . The evacuation of a mere 8,100 Israelis from Gaza in 2005 required 55,000 IDF [Israel Defense Forces] troops – the largest Israeli military operation since the 1973 Yom Kippur War – and was profoundly traumatic."
Twenty-one Israeli settlements were dismantled; even the bodies of Israelis buried in Gaza were removed. After a deeply flawed 2006 election encouraged by the United States, there was in 2007 essentially a coup in Gaza by the terrorist organization Hamas. So now Israel has on its western border, 44 miles from Tel Aviv, an entity dedicated to Israel's destruction, collaborative with Iran and possessing a huge arsenal of rockets.
Rocket attacks from Gaza increased dramatically after Israel withdrew. The number of U.N. resolutions deploring this? Zero.
The closest precedent for that bombardment was the Nazi rocket attacks on London, which were answered by the destruction of Hamburg, Dresden and other German cities. When Israel struck back at Hamas, the "international community" was theatrically appalled.
A senior cabinet member – Moshe Yaalon, strategic affairs minister and possible future prime minister – says "our withdrawals strengthened jihadist Islam," adding, "We have the second Islamic republic in the Middle East – the first in Iran, the second in Gaza: Hamastan."
Israel's withdrawals include the one that strengthened the Iranian client on Israel's northern border, in southern Lebanon. Since the 2006 war provoked by Hezbollah's incessant rocketing of northern Israel, Hezbollah has rearmed and possesses as many as 60,000 rockets. Today, Netanyahu says, Israel's problem is less the Israel-Lebanon border than it is the Lebanon-Syria border: Hezbollah has received from Syria – which gets them from Iran – Scud missiles capable of striking Jerusalem and Tel Aviv. A leader of Hezbollah says, "If all the Jews gather in Israel, it will save us the trouble of going after them worldwide."
Because upward of a million immigrants have come from the former Soviet Union, today one-sixth of Israelis speak Russian. Israel has Russian-language newspapers and television. Russian Israelis are largely responsible for Avigdor Lieberman being foreign minister. Yoram Peri, professor of Israel studies at the University of Maryland, says these immigrants "don't understand how a state that can be crossed in half an hour by car would be willing to even talk about relinquishing territories to its seemingly perpetual enemies." These immigrants know that Russia's strategic depth – space – defeated Napoleon and Hitler.
Netanyahu, who is not the most conservative member of the coalition government he heads, endorses a two-state solution but says that any West Bank Palestinian state must be demilitarized and prevented from making agreements with the likes of Hezbollah and Iran. To prevent the importation of missiles and other arms, Israel would need, Netanyahu says, a military presence on the West Bank's eastern border with Jordan. Otherwise, there will be a third Islamic republic, and a second one contiguous to Israel.
So, again: Negotiations about what?
"PATRONIZING AMERICAN LECTURES ON THE REALITY OF RISKS AND THE DESIRABLENESS OF PEACE, WHICH ONCE WERE MERELY FATUOUS, ARE NOW OBSCENE"
Skip the lectures on Israel's 'risks for peace'
By George Will
The Washington Post
August 19, 2010
JERUSALEM – In the intifada that began in 2000, Palestinian terrorism killed more than 1,000 Israelis. As a portion of U.S. population, that would be 42,000, approaching the toll of America's eight years in Vietnam. During the onslaught, which began 10 Septembers ago, Israeli parents sending two children to a school would put them on separate buses to decrease the chance that neither would return for dinner. Surely most Americans can imagine, even if their tone-deaf leaders cannot, how grating it is when those leaders lecture Israel on the need to take "risks for peace."
During Prime Minister Binyamin Netanyahu's July visit to Washington, Barack Obama praised him as "willing to take risks for peace." There was a time when that meant swapping "land for peace" – Israel sacrificing something tangible and irrecoverable, strategic depth, in exchange for something intangible and perishable, promises of diplomatic normality.
Strategic depth matters in a nation where almost everyone is or has been a soldier, so society cannot function for long with the nation fully mobilized. Also, before the 1967 Six-Day War, Israel within the borders established by the 1949 armistice was in one place just nine miles wide, a fact that moved George W. Bush to say: In Texas we have driveways that long. Israel exchanged a lot of land to achieve a chilly peace with Egypt, yielding the Sinai, which is almost three times larger than Israel and was 89 percent of the land captured in the process of repelling the 1967 aggression.
The intifada was launched by the late Yasser Arafat – terrorist and Nobel Peace Prize winner – after the July 2000 Camp David meeting, during which then-Prime Minister Ehud Barak offered to cede control of all of Gaza and more than 90 percent of the West Bank, with small swaps of land to accommodate the growth of Jerusalem suburbs just across the 1949 armistice line.
Israelis are famously fractious, but the intifada produced among them a consensus that the most any government of theirs could offer without forfeiting domestic support is less than any Palestinian interlocutor would demand. Furthermore, the intifada was part of a pattern. As in 1936 and 1947, talk about partition prompted Arab violence.
In 1936, when the British administered Palestine, the Peel Commission concluded that there was "an irrepressible conflict" – a phrase coined by an American historian to describe the U.S. Civil War – "between two national communities within the narrow bounds of one small country." And: "Neither of the two national ideals permits" a combination "in the service of a single state." The commission recommended "a surgical operation" – partition. What followed was the Arab Revolt of 1936 to 1939.
On Nov. 29, 1947, the United Nations recommended a partition plan. Israel accepted the recommendation. On Nov. 30, Israel was attacked.
Palestine has a seemingly limitless capacity for eliciting nonsense from afar, as it did recently when British Prime Minister David Cameron referred to Gaza as a "prison camp." In a sense it is, but not in the sense Cameron intended. His implication was that Israel is the cruel imprisoner. Gaza's actual misfortune is to be under the iron fist of Hamas, a terrorist organization.
In May, a flotilla launched from Turkey approached Gaza in order to provoke a confrontation with Israel, which, like Egypt, administers a blockade to prevent arms from reaching Hamas. The flotilla's pretense was humanitarian relief for Gaza – where the infant mortality rate is lower and life expectancy is higher than in Turkey.
Israelis younger than 50 have no memory of their nation within the 1967 borders set by the 1949 armistice that ended the War of Independence. The rest of the world seems to have no memory at all concerning the intersecting histories of Palestine and the Jewish people.
The creation of Israel did not involve the destruction of a Palestinian state, there having been no such state since the Romans arrived. And if the Jewish percentage of the world's population were today what it was when the Romans ruled Palestine, there would be 200 million Jews. After a uniquely hazardous passage through two millennia without a homeland, there are 13 million Jews.
In the 62 years since this homeland was founded on one-sixth of 1 percent of the land of what is carelessly and inaccurately called "the Arab world," Israelis have never known an hour of real peace. Patronizing American lectures on the reality of risks and the desirableness of peace, which once were merely fatuous, are now obscene.
Israel removes wall between Jerusalem neighborhood and Palestinian town
August 19, 2010
* Experts reveal: Turks used chemical weapons to gas Kurds
* The silence of the UN and human rights groups is deafening
* Greek-Israeli relations warm as those with Turkey sour
* Saudis hope that we will soon adjust our watches to Mecca Time
* Spoilt Emiratis: Just 4% of people in the UAE walk on a weekly basis
Today's dispatch is split in two for space reasons. The other dispatch can be read here: Apartheid update (& "Cinema Jenin" opens amid fanfare and lights)
CONTENTS
1. Israel removes security barrier between Gilo and Beit Jala
2. Turkey accused of using chemical weapons against the PKK
3. Netanyahu becomes first Israeli prime minister to visit Greece
4. Netanyahu wishes world's Muslims a good month of Ramadan
5. Ramadan a problem this year for the Gulf's business community
6. Upsurge in Ramadan shoe thefts from Ramallah mosques
7. Mecca Time
8. Less than one in 25 people in UAE walk on a weekly basis
9. Al-Qaeda appeals to sympathizers for donations
10. Lebanese army kills head of al-Qaeda-linked group
11. U.S. plans to double private security force in Iraq after military pullout
12. Top U.S. General: Yemeni army on verge of collapse; al-Qaeda could fill vacuum
[All notes below by Tom Gross]
ISRAEL REMOVES SECURITY BARRIER BETWEEN GILO AND BEIT JALA
In what is being termed as both a practical move and a symbolic gesture, Israel has in recent days begun removing the defensive concrete wall it built in 2002 to protect residents of the Jerusalem neighborhood of Gilo from Palestinian snipers shooting at (and sometimes killing) them from the adjoining Palestinian town of Beit Jala (a suburb of Bethlehem). Cranes lifted the two-meter high slabs, each weighing two-and-a-half tons, and placed them on trucks to be driven to an army warehouse and storage depot.
The IDF believes the 3-meter (10 foot) high barrier is no longer necessary since they have restored calm, confiscated weapons and arrested terrorists operating from Beit Jala. Growing prosperity on both sides of the wall and increased security cooperation has made terrorist attacks there almost non-existent in recent years. However, the decision has been criticized by some in Israel as premature. The IDF said that the cement panels are being placed in storage and can be reassembled if needed.
TURKEY ACCUSED OF USING CHEMICAL WEAPONS AGAINST THE PKK
The leading German news magazine Der Spiegel reports that German experts have confirmed the authenticity of photographs that purport to show Kurdish PKK fighters killed by chemical weapons used by the Turkish military in a Kurdish area of southeastern Turkey.
The magazine says that the evidence puts increasing pressure on the Turkish government, which has long been suspected of using such weapons against Kurdish rebels. German politicians from a range of parties are demanding an investigation.
Although these claims need to be investigated further, Western experts say that they know for sure that Turkey did coordinate operations with Iraq during the final stages of Saddam Hussein's genocidal Anfal campaign in which he used chemical weapons against thousands of Kurdish civilians in 1988.
Various Kurdish websites have posted what they say are photos of some of the dead. The victims shown in these photos are thought to have been killed in September 2009. (Warning: These images are very disturbing.)
Why is the UN and international opinion not demanding an investigation?
Why are they instead now demanding even more investigations into the Turkish Gaza Flotilla incident of May 31, when multiples investigations into that incident are already ongoing?
The UN and international "human rights" groups, of course, are not particularly interested in involving themselves in cases of Muslims killing other Muslims.
NETANYAHU BECOMES FIRST ISRAELI PRIME MINISTER TO VISIT GREECE
Benjamin Netanyahu became the first Israeli prime minister to visit Greece when he arrived in Athens on Monday. He was warmly welcomed by Greek Prime Minister George Papandreou, who recently visited Jerusalem.
As the government of Turkey has stepped up its animosity towards Israel in recent months, relations between Israel and Greece have warmed. The Greeks have traditionally been hostile to Israel.
NETANYAHU WISHES WORLD'S MUSLIMS A GOOD MONTH OF RAMADAN
Israeli Prime Minister Netanyahu has sent a video message to the Muslim population in Israel and all over the world wishing them a good and "easy" month of Ramadan.
"We mark this important month [Ramadan] amid attempts to achieve direct peace talks with the Palestinians and to advance peace treaties with our Arab neighbors," Netanyahu said.
"I know you are partners in this goal and I ask for your support both in prayers and in any other joint effort to really create a peaceful and harmonious coexistence," he added.
Muslims around the world began their annual month-long fast last week, during which they refrain from eating, drinking, smoking and sexual relations from sunrise to sundown.
The end of this, the holiest month in the Islamic calendar, is marked by the festival of Eid al-Fitr, which this year falls on September 9.
Netanyahu ended his speech with a traditional Arabic blessing wishing Muslims an easy fast.
The next day, Hamas fired Qassam rockets and mortar rounds from the "impoverished" Gaza strip, injuring two Israelis.
More than 115 rockets and mortars have been fired at Israeli territory since the beginning of 2010, and over 420 rockets have been fired from the Gaza Strip into Israel since the end of Operation Cast Lead in 2009.
RAMADAN A PROBLEM THIS YEAR FOR THE GULF'S BUSINESS COMMUNITY
As Muslims across the Middle East began the celebration of the holy month of Ramadan, business hours in the region have been changed, adversely affecting deal-making, according to businessmen in the Gulf.
The month of Ramadan shifts by about 12 days every year since it is decided according to the lunar calendar that is used in the Islamic world. This means Ramadan started 12 days earlier this year than in 2009, and the meal following the Ramadan fast after the sun has set – which is traditionally a major networking opportunity, where new contacts and future deals are discussed – is happening very late in the evening this year when many say they are too tired for business.
UPSURGE IN RAMADAN SHOE THEFTS FROM RAMALLAH MOSQUES
As Ramadan begins, Arab media note that there has been an epidemic of shoe-stealing from mosques in the West Bank town of Ramallah. Organized gangs are then apparently selling the shoes back to shops.
When Muslims go inside a mosque to pray, they traditionally remove their shoes and leave them in an outer room. While they are in prayer, many of the shoes have been swiped.
When the worshippers return and find their shoes missing, they are forced to walk barefoot to a nearby store to buy some more shoes.
(There is an Arabic report and photo here.)
MECCA TIME
For over 125 years, an observatory in a park in the south-east London neighborhood of Greenwich has been used as the reference point to set clocks around the globe.
But Greenwich Mean Time is facing a challenge to its claims as the starting point for each new day. A giant new clock being built in the Islamic holy city of Mecca hopes to usurp the role of Greenwich Observatory, and aims to have the world's 1.5 billion Muslims, followed by everyone else, setting their watches by its time.
The four-face Mecca clock (pictured below) bears a strong resemblance to London's Big Ben, but is over six times taller than London's famous clock, and at almost 2,000 feet, one of the world's tallest buildings.

Only one of the clock's four faces has so far been completed and is covered with 98 million pieces of glass mosaics. Each face will be inscribed with "Allah is greatest" in Arabic and fitted with thousands of colored lights, making it visible from more than 16 miles.
It will run on Arabia Standard Time, which is three hours ahead of GMT, and began testing this week.
At a conference in Doha in 2008, Muslim clerics and scholars presented "scientific" arguments that Mecca, not London, is the true center of the world.
Greenwich was chosen as the starting point for the measurement of time at the International Meridian Conference in 1884 and has retained its crown largely unchallenged during the ensuing 125 years.
German and Swiss engineers designed the Saudi clock and according to the Ministry of Religious Endowments, the entire project will cost $800 million.
Meanwhile, the Saudi authorities have given almost nothing to help victims of the devastating Pakistani floods, which have left an area the size of England covered by water. Reconstruction is expected to take years. The U.S. and Britain have been the most generous donors.
LESS THAN ONE IN 25 PEOPLE IN UAE WALK ON A WEEKLY BASIS
Just four percent of people living in the United Arab Emirates walk on a weekly basis, a new study by a leading international shoe maker has found.
The poll was commissioned by South Korean shoe manufacturer RYN which plans to enter into the Gulf shoe market soon.
Dubai, the economic hub of the UAE, has built extensive pedestrian-friendly infrastructure, such as air conditioned walkways connecting major sites to encourage residents to walk instead of taking their cars.
Doctors say that the lack of exercise has led to a rise in diseases such as obesity and diabetes. Recent statistics from the International Diabetes Federation say the UAE has the second worst diabetes rate in the world.
AL-QAEDA APPEALS TO SYMPATHIZERS FOR DONATIONS
Al-Qaeda leaders are appealing for financial donations for the third time in little over a year in a sign that the terror network might be short on funds in Afghanistan and elsewhere.
A message posted on an Islamist website on Wednesday repeats a June 2009 appeal by the group's top Afghanistan commander, Mustafa Abu l-Yazeed. He said then that many operatives in Afghanistan were unable to fight because they lacked money and equipment. (Al-Yazeed was killed in an airstrike in May.)
The web message also included an earlier audio recording by Osama bin Laden urging Arab businessmen to help al-Qaeda buy arms and other equipment, and an appeal by al-Qaeda deputy leader Ayman al-Zawahri calling for financial support from Pakistanis.
LEBANESE ARMY KILLS HEAD OF AL-QAEDA-LINKED TERROR GROUP
The head of Fatah Al-Islam, a Lebanese-based terrorist group associated with Al-Qaeda, was one of two Islamists the Lebanese army says it killed last weekend. Abdel Rahman Awad, known by the nom de guerre Abu Bakr, reportedly died in a clash with the army in the Bekka Valley.
Awad led the lengthy standoff between the Lebanese army and his group at the Nahr Al-Bared Palestinian refugee camp in 2007 that left over 400 people dead, including 168 soldiers and many Palestinian civilians. The army reports that Awad has been hiding out in the Ain El-Hiweh camp for more than a year. Under an agreement with the Palestinians, the army does not enter the camps.
No one is accusing Lebanon of "war crimes" for killing Awad, as they would probably have done had Israel killed him.
U.S. PLANS TO DOUBLE PRIVATE SECURITY FORCE IN IRAQ AFTER 2011 MILITARY PULLOUT
The United States pulled its last remaining combat troops out of Iraq this morning. They exited by land across the border into Kuwait. (56,000 armed troops who will perform non-combat and training roles remain.)
And as the U.S. military prepares to leave Iraq completely by the end of next year, the Obama administration is planning to install a small army of private contractors to help protect U.S. civilians there.
By October 2011, the State Department will assume responsibility for training the Iraqi police, a task that will largely be carried out by contractors.
To protect U.S. and other civilians in a country that is still home to al-Qaeda-supporting Sunni insurgents and Iranian-backed militias, the State Department is planning to more than double its private security guards, up to about 7,000, according to administration officials.
There has been a significant increase in violence in Iraq as the U.S. prepares to pull out. Hundreds have died in bomb attacks so far this month. The Obama administration, meanwhile, has made clear that there will be no delay in withdrawing troops.
TOP U.S. GENERAL: YEMENI ARMY ON VERGE OF COLLAPSE; AL-QAEDA COULD FILL VACUUM
As three vicious wars are continuing in Yemen (not that international journalists in the Middle East seem to care enough to report on them properly), a senior U.S. general has warned that the Yemeni security forces and government are unable to deal with the mounting pressure.
General James Mattis, who recently took over the US Central Command (CENTCOM), told the Armed Services Committee in the U.S. Senate that he had doubts about the ability of the Yemeni forces to manage both the battle against al-Qaeda, the war on the northern frontier against Shia rebels and another war in the south against a separatist movement.
[All notes above by Tom Gross]
Apartheid update (& "Cinema Jenin" opens amid fanfare and lights)
* Short videos below
* Moderate Muslims in the Mideast criticize U.S. plans to allow so-called Ground Zero mosque
* They say American supporters of the mosque don't understand the boost it will give radicals battling moderates within the Muslim world
* State Dept. criticized for sending Ground Zero mosque Imam on Middle East junket
* Hamas seizes equipment, files from French aid group in Gaza
Today's dispatch is split in two for space reasons. The other dispatch can be read here: Israel removes wall between Jerusalem neighborhood and Palestinian town.
CONTENTS
1. BBC news presenter gives the finger
2. Unfair booking
3. Arab state moves to restrict freedom of speech... DC magazine blames Israel
4. Israeli tourism ministry slates U.S. State Dept. "bias" for advisory that omits Jordan
5. State Dept. criticized for sending Ground Zero mosque Imam on Mideast junket
6. Mixed feelings about the mosque
7. "Cinema Jenin" opens amid fanfare and lights
8. Apartheid update
9. Hamas seizes equipment, files from French aid group in Gaza
10. Ahmadinejad adds 9/11 to Holocaust denial
11. Iran's new subs; promised third nuke plant; world snoozes
12. "A house of worship or a symbol of destruction?" (By Abdul Rahman Al-Rashid, Asharq Al-Awsat, Aug. 16, 2010)
[All notes below by Tom Gross]
BBC NEWS PRESENTER GIVES THE FINGER
(Live broadcast, August 17, 2010, on one of the BBC's domestic news channels.)

UNFAIR BOOKING
There is surprise and some outrage in Israel that the Israeli goalscorer in last night's impressive European Soccer Cup victory by Hapoel Tel Aviv over Salzburg in Austria, appears to have been booked because his yarmulke (skullcap) fell off following his goal. Pulling your shirt off often gets players yellow carded – but a falling yarmulke?
ARAB STATE MOVES TO RESTRICT FREEDOM OF SPEECH... DC MAGAZINE BLAMES ISRAEL
If you want to gain an insight into why the U.S. State Department so often gets policy wrong, particularly in the Middle East, one factor is that many policymakers actually take seriously views of commentators in the "respected" Washington magazine Foreign Policy.
In what must be a contender for the most ridiculous article of the year award, Foreign Policy (which is owned by The Washington Post) has run a report titled "Is the UAE Banning BlackBerrys Because of Israel?"
Er, no. The United Arab Emirates wants to ban the BlackBerry mobile phone and email device, made by the Canadian company Research In Motion, because the UAE has a dictatorial government trying to prevent its citizens from gaining access to international media without it first being censored.
But over at Foreign Policy (whose star contributors include the notorious Stephen Walt, co-author of The Israel Lobby), it's Conspiracy 101: everything is Israel's fault.
India and Indonesia are also considering banning the BlackBerry. Will Foreign Policy blame Israel for that too?
ISRAELI TOURISM MINISTRY SLATES U.S. STATE DEPARTMENT "BIAS" FOR ADVISORY THAT OMITS JORDAN
Israel's Ministry of Tourism reacted angrily to a travel advisory issued by the U.S. State Department warning tourists not to visit the southern Israeli resort town of Eilat, but okaying visits to the Jordanian town of Aqaba, that sits right next to Eilat on the Red Sea gulf.
The two towns are so close that when terrorists fired rockets into Eilat earlier this month (see here), two landed in Aqaba, killing a taxi driver and injuring a number of other Jordanians. No one was injured in Eilat. Yet the American advisory warned tourists away from Eilat but not Aqaba. In protest, the Israeli ministry wrote that, "Differentiating Israel from its neighbor that actually suffered loss of life is improper and lacks balance."
In fact, tourism to Israel is by and large perfectly safe these days. A record number of tourists visited Israel in the first six months of this year, including many who went to Eilat.
UPDATE: After several days of complaints being made to it about the issue, the State Department has now slightly adjusted its travel warning to Israel, removing specific references to the recent rockets that overshot Eilat.
STATE DEPT. CRITICIZED FOR SENDING GROUND ZERO MOSQUE IMAM ON MIDEAST JUNKET
The Hillary Clinton-led State Department has also been widely criticized this week for inviting Feisal Abdul Rauf, the controversial Muslim leader behind the plan to build a 13 storey Mosque and cultural center near the site of the 9/11 attacks in New York, on a U.S. government paid trip to the Middle East.
State Department spokesman P.J. Crowley defended the move, calling Rauf "a distinguished Muslim cleric," and adding, "His work on tolerance and religious diversity is well known".
But critics point out that Rauf has refused to condemn Hamas suicide attacks against Israeli children, has claimed that the United States was "an accessory" to the 9/11 attacks and that Osama bin Laden was "made in America", and Rauf also appeared to show understanding for the Iranian regime even though it shot dead moderate Muslims and pro-democracy demonstrators on the streets of Tehran and other Iranian cities last year.
However, many members of the media liberal elite are insisting that these opinions are irrelevant and that Rauf is a moderate. For example, Newsweek International editor and columnist Fareed Zakaria said that Rauf "is a moderate Muslim clergyman. He has said one or two things about American foreign policy that strike me as overly critical – but it's stuff you could read on The Huffington Post any day."
(Incidentally, there is a rumor in media circles that Zakaria is about to be hired by Newsweek's rivals Time magazine. In what may be his final act as editor, Fareed this week had Newsweek name Saudi King Abdullah, who is a dictator, as one of "The top 10 Most Respected World Leaders".)
There is also the question of why the State Department thinks the U.S. taxpayer needs to fund Rauf's Mideast trip when he says he can raise $100 million from Saudi and other sources for his so-called "Ground Zero mosque" project. On his trip, Rauf will visit the oil rich states of Saudi Arabia, the United Arab Emirates, Abu Dhabi, and possibly others.
Perhaps the State Department should instead use the money to help fund the building of a church in Saudi Arabia – a country without any churches for Christians who live and work there.
MIXED FEELINGS ABOUT THE MOSQUE
I have mixed feelings about the so-called "Ground Zero mosque". I would have no problem with a mosque being built near Ground Zero if that's all that was at stake, and it was truly run by moderates. But this doesn't seem to be the case.
At the end of this dispatch is an article by Abd Al-Rahman Al-Rashed, the director of the Dubai-based Al-Arabiya television network, who was formerly editor-in-chief of the leading Arab newspaper, Asharq Al-Awsat. Al-Rashed warns that building a mosque near Ground Zero will only play into the hands of the most radical of Muslims and create a "monument" to terrorists.
He writes: "What U.S. citizens do not understand is that the battle against the September 11 terrorists is a Muslim battle, and not theirs, and this battle still is ablaze in more than 20 Muslim countries."
"The last thing Muslims want today is to build a religious center that provokes others, or a symbolic mosque that people will visit as a [kind of] museum next to a cemetery," he says.
"CINEMA JENIN" OPENS AMID FANFARE AND LIGHTS
In stark contrast to the bloodshed witnessed there in recent years, the West Bank town of Jenin (previously known for sending out a record number of suicide bombers to murder Israelis) was lit up last week for the gala opening of Cinema Jenin, a site that both Palestinian and Israeli officials say they hope will become a center of culture and entertainment in the northern West Bank.
The state-of-the-art sound system was donated by Pink Floyd musician Roger Walters. Other facilities, including a 3-D projection system, were paid for by European governments.
A senior manager at the cinema complex in the nearby town of Nablus which opened last year, is one of a growing number of West Bank Palestinians subscribing to this email list. I mention one of my visits to the Nablus Cinema in one of two Wall Street Journal articles outlining how economic life in the West Bank is fast improving since Israel crushed Yasser Arafat's EU-funded intifada: here and here.
* For how Jenin used to be a hotbed of militancy, please see my article Jeningrad.
APARTHEID UPDATE
The New York Times reported yesterday:
"Beirut -- Lebanon passed a law on Tuesday granting Palestinian refugees here the same rights to work as other foreigners, a step in ending years of discrimination [in Lebanon] that had restricted them to the most menial of jobs.
"A bill was approved after months of debate in Parliament that cut across decades of history in Lebanon and the rest of the Middle East, where the refugees' fate remains a pressing question… The estimated 400,000 Palestinians in Lebanon have endured some of the most wretched conditions.
"Their status in Lebanon has long divided lawmakers here, another point of contention in a decades-old debate over the country's already complicated and tenuous system of sharing power among Christians, Sunni Muslims, Shiite Muslims and Druze. Because most refugees are Sunni Muslims, opponents of giving them more rights have feared their eventual citizenship would give more power to Lebanon's Sunnis.
"'We agreed to give Palestinians the minimum of rights, which would improve their living conditions, and this was necessary,' said George Adwan, a Christian lawmaker who had initially objected to the bill. 'We only took into consideration their conditions, but we haven't moved any closer to making them citizens.'"
***
Tom Gross adds: Meanwhile the 1.2 million Israeli-Palestinians (also known as Israeli-Arabs) are afforded a full range of rights in Israel. And so are the millions of Jewish refugees and their descendants booted out of Arab countries who now reside in Israel.
HAMAS SEIZES EQUIPMENT, FILES FROM FRENCH AID GROUP IN GAZA
Agence France Presse reports that the French aid group "Help Doctors" yesterday accused Hamas of seizing equipment and files from one of its Gaza clinics in Khan Yunis.
"Four men from the (Hamas) interior ministry entered the clinic on Tuesday morning and seized computer equipment, telephones, chairs, office equipment and medical files," the organization said in a statement.
The center, which specializes in the treatment of chronic illnesses, had cared for some 5,000 patients since it opened in April 2009.
AHMADINEJAD ADDS 9/11 TO HOLOCAUST DENIAL
Iranian President Mahmoud Ahmadinejad, who is infamous for his Holocaust denial (he again referred to the Holocaust as a "fairy tale" in a televised speech last month), is now suggesting that the 9/11 terror attacks were also fabricated, or at least misreported.
At a news conference in Tehran last week, Ahmadinejad repeated the lie that the Holocaust never happened and went on to say that the death toll in the 9/11 attacks was nowhere near the documented loss of almost 3,000 lives. He added that everyone knew that if anyone did die, it was "the Zionists" who killed them, and added that "no Jewish names were among the dead," another blatant racist lie.
IRAN'S NEW SUBS; PROMISED THIRD NUKE PLANT; WORLD SNOOZES
Iranian President Ahmadinejad on Monday signed a bill setting forth the goal of enriching uranium to 20 per cent. At the same time, he announced a plan for a third Iranian nuclear plant next year.
Iran has also added four new submarines to its naval fleet. State-run Press-TV showed the vessels, all 120-ton Ghadir-class subs, which the news agency says operate well at shallow depths and have the capability to carry-out "long-term coastal missions." The new subs bring to 11 the total in the fleet. The Ghadir-class vessels have sonar-evading capability and the ability to launch missiles and torpedoes.
The following cartoon is by "Dry Bones", the former Jerusalem Post cartoonist, who is a longtime subscriber to this email list:
[All notes above by Tom Gross]
FULL ARTICLE
"U.S. CITIZENS DO NOT UNDERSTAND THAT THE BATTLE AGAINST THE SEPTEMBER 11 TERRORISTS IS A MUSLIM BATTLE"
A House of Worship or a Symbol of Destruction?
By Abdul Rahman Al-Rashid
Asharq Al-Awsat
August 16, 2010
www.asharq-e.com/news.asp?section=2&id=21980
US President Barack Obama adopted a difficult position when he supported the building of a mosque near ground zero, where 3,000 US citizens died at the hands of Al-Qaeda terrorists on 11 September 2001.
Despite the fact that the president adopted the correct stance in principle, i.e. the principle of freedom of worship, in my opinion he adopted an unnecessary and unimportant stance, even as far as Muslims are concerned. The mosque is not an issue for Muslims, and they are not bothered by its construction.
This reminds us of another principled stance Obama took when he insisted on putting the Guantanamo prisoners accused of belonging to Al-Qaeda on trial before civilian courts, and on closing down the military prison. It is true that this stance deserves appreciation. However, the fact is that he fought a battle that does not concern Muslims across the world, because there are tens of thousands of Muslims – similar to those accused of extremism – who are imprisoned in worse conditions in Muslim countries.
Muslims do not aspire for a mosque next to the 11 September cemetery, and are not bothered with Bin Laden's cook being put on trial in a civilian court. Muslims have issues that encroach upon the destinies of nations; these issues are the cause of isolation and calamity, such as the establishment of the State of Palestine (sic). For Obama to focus his energy and efforts, and fight for the establishment of peace in the Middle East is more important and more valuable than a mosque in New York.
The fact is that building a mosque next to the site of the World Trade Center Twin Towers, which were destroyed during the 11 September attacks, is a strange story. This is because the mosque is not an issue for Muslims, and they have not heard of it until the shouting became loud between the supporters and the objectors, which is mostly an argument between non-Muslim US citizens!
Neither did the Muslims ask for a single building, nor do the angry Muslims want the mosque. This is one of the few times when the two opposing sides are in agreement. Nevertheless, the dispute has escalated, and has reached the front pages of the press and the major television programs, demonstrations have been staged in the streets, and large posters have been hung on buses roaming the streets of New York calling for preventing the building of the mosque and reminding the people of the 11 September crime. It really is a strange battle!
I cannot imagine that Muslims want a mosque on this particular site, because it will be turned into an arena for promoters of hatred, and a symbol of those who committed the crime. At the same time, there are no practicing Muslims in the district who need a place of worship, because it is indeed a commercial district. Is there a side that is committed to this mosque? The fact is that in the news reports there are names linked to this project that costs 100 million dollars!
The sides enthusiastic for building the mosque might be building companies, architect houses, or politicized groups that want suitable investments?! I do not know whether the building applicant wants a mosque whose aim is reconciliation, or he is an investor who wants quick profits. This is because the idea of the mosque specifically next to the destruction is not at all a clever deed. The last thing Muslims want today is to build just a religious center out of defiance to the others, or a symbolic mosque that people visit as a museum next to a cemetery.
What the US citizens do not understand is that the battle against the 11 September terrorists is a Muslim battle, and not theirs, and this battle still is ablaze in more than 20 Muslim countries. Some Muslims will consider that building a mosque on this site immortalizes and commemorates what was done by the terrorists who committed their crime in the name of Islam. I do not think that the majority of Muslims want to build a symbol or a worship place that tomorrow might become a place about which the terrorists and their Muslim followers boast, and which will become a shrine for Islam haters whose aim is to turn the public opinion against Islam. This is what has started to happen now; they claim that there is a mosque being built over the corpses of 3,000 killed US citizens, who were buried alive by people chanting God is great, which is the same call that will be heard from the mosque.
It is the wrong battle, because originally there was no mosque in order to rebuild it, and there are no practicing Muslims who want a place in which to worship.
UN admits Israel was attacked without provocation; media coverage disgraceful
August 04, 2010
* More photos of Gaza's good life below
* British Prime Minister David Cameron makes himself irrelevant to Mideast peacemaking
* Israel's new secret weapon? Paint that makes planes disappear off radar
* Terror victims sue Al-Jazeera TV for helping Hizbullah to strike Israel
* A fur first: Foreign activists praise Israel – set to be first country in world to ban fur trade
Today's dispatch is split in two for space reasons. The other dispatch today can be read here: West Bank rape victim under pressure (& Hamas goes to the bank).
CONTENTS
1. Israel attacked from the north…
2. … and from the south and west too
3. Gaza Mall follow up
4. U.S. denies Hanan Ashwari claim of American threat to cut ties with PA
5. Washington Post cartoonist should know better
6. National Geographic's top ten
7. Israeli border police save life of Palestinian snake bite victim
8. Congo's president thanks Israel for being only country to quickly aid victims
9. Israel applauded by campaigners: set to be first country in world to ban fur trade
10. Israeli company develops paint that makes planes disappear off radar
11. Hizbullah victims sue Al-Jazeera TV for aiding terrorists
12. Saudi Arabia crucifies and beheads a murderer
[All notes below by Tom Gross]
Additional note / breaking news
Iran's semiofficial Fars news agency is reporting that Iran has obtained four S-300 surface-to-air missiles despite Russia's refusal to deliver them. It says two missiles are from Belarus and two from another unspecified source.
The acquisition of S-300s may not be true and could be Iranian propaganda. But if true, the sale may well tip the entire military balance in the Middle East and make it almost impossible for Israel or any other country to bomb Iran's nuclear facilities.
ISRAEL ATTACKED FROM THE NORTH…
There has been a significant increase in attacks on Israel in recent days.
* Yesterday, a senior Israeli officer was killed and another seriously wounded by a sniper unit of the Lebanese army after an IDF engineering team was trimming trees along Israel's side of the border. The evidence suggests that the attack on Israel was pre-planned and pre-meditated on the basis of information provided by Israel to UNIFIL and then passed on to the Lebanese army.
* The Lebanese army has increasingly been infiltrated by Hizbullah, according to experts. Hizbullah allies in the Lebanese army are believed to be behind the attack.
* While the United Nations peacekeeping contingent, UNIFIL, has acknowledged that the Israelis were on Israeli territory when they were shot at without provocation, some media – notably the Reuters news agency – went out of their way yesterday to wrongly suggest that Israel had opened fire first, and that Israeli troops had crossed the border. There has been outrage in Israel at some of the international media coverage yesterday which completely misreported events to Israel's detriment.
* The New York Times also misreported the events yesterday, even though it was completely clear from the outset that Israel was telling the truth and the Lebanese army and Hizbullah were lying. The Times merely told its readers: "Each side blamed the other for the flare-up, trading accusations of violating the United Nations Security Council resolution that underpins the four-year cease-fire."
* Today, finally, on its website, The New York Times ran a headline that many of us thought we'd never see: U.N. Supports Israeli Account of Border Clash.
* Even Al-Jazeera acknowledged this (at least on their English-language service) while some leading British newspapers didn't.
* Israel has set its border fence with Lebanon many meters inside Israel precisely so that Israeli soldiers can work on it, and cut down bushes growing against it as they were trying to do yesterday, without crossing into Lebanese territory.
* UPDATE: From an article in The Washington Post: "Although the maintenance work was fully coordinated with the U.N. peacekeeping force in southern Lebanon, and the fatal shot was fired by the nominally independent Lebanese Armed Forces, Hassan Nasrallah, the head of Hezbollah, sent a television crew to film the ambush."
* Last night, U.S. President Obama, acknowledging that Israel was attacked without provocation, sent his personal condolences to the family of the dead Israeli.
* The guns the Lebanese army used yesterday may well have been American. Since 2006, Washington has given nearly $500 million in military aid to Lebanese security forces and has allocated $100 million for 2011, making Lebanon the second-largest recipient of American military aid per capita in the world, according to The Los Angeles Times.
* Hizbullah head Hasan Nasrallah today boasted that Hizbullah forces are deployed in southern Lebanon (in contradiction of UN Security Council resolutions). Where is UNIFIL? Where is the media reporting on this?
* You can see an aerial photograph of the location of the incident along the Lebanese border here:
* Here is a list of other recent attacks on northern Israel from Lebanon.
* Yesterday's incident is, for example, similar to this one.
… AND ISRAEL ATTACKED FROM THE SOUTH AND WEST TOO
* At least five rockets were fired on Monday at the Israeli Red Sea resort town of Eilat, three of them landing in open areas and the sea, but two others striking the Jordanian port city of Aqaba. One of the rockets, believed to be a GRAD-type, exploded near the Intercontinental hotel, killing a Jordanian taxi driver and injuring four other people and destroying two cars. According to Jordanian Prime Minister Samir Rifai and others the attack was launched from the Egyptian-controlled Sinai Peninsula and is similar to one last April when a number of rockets fell on Eilat and Aqaba.
* There has been an increase in rocket fire from Gaza at civilians in southern Israel over the past week.
* One rocket landed inside Ashkelon, a major Israeli city south of Tel Aviv on Friday.
* On Saturday a rocket hit the child hydrotherapy rehabilitation center adjoining Sderot's Sapir Academic College.
All those who believe European journalists' claims that Hamas rockets are homemade and harmless should view this one minute video of the aftermath of Saturday's attack and imagine what would have happened had the children been inside.
* Israel is demanding an international investigation into the unprovoked attacks on it.
Prime Minister Benjamin Netanyahu said this evening: "Firing missiles on civilians is a war crime, and unprovoked attacks on soldiers are blatant acts of aggression. Israel expects the international community to condemn such attacks in the strongest possible terms."
Video here:

* Six members of the Israeli airforce taking part in joint exercises between the Israeli and Romanian air forces died last week when their Sikorsky CH-53 helicopter crashed in central Romania. Four of the Israelis were senior officers.
GAZA MALL FOLLOW UP
The dispatch of July 17, revealing the opening of the Gaza shopping mall that day, has become the most read dispatch ever on my website, with over 300,000 people from more than 100 different countries now having viewed it, according to my website monitor. It has been linked to in hundreds of blogs and news websites around the world, and the large numbers of people reading it may be a result of popular news personalities such as Glenn Beck and Sean Hannity of Fox News, and The Drudge Report and The Huffington Post, recommending it.
While I am happy that Fox and others have drawn attention to it, being the centrist that I am, I am disappointed that major liberal media such as The New York Times and BBC seem so blinkered by their prejudices that they have still refused to draw attention to the shopping malls and crowded markets of Gaza.
There have been some exceptions. The National Post, one of Canada's largest newspapers, almost alone among Western media has run a comment piece about the Gaza mall, referring to my Gaza mall webpage.
And yesterday Tim Marshall, the Foreign Affairs Editor of Sky News, who is a far more impartial correspondent than his counterparts on the BBC, mentioned the economic advances in Gaza and linked to my dispatch in a footnote he added here.
But in general the Western media's refusal to show an objective picture of Gaza is very disappointing. By presenting a distorted view of life there, including life for ordinary people, gullible politicians such as British Prime Minister David Cameron make incendiary remarks that set back efforts to advance Israeli-Palestinian peace.
***
Here are more pictures of the mall here, here and here from The Palestine Times.
The mall has now been widely featured in media throughout the Arab world, for example here (courtesy of AP) but why the continuing silence from Western media who subscribe to AP and who continue to cover "the situation in Gaza" day after day without mentioning the economic progress there?
Tens of thousands of shoppers from Rafah to Beit Hanoun had already visited the mall within days of its opening, according to Palestinian press reports.
***
You might also want to look at these Palestinian websites which I added to my July 17 dispatch shortly after I sent it out:
* The campus of the Islamic University of Gaza
The site is down at present, but when I looked at it before, it indicated that the hotel has a sauna, jacuzzi, massage, multiple restaurants, 24-hour room service and a luxurious swimming pool – picture below: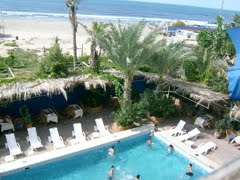 There are also a couple of photos up on Trip Advisor.
***
Egyptian journalist Ashraf Abu Al-Houl reported from Gaza in Al-Ahram last week:
"A sense of absolute prosperity prevails, as manifested by the grand resorts along and near Gaza's coast. Further, the sight of the merchandise and luxuries filling the Gaza shops amazed me. Merchandise is sold more cheaply than in Egypt."
U.S. DENIES PALESTINIAN CLAIM OF AMERICAN THREAT TO CUT TIES
U.S. State Department spokesman Philip Crowley has denied claims by senior Palestinian politician Hanan Ashwari in the London-based Arabic newspaper Al-Quds Al-Arabi that Washington is growing so exasperated with Palestinian Authority President Mahmoud Abbas's continuing refusal to accept Benjamin Netanyahu's offer to open direct negotiations, that President Obama is threatening to cut ties with the PA.
But Crowley did tell reporters that "absent a direct negotiation, there will be no end to the conflict, there will be no peace agreement, and there will be no Palestinian state. That's a fact."
Last week a whole succession of Western leaders – including French President Nicolas Sarkozy, Italian Premier Silvio Berlusconi and German Chancellor Angela Merkel* – phoned Abbas imploring him to accept Netanyahu's offer of peace talks.
Abbas told Voice of Palestine radio on Sunday that he's resisting pressure from "the entire world."
***
(* Note: New British Prime Minister David Cameron is now considered to have made himself irrelevant to Middle East peacemaking among both Israel and the Fatah-led Palestinian Authority, following what are interpreted to be his extraordinary pro-Hamas remarks about Gaza being "a prison camp" in front of the pro-Hamas Prime Minister of Turkey last week. During his remarks, Cameron failed to include any criticism of the Hamas regime. These are the strongest remarks any leader in the world has made about Gaza other than those by the Iranian, Syrian and Venezuelan dictators and show the depths of hatred for the Jewish state – and sometimes for Jews in general – among some who advise Cameron in the British Foreign Office.)
WASHINGTON POST CARTOONIST SHOULD KNOW BETTER
Tom Toles, the Pulitzer-prize winning editorial cartoonist for The Washington Post, claimed in his cartoon on Monday (below) that neither Netanyahu nor Abbas want to engage in direct talks.
Although that might be the message that anti-Israel media in Europe are falsely relaying to their readers, it bears no relation to the leaders' actual positions and statements, and one would expect more from the editorial pages of The Washington Post, one of the few papers whose op-ed pages have made an attempt to be fair and balanced in their Middle East coverage recently.

The cartoons of Tom Toles are also syndicated by The Washington Post to nearly 200 publications nationwide.
NATIONAL GEOGRAPHIC'S TOP TEN
Since it's summer, here are the world's top beaches. In this new survey by National Geographic magazine, one Middle East city comes in at Number 9.
Meanwhile, Travel and Leisure Magazine has declared Jerusalem as the "Best City in Africa and the Middle East."
Tel Aviv came in third, up from seventh place last year.
ISRAELI BORDER POLICE SAVE LIFE OF PALESTINIAN SNAKE BITE VICTIM
The life of a young Palestinian from the West Bank has been saved by Israeli Border Police officers after he was bitten by a viper.
Rami Hariziat Hassan, 20, from Rantis in the West Bank, was taken to Tel Hashomer hospital near Tel Aviv, where doctors treated him.
Hassan's friend Raja Talam Va'ada said: "We rushed to a local checkpoint and asked the soldiers for help. They really helped us. He nearly died. He wasn't breathing."
Border policemen also ensured that the snake arrived at the hospital so that doctors would know which anti-venom to use.
Before Hassan was released from the hospital, Border Police officers came to check on his condition and brought him some chocolate, as well as calling his parents.
The Israeli police have been singled out by EU-funded anti-Israel groups for supposedly not caring about the wellbeing of Palestinians. There have been several other examples of the police helping Palestinian civilians recently. (Meanwhile, police brutality against Roma, migrants and others in EU continues such as France continues apace.)
CONGO'S PRESIDENT THANKS ISRAEL FOR BEING ONLY COUNTRY TO QUICKLY AID VICTIMS
Congolese President Joseph Kabila has thanked Israel, after the Jewish state was the only country to rush doctors and burn specialists to treat victims of the massive oil tanker blast in eastern Congo last month which left more than 230 people dead.
The Israeli specialists have been treating dozens of burn victims who survived the blast. Some of the burn victims were said to be "psychotic from pain." Working around the clock, the Israelis treated the wounded, trained Congolese doctors on how to perform skin grafts, and donated large quantities of medicines and equipment to local medical facilities.
Israel has acted with remarkable speed and resourcefulness in response to dozens of disasters around the world in recent decades, for example in Haiti earlier this year. See this dispatch for more details on that: And his name will be 'Israel': Mother of Haitian baby honors IDF rescuers.
Unfortunately Israeli doctors and nurses have considerable experience treating burn victims following a wave of hundreds of suicide bomb attacks against Israeli civilians over the last decade.
(See, for example, this article of mine in The Wall Street Journal about one such victim, a victim who is a subscriber to this email list.)
ISRAEL APPLAUDED BY CAMPAIGNERS: SET TO BE FIRST COUNTRY IN WORLD TO BAN FUR TRADE
Far from being right-wing, as the media like to label it, Israel is in many respects one of the most liberal societies in the world.
In the latest in a long line of examples of progressive thinking, last week the "Humane Society International" praised Israel for being the first country in the world to attempt to go fur-free" after the Knesset passed the first round of legislation which would ban the fur trade throughout the country.
Israel was at "the forefront of responsible and humane behavior," said Humane Society International's spokespersons Rebecca Aldworth and Mark Glover. "A ban on all fur throughout Israel would be a world first – a major stand against the animal cruelty inherent in the worldwide fur trade – and it would set an example that other countries would look to and follow," they added in a press release.
The bill, introduced by Knesset Member Ronit Tirosh, seeks to outlaw the production, processing, import, export and sale of fur from all animal species not already part of the meat industry. There is a small exemption for the use of fur in hats for certain religious purposes.
It was unanimously endorsed in its first reading in the Knesset, although in recent days there have been some delays: www.antifurcoalition.org/israel-fur-bill
ISRAELI COMPANY DEVELOPS PAINT THAT MAKES PLANES DISAPPEAR OFF RADAR
In what could become one of Israel's most important new weapons, an Israeli company, Nanoflight, has used nanotechnology to develop paint that makes drones, missiles or planes disappear off radar.
The paint particles don't make the missile's detection on the radar disappear completely, but make it exceedingly difficult to positively identify the object as a missile. In the future, this development will allow any missile or jet to have significantly decreased radar detection.
One Israeli expert said: "Even though they may not entirely disappear from radar screens, this technology is a considerably more cost-effective method to evade radar detection than purchasing an American stealth plane for $5 billion."
HIZBULLAH VICTIMS SUE AL-JAZEERA TV FOR AIDING TERRORISTS
Dozens of people injured by Hizbullah rocket attacks on Israel have launched a legal action in New York's Manhattan federal court against the Al-Jazeera television network, for allegedly helping the terrorists aim their deadly missiles.
The suit says Al-Jazeera journalists "repeatedly and intentionally" transmitted "real-time audiovisual footage" of rocket strikes in Israel between July 12 and August 14, 2006.
Broadcasts of the "precise impact locations" allowed Hizbullah to adjust the direction and trajectory of the rockets, it says.
The victims' spokesperson added: "Al-Jazeera camera crews in Israel during the war were repeatedly detained by the Israeli police for broadcasting real-time information regarding the location of missile strikes, which Hizbullah utilized to more accurately aim their missiles at civilian population centers."
* For background on the media coverage of that war, please see this article.
* A full copy of the complaint can be read here.
SAUDI ARABIA CRUCIFIES AND BEHEADS A MURDERER
Capital punishment may be declining in Saudi Arabia, with "only" 67 people executed in 2009 compared to over 100 executed in 2008, but recently the Saudi authorities took the unusual step of first crucifying one of two Yemeni men they executed.
The condemned Yemeni was nailed to a cross before his head was sliced off with a sword. The second Yemeni was "only" beheaded. No anesthetics were used. Saudi officials said that crucifixion is "only" applied in extreme cases.
Remind me, where is the criticism from David Cameron and others? Or can he not afford to take a little time off from criticizing Israel?
[All notes above by Tom Gross]
West Bank rape victim under pressure (& Hamas goes to the bank)
* Boney M censored in Ramallah
* Kuwaiti bank opens special trading hall for women
* No fewer than 85 percent of Arab women use the internet at home
* Elton John: "I won't cherry pick my conscience" like other pop stars have done
* Want your dog, cat or goldfish to travel in style? Ask Israelis for help
CONTENTS
1. "Palestinian authorities pressure American rape victim to withdraw her complaint"
2. Boney M censored in West Bank concert
3. Jordanian Queen "will not allow Hebrew translation" of her kids' book teaching tolerance
4. Israelis become world leaders in assisting travel for pets
5. New industrial park for Israeli-Arab sector
6. Israel launches program to help Israeli-Arab companies increase exports
7. Kuwaiti bank opens trading hall for women
8. Tel Aviv exchange seeks Israeli-Arab companies
9. Contrary to stereotypes, vast majority of Arab women use internet on a daily basis
10. Hamas makes withdrawal at gunpoint
11. Iranian police caution 62,000 women for being "badly veiled"
12. Egyptian court says Arab women married to Israeli men can be stripped of citizenship
EXTRA NOTE
Due to illness in the family, I was unable to post this dispatch until now. Some of these items were written several days ago.
Today's dispatch is split in two for space reasons. This part primarily deals with West Bank censorship, Israeli-Arab issues, financial issues and women's issues. The other dispatch can be read here.
[All notes below by Tom Gross]
"PALESTINIAN AUTHORITIES PRESSURE AMERICAN RAPE VICTIM TO WITHDRAW HER COMPLAINT"
The Palestinian Authority has been covering up the attempted rape in the West Bank of an American peace activist, reports Ha'aretz.
The incident is said to have taken place when a well-known local Palestinian activist (who had previously served time in an Israeli jail for violent offenses but had been released by Israel following international pressure) entered the West Bank guest house in which several foreign peace activists were staying. He claimed that the Israeli army was looking for him and therefore he needed to take shelter there.
During his stay he allegedly brandished a weapon and attempted to rape an American peace activist, who managed to escape after a struggle. One villager interviewed by Ha'aretz said the American was in a state of severe shock following the incident.
The American activist then attempted to notify authorities of the attempted rape, and the accused man was briefly detained by the Palestinian Authority but then quickly released by the PA police.
The U.S. citizen was then pressured by the Palestinian authorities to retract her complaint and not speak to journalists about it, so as "to avoid tainting the image of the Palestinian cause," according to Ha'aretz.
The American had traveled to the West Bank to participate in demonstrations against Israel's security barrier.
Ha'aretz added that "This case is not the only one. Separation fence activists know of other incidents in which Palestinians molested and sexually assaulted foreign peace activists, a subject which was apparently raised in the discussions of the various Palestinian popular committees."
BONEY M CENSORED IN WEST BANK CONCERT
When renowned disco group Boney M rocked Ramallah last week, they were prevented at the last minute from performing one of their biggest hits.
Lead singer Maizie Williams said Palestinian concert organizers warned her not to sing "By the Rivers of Babylon." The song's chorus quotes from the Book of Psalms, referring to the exiled Jewish people's "remembering Zion" and their yearning to return to the biblical land of Israel.
The Palestinian Authority's policy, dating back to the Yasser Arafat era, is to deny any historic Jewish connection to Jerusalem or the land of Israel.
Williams said: "I don't know if it is a political thing or what, but they told us firmly that we mustn't sing it and we were a bit disappointed that we could not do it because we know that everybody loves this song no matter what."
The band performed its other big hits, such as "Ma Baker," "Daddy Cool," "Hooray! Hooray! It's a Holi-Holiday" and "Ra, Ra, Rasputin" in front of screaming Palestinian fans. (Many Israeli Boney M fans also traveled to Ramallah for the concert in defiance of a travel ban.)
The week-long Palestinian International Festival brought several international performances to the West Bank cities of Ramallah, Jenin, Hebron and Bethlehem.

"POP STARS SHOULDN'T CHERRY PICK THEIR CONSCIENCE"
Meanwhile several other international artists said they won't follow in the footsteps of The Pixies, Carlos Santana and Elvis Costello, and cancel performances in Israel for political reasons.
Among those that have performed in Israel in recent weeks are leading African-American female rapper Missy Elliot, Rod Stewart, Elton John, and Christina Aguilera (who gave a private performance).
In remarks at the opening of his concert, Elton John went out of his way to say he would not succumb to pressure to boycott Israelis. He told the audience that he wouldn't "cherry pick his conscience" as other Western musicians had done.
JORDANIAN QUEEN "WILL NOT ALLOW HEBREW TRANSLATION" OF HER KIDS' BOOK TEACHING TOLERANCE
Jordan's Queen Rania says she is on a mission to bridge the religious and cultural divides between the Muslim and Western worlds. To help advance this worthy goal, she has written a children's book (for kids aged 4-8) called "The Sandwich Swap".
The book uses lunch sandwiches (the Western girl, Lily, has a peanut butter and jelly one, the Muslim girl, Salma, has one with pita and hummus) as a metaphor for the differences between two friends from different cultures.
The book's aim is to promote openness, tolerance and multiculturalism, and in the U.S. it has been published by a subsidiary of The Walt Disney Company.
Following high-profile TV interviews between Queen Rania and Oprah Winfrey and Barbara Walters, and a reading at the United Nations, the book has entered The New York Times' bestseller list.
And yet Queen Rania, who since 2007 has been working with UNICEF on child welfare issues and is honorary chairwoman of the UN's effort to promote the education of girls, has (according to press reports) now refused offers to have her book published in Hebrew for distribution in Israel, a country with which Jordan has signed a peace treaty.
So much for the UN and Queen Rania promoting tolerance.
ISRAELIS BECOME WORLD LEADERS IN ASSISTING TRAVEL FOR PETS
Animal Airways, the world's largest pet air transportation and relocation company, has subcontracted a chunk of its business to the Israeli company, Terminal4Pets.
Terminal4Pets will run a full-time, global veterinarian support and guidance in-flight service. The service will allow those traveling with pets to access a vet 24 hours a day, seven days a week, in ten languages.
Terminal4Pets already provides an international team of vets, pet handlers and "pet travel agents" with high-class kennels, pet flight kits, help with animal customs clearance assistance, and a VIP ("Very Important Pet") service to meet and greet your pet upon arrival and drive it home in a special "Pet shuttle".
NEW INDUSTRIAL PARK FOR ISRAELI-ARAB SECTOR
The cornerstone of a new industrial park has been opened in the predominantly Arab northern Israeli town of Nazareth.
The project has been initiated jointly by the Israeli government and Israeli billionaire industrialist Stef Wertheimer. Several Israeli cabinet ministers and the governor of the Bank of Israel Stanley Fischer were among those who traveled to Nazareth for the ceremony.
Israel's Industry Minister Benjamin Ben-Eliezer said that the project symbolizes the "promotion of Jewish-Arab coexistence."
He added that Israel should make full use of "the potential of Israel's Arab sector to the economy."
Unemployment remains higher among Israel's Arab population, who make up 20 per cent of the population, than among Israeli Jews.
ISRAEL LAUNCHES PROGRAM TO HELP ISRAELI-ARAB COMPANIES INCREASE EXPORTS
Separately, the Israeli government has launched a new program designed to assist Arab-owned Israeli companies to boost their exports. 120 Israeli-Arab companies identified as having export potential have been deemed eligible for free advice, professional training and ongoing support from governmental and private organizations in order to help them market their products and services abroad.
TEL AVIV EXCHANGE SEEKS ISRAELI-ARAB COMPANIES
The head of the Tel Aviv Stock Exchange plans to recruit more foreign and Israeli-Arab countries to trade on the exchange.
"We are trying to bring new companies to the stock exchange," says Tel Aviv Stock Market CEO Esther Levanon, who incidentally is one of the very few female heads of a stock exchange in the world.
KUWAITI BANK OPENS TRADING HALL FOR WOMEN
In order to cater to the growing number of Kuwaiti women wanting to trade, while at the same time pandering to the prejudices of the country's male chauvinist establishment, the Kuwait Finance House is opening a stock trading hall exclusively for women.
"Women's banking will no longer be limited to deposit and withdrawal," announced Kuwait Finance House manager Tahani Saleh Al-Khamis. "Women will be allowed to participate in investment funds and portfolios."
A statement from the bank said the new hall would be equipped "with the most modern means of technology and information including state-of-the-art computing and communication facilities providing an environment with speed and flexibility while highly private and secure, befitting women clients who wish to trade outside the official stock market building."
CONTRARY TO STEREOTYPES, THE VAST MAJORITY OF ARAB WOMEN USE INTERNET ON A DAILY BASIS
Contrary to the false belief among some in the West that women in the Arab world do not have access to the internet, the vast majority of Arab women access the web from home, belong to a social networking site and use the Internet to connect with friends, a regional survey by the Gulf-based research group YouGovSiraj has found.
No fewer than 85 percent of Arab women use the internet at home, the survey found, although many Arab regimes block access to certain sites.
71% belong to a social network and 66% connect with friends online on a daily basis, the survey also found.
Lebanon held the highest online usage for women with 68% of those surveyed spending more than seven hours a week online outside of work, followed by the UAE at 55%, Kuwait 53%, Egypt 50%, Qatar 47%, Saudi Arabia and Jordan 44%, Bahrain 42%, Syria 34% and Oman 30%.
There is also a very high use of the internet in both the West Bank and Gaza.
HAMAS MAKES WITHDRAWAL AT GUNPOINT
Armed Hamas operatives have seized another $16,000 from tellers in a bank in the Gaza Strip, according to Palestinian press reports. The money seized represented the balance in an account in the Palestine Islamic Bank belonging to an Islamic charity.
The forcible withdrawal was the second this year, the previous being the seizure of $400,000 from another bank, also at gunpoint.
IRANIAN POLICE CAUTION 62,000 WOMEN FOR BEING "BADLY VEILED"
As the stifling heat of summer continues in the Middle East, Iranian police in the pious Shiite province of Qom have come out in force, reportedly issuing warnings to 62,000 women that they were not sufficiently veiled. The police also confiscated over 100 cars for carrying improperly dressed women, the local police chief said.
Iranian law insists women must be covered from head to foot and social interaction between unmarried men and women is banned. The law is applied less forcefully in major cities, where many women refuse to submit to it.
***
Meanwhile, Iran's educational authorities say they are sending 1,000 religious clerics into schools in Tehran to clamp down on Western influence and political opposition.
The deputy director of Tehran's education department, Mohammad Boniadi, said the clerics would work to make students "aware of opposition plots."
Two months ago, the government reinstituted its ban against teaching music in schools. Cultural authorities have also issued guidelines for permissible male haircuts.
EGYPTIAN COURT SAYS ARAB WOMEN MARRIED TO ISRAELI MEN CAN BE STRIPPED OF CITIZENSHIP
An Egyptian appeals court has upheld a lower court's ruling that women who are married to Israeli men may lose Egyptian citizenship, and their children will also be stripped of their citizenship and other rights.
The decree, which cannot be appealed, requires the government to petition the interior ministry on a case-by-case basis. The lawyer who brought the original case claimed he did so "in order to prevent the creation of a generation disloyal to Egypt and the Arab world."
Please remind me again, where are the Western activists campaigning against "Apartheid Egypt"?
[All notes above by Tom Gross]