Prince William's friendly words in Israel bring a 70-year unofficial boycott to an end
June 27, 2018
Prince William met young Israelis in Tel Aviv and learned the game of footvolley
PRINCE WILLIAM, ROYAL AMBASSADOR
[Note by Tom Gross]
Britain's Prince William is on a short tour of Jordan, Israel and the Palestinian-run territories.
His friendly speech in Tel Aviv yesterday evening effectively brought to an end the 70-year British Foreign Office-initiated (unofficial) royal boycott of Israel.
You can watch his four-minute speech here:
Or here: https://www.facebook.com/TomGrossMedia/videos/vb.196998727004321/1724954054208773
(Today the prince will meet and address Palestinians in the West Bank.)
PRINCE WILLIAM LEARNS THE GAME OF FOOTVOLLEY
Earlier in the day, Prince William met young Israelis on one of Tel Aviv's beaches and learned the game of footvolley (essentially beach volleyball without using one's hands).
You may want to watch this very short clip of the Prince having a go at this increasingly popular Israeli sport here, posted on twitter by the royal correspondent for Britain's ITV news.
https://mobile.twitter.com/chrisshipitv/status/1011617623778447360
https://mobile.twitter.com/chrisshipitv/status/1011617623778447360/video/1
And this is another volley photo from the royal twitter feed at Kensington Palace in London:
https://mobile.twitter.com/KensingtonRoyal/status/1011630280166330369

LACK OF MEDIA INTEREST
Only two (the Daily Telegraph and the Daily Express) of the main British newspaper front pages today have a photo of William on their cover, both showing him at Yad Vashem yesterday morning.
Other British papers very often have photos of historic royal visits on their front pages.
"WILLIAM'S VISIT TO ISRAEL IS A PUTDOWN FOR FOREIGN OFFICE ARABISTS"
I attach two pieces below, the first from Roger Boyes, the Diplomatic editor for Times of London (titled "William's visit to Israel is a putdown for Foreign Office Arabists").
The second is a more hostile piece about the visit by Anshel Pfeffer in Haaretz ("Two Princes: William and Jared Reflect America's and Britain's Growing Irrelevancy"). (Anshel Pfeffer is also one of the Israel correspondents for Boyes' paper The Times, as well as the Israel correspondent for the Economist magazine.)
THE QUEEN EMBRACED ASSAD, BUT NOW FINALLY ISRAEL GETS A ROYAL VISIT
For background to the (previous) Royal/Foreign Office boycott of Israel, please see this dispatch from early March which included this clip:
The Queen embraced Assad, but now finally Israel gets a royal visit
Or here.
Tom Gross: "Queen Elizabeth II has made more than 250 official overseas visits to over 130 countries, but neither she nor any British royal has ever officially set foot in Israel until today.
"It is not as though the Queen hasn't been in the region: The Queen has visited Libya, Iran, Sudan, Kuwait, Bahrain, Qatar, the United Arab Emirates, Oman, Saudi Arabia, Tunisia, Algeria, Morocco, Jordan and Turkey.
"And she has warmly greeted Bashar Assad at the palace in London at a time when he was already presiding over a regime with a near record number of political prisoners and torture victims."
***
I should add that many British diplomats are not hostile to Israel, and both the current British ambassador to Israel, and his predecessor (both of whom subscribe to this email list) have done a great deal of good work to repair or improve Britain's relations with Israel, while at the same time carefully maintaining balance in their concern about Israel's Palestinian neighbors.
ARTICLES
"WILLIAM'S VISIT TO ISRAEL IS A PUTDOWN FOR FOREIGN OFFICE ARABISTS"
William's visit to Israel is a putdown for Foreign Office Arabists
By Roger Boyes
Diplomatic editor
Times of London
June 26, 2018
https://www.thetimes.co.uk/article/williams-visit-to-israel-is-a-putdown-for-foreign-office-arabists-f6kc6p8b0
William of Arabia, aka the Duke of Cambridge, heads out to dusty Ramallah tomorrow to meet the Palestinian president Mahmoud Abbas. It's a remarkable encounter for the second-in-line to the throne and not just because the Palestinian is a nasty piece of work (doctoral dissertation: "The secret relationship between Nazism and Zionism"). The sheer political sensitivity of an official trip to modern Israel and to the Palestinian Authority on the West Bank is such that no member of the royal family has ever undertaken it.
A shift in geopolitics has made the visit possible — and a cultural change in the Foreign Office, which has for many decades advised the royal household that it is better to don the appropriate headgear and butter up Arab autocrats than engage with the gritty detail of the Israeli-Palestinian relationship. The fear of giving offence to princelings has been the defining trait of the so-called camel corps of Britain's Arab enthusiasts within the Foreign Office. It has, with flanking assistance from oil men and aerospace executives, become an almost institutional lobby that sees Israel as the troublemaker of the region and Arab leaders as being deeply misunderstood.
The result: a skewed view of the Middle East that has left Britain so often wrong-footed by an unexpected crisis; a war, a revolution, a putsch that others had spotted in the making. Saddam Hussein's invasion of Kuwait? Didn't see it coming. The 2011 Arab Spring? A complete surprise.
For a long time I bought into the mystique of Britain's Arabist expertise, and saw Israel's concern about the camel corps simply as irrational suspicion of London's motives dating back to the days of the Mandate. Did we not have plenty of informal contacts with Israel, a lively exchange of intelligence about its hostile neighbours, about the Soviet bloc and even about fugitive Nazis? And as for the royal family, they came often enough to Israel on private visits. Both Prince Philip and Prince Charles have been to visit the grave of Princess Alice on the Mount of Olives in Jerusalem, honoured for her role in hiding a Jewish family in German-occupied Athens. William too will pay tribute to his great-grandmother.
So why the fuss? Surely it was not that Britain was snubbing Israel but merely that the establishment was engaged in straightforward mercantilism, tapping oil money to keep jobs alive in Derby. Yet the camel corps is not a fata morgana. Young diplomats selected for early Arabic language training bond and follow intertwined career paths. There are 22 Arab language missions; even if the dips have to interrupt with a stint in Brussels or Washington, the Middle East pulls them back. A romantic vision of the Arab world translated until recently into a sense that Palestinians have drawn the short straw. And that Israel is gaming the West and the Americans in particular.
The Foreign Office advises the royal household on the political suitability of trips. No surprise then when in 2007 an email exchange between two courtiers was leaked amidst a discussion of a possible trip by Prince Charles to Israel. "Safe to assume there is no chance of this visit ever actually happening? Acceptance would make it hard to avoid the many ways in which Israel would want HRH to burnish its international image."
The fear of undue Israeli influence over a fickle US president runs way back, to the foundation of a training centre in the hills above Beirut, the Middle Eastern Centre for Arabic Studies (Mecas). Originally set up in Jerusalem, it was moved to Lebanon in 1948 and its instructors were either Arabs deeply affected by the nakba, the enforced exodus of Palestinians from the new emerging state of Israel, or colonial-era British administrators in sympathy with them. Students, some of them not so long out of Oxbridge, found themselves living with simple Arab families.
It was dubbed locally the School of Spies and there were a few. Mark Allen, who was later in contention to become head of MI6 and who later still was drawn into a scandal about the treatment of interrogated suspects in Colonel Gaddafi's prisons, studied there. He had kept a falcon while a schoolboy at Downside, went on to hunt with Bedouins and was pretty much a typical product of Mecas. Many emerged as experts not only on dialects but also tribal structures.
Even after Mecas shut down in 1978, its ethos continued. No matter that the young diplomats had spent their evenings watching Lebanese or Egyptian soap operas on flickering televisions, the deep undercurrents of Arab civilisation had to be respected, Arab grievances had to be taken seriously, even fetishised, if peace was to be achieved. It was a world view in which Israel was a disruptor of the natural order.
There's no mistaking the anger simmering among Britain's Arabists. Donald Trump's relocation of the US embassy to Jerusalem, the support for Israeli settlements, the strength of the connection between Bibi Netanyahu and the president: all this turned their world upside down. The fact is the caravan has moved on. The Sunni Gulf Arabs share a common enemy with Israel: Iran. And the Palestinians are becoming a source of irritation for many Arab governments rather than a holy cause. When Israeli soldiers opened fire on Hamas-inspired protesters at the Gaza-Israel border wall last month, there was some official Arab grumbling but no serious political bust-up. The threat of Iran has become the overriding threat and Hamas receives Iranian support.
This has left Britain out of step. It sticks with European Union support for the Iran nuclear deal which, since the US withdrawal, is already dead in the water. Like the rest of the EU, it will keep its embassy in Tel Aviv rather than Jerusalem. These positions will have to yield to new realities. And the camel corps will have to adapt or be put out to pasture.
"TWO PRINCES: WILLIAM AND JARED REFLECT AMERICA'S AND BRITAIN'S GROWING IRRELEVANCY"
Analysis: Two Princes: William and Jared Reflect America's and Britain's Growing Irrelevancy
Visiting the region this week, the scions of the Houses of Windsor and Kushner reflect their respective countries' declining influence in the region
By Anshel Pfeffer
Haaretz
June 25, 2018
On Monday, a 36-year-old unemployed helicopter pilot whose sole role in life is to wait around until his grandmother and father are dead so he can inherit the family business will arrive in Israel on a historic visit. His arrival will coincide with the departure of another thirtysomething heir, whose main achievements in life have been losing hundreds of millions of daddy's money in the New York real-estate market, getting in hock to shady lenders, owning a gossip rag and making a cameo appearance on "Gossip Girl."
By coincidence of birth – in William Windsor's case, and marriage in Jared Kushner's – they are both jetting around the region on taxpayer-funded private airliners, surrounded by numerous government flunkies and meeting with leaders like Prime Minister Benjamin Netanyahu and King Abdullah II of Jordan. Not that there is any reason for anyone to be jealous of either man.
Kushner is enjoying, for now, the trappings of his position as senior adviser to the president of the United States. In his not-too-distant future, though, he can look forward to having to make the bleak decision whether to rat out his father-in-law or go to jail for his multiple roles in collusion with foreign powers and influence-peddling. Either way, his period of power will be brief and followed by ignominy.
Prince William's predicament is of the opposite nature. He is sentenced for life to be a figurehead, forbidden to speak his mind as he is shuttled by courtiers from event to event. His existence is a mind-numbing succession of thousands of handshakes and polite exchanges, while he grows old and becomes a cranky pensioner like his father, Charles, waiting for the demise that will make him king.
So why are these two princelings, one for life and the other for as long as his toxic father-in-law holds on, here? And what does their arrival say about the nations they represent?
Kushner may have had no diplomatic experience until Donald Trump won the election, but his political inclinations are known. Everything he has done in the last year and a half, along with his two partners, Ambassador David Friedman and Special Representative Jason Greenblatt, and in coordination with Netanyahu, has been geared to turning the paradigm of the Israeli-Palestinian conflict on its head.
Finally, the contours of the "Trump peace plan" are beginning to emerge, and it is clear that as Kushner said in his interview to Al Quds newspaper, "It will be up to the leadership and the people of both sides to determine what is an acceptable compromise in exchange for significant gains." Or, in other words, the United States isn't going to bother itself with borders, statehood or refugees. It will make do with setting out some vague guidelines for future negotiations, while offering separate economic incentives for the West Bank and Gaza.
The Palestinians will have little choice but to reject a plan that doesn't address their national aspirations, undercuts their political leadership and perpetuates the split between Gaza and the West Bank. This fits perfectly into the vision of Netanyahu, who believes in giving no concessions to the Palestinians, and wearing them down in the belief that they will one day agree to a permanent status of semi-autonomous enclaves. Effectively, it means kicking the can down the road until a new U.S. administration and new Israeli and Palestinian leaderships are prepared to deal with the core issues.
Kushner and his friends are simply helping prolong the period of suffering that both nations will have to go through until they can find a way to live at peace. His visit is just another signal of America's abdication of its duty, as the most prosperous nation in history, to try and help the rest of the world solve its problems – a process that began under Barack Obama and has only intensified under his unworthy successor.
But at least Kushner has some agency and control over his actions. And he will one day, hopefully soon, be held accountable for some of his sins. Prince William has literally no say in his own travel plans. For 70 years since Israel's establishment, there has not been an official visit by a senior member of the British royal family to Israel. Was that because Queen Elizabeth II and her offspring didn't want to come? And does the prince's visit now signal a sudden Zionist change of heart? Who knows.
We are not allowed to know where the queen and her princes actually would like to travel. They have no opinions, no politics, no real power over their lives. For 70 years, the British government and its senior civil servants believed that a royal visit to Israel would harm the United Kingdom's interests in the Middle East, and should not take place before Israel is at peace with its neighbors. Now they think a prince's arrival will somehow enhance the relationship and Britain's standing.
No one asked William whether he thinks flying to Israel, Jordan and the Palestinian Territories is a good idea at this time. His views matter about as much as those of the giant pandas that the Chinese leadership sends as gifts to zoos in countries where it is trying to improve its diplomatic relations.
Just as the 70 years of royal boycott represented a misplaced sense of Britain's importance in world affairs, so does the change in policy represented by the royal visit now. It won't help Britain get more of a say in the diplomatic process; Kushner and Netanyahu have shut out everyone else. The petty differences over William's tour in the Old City being described by the British government as taking place in the "occupied Palestinian Territories" are meaningless. It would have made no difference on the ground whatever the British called it. Neither will the royal visit help Britain curry favor in Jerusalem (or Washington) when its representatives arrive to negotiate trade deals after their departure from the European Union. No amount of royal goodwill is going to help Britain get preferential treatment. The British people have voted for the self-inflicted blow of Brexit and demoted their already much diminished kingdom to fourth-rate status.
With its pomp and pageantry, the royal family remains a national symbol of unity and is a useful tourist attraction. But even the embarrassingly parochial Israeli politicians who will line up for a handshake with William this week won't be more inclined to granting Britain a place at the negotiating table, or any trade favors. Those will be doled out according to the calculations of raw power – and Britain doesn't have much anymore. Its real influence in the region ended on February 14, 1947, when it returned the mandate for Palestine to the United Nations. Prince William is arriving 71 years too late to make a difference.
* You can also find other items that are not in these dispatches if you "like" this page on Facebook www.facebook.com/TomGrossMedia
Iranians Chant "Death to Palestine" in anti-regime protests in Iran today
June 25, 2018
One of several anti-regime protests today in Iran
LARGEST ANTI-REGIME PROTESTS IN YEARS, TODAY IN IRAN
[Note by Tom Gross]
BBC World Service Radio (though not many other media) is leading its bulletins this evening with the huge anti-government demonstrations in Tehran and other Iranian cities today. Protests have been continuing in cities across Iran for weeks now, ever since President Trump increased the pressure on the Iranian regime by pulling out of the flawed nuclear deal.
The demonstrations have become much larger today – but while the BBC (on air) has mentioned the slogans and chants today calling on the regime to stop funding Hezbollah, Assad, Hamas and Palestinian Islamic Jihad, it has not mentioned that some Iranians have even chanted pro-Israel and pro-US slogans, which sources in Tehran have confirmed to me and others.
A few videos:
Anti-regime crowds in Teheran chanting "Death to Palestine" today:
https://www.facebook.com/196998727004321/posts/1722721197765392/
https://twitter.com/jalilazizi13
https://www.facebook.com/abualiblog/videos/vb.1024181447604252/1903372549685133/?type=2&theater
https://t.me/abualiexpress/6396
https://www.facebook.com/1024181447604252/posts/1903373189685069/
Some chants today:
"Not Lebanon, not Gaza. My life is devoted to Iran."
"Death to Syria."
"Palestine, [and] Syria, is the cause of [our] misery."
"Death to Dictator."
"Death to Khamenei."
"Reza Shah, blessed be your soul."
"Long live the Shah!"
"O honorable Iranian, support, support"
BBC online here
UPDATE June 25, 10.30 pm
The Israeli and other Middle East media are now picking up this story, for example, here
* You can also find other items that are not in these dispatches if you "like" this page on Facebook www.facebook.com/TomGrossMedia
BBC slams star presenter Marr over 'Israel kills kids' slur
June 24, 2018
BBC SLAMS MARR OVER 'ISRAEL KILLS KIDS' SLUR
[Note by Tom Gross]
I attach an article below from today's Mail on Sunday (the Sunday edition of the Daily Mail, one of Britain's most popular papers).
It is a very rare forced admission by the BBC that their star presenter, Andrew Marr, breached editorial guidelines with a "misleading" claim (probably based on fake news elsewhere in the British media which Marr had wrongly believed and not fact checked) that Israel had killed "lots of Palestinian kids" in Gaza. Marr gratuitously made the claim in the middle of discussing a story about Russia on his influential Sunday morning BBC1 show.
It is an important story by the Mail but it is regrettable that the Mail story doesn't mention that Hamas and Islamic Jihad took responsibility for most of the recent Gaza deaths – people may wrongly think Marr was right.
Anti-Semitism campaigner Jonathan Sacerdoti forced the BBC complaints board carefully to examine the deaths on the Gaza border over recent weeks, which they were legally bound to check, and the BBC complaints board concluded that their own presenter had in fact mislead the BBC audience with his claims.
Of course, Marr is the just the tip of an iceberg. BBC correspondents, anchors and BBC chosen studio "experts" continually provide misleading information, demonizing Israel, as do many other media outlets.
On the day Sacerdoti made his complaint to the BBC several weeks ago, he also notified me about this and I considered writing about it, and yet not a single British news outlet I then approached at the time said they would be interested in an article pointing out that Marr (and much of the rest of the media) had mislead.
(Credit to the one or two journalists who actually corrected previous news properly, for example, here on the NBC website)
I also attach the article below because despite upholding the complaint the BBC will not require Marr to make an on-air correction or retraction.
In fact they say they will merely post their decision on their own complaints website (which almost nobody reads). Hence this dispatch and the Mail on Sunday story. (The director of BBC News is a subscriber to this Middle East dispatch list.)
Among other recent dispatches mentioning the Gaza border violence:
* Israel wrongly accused of killing Gazan baby, and a minute's silence to help Hamas at Cannes film festival
* Turkish TV shows abundance of food and supplies in Gaza (& Iran FM caught calling for death of US & UK)

* As UK government demands Israel investigation, why not first investigate 2017 UK bombing in Mosul & Raqqa?
MAIL ON SUNDAY ARTICLE
BBC finds Andrew Marr guilty of rules breach over a 'misleading' claim that Israel killed 'lots of Palestinian kids'
* Follows a complaint about comments made on Sunday news programme
* Discussing Syrian regime's chemical weapons attack, Marr said: 'There's lots of Palestinian kids being killed further south as well by Israeli forces'
* His comments were a reference to clashes between Israeli forces and Palestinians in Gaza
By Chris Hastings
The Mail On Sunday
June 24, 2018
BBC bosses have found Andrew Marr guilty of breaching editorial guidelines with a 'misleading' claim that Israel had killed 'lots of Palestinian kids'.
The Corporation's extraordinary ruling against one of its most senior personalities is almost unprecedented.
It follows a complaint about comments made by the presenter on his flagship Sunday news programme.
During the April 8 edition, Marr concluded a discussion of the Syrian regime's chemical weapons attack on civilians by saying: 'And the Middle East is aflame again.
'I mean there's lots of Palestinian kids being killed further south as well by Israeli forces.' His comments were a reference to clashes between Israeli forces and Palestinians in Gaza.
Anti-semitism campaigner Jonathan Sacerdoti complained, writing: 'When talking about a story on the use of chemical weapons in Syria, Andrew Marr for some reason decided to talk about Israel (which was unrelated anyway). He stated there's a lot of Palestinian kids being killed further south by Israeli forces.
'This is completely incorrect and is made up. This was irrelevant to the conversation on Syria… and also actually completely false.'
BBC producers initially tried to defend Marr's comments by pointing to the fact that five 'younger people' had been killed between the beginning of the year and the date of the programme.
They also said several Palestinian children and younger people were killed in the week following the broadcast, but Mr Sacerdoti argued that later events could not be used to justify Mr Marr's comments.
His complaint has been upheld.
Fraser Steel, head of executive complaints at the BBC, wrote to Mr Sacerdoti saying: 'The BBC's guidelines require that output is "well sourced" and "based on sound evidence".
'In the absence of any evidence to support the reference to "lots" of children being killed at the time of transmission, it seems to us to have risked misleading audiences on a material point.
'We therefore propose to uphold this part of your complaint.'
* You can also find other items that are not in these dispatches if you "like" this page on Facebook www.facebook.com/TomGrossMedia
Charles Krauthammer, probably America's finest center-right columnist, dies
June 22, 2018
CHARLES KRAUTHAMMER DIES OF CANCER, AT AGE 68
[Note by Tom Gross]
There were many admirers of Charles Krauthammer on this list, and even his detractors often found his insights fascinating.
Krauthammer, who died yesterday evening, was a subscriber to this list for over a decade and on at least one occasion cited and linked to my Middle East dispatches in his Washington Post column. And I was gratified that he emailed me to say that he was "honored" that I so often ran his pieces on this list.
I attach two pieces below, the first a tribute by Peter Wehner in today's New York Times.
The second is the obituary in today's Washington Post, of which Krauthammer was the paper's star columnist.
The Post's obit is perhaps a little too tough on Krauthammer, who was much more nuanced than they make him sound, although the Post's obit does include a prescient quote by my father:
The essayist and critic John Gross, writing in the New York Times, once called Krauthammer a skilled "controversialist" and "master of the crisp and compact formulation" whose greatest strength was his "ability to seize on the giveaway quotation or the exquisitely revealing chink in his opponent's armor."
To cite one example of Krauthammer's often nuanced views, as Wehner does, is what he wrote in 1985 on the abortion debate:
There is not the slightest recognition on either side that abortion might be at the limits of our empirical and moral knowledge. The problem starts with an awesome mystery: the transformation of two soulless cells into a living human being. That leads to an insoluble empirical question: How and exactly when does that occur? On that, in turn, hangs the moral issue: What are the claims of the entity undergoing that transformation?
How can we expect such a question to yield answers that are not tentative and indeterminate? So difficult a moral question should command humility, or at least a little old-fashioned tolerance.
Also noteworthy is what Ben Shapiro writes today in the Daily Wire:
Krauthammer wasn't a news junkie. He was a thought junkie. The headlines of the day simply mattered less to him than the philosophies and worldviews that could be only faintly spotted through the murky waters of daily politics. That's why Krauthammer seemed to be so clear – he was speaking and writing from a deeper place. It's also why he was so prescient: the waves of politics varied, but the bottom of the ocean was stable.
Krauthammer is also credited with codifying Ronald Reagan's thoughts into what Krauthammer first called the Reagan Doctrine in a Time Magazine essay in 1985.
And he did the same for the Bush Doctrine in 2001.
And in 2009, what came to be known by some as the Obama Doctrine.
Krauthammer held a low opinion of Donald Trump.
It says something about the extreme partisanship of the age in which we now live that during their prime time shows yesterday evening, neither CNN nor MSNBC mentioned his passing.
THE EXAMPLE OF CHARLES KRAUTHAMMER
The Example of Charles Krauthammer
By Peter Wehner
New York Times
June 22, 2018
I was a student at the University of Washington in Seattle when I arrived in Washington, D.C., to work as an intern in 1983. I was in search of an intellectual role model. I soon found one in Charles Krauthammer, who was writing for The New Republic and Time. In 1985, he became a columnist for The Washington Post. Years later, he became a close friend and eventually — he would wince at this — something of a heroic figure to me. His character turned out to be even more impressive than his mind.
On June 8, Charles announced that his doctors had informed him that he had only a few weeks to live, the result of an aggressive, rapidly spreading cancer. "This is the final verdict," he wrote in a note to his readers. "My fight is over." He died on Thursday.
It is a shattering loss. Charles, who received the 1987 Pulitzer Prize for commentary, was not only an elegant writer; he also had a beautiful mind: precise, logical, subtle and blessedly free of cant. He loathed trendiness and the fads that sometimes sweep over the culture.
Like any good columnist, Charles had deep convictions — on the uniqueness and greatness of America, his devotion to democratic pluralism, and his support for Israel and Zionism; on the wonder and joys of physics, chess and baseball, especially his beloved Washington Nationals. (We once exchanged thoughts on an upcoming Super Bowl, but he couldn't help concluding this way: "Of course, the whole damn game is just a prelude to the beginning of spring training. We must keep things in perspective.")
But convictions on some matters never meant certainty on all matters. He was comfortable with what he called "inescapable ambiguity" on complicated moral matters. For Charles, abortion was such an issue. My views on abortion are more conservative than his were, but I have long kept in mind what he wrote in 1985:
"There is not the slightest recognition on either side that abortion might be at the limits of our empirical and moral knowledge. The problem starts with an awesome mystery: the transformation of two soulless cells into a living human being. That leads to an insoluble empirical question: How and exactly when does that occur? On that, in turn, hangs the moral issue: What are the claims of the entity undergoing that transformation?
"How can we expect such a question to yield answers that are not tentative and indeterminate? So difficult a moral question should command humility, or at least a little old-fashioned tolerance."
This is a model of concision, precision and illumination.
In an age when political commentary is getting shallower and more vituperative, we will especially miss Charles's style of writing — calm, carefully constructed arguments based on propositions and evidence, tinged with a cutting wit and wry humor but never malice.
There's another quality of his that we will miss: intellectual independence. Charles started out his political career as a centrist Democrat yet ended up as a conservative and a fixture on Fox News. But he situated himself in a particular school within conservatism, one that is temperamentally moderate, deeply suspicious of ideology, aware of the complexity of human society, and empirical in the sense that he was constantly testing what he was saying against what was actually happening in the world and the effect it had. Charles had no interest in being a member of a political team; his goal was to better understand reality.
Political tribalism is rotting American politics; it needs more people who reject partisan zeal and can speak honestly about their own side's blind spots and defects. Charles, alert to the maladies of the American right, was a fierce critic of Pat Buchanan in the early 1990s, when Mr. Buchanan was bringing conservative audiences to their feet with a nascent version of the ugliness and divisiveness that has come to characterize the Republican Party under President Trump. This helps explain why it was no surprise that Charles has been a harsh critic of Mr. Trump, who is an anathema to everything Charles prized. (In October 2015 Charles, in reacting to Mr. Trump's claim that "I'm a great Christian," told me, "Hell, I'm a better Christian than Donald Trump." Charles, a Jew who referred to himself as a "complicated agnostic," was right.)
"To me, loyalty to one party has never been a decision of fundamental importance," the 20th-century political thinker Raymond Aron said. "According to the circumstances I am in agreement or disagreement with the action of a given movement or a given party." Aron added, "Perhaps such an attitude is contrary to the morality (or immorality) of political action; it is not contrary to the obligations of the writer." As a writer, Charles embodied the Aron ethic.
His intellect was not the most impressive thing about him; nor was his skill as a writer. His integrity was. He was a person of dignity, equanimity and personal grace. No man is a hero to his valet, the old saying goes. Charles had no valets, but he did have research assistants, many of them over the years. They speak about him with reverence.
Rich Lowry, whom I first met when he was a research assistant for Charles, describes him as "a profoundly humane man, courageous and kind, witty and thoughtful, principled and wise. A truly great soul." David Hodges, another former research assistant, wrote: "To say that I loved working for him is an understatement. I not only loved the work, but I loved the man."
One of the gifts in my life has been to be on the receiving end of Charles's generosity of spirit. When I was a young writer he encouraged me, and he never stopped doing so. I benefited enormously from his wisdom along the way, and tried to share it with others, including when I worked in the White House. I invited him to the White House lecture series I hosted and organized meetings that he and other journalists, intellectuals and historians attended with President George W. Bush. Yet he always called things as he saw them. When he wrote in 2005 that the nomination of the Harriet Miers, the White House counsel, to the Supreme Court should be withdrawn, it was the kill shot for that nomination.
Charles, Bill Bennett, Charles Murray and I began to meet for lunch at a local restaurant every few months starting in the mid-1990s, and we have continued to do so, on and off, ever since. Mr. Murray once referred to these lunches as one of the little jewels that adorns life.
We talked about politics, of course, but we also discussed political philosophy, sports, religion, tales from our youth and family. (In a city where prominent figures often speak about their devotion to family rather than demonstrate it, Charles was the real deal.) We all benefited from the back and forth, from the refinement to our own ways of thinking. We asked one another a lot of questions along the lines of, "What do you think about X?" but mostly we benefited from the easy friendship and laughter.
A word about courage. It's a quality Charles revered. He praised it in others and never once applied it to himself. He should have.
When he was 22, enrolled as a student in medical school, he hit his head at the bottom of a pool, broke his neck and injured his spinal chord. Charles used a wheelchair and had only partial use of his arms and hands. The fact that he graduated from medical school is itself remarkable. (After he broke his neck he spent 14 months in the hospital recovering.) He rarely spoke about his accident, and when he did, he did so in a relaxed, matter-of-fact manner, minimizing its impact. He once described his accident to me as "my one bad break," adding, "Overall, I've been dealt a pretty good hand." He was without an ounce of self-pity.
"All it means is whatever I do is a little bit harder and probably a little bit slower," is how he's put it. "And that's basically it. Everybody has their cross to bear — everybody." He went on to say: "It's very easy to be characterized by the externalities in your life. I dislike people focusing on it. I made a vow when I was injured that it would never be what would characterize my life." It never did, but it did reveal something quite admirable about him.
It is telling that the news of his terminal illness rocked the world of so many people, including those who didn't personally know Charles. It has brought grief to me, because one of the people I most admired in life — for whom I have great affection and to whom I have looked for decades to help make sense of the world around us — has left it.
John F. Kennedy said, "The Greeks defined happiness as the full use of your powers along the lines of excellence." Charles Krauthammer lived a happy life.
CHARLES KRAUTHAMMER, PULITZER PRIZE-WINNING COLUMNIST AND PROVOCATEUR, DIES AT 68
Charles Krauthammer, Pulitzer Prize-winning columnist and provocateur, dies at 68
By Adam Bernstein
The Washington Post
June 21, 2018 06:53 PM
(Some of these links are behind paywalls so you can try another.)
https://www.washingtonpost.com/local/obituaries/charles-krauthammer-pulitzer-prize-winning-columnist-and-intellectual-provocateur-dies-at-68/2018/06/21/b71ee41a-759e-11e8-b4b7-308400242c2e_story.html
https://www.msn.com/en-us/news/us/charles-krauthammer-pulitzer-prize-winning-columnist-and-intellectual-provocateur-dies-at-68/ar-AAyYVyF
http://www.miamiherald.com/news/nation-world/national/article213621959.html
https://www.bostonglobe.com/metro/obituaries/2018/06/21/charles-krauthammer-pulitzer-prize-winning-columnist-and-intellectual-provocateur-dies/SVnN1fv7ag6OEIqcI15MhN/story.html
Charles Krauthammer, a Pulitzer Prize-winning Washington Post columnist and intellectual provocateur who championed the muscular foreign policy of neoconservatism that helped lay the ideological groundwork for the 2003 U.S.-led invasion of Iraq, died June 21 at 68.
The cause was cancer of the small intestine, said his son, Daniel Krauthammer. He declined to provide further information.
"I believe that the pursuit of truth and right ideas through honest debate and rigorous argument is a noble undertaking," he wrote in a June 8 farewell note. "I am grateful to have played a small role in the conversations that have helped guide this extraordinary nation's destiny. I leave this life with no regrets."
A star of page and screen, Dr. Krauthammer (pronounced KRAUT-hammer) was one of the highest-profile commentators of his generation. In addition to his syndicated weekly column in The Washington Post, which garnered him a Pulitzer in 1987, he was a marquee essayist for magazines across the political spectrum, including Time, the New Republic, the Weekly Standard and the National Interest foreign policy journal. He also was a near-ubiquitous presence on cable news, particularly Fox.
By any measure, Krauthammer cut a singular profile in Washington's journalistic and policymaking circles. He graduated in 1975 from Harvard Medical School - on time, despite a diving accident that left him a paraplegic - and practiced psychiatry before a restless curiosity led him to switch paths. Instead of diagnosing patients, he would analyze the body politic.
Jacob Heilbrunn, author of "They Knew They Were Right: The Rise of the Neocons" and editor of the National Interest, said in an interview that Krauthammer "crystallized conservative thought and exerted influence by setting the terms of public debate at key moments in the nation's political life."
Known for acerbic, unsparing prose and hawkishness on U.S. and Israeli security matters, Krauthammer long directed his moral indignation at the "liberal monopoly" on the news cycle. He was festooned with honors by right-leaning groups and sought after by Republican policymakers. Vice President Dick Cheney once praised him for his "superior intellect."
To the left, Krauthammer was a bogeyman, most notably on the matter of President George W. Bush's "war on terror" and the ultimately catastrophic efforts to democratize the Middle East.
On Israeli-Palestinian relations, he acknowledged suffering on both sides but firmly defended the Jewish state in what he saw as its existential battle for survival. "Israel's crime is not its policies but its insistence on living," he wrote in a 2008 Post column. He declared international law worthless and quipped that Islamist militants are seldom "impressed by U.N. resolutions."
His prolific work extended far beyond politics and foreign affairs to touch on complex social problems that he had first encountered in his medical practice. He wrote poignantly - and at times caustically - about societal treatment of the mentally ill. Many patients, released from psychiatric facilities at the urging of civil libertarians, were set adrift on the "very mean streets" because of a fantasy of "a Rockwellian community ready to welcome its eccentrics," he wrote in Time in 1985.
"In the name of a liberty that illness does not allow them to enjoy," he concluded, "we have condemned the homeless mentally ill to die with their rights on."
After mass shootings, Krauthammer argued, Democratic leaders made "totally sincere, totally knee-jerk and totally pointless" calls for stricter gun-safety laws instead of addressing what he regarded as the more relevant underlying issue: the failure of families and the state to ensure effective psychiatric intervention for those who need it.
"In the liberal remake of 'Casablanca,' " he wrote in The Post in 2013 after the Washington Navy Yard killings, "the police captain comes upon the scene of the shooting and orders his men to 'round up the usual weapons.' "
The essayist and critic John Gross, writing in the New York Times, once called Krauthammer a skilled "controversialist" and "master of the crisp and compact formulation" whose greatest strength was his "ability to seize on the giveaway quotation or the exquisitely revealing chink in his opponent's armor."
Krauthammer said his politics were shaped by growing up in the post-Holocaust years with Jewish parents who had escaped Nazi Europe. He grew up attuned to the "tragic element in history," he once told a C-Span interviewer. "It tempers your optimism and your idealism. And it gives you a vision of the world which I think is more restrained, conservative, if you like. You don't expect that much out of human nature. And you are prepared for the worst."
He initially defined himself as a liberal Cold Warrior, a Democrat who embraced anti-communist as well as New Deal and Great Society programs that aided the most vulnerable. His support for the robust use of American military power gradually left him alienated from the Democratic Party, however, and he found ideological succor in neoconservatism, identifying with writer Irving Kristol's definition of its adherents as onetime liberals who have been "mugged by reality."
In the 1980s, Krauthammer coined the term "Reagan doctrine" to describe "overt and unashamed American support for anti-Communist revolution" in the form of proxy wars from Nicaragua to Angola. After the fall of the Soviet Union, he was credited with popularizing the phrase "unipolar moment" in commentaries that advocated solidifying American hegemony in an era when no other power came close to matching the United States in might.
His arguments found favor with the growing tide of neoconservatives in the GOP and saw their most intense expression during the first term of the Bush administration, when the president sought not only to bring to justice the perpetrators of the Sept 11. 2001, terrorist attacks but also more broadly to foster American-style democracy in the Middle East by toppling Iraqi dictator Saddam Hussein.
In the lead-up to the Iraq invasion, the Bush White House tried to gain international support by accusing Hussein of hiding weapons of mass destruction. Despite shaky evidence for the claim, Krauthammer was foremost among pundits who took up the president's cause, excoriating anyone who opposed it or hesitated, from the Swedish weapons inspector Hans Blix to Secretary of State Colin Powell.
The U.S.-led invasion, which Krauthammer billed at the outset as a "Three Week War," has dragged on ever since, caused more than 4,000 U.S. deaths and more than 100,000 Iraqi casualties amid a grinding insurgency, and left the United States mired in a failed state with hostile neighbors. No nuclear weapons were found.
Harold Meyerson, then a Post columnist writing in the liberal American Prospect magazine in 2005, dubbed Krauthammer "the most insistent and hectoring" of the public intellectuals who sold the war to the public by subordinating "the facts on the ground to their own ideological preferences and those of their allies within the administration."
Krauthammer later downplayed the American abuse and torture of detainees at Abu Ghraib prison in Iraq as an aberration in "the most humane occupation in history." He favored torture of terrorism suspects, assailing the "moral preening and the phony arguments" of those - including Sen. John McCain, R-Ariz., who endured torture as a prisoner of war in Vietnam - supporting a 2005 bill that prohibited under all circumstances the inhumane treatment of prisoners.
The noted political scientist and author Francis Fukuyama, a longtime admirer, began to accuse Krauthammer of blind triumphalism. They exchanged long, blistering, sometimes personal critiques in the pages of the National Interest that, in part, led Fukuyama to distance himself from the neocon movement.
Krauthammer at times took a corrosive tone toward Bush's Democratic successor. He called President Barack Obama "a man of first-class intellect and first-class temperament" but took jabs at his "highly suspect" character, citing his friendships with his "race-baiting" pastor Jeremiah Wright and the "unrepentant terrorist" Bill Ayers.
Krauthammer, who sounded the clarion call of an existential struggle with "Arab-Islamic totalitarianism," said Obama's "passion" was for "protecting Islam from any possible association with 'violent extremism' " and painted him as a welfare-state expanding extremist "given to apologies and appeasement" on the world stage.
Yet Krauthammer, who was named by Bush to the President's Council on Bioethics, was never completely a partisan warrior. He differed from many cultural conservatives by favoring legalized abortion and stem-cell research and abhorred the idea of "intelligent design," calling it "a fraud," "today's tarted-up version of creationism."
He scolded the tea party, a loud minority within the GOP that tried to force its way legislatively with government shutdowns, as the "suicide caucus." It was one thing to be a "blocking element" in the minority, he said, but their tactics were no way to govern.
Krauthammer was apoplectic about the rise and election of President Donald Trump, calling him a "moral disgrace" for his initial refusal to fully condemn a white nationalist rally in Charlottesville and a walking "systemic stress test."
"He had great lucidity of thought and was an extremely pungent polemicist," Heilbrunn said of Krauthammer. "Those traits manifested themselves once more in his searing denunciations of Donald Trump as a phony. They showed that Krauthammer wasn't simply a reflexive, unthinking conservative who was peddling the party line. He had real discernment and independence. At bottom, he was an intellectual, not just a journalist, with real literary flair and style and insight."
Irving Charles Krauthammer was born in Manhattan on March 13, 1950, and at 5 settled in Montreal with his father and mother, Jewish refugees from Europe.
In Canada, the elder Krauthammer prospered as a real estate executive. Charles, the younger of two sons, graduated first in his class at Montreal's McGill University in 1970 with a degree in political science and economics. He then spent a year studying political theory at the University of Oxford.
Amid the ferment of student revolution on college campuses, he grew disillusioned with politics and abruptly switched course to pursue medicine. That discipline, he later wrote, "promised not only moral certainty, but intellectual certainty, a hardness to truth, something not to be found in the universe of politics."
Physically robust in his youth, Krauthammer was a gifted sailor, skier and swimmer. The summer after his first year at medical school, he was diving from a springboard into an outdoor swimming pool in Boston when he struck his head on the concrete bottom and his spinal cord snapped. He had been studying neurology that week and said he "knew exactly what happened the second it happened."
He spent 14 months in intensive physical therapy while also being tutored so he could complete medical school with his class. What pained him most, he told The Post, was the fear that people might evaluate him by different standards because he was in a wheelchair, with limited use of his hands.
"If I can just muddle through life, they'll say it was a great achievement," he said. "That would be the greatest defeat in my life - if I allowed that. I decided if I could make people judge me by the old standard, that would be a triumph and that's what I try to do. It seemed to me the only way to live."
The Post reported that he reached a settlement with the pool builders for about $1 million. He became chief resident of the psychiatric consultation service at Massachusetts General Hospital and an official at the federal Health and Human Services Department in Washington.
After a brief stint as a speechwriter for Vice President Walter Mondale, he joined the staff of the New Republic in 1981, received a National Magazine Award in 1984 and joined The Post the next year. His books included two essay collections, "Cutting Edges: Making Sense of the Eighties" (1985) and "Things That Matter: Three Decades of Passions, Pastimes and Politics" (2013). He spent decades as a panelist on the syndicated public affairs talk show "Inside Washington."
Outside of his political thinking, he was chairman of Pro Musica Hebraica, a group that revives largely forgotten Jewish classical music on the concert stage.
In 1974, he married the former Robyn Trethewey, an artist, whom he met at Oxford. In addition to his wife, of Chevy Chase, Maryland, and their son, of San Francisco, survivors include his mother, of Rockville, Maryland.
"History is shaped by its battle of ideas, and I wanted to be in the arena," Krauthammer once said, "not because I want to fight, but because some things need to be said. And some things need to be defended."
* You can also find other items that are not in these dispatches if you "like" this page on Facebook www.facebook.com/TomGrossMedia
"The highest ranking Israeli spy for Iran"
June 18, 2018
"THE HIGHEST RANKING ISRAELI SPY FOR IRAN"
[Notes by Tom Gross]
At the end of this dispatch is the English language version of a statement issued jointly by the Israeli police and Shin Bet internal security agency. Journalists are now allowed to make public some information regarding the alleged spying for Iran by Gonen Segev, Israel's former Minister for Energy and Infrastructure. A court order remains in place against disclosing various other sensitive details.
Segev was apprehended by the Shin Bet last month in Equatorial Guinea, and has been held for the last few weeks in a Shin Bet facility in Jerusalem. He appeared in a Jerusalem court last week and was charged with, among other things, "aiding the enemy in wartime and spying against the state of Israel".
MAKING THE OSLO ACCORDS POSSIBLE IN EXCHANGE FOR A GOVERNMENT MINISTRY
The photo above is of Segev speaking with Israel's then Prime Minister Yitzhak Rabin in 1995.
Segev was the Member of the Knesset who cast the deciding vote in favor of the Oslo Accords in 1995, joining the Rabin coalition from the right-wing opposition, in exchange for being granted a cabinet position by Rabin as energy minister.
Segev's detailed knowledge of Israel's energy sector, security sites and procedures, and other highly sensitive material, later made him an attractive target for recruitment by the Iranians.
Without Segev's vote, the Oslo accords, which did not have majority support, would likely not have been enacted. Many (including some who supported them at the time) regard the Oslo accords as a failure which have made life worse and more dangerous for both Palestinians and Israelis. They argue that had the Madrid talks, which had been initiated previously by the Shamir government with local Palestinians rather than with the PLO, been allowed to continue instead of Oslo, there would have been a better chance of bringing about a sustainable and genuine peace.
A CONVICTED DRUG DEALER, BUT ALSO A RESPECTED DOCTOR
After retiring from politics, Segev was jailed in 2005 for smuggling 32,000 Ecstasy tablets disguised as M&M chocolates to Israel from Amsterdam in 2004.
Segev, 62, is also a qualified doctor and after his release from prison for selling ecstasy, he moved from Israel to Nigeria where he set up a medical clinic in Abuja which was so successful that Segev ended up treating Israeli and other countries' ambassadors and embassy staffs. He then married a diplomat from the German Embassy, allowing him further access to international diplomatic circles.
WORKING FOR IRANIAN INTELLIGENCE SINCE 2012
According to the Shin Bet, Segev was recruited in 2012 by Iranian intelligence officers working out of the Iranian embassy in Nigeria.
Over the last six years, according to the Shin Bet, Segev knowingly met his Iranian intelligence operatives in hotels and apartments in different locations around the world and also traveled to Tehran twice to see his Iranian handlers. According to the Shin Bet, Iran provided him with secret communications equipment for encoding messages between him and his handlers.
In order to obtain information, Segev also allegedly maintained contact with Israeli citizens in the defense, security, and diplomatic sectors.
The Shin Bet may have become aware of his activities some time ago but decided to track him in a counter-espionage intelligence gathering operation before apprehending him last month.
SAME EXCUSE AS USED BY NAHUM MANBAR
Segev is the highest-ranking Israeli official ever charged with spying on Israel.
In a statement to media, Segev's lawyers admitted their client met with Iranian operatives but claim that he was actually trying to help Israel. A similar excuse was made by Nahum Manbar, an Israeli Jew convicted of aiding Iran, but the court didn't find Manbar's claims credible.
https://en.wikipedia.org/wiki/Nahum_Manbar
Manbar attempted to sell technology and equipment for production of chemical weapons to Iran but claimed that he did so in order to gain information about missing Israeli Ron Arad, who was presumed kidnapped by the Iranians.
(I covered the Manbar case at the time for British media.)
OTHER JEWISH SPIES AGAINST ISRAEL
The number of Israeli Jews who have spied against Israel is relatively few.
The most damaging case to date is that of Professor Marcus Klingberg, who hailed from a famous Polish rabbinical Hassidic family.
Klingberg, who secretly became a communist, was deputy director of Israel's highly secretive Institute for Biological Research, south of Tel Aviv, and a professor of epidemiology at Tel Aviv University.
Klingberg was arrested in 1983, and convicted of supplying information to the KGB about Israel's chemical and biological activities over a period of three decades. He admitting spying saying he did so for ideological reasons. He spent 20 years in prison and died aged 97, in 2015.
Klingberg's daughter, Sylvia, was a member of the left-wing anti-Zionist Matzpen movement, and married (in a ceremony held in the prison) Ehud Adiv, an Israeli political activist serving a prison sentence on charges of spying for Syria.
Sylvia's son, Ian Brossat, is a prominent member of the French Communist Party and represents the party on the Paris City Council.
https://en.wikipedia.org/wiki/Marcus_Klingberg
https://en.wikipedia.org/wiki/Ian_Brossat
KNESSET AND ARMY SPIES
A prominent politician who allegedly spied for the KGB was Knesset member Elazar Granot, who in the 1980s served on the influential Foreign Affairs and Defense Committee, and had been recruited by the KGB in the 1960s.
https://en.wikipedia.org/wiki/Elazar_Granot
https://en.wikipedia.org/wiki/Mitrokhin_Archive
A senior employee in the Israeli Defense Ministry and a former lieutenant colonel in the IDF, Yisrael Bar, also spied for the Soviet Union in the early 1960s. He was sentenced to 15 years in prison, and died in prison.
There have also been a number of other cases of Israeli Jews spying against Israel, mainly for the Soviets or Russians.
IRAN, HEZBOLLAH, "RECRUIT LEADING ISRAELI ARAB MK"
Iran and its client terror group Hezbollah, have long mounted fairly sophisticated attempts to spy against Israel, and against Arab and western countries.
Another former MK, Azmi Bishara, an Israeli Christian Arab, is presently in exile in Qatar wanted for questioning in Israel on charges of spying for the Iranian-controlled Hezbollah militia. Bishara, who was leader of the Balad party in Israel's Knesset, allegedly advised Hezbollah intelligence agents on where to target missiles against Israeli civilians during the 2006 Second Lebanon War.
A Shin Bet official told reporters that Bishara, while serving as a Knesset member, had had prolonged contact with Hezbollah members who were involved in gathering information for attacks on Israel.
Hundreds of thousands of dollars were reportedly transferred by Iran and Hezbollah to Bishara via Jordan and from there to a Palestinian woman in East Jerusalem.
A court-imposed gag order remains in place about other details of the case against Bishara.
-- Tom Gross
STATEMENT BY ISA SPOKESMAN
Police foreign press spokesman and ISA Spokesman:
June 18, 2018
Today it was released for publications that in May 2018 the ISA and the Israel police arrested the Minister and the former Knesset member Gonen Segev on suspicion of committing offenses of assisting the enemy in war and spying against the State of Israel.
At the end of the investigation on the 15.6.18 the Jerusalem District Prosecutor's Office filed an indictment against Segev in the Jerusalem District Court for these offenses as well as for other numerous offenses of transferring information to the enemy.
The indictment was approved by the Attorney General and the State Attorney.
Segev in recent years lived in Nigeria. He arrived in Guinea in May 2018.
Segev was transferred to Israel at the request of the Israel Police after Guinea refused to allow him to enter the country due to his criminal past.
Segev was arrested for questioning by the Shin Bet and by the police immediately after arriving in Israel after information was received indicating that Segev was maintaining contacts with Iranian intelligence and assisting them in activities against Israel.
As part of the ongoing investigation by the Shin Bet and police it was found that Segev was recruited and acted as an agent on behalf of Iranian intelligence.
The investigation found that in 2012 a connection was made between Segev and the Iranian embassy in Nigeria.
Segev then met twice with Iranian operators knowing that they were from Iranian intelligence.
The investigation revealed that Segev met with his Iranian operators around the world in hotels and apartments used for secret Iranian activity.
Segev received a secret communications system to encrypt messages between him and his operators.
The investigation also revealed that Segev gave his operators information connected to the energy market and security sites in Israel including buildings and officials in political and security organizations.
In order to reach the tasks he received from his Iranian operators, Segev had connections with Israeli citizens related to Israel's security and foreign relations.
Segev operated to connect the Israeli citizens who he was in context with to the Iranian intelligence while presenting the Iranian intelligence officials as regular businessman.
At the request of the General Security Service requested from the Court who permitted the publication of the details and a gag order on further details of the case.
* You can also find other items that are not in these dispatches if you "like" this page on Facebook www.facebook.com/TomGrossMedia
Video: Miss Iraq, defying death threats, visits and praises Israel
June 14, 2018
Miss Israel (left) and Miss Iraq (right) reunite in Israel this week, despite death threats from Iraqi militants against Miss Iraq and her family. Yesterday Miss Egypt also braved threats by publicly supporting Miss Iraq's outreach to Israel. The photo above is from Miss Iraq's Instagram page.
VIDEO: MISS IRAQ, DEFYING DEATH THREATS, VISITS AND PRAISES ISRAEL
[Note by Tom Gross]
I attach a short news video from Israel's Channel 2 news.
https://www.youtube.com/watch?v=q9kaenrM6FI
* Also here on Facebook



Miss Iraq, Sarah Idan, had a reunion with her new found friend Miss Israel, Adar Gandelsman, this week in Jerusalem and Tel Aviv.
She toured Jerusalem's Mahane Yehuda market where she is greeted by ordinary Israelis, including Iraqi Jews who had to flee Iraq following pogroms there, and she eats at an Iraqi-Jewish restaurant.
Sarah Idan, together with her family, also had to flee Iraq after she received death threats for posting a photo on Instagram of herself and Miss Israel at Miss Universe in Las Vegas last year. She and her family have been granted political asylum in the United States.
Incidentally, the first ever Miss Iraq, in 1947, Renee Dangoor, was Jewish. But together with the rest of Iraq's historic Jewish community she had to flee following pogroms and death threats there.
Here is a report from the BBC.
* You can also find other items that are not in these dispatches if you "like" this page on Facebook www.facebook.com/TomGrossMedia
Being tough on dictators brings peace (& flights arrive in Israel from a record 85 cities)
June 12, 2018
I attach a selection of photos and captions below. Some of these items were posted on my public Facebook page last week -- Tom Gross
A NIGHT STROLL IN SINGAPORE
Above: North Korean leader Kim Jong Un visits Sheldon Adelson's Marina Bay Sands hotel and casino in Singapore last night, ahead of this morning's historic summit with American President Donald Trump.
Sheldon Adelson is a prominent supporter of both Donald Trump and Benjamin Netanyahu. The Marina Bay Sands hotel was designed by award-winning Israeli architect Moshe Safdie.
While denuclearization of North Korea would be an outstanding result of the American-North Korean talks, one shouldn't forget the appalling human rights situation in North Korea where hundreds of thousands of innocent people are held in brutal prison camps. One hopes that improvements in diplomatic ties will also lead to an improvement of the human rights situation in North Korea.
NETANYAHU'S OFFER TO HELP IRAN WITH ITS WATER DROUGHT
I report on Israeli Prime Minister Benjamin Netanyahu's offer to help Iran with its water drought because the vast majority of the western media have failed to report this.
Video here.
Israel has also made the offer on Farsi websites, and it has been welcomed by many ordinary Iranians, who remain more pro-Israel than many Westerners.
NETANYAHU INTERVIEWS
Meanwhile, the western media continue in their hostile questioning of the Israeli prime minister.
Here, for example, from BBC Newsnight.
The BBC presenter (Evan Davis) interrupts Netanyahu by claiming a dozen of those who died on May 14 were civilians. He doesn't give Netanyahu a chance to say that (in addition to the 50 Hamas members) some of these were Islamic Jihad terrorists (see below).
It is once again apparent in this interview that this leading BBC journalist, like many other journalists and their chosen studio experts, don't seem to understand that being tough against Iran, just as Donald Trump was tough and threatening against North Korea, has a better chance of yielding peace than appeasing the Iranian regime as the European leaders and the Obama administration did, which merely emboldened it to be more aggressive across the Middle East in recent years.
No doubt fearful that the North Korean regime may no longer be their ally, an Iranian government spokesperson, as well as Hamas, have denounced the North Korea talks.
The Iranian regime are also worried that the North Koreans will provide details of their past nuclear cooperation with Iran and Syria.
US, UK AMBASSADORS PRAISE TEL AVIV PARADE
Friday's gay pride parade in Tel Aviv was the biggest ever held in Asia, and one of the biggest in the world. It attracted over 250,000 people, a remarkable achievement considering the intolerance of the wider region, and the fact that Tel Aviv's population is only 438,000.
Tens of thousands of foreign tourists flew to Israel for the parade, which included a performance by the Israeli-Arab diva Nasreen Qadri. Members of all Israeli political parties from right to left, including openly gay Likud politicians and gay West Bank settlers, as well as gay Israeli-Arabs, joined the parade.
None of this was reported in most international press, which prefers to depict Israel as some kind of dangerous and illiberal place. In recent years, most major European cities (London, Paris, Moscow, Berlin, Barcelona, Brussels, Manchester, Nice and others) have experienced more deadly violence both in terms of crime and terrorism.
International gay groups have for some years voted Tel Aviv the "world's most gay tolerant city".
In sharp contrast to the rest of the Middle East, including Iran where being gay can result in a death sentence, other major Israelis cities, including Jerusalem, Haifa and Beersheba, also all hold annual gay pride parades.
Among those attending on Friday, on the British embassy float, was British ambassador David Quarrey and his husband.
Donald Trump's ambassador David M. Friedman tweeted:
@USAmbIsrael
I am proud of everyone who is marching in the #TLVPride Parade today in support of #diversity and #equality. Promoting, protecting, and advancing human rights - including the rights of #LGBTI persons - has long been the policy of the United States.
RECORD TOURISM; ECONOMY ON PAR WITH JAPAN
Contrary to the doom and gloom about Israel in some western media, Israel is enjoying record tourism, and its economy continues to prosper. Israel has now surpassed Japan in per capita income.
In a 24 hour period beginning Sunday June 3, 2018, flights arrived at Tel Aviv's Ben Gurion Airport from a record 85 cities:
Addis Ababa, Amman, Amsterdam, Antalya, Athens, Baku, Bangkok, Barcelona, Basel, Batumi, Beijing, Belgrade, Bergamo, Berlin, Boston, Brussels, Bucharest, Budapest, Cairo, Chisinau, Cluj, Craiova, Dnepropetrovsk, Dusseldorf, Eilat, Eindhoven, Frankfurt, Gdansk, Geneva, Hamburg, Heraklion, Hong Kong, Istanbul, Karpathos, Katowice, Kharkov, Kiev, Krakow, Larnaca, Lisbon, London, Los Angeles, Lyon, Madrid, Malaga, Malta, Manchester, Marseille, Milan, Minsk, Montreal, Moscow, Mumbai, Munich, Naples, New Delhi, New York, Newark, Nuremberg, Odessa, Palma, Paphos, Paris, Prague, Rhodes, Riga, Rome, Rostov, Rzeszow, St. Petersburg, San Francisco, Sochi, Sofia, Tashkent, Tbilisi, Thessaloniki, Tivat, Toronto, Varna, Venice, Vienna, Warsaw, Wroclaw, Yerevan, Zurich.
BRITAIN'S HIGHEST-RANKING TRANSGENDER SOLDIER ENJOYS ISRAEL HONEYMOON
The (London) Daily Mail published photos of Jake and Hannah Graf's honeymoon in Tel Aviv last week (above on the beach, many more photos here.)
Hannah is Britain's highest-ranking transgender soldier and her new husband, who is also transgender, is an actor.
The Mail reports:
Jake and Hannah Graf - who both say they were born in the wrong body - explained how they picked the Israeli city because they wanted to go to somewhere 'safe' and 'inclusive' for their honeymoon - and knew how LGBT-friendly it is.
The couple, who are now based in Sandhurst, Berkshire, were married in March.
Jake, 40, who is a film director, and Army Captain Hannah, 31, say they have shown others 'it is possible to find love', declaring that 'everyone deserves to be happy'.
The couple are staying at the luxury five-star Dan Hotel in Tel Aviv, which has hosted countless celebrities in the past including the likes of Madonna and Michael Jackson.
Jake said that the people of Tel Aviv have been 'nothing but welcoming', explaining how they picked the city because of its reputation for being inclusive.
'It's so beautiful here. We were given an upgrade to a beautiful suite with a sea view. It's absolutely stunning. We've been very lucky.'
MEDIA LIES EXTEND TO SPORTS TOO
Many international media continue to lie – and to revel in their lies – about why Argentina pulled out of its pre-world cup football (soccer) game in Israel last week.
They have wrongly reported that Argentina pulled out in "solidarity with last month's victims in Gaza" or because "the Americans moved their embassy to west Jerusalem" – two issues many journalists are obsessed about – when the Argentina football association itself clearly stated that Argentina pulled out because of death threats against Argentinean players and their families back home. The move had nothing to do with "solidarity with the Palestinians".
Buenos Ares has already been hit by two major Hezbollah terror attacks and players are nervous when a senior Palestinian former terrorist (responsible for many past acts of violence) Jibril Rajoub, who now runs the Palestinian Football Association, encourages such threats of violence against Argentina's players.
Israeli groups have said that the Palestinian threats by the head of their football association "should be unacceptable to FIFA and should be dealt with with the utmost severity."
And yet the media don't want to report it.
Here is an example of the continuing inaccurate alternative reporting, this from
Sky Sports.
HAMAS FUNERAL
Even though honest western journalists have for weeks been reporting that the vast majority of those who tried to breach the Gaza-Israel border four weeks ago were Hamas and Islamic Jihad operatives, other western media continue to deliberately mislead and give the impression that those killed were harmless civilians.
The photo above from last month is of masked Hamas gunmen attending the funeral for six of their squadron killed while they tried to breach the Israeli border to attack kill and take hostage Israelis.
LORD HOWARD QUESTION
It is remarkable that even such experienced politicians as the former leader of the British Conservative party, Michael Howard, who is himself Jewish, appears to be completely taken in by the media distortions of the British media and seems to display a total lack of understanding of the situation on the ground.
Here is Howard's question to Benjamin Netanyahu in London last week.
WILLIAM SHAWCROSS INTERVIEW
Here is a video of the full event, which began with onstage interview with Netanyahu by William Shawcross at the London think tank Policy Exchange last Thursday.
There are still no questions by the British Media to the British prime minister about why so many civilians were killed in the British bombing of Raqqa a few months ago.


DEAD BABY
Above, an example of fake news in the British media.
Western media are also continuing to report that Israel killed a baby in Gaza last month – even though within hours of the baby's death the Gazan Ministry of Heath acknowledged, and the Associated Press reported, that the baby died of a pre-existing condition in a Gaza hospital, as I reported here.
Yet even after that the New York Times and USA Today claimed in prominent front page stores that Israel had killed the baby.
DEAD TEENAGER
Pictured above (and also here from Islamic Jihad's own website) are the three of what the BBC only last week called "innocent civilians" and a "16-year-old child" killed on May 14. They were members of the Iran-financed terror group Islamic Jihad's Al Quds Brigades. The one on the right is Ahmed Adel Mousa Al-Shaer, who was 16.
The media are also stating that the Arab world is in uproar about the American embassy move to Jerusalem. In fact there has hardly been a single protest about the issue on the streets of any Arab country, and hardly any on the West Bank.
LEFTIST MEMBERS OF GERMAN PARLIAMENT DISRUPT MOMENT OF SILENCE FOR MURDERED JEWISH TEEN
Above, a picture of Susanna Feldman is placed among flowers at a makeshift memorial in Wiesbaden, Germany.
Susanna Feldman, aged 14, was brutally raped and then murdered by two asylum seekers in Germany, one from Iraq, the other from Turkey.
Feldman was an active and proud member of the local Jewish community though it is not yet known whether this played a part in her killers' motivations.
The Central Council of Jews in Germany urged a swift and comprehensive" probe into Feldman's rape and murder.
There has been an outpouring of grief for Feldman in Germany as a whole and many expressed outrage after far left members of the German parliament disrupted a moment of silence for Feldman (on the grounds, they argued, that her murder was being politicized).
The main culprit (from northern Iraq) arrived in Germany in 2015 along with his parents and five siblings.
He was ordered to be deported after his request for asylum was rejected in December 2016, but he obtained a temporary residence permit pending his appeal.
I should point out that while there have been a number of violent attacks by migrants and asylum seekers against Germans, most have integrated relatively well. There have also been attacks on asylum seekers by neo-Nazis.
A MAN IN TORONTO, CANADA, LAST WEEKEND
Mass anti-Israel protests were held in Toronto and in London, England last weekend.
Above a man on his way to the protest in Toronto.
Yesterday, Spain's third-largest city Valencia voted to boycott Israel
and the leader of Spain's third-largest party called the Jewish state a "criminal country" during an interview aired on state-funded public television.
Spain has a long history of anti-Semitism.
* You can also find other items that are not in these dispatches if you "like" this page on Facebook www.facebook.com/TomGrossMedia
As UK government demands Israel investigation, why not first investigate 2017 UK bombing in Mosul & Raqqa?
June 05, 2018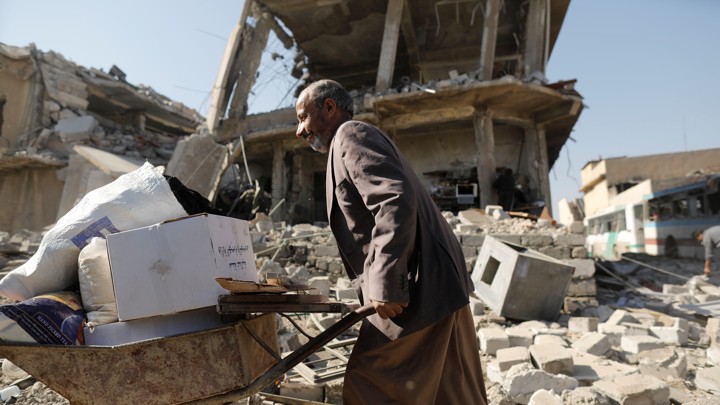 This is just one of many districts in Mosul that were all but destroyed in the heaviest western bombing since the Vietnam war

AS UK GOVERNMENT DEMANDS ISRAEL INVESTIGATION, WHY NOT FIRST INVESTIGATE 2017 UK BOMBING IN MOSUL & RAQQA?
[Note by Tom Gross]
On multiple occasions I have asked why western governments, human rights groups and media have all but ignored the American-British-French bombing of Raqqa in Syria and before that of Mosul in Iraq during the last three years.
The bombing of Raqqa, which concluded in October 2017, and in which over 30,000 munitions were fired by the US, UK and France, is believed to be the heaviest western bombing since the Vietnam War. More civilians are estimated to have been killed by western bombing in Raqqa than by Islamic State.
Here is a short clip from a TV interview with me last week in which I again raise the issue, this time in a debate with senior British conservative MP and former chief whip Mark Harper:


***
Video: As UK government demands Israel investigation, why not first investigate 2017 UK bombing in Mosul?
Also here.
AT LAST, AMNESTY ISSUES A REPORT
Finally, today, Amnesty International has issued a report accusing America, Britain and France of "indiscriminate bombing" and "possible war crimes" in Raqqa in 2016-17.
But the coverage this morning on the BBC and other media is very different from the often hysterical and greatly exaggerated coverage of Israel's recent defensive actions as Hamas tried to breach Israel's border.
The BBC barely scratches the surface of what went on in Raqqa in its reports so far this morning, and the very same news presenters who have been bashing Israel day in, day out, sometimes eagerly lapping up (without even attempting to fact check) what turned out to be fake news slurs, are very dismissive of the overwhelming evidence of what happed in Raqqa and Mosul. An estimated 10,000 civilians died, as some (but not many) reporters did make clear in respect of Mosul.
https://www.nbcnews.com/storyline/isis-terror/liberating-mosul-isis-left-more-9-000-civilians-dead-report-n831431
https://www.theatlantic.com/international/archive/2018/04/counting-the-dead-in-mosul/556466/
https://www.telegraph.co.uk/news/0/coalition-forces-killed-civilians-islamic-state-study-finds/
http://www.newsweek.com/mosul-battle-us-coalition-killed-ten-times-more-civilians-it-claims-753349
I am not seeking to pre-judge western military tactics, only commenting on the very different approaches by media and others towards Israel and towards every other country, an approach that has done so much to whip up hatred of Israel and stir up anti-Semitism.
SILENCE FROM THE GUARDIAN AND NY TIMES THIS MORNING
At the present time (7.30 am UK time), both The Guardian and New York Times websites – despite each having over 30 stories and headlines on their home pages – don't mention the Amnesty accusations against the US and Britain even though other British media are running the story as their second most prominent headline. (President Obama ordered the military action. Perhaps if it had been initiated by President Trump, the New York Times would cover it.)
OTHER CLIPS
For those interested, here are some other very short clips from the same panel discussion:
* Should the UK now move its embassy to Jerusalem? Will it help peace?
* Rise in British anti-Semitism: Is the Conservative party government to blame?
***
And here is an on stage interview I conducted with a former French Islamic State hostage who was held in Raqqa with the U.S. and British hostages who were then beheaded (including James Foley and Steven Sotloff .)
* You can also find other items that are not in these dispatches if you "like" this page on Facebook www.facebook.com/TomGrossMedia