PA thanks IOC for refusing to honor Munich victims (& Abbas' role in the massacre)
July 27, 2012
* Palestinian President Abbas played a key role in enabling Munich Olympics massacre
* Lebanese team insist on a barrier between them and the Israelis in 2012 London training area. And the IOC obliges.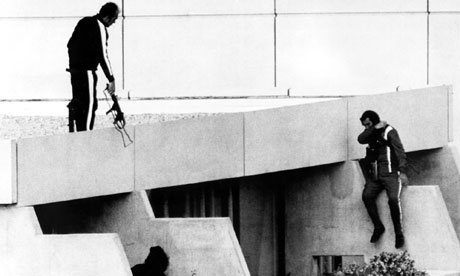 Armed police during the attack on Israeli athletes at the Munich Olympics in 1972
(You can comment on this dispatch here: www.facebook.com/TomGrossMedia. Please also press "Like" on that page.)
CONTENTS
1. Washington Post: "If ever there was a reason for the often overused moment of silence, this is it"
2. Parliaments across the world call on IOC to "do the right thing"
3. Why is the media silent on Abbas' role in the Munich massacre?
4. Palestinian Authority thanks IOC for refusing to honor Munich victims
5. The IOC was political enough to mark the Bosnian War and 9/11
6. The IOC's "Fascist past"
7. Reuters lumps together innocent victims and terrorists
8. A suggestion for Israel's Olympic delegation: Stop marching for one minute
9. The murdered athletes
[All notes below by Tom Gross]
WASHINGTON POST: "IF EVER THERE WAS A REASON FOR THE OFTEN OVERUSED MOMENT OF SILENCE, THIS IS IT"
This dispatch concerns the 2012 London Olympics, which starts shortly.
Many of us are looking forward to what should be a wonderful festival of sport over the next two weeks.
But at the same time there is growing bewilderment and anger across the world at the refusal of the International Olympic Committee (IOC) to permit a moment of silence at today's opening of the games to remember the 11 Israeli athletes and coaches murdered by terrorists at the Munich Olympics in 1972.
Among the murdered Israelis was Yakov Springer, who took part in the Warsaw Ghetto Uprising in the Holocaust.
"If ever there was a reason for the often overused moment of silence, this is it," writes Washington Post columnist Tracee Hamilton.
"They were not tourists," Ankie Spitzer, widow of slain fencing coach Andre Spitzer, told reporters yesterday. "They came with dreams and came home in coffins."
PARLIAMENTS ACROSS THE WORLD CALL ON IOC TO "DO THE RIGHT THING"
I have written about the IOC's refusal in a dispatch earlier this year.
Since then, the parliaments of Germany, Italy, Canada, Australia and the U.S. Congress, among others, have held a minute's silence and criticized the IOC's decision, as have U.S. President Barack Obama, Secretary of State Hillary Clinton, and Republican presidential nominee Mitt Romney.
Over 50 British MPs (led by Bob Blackman MP, who is a subscriber to this email list) have signed a motion calling for the IOC to observe a moment's silence this evening during the opening ceremony. (The minute of silence held in the Italian parliament was also led by a subscriber to this email list, Fiamma Nirenstein, Vice President of the Foreign Affairs Committee of the Italian Chamber of Deputies.)
In a statement, the widows of the murdered Israeli athletes thanked these parliaments. "For 40 years we have walked alone, and it is wonderful that now governments around the world are supporting us and understand the injustice that has been done to us. All of this support gives us the strength to continue, because we are no longer alone in our struggle."
Several private organizations, including the British Israel Coalition, have already held a minute's silence earlier today in Trafalgar Square in central London where they recited Kaddish, the Jewish mourning prayer, for the murdered Israeli athletes.
Jonathan Sacerdoti, Director of the Institute for Middle Eastern Democracy, said "by refusing the request for a minute of silence in the opening ceremony, the IOC has made far more political a statement than they ever would have by granting it. Terrorism is the enemy of everything for which the Olympics stands. If anything, the threat has got worse since Munich."
WHY IS THE MEDIA SILENT ON ABBAS' ROLE IN THE MUNICH MASSACRE?
Even when the Munich massacre has been written about in media in recent days, there has been almost no coverage of Palestinian President Mahmoud Abbas's role in the massacre.
Abu Daoud, who openly acknowledged his role in the Olympic massacre, both in his memoir, "Palestine: From Jerusalem to Munich," and in an interview with al-Jazeera TV, is one of several senior PLO members who has said that Yasser Arafat's then deputy, Mahmoud Abbas (also known as Abu Mazen), was responsible for financing the Munich attack.
When Abu Daoud died in 2010, the official Palestinian Authority daily paper, Al-Hayat Al-Jadida, reported (July 4, 2010) that "President Mahmoud Abbas sent a telegram of condolences yesterday over the death of the great fighter Muhammad Daoud Oudeh, 'Abu Daoud.' What a wonderful brother, companion, tough and stubborn, relentless fighter."
Please see this dispatch from 2003 for more detail:
* Abu Mazen and the Munich Olympics massacre
PALESTINIAN AUTHORITY THANKS IOC FOR REFUSING TO HONOR MUNICH VICTIMS
In a letter sent on Tuesday to IOC chairman Jacques Rogge, the Palestinian Authority officially thanked the International Olympic Committee for refusing to hold a minute of silence at today's opening ceremony in London to mark the 40th anniversary of the murder of 11 Israeli sportsmen at the 1972 Munich Games, the PA's official news agency, Wafa, reported yesterday.
An Israeli government spokesperson responded by saying that "if the leadership of the PA is not willing to disassociate itself from its terrorist past, and is unwilling to see the Munich massacre as a brutal act of terrorism, then in Israeli eyes there will be big questions regarding their true commitment to peace and reconciliation."
THE IOC WAS POLITICAL ENOUGH TO MARK THE BOSNIAN WAR AND 9/11
For 40 years, the IOC has refused to commemorate the Israeli victims with a minute of silence.
It claims it is "not a political organization". But the IOC president spoke about the Bosnian war at the opening ceremony of the 1996 games. And the 2002 Winter Olympic games opened with a minute of silence for the victims of the 9/11 attacks.
Yet when it comes to honoring Olympic athletes murdered at the Olympics itself, it is a different story.
"There is only one explanation for it," said the widow of the one those murdered. "It is because they are Israeli."
The chair of the Foreign Affairs Committee of the U.S. Congress also said last week: "We know why the IOC has refused our request for a minute's silence: Because the murdered Olympians were Israeli."
***
At the opening ceremony of the 2010 Winter Olympics, a minute's silence was held for a Georgian athlete who had died in a luge sled training accident before the games. Jacques Rogge, the IOC president who has refused to hold a minute's silence for the murdered Israeli athletes, officiated.
THE IOC'S "FASCIST PAST"

This not the first time the IOC has courted controversy involving Jews.
By the time the 1936 Berlin Olympics was held, 114 anti-Semitic laws had been enacted in Nazi Germany. Yet the IOC said the games should go ahead even though it was clear they were going to be a propaganda coup for Nazism.
The chairman of the American Olympic Committee, Avery Brundage, is said to have been behind the decision to stop the two Jews on the U.S. track team in 1936, Sam Stoller and Marty Glickman, from running in the 4 x 100-meter relay race, in order to appease Hitler.
Brundage later became IOC president for twenty years, from 1952 - 1972, and it was he who stated after 11 Israeli Olympians were murdered by Palestinian terrorists at Munich in 1972 that "the Games must go on." Brundage was so gleeful in his remarks that The Los Angeles Times reporter at the games, Jim Murray, described his behavior as "like having a dance at Dachau."
Juan Antonio Samaranch, from Spain, who led the IOC from 1980 to 2001, was a well-known Fascist and there are photos of him giving the Fascist salute in Barcelona as late as 1974, when he was an IOC vice president. Yet, the IOC still elected him its president in 1980.
REUTERS LUMPS TOGETHER INNOCENT VICTIMS WITH TERRORISTS
A Reuters report a few days ago has been reproduced in papers around the world.
Organizers try to quell anger over Munich tribute
By Keith Weir
LONDON (Reuters) -- Olympic organizers hit back at criticism on Tuesday of how they had honored 11 Israeli team members killed at the 1972 Munich Games, ignoring calls to hold a minute's silence for them in the opening ceremony.
Tom Gross adds:
But what is of interest is that the Reuters report goes on at the end to lump the terrorists in with the victims. It concludes:
Within 24 hours, 11 Israelis, five Palestinians and a German policeman were dead after a standoff and subsequent botched rescue effort.
(Reuters reporting by Keith Weir; Editing by John Mehaffey)
A SUGGESTION FOR ISRAEL'S OLYMPIC DELEGATION: STOP MARCHING FOR ONE MINUTE
The blogger "Elder of Ziyon" has suggested that "the Israeli delegation, upon entering the stadium, simply stop in their tracks and stand still for exactly sixty seconds."
He adds: "Better yet – instead of blindsiding the IOC (not that they deserve any slack), but they should announce today that they intend to hold their own minute of silence.
"This way, the IOC can choose to do the right thing – ensure that the music stops playing, put a brief announcement on the screens in the stadium explaining what is happening – or it can be faced with the prospect of the Italy and Ivory Coast delegates crashing into the immobile Israelis they are trying to follow into the stadium.
"There is no downside. Arab TV stations will probably cut away for commercials, but besides that the world would not blame Israel one bit.
"Israel has gone through the proper channels to ensure that the IOC does the right thing. It didn't work. Sometimes, one has to break the rules to do what is right."
THE MURDERED ATHLETES
[All notes above by Tom Gross]
BBC replaces its hostile online picture depicting Israel (& UN cancels Barenboim concert)
July 26, 2012
An Egyptian TV star hits a woman he thinks is an Israeli

* Iran tells UN security council: Israel killed its own citizens in Bulgaria last week
* UN cancels Daniel Barenboim-led Jerusalem concert because both Israeli and Palestinian musicians were going to participate
* Pop star Morrissey supposedly "courts controversy" by waving an Israeli flag in Israel
* Egyptian TV light entertainment show: "[Israelis] are all liars. They keep whining all the time about the Holocaust, or whatever it's called. These people sawed off [the head] of John the Baptist. They are the slayers of the prophets. What else can we say about them? Allah did not curse the worm and moth as much as he cursed the Jews."
* The European view of Barack Obama (video below)
(You can comment on this dispatch here: www.facebook.com/TomGrossMedia. Please also press "Like" on that page.)
CONTENTS
1. East Jerusalem concert cancelled by UN after Palestinian claims of "normalization"
2. Pop star Morrissey "courts controversy" by waving an Israeli flag in Israel
3. BBC replaces hostile picture depicting Israel
4. Video: Egyptian TV audience applauds violent anti-Semitism
5. Iran says Israel killed its own citizens in Bulgaria
6. Ehud Barak: A nuclear Iran is far more dangerous than a preemptive Israeli strike
7. Morsi meets Hamas
8. Turkish PM meets Meshaal in surprise visit
9. Revolutionary Israeli stem cell research breakthrough
10. Video: President Obama, as seen on Danish TV
[All notes below by Tom Gross]
EAST JERUSALEM CONCERT CANCELLED BY UN AFTER PALESTINIAN CLAIMS OF "NORMALIZATION"
The UN Middle East envoy announced yesterday that a joint Israeli-Palestinian concert planned to take place in eastern Jerusalem next week would be canceled, after the Palestinian Authority claimed this would represent an act of "normalization" with Israeli Jews.
The West-East Divan Orchestra, co-founded by late Palestinian academic and anti-Israel activist Edward Said and by Israeli maestro Daniel Barenboim, was to be held on July 31 concert on the Mount of Olives.
The UN Middle East envoy Robert Serry announced yesterday that the planned concert, would no longer take place. Serry's office issued a statement saying: "Noting the objections of some groups it was decided – with regret – not to proceed with present plans for the concert".
"Mr. Serry is disappointed that the concert will not go ahead at this stage and that Palestinians in east Jerusalem will not have the opportunity to enjoy such a unique cultural offering in their city," the statement said.
With the UN succumbing to such prejudicial Palestinian demands, what hope is there for peace?
POP STAR MORRISSEY "COURTS CONTROVERSY" BY WAVING AN ISRAELI FLAG IN ISRAEL
The real question, readers might ask, is why The Huffington Post (British edition) and others in reporting the fact that Morrissey – the former star of The Smiths – waved an Israeli flag at his concert in Tel Aviv earlier this week, described it as to "court controversy"?
Here is a video of Morrissey waving the Israeli flag in Israel:

Among recent related dispatches, please see:
* Video: Guns N' Roses play Hatikva in Tel Aviv
BBC REPLACES HOSTILE PICTURE DEPICTING ISRAEL
Following sustained criticism by myself and others of the BBC's constant denigration of Israel, the BBC yesterday finally changed the photograph representing Israel on its list of "country profiles page" on its website, to be in more in line with other countries.
The BBC replaced its photo of a very aggressive-looking member of the Israeli border police shouting at a Palestinian with a picture of Tel Aviv's famed Bauhaus architecture.
Despite the fact that all these countries have been engaged in bloody crackdowns and appalling human rights abuses, the BBC has for a long time been using a picture of smiling children for its Syria country page, a mosque to represent Egypt on its country page, a storekeeper to represent Libya, and a race track to represent Bahrain. Only Israel was subjected to different treatment by the BBC.
Last week there was much criticism of the BBC after it listed the capital of every country in the world on its "BBC London Olympics 2012" webpage except one – Israel.
However, the BBC listed the capital of the non-existent state of Palestine on its website as east Jerusalem.
The BBC has now amended these prejudicial distortions on its Olympics website.
The anti-Israel bias is so engrained throughout the staff and culture of BBC News, the world's biggest broadcasting network, that (as I noted in a dispatch last week) a BBC news anchor referred to last week's deadly suicide bombing of Israeli tourists in Bulgaria as an "awful accident". The New York Times-owned International Herald Tribune also wrote the day after the Bulgaria terror attack that it may have been an accident.
By contrast, they didn't say that the shooting in a Colorado cinema of 12 people the following day "may have been an accident".
***
Please also see the dispatch from earlier this year:
* "London 2012 Olympics official website: Jerusalem Capital of 'Palestine,' not Israel"
And among my past articles on the BBC, please see:
* Living in a Bubble: The BBC's very own Mideast foreign policy
***
In an editorial today, The Jerusalem Post says that in recent days "The BBC has managed to flabbergast even those Israelis who hadn't expected minimal fairness from it." The paper adds "that while the BBC's palpable anti-Israel predispositions, outright inaccuracies, mind-boggling omissions and other such shenanigans may damage Israel, they undermine the BBC's own integrity." The paper concludes: "For its own good, [the BBC] ought to desist from so flagrantly exposing its bias."
VIDEO: EGYPTIAN TV AUDIENCE APPLAUDS VIOLENT ANTI-SEMITISM
After Egyptian celebrity actors were (for a joke) fooled into thinking they were on an Israeli television show (rather than a German one they had been told they would be on), they flew into a rage and assaulted presenters.
The program, broadcast on Egypt's Al-Nahar channel, was meant to be a "Candid camera" style comedy.
One of the Egypt actors, Ayman Kandeel "Tuhami," after being led to believe he was speaking to Israelis, struck a female presenter across the face, sending her flying to the ground.
One of the guests on Egyptian TV makes his feelings known

Another guest, actress Mayer El Beblawi, launched into an anti-Semitic diatribe. "[Israelis] are all liars," she said. "They keep whining all the time about the Holocaust, or whatever it's called. These people sawed off [the head] of John the Baptist. They are the slayers of the prophets. What else can we say about them? Allah did not curse the worm and moth as much as he cursed the Jews."
Another Egyptian on the show, Mahmoud Abdel Ghaffar, after being told he was on Israeli TV, grabbed a presenter's head and shook it violently, before kneeing him in the head.
The show was recorded by the non-profit group, The Middle East Media Research Institute (Memri), whose senior staff subscribe to this email list. Memri's recording can be viewed below. The clip is 10 minutes long for those without time to watch it.
IRAN SAYS ISRAEL KILLED ITS OWN CITIZENS IN BULGARIA
Iran's UN envoy has accused Israel of plotting and carrying out the suicide bomb attack on a bus in Bulgaria a week ago in which five Israeli tourists were killed and over 30 were injured, some very seriously.
During yesterday's UN Security Council debate, Iran's ambassador to the UN, Mohammad Khazaee, accused Israel of committing last week's suicide attack.
Referring to Israel, he said: "Such a terrorist operation could only be planned and carried out by the same regime whose short history is full of state terrorism operations and assassinations." He continued: "I could provide many examples showing that this regime killed its own citizens and innocent Jewish people during the last couple of decades."
Israel's Deputy Ambassador to the UN Haim Waxman, responded: "These comments are appalling, but not surprising from the same government that says the 9/11 attack was a conspiracy theory and denies the Holocaust. As I said today in the Security Council, Iranian leaders don't just spread hate with words. They advance it with actions. Iran's fingerprints are all over last week's horrific attack in Bulgaria – and in dozens of other terrorist plots in recent months that span five continents and at least 24 countries. The time has come for the world to put an end to this campaign of terror, once and for all".
***
Tom Gross adds: In recent months, Israelis have been targeted in terrorist attacks and attempted terrorist attacks in India, Azerbaijan, Thailand, Kenya, Turkey, Cyprus and South Africa, among other places. In most cases Iranian or Lebanese Shia operatives have been arrested by the local police for these attacks. Cyprus continues to hold a member of Hizbullah with a Swedish passport, who is accused of attempting to carry out a terror attack against Israeli tourists in Cyprus earlier this month.
Hizbullah and Iran also continue provide weapons, ammunition, training, intelligence, and logistical equipment to the Assad regime.

Last week, Hizbullah's leader gave a speech in Lebanon praising the Assad regime, calling it "a real military partner."
***
For more on the attack on Israelis in Bulgaria, please see:
* Her final call: "I just found out I'm pregnant at last"
EHUD BARAK: A NUCLEAR IRAN LATER IS FAR MORE DANGEROUS THAN A SKIRMISH NOW FOLLOWING A PREEMPTIVE ISRAELI STRIKE
Israeli Defense Minister Ehud Barak declared again yesterday that the cost of any hostilities resulting from preventing Iran from obtaining nuclear weapons is not nearly as great as the cost for Israel, and for the West, of living with a future Iran in possession of nuclear weapons.
Barak suggested that any attack on Iran's nuclear sites would only come if sanctions fail to rein in Tehran's nuclear program.
Barak added that the conclusions Israelis had drawn from the Arab Spring, in particular from what the population of Syria is suffering at the hands of its Iranian-armed and -supported regime, reinforce the belief by Israelis that the international community cannot be relied upon to come to its assistance if attacked.
Barak reiterated that Israel's red-line – the point at which Iranian nuclear facilities are so well-entrenched that an assault could not work – is not far off.
MORSI MEETS HAMAS
Hamas's Gaza-based Prime Minister Ismail Haniyeh yesterday became the third Palestinian leader to meet Egypt's new president, Mohamed Morsi, in Cairo this month.
Morsi has already met Hamas's overall head Khalid Meshaal, and Palestinian Authority President Mahmoud Abbas.
Egypt's former president, Hosni Mubarak, had refused to meet the leaders of Hamas, saying he would not meet with terrorists.
Despite having elected an Islamist president, Egypt continues to receive $1.3 billion in aid from the American tax-payer.
TURKISH PM MEETS MESHAAL IN SURPRISE VISIT
Hamas leader Khaled Meshaal made a surprise visit to Ankara on Tuesday, meeting with Prime Minister Recep Tayyip Erdogan for a Ramadan fast-breaking dinner during which the pair discussed the deadlocked reconciliation process between the Palestinian Hamas and Fatah factions.
The visit, which had not been listed on Erdogan's official schedule, followed Meshaal's talks in Cairo with Egyptian President Morsi on July 19. Turkish Foreign Minister Ahmet Davutoglu, National Intelligence Organization chief Hakan Fidan and Erdogan's top foreign policy adviser, Ibrahim Kalm, all attended the lengthy dinner, which lasted for five hours, according to Turkish media reports.
In January, Gaza's Hamas prime minister, Ismail Haniyeh, visited Erdogan at his Istanbul home.
REVOLUTIONARY ISRAELI STEM CELL RESEARCH BREAKTHROUGH
This is the latest in a long line of Israeli medical breakthroughs that the supporters of Peter Beinart and the like, add to their boycott list.
VIDEO: PRESIDENT OBAMA, AS SEEN ON DANISH TV

[All notes above by Tom Gross]
Her final call: "I just found out I'm pregnant at last"
July 20, 2012
Below are a few notes on the aftermath of the suicide attack against Israeli tourists in Bulgaria on Wednesday. Six people were killed and 36 injured, some very badly.
It was the worst suicide bomb attack in the European Union since the London transport bombings of July 2005.
But the way in which it has been covered in some leading Western media, along with reactions from certain Western officials and politicians, have demonstrated a markedly different attitude towards Israeli victims of terror than European victims. Many were even hesitant to describe it as an act of terror.
(You can comment on this dispatch here: www.facebook.com/TomGrossMedia. Please first press "Like" on that page.)
The suspected Hizbullah terrorist and his fake American driving license
CONTENTS
1. FT European edition: Not that important, it's only Europe
2. BBC: an "awful accident"
3. Taking a lead from The New York Times?
4. AFP: Was this even an attack, let alone terrorism?
5. The New York Times' strange moral equivalence
6. Video of bomber
7. Her final call: "I just found out I'm pregnant at last"
8. Israel excluded from the U.S.-sponsored Global Counterterrorism Forum
9. Senior American official confirms Hizbullah was behind the attack
10. "70 years after the brave people of Bulgaria stopped the trains for Treblinka" (By Giulio Meotti)
[Notes below by Tom Gross]
FT EUROPEAN EDITION: NOT THAT IMPORTANT, IT'S ONLY EUROPE
The Financial Times omitted news of the attack from their daily round-up of "European news headlines" which were emailed to thousands of their subscribers the day after. (But the FT did find space to run another, different, negative story about Israel in its emailed headline list that day.)
If citizens of some other Western country had been blown up and burned alive within an EU member state one wonders if a leading paper such as the FT would have done omitted this from their European news headlines.
BBC: AN "AWFUL ACCIDENT"

If the bombing had not targeted Israelis, one wonders if a BBC news anchor would have described it as an "awful accident" rather than a terrorist attack during an interview with Daniel Taub, Israel's ambassador to London.

The BBC TV 24 news anchor referred to it as an "accident" over three hours after other media reported that it was a bomb attack. From the beginning there was no question that it was a bomb attack, not an accident – and other media described it as such.
This broadcast occurred at 8:24 PM, UK time, on Wednesday night. (Video below, courtesy of CifWatch and Oy Va Goy blog, both of whose senior writers are longtime subscribers to this email list, as is Daniel Taub.)


***
On the BBC news ticker at the foot of another of the BBC networks, BBC World TV, the attack was for many hours referred to as "an explosion on a bus" rather than as a bomb or terror attack.
TAKING A LEAD FROM THE NEW YORK TIMES?
This is a little like when, in 2008, The New York Times characterized Samir Kuntar's terrorist attack in which he butchered Israeli children as a "raid gone horribly wrong":
www.nytimes.com/2008/07/15/world/africa/15iht-profile.4.14519524.html
Samir Kuntar, perhaps Israel's most reviled prisoner, will return to a hero's welcome when he crosses into Lebanon this week, 29 years after he left its shores in a rubber dinghy to kidnap Israelis from the coastal town of Nahariya.
That raid went horribly wrong, leaving five people dead, a community terrorized and a nation traumatized. Two of the people killed were Israeli children.
AFP: WAS THIS EVEN AN ATTACK, LET ALONE TERRORISM?
The leading French news agency Agence France Presse also questioned whether it was an attack, by placing the word attack in quotes in its headline:
Three Dead in 'attack' on Israelis at Bulgaria Airport
THE NEW YORK TIMES' STRANGE MORAL EQUIVALENCE
The New York Times reported this week in its story headlined "5 Israelis Killed in Bulgaria; Netanyahu Blames Iranians"

"… Bellicose adversaries, Israel and Iran have a long history of accusing each other of terrorist attacks."
Only The New York Times could regard as equivalent the deliberate murder of as many Israeli holidaymakers as possible, with a legitimate act of self-defense: the assassination of a scientist working to make a nuclear bomb for a regime that has threatened to wipe Israel off the map, while denying the Holocaust – an assassination that it is far from clear Israel had anything to do with. It's also not absolutely clear that the Bulgaria attack was ordered by Iran, although it seems the most likely explanation.
HER FINAL CALL: "I JUST FOUND OUT I'M PREGNANT AT LAST"
Four of the Israeli victims were in their twenties. One was the father of a four month old baby. Another was the father of a ten month old baby.
One victim was older. She was 42, and had been having fertility treatment for some time to try and get pregnant. Her final incoming call was the hospital calling her with the good news: she was pregnant.
Her final outgoing call was to her sister, to tell her the good news and how happy she was.
Her body was flown back to Israel last night and she was buried today.
***
The bus driver who was killed in the attack, Mustafa Kyosov, was a Bulgarian Muslim. He leaves behind a ten-year-old daughter.
***
Some of the injuries were particularly horrific and body parts were thrown as far as 80 meters away from the scene of the attack. Among the injured Israelis are teenagers.
***
Tourists from Slovakia, Italy and America who were standing near the bus at the airport were also among those injured, according to press reports.
VIDEO OF BOMBER
The Bulgarian authorities released this security video showing the suspect wandering into the arrivals hall at the airport, appearing to be just another European tourist in his plaid shorts, Adidas T-shirt and baseball hat.
But it is his bulky, oversized backpack that contained his bomb that stands out the most.
Israeli intelligence say he is believed to have had short hair and to be wearing a wig.

The Bulgaria suicide bomber was, of course, no lone wolf. Such a suicide operation needs money, intelligence, logistics, training, bomb making equipment and a safe house. And someone helped prepare his forged U.S. passport and driving license that the Bulgarian authorities found and led the Bulgarian Prime Minister to initially say the terrorist might have been American.
United States Ambassador to Bulgaria James Warlick attended a memorial service at the Central Synagogue in Sofia, home to most of the 5,000 Bulgarian Jews, and expressed his "outrage and horror at the terrorist incident that happened yesterday in Burgas."
ISRAEL EXCLUDED FROM THE U.S.-SPONSORED GLOBAL COUNTERTERRORISM FORUM
This latest terrorist murders of Israelis comes only days after the Obama administration persisted in excluding Israel from its "Global Counterterrorism Forum" (GCTF) and "High Level Conference on Victims of Terrorism," and just two days after Secretary of State Hillary Clinton was in Israel telling PM Netanyahu to release convicted terrorists from prison as a "goodwill gesture". (The U.S. State Department described the GCTF as a "major initiative" to build "an international counterterrorism network as nimble and adaptive as our adversaries.")

Prime Minister Netanyahu said in relation to the attack in Bulgaria: "All signs point to Iran."

This is the latest in a series of attempted bomb attacks in recent months against Israeli civilians ordered by Iran in Thailand, India, Kenya, Cyprus, Azerbaijan, Georgia and elsewhere. (Please see previous dispatches, including one from last Sunday about the attempted Cyprus attack, for more detail.)

It also falls (perhaps not uncoincidentally) on the same day 18 years ago as Iran and its proxy, Hizbullah, bombed the Argentine Jewish Center in Buenos Aires, killing 85 people (including Holocaust survivors) and injuring over 500 others. No one has been charged in connection with that attack.
SENIOR AMERICAN OFFICIAL CONFIRMS HIZBULLAH WAS BEHIND THE ATTACK
A senior American official confirmed Israel's assertions on Thursday that the suicide bomber was a member of a Hizbullah cell operating in Bulgaria.
Hizbullah is in effect a division of the Iranian Revolutionary Guards and gets it guidance, money and training from the regime in Iran.
Bulgarian and Israeli intelligence are believed to have now recovered body parts and intercepted communications leading them to the conclusion that the perpetrator belonged to Hizbullah.

***
Bulgaria has been co-operating closely in the aftermath of the attack.
I attach one article below – it is in a slightly edited and shortened form because I don't agree with the tone of one or two of the sentences in it. It provides a useful reminder of the close relations between the Bulgarian and the Jewish peoples, and how Bulgaria (with Denmark) was one of the only countries where a significant proportion of the population helped try to protect Jews during the Holocaust.
-- Tom Gross
70 YEARS AFTER THE BRAVE PEOPLE OF BULGARIA STOPPED THE TRAINS FOR TREBLINKA
70 years after the brave people of Bulgaria stopped the trains for Treblinka, 5 Israelis are massacred there just because they are Jews.
By Giulio Meotti
Israel National news
July 19, 2012

After Toulouse, where three Jewish children and a rabbi were gunned down last March by a French Islamist, Europe witnesses another massacre of Jews.
At least 7 people were killed, 5 of them Israelis, and over 30 others were injured in a terror attack on a bus carrying Israelis in Burgas, east of the Bulgarian capital of Sofia.
We are waiting to know which Islamic hand is behind the new bloodbath of Israelis. "Exactly 18 years after the terror attack at the Jewish community building in Argentina, the murderous Iranian terror continues to harm innocent people. This was an Iranian terror attack," PM Benjamin Netanyahu stated.
On July 18, 1994, Buenos Aires witnessed the most lethal anti-Semitic attack outside Israel since the Holocaust.
On March 9, 1942, an order arrived from Berlin to deport the 50,000 Bulgarian Jews. Adolf Eichmann's office was ready to "operate".
In the morning, Czar Boris II flew to Berchtesgaden to ask Adolf Hitler why he needed the Jews. Reluctant to admit the fact of the gas chambers, Hitler answered that the Jews must build roads. "Roads are also needed in Bulgaria," answered the king.
According to rumor, the Germans poisoned Boris II: the royal plane returned to Sofia with a dead king. His brother, Prince Cyril, a Germanophile, became regent, but Bulgaria arose, and the Parliament, the intellectuals, the ordinary people, everybody protested against the Jews' deportation.
In some Bulgarian towns, the Jews were assembled to be put on trains. But the trains couldn't be loaded until Czar Boris signed a proclamation authorizing the deportation.
In Plovdiv, the capital of South Bulgaria, the military governor was a sadistic anti-Semite. He assembled all the Jews and locked them up in the Jewish school. But not a single Jew could be deported.
There are stories of human kindness, such as Christians who wore the yellow Star of David in solidarity with their Jewish friends. There are stories of courage, like that of the vice president of the Bulgarian parliament, who mobilized members of parliament to oppose the plan to deport Jews.
The salvation of the Bulgarian Jews was due to the refusal of Christian and Muslim Bulgarians to acquiesce in the killing of their Jewish brethren. It also raises the question of how many other Jews died because their fellow citizens stood silent.
At the end of World War II, the Jewish population of Bulgaria was larger than it had been in 1940. And 90 per cent of Bulgarian Jewry left for Israel in the early 1950s.
The Bulgarian people were the only people in Europe (apart from the Danes) who went out of their way to save the Jews.
Just as Toulouse's recent slaughter is connected with Vichy's France, which surrendered native Jews to the Nazis, using their own police force to organize and execute the task, the attack in Burgas has a historic meaning too.
Seventy years after the brave people of Bulgaria stopped the trains for Treblinka, 5 Israelis have been massacred there just because they are Jews.
Is Iran afraid of a 12-year-old girl? (& Iraq's court-ordered virginity tests)
July 15, 2012
Protesters in Syria have a message for the world
* Assad aide welcomed as student at Columbia University (with help from Barbara Walters)
* Israel again offers medical aid for Syrian refugees
* Some Israeli doctors are already working on the Syrian-Turkish border treating victims of the Syrian violence
* Anti-Semitic entry wins Iran's "Wall Street Downfall" cartoon contest
* Head of British intelligence: Strike on Iran likely by 2014
* Breaking: Head of Libyan Olympics committee abducted by Tripoli gunmen in broad daylight
This dispatch concerns Syria, Iran, and Iraq. It was prepared two days ago but I was unable to post it until now.
(You can comment on this dispatch here: www.facebook.com/TomGrossMedia. Please first press "Like" on that page.)
There are two other dispatches this weekend:
* Hamas continue Palestinian house demolitions, Guns N' Roses play Hatikva in Tel Aviv, & Do NOT steal this woman's bikini
* Journalism can be a dangerous business
CONTENTS
1. Iraqi women and girls face court-ordered virginity tests
2. WikiLeaks begins publishing two million Syria emails
3. Jordan to set up Syrian refugee camps
4. Almost no western street protests as Syrian regime commits yet another massacre
5. Amid concerns, Syria begins to move its vast stockpile of chemical weapons
6. Assad aide welcomed as a student at Columbia University (with help from Barbara Walters)
7. Israel again offers medical aid for Syrian refugees
8. Anti-Semitic entry wins Iran's "Wall Street Downfall" cartoon contest
9. Is Iran afraid of a 12-year-old girl?
10. Media says Iranian missile with range to hit Israel tested successfully
11. Western leaders finally begin to shun Ahmadinejad
12. MI6 Chief: Strike on Iran likely by 2014
[All notes below by Tom Gross]
IRAQI WOMEN AND GIRLS FACE COURT-ORDERED VIRGINITY TESTS
Iraqi women and girls are facing an increase in court-ordered virginity tests in order to prove they were virgins until marriage, but even when they "pass" them, shame them nonetheless. Doctors at the Medical Legal Institute in Baghdad who carry out the tests on the women's hymen confirmed the increase in the procedure in interviews with Agence France Presse.
Remaining a virgin until marriage can be an issue of life or death for women in the Middle East, where those who are seen as having dishonored the family by having premarital sex are sometimes murdered by relatives.
AFP says many virginity tests are performed daily at the Medical Legal Institute in Baghdad, in a small windowless room with blue-tiled walls and a black table with leg stirrups at one end.
"We receive most of the cases after the first day of marriage," said Dr Munjid al-Rezali. "The husband claims that his new bride is not a virgin, and then the family bring her here, with court approval and we examine her," Rezali said. "These tests are becoming more and more common."
"They think that during the first day of marriage, there should be blood. They think if there is no blood, there is no virginity," Dr Sami Dawood, a forensic doctor who has been involved in the tests, told AFP. This belief, he said, indicates that sex education and knowledge is "very poor."
However, he said that while women were killed in the past if blood was not found on the sheets after their wedding night, people now seek recourse through the courts and the virginity tests procedure.
The test, which takes between 15 and 30 minutes, is carried out by three doctors, and the results are certified by two others, said Dawood.
WIKILEAKS BEGINS PUBLISHING TWO MILLION SYRIA EMAILS
The whistleblowing website WikiLeaks has begun publishing over 2.4 million emails from Syrian political figures. The emails from Syrian political figures, ministries and companies date from August 2006 up until March 2012, a year after the current bloody uprising in Syria began.
Some of the emails could shed light on the crackdown that has killed thousands. There are around 400,000 emails in Arabic but also 68,000 in Russian.
"The material is embarrassing to Syria, but it is also embarrassing to Syria's external opponents," said WikiLeaks founder Julian Assange, who is currently holed up in Ecuador's embassy in London seeking political asylum.
The first wave of emails released claimed that Italian defense giant Finmeccanica continued to supply support for communications equipment to the Syrian regime after the unrest began in March last year.
The 16-month conflict has so far claimed more than 17,500 lives.
JORDAN TO SET UP SYRIAN REFUGEE CAMPS
Jordan has started to set up official camps to accommodate Syrian refugees who have fled into the country since the outbreak of the unrest. Over 140,000 Syrians have sought refuge in Jordan since the unrest began.
State Minister for Communications and Media Affairs, Samih Ma'ayta, said the large number of Syrian refugees is putting further strains on Jordan's already-limited resources.
ALMOST NO WESTERN STREET PROTESTS AS SYRIAN REGIME COMMITS YET ANOTHER MASSACRE
Pro-Assad forces reportedly killed between 120 and 220 adults and children in an assault on the Syrian village of Tremseh on Thursday. Yet, as usual, there have been virtually no demonstrations against the Assad regime on the streets of London and other European capitals.
Reuters reported that the bodies of 60 men, women and children were found at one mosque alone on Saturday, with others dumped in fields, rivers and forests.
Among other recent massacres which have led to demonstrations of precisely zero persons outside Syrian embassies in most European capitals:
* April 3: A mass graves with 57 people was found in Taftanaz in Idlib.
* May 25: 108 were killed in Taldou, in Houla region, many of them women and children.
* June 6: At least 79 people, many of them women and children, were killed in a village in Hama province.
AMID CONCERNS, SYRIA BEGINS TO MOVE ITS VAST STOCKPILE OF CHEMICAL WEAPONS
The Wall Street Journal on Thursday quoted intelligence reports as suggesting that Syria was moving its chemical weapons, amid fears the government could use them against rebels or civilians.
The country's stockpiles of sarin nerve agent, mustard gas and cyanide have long worried U.S., Israeli and other officials, who have watched anxiously during the conflict in Syria for any change in the status or location of the weapons.
Some said that Mr. Assad may not intend to use the weapons, but instead may be moving them as a feint, hoping the threat of a chemical attack could drive Sunnis thought to be sympathetic to the rebels from their homes.
"The fact they are now being moved is incredibly dangerous to our national security," one U.S. official told The Wall Street Journal.
Damascus is believed to possess one of the largest stockpiles of chemical and biological weapons in the world. Syria has refused to sign the 1992 Chemical Weapons Convention, the arms-control agreement that outlaws the production, stockpiling and use of such weapons.
ASSAD AIDE WELCOMED AS A STUDENT AT COLUMBIA UNIVERSITY (WITH HELP FROM BARBARA WALTERS)
In September, five years to the month after Iranian President Mahmoud Ahmadinejad was warmly welcomed by Columbia University in New York, a woman linked closely to the atrocities of another murderous Middle East dictator, Syrian despot Bashar al-Assad, will be welcomed as a student at the prestigious university.
Emails leaked last month revealed that American TV personality Barbara Walters had helped the student in question, Sheherazad Jaafari, Assad's former aide and daughter of Syria's ambassador to the United Nations, gain admittance into Columbia's graduate School of International and Public Affairs, regarded as the equivalent of a finishing school for future diplomats.
Jaafari worked closely with President Assad for over a year to help him reach out to and spin foreign press as his regime slaughtered and tortured thousands of its own people.
News of Jaafari's admittance shocked various Syrian expatriates; a petition calling for "Columbia University to adhere to general ethical principles and rescind admission to Jaafari," has been signed by over 2,000 Syrian-Americans.
Other emails obtained by a Syrian opposition group reveal that Jaafari coached Assad for his "propaganda" interview with Barbara Walters last year.
For more on Barbara Walters' interview with Assad, please see:
* Assad emails leaked, tips for misleading Western media revealed
* "Freedom, Freedom!" How some foreign media are reporting the truth about Syria
In 2006, Yale University allowed Taliban spokesman Rahmatullah Hashemi to attend the university as a non-degree student.
ISRAEL AGAIN OFFERS MEDICAL AID TO SYRIAN REFUGEES
Appalled by the most recent wave of atrocities in Syria, Israeli leaders have again offered medical aid to Syrian refugees and said the world is not doing enough to stop the killing of civilians there.
"We are all human beings," Israeli President and Nobel Peace Prize winner Shimon Peres said last month. "Who can be indifferent to the sight of this horrible massacre, the sight of children in small coffins, and of screaming mothers?" Peres said the international community would sooner or later have to intervene. "I hope that it will be sooner," he said.
"Israel is ready to receive casualties who are evacuated from Syria to Israel, and alternatively we are ready to send medical assistance through Jordan," deputy cabinet minister Ayoub Kara, a member of the Israeli Druze minority, told Israel Radio. He added that some Israeli doctors are already working on the Syrian-Turkish border treating victims of the Syrian violence.
ANTI-SEMITIC ENTRY WINS IRAN'S "WALL STREET DOWNFALL" CARTOON CONTEST
A cartoon by an Iranian illustrator that portrays stereotyped ultra-orthodox Jews worshipping at the New York Stock Exchange has won first prize at the inaugural "International Wall Street Downfall Cartoon Festival" in Tehran.
The festival was co-sponsored by Iran's Fars news agency "in an attempt to show solidarity with the Occupy Wall Street movement and help people in the United States take their message out to the world."
The winning entry by Mahmod Mohammad Tabrizi depicts New York's Wall Street as Jerusalem's Western Wall.
As reported at the time on this dispatch list, Iran held a cartoon contest to deny or minimize the Holocaust in 2006, in which the first prize was awarded to a Moroccan artist who drew Israel's security barrier as the equivalent of the Auschwitz extermination camp.
IS IRAN AFRAID OF A 12-YEAR-OLD GIRL?
This is the question asked by Iranian exiled writer Golnaz Esfandiari of Radio Farda, who writes:
"A court in Tehran has banned the 12-year-old daughter of jailed Iranian human rights lawyer Nasrin Sotoudeh from leaving Iran. Sotoudeh, a prominent lawyer who defended political activists, opposition members, and juvenile offenders on death row, has been in jail since September 2010.
"Even in prison, the 47-year-old mother of two has remained defiant by going repeatedly on hunger strike to protest her detention and alleged ill-treatment.
"Iran has a long track record of preventing political activists from foreign travel and of official harassment directed at the relatives of political prisoners, rights activists, and members of the media.
"The travel ban for Sotoudeh's daughter, however, marks the first time that the Islamic republic has targeted a minor child of a prisoner of conscience, according to Hadi Ghaemi of the U.S.-based International Campaign for Human Rights in Iran."
(Golnaz Esfandiari is a subscriber to this email list.)
MEDIA SAYS IRANIAN MISSILE WITH RANGE TO HIT ISRAEL TESTED SUCCESSFULLY
Iranian media report that the Islamic republic's military has successfully test-fired a medium-range Shahab-3 ballistic missile capable of striking Israel.
Iran says the Shahab-3 has a range of up to 2,000 kilometers. Israel is some 1,000 kilometers away from Iran.
The missile was tested as part of the "Great Prophet 7" military exercises that began on July 2. The Fars news agency said that "dozens" of different types of missiles were fired from different parts of Iran at a single target in the Kavir Desert.
A recent Pentagon report to Congress signed by U.S. Defense Secretary Leon Panetta also confirmed that Iran's military continues to improve the accuracy and killing power of its long- and short-range ballistic missiles, including designing a weapon to target vessels.
WESTERN LEADERS FINALLY BEGIN TO SHUN AHMADINEJAD
When Iranian President Mahmoud Ahmadinejad arrived in Rio for the U.N. sustainability conference last month, instead of finding himself at the center of the political and media spotlight, as he has become accustomed, he was snubbed by many of the world leaders in attendance who declined to meet him.
Shortly before, on June 26, Iranian vice president Mohammad Reza Rahimi delivered an anti-Semitic speech in front of dignitaries at an international drugs conference.
He blamed the spread of drugs worldwide, including in Iran and Afghanistan, on the teachings of the Talmud. Rahimi said that the Talmud teaches how to kill non-Jews. And in a new variation of the traditional blood libels used to later justify the mass murder of Jews, he claimed that Jews had sterilized thousands of Native Americans.
"This was definitely one of the worst speeches I have heard in my life. My gut reaction was: why are we supporting any cooperation with these people," a European diplomat told The New York Times.
However, Palestinian President Mahmoud Abbas and the new Egyptian President Mohammed Morsi are both said to be willing to meet Ahmadinejad at next month's conference of the Non-Aligned Movement which has 120 member nations and 21 observer nations
Earlier this month, the speaker of the Iranian parliament, Ali Larijani, said the entire West as well as Israel should "disappear."
MI6 CHIEF: STRIKE ON IRAN LIKELY BY 2014
Sir John Sawers, the head of the British spy agency, MI6, said that Iran is likely to obtain a nuclear weapon by 2014, making an Israeli or American strike on the Islamic Republic more likely by then, The (London) Daily Telegraph reported on Friday.
"The Iranians are determinedly going down a path to master all aspects of nuclear weapons; all the technologies they need," the spy chief said. "It's equally clear that Israel and the United States would face huge dangers if Iran were to become a nuclear weapon state."
According to the report, Sir John made his views known a week earlier in "Civil Service Live," a meeting of senior civil servants, during which he credited covert operations (including those in which Britain participated) from preventing Iran from having already developed nuclear weapons. Without intervention by various countries, he was quoted as saying, Iran may have gone nuclear as early as 2008.
[All notes above by Tom Gross]
Hamas continue Palestinian house demolitions (& Guns N' Roses play Hatikva in Tel Aviv)
* "Do NOT steal this woman's bikini": Photo of female Israeli soldier with gun and bikini on Tel Aviv beach (see below) goes viral; viewed almost a million times on the Internet
* Florida Democrat quits DNC (but not as a political candidate) after leaked emails reveal she accused Israel of running "mass concentration camps"
* Algerian government criticized for inviting Algerian-born Jewish singer: "Algerians are known for their dislike of all things Jewish," reports Al Arabiya
* In a propaganda video posted on the Internet Salah added – falsely – that Macias's grandfather "is known for having urinated in a mosque in order to humiliate Algerians"
* 12,000 Netanyans bring their (clean) pairs of socks to stitch together "the world's largest sock mosaic"
***
(You can comment on this dispatch here: www.facebook.com/TomGrossMedia. Please first press "Like" on that page.)
There are two other dispatches this weekend:
* Journalism can be a dangerous business
* Is Iran afraid of a 12-year-old girl? (& Iraq's court-ordered virginity tests)
This photo of an Israeli soldier relaxing on the sand in Tel Aviv has become an internet phenomenon, and on Friday it featured on the website of the Daily Mail, the most read news website in the world. (Article at the end of this webpage.)
CONTENTS
1. 120 Gazan families to lose homes to Hamas government: virtually unreported in the West
2. Cyprus police detain man suspected of planning terror attack on Israeli tourists
3. Iranian agents in Kenya planned terror attacks on Israeli, British, U.S. targets
4. Al-Qaida's African leader planned to attack Jewish neighborhoods in London
5. Outrage after Algerian minister renews invitation to Jewish singer Enrico Macias
6. Israel to arrange arrival of last members of Ethiopian Jewish community by 2014
7. Florida Democrat resigns over leaked anti-Israel emails
8. Israel extends smoking ban to Western Wall
9. Shoe in: A new world record set for the largest sock mosaic
10. Lifeguard fired after saving drowning man
11. Guns N' Roses Plays Hatikvah in Tel Aviv
12. "Do NOT steal this woman's bikini" (By Jill Reilly, Daily Mail, July 13, 2012)
[All notes below by Tom Gross]
120 GAZAN FAMILIES TO LOSE HOMES TO HAMAS GOVERNMENT
Ma'an and other Palestinian news agencies report that the Hamas government in Gaza has renewed its policy of demolishing the homes of Palestinian families in order to seize land for government use. 120 families are to lose their homes in the latest round of demolitions – a far greater number than the number of illegally built Palestinian homes Israel has demolished in recent years – and unlike Israeli authorities, Hamas doesn't even claim these homes were built illegally or with dangerous structures. Yet western media and human rights groups have been virtually silent about these destructions of Palestinian homes by Hamas.
Abu Al-Abed Abu Omra, whose house is threatened with demolition, told Ma'an that Hamas security police arrived late on a Saturday night and told residents to evacuate their homes in order to facilitate the demolition.
He said that more than 120 families living in a 15-dunams area near Gaza's Al-Azhar University are under threat, though they have been living there since 1948.
In February, as reported on this email list, Hamas demolished a number of homes in the Hamami neighborhood in Gaza City
CYPRUS POLICE DETAIN MAN SUSPECTED OF PLANNING TERROR ATTACK ON ISRAELI TOURISTS
A spokesman for the Cyprus police on Friday said authorities have detained a man on suspicion of being involved in planning a terrorist attack on the east Mediterranean island.
Spokesman Andreas Angelides said that police have an "an individual in custody on possible charges pertaining to terrorism laws."
Angelides declined to identify the suspect, the level of his involvement in the plot and the intended target, saying disclosure of any details about the case could compromise an ongoing investigation.
State radio CyBC quoted an unidentified senior police official as saying that "Israelis" in the southern coastal town of Limassol were to be targeted, reports The Associated Press.
Israeli media reported today that the Mossad had been tracking the man, who holds a Swedish passport and is of Lebanese Shia origin and is said to be in the employ of the Iranian government, and tipped off the authorities in Cyprus.
IRANIAN AGENTS IN KENYA PLANNED TERROR ATTACKS ON ISRAELI, BRITISH, U.S. TARGETS
Officials in Kenya told the Associated Press that two Iranian agents arrested with explosives planned to attack Israeli, American, British and Saudi Arabian targets inside Kenya. The officials said yesterday that the plot appears to fit into a global pattern of attacks or attempted attacks by Iranian agents, primarily against Israelis.
Kenyan security forces arrested Ahmad Abolfathi Mohammad and Sayed Mansour Mousavi last week with 33 pounds of RDX, a powerful explosive, in Mombasa. Several hotels on the coast are Israeli-owned. One official said those arrested are members of Iran's Islamic Revolutionary Guards Corps Quds Force.
As reported previously on this list / website, Iranian agents are suspected in several attacks or thwarted attacks around the world over the last year, including in Azerbaijan, Thailand, India and the United States. Most of the plots have targeted Israelis. In 2002 an Israeli-owned hotel near Mombasa was bombed, killing 13 people. Terrorists also tried to shoot down an Israeli airliner at that time.
***
For more on the 2002 attacks, please see:
* Mossad to track down those behind triple bomb attacks in Kenya (Nov. 28, 2002)
* Kenya bomb attacks: Another excuse to slander Israel (Dec 2, 2002)
AL-QAIDA'S AFRICAN LEADER PLANNED TO ATTACK JEWISH NEIGHBORHOODS IN LONDON
Documents outlining a plot to attack Jewish neighborhoods in London were found on the body of an African leader of al-Qaida, the Toronto Star reported last week. The plans also included plots for a kidnapping and attacks on Eton College (where Queen Elizabeth's grandson and eventual heir to the throne Prince William went to school) and the Ritz and Dorchester hotels in London.
The plans were found on the body of Fazul Abdullah Mohammed, 38, who was shot last year by Somali forces as he tried to crash through a government checkpoint.
According to the plans, terrorists would strike London's Stamford Hill and Golders Green neighborhoods, which are populated with "tens of thousands of Jews crammed in a small area," the Star reported.
Stamford Hill is home to one of Europe's biggest ultra-orthodox Jewish communities.
"Our objectives are to strike London with low-cost operations that would cause a heavy blow amongst the hierarchy and Jewish communities," it says in the document, titled "International Operations."
Fazul was indicted in the United States for the 1998 US Embassy bombings in Tanzania and Kenya that left 224 persons dead. A close ally of Osama bin Laden, Fazul was killed just six weeks after the al-Qaida founder last year.
OUTRAGE AFTER ALGERIAN MINISTER RENEWS INVITATION TO JEWISH SINGER ENRICO MACIAS
The leading pan-Arab news network Al Arabiya reported as follows from Algiers last Thursday:
"Algerian Communication Minister Naser Mehal took everyone by surprise when he announced an invitation to controversial Jewish singer Enrico Macias to visit Algeria, thus lifting the years-long ban on the Algerian-born artist.
"Macias, slammed in Algeria for his pro-Israel stance, was banned from entering his country of origin twice, once in 2000 and 2007. Both times, massive demonstrations were held to protest his being hosted.
"In 2007, former French President Nicolas Sarkozy decided to pay an official visit to Algeria and decided to include Macias in the delegation hoping that this would make it easier for the singer. However, the objection came from the Algerian government when the then Prime Minister Abdel Aziz Belkhadem threatened to boycott Sarkozy's visit if Macias accompanied him.
"Belkhadem also launched a fierce campaign against the singer in several Algerian cities where he told people that he is pro-Israeli.
"Popular resistance to Macias's visit was more forceful this time and triggered the establishment of a national committee against normalization with Israel which was headed by Khaled bin Ismail, a very close friend of Belkhadem and late Algerian President Ahmed Ben Bella. The committee was supported by the sons of martyrs and freedom fighters.
"However, it seemed that only some residents of his birthplace, the northern city of Constantine, were ready to receive him and, in fact, painted the Jewish cemetery in blue and white in preparation for his visit.
"Then too Macias canceled his visit and Sarkozy reportedly consoled him saying, 'Be patient. You will go there sometime soon.' To this, Macias reportedly replied, 'Of course one day I will visit Algeria and my hometown Constantine.'"
"Political analyst Abdul Aali Razaki warned of the consequences of Macias's visit. 'Algerians are known for their dislike of all things Jewish,' he told Al Arabiya.
Razaki criticized Mehal for inviting Macias, an action that he labeled "insensitive" and "unethical."
Prominent Algerian activist who goes by the name "Algerie Salah de Londre" posted a video on You Tube slamming the invitation.
***
Tom Gross adds:
In the video Salah added – falsely – that Macias's grandfather "is known for having urinated in a mosque in Constantine in order to humiliate Algerians."
"All Algerians know who Macias is," he said at the end of the video.
Macias will attempt to enter Algeria using his French passport.
ISRAEL TO ARRANGE ARRIVAL OF LAST MEMBERS OF ETHIOPIAN JEWISH COMMUNITY BY 2014
The Associated Press reports that Israel's Cabinet has approved plans to bring the last of Ethiopia's Jews to Israel over the next two years.
More than 120,000 Ethiopian Jews live in Israel following waves of immigration over the past three decades. Advocates say some 2,200 Jews remain in Ethiopia, and are waiting in transit camps to immigrate to Israel.
The government said that it will open a $4.3 million absorption center in September to accommodate the newcomers.
FLORIDA DEMOCRAT RESIGNS OVER LEAKED ANTI-ISRAEL EMAILS
Evelyn Garcia, a Democratic National Committee (DNC) member and candidate for the Florida House of Representatives who accused Israel of running "mass concentration camps" and of "crimes against humanity" in a series of vitriolic emails, has apologized and resigned from the DNC.
Garcia, a Haitian-American elected to the DNC in 2008, sent the emails in 2011, but they were first released by BizPacReview.com last week.
One local Democrat said this kind of "hate speech should be made public no matter who the person is or what their party is."
"She's horrible," said Dan Liftman, legislative aide to U.S. Rep. Alcee Hastings (D-Miramar). "She could harm the president and Debbie Wasserman Schultz."
BizPacReview reported that Garcia's email rants began when she forwarded an email by the radical leftist group Code Pink, titled "Time for a New Middle East Policy," which accused President Obama of pandering to the "pro-occupation lobby".
Though Garcia resigned from her post in the DNC, she says she still intends to run for a seat in the Florida House of Representatives; she is seeking to represent District 88, which includes the heavily Jewish West Palm Beach. She seemed to shift the blame for her comments, saying that her "private emails" had been released "by someone I believed was my friend."
Casting herself as the victim of an unjustified witch hunt, Garcia said she has received a "barrage of hate mail and threats from places as far away from Palm Beach County as Oklahoma." She added that she received her information about the Middle East from Jewish "groups such as J Street and Jewish Voice for Peace," and therefore argued to her detractors that she could not be regarded as anti-Semitic.
ISRAEL EXTENDS SMOKING BAN TO WESTERN WALL
The Israeli government has announced an extensive expansion of laws to prohibit smoking in public spaces in the country.
Smoking will now be banned in central bus stations, covered bus stops, train platforms, government offices, hospital entrances and doorways, places of worship, swimming pools, theaters, restaurants and cafes, among other places.
Bus drivers will also not be allowed to smoke before passengers board the vehicles.
The association of Israeli restaurants protested the new restrictions, but Health Ministry director Prof. Roni Gamzu cut him short and said, "You have to protect the children."
SHOE IN: A NEW WORLD RECORD SET FOR THE LARGEST SOCK MOSAIC
The Guinness Book of World Records has confirmed that a new world record for the biggest mosaic made of socks (12,000 socks in all) was set in the Israeli coastal city of Netanya last Tuesday.
The colorful project was initiated by two Netanya artists who had said they wanted to make a piece of art that would involve as many local people as possible in its creation.
Residents of the city were asked by the municipality to bring socks for the project. "But make sure they are clean," they were told.
The large mosaic was set out in a Netanya city square. The previous "the largest sock mosaic," was one in Japanese which used a mere 4,000 socks.
***
Among other recent dispatches concerning Netanya residents, please see:
* Burgers, fries and marijuana (June 9, 2012)
LIFEGUARD FIRED AFTER SAVING DROWNING MAN
A young lifeguard in Florida has lost his job after rescuing a drowning man in a section of beach he was not assigned to patrol, local news media reported last week.
Tomas Lopez, 21, was manning his post on Hallandale Beach, north of Miami, on Monday afternoon when a beach-goer alerted him to a swimmer struggling in an "unprotected" part of the beach.
"It was a long run, but someone needed my help. I wasn't going to say no," Lopez told the South Florida Sun-Sentinel newspaper.
The unidentified man was rescued and rushed to hospital, where he remains in intensive care. But when Lopez went to file an incident report, he was fired for going 500 meters out of his assigned area.
"They didn't tell me in a bad way. It was more like they were 'sorry, but rules are rules,'" Lopez said. "I couldn't believe what was happening."
Lopez said he would do what he did again if he had to. "It was the moral thing to do," he said. "I would never pick a job over my morals."
GUNS N' ROSES PLAYS HATIKVAH IN TEL AVIV
The American mega rock group Guns N' Roses surprised an audience in Israel last week by giving a rousing rendition of the Israeli national anthem, Hatikvah, which is based on a 19th century poem from Central Europe.
It is thought that the band's guitarist, Bumblefoot, who was born Ronald Jay Blumenthal, may have been behind the idea.
I attach one article below, from the (British) Daily Mail, which as I noted in this weekend's earlier dispatch is the most read news website in the world. (Item 10.)
ARTICLE
DO NOT STEAL THIS WOMAN'S BIKINI
Do NOT steal this woman's bikini
By Jill Reilly
Daily Mail (London)
July 13, 2012
[Accompanying pictures here: www.dailymail.co.uk/news/article-2173050/Do-NOT-steal-woman-s-towel-Heavily-armed-bikini-clad-female-Israeli-soldiers-mingle-Tel-Aviv-beachgoers.html ]
* They really are dangerous curves: Heavily armed and bikini-clad female Israeli soldiers 'mingle' with beachgoers
* Women make up almost one-third of the IDF and 50% of its officers
* Almost the entire female population must spend two years in the military after reaching 18 due to compulsory military service
* In a bid to promote tourism in 2007, Israel's Foreign Ministry backed a public relations campaign showing former female soldiers in bikinis on its beaches
Standing confidently on the beach, with a rifle casually slung over her shoulder, you would think twice about knocking over this woman's sandcastle.
The bikini-clad subject is thought to be a soldier and a member of the highly-trained Israeli Defence Forces.
Since the surprising photo, snapped in Tel Aviv, was posted on the internet it has gone viral with many users reacted with shock at seeing such a hostile weapon on a sunny beach.
Some internet users were perplexed as to why the woman in the photo would be at the beach with a rifle- which does not appear to have a magazine loaded - but not in her uniform.
But other users were quick to point out there could have been practical reasons for the solider to take the weapon to the beach.

Under Israeli military regulations, if members take their weapon out from their military base they must keep them near at all times.
Punishments for losing or misplacing a weapon can include time in a military prison.
The photo, which has now been viewed hundreds of thousands of users, seems to have originated on Facebook under the title 'Only in Israel' and then spread across the internet, including onto the social news website Reddit.
One user on the website wrote: 'An explanation for this photo (I served in the IDF): the girl probably went to beach right after being at the base and serves in a unit that requires her to carry a weapon (not necessarily a combat role), she didn't want to go through the paperwork and permission required to leave the gun at armory.
'Outside of the base we're required to either lock our weapons or have them on us. You can clearly see what she chose.'
Another user wrote: 'The photo is taken on the beach in Tel Aviv, and it is commonplace to see such sights during the summer.'
Israel's compulsory military service means that almost the entire female population must spend two years in the military after reaching 18.
Women make up almost one-third of the force, and 50 per cent of its officers, making the Israel Defence Forces one of the most gender-equal units in the world.
It is not the first time that women from the IDF have been photographed in their bikinis on the beach.
In a bid to promote tourism, in 2007, Israel's Foreign Ministry backed a public relations campaign out of its consulate in New York showing former female soldiers in minimal wear on its sunny beaches.
'We want to make people in the world to see Israel through our glasses,' said Aviv Shiron, Deputy Director General for Media and Public Affairs in the Israeli Foreign Ministry.
'The image of Israel is not only men, either armed in uniform, or Jewish orthodox dressed in black... you have beautiful women here,' added Mr Shiron.
In the same year a spread in July's issue of Maxim magazine featured female Israeli ex-soldiers in bikinis headlined 'Women of the Israel Defence Forces.'
[All notes above by Tom Gross]
Journalism can be a dangerous business
July 14, 2012
Wounded French journalist Edith Bouvier was one of the lucky ones to get out of Syria alive earlier this year
* The number of journalists killed in Syria since the start of the uprising reaches 33
* Somali TV and radio reporters survive murder attempts
* Journalists arrested, beaten, murdered in Sudan, Somalia, Turkey, the West Bank
* Russian Wikipedia shut down, temporarily
* The New York Times prefers to criticize Israel; launch Chinese edition
***
Because a large number of journalists subscribe to this list, I occasionally send dispatches dealing with the media in general, including items not directly concerning the Middle East.
(You can comment on this dispatch here: www.facebook.com/TomGrossMedia. Please also press "Like" on that page.)
There are two other dispatches this weekend:
* Hamas continue Palestinian house demolitions, Guns N' Roses play Hatikva in Tel Aviv, & Do NOT steal this woman's bikini;
* Is Iran afraid of a 12-year-old girl? (& Iraq's court-ordered virginity tests)
CONTENTS
1. Libyan journalists kidnapped
2. Death toll of journalists in Syria reaches 33
3. Facebook apologizes for deleting post on Syrian torture
4. Somali TV and radio reporters survive murder attempts
5. Journalists arrested, beaten in Sudan
6. Turkish journalists protest police raid
7. Palestinian security forces attack journalists
8. Russian Wikipedia shuts down to protest Putin's Internet crackdown
9. China blocks Bloomberg for exposing financial affairs of man expected to become president
10. The Daily Mail, now world's biggest online news site, plans global expansion
11. The New York Times launches a Chinese-language online edition, following the WSJ and FT
12. Sky TV enters 24-hour Arabic news market; Bloomberg set to follow
JOURNALISM CAN BE A DANGEROUS BUSINESS
[All notes below by Tom Gross]
While many major international news outlets continue to focus obsessively on any perceived Israeli wrongdoing, and have made dubious claims that the current government of Benjamin Netanyahu has somehow clamped down on media freedoms – when in fact Israel continues to enjoy one of the freest and most diverse media in the world – below are some stories about media restrictions and threats against journalists elsewhere, which have been less widely reported.
***
LIBYAN JOURNALISTS KIDNAPPED
Two Libyan journalists were abducted after covering last week's Libyan elections. Reporter Abdelqadir Fassouk and cameraman Yusuf Badi, both of whom work for the Tobacts TV station, disappeared in Bani Walid.
In a video later sent to news media by their captors that showed the men (still apparently in good health) their captors demanded the release of detainees in Misrata in return for the release of the journalists.
DEATH TOLL OF JOURNALISTS IN SYRIA REACHES 33
The death toll of foreign and local journalists killed in Syria since the start of the uprising in March last year has reached 33.
The past few weeks have been particularly deadly, according to a newly-released report by the Paris-based press freedom watchdog, Reporters Without Borders (RSF), written in conjunction with the Doha Centre for Media Freedom. Around 10 journalists and citizen-journalists have been killed in the last 7 weeks alone.
RSF said that the Assad regime has managed to impose a virtual international media blackout by preventing most foreign journalists from entering the country, and by killing several who have made it in.
FACEBOOK APOLOGIZES FOR DELETING POST ON SYRIAN TORTURE
The social media giant Facebook has apologized after it deleted a free speech group's posting about torture and other human rights abuses in Syria. Facebook said the page had been deleted in error.
The social network removed a status update by (Facebook user) Article 19, a group which campaigns for freedom of speech, which linked to a report by Human Rights Watch documenting 27 "torture facilities" run by the Syrian regime in its attempt to intimidate and kill the civilian population.
A spokesman for Facebook said the post was mistakenly removed by a member of its "moderation team", which receives a high volume of "take-down requests."
Agnes Callamard, the executive director of Article 19, accused Facebook of acting like "judge, jury and executioner" in the way it removes material from its website.
***
Among other recent items on Syrian torture, please see:
* Leading Palestinian writer: Syrian detention facilities are "human slaughterhouses" (May 23, 2012)
SOMALI TV AND RADIO REPORTERS SURVIVE MURDER ATTEMPTS
Somali TV reporter and anchor Abdulkadir Omar Abdulle has survived an assassination attempt. He was sprayed with bullets by two gunmen who shot him near his home in Mogadishu.
He managed to flee inside his house, after sustaining bullet wounds to his stomach and legs, before the gunmen could finish the job.
It is thought that Abdulkadir, who works for Universal TV, was targeted by gunmen from the Islamist group, Al-Shabaab, which disapproves of his political reporting.
Last month, Somali radio journalist Mohamed Nur Mohamed survived a shooting in Mogadishu. So far this year, six journalists have been murdered in Somalia.
JOURNALISTS ARRESTED, BEATEN IN SUDAN
Security forces in Sudan have arrested scores of people, including several journalists, in a brutal crackdown on protests against government austerity measures and price increases.
In breaking up the protests, police are said to have used excessive force, including live ammunition.
International journalists have also been arrested while trying to report on the protests. Simon Martelli, a correspondent for Agence France Presse, was detained for 14 hours in Khartoum. And Salma al-Wardany, an Egyptian journalist working for Bloomberg, was detained and then deported from Sudan after she attempted to cover the protests.
TURKISH JOURNALISTS PROTEST POLICE RAID
Turkish journalists staged street protests after security forces raided the offices of two Istanbul-based news agencies, Güneş and Etkin (ETHA), as well as the premises of the Atilım newspaper, two weeks ago.
During the raid, police seized both work material and personal belongings of journalists while detaining them in their offices for several hours.
ETHA editor Nadiye Gürbüz said notes concerning ongoing news investigations were confiscated along with archive material.
Ercan İpekçi, the chairman of the Turkish journalists' union, criticized the continuing crackdown on democratic rights by Turkey's increasingly authoritarian Erdogan government.
Last November, a judge at the European Court of Human Rights said Turkey had the worst press freedom record among all 47 member states of the Council of Europe.
***
Among other recent dispatches on Turkey, please see:
* Erdogan would rather see Turks die than have them rescued by Israelis (Oct. 24, 2011)
* From Turkey: A tale of two cities: Istanbul vs. Jerusalem (June 10, 2011)
* Turkish men pose to show women's hidden wounds (& Kuwait: Israel was right on flotilla) (Sept 1, 2011)
PALESTINIAN SECURITY FORCES ATTACK JOURNALISTS
At least four journalists in the West Bank were assaulted by Palestinian Authority security forces earlier this month as the journalists attempted to cover protests against the Palestinian Authority.
The reporters and photographers were badly beaten and in some cases had their equipment confiscated.
The Palestinian Center for Development and Media Freedoms called for a governmental investigation into circumstances surrounding the beating of reporters.
One journalist, Muhammad Juradat was allegedly beaten by plain clothes police officers at the site of the demonstration in Ramallah and then taken to a police station where he was abused again. PA President Abbas told Voice of Palestine radio that journalists need to cover more stories about Israel and less about themselves.

(Among other recent past dispatches concerning attempts by the Palestinian Authority to suppress free media and the Internet, please see items in this dispatch and this one.
RUSSIAN WIKIPEDIA SHUTS DOWN TO PROTEST PUTIN'S INTERNET CRACKDOWN
The Russian-language edition of the online encyclopedia Wikipedia made itself unavailable to users for one day last week to protest amendments to the Russian information law.
Ru.wikipedia.org appeared on July 10 with a black slash across its main page that read: "Imagine a world without free knowledge."
In spite of this protest, the following day, July 11, the Russian State Duma rushed through a new law which, in the words of critics, could "lead to the creation of extrajudicial censorship of the whole Russian-language Internet."
Russian Wikipedia says the new law could "prompt the creation of a Russian version of the Great China Firewall," a reference to the Chinese regime's system of firewalls, filters, and other obstructions to hinder free Internet browsing by Chinese citizens.
"Only a few countries have similar regulations – countries like China and North Korea," said Stanislav Kozlovsky, executive director of Wikimedia Russia.
Vladimir Putin, who was recently "elected" to an unprecedented third term as Russian president, already has control over virtually the entire print and broadcast media, following various legal moves and the intimidation (and murder) of journalists who criticized his abuse of power. Now it seems he is moving to prevent the dissemination of opposition views online too.
Last month, police raided the homes of prominent pro-democracy activists. Russian Prime Minister Dmitry Medvedev, wrongly portrayed as some kind of "moderate" by some naive opinion writers for The New York Times, has strongly backed the new restrictive media law.
THE DAILY MAIL, NOW WORLD'S BIGGEST ONLINE NEWS SITE, PLANS GLOBAL EXPANSION
Britain's right-of-center, middle market newspaper The Daily Mail, which has overtaken The New York Times and The Huffington Post to become the world's most-visited newspaper website, has plans for increased U.S. growth and new bureaux in Toronto, Delhi and Sydney, according to sources at the paper – as well as an eventual Spanish-language site.
Although many of the items on Mail Online's site comprise a fast and furious diet of picture-led celebrity stories there is also serious political news too, including coverage of the Middle East which is certainly fairer to Israel than The New York Times or most other British papers.
The Daily Mail already has more than 90 million unique browsers.
CHINA BLOCKS BLOOMBERG FOR EXPOSING FINANCIAL AFFAIRS OF MAN EXPECTED TO BECOME PRESIDENT
Two weeks ago, the Chinese authorities blocked access to the Bloomberg news website after it revealed assets of relatives of the man tipped to be China's next president, Xi Jinping. These included various multi-million dollar properties they own in Hong Kong.
It is widely predicted by experts that Xi Jinping will become the general secretary of the Communist party later this year and president of China next spring.
THE NEW YORK TIMES LAUNCHES A CHINESE-LANGUAGE ONLINE EDITION, FOLLOWING THE WSJ AND FT
The New York Times has introduced a Chinese-language website, called cn.nytimes.com. The paper said it is part of a continuing effort to expand its reach to international readers, which it termed "educated, affluent, global citizens." The site will publish about 30 articles a day in categories such as world affairs, business and culture.
Joseph Kahn, the paper's foreign editor, said that about two-thirds of the content would be translated from Times articles and one-third would be written by Chinese editors and local freelance journalists.
In an attempt to avoid censorship issues, the Times said that it would not become an official Chinese media company and has set up its server outside China. The paper admitted that the Chinese authorities "occasionally" blocked articles from nytimes.com.
Kahn said he was hopeful that the Chinese authorities would let the new site operate freely. He said: "China operates a very vigorous firewall. We have no control over that. We hope and expect that Chinese officials will welcome what we're doing."
The Wall Street Journal and The Financial Times already have Chinese-language sites. Kahn said that he hoped the new Times website would be "a vigorous competitor."
In recent years, many Western publishers have expanded into China, in the hope of gaining a slice of the fast growing luxury advertising market.
SKY TV ENTERS 24-HOUR ARABIC NEWS MARKET; BLOOMBERG SET TO FOLLOW
This is a repeat item from my dispatch of May 8, 2012, just to remind readers:
Sky News became the latest Western media outlet to launch a 24-hour Arabic language news network on Sunday. The BBC, France 24, Russia Today, China Today, Iran's Press TV and others already run 24-hour Arabic language news networks. But the market remains dominated by Al Jazeera, which is controlled by Qatar's dictatorship, and the rival Saudi-backed Al-Arabiya.
Sky News has set up a 400-person news operation – backed by a senior member of the Abu Dhabi royal family. Sky News Arabia's joint venture partner, Abu Dhabi's Sheikh Mansour bin Zayed al-Nahyan, is also a deputy prime minister of the United Arab Emirates and one of the most senior members of the ruling family of Abu Dhabi. He also owns Manchester City football club, which next weekend is tipped to beat rivals Manchester United to win the prestigious English Premier League for the first time in 44 years.
Saudi Arabia's Prince Waleed bin Talal, a major investor in Sky News's controlling shareholder, News Corp, is also preparing soon to launch a news channel of his own, in partnership with Bloomberg News.
Several countries are attempting to use media as a tool of their foreign policy.
[All notes above by Tom Gross]