FBI Hate Crimes Report completely contradicts media reporting; & Praying for rain
November 24, 2010
* Egyptian blogger, finally released after four years in custody, gets one last beating, leaving him badly injured.
* BBC study: British Muslim children are being taught in schools how the hands and feet of thieves should be chopped off, that Jews are "reprehensible" and should be compared to pigs, and that homosexuals should be killed. (BBC Panorama video below.)
* "Obama's new proposal to Israel is a step backward in the effort to establish an enduring peace in the Middle East."
* Bin Laden's brother to build the world's tallest airport control tower.
CONTENTS
1. Settlers, Palestinians join together to pray for rain
2. Egyptian blogger released from jail after 4 years gets "one last beating"
3. Religion of Peace?
4. FBI Hate Crimes Report shows U.S. Jews suffer nine times more attacks than Muslims
5. Panel at Harvard seemingly promotes increased business in Iran at a time of sanctions
6. A clarification
7. Bin Laden company awarded $7.2 billion Saudi airport contract
8. Obama criticized for pushing for Saudi Arms deal during Congressional recess
9. Stunning photo of Israel, West Bank and Gaza from space at night
10. Israeli clinic in Haiti declared by the UN as a Cholera Treatment Facility
11. "Obama's foreign policy needs an update" (By Jackson Diehl, Wash. Post, Nov. 22, 2010)
12. "Obama's peace process to nowhere" (By Elliott Abrams, Michael Singh, FP, Nov. 20, 2010)
[All notes below by Tom Gross]
SETTLERS, PALESTINIANS JOIN TOGETHER TO PRAY FOR RAIN
Agence France Presse reports:
In a rare gesture of solidarity, Muslims, Christians and Jews joined together in a West Bank village, bowing down to pray for rain in the parched Holy Land. Around 50 people gathered in the village of Al-Walajah between Jerusalem and Bethlehem, with representatives of each religion offering their own prayers. Israel and the Palestinian territories have been plagued by several years of poor rainfall, and forecasts for this winter are equally bleak. After the prayers, the imams, priests and rabbis sowed the land with wheat, calling it God's harvest.
The prayer was the initiative of Eretz Shalom (Land of Peace), a group of pacifist Jewish settlers that try to encourage moderate elements among fellow settlers and Palestinians. Bethlehem governor Abdul Fatah Hamayel was among those at the prayers. "It was very emotional, very important, we found a new partner," said Eliaz Cohen, one of the founders of Eretz Shalom, referring to Hamayel.
Relations between Palestinians and Jewish settlers are usually tense, with Palestinians accusing the settlements of usurping land the Palestinians' claim for their promised state.
(Tom Gross adds: Please note the AFP and other news agencies increasingly use or adapt terms long associated with Jews, such as the "promised land", to apply to the Palestinian Arab national movement.)
EGYPTIAN BLOGGER RELEASED FROM JAIL AFTER 4 YEARS GETS "ONE LAST BEATING"
An Egyptian sentenced to jail as punishment for his blogging was released from custody after four years on Tuesday, but according to human rights workers he received one last beating from prison guards before being set free.
26-year old Abdel Kareem Nabil, known on the Internet as Kareem Amer, is said to be in very poor health following his imprisonment.
Nabil was a student at Al-Azhar University when he was arrested in 2006 and accused of insulting Islam and President Mubarak. "Emergency laws" suspending most civil rights have been place in Egypt throughout Mubarak's 29-year rule.
RELIGION OF PEACE?
The BBC is to be congratulated on its prominent report this week highlighting the fact that school children in Britain are being taught anti-Semitic and homophobic propaganda. (News of this has been reported elsewhere for years, including on several occasions on this email list.)
The BBC's "Panorama" program, broadcast on Monday, has sparked significant media interest on the subject in Britain and abroad.
Panorama found more than 40 Saudi-run schools and clubs teaching Muslim children aged 6 and over in Britain, including the following:
* One text book for 14-year-olds shows in graphic detail how the hands and feet of thieves should be chopped off.
* Another book used in class asks children to list the "reprehensible" qualities of Jews, and compares Jews to pigs.
* Another text describes the punishment for gay sex as death, and states a difference of opinion about whether it should be carried out by stoning, burning with fire or throwing the person over a cliff.
* A text for 6-year-old children asks what happens to someone who dies and who is not a believer in Islam. The answer given in the text book is "hellfire".

You can watch the program here:
PART 1
PART 2

MP Barry Sheerman, former Labour chairman of the Children, Schools and Families parliamentary committee, said politicians had avoided the issue of controversial teachings in some Muslim schools.
"There are some very good Muslim schools but there are some Muslim schools that give me great cause for concern that is often around the ethos of the schools, the focus of the school and the kind of ideology that is concerning."
Dr Usama Hasan, an Islamic scholar and part-time imam in east London, warned of the dangers of segregating young Muslims in Britain, particularly the seminaries where the next generation of imams are being educated.
"They don't interact with people who are not Muslim. They don't learn the ingredients of the western world, so it's very easy for them to read the medieval texts which were written at a time when Islam was under attack and say non-believers are our enemies and we have to fight them."
Britain's new Education Secretary Michael Gove (who is a founding subscriber to this email list) said in response to the program that there was no place in Britain for any teachings spreading hate against Jews or homosexuals.
Tom Gross adds: When revelations about Saudi hate in UK Islamic schools and mosques have been published in British newspapers in the past, nothing practical was done about it despite promises by the previous Labour government at the time. Observers are watching to see whether, with the Conservatives and Liberal Democratic parties in power, it will be any different.
One should also note that the program in question (Panorama) is one of the BBC's better ones but it doesn't negate the prejudiced coverage elsewhere on the network.
FBI HATE CRIMES REPORT SHOWS U.S. JEWS SUFFER NINE TIMES MORE ATTACKS THAN MUSLIMS
The new FBI hate crimes report for 2009, just released, reveals the following:
www2.fbi.gov/ucr/hc2009/victims.html
Religious bias
Of the 1,575 victims of an anti-religious hate crime:
71.9 percent were victims because of an offender's anti-Jewish bias.
8.4 percent were victims because of an anti-Islamic bias.
3.7 percent were victims because of an anti-Catholic bias.
2.7 percent were victims because of an anti-Protestant bias.
0.7 percent were victims because of an anti-Atheist/Agnostic bias.
8.3 percent were victims because of a bias against other religions (anti-other religion).
4.3 percent were victims because of a bias against groups of individuals of varying religions (anti-multiple religions, group).
(Further chart here: www2.fbi.gov/ucr/hc2009/data/table_01.html)
Tom Gross continues:
There are roughly comparable numbers of Jews and Muslims in the U.S., yet Jews suffered almost nine times more hate crime attacks last year.
This correlates with FBI findings in previous years since they began tracking hate crimes, and it once again shows the way mainstream media such as The New York Times has highlighted the rise in attacks on Muslims in America while downplaying (or failing to report at all) the much higher level of anti-Semitic attacks. (The New York Times has a long track record of downplaying or ignoring anti-Semitism, most shamefully during the Holocaust.)
In 2008, the percentage of anti-Islamic attacks was 7.5%, so there was a rise of nearly 1% in a year, whereas anti-Jewish attacks rose by 6%.
(According to the FBI, in proportional terms a Jewish American is also over twice as likely to suffer a hate crime as an African-American.)
Of course, all hate crime is worrying and should be condemned unreservedly, and stopped. But that is no excuse for the media to continue to misreport this issue in accordance with their own biases.
One wonders whether any prominent liberal media outlet will now report honestly on to what extent the numbers differ from the perceptions that so many journalists and opinion columnists have been promoting (including three regular New York Times opinion columnists who subscribe to this list). Not CNN, who (using the FBI statistics) yesterday reported on the rise in hate crimes against homosexuals (blaming this on "fundamentalist Christians"), but ignored the greater number of attacks aimed at Jews.
PANEL AT HARVARD SEEMINGLY PROMOTES INCREASED BUSINESS IN IRAN AT A TIME OF SANCTIONS
This email below from Harvard University's prestigious business school appears to encourage investment and business in Iran at the very time when President Obama and other Western leaders are trying to use sanctions to pressure the Iranian regime over the nuclear issue.
Speakers include a former NY Times correspondent, a regular BBC guest, and the chair of a firm that encourages investment in Iran: www.turquoisepartners.com/supervisoryBoard.html
----- Forwarded Message ----
From:
To:
Sent: November 20, 2010 9:54:48 AM
Subject: Business Success in Iran: Today's Challenges, Tomorrow's Opportunities Sunday November 21, 11:30 AM-12:40 PM at Harvard Business School
Panel at Harvard: Business Success in Iran: Today's Challenges, Tomorrow's Opportunities
Sunday November 21, 11:30 AM-12:40 PM at Harvard Business School
Note: This panel session is part of the HBS MENA Conference at Harvard Business School being held Nov 18-21
Due to international pressure, the global business community has often times shied away from understanding and exploring opportunities in today's Iran. This panel brings a unique perspective to conducting business in the country. Its aims are twofold:
1. Discuss the current economic and business environment in Iran, including hot sectors and the effect of the latest sanctions.
2. Highlight success stories and draw lessons learned from entrepreneurs who have overcome the country's unique obstacles.
Moderator:
* Nazila Fathi, Nieman Fellow, Harvard University
Speakers:
* Siamak Namazi, General Manager, Access Consulting Group; Young Global Leader, World Economic Forum
* Rouzbeh Pirouz, Executive Chairmen, Turqoise Partners
* Karim Sadjadpour, Associate, Carnegie Endowment for International Peace; Young Global Leader, World Economic Forum
Nazila Fathi - Neiman Fellow, Harvard University
Nazila Fathi began her work with western media, including the Time magazine and the New York Times, in 1992. She was based in Tehran as a correspondent for the New York Times from 2001 until July 2009. She did her undergraduate studies in English Translation in Iran and her master's program in Political Science and Women's Studies at University of Toronto. She covered Afghanistan in 2001 after the fall of the Taliban and Iraq in 2003. She continued to cover Iran from Toronto until the summer of 2010 and is currently a Nieman fellow at Harvard University.
During her years in Iran, Ms. Fathi covered events that led to the election of the former reformist president, Mohammad Khatami in 1997, numerous pro-democracy protests, and later the election of President Mahmoud Ahmadinejad. She covered the uprising after the 2009 election. She has written on social, political and cultural issues and covered several devastating earthquakes in Iran.
She has been a guest speaker at numerous panels and a commentator for television and radio news shows on CNN, BBC, PBS and National Public Radio. Her pieces have been published in Foreign Policy and the New York Review of Books. She also translated a book by the Noble peace prize laureate, Shirin Ebadi, called "The History and Documentation of Human Rights in Iran," published in 2001.
Siamak Namazi - General Manager, Access Consulting Group; Young Global Leader, World Economic Forum
Siamak Namazi is a Middle East specialist whose career spans the investment, think tank and non-profit worlds. He is currently the General Manager of Access Consulting Group (ACG), a private regional energy consultancy based out of Dubai, and a founding executive board member of the not-for-profit International Association of Iranian Managers (I-Aim). The World Economic Forum has recognized him as a Young Global Leader and he is also a member of the WEF's Global Agenda Council on the Middle East.
His former positions include developing trade and investment opportunities within the Persian Gulf for the Noble Group and serving as a partner and CEO of Atieh Bahar Consulting, Iran\'s premier private strategic consulting firm. In addition, he has served stints as a fellow in the Wilson Center for International Scholars, CSIS and the National Endowment for Democracy. A frequent contributor to international publications and conferences on Middle Eastern political and economic issues, he has contributed chapters to six books. He has appeared regularly as a commentator in the international media, including CNN International, BBC World, The Financial Times, Fortune Magazine, Forbes Magazine, Reuters, The New York Times, Time, The Washington Post, and Business Week. He holds an MS in Urban and Regional Planning from Rutgers University, where he studied under a Russell Fellowship and a BA in International Relations from Tufts University. He is currently studying toward an executive MBA at the London Business School.
Rouzbeh Pirouz - Executive Chairman, Turquoise Partners
Rouzbeh Pirouz has developed considerable experience in private equity and property investing through his work with a number of investment firms as well as having been a successful entrepreneur. He co-founded and was Chief Executive of a leading European technology firm, Mondus Ltd. He led Mondus through early and mid stage funding from major investors such as 3i and Moore Capital to its share sale to a subsidiary of Telecom Italia. In 2001, he founded Pelican Partners, a private equity firm based in London. Pelican Partners has been an active investor in the property sector as well as early and mid stage companies. Pelican Partners has also participated in a number of well-known private equity funds.
Rouzbeh received Bachelor's and Master's degrees from Stanford and Harvard Universities respectively, and was a Rhodes Scholar at Oxford University. He sits on the boards of leading foundations and charities in the UK and abroad.
Mr. Pirouz is Executive Chairman of Turquoise Partners which has been a pioneer in Iran's investment banking and asset management sector and currently has approximately $150 million of assets under management. He is also Chairman of the recently established Iranian Business School.
Karim Sadjadpour - Associate, Carnegie Endowment for International Peace; Young Global Leader, World Economic Forum
Karim Sadjadpour is an associate at the Carnegie Endowment for International Peace. He was previously an analyst with the International Crisis Group based between Tehran and Washington. He is the author of Reading Khamenei: The World View of Iran's Most Powerful Leader. He is a regular contributor to BBC TV and radio, CNN, National Public Radio, PBS NewsHour, and Al-Jazeera, and has appeared on the Today Show, Charlie Rose, Fox News Sunday, and the Colbert Report, among others. He contributes regularly to publications such as the Economist, Washington Post, New York Times, Wall Street Journal, and Foreign Policy. In 2007 the World Economic Forum in Davos named him a Young Global Leader. He has lived in Latin America, Europe, and the Middle East and speaks Persian, Italian, and Spanish.
(End of Harvard Business School email)
A CLARIFICATION
Tom Gross adds: I sent the email above to some people a few days ago, and one of the speakers named in it, Karim Sadjadpour, has written to me to point out that "The wording of the panel was somewhat misleading, it was in no way meant to encourage business or investment in Iran. I would not have participated had this been the intent."
Indeed Karim Sadjadpour made clear his opposition to the current Iranian regime in this WSJ oped published to mark President Ahmadinejad's visit to New York last fall.
I am also told that the moderator, Nazila Fathi, who was the longtime New York Times correspondent in Tehran until she had to flee for her safety in the aftermath of the rigged June 2009 elections, is also not interested in trying to promote investment in Iran.
But one is left wondering about the way Harvard handled and promoted this event.
***
Incidentally, "Harvard Arab Weekend" also took place last weekend.
BIN LADEN COMPANY AWARDED $7.2 BILLION SAUDI AIRPORT CONTRACT
The company founded by Osama Bin Laden's father and now headed by his brother has won a $7.2 billion contract to build a new terminal and airport infrastructure in the Saudi city of Jedda.
The number of passengers at the city's King Abdul Aziz International Airport is expected to grow from its current level of 17 million passengers per year to more than 30 million. The project is scheduled to be completed in 3 years. The new airport infrastructure will feature the world's tallest control tower (at 436 feet) and a railway linking the airport to the Islamic holy cities of Mecca and Medina. The Bin Laden Group is Saudi Arabia's largest construction company.
OBAMA CRITICIZED FOR PUSHING FOR SAUDI ARMS DEAL DURING CONGRESSIONAL RECESS
Some Congressmen are severely criticizing efforts by the Obama administration to push through the largest arms deal in American history during a Congressional recess. Obama's move aims to limits Congressional scrutiny of the enormous arms package destined for Saudi Arabia. New York Democrat Anthony Weiner said that, "It's bad policy that now is further tainted by shameful process."
Critics are also expressing concern that while the U.S.-Saudi relationship appears strong at present, the deal fails to address the contingency of a regime change or significant shift in attitude within the Saudi regime. The Saudi monarch is 86, and it is unclear how much longer he will rule.
ISRAELI CLINIC IN HAITI DECLARED BY THE UN AS A CHOLERA TREATMENT FACILITY
Israel is continuing to be one of the countries leading the way in helping Haitians in the aftermath of the devastating earthquake that struck the island last January.

The Israeli medical clinic in Leoganne, Haiti, has now been designated by the UN as a top level Cholera Treatment Facility to help patients affected by the epidemic now afflicting the island.

The Israelis, working together with Canadians and local Haitian medical staff, have added dozens of beds and additional medical supplies to their clinic. The Israeli clinic is being funded by the United Jewish Federation of Greater Toronto.
Israeli medics continue to train local Haitian staff on how to deal with the epidemic.

* Among previous dispatches on Israeli medial help for Haiti, please see: "And his name will be 'Israel': Mother of Haitian baby honors IDF rescuers"
STUNNING PHOTO OF ISRAEL, WEST BANK AND GAZA FROM SPACE AT NIGHT
This image taken by NASA astronaut Douglas Wheelock on November 7, 2010, shows a night view over the eastern Mediterranean as seen from the International Space Station.
***
I attach two articles below on President Obama's latest efforts to promote Middle East peace, by Jackson Diehl, the deputy editorial page editor of The Washington Post, and by Elliott Abrams and Michael Singh, both of whom worked in senior positions on Middle East affairs at the National Security Council during the George W. Bush administration.
Jackson Diehl and Elliott Abrams are subscribers to this email list.
(There will be no new Middle East dispatches on this site for the next two weeks.)
[All notes above by Tom Gross]
FULL ARTICLES
"THE AUDACITY OF HOPE." YES, AND IT SHOWS.
Obama's foreign policy needs an update
By Jackson Diehl
Washington Post
November 22, 2010
For help understanding the foreign policy headlines of the past week, let's return, briefly, to the spring of 1983, when Barack Obama was a student at Columbia University. What were the burning international issues of that time?
Well, first was the "nuclear freeze" movement, which was prompting mass demonstrations around the world by people worried about the standoff between the Soviet Union and the United States. Obama published an article about it in a campus magazine in which he invoked the vision of "a nuclear free world."
The Middle East, meanwhile, was still reeling from the 1982 Israeli invasion of Lebanon - which was the apotheosis of the Zionist right's dream of creating a "greater Israel" including all of the Palestinian West Bank.
Back to November 2010. The Obama administration is devoting a big share of its diplomatic time and capital to curbing Israeli settlement construction in the West Bank - most recently, offering Israel's right-wing government $3 billion in warplanes in exchange for a 90-day moratorium. Meanwhile, it has committed much of its dwindling domestic political capital to pushing a new nuclear arms control treaty with Russia through a reluctant Senate.
So has nothing changed in the past quarter-century? In fact, almost everything has - especially when it comes to nuclear arms control and Israel's national objectives. What hasn't changed, it seems, is Barack Obama - who has led his administration into a foreign policy time warp that is sapping its strength abroad and at home.
Start with the New START treaty that Obama has made a priority for the lame-duck Senate, at a time when Americans don't yet know what income tax rate they will pay on Jan. 1. The treaty resembles the landmark U.S.-Soviet arms control treaties that were negotiated in the years after Obama wrote his article - and it would perpetuate their important verification measures.
The difference is that no one stages marches today about U.S. and Soviet - now Russian - strategic weapons, and with good reason. The danger of a war between the two states is minuscule; and treaty or no, Russia's arsenal is very likely to dwindle in the coming years. The threat of nuclear weapons now comes from rogue states such as North Korea, Iran and Syria, and maybe from terrorist organizations. Obama believes that U.S.-Russian treaties will lead to better containment of that threat - but that's at best an indirect benefit.
That doesn't mean the START treaty is worthless. The Senate ought to approve it if only to ensure the continued monitoring of Russian missiles. But does it merit dispatching the vice president and the secretaries of state and defense to Capitol Hill for a desperate (and uphill) lobbying offensive? It's hard to see why.
The same might be said about Obama's preoccupation with stopping Israel's settlement expansion in the West Bank and Jerusalem - a campaign that even Palestinian and Arab leaders have watched with bafflement. True, almost everyone outside Israel regards the construction as counterproductive, and only a minority supports it inside Israel.
But that is just the point: The dream of a "greater Israel" died more than 15 years ago. Even the Israeli right now accepts that a Palestinian state will be created in the West Bank. The settlements have become a sideshow; the real issues concern how to create a Palestinian state in a Middle East where the greatest threat is not Israeli but Iranian expansionism. What to do about Hamas and Hezbollah and their Iranian-supplied weapons? How to ensure that the post-occupation West Bank does not become another Iranian base? Those issues did not exist in 1983 - and the Obama administration seems to have no strategy for them.
Not all of the administration's foreign policy is anachronistic. Obama's tour this month of India, Indonesia, South Korea and Japan reflected a cutting-edge concern with rebuilding U.S. influence in Asia and forging alliances with its democracies in response to a rising China. Iran has been the target of a relatively successful multilateral sanctions campaign, though that has yet to affect its nuclear program. The START treaty with Russia is part of a larger strategy to coax its brutish regime toward more responsible behavior.
Still, this administration is notable for its lack of grand strategy - or strategists. Its top foreign-policy makers are a former senator, a Washington lawyer and a former Senate staffer. There is no Henry Kissinger, no Zbigniew Brzezinski, no Condoleezza Rice; no foreign policy scholar.
Instead there is Obama, who likes to believe that he knows as much or more about policy than any of his aides - and who has been conspicuous in driving the strategies on nuclear disarmament and Israeli settlements. "I personally came of age during the Reagan presidency," Obama wrote in "The Audacity of Hope." Yes, and it shows.
"OBAMA NEEDS TO HEAD BACK TO THE DRAWING BOARD"
Obama's peace process to nowhere
By Elliott Abrams and Michael Singh
Foreign Policy (magazine)
November 20, 2010
Barack Obama's latest offer to Israel in his quixotic quest for a total construction freeze in West Bank settlements seems at first glance to be a sweetheart deal for Israeli Prime Minister Netanyahu. In exchange for a 90-day extension of the freeze, Israel reportedly would receive 20 additional F-35 fighter jets worth $3 billion, a guarantee that the United States will veto any unilateral Palestinian initiative at the United Nations meant to achieve international recognition of a Palestinian state, and a promise that Obama will not request any further extensions of the construction moratorium.
This proposed deal, however, masks an unwelcome shift in U.S. mediation of the Israeli-Palestinian conflict. And the troubling precedents set by this package will serve to dim rather than enhance prospects for a breakthrough in peace negotiations.
The most worrying aspect of Obama's package is the linkages it establishes between Israeli concessions on settlements (and apparently on the pace of construction in Jerusalem as well) and other unrelated policy matters. Washington has long opposed, and frequently vetoed, U.N. Security Council initiatives targeting Israel. The United States has done so not out of a sense of charity, but because the anti-Israel resolutions were unconstructive, unhelpful, and unprincipled. The suggestion that unless there is a construction freeze America will no longer do so will make it far harder for U.S. negotiators to defeat or soften drafts put forward in the council in future years, and encourage further assaults on Israel there. Leaving Israel undefended in the United Nations will make successful negotiations less, not more, likely, for an Israel that is under constant attack will batten down the hatches not "take risks for peace."
More disturbing still is the explicit connection between U.S. security assistance to Israel and the settlement freeze. The offer of additional fighter jets can be interpreted two ways: First, the Obama administration may believe that the jets are unnecessary to Israeli security, and is merely offering them as a sweetener, at a cost of $3 billion to U.S. taxpayers – or about $33 million for each day of the freeze. The second, more ominous explanation is that the United States believes the jets are important to Israel's security and the two countries' shared interests, but is using them as pressure to tidy up a diplomatic mess of its own making. As much as Israeli officials may desire the additional hardware, particularly in light of the growing threat of a nuclear-armed Iran, they will no doubt think long and hard before setting this precedent.
Obama's promise not to seek another construction freeze after the next 90-day moratorium also suggests that his administration has yet to diagnose correctly what ails its Middle East peacemaking efforts. An agreement for a freeze, with an allowance for "inward" growth of existing settlements, was reached between former President George W. Bush and former Israeli prime ministers Ariel Sharon and Ehud Olmert. The Bush administration was quick to protest when that understanding was violated – a reaction that sometimes led to tension between the two countries.
The interest in stopping construction in settlements that would make final status talks harder is not what differentiates the Bush and Obama administrations. Rather, it is the public and strident manner in which the Obama administration has conveyed U.S. demands, and its neglect of Israeli political realities. The Obama administration has sought a total freeze as a precondition for negotiations; what is needed instead is a return to the agreements reached in previous years, which the Obama team ignored in its "anything but Bush" phase.
Obama's departures from sensible policy would be easier for him to defend if the return were sufficient. But the premise of the U.S. offer – that within 90 days the Israelis and Palestinians can conclude a preliminary agreement on borders, rendering the settlement issue moot – beggars belief.
To be sure, a proposal on borders could probably be ginned up in 90 minutes, never mind 90 days. A quick Google search will yield a handful of ideas, all theoretically plausible. But even armed with a sheaf of maps, a standalone border agreement is a mirage. For Israelis, more important than where the border lies is what lies beyond it – what security arrangements will be put in place to prevent a barrage of rockets originating from the West Bank, as they now do from Gaza? What will stop Hamas from trouncing the Palestinian Authority there as well, once Israeli troops withdraw? For Palestinians, the border in which they are most interested, but which will reportedly not be addressed during the period of the freeze, is that surrounding Jerusalem. Avoiding Jerusalem is impossible in any discussion of borders, given that its limits, as defined by Israel, make up a significant portion of the border between the West Bank and Israel proper, and envelop lands that the Palestinians desire for their future state.
These issues are intimately connected to that of borders, and solutions to them cannot be reached in isolation from the others. Tradeoffs and connections between them are necessary, not only for the normal give-and-take that accompanies any negotiation, but also because resolving these issues is vital to crafting a sustainable accord that brings permanent peace rather than fleeting diplomatic success.
With this latest gambit, the United States is trying to rescue a policy that is not worth rescuing. Rather than heading back to the region to offer up this package, Obama needs to head back to the drawing board.
On searching your laptop at airports (& other stories)
November 19, 2010
* China is apparently now more concerned with appeasing the (soon to be nuclear-armed) Iranian regime than they are with the Gulf Arab regimes.
* "If a British soldier, sent to Afghanistan to serve his country, loses a foot in combat he can expect annual compensation of 8,780 pounds from the Government. But if you were a foreigner briefly resident in Britain who chose to fly to Afghanistan to train in a terrorist camp, or maybe just to see what a real Islamist state looks like, then were picked up in the warzone by U.S. Forces and sent to Guantánamo Bay, you would be in a line for a One million pound payout from Britain."
* "The Israelis are, out of dreadful necessity, the world's foremost experts in counterterrorism. And they couldn't care less about what your grandmother brings on a plane. Instead, officials at Ben Gurion International Airport interview everyone in line before they're even allowed to check in. And Israeli officials profile. They don't profile racially, but they profile. Israeli Arabs breeze through rather quickly, but thanks to the dozens of dubious-looking stamps in my passport – almost half are from Lebanon and Iraq – I get pulled off to the side for more questioning every time. And I'm a white, nominally Christian American. Even when suicide bombers exploded themselves almost daily in Israeli cities, not a single one managed to get through that airport."
CONTENTS
1. "China apologizes to Iran for using wrong name for Persian Gulf" (Fars News Agency, Iran, Nov. 15, 2010)
2. "The huge payments to ex-Guantánamo inmates are obscene' (By Douglas Murray, UK Times, Nov. 18, 2010)
3. "Muslims set fire to Coptic Christian homes in southern Egypt" (By Salah Nasrawi, The Canadian Press, Nov. 17, 2010)
4. "Forget the 'porn machines': How Israelis secure airports" (By Michael Totten, NY Post, Nov. 19, 2010)
5. "Searching your laptop" (Editorial, New York Times, Nov. 15, 2010)
6. "New Stuxnet clues suggest sabotage of Iran's uranium enrichment program" (Computer World, Nov. 15, 2010)
A VARIETY OF INTERNATIONAL STORIES
[Note by Tom Gross]
I attach eleven stories from recent days, six of which (concerning wider international matters) are below, and five of which (concerning Israel and the Palestinians) can be read here. I chose these stories because they contain information I think may be of interest that has been overlooked by many other publications.
CHINA APOLOGIZES TO IRAN FOR USING "WRONG" NAME FOR PERSIAN GULF
Tom Gross adds: Apparently, the Chinese regime is now more afraid of the (soon to be nuclear-armed) Iranian regime than they are of the Gulf Arab regimes.
***
China apologizes to Iran for using wrong name for Persian Gulf
November 15, 2010
Fars News Agency (Iran)
http://english.farsnews.com/newstext.php?nn=8908241784
TEHRAN (FNA)- A senior Iranian Olympic official said that the Chinese organizers of the Asian games have extended an apology to Tehran for their mistaken use of a false name to refer to 'the Persian Gulf' during the inauguration ceremony of the 16th Asian Games in Guangzhou.
Secretary-General of Iran's National Olympic Committee Bahram Afsharzadeh said that the apology was expressed in a phone call by President of Guangzhou Asian Games Organizing Committee Liu Peng.
"An official letter of apology will be sent to the national Olympic committee (of Iran) by the organizing committee of the 16th Asian Games in the next one or two days," Afsharzadeh added.
Iran had sent two letters of protest to Liu Peng and to the president of the Olympic Council of Asia, Sheikh Ahmad Al-Fahad Al-Sabah, and voiced strong protest against the use of the fabricated phrase 'the Arabian Gulf' instead of the officially, globally and historically known 'Persian Gulf'.
Also on Saturday, the Iranian embassy in Beijing voiced strong protest against China's use of the false phrase 'the Arabian Gulf' instead of 'the Persian Gulf' during the inauguration ceremony of the Asian Games.
While historical documents show that the waterway has always been referred to as the 'Persian Gulf', certain countries deliberately or mistakenly remove the word 'Persian' from the name of the waterway.
Iran designated April 30 as the National Persian Gulf Day to highlight the fact that the waterway has been referred to by historians and ancient texts as 'Persian' since the Achaemenid Empire was established in what is now modern day Iran.
In July 2009, archeological excavations in the Iranian port city of Siraf yielded new evidence confirming the antiquity of the Persian Gulf title.
The Iranian archeologists discovered Sassanid and early-Islamic residential strata as well as a number of intact amphoras used in sea trade during the Parthian, Abbasid and early Islamic eras, all referring to the waterway as the Persian Gulf.
"£1 MILLION? HE COULDN'T HAVE MADE THAT IN THE CITY – OR THE ARMY"
The huge payments to ex-Guantánamo inmates are obscene
By Douglas Murray
The Times (of London)
November 18 2010
If a British soldier, sent to Afghanistan to serve his country, loses a foot in combat he can expect annual compensation of £8,780 from the Government. But if you were, say, a foreigner briefly resident in Britain who chose to fly to Afghanistan to train in a terrorist camp, or maybe just to see what a real Islamist state looks like, then were picked up in the warzone by US Forces and sent to Guantánamo Bay, you would be in a line for a big payout.
It was announced this week by the Justice Secretary that up to ten men suspected by America of being enemy combatants are to receive compensation that could amount to more than a million pounds each from the British taxpayer. Which is good pay for a lightish workload.
Take Binyam Mohamed. He came to Britain in 1994, had his application for asylum rejected but stayed anyway. In 2001 he travelled to Pakistan and Afghanistan where, by his own admission, he spent 45 days at an al-Qaeda training camp but denies having received any weapon training. We are now going to pay him more than a million pounds because he claims he was mistreated by our allies and that the British Government did nothing to stop it. That could amount to a couple of hundred thousand pounds for each year he was in the UK.
Maybe he did have a bad time of it, in which case I'd advise him not to hang around al-Qaeda camps. But a million pounds' worth of bad time? He couldn't have made that starting off in the City, let alone joining the British Army. And unlike many of our soldiers, Binyam Mohamed and the other Guantánamo guys – an Iraqi, a Jordanian, a Libyan and a Moroccan among them – are still intact.
Then there's Moazzam Begg, who in recent years has been toured around by so-called human-rights groups such as Amnesty. Mr Begg has a tendency to crop up in the wrong place at the wrong time. And, funnily enough, the wrong place, whether Bosnia or Afghanistan, is always where jihad is being fought. In the 1990s, this man who denies being a terrorist, ran Birmingham's leading Islamist bookshop and, according to the Special Immigration Appeals Commission, he is "an extremist". He too will be getting this compensation.
Our amazed friends and allies must be asking: "Whatever happened to Britain?"It cannot be put any stronger than this: no society that wanted to survive would behave like this.
If Britain does not wish to win the war against extremism then it's easy: keep going in this direction, write out the last few cheques, shake on it with the human-rights lawyers and just roll up the flag.
MUSLIMS SET FIRE TO COPTIC CHRISTIAN HOMES IN SOUTHERN EGYPT
Muslims set fire to Coptic Christian homes in southern Egypt, officials say
By Salah Nasrawi
The Canadian Press
November 17, 2010
CAIRO – Muslims set fire overnight to at least 10 houses belonging to Coptic Christians in a village in southern Egypt over rumours that a Christian resident had an affair with a Muslim girl, security officials said Tuesday.
The officials said security forces sealed off the village of al-Nawahid in Qena province, some 290 miles (465 kilometres) south of Cairo, to prevent the violence from spreading to neighbouring towns. They said several people were arrested.
The attacks started after locals spotted a young Copt and a Muslim girl together at night inside the village cemetery, the officials said. They added that both were put under police custody as authorities investigate.
The officials spoke on condition of anonymity because they are not authorized to speak to the media.
The village was calm by nightfall, after religious leaders from both communities appealed to their followers to end the confrontation. Some residents said they felt the situation had cooled enough that the extra police forces could leave.
Clashes between Christians and Muslims occasionally occur in southern Egypt, mostly over land or disputes over church construction. But sectarian tensions have also been on the rise recently in the capital.
Last year in Qena, a Coptic man was accused of kidnapping and raping a 12-year-old Muslim girl. The alleged assault led to widespread protests by the Muslim community and increased tensions between the two religious groups, which culminated in the murder of six Copts and one Muslim security guard at a church on Jan. 6.
Coptic Christians make up about 10 per cent of Egypt's population of 80 million. Copts and Muslims generally live in peace, though tension and violence occasionally flare.
Human rights groups say attacks on Copts are on the rise, underscoring the government's failure to address chronic sectarian strains in a society where religious radicalism is gaining ground.
The government insists Christians enjoy the same rights as Muslims.
FORGET THE 'PORN MACHINES'
Forget the 'porn machines': How Israelis secure airports
By Michael Totten
New York Post
November 19, 2010
Air travelers in the United States are now given two options at the security gate – be groin-groped by gloved Transportation Security Administration agents, or photographed "naked" in the back-scatter X-ray device that Jeffrey Goldberg at The Atlantic calls "the porn machine."
You can thank failed "underwear bomber" Umar Farouk Abdulmutallab for this one. While armies tragically tend to fight the last war, the TSA looks for the item the most recent terrorist used.
After 9/11, everything sharp – even tweezers – was banned. Ever since Richard Reid tried and failed to light his loafers on fire, security agents have forced us to take off our shoes. British authorities rounded up terrorists who planned to bring liquid explosives on board, and we've all been prohibited from carrying shampoo through the gate ever since.
Terrorists have yet to use the same weapon twice, and the TSA isn't even looking for whatever they'll try to use next. I can think of all sorts of things a person could use to wreak havoc on a plane that aren't banned. Security officials should pay less attention to objects, and more attention to people.
The Israelis do. They are, out of dreadful necessity, the world's foremost experts in counterterrorism. And they couldn't care less about what your grandmother brings on a plane. Instead, officials at Ben Gurion International Airport interview everyone in line before they're even allowed to check in.
And Israeli officials profile. They don't profile racially, but they profile. Israeli Arabs breeze through rather quickly, but thanks to the dozens of dubious-looking stamps in my passport – almost half are from Lebanon and Iraq – I get pulled off to the side for more questioning every time. And I'm a white, nominally Christian American.
If they pull you aside, you had better tell them the truth. They'll ask you so many wildly unpredictable questions so quickly, you couldn't possibly invent a fake story and keep it all straight. Don't even try. They're highly trained and experienced, and they catch everyone who tries to pull something over on them.
Because I fit one of their profiles, it takes me 15 or 20 minutes longer to get through the first wave of security than it does for most people. The agents make up for it, though, by escorting me to the front of the line at the metal detector. They don't put anyone into a "porn machine." There's no point. Terrorists can't penetrate that deeply into the airport.
The Israeli experience isn't pleasant, exactly, and there's a lot not to like about it. It can be exasperating for those of us who are interrogated more thoroughly.
The system has its advantages, though, aside from the fact that no one looks or reaches into anyone's pants. Israelis don't use security theater to make passengers feel like they're safe. They use real security measures to ensure that travelers actually are safe. Even when suicide bombers exploded themselves almost daily in Israeli cities, not a single one managed to get through that airport.
SEARCHING YOUR LAPTOP
Searching Your Laptop
Editorial
The New York Times
November 15, 2010
Federal courts have long agreed that federal agents guarding the borders do not need a warrant or probable cause to search a traveler's belongings. That exception to the Fourth Amendment needs updating and tightening to reflect the realities of the digital age.
The government has a sovereign right and responsibility to secure the borders. The recent discovery of two powerful package bombs being shipped to the United States is a reminder of the many dangers out there.
There is also a big difference between government agents scanning items for explosives or looking through a suitcase full of clothing, and searching through the hard drive of a laptop computer containing work papers, financial records, e-mail messages and Web site visits.
Although the number of travelers whose devices are searched is small compared with the many millions who cross American borders each year, the problem is real. Between October 2008 and June 2010, more than 6,600 travelers – nearly 3,000 of them American – were subjected to such searches, according to government records released in response to a Freedom of Information request.
The George W. Bush administration first authorized border agents to seize and view the contents of laptops, smartphones, and other devices and copy and share data with other government agencies without need for any individualized suspicion of wrongdoing.
The Obama administration has tweaked the policy, requiring approval from supervisors to hold a seized device for more than five days, for example. The fundamental flaw remains: it permits the government to engage in indiscriminate and invasive fishing expeditions.
The Supreme Court has yet to confront the issue. But in a disappointing ruling in 2008, the United States Court of Appeals for the Ninth Circuit in San Francisco said that agents at a border need not meet even the low threshold of reasonable suspicion to justify a warrantless laptop search. The ruling reversed a lower court's finding that laptops are "an extension of our own memory" and too personal to allow government searches without some reasonable and articulable suspicion.
The American Civil Liberties Union has now filed a lawsuit challenging the policy on behalf of press photographers, criminal defense attorneys and a doctoral student in Islamic studies whose laptop was searched and confiscated this spring.
Congress should not wait for resolution of the case. It should approve legislation along the lines of the Travelers' Privacy Protection Act proposed two years ago in the Senate.
It would have confined border laptop searches involving American citizens and residents to situations where agents have a reasonable suspicion of illegal activity and require a higher standard of probable cause and a warrant or court order when a laptop is held for more than 24 hours. The measure also set strict limits on disclosure and sharing of information from devices seized at the border and requires the Department of Homeland Security to report regularly to Congress and the public on its search policies and practices.
The Senate bill's leading sponsor, Russ Feingold of Wisconsin, was defeated in this month's election. His three Democratic co-sponsors – Daniel Akaka of Hawaii, Ron Wyden of Oregon, and Maria Cantwell of Washington – should press the issue in the new Senate.
The challenge, as ever, is to strike a balance that grants sufficient leeway to protect the nation's borders without allowing the intimate details of people's lives and work to be searched, seized and copied on a whim.
MORE CLUES ON STUXNET
New Stuxnet clues suggest sabotage of Iran's uranium enrichment program
Symantec says Stuxnet worm monkeys with electrical motor controls, like those used by gas centrifuges to enrich uranium
By Gregg Keizer
Computer World
November 15, 2010
www.computerworld.com/s/article/9196458/New_Stuxnet_clues_suggest_sabotage_of_Iran_s_uranium_enrichment_program?taxonomyId=13
Researchers have uncovered new clues that the Stuxnet worm may have been created to sabotage Iranian attempts to turn uranium into atomic bomb-grade fuel.
According to Eric Chien, one of three Symantec researchers who have dug into Stuxnet, the worm targets industrial systems that control very high speed electrical motors, such as those used to spin gas centrifuges, one of the ways uranium can be enriched into fissionable material.
One expert called Symantec's discovery "very interesting indeed."
Chien reported Symantec's new findings in a blog post last Friday and in a revised paper first published in September.
Stuxnet, considered by many security researchers to be the most sophisticated malware ever, targeted Windows PCs that managed large-scale industrial-control systems in manufacturing and utility companies. Those control systems, called SCADA, for "supervisory control and data acquisition," operate everything from power plants and factory machinery to oil pipelines and military installations.
Since the worm was first detected in June, researchers have come to believe that it was crafted by a state-sponsored team of programmers, and designed to cripple Iran's nuclear program.
In September, Iran officials confirmed that Stuxnet infected 30,000 PCs in the country, but have denied that the worm had caused any significant damage or infiltrated the SCADA systems at the Bushehr nuclear reactor.
Symantec's latest analysis indicates that the reactor was not the target. Instead, Stuxnet aimed to disrupt uranium enrichment efforts.
Stuxnet looks for devices called "frequency converter drives" connected to a SCADA system, said Chien. Such drives take electrical current from a power grid, then change the output to a much higher frequency, typically 600 Hz or higher.
"The high-frequency output from the frequency changer is fed to the high-speed gas centrifuge drive motors (the speed of an AC motor is proportional to the frequency of the supplied current)," states the Federation of American Scientists (FAS) in an explanation of uranium production on its Web site. "The centrifuge power supplies must operate at high efficiency, provide low harmonic distortion, and provide precise control of the output frequency."
Stuxnet, however, monkeys with the output frequency over a period of months, Symantec said in its revised paper (download PDF).
When it finds converter drives operating between 807 Hz and 1210 Hz, the worm resets the frequency to 1410 Hz, then after 27 days, drops the frequency to just 2 Hz and later bumps it up to 1064 Hz. It then repeats the process.
"Interfering with the speed of the motors sabotages the normal operation of the industrial control process," said Chien.
Sabotaging centrifuge motor speed will do more than that, said Ivanka Barzashka, a research assistant with the Strategic Security Program of FAS, and an expert on gas centrifuges. "A centrifuge is a delicate piece of equipment and operating a centrifuge at the right frequency is extremely important," Barzashka said in an e-mail Sunday. "Problems controlling the operating frequency can cause the machines to fly apart."
Although Symantec did not claim outright that Iran's uranium enrichment operations were the target, it provided tantalizing clues.
Stuxnet targets converter drives made by only two manufacturers: Finland's Vacon and Iran's own Fararo Paya.
The latter is significant, as researchers have said Iran was the country hardest hit by the initial wave of Stuxnet infections.
The high frequency of the targeted converters also points to a possible gas centrifuge application. For example, the U.S. Nuclear Regulatory Commission (U.S. NRC) restricts exports of converter drives able to output at frequencies higher than 600 Hz because they are required to operate gas centrifuges.
Gas centrifuges are hollow tubes that spin at very high speeds, and are used to separate the fissionable U-235 isotope from the much more prevalent U-238 found in natural uranium. Iran, which first started its centrifuge project in 1987, has installed centrifuges in an underground facility at Natanz in central Iran.
According to a paper published in Physics Today, the flagship journal of the American Institute of Physics, Iran began testing a 164-centrifuge assembly in April 2006, and soon after reported it had produced minute quantities of low-enriched uranium. A year later, Iran's president, Mahmoud Ahmadinejad, boasted that Iran had begun production of enriched uranium using 3,000 centrifuges.
By September 2008, the International Atomic Energy Agency reported that Iran was using nearly 4,000 centrifuges and was in the process of adding several thousand more.
Symantec's Chien acknowledged that he and his colleagues were not experts in industrial control systems, and that there may be other uses for high-frequency converter drives outside of gas centrifuges. He called on experts in their use to contact Symantec.
"Symantec's findings about Stuxnet are very interesting indeed," said Barzashka.
In first Hebrew-language broadcast, Al Qaeda-linked group threatens Israel
* Arab and Jewish student co-existence on the West Bank
* Israel becomes world leader in water recycling
* "The Israeli government has signed off to allow one of their senior diplomatic representatives to participate in a debate on their very legitimacy. That's remarkable. Do you think for a minute that any other country would do the same? If the Yale University Debating Society were to have a debate where the motion was 'This house believes Britain is a racist, totalitarian state that has done irrevocable harm to the peoples of the world,' would Britain allow any of its officials to participate? No. Would China participate in a debate about the status of Taiwan? Never. And there is no chance in hell that an American government official would ever be permitted to argue in a debate concerning its treatment of prisoners at Guantanamo Bay. But Israel has sent Mr. Gidor to argue tonight against a 19-year-old law student who is entirely unqualified to speak on the issue at hand."
* "Arabs living in Israel have always enjoyed free and unlimited access to medical services. Israeli hospitals have always been full of Arab patients, who often heap praise on doctors and nurses for offering them the best treatment. Even Arabs from neighboring countries have been seeking medical treatment in Israeli hospitals. This is why it is hard to understand why any Arab would ever consider attacking Israeli medical staff, as they did again last week as Israeli medics in Magen David ambulances rushed to an Arab village to save the life of a young Palestinian man who had fallen from the fifth floor of a building."
CONTENTS
1. "Israeli University in West Bank attracts Arab students" (By Matthew Kalman, Chronicle of Higher Education, Nov. 17, 2010)
2. "In first Hebrew message, Al Qaeda-linked group threatens Israel" (Reuters, Nov. 18, 2010)
3. "Yes, Israel is 'a rogue state'" (By Gabriel Latner, Text of Cambridge Union speech)
4. "Why are Palestinians attacking doctors and ambulances that save them?" (By Khaled Abu Toameh, Hudson Institute, Nov. 9, 2010)
5. "Arid Israel recycles waste water on grand scale" (Reuters, Nov. 15, 2010)
A VARIETY OF ITEMS
[Note by Tom Gross]
I attach eleven stories from recent days, five of which (concerning Israel and the Palestinians) are below, and six of which (concerning wider international matters) can be read here. I chose these stories because they contain information I think may be of interest that has been overlooked by many other publications.
I included brief additional notes with some of these stories.
Four of the writers of these articles (Douglas Murray Michael Totten, Khaled Abu Toameh and Matthew Kalman) are subscribers to this email list.
STUDENT CO-EXISTENCE ON THE WEST BANK
Despite controversy, Israeli University in West Bank attracts Arab students
By Matthew Kalman
The Chronicle of Higher Education (U.S.)
November 17, 2010
Ariel, West Bank -- The Ariel University Center of Samaria aspires to become a fully accredited university. Dozens of graduate students conduct research in several fields, including science and technology, in its state-of-the-art labs. The modern, well-groomed campus is located on a hilltop overlooking breathtaking biblical landscapes dotted with olive groves and picturesque Arab villages.
But it is part of a West Bank settlement near Nablus that most of the world considers illegal. Many Israelis, including some academics, see it as an embarrassment, want nothing to do with it, and have fiercely opposed its attempts to gain full university status.
Ariel and its 20,000 residents hit the national headlines recently after scores of Israeli artists said they would boycott a new theater and cultural center that opened this month as a protest against the continuing Israeli occupation of the West Bank.
Nationalist politicians hail the university as a symbol of the success of Israel's settlement project. Israeli flags fly proudly in every classroom, each student must take courses in Israeli history, and many of the male students wear the distinctive large, knitted skullcaps and dangling, fringed clothing typical of ultra-right-wing settlers.
But the center is far from being a fortress only for Jewish students. There are 500 Israeli Arab students among the 9,000 undergraduates studying at the university, making up about 6 percent of the students. By comparison, Arab students at Israeli colleges on average are about 12 percent of the student population. Their presence at an institution that symbolizes the Israeli occupation and is the largest Israeli employer in the West Bank comes as a surprise to outsiders.
Administrators at the Ariel University Center are proud to have the Arab students, saying their enrollment is an example of loyalty and equality among Israeli citizens. For their part, the Arab students seem not to feel uncomfortable attending the college despite its reputation and location.
"On campus the fact that we are in occupied territory is irrelevant – it doesn't affect us at all. We leave all the politics outside," says Manar Dewany, a 20-year-old student in math and computer science who commutes each day from the Israeli Arab town of Taybeh.
"I never even considered it a reason for not coming here," Ms. Dewany says. "I have no problem with it. Why not come here? This place is full of Arabs. Politics aren't a problem here. It's not even discussed. Studies are one thing and politics are another.
"Relations on campus are fine, natural. Everyone gets on well with each other. I was the only Arab student in my class last year, and I was treated the same as everyone else."
Thabet Masaru and Mahmoud Asle are both 22-year-old students in electrical engineering from the Galilee village of Kfar Kana, too far away for an easy commute. They live in the university's dorms and tell a similar story about campus life, but the two say it's a different story when they reach the military checkpoint marking the border between Israel and the West Bank.
"The situation with the checkpoint can be tough. We are always getting stopped and pulled out on the bus to show our ID," Mr. Masaru says. "This place is a little sensitive. If I were somewhere else – Tel Aviv, for example – I wouldn't get hassled like that. Once you're inside the campus, it's fine. Some people are friendly, others aren't, but you don't get any problems just because you are an Arab. In the dorms, everyone gets along with each other. I've never seen any trouble there."
Adds Mr. Asle: "It doesn't bother me that the college is in a settlement. It's not something so extraordinary. The studies here are very good. I've made friends from all over the country."
The presence of so many Arab students is a byproduct of the college's policy in favor of minorities and new immigrants, particularly students of Ethiopian and Russian origin.
Israel's seven research universities require an SAT-style psychometric test that many experts say is biased in favor of students from a Hebrew-literate, Western-educated home. Immigrant and Arab students score significantly lower on the psychometric test than on high-school matriculation exams, which are similar to the French baccalaureate. The college waives psychometric tests in most subjects for applicants with good high-school matriculation grades.
"There aren't many Ethiopians in Israeli universities because of the psychometric," says Yerushalayim Almey, 24, an Ethiopian-born student of economics and business management. "Here they just require a good matriculation grade. I had a 94 average from high school. I did the psychometric and got a low grade. That's one of the reasons I came here."
"The psychometric is all geared toward Western cultural ways of thinking," she adds. "In the house where I grew up, there was no such vocabulary. My parents didn't have the language."
Ms. Almey says her family was concerned when she first came to the university because she would be traveling into the West Bank.
"There is that fear that you have to travel here, and it's defined as occupied territory, but we're not scared," she says. "I think this is part of Israel. It's already an Israeli town. If you negate Ariel, in a few years you'll be negating Tel Aviv."
Yigal Razumovich, 24, an Ariel resident born in Belarus and self-described "right-wing settler and proud Jew," was waiting for his next class with Mr. Masaru and Mr. Asle. A semiprofessional goalkeeper for the local Betar Ariel soccer team, Mr. Razumovich used to be the only Jewish player on the team in Kfar Kassem, an Arab town in the Galilee.
"I don't care what someone is – black, white, Muslim, Arab – everyone is a human being. I accept everyone. There are some who create problems and others who are fine. These guys are my friends – that's it," he says.
***
Tom Gross adds: Ariel is one of the towns that a significant majority of Israelis of both left and right hope can be incorporated into Israel in any future land swap with a Palestinian state. Ariel is only a few minutes' drive from the Israeli coastal cities of Tel Aviv and Herzliya.
This article is a little lop-sided in my opinion: Ariel has plenty of "leftist" Israelis studying there too. But it is good that at least one journalist writing for a relatively well-known Western publication is reporting on the normality of Jews and Arabs studying together there.
IN FIRST HEBREW MESSAGE, AL QAEDA-LINKED GROUP THREATENS REVENGE ON ISRAEL
Tom Gross adds: Many Israeli Arabs and West Bank Palestinians speak fluent Hebrew, and a tiny number have joined Al Qaeda-linked groups.
***
In first Hebrew message, Al Qaeda-linked group threatens revenge on Israel
Reuters
November 18, 2010
A group with avowed Al-Qaeda links issued a threat in Hebrew on Thursday, swearing to avenge Israel's killing of two Gaza militants, in what an expert said was the first use of the language for such propaganda.
In the half-minute-long recording posted on a website used by declared Al-Qaeda affiliates, a hoarse male voice tells the "aggressor Jews" they will not be safe from rockets and other attacks until they "leave the land of Palestine".
The speaker identifies himself as a member of the group Jemaa Ansar al-Sunna or "Community of Sunna Supporters", which has a presence in Gaza.
Mohammed Nimnim and Islam Yassin, killed in Israel Defense Forces air strikes on November 3 and 17, were Gazan leaders of the Army of Islam, a Palestinian Islamist group inspired by al-Qaeda. Israel accused them of having planned to attack Israelis in the Egyptian Sinai.
Matti Steinberg, an Israeli intelligence veteran who specializes in Islamism, said it was unprecedented for Hebrew to be used on an Al-Qaeda forum.
While Osama bin Laden's followers have made public appeals in languages other than Arabic, this was usually to "win over, educate and preach to the wider Muslim world", Steinberg said. "Here, by contrast, it seems the idea to make Jews feel that the threat is close at hand - and not some distant menace."
The recording, which was quoted on Army Radio, ends by invoking "al Quds", Arabic for Jerusalem. The speaker's reference to rockets suggests links with Palestinians in Gaza, where this has been a favorite mode of attack against Israel.
Steinberg said Jemaa Ansar al-Sunna has had a presence in Gaza for several years and was independent of the Army of Islam.
Al-Qaeda and its leader Osama bin Laden have frequently mentioned Israel in its messages in the past, and an Al-Qaeda linked group recently claimed responsibility for dispatching two mail bombs from Yemen which were addressed to locations of synagogues in Chicago.
THE OED DEFINES ROGUE AS "ABERRANT, ANOMALOUS; MISPLACED, OCCURRING (ESP. IN ISOLATION) AT AN UNEXPECTED PLACE OR TIME"
Tom Gross adds:
This is a rare pro-Israel speech delivered at Britain's Cambridge University in front of 800 students, by Toronto-born 19-year-old second year law student Gabriel Latner at a debate three weeks ago. He was speaking, along with two other speakers (one of whom was Lauren Booth), FOR the motion: "Israel is a rogue state" at a student debate, and abruptly changed sides, which resulted in Latner and Booth exchanging insults with one another. (Booth, who writes for British national newspapers and is often a guest on the BBC, is Tony Blair's sister-in-law and, as reported on this email list, recently converted to Islam.)
The motion was overwhelmingly defeated. But in effect Latner won the debate for Israel – despite losing it. In the aftermath of the debate, the Palestinian, Arab, Islamic, Pakistani, Turkish and Socialist Workers student societies together sent a letter of protest to the Cambridge Union Society President. Latner was initially banned from the Cambridge Union debating society for having switched sides, but apparently the ban has now been lifted.
***
Yes, Israel is "a rogue state"
By Gabriel Latner
Text of speech delivered to the Cambridge Union

This is a war of ideals, and the other speakers here tonight are rightfully, idealists. I'm not. I'm a realist. I'm here to win. I have a single goal this evening – to have at least a plurality of you walk out of the "Aye" door. I face a singular challenge – most, if not all, of you have already made up your minds.
This issue is too polarizing for the vast majority of you not to already have a set opinion. I'd be willing to bet that half of you strongly support the motion, and half of you strongly oppose it. I want to win, and we're destined for a tie. I'm tempted to do what my fellow speakers are going to do – simply rehash every bad thing the Israeli government has ever done in an attempt to satisfy those of you who agree with them. And perhaps they'll even guilt one of you rare undecided into voting for the proposition, or more accurately, against Israel.
It would be so easy to twist the meaning and significance of international "laws" to make Israel look like a criminal state. But that's been done to death. It would be easier still to play to your sympathy, with personalized stories of Palestinian suffering. And they can give very eloquent speeches on those issues. But the truth is that treating people badly, whether they're your citizens or an occupied nation, does not make a state "rogue." If it did, Canada, the US, and Australia would all be rogue states based on how they treat their indigenous populations. Britain's treatment of the Irish would easily qualify them to wear this sobriquet. These arguments, while emotionally satisfying, lack intellectual rigor.
More importantly, I just don't think we can win with those arguments. It won't change the numbers. Half of you will agree with them, half of you won't. So I'm going to try something different, something a little unorthodox. I'm going to try and convince the die-hard Zionists and Israel supporters here tonight to vote for the proposition.
By the end of my speech, I will have presented five pro-Israel arguments that show Israel is if not a "rogue state" then at least "rogue-ish." Let me be clear. I will not be arguing that Israel is "bad." I will not be arguing that it doesn't deserve to exist. I won't be arguing that it behaves worse than every other country. I will only be arguing that Israel is "rogue."
The word "rogue" has come to have exceptionally damning connotations. But the word itself is value-neutral. The OED defines rogue as "Aberrant, anomalous; misplaced, occurring (esp. in isolation) at an unexpected place or time," while a dictionary from a far greater institution gives this definition: "behaving in ways that are not expected or not normal, often in a destructive way."
These definitions and others center on the idea of anomaly – the unexpected or uncommon. Using this definition, a rogue state is one that acts in an unexpected, uncommon or aberrant manner. A state that behaves exactly like Israel.
The first argument is statistical. The fact that Israel is a Jewish state alone makes it anomalous enough to be dubbed a rogue state: There are 195 countries in the world. Some are Christian, some Muslim, some are secular. Israel is the only country in the world that is Jewish. Or, to speak mathmo for a moment, the chance of any randomly chosen state being Jewish is 0.0051%. In comparison the chance of a UK lottery ticket winning at least £10 is 0.017% – more than twice as likely. Israel's Jewishness is a statistical aberration.
The second argument concerns Israel's humanitarianism – in particular, Israel's response to a refugee crisis. Not the Palestinian refugee crisis – for I am sure that the other speakers will cover that – but the issue of Darfurian refugees. Everyone knows that what happened, and is still happening in Darfur, is genocide, whether or not the UN and the Arab League will call it such. There has been a mass exodus from Darfur as the oppressed seek safety. They have not had much luck. Many have gone north to Egypt – where they are treated despicably. The brave make a run through the desert in a bid to make it to Israel. Not only do they face the natural threats of the Sinai, they are also used for target practice by the Egyptian soldiers patrolling the border.
Why would they take the risk? Because in Israel they are treated with compassion – they are treated as the refugees that they are – and perhaps Israel's cultural memory of genocide is to blame. The Israeli government has even gone so far as to grant several hundred Darfurian refugees citizenship. This alone sets Israel apart from the rest of the world.
But the real point of distinction is this: The IDF sends out soldiers and medics to patrol the Egyptian border. They are sent looking for refugees attempting to cross into Israel. Not to send them back into Egypt, but to save them from dehydration, heat exhaustion, and Egyptian bullets.
Compare that to the US's reaction to illegal immigration across their border with Mexico. The American government has arrested private individuals for giving water to border crossers who were dying of thirst – and here the Israeli government is sending out its soldiers to save illegal immigrants. To call that sort of behavior anomalous is an understatement.
My third argument is that the Israeli government engages in an activity which the rest of the world shuns – it negotiates with terrorists. Forget the late PLO Chairman Yasser Arafat, a man who died with blood all over his hands. They're in the process of negotiating with terrorists as we speak. Yasser Abed Rabbo is one of the lead PLO negotiators that has been sent to the peace talks with Israel. Abed Rabbo also used to be a leader of the PFLP – an organization of "freedom fighters" that engaged in such freedom-promoting activities as killing 22 Israeli high school students. And the Israeli government is sending delegates to sit at a table with this man and talk about peace. And the world applauds.
You would never see the Spanish government in peace talks with the leaders of the ETA – the British government would never negotiate with Thomas Murphy. And if President Obama were to sit down and talk about peace with Osama Bin Laden, the world would view this as insanity. But Israel can do the exact same thing – and earn international praise in the process. That is the dictionary definition of rogue – behaving in a way that is unexpected, or not normal.
Another part of dictionary definition is behavior or activity "occurring at an unexpected place or time." When you compare Israel to its regional neighbors, it becomes clear just how roguish Israel is.
And here is the fourth argument: Israel has a better human rights record than any of its neighbors. At no point in history has there ever been a liberal democratic state in the Middle East – except for Israel. Of all the countries in the Middle East, Israel is the only one where the LGBT community enjoys even a small measure of equality. In Kuwait, Lebanon, Oman, Qatar and Syria, homosexual conduct is punishable by flogging, imprisonment, or both. But homosexuals there get off pretty lightly compared to their counterparts in Iran, Saudi Arabia and Yemen, who are put to death. Israeli homosexuals can adopt, openly serve in the army, enter civil unions and are protected by exceptionally strongly worded anti-discrimination legislation. Beats a death sentence. In fact, it beats America.
Israel's protection of its citizens' civil liberties has earned international recognition. Freedom House is an NGO that releases an annual report on democracy and civil liberties in each of the 195 countries in the world. It ranks each country as "free," "partly free" or "not free." In the Middle East, Israel is the only country that has earned designation as a "free" country. Not surprising given the level of freedom afforded to citizens in say, Lebanon – a country designated "partly free," where there are laws against reporters criticizing not only the Lebanese government, but the Syrian regime as well.
Iran is a country given the rating of "not free," putting it alongside China, Zimbabwe, North Korea, and Myanmar. In Iran, there is a special "press court" which prosecutes journalists for such heinous offenses as criticizing the ayatollah, reporting on stories damaging the "foundations of the Islamic republic," using "suspicious (i.e., Western) sources," or insulting Islam. Iran is the world leader in terms of jailed journalists, with 39 reporters (that we know of) in prison as of 2009. They also kicked out almost every Western journalist during the 2009 election. I guess we can't really expect more from a theocracy.
Which is what most countries in the Middle East are – theocracies and autocracies. But Israel is the sole, the only, the rogue, democracy. Out of all the countries in the Middle East, only in Israel do anti-government protests and reporting go unquashed and uncensored.
I have one final argument – the last nail in the opposition's coffin – and it's sitting right across the aisle. Mr. Ran Gidor's presence here is all the evidence any of us should need to confidently call Israel a rogue state. For those of you who have never heard of him, Mr. Gidor is a political counselor attached to Israel's embassy in London. He's the guy the Israeli government sent to represent them to the UN. He knows what he's doing. And he's here tonight. And it's incredible.
Consider, for a moment, what his presence here means. The Israeli government has signed off to allow one of their senior diplomatic representatives to participate in a debate on their very legitimacy. That's remarkable. Do you think for a minute that any other country would do the same? If the Yale University Debating Society were to have a debate where the motion was "This house believes Britain is a racist, totalitarian state that has done irrevocable harm to the peoples of the world," would Britain allow any of its officials to participate? No. Would China participate in a debate about the status of Taiwan? Never. And there is no chance in hell that an American government official would ever be permitted to argue in a debate concerning its treatment of prisoners at Guantanamo Bay. But Israel has sent Mr. Gidor to argue tonight against a 19-year-old law student who is entirely unqualified to speak on the issue at hand.
Every government in the world should be laughing at Israel right now, because it forgot rule number one. You never add credence to crackpots by engaging with them. It's the same reason you won't see Stephen Hawking or Richard Dawkins debate David Icke. But Israel is doing precisely that. Once again, behaving in a way that is unexpected, or not normal. Behaving like a rogue state.
That's five arguments that have been directed at the supporters of Israel. But I have a minute or two left. And here's an argument for all of you – Israel willfully and forcefully disregards international law. In 1981 Israel destroyed Osirak – Saddam Hussein's nuclear bomb lab. Every government in the world knew that Hussein was building a bomb. And they did nothing. Except for Israel.
Yes, in doing so they broke international law and custom. But they also saved us all from a nuclear Iraq. That rogue action should earn Israel a place of respect in the eyes of all freedom-loving peoples. But it hasn't.
But tonight, while you listen to us prattle on, I want you to remember something: While you're here, Khomeini's Iran is working towards the Bomb. And if you're honest with yourself, you know that Israel is the only country that can, and will, do something about it. Israel will, out of necessity, act in a way that is the not the norm, and you'd better hope that they do it in a destructive manner. Any sane person would rather a rogue Israel than a nuclear Iran.
HUNDREDS, IF NOT THOUSANDS, OF ARABS CAN TESTIFY HOW THESE PARAMEDICS AND DOCTORS SAVED THEIR LIVES
Why are Palestinians attacking doctors and ambulances that save them?
By Khaled Abu Toameh
Hudson Institute
November 9, 2010
Arabs living in Israel have always enjoyed free and unlimited access to medical services. Israeli hospitals have always been full of Arab patients, who often heap praise on doctors and nurses for offering them the best treatment.
Even Arabs from neighboring countries have been seeking medical treatment in Israeli hospitals.
This is why it is hard to understand why any Arab would ever consider attacking Israeli medical staff. How do such attacks help the Palestinian cause or any Arab or Islamic cause?
Those who think that the attacks on ambulances and medical teams will help "liberate" Palestine are criminals who should be punished severely.
It is sad that leaders of the Arab community have not come out in full force to condemn the despicable phenomenon. Those who are refusing to come out in public against the attacks on ambulances are as bad as the rock-throwers, who are causing huge damage to Arabs and endangering their lives.
Lately, there have been a number of incidents where Arabs hurled stones at Israeli Magen David [Israeli equivalent of the Red Cross, the Shield of David] ambulances in Jerusalem and other parts of the country. What is particularly outrageous is the fact that the ambulances are pelted with stones when they arrive at an Arab neighborhood to help Arabs.
Last week, two Magen David ambulances that were rushed to an Arab village in Jerusalem to save the life of a young man who had fallen from the fifth floor of a building were attacked with big stones by local youths. Miraculously, no one was hurt in the attack, but a lot of damage was caused to the vehicles.
In a separate incident last month, dozens of Arabs hurled stones at paramedics who came to treat a man who had been seriously injured in a car accident near the Arab city in Israel of Umm al-Fahm.
There is absolutely nothing "heroic" or "patriotic" about attacking ambulances, paramedics, physicians and nurses, especially not when they are trying to save the lives of the perpetrators and their family members. The real heroes are the medical teams and ambulance drivers, not the thugs and cowards who throw the stones.
Many Arabs in Jerusalem are extremely grateful to the Israeli medical teams for their services. Hundreds, if not thousands, of Arabs can testify how these paramedics and doctors saved their lives.
Just two weeks ago, a 65-year-old Arab woman in Jerusalem who suffered a heart attack talked about how the Magen David medical team that rushed to her home had literally saved her life.
Sadly, however, Israeli ambulances have been instructed not to enter Arab areas without a police escort because of the recurring attacks on the vehicles and medical staff. This has caused delays in the arrival of the ambulances to their destination.
Magen David paramedics should be commended for the great work they are doing to offer the best medical treatment to patients – regardless of their nationality and religion. They should be commended for endangering their lives to enter Arab villages and neighborhoods to save lives.
ISRAEL IS WORLD LEADER IN WATER RECYCLING
Arid Israel recycles waste water on grand scale
Water technologies now a large export market for Israel
By Ari Rabinovitch
Reuters
November 15, 2010
JERUSALEM, (Reuters) - Thirty years ago, Israeli farmers faced a daunting choice – find a new water source or go under. Their solution was waste water recycling. Now climate change is presenting other nations with a similar choice.
With increased interest worldwide, Israel is marketing its waste water reuse technologies and has developed a billion-dollar industry by sharing systems and expertise.
Israel began confronting water scarcity when its main sources, the Sea of Galilee and two aquifers, became overtaxed and the population was growing. There was simply not enough water for agriculture.
"We had to adapt, and found what at the time was an unlikely solution," said farmer Yaron Rot, who manages irrigation at Kibbutz Magen, an agricultural community in southern Israel.
They began irrigating their fields with recycled waste water from the drains of Tel Aviv.
At the time it was not discussed openly. Water treatment technology was not well-known and authorities feared the public would reject the idea of toilet water being used to grow food.
"Today, nearly half our irrigation comes from recycled waste water," Rot said, making clear it was no easy achievement.
By the turn of the century, Israel was still the only country to recycle waste water extensively. Global warming means its neighbours will increasingly need to do the same.
Competition over shared water resources is a sensitive issue in Israel's relations with the Palestinians and other Arab neighbours, tending to fuel more conflict than cooperation.
The United Nations, in its Human Development Report, classified the Middle East as the world's most water-stressed region. Its climate modelling projects hotter temperatures and less rainfall in the future.
A separate U.N. report said the regulated use of treated water could reduce pressures.
"Israel demonstrates the potential," it said, adding other nations were following the lead of a country that has also pioneered water-saving techniques such as drip irrigation.
Israel has made water recycling an integral part of daily life – even if many residents are not aware of it.
More than 80 percent of household waste water is recycled, amounting to 400 million cubic metres a year, the Environment Ministry says. That ratio is four times higher than in any other country, according to Israel's water authority.
Treatment facilities remove contaminants to a level set by the Health Ministry and the water is then sent to farmers.
Businesses have thrived by developing the most efficient solutions, including an ultra-violet light purifier and a recycling system that uses millions of small plastic rings to breed bacteria and break down organic waste.
Exports of water-saving technologies total $1.5 billion a year, said Oded Distell, head of the government's water technology programme.
"There are two reasons for the growth. Countries certainly expect the lack of water will increase. And water has taken on an economic value," he said.
This year, Israel assembled a committee at the Swiss-based International Organisation for Standardisation to formulate universal guidelines to reusing waste water in irrigation.
"There is great interest in the world because they understand the global shortages. It turns out there are many other countries suffering," committee secretary Yaron Ben-Avi said.
He said the goal was to create a global standard in less than three years, with guidelines on how to build and maintain water recycling systems, how to avoid harming the environment and how to select which fruits and vegetables to grow.
Israeli legislators are drafting a bill that would require all new buildings to be able to recycle "grey water", all household water waste except that from toilets.
A government study also recommended the creation of wetlands to help treat waste water naturally. Such systems have been described as the "earth's kidneys" as they filter pollutants.
Israel has built a few dozen manmade wetlands that treat sewage from cowsheds, vineyards and army bases, but this remains an area where it lags behind Western countries, said Michal Green, an engineer at the Technion Institute of Technology.
Companies are showing more interest in constructed wetlands as an alternative to treatment plants, she said.
"They are non-energy intensive, they have lower maintenance costs and they are a more aesthetic option. I have no doubt they will catch on."
Is this the most anti-Israel publication in the world?
November 15, 2010
* British government and National lottery money continues to fund what is arguably the most anti-Israel publication of all (at least in the Western world), "The London Review of Books".
* It is doubtful whether any other mainstream publication in the Western world spreads hate against any group of people to the extent that the London Review of Books (LRB) does about Israelis. The LRB also has an influential readership in America.
* Among those who say they admire LRB writings: the former head of the Ku Klux Klan.
CONTENTS
1. Paid for by British taxpayers
2. "Championing great art"?
3. A "neo-Nazi ideology wrapped in Judaism"
4. Killing Jews as a form of anti-globalization protest
5. "Gas chambers are not the only way to destroy a nation
6. Mearsheimer, Walt, and "The Israel Lobby" lies
7. Self-loathing Jews
8. The MPs on this list
PAID FOR BY BRITISH TAXPAYERS
[Note below by Tom Gross]
It is difficult to know which publication in the world comes first for sheer nastiness in its demonization of Israel, but (as I've pointed out before) that dishonor may well fall to The London Review of Books (the LRB).
It is not only the propaganda and hateful contents of a supposedly respectable publication like the LRB that make it so shocking, but the fact that the LRB (like the BBC) receives British taxpayers' money to carry out its self-appointed mission.
Each year since 1981, the LRB has received a grant from the UK government-funded Arts Council, specifically for the purpose of paying contributing writers. Over the last ten years alone, 92 articles relating to Israel have been published by such contributing writers, 91 of which can be described as being anti-Israel, often viciously so. No other subject can have been so extensively covered by this fortnightly publication much favored among academics and school teachers.
Many of these Israel-bashing articles run to several thousand words – even though readers might expect the LRB to be a publication that reviews books (and books on a wide variety of subjects) or discusses matters relating to literature or the arts.
"CHAMPIONING GREAT ART"?
The UK's Arts Council is funded solely by public money from the British Government and the National Lottery. The Arts Council states that it works to "get great art to everyone by championing, developing and investing in artistic experiences that enrich people's lives."
The Arts Council can hardly be said to be sticking to these laudable aims, as one can see from the points in the segment below.
The LRB is one of the most-widely circulated European literary magazines. Its own publicity material boasts that its readership is:
"Highly Educated: * 84% hold a first degree, 48% hold a higher degree.
"Influential: * 61% hold senior positions in their work place.
"Opinion Forming: * 40% have had work published in the last two years.
* 25% have been interviewed on radio or TV.
"Affluent: * 40% of all readers earn more than £40,000 a year."
I should add that the LRB, although published in the U.K., also has a strong influence on some American intellectuals and government officials.
One reader also tells me that the LRB published what amounted to an apology for the slaughter in Darfur about three years ago.
A "NEO-NAZI IDEOLOGY WRAPPED IN JUDAISM"
Today, the watchdog organization Just Journalism (the founder, board, and director of which subscribe to this email list) have produced a lengthy study of the LRB's record over the past decade in regard to Israel, written by Chris Dyszynski. You can read it in full here.
It is a long report so I have drawn out various points in it for readers below, and also added various observations of my own.
Also, in addition to the articles that the report has examined, there are a number of other anti-Israel items that the London Review of Books has published and which I wrote about at the time, such as the LRB poem, a "Requiem for Mohammad al-Dura."
Of course, Israel (like other countries) sometimes behaves badly and should not be spared criticism, but outright demonization of an entire country and people, which is what the LRB is engaged in, is not the same thing.
***
Among the things the LRB have had to say:
* "The state of Israel wishes to inculcate in its soldiers a "neo-Nazi ideology wrapped in Judaism." (LRB article, 22 July 2004)
* "Should Arabs in Israel be forcibly sterilized to prevent their children outnumbering the children of Israel's Jews? … Was this inherent in the Zionist idea?" (LRB article by Charles Glass, 24 June 2004)
"GAS CHAMBERS ARE NOT THE ONLY WAY TO DESTROY A NATION"
* "Gas chambers are not the only way to destroy a nation [like the Palestinians]. It is enough to destroy its social tissue, to starve dozens of villages, to develop high rates of infant mortality." (LRB article by vehemently anti-Zionist Israeli Yitzhak Laor, 9 May 2002)
* Yasser Arafat is "admirable" for not having "betrayed his people and accepted the offer [of an independent Palestinian state] made at Camp David." (LRB article by Raja Shehadeh)
* LRB readers were told that the IDF were "arrest[ing] hundreds of people... [and] concentrating them in camps behind barbed wire".
* "This unbelievable destruction can only indicate that this war is not merely about security, but is directed at annihilating everything Palestinian," said another LRB article.
* Israeli claims during the second intifada that the need to protect themselves from terrorism is a "feint" and its policies are designed to "destroy the indigenous population". (LRB article by John Berger)
* Other LRB articles have headlines like "War Crimes," "The One-State Solution," "Zionist Terrorism," and "Quisling and Occupier".
KILLING JEWS AS A FORM OF ANTI-GLOBALIZATION PROTEST
* One LRB article even suggested that the more than 4,000 rockets Hizbullah fired from Lebanon at Israeli civilians in the summer of 2006 were actually a form of anti-globalization protest. And rather than trying to kill people (as dozens of them did), one LRB contributor argued that Hizbullah was in fact trying to raise awareness of the economic disadvantages of northern Israelis.
* And in another LRB article, Eric Hobsbawm says Israel's actions constitute "barbarism".
* Jacqueline Rose writes in the LRB of Israel's "unrestrained and indiscriminate violence".
* Michael Wood argued in the LRB that Israel "had entered a moral territory from which there may be no return."
* Yitzhak Laor claimed in the LRB hat Israel's actions were a milestone in human history: "The extent of the cruelty, the lack of shame and the refusal of self-restraint are striking, both in anthropological terms and historically."
MEARSHEIMER, WALT, AND "THE ISRAEL LOBBY" LIES
The London Review of Books is probably best-known in America as the magazine which first published the rantings of John Mearsheimer and Stephen Walt, co-authors of the notorious diatribe "The Israel Lobby," after no major American magazine would accept their hate-filled manuscript. Their essay was criticized around the world for having as its central thesis the anti-Semitic notion of disproportionate Jewish power secretly manipulating the media and politics. For example, Mearsheimer and Walt had suggested the United States has gone to war in Iraq to gratify Ariel Sharon. (In fact in 2002 and 2003, Sharon strongly warned President Bush against invading and occupying Iraq).
Even arch Israel critic Noam Chomsky criticized Mearsheimer and Walt's LRB essay, saying their case was "not very convincing" and had made "highly selective use of evidence".
In marked contrast, the extreme right and Neo-Nazis welcomed their LRB essay. Former Grand Wizard of the Knights of the Ku Klux Klan David Duke spoke glowingly of "The Israel Lobby" saying: "It is quite satisfying to see … every major point I have been making … validated."
SELF-LOATHING JEWS
Since 1992, when Mary-Kay Wilmers became its editor, The London Review of Books has become one of the biggest Israel-bashing organs in the world, at times even rivaling the Iranian state media.
As well as Arts Council funds, editor and owner Wilmers has used her own wealth, inherited from her fur-dealing Russian-Jewish family, to keep the LRB going. One of her ancestors worked for the KGB and organized the murder of Trotsky, although it did not save him from Stalin's purges in the end. She wrote a book about it last year.
Wilmers has often used the fact that she is of Jewish origin as some kind of excuse to demonize Israel. For example, she said "I'm unambiguously hostile to Israel because it's a mendacious state. They do things that are just so immoral and counterproductive and, as a Jew, especially as a Jew, you can't justify that." (The Times of London, 18 Oct 2009.)
In an interview last year with The Guardian, Wilmers said that she had been pro-Israel in the past but then "Edward Said converted me'' – referring to the notorious Palestinian-American Columbia University professor who was a lifelong proponent of dismantling the state of Israel.
Perhaps not coincidentally, since Said's death in 2003, the most widely-used writer of Palestinian or Arab origin at the LRB has been Said's successor at Columbia University, Rashid Khalidi.
But who needs anti-Semites, when you can find a few Jews to provide cover?
More than half of all the LRB articles on Israel in the past decade have been written by people who are Jewish, and over a third by Israelis citizens.
As Just Journalism points out, three post- or anti-Zionist Israelis – Uri Avnery, Ilan Pappe and Yitzhak Laor – have between them written 24 articles for LRB over the last 10 years. Avnery regards the idea of a Jewish homeland as "an anachronism". Laor believes that even left-wing Zionism is so horrible that it is akin to "Le Pen or Heider" [sic – his name should be spelled Haider]. And Pappe has stated that "Zionism is far more dangerous to the safety of the Middle East than Islam."
In Israel these views are extremely marginal. Within the LRB they are given pride of place.
Yet while repeatedly painting Israel, a diplomatic and commercial ally of Britain, as a racist uniquely vile country, the LRB has shown much sympathy for terrorist groups like Hamas and Hizbullah.
One reader suggested to me that the LRB should be renamed the "The Finkler Times" (in reference to Howard Jacobson's award-winning new novel about self-hating Jews).
Daniel Johnson (the editor of Standpoint magazine and a subscriber to this email list) last year wrote an interesting piece on Mary Kay Wilmers and the LRB's "anti-Semitic propaganda", which you can read here.
Johnson points out that "No other comparable literary magazine has enjoyed such long-term, inflation-proof, no-strings subsidy from the taxpayer."
THE MPS ON THIS LIST
Hundreds of thousands of pounds of British taxpayers' money have been used to fund lies and invective in the LRB liable to stir up anti-Semitism against British and foreign Jews.
MPs from all the main British political parties subscribe to this email list, as do five cabinet ministers, including Chancellor of the Exchequer (Finance minister) George Osborne and Education Secretary Michael Gove. They might want to ask the heads of the Art Council what they are doing using taxpayers' money to demonize an ally of Great Britain and quite possibly stir up anti-Semitism at home.
--- Tom Gross
Video dispatch 2: Iran: Zuckerberg created Facebook on behalf of the Mossad
YET MORE CONCOCTED CONSPIRACY THEORIES AGAINST JEWS BY IRAN
By Tom Gross
Here is the latest "conspiracy theory video" from the Iranian regime. It suggests that Mark Zuckerberg, the young Harvard dropout who created Facebook, was secretly working for the Mossad and other Western intelligence agencies, and created Facebook to gather intelligence on their behalf. Apparently Twitter was created for similar reasons.
The Iranian video (with English subtitles) can be seen here:
(Among other things, it cites the British newspaper, The Independent, as providing evidence that the Israeli government is behind Facebook.)
Video dispatch 1: The Lady In Number 6
November 12, 2010
"DANCING UNDER THE GALLOWS"
[Note by Tom Gross]
This is the first in a series of "Video dispatches". The other dispatches will each contain several videos related to the Middle East. This one, however, is about a very special woman and I wanted it to stand apart from the others.
Below, is a newly-released preview clip of a longer documentary which is scheduled to appear next year, directed by Oscar-nominated director Malcolm Clarke (who is a non-Jewish, British-born Canadian). There is a piece by me after the video.
(Update, Jan. 2014: The original clip I posted in 2010 is no longer available so below is a new clip, followed by my piece from 2010.)

(Update, March 2, 2014: This evening, the film won the Oscar for Best Short Documentary at the Academy Awards in Los Angeles. Alice passed away one week ago, on Feb. 23, aged 110.)


A TRUE SURVIVOR
By Tom Gross
Alice Herz-Sommer lives alone in a small single-room apartment in north London, and considers herself one of the luckiest people alive.
Besides being the world's oldest known Holocaust survivor, Alice is also the second oldest person in London. She was a leading pianist in Prague before the war, and even now (she turns 107 this month), continues to play the piano for three hours or more every day, performing Schubert, Smetana and Beethoven in a style long forgotten, the style of Artur Schnabel, who was one of her teachers.
She was born in 1903 in Prague, then still part of the Austro-Hungarian Empire. Growing up in the Jewish cultural circles of Prague, as a young girl she knew Franz Kafka, who was a very close friend of her elder sister's husband. She started playing the piano when she was five, taking lessons with a distinguished pupil of Liszt, Conrad Ansorge. At 16, she became the youngest member of the master class at Prague's prestigious German musical academy.
Alice Herz-Sommer, in Prague before the war

"MUSIC WAS MY FOOD"
In March 1939, Hitler occupied Czechoslovakia and Jews were forced out of their jobs and banned from public transport, parks, theatres, concert halls and swimming pools, and forbidden to have jewelry, cash or own telephones. "Although we were poor, had nothing to eat and the Nazis and their Czech collaborators took away all our belongings," Alice says, "for me the greatest punishment was having to wear the yellow star. When I went on the street my best non-Jewish friends didn't dare to look at me."
After two years in the Prague ghetto, she was deported with her husband and son to the Theresienstadt concentration camp (known as Terezín in Czech), north of Prague, where tens of thousands of Jews were killed. She became part of the camp orchestra and even managed to play Chopin's 24 Etudes from memory.
"We were hardly given any food in Theresienstadt. We lost weight. We scavenged for potato peelings as people starved to death around us. People ask, 'How could you make music?' We were so weak. But music was special, like a spell. Music was my food. There were excellent musicians there in the camp orchestra, really excellent. Violinists, cellists, singers, conductors and composers."
ONE OF ONLY 130 CHILDREN TO SURVIVE
Her husband (a well-known violinist who she married in 1931) was moved from Theresienstadt to Auschwitz in 1944, and then to Dachau, where he was killed along with most other members of her family. In 1942, her adored elderly mother (who, as a child, was a friend of Gustav Mahler) was deported from Theresienstadt to the Treblinka extermination camp.
Above: A memorial at Treblinka.
Each stone represents a Jewish town or city,
the population of which was exterminated at the camp
Alice's 6 year-old-son Raphael, who was a talented singer, took part in performances of Hans Krasa's children's opera Brundibar, given as part of the Nazis' attempts to show how "normal" life was in Theresienstadt for the visiting Red Cross. Out of 15,000 children who were sent to the camp, he was one of only 130 to survive.
Alice and her son (now aged 8) were liberated by the Red Army on May 9, 1945, the last day of the war. "When I came back home it was very, very painful because nobody else came back. The whole family of my husband, several members of my family, all my friends, all the friends of my family, nobody came back. Then I realized what Hitler had done."
She then moved to Israel (joining one of her sisters who had managed to escape there before the war) and taught music in Jerusalem and Tel Aviv. "I must say, when I moved to Israel there was not a day without political tension, but to experience democracy! After Hitler and Stalin, you feel what it means. You can read, speak, trust everyone. It was a beautiful life in Israel, inspiring. Musicians, scientists and writers – they all came and lectured. It was a cultural centre. I was very happy."
In Israel she taught at the Jerusalem Academy of Music and performed in concerts attended by dignatories such as Golda Meir. Her son Rafi became a concert cellist.

Alice said she loved her 37 years living in Israel, but in 1986 when Rafi, who was her only child, decided to move to London to take up a job opportunity, she accompanied him. Rafi died at age 65 in 2001, but Alice decided to stay in her small flat, No. 6, in a North London apartment block.
"LIFE IS BEAUTIFUL"
One of the other women featured in the video clip above is Anita Lasker-Wallfisch, who was born in 1925 in Breslau (which was then in Germany but is now part of Poland and has been renamed Wroclaw). Anita is a cellist of world renown, and one of the only surviving members of the 40-piece Women's Orchestra at Auschwitz. The orchestra was conducted by Alma Rosé, the daughter of Gustav Mahler's sister Justine, before she died in Auschwitz in 1944.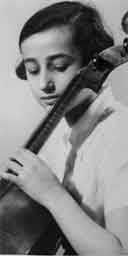 Anita Lasker-Wallfisch, aged 12, in Berlin in 1938.
Although Anita was only 16 when she was transported to Auschwitz, her ability to play the cello saved her life. The orchestra was forced to play when Jews were marched to the gas chambers, and as slave laborers left the camp for each day's work and when they returned in the evening. The orchestra also gave concerts for the SS.
By October 1944, the Red Army was advancing and Auschwitz was evacuated. Anita was taken on a train with 3,000 others to Bergen-Belsen. There, aged 19, she survived six months with almost nothing to eat. (Her parents were murdered at Isbica, near Lublin in Poland, where they were forced to dig their own graves into which they were then shot dead.)
She resumed her musical career after the war, joining the English Chamber Orchestra, and is mother to the distinguished cellist Raphael Wallfisch. She has written a very moving memoir, Inherit the Truth.
Anita continues to play Scrabble at weekends with Alice Herz-Sommer. Each of them speaks many languages fluently. "We don't score," says Anita. "We play for the beauty of the words, the beauty of life."
-- Tom Gross
* UPDATE: For another remarkable story of a Czech Jewish Holocaust survivor, please see:
"A shy little bird hidden in my rib cage"
And for another related article, please see:
The tombstones were so overgrown that he carried gardening tools on his bicycle
What if the tables were reversed?
November 08, 2010
* Evgeny Kissin: "I always try to be objective, and for that reason I ask myself sometimes: what if the tables were reversed? What if the Jews had the whole of North Africa, the whole Arabian Peninsula, Palestine, Syria and Iraq – and the Arabs had nothing and wanted Palestine? And the only answer that comes naturally to my mind and seems fair to me is: in such a situation, it would have been the sacred duty of the whole world to give Palestine to the Arabs and to suppress any Jewish resistance ruthlessly."
* "I think it's admirable to try to contribute to making peace through music. But I do not understand why Barenboim chose someone like Edward Said as his partner. Said did not believe in the two state solution. He believed the Palestinians were right to reject the UN partition plan of 1947. When the Israeli army was retreating from Lebanon, Said was throwing rocks at Israeli soldiers across the border."
***
* Danny Seaman: "Part of my problem with the foreign press is that you have journalists coming here not having the faintest idea what is going on. They live off what they get from their colleagues; they meet certain people who come from the same social-economic background; they live off one newspaper, Ha'aretz. They don't make an effort. When you have a conversation with them, you find that they have a complete lack of knowledge of the elementary issues. This wasn't the case in the past. Journalists from the '70s, '80s, were very knowledgeable, very experienced. This is a different generation."
* "For the war in Gaza about 400 additional reporters showed up here. They don't understand urban warfare. They'll see some phosphorus or they'll see some smoke, and they'll immediately [report what they're told about it,] without understanding from the military perspective why it's being done. Journalists kept accusing Israel of using illegal phosphorus weapons. It's not illegal! Many countries [such as Britain and the U.S.] use them. But when they're proven to be wrong, the journalists don't issue a correction, saying, 'We're sorry.' No, they then say, 'Oh, it may not be illegal, but it's immoral.' Immoral? Isn't war immoral? We didn't start this war."
* "Journalists are not above the law. In the year 2000, there was a foreign journalist who stayed in hotels throughout Israel and would refuse to pay. He would show his press card and then would refuse to pay his bill, saying, 'I'm a foreign journalist.' This was a top journalist. Unfortunately, the hotels decided they didn't want to make a big issue out of it. Then you had cases, such as during the disengagement from Gaza or the war in Gaza, where media organizations hired Israeli fixers or drivers, rented rooms, hired services, and then just disappeared without paying."
CONTENTS
1. Speaking out
2. "Interview with Evgeny Kissin" (By Stephen Pollard, Jewish Chronicle, Oct. 29, 2010)
3. "Danny Seaman's farewell voyage" (By David Horovitz, Jerusalem Post, Nov. 5, 2010)
KISSIN AND SEAMAN SPEAK OUT
[Note by Tom Gross]
I attach two recent interviews which may be of interest, from very different kinds of people, but who have reached similar conclusions about the need to speak out.
In both cases, the interviewers (Jewish Chronicle editor Stephen Pollard, and Jerusalem Post editor David Horovitz) and the interviewees (world-renowned concert pianist Evgeny Kissin, and outgoing head of the Israel Government Press Office, Danny Seaman) are subscribers to this email list.
Kissin says that unlike musicians such as Daniel Barenboim, an Israeli citizen who is fiercely critical of Israel, he himself has until now stuck to his art. But Kissin has now decided that "as a Jew" he must change that. "After all this time of anti-Israel hysteria, I felt that I had to raise my voice," he says.
Seaman has often been criticized for being "too robust" in defending Israel, whereas he (and others) have criticized most of Israel's diplomatic and public relations establishment as being "too timid" in their defense of Israel.
For example, for the last ten years, Seaman has been almost alone among Israeli officials in speaking out forcefully about the lies told by many foreign media concerning the infamous al-Dura case which sparked the second intifada and led to the (totally unnecessary) deaths and injuries of thousands of innocent Palestinians and Israelis. (If you wish to know more about the al-Dura case, I have been interviewed about it several times, for example, this three-minute video.)
In 2008, after a legal battle lasting years the state-owned France 2 network lost a libel battle, thereby establishing that they had been less than truthful regarding the original way they had edited and broadcast the al-Dura film.
Astonishingly, last week, the Israeli government finally put out an official statement backing up what Seaman and others have been saying for years about al-Dura -- although apparently they only put it out in Hebrew and French, not in English.
-- Tom Gross
"IT IS TIME TO SPEAK OUT"
Interview: Evgeny Kissin
By Stephen Pollard
The Jewish Chronicle
October 29, 2010
For Evgeny Kissin, the piano is no longer the only means of communication. Renowned worldwide since performing both Chopin concertos as a 12 year old, Kissin has always avoided politics and controversy. Unlike musicians such as Daniel Barenboim, Kissin has stuck to his artistry.
But he has decided that "as a Jew" he must now change that. "After all this time of anti-Israel hysteria, I felt that I had to raise my voice." He dipped his toe in the water earlier this year with an open letter to the BBC about its coverage. [For background on that, please see the first three notes here and here.]
Kissin has little time for musicians – artists of any stripe – who are loose with their opinions. They can too easily, he says, abuse their fame. "We should be extremely careful if we decide to speak out about politics because we can influence people's minds. It's a great responsibility."
That influence can too easily, he feels, make things worse. "We artists often tend to idealise things. This is a part of our artistic nature." That can mean ignoring reality and falling for myth.
Some have speculated that Kissin takes issue with Barenboim's involvement in the Middle East – his public criticism of Israeli policy and his East-West Divan Orchestra, in which Israelis, Palestinians and Arabs play together.
But Kissin's criticism is specific: "I think it's admirable to try to contribute to making peace and mutual understanding with the Arabs in general and the Palestinians in particular, and that's why I believe the idea of a joint Arab and Israeli orchestra is admirable. But I do not understand why Barenboim chose someone like Edward Said [the Palestinian academic and co-founder of the orchestra] as his partner.
"In such an undertaking, each participant should be critical of his own side, but while Barenboim has been critical of Israel, Said too was critical of Israel. Said did not believe in the two state solution. He believed the Palestinians were right to reject the UN partition plan of 1947. When the Israeli army was retreating from Lebanon, Said was throwing rocks at Israeli soldiers across the border. He was throwing stones in the backs of retreating soldiers."
For Kissin, the betrayal of Israel by the Western intelligentsia has now reached such a level that he feels compelled to use the privileged position his pianistic eminence gives him to speak his mind.
Not that he could ever be accused of being under-informed. As he speaks, he demonstrates a clarity of thought and grasp of history and detail that would shame most so-called experts. It is as if, having decided to be silent no longer, he can now hardly bare not to share everything with the world. In the course of a near three hour interview, the references, quotes and arguments pour out of him.
The heart of the problem for Kissin is the West's refusal to acknowledge reality – from the reality of the Soviet Union to the reality of the threat to Israel. "When I moved from Russia to the USA I was only 20. I was surprised to see how naive and yet so sure of themselves so many people were regarding what the Soviet Union was like. In the early 1990s I watched Gorbachev on TV meeting with students at an American university. He had the chutzpah to say that both superpowers had lost the cold war, which had exhausted our economies. That I found outrageously insolent. But what I found frightening was that those words were met with thunderous applause. Young American students did not acknowledge their own country had won the cold war and saved the whole of mankind."
There is, he argues, a similar refusal to acknowledge reality when it comes to Iran today. For decades, the regimes sponsored by the Soviets were Israel's greatest foes. "Now the Soviet Union is no more, but there is Iran. Even though they dropped relations with Israel after the Six Day War, and though the Soviet propaganda started smearing Israel, none of the Soviets leaders ever said that Israel should not exist and be destroyed – but this exactly what is said by today's Iranians".
Kissin celebrated the Oslo Accords. "I naturally thought that it was a wonderful thing, a great historical breakthrough which should be supported and encouraged." But he has grown despondent at the subsequent turning of truth on its head, as Israel has been blamed for the terror of Hamas and Hezbollah.
"Very soon afterwards, Arab terrorism against Israeli civilians increased. At that time it was rightly presented as Hamas's attempt to destroy the peace process. What's amazing now is that even though his was widely reported, few people remember that. I have heard from various people living in Europe things like, 'If only Rabin remained alive he would have bought peace. In Rabin's time there were no killings, no intifada.'
"Not only did the killings actually increase after the signing of the Oslo Accords, but that was exactly why, just before Rabin's assassination, his approval ratings dropped to 28 per cent. It was only thanks to the outpouring of sympathy for him after his assassination that they jumped up to 82 per cent.
"People only believe and remember what they want. Even if it is the opposite of what took place."
In this context, Kissin returns to the Soviet Union, and a book he cites: the memoirs of Alexander Bovin, a senior Soviet political commentator who, when diplomatic relations were restored, became the ambassador to Israel in December 1991 (for one week, before the USSR disappeared and he became the Russian Federation's ambassador).
"This book is anything but uncritical of Israel. But it's amazing how sharp the contrast is between a book by a man without a drop of Jewish blood and much of today's western media."
Bovin wrote that the solution would be Arab recognition of Israel and a guarantee of her security, with a Palestinian state as a UN member. A demilitarised Golan Heights and Gaza would be given to Syria and Egypt. Jerusalem would remain Israel's capital.
For Kissin, the memoirs reveal the startling contrast between attitudes then and now.
"Now, Gaza is run by Hamas, Barak and Olmert have already offered Jerusalem to Palestinians. We don't know what Netanyahu is thinking. I just want to cry to the Israeli leaders today: please try to stick at least to the ex-Russian ambassador's lines!"
Kissin seems as passionate in his demeanour as he is at the piano. I ask if he actually enjoys speaking out: "It's more psychologically complicated than that. These are all sad things, so I hesitate to use word enjoy. But nevertheless, now I'm doing it I do feel something like it. Speaking out in defence of our people's country and consequently of my people."
What about a political career? "Am I interested in politics? Yes. As for participation: I have no such plans. But I cannot exclude the possibility that if the time comes and I feel that I need to speak out on something which I find important I may do so." A politician manqué, perhaps. But with principle.
EVGENY KISSIN: IN HIS OWN WORDS
On duty: "I think that this applies not only to Jewish artists, but to all Jews in the entire free world: we must keep screaming in defence of our cause all the time! The number of our enemies is much greater – so for the sake of Israel, we must put aside our differences, unite and outweigh our enemies in energy and determination."
On speaking up: "Now, when the western media keep slandering and smearing the Jewish state and her politics; when antisemitic incidents in Europe have been increasing dramatically; when Israeli politicians can freely visit Morocco and Abu Dhabi, but cannot come to Britain for fear of being arrested for alleged "war crimes"; when, of all the countries in the world – not China, not Iran, not Saudi Arabia – Israel, the only democracy in the Middle East, is the only target of boycotts by British universities; when the organisers of the gay parade in Madrid tell Israeli gays not to come to take part in it… Can it be that some western Jews believe that if they keep silent and avoid expressing their support for Israel, that they will be better off?"
On Fairness: "I always try to be objective, and for that reason I ask myself sometimes: what if the tables were reversed? What if the Jews had the whole of North Africa, the whole Arabian Peninsula, Palestine, Syria and Iraq – and the Arabs had nothing and wanted Palestine? And the only answer that comes naturally to my mind and seems fair to me is: in such a situation, it would have been the sacred duty of the whole world to give Palestine to the Arabs and to suppress any Jewish resistance ruthlessly."
On the diaspora: "Israel's enemies realised that they could not win by military means and instead launched a cunning propaganda war against the Jewish state. Unfortunately, Ben Gurion's idiotic principle, "It doesn't matter what Gentiles say, what matters is what Jews do", proved too deeply ingrained in the Israeli mentality (which Israelis finally began to realise themselves a few years ago), and that has been bringing disastrous results for Israel in this war. In these hard times, I am firmly against the belief that all Jews should live in Israel, because contrary to Ben Gurion's statement, it does matter what Gentiles say. Tiny Israel needs outside support – and we must provide this support in free countries by forming a powerful driving force to do exactly what our enemies have been doing for dozens of years: to influence governments and public opinion. United we stand!"
On Sikh pride: "A few years ago the Sikh community of Britain were angry about the portrayal of their brethren in a theatre play: they protested en masse - and the production was taken off the stage. I no longer live in England, but when last year I read reviews of Seven Jewish Children, I thought in despair: there are hundreds and thousands of Jews living in London – why aren't they protesting? Is our national pride less important for us than the Sikh national pride is for the Sikhs?"
On our stake in Israel: "Stalin's right-hand man was Molotov; Molotov's wife Polina Zhemchuzhina was Jewish. She was a convinced Communist – but when the State of Israel was established and the Moscow synagogue began collecting money and jewellery for Israel, Zhemchuzhina went there and gave away all her jewellery. When a close friend of hers, a Gentile woman, said to her: "Are you mad? You are the wife of a prominent statesman!" Zhemchuzhina replied: "First of all, I am a daughter of my people!" When Golda Meir came to Moscow as the ambassador of the newly-created state of Israel, at an official reception Zhemchuzhina said to her: "If everything is good in Israel, it will be good for all the Jews of the world." Even the hard-line Communist and Stalin's right-hand man's wife realised that. Can it really be that we, Jews of the free world, have forgotten that?"
DANNY SEAMAN'S FAREWELL VOYAGE
Editor's Notes: Danny Seaman's farewell voyage
The departing head of the Government Press Office lets it all out.
By David Horovitz
The Jerusalem Post
November 5, 2010
www.jpost.com/Opinion/Editorials/Article.aspx?id=194079
Winding up a torrid decade as director of the Government Press Office, Danny Seaman has plainly decided to give vent to years of pent-up frustration.
In this interview, during which he spoke for more than an hour and a half in rapid-fire English, he loosed off passionate criticism in all directions: At a misguided government bureaucracy that threatens to doom the GPO into irrelevancy. At the failure of some in officialdom to back him when he defended Israel against what he considered dire media misrepresentation. At Israel's surrender of many of its own historical claims and rights. At some local journalists who bolster the delegitimization of Israel. At the Palestinian manipulation of the foreign press. And, most of all, at parts of the foreign press itself, which he depicts variously as unconscionably ignorant, disinclined to appreciate fundamental truths about Israel's best features, incompetent and sometimes downright immoral.
Is the departing Seaman a heroic advocate for Israel who is being shamefully and counter-productively treated by his foolish, short-sighted, lily-livered bosses? Or should someone so candid and opinionated never have been entrusted with the ultra-delicate task of liaising with the international media?
By the end of this interview, which I have condensed of necessity and edited to clarify Seaman's central arguments, his verbal onslaught may have divided readers as to whether he was a rare asset or crippling liability in a job he evidently loved. But very few, I suspect, will be unmoved.

EXCERPTS: (David Horovitz's questions and comments are in capital letters)
"HOW LONG WERE YOU IN THE JOB?"
About 10 years. Before then I had worked in several positions in the GPO. Going way back, I was in the same paratroop company as [Ambassador to the US] Mike Oren... I was head of the GPO's foreign press department when the [second intifada] broke out in September 2000. There was no real director of the GPO and I was promoted to that position.
"WHAT WAS THE MAIN RESPONSIBILITY?"
Handling the foreign press.
Assisting with all their technical needs. Giving the government's message. Getting them contacts. Showing them around the country.
I was ready to leave two years ago, with the creation of the new Ministry of Public Diplomacy. There were certain things that I had wanted to do [and haven't been able to]. I wanted to take the GPO into the 21st century.
The demise of the GPO began immediately after its peak. The peak was around the first papal visit [by John Paul II] 10 years ago. The GPO assisted the large number of media people here, creating a press center that became an international standard. Bureaucratic envy set in. Some ministries didn't like the fact that the GPO was getting all the credit, all the prestige. Working with the media is perceived to be very prestigious...
The GPO was weak politically; it was always an outsider.
[Officialdom] usually didn't know where to place us: Are we on the side of the government or are we on the side of the journalists? So the GPO lost out over the years.
There were things that I thought were necessary to do. For example, today, new media allows us to go back to one of our original duties at the GPO, which was to be sort of journalists. In the past we used to have a GPO correspondent sitting in meetings, and then providing information to different media organizations. There was a lull in that during the '90s and the first part of this century, but today with new technologies we could do exactly what Israel needs, which is to bypass the mainstream media, and sometimes the bias that exists there, the blocking of Israel's message.
Another of the most essential things, fundamental in reestablishing the relationship between the State of Israel and the foreign media, is the day-to-day contact between the government, via the GPO, and the foreign media. [In past years], we had this through [the presence of both the GPO and many foreign journalists in offices in the same building, central Jerusalem's] Beit Agron.
The Palestinians have this advantage, through the American Colony Hotel [in east Jerusalem, where many visiting foreign journalists stay]. They have direct relations with the media, and are cultivating that relationship. Well, the government of Israel had that for years through the GPO at Beit Agron. It was a day-to-day press center. Media organizations had offices there, and so did the government, Foreign Ministry, the IDF. Army Radio was there.
When JCS [Jerusalem Capital Studios] opened up [and became the new home for many foreign TV bureaus and other foreign journalists], our relationship with the foreign media started deteriorating.
Beit Agron stopped being the center. We started losing the connection with the foreign press.
For over four years now, I've been saying we have to move the GPO out to Malha, because that's where most of the foreign media are going out to, to reestablish that daily contact with them. In the past, you could sit, talk and schmooze with them, have coffee. I can't emphasize strongly enough how important that personal contact with the journalists is.
But then you get involved in the bureaucracy. "Oh, you're gonna move? It's gonna be costly."
In my talks with Oren [Helman, the former Binyamin Netanyahu adviser who is formally succeeding Seaman next week], in preparation for his taking over, I indicated to him that either we move our offices to Malha or we shut down the GPO. Because otherwise we can't serve our purpose.
Journalists here don't have to be in contact with government officials. They can come to Israel and walk around freely. But having a press card makes it easier for them. And that's our advantage at the GPO – the fact that we issue the press cards. That's sometimes the only contact that some journalists are going to have with officials in Israel.
And that's the point where, while one person is preparing the card, another person can sit there, create a relationship with the journalist, see what they're doing, suggest ideas for the stories.
When Sderot [was under heavy rocket attack] we had a lot of journalists coming in, and we had a display in the office of the missiles that had landed there. It became a conversation point. A lot of journalists, based on what they saw [in our office], decided to go to Sderot as part of the broader story.
They hadn't thought of doing so before.
On the Internet today, meanwhile, there's no limit to what can be done. Everybody [in Israeli officialdom], from Olmert's government to this government, understands this. But it just doesn't happen. For the life of me I don't know why. Well I do, but I'm a civil servant, so I can't express my criticism in a way that would...
"YOU SAY YOU WERE READY TO LEAVE TWO YEARS AGO. BUT NOW THE MINISTRY OF PUBLIC DIPLOMACY DIDN'T WANT YOU TO STAY ON?"
Nobody owed me anything. It wasn't my position for life. But it was never explained to me, which is the only thing I'm disappointed about.
They could have come up and said, "We don't like what you're doing." They would rather have someone else? That's their prerogative. But here in Israel people don't know how to conduct themselves in an honorable way. So they go through this whole charade of having a professional [tender to fill the job]. That process was done legitimately, I have no qualms about that.
"YOU WERE REQUIRED TO REAPPLY FOR YOUR EXISTING JOB?"
Yes.
"AND YOU CHOSE NOT TO?"
No, I applied, knowing very well that I wouldn't get it.
Look, it doesn't matter. I'm a little disappointed, because there were a lot of things I wanted to do. I'm handing over the office in the best possible way I can. The GPO is important to Israel. Overall, for our relationship with the media, for Israel's public relations apparatus, it is tremendously important.
It's good to have new people coming in. I also believe in the Ministry of Public Diplomacy, and Yuli Edelstein, and what he's doing. If they identify these areas which have not been developed by the State of Israel, areas that the usual hasbara doesn't move in to, there's a lot that can be done.
The whole Masbirim campaign is a very good idea, even though it is ridiculed by certain circles. Ordinary people have a greater ability to convince people internationally than a government does.
"BY INTERACTING WITH ORDINARY PEOPLE THEY MEET ON HOLIDAY?"
Yes! Or by doing it through the Internet. There's a lot of misinformation going around.
Unfortunately, the Israeli media is to a large degree responsible for a political indoctrination that represents only a small percentage of the Israeli public's opinion.
"THE ISRAELI MEDIA IS THE ORIGINAL SKEWER OF THE CONCEPTION OF ISRAEL, AND THE FOREIGN MEDIA THEN PLAYS INTO THAT?"
Absolutely. An example: During the war in Lebanon [in 2006], I was up North, among the journalists. In the evenings I saw the interaction between Israeli media and the foreign media. Some of the Israeli journalists were sitting there and making the most atrocious statements about the State of Israel. They had been p***ed off about a lot of things, unhappy with the way [the war was] being conducted. In some cases there was a political tone to what they were saying. That's good and legitimate for the internal debate. But somebody from the outside doesn't understand the basis for this or that argument. Yet [the Israeli journalists] are more than happy to convey their opinions to somebody from the outside, not understanding how somebody from outside perceives this. They're legitimizing the delegitimization of the State of Israel.
This is perhaps the greatest threat that we have been facing over the past decade: It's no longer a case of Israel versus the Palestinians. It's a deliberate, concerted effort to delegitimize Israel's existence. [Our enemies] tried to beat us on the battlefield. They tried defeating us on the low-intensity battlefield. When they lost on these two levels, they suddenly understood that the only way to fight us today is to delegitimize our right to exist...
Part of my problem with the foreign press – and I've been accused of being combative and feisty in fighting them – is that you have journalists coming in here not having the faintest idea of what is going on.
They live off what they get from their colleagues; they meet certain people who come from the same social-economic background; they live off of one newspaper, Ha'aretz. They don't make an effort. When you have a conversation with them, you find that they have a complete lack of knowledge of the elementary issues.
This didn't used to be the case.
Journalists from the '70s, '80s, who were here during the beginning of the '90s, were very knowledgeable, very experienced. This is a different generation.
The narrative has shifted. They'll adopt the Palestinian narrative. That has become the bon ton. They'll talk about "the Palestinian right of return." There is no such thing. They talk about what the Palestinians call "Israel's violations of Oslo." What exactly are they talking about? They have no knowledge about the facts.
Today, if you bring in, say, an expert on international law [to hold a briefing for foreign journalists], they delegitimize the person based on what they perceive to be his political opinions. This is unacceptable, especially for a journalist. We the people, in a democratic society, rely on them to provide us with the information for us to make an educated decision on a particular issue. In this case, many journalists are failing in their duty. The media outfits that employ them are giving them automatic backing. And when the media doesn't exercise its checks and balances, they're failing in their job.
This began with the year 2000.
People call it "the Oslo war" – the Palestinian violence which erupted at that point. I've been working for Israeli public relations for 27 years, and there were certain "truths" that we were told: That if we adopt UN resolutions, there'll be peace. If we recognize the Palestinian right to self-determination, there'll be peace. If we remove settlements, there'll be peace. And over the past 25 years, there's been a progression in the Israeli position: Israel recognized the PLO as the only legitimate representative of the Palestinian people; relinquished territory; removed settlements.
Regarding Lebanon, Israel fulfilled all the UN resolutions.
Yet the end result was not the peace that we were promised. In no way am I criticizing the efforts for peace. Peace is a strategic necessity for the State of Israel. But here, in this case, these "truths" that we were promised never came about. On the contrary, it only increased violence, increased extremism. Yet there was a failure by a lot of the media to be intellectually honest, to say "maybe we need to reevaluate," to say "maybe we shouldn't always be taking the Palestinians' side because they're the underdog."
So in the year 2000, with the violence, with the bombs exploding here, [the foreign media's] political positions couldn't be [justified]. Yet every time there was a bomb here, directed against civilians, instead of an automatic expression of disgust at an assault on civilians, there were always conditions: "Well, we have to understand why [the bombers are acting]." Why do we have to understand it? But morally, you can't make that "logic" [stand up], so they went to this other "logic," and that was the numbers: "Look how many Palestinians were killed. If there are 4,000 Palestinians and 1,000 Israelis, therefore the Palestinians must be victims."
It's nonsense. It's morally repugnant. It's intellectually unacceptable to make that kind of equation.
But the media repeated this. Not only in one-to-one discussions.
Reuters, AP, AFP would end their articles saying, In the recent violence, 4,000 Palestinians died compared to 1,000 Israelis. They were doing this deliberately, to create the impression that the one side that is suffering more must be justified. They were using small journalistic techniques to create an impression that put Israel in a negative light.
I noticed it most during the Lebanon War. Israel being singled out for criticism. The terminology used for Israel: Israel is always aggressive.
Israel is always active. Other things just "happen." Missiles "rain down" on Israel. But where Israel is concerned, and I'm quoting from some media reports, they even adopt Nazi terminology: "Israel's blitzkrieg."
Always using negatives and very aggressive terms.
By contrast, the suffering Israel endures is always caused by some obscure [force]. It's never quite clear what's happening, and who is responsible. The number of ways that Israel is depicted negatively is, astoundingly, much greater than with Hizbullah. Hizbullah is a terrorist organization! It is considered so by every country in the world, including the United Nations. [Yet I found foreign media] to be taking their word, their narrative as fact.
"AND THE SAME IN GAZA IN 2008?"
It became second nature, so it's only natural that Gaza was just an extension. For too many in the media today, it becomes a feeding frenzy. For the war in Gaza about 400 additional reporters showed up here. They seem to have no knowledge of what is going on. They don't understand what they're seeing.
They don't understand urban warfare. They'll see some phosphorus or they'll see some smoke, and they'll immediately adapt [what they're told about it] without understanding from the military perspective why it's being done. [In Gaza, they were fed] misinformation, and they gave credibility to sources who time and time again have been disproved, sources who are very credible in the Western world, such as doctors.
In the Western world doctors are given a very particular [credibility].
But that same attitude was given to Palestinian doctors, and more than once they deliberately misled and lied to the journalists. And instead of the journalists saying, "Ok, once, twice. The third time they're not going to be lying to me anymore," they keep turning to these sources.
Some journalists did the job they were supposed to be doing, and went to objective experts and asked them about false claims [that Israel was using illegal weaponry, or had weaponry that purportedly melted the skin, or that Israeli weaponry was causing] these kinds of injuries. [One specific reporter] did the legitimate thing. He went and he asked an expert. And he was told, "What you're talking about is science fiction.
These weapons don't exist." So, in this case, the story should have been over. But no, he reports [the false allegation and the firm dismissal], giving legitimacy to the actual accusation.
You want to compare that to something? Go back to the old blood libel.
Imagine the Jews are being accused now of using blood to make matza.
Some of the foreign media would "go to the experts," maybe one of these cooking shows on television, who'd dismiss the idea, of course.
But the very report itself would give legitimacy to this absurd kind of accusation. Some people watching would say, "Where there's smoke there's fire, so there must be some truth to it." [The foreign media] would not do this to any other country.
They tried pulling some of this stuff with the United States in Iraq, but very quickly ceased doing it.
With Israel they continue to allow it...
Journalists kept accusing Israel of using illegal phosphorus weapons.
It's not illegal! And Israel used them legally. Many countries do. But when they're caught in an argument that is proven to be wrong, the journalists don't issue a correction, saying, "We're sorry." No, they then say, "Oh, it may not be illegal, but it's immoral." Immoral? Isn't war immoral? We didn't start this war.
Lebanon is the prime example of everything we've been unfairly accused of. Israel had fulfilled UN resolutions.
Israel was not occupying a centimeter of Lebanese territory.
Israel was attacked. Not only were its soldiers abducted, but journalists ignore the fact that there was an allout assault on Israel's northern communities on that first day.
Yet despite all that, after a few days, you have it for the first time: "Disproportionate use of force."
Ever since the enemies of Israel understood that it could not be defeated militarily, because of its strength, their goal has been denying us the right to use that strength. And here, unfortunately, the media sometimes are politically cooperating with this, and other times are being duped into it.
They don't understand that they are being used by those elements who are abusing freedom of the press, abusing freedom of speech, abusing all these civil rights in Western society. We represent Western civilization in this area. These extremists who are assaulting Israel, it's a prelude to what can be expected in Western societies. If it's not stopped on Israel's borders, the rest of Western civilization will end up facing the same kind of thing.
"IS SOME OF YOUR CRITIQUE NOT THE POLITICAL OPPOSITION OF SOMEBODY WHO TRIED TO RUN AS A LIKUD CANDIDATE FOR THE KNESSET?"
I have never hidden my political beliefs. I do my job first. My political opinions have no bearing on the way I conduct myself in the professional aspects of the job.
Yes, I wanted to run for politics, for the Likud. I'm from a family connected to the IZL [Irgun], from a Revisionist family, an admirer of Jabotinsky and his teachings. I don't hide these things. I'm very proud of them.
But I was brought up to respect people whatever their views, their political opinions...
Coming back to what I said about [inexperienced] journalists coming to Gaza. They are unqualified to report on modern warfare. The Palestinians are very good at manipulating images for show, for the journalists.
[None of the reporters] will actually find out what really happened.
They'll get "verification" of an indication from a colleague who hasn't verified it either. Even if they tried to do their job and they tried to verify, their editor would be shouting back, "I'm getting these pictures. They're coming in on X news media. Why are you not reporting about this?!" That's why [during Operation Cast Lead] I thought the presence of journalists would not contribute to the exposure of what was actually happening there on the battlefield. The contrary.
You're saying that when conflict erupts between Israel and Palestinians, the international press are lousy, incapable of doing their job. In effect, it's better that they not cover it?
I don't say they should not cover it.
But their presence on location does not contribute to the general knowledge of what is actually happening there.
"SO HOW ARE PEOPLE SUPPOSED TO UNDERSTAND WHAT'S HAPPENING THERE?"
Some of the tragedy is not only the journalists' doing, it's the realities themselves. If good old-fashioned journalism were at work, looking, trying to verify, getting other sources – it can't be done. I feel sorry for a lot of the journalists today, those who really want to do a professional job.
The Palestinians are not stupid.
They have 20-30 years of experience of telling the journalists how high to jump. They know what makes modern media tick.
[With inexperienced journalists going into the West Bank], you're taking somebody who doesn't know the history. They're moving from Israeli society, where we do everything to maintain normalcy.
You'll have a suicide bombing in the morning, and by late afternoon there's no indication of it any more. With the Palestinians, the moment you cross over, at the roadblock, people automatically have a negative reaction to the figures of authority. I get complaints [from journalists] saying there's no human contact [between soldiers and Palestinians at checkpoints].
I try to explain to them there's no human contact because when there was human contact, some [terrorists] saw that as an Achilles' Heel and attacked the Israeli soldiers [at the checkpoints]. We're trying to protect our lives. It's the same with the security barrier. We protect our lives.
[Visiting journalists] don't see it that way. They experience what it is like to be a Palestinian to a certain degree. When they come to our side, you have to start with the historical explanations. It's very hard, because the life we have here seems very similar to their lives at home. They don't understand the day-to-day things that we go through.
"WHAT ARE YOU GOING TO DO NOW?"
I don't know. I never sat and thought, what is my next goal going to be? I did the job the way I believed it should be done. I didn't get a big salary. I was always paid as a head of a department, not as the head of the GPO, which is substantially different. So nobody can accuse me of reaping the [financial] benefits of this position.
More than once, people said to me, are you sure you want to do this? Maybe you shouldn't. For example when I started taking a position on the issue of al-Dura...
THAT ISRAEL WAS NOT RESPONSIBLE FOR THE KILLING OF 12-YEAR-OLD MOHAMMAD AL-DURA [AT NETZARIM JUNCTION] IN GAZA [ON SEPTEMBER 30, 2000] AT THE START OF THE SECOND INTIFADA, AND THAT IT HAD BEEN FOOLISH TO APOLOGIZE?
First, and second that I was critical of the conduct of France 2 [the TV station that broadcast the allegation of IDF responsibility for al-Dura's death]. After literally hundreds of hours [of examination], I was absolutely convinced that the Israeli attitude of "better we not say anything" [about the incident] was not only wrong, was not only a mistake, but that it was a violation of our responsibility as civil servants. We have a responsibility to present Israel and we were failing...
"ISRAEL DIDN'T KILL AL-DURA AND NEEDED TO HAVE SAID SO?"
Yes, absolutely. Absolutely. And more than this. This incident was used in order to begin [the second intifada]. It served the politics of many people – Israelis and foreigners – to accuse Ariel Sharon of igniting the violence of the year 2000, [rather than] that Arafat had premeditated this. But the real violence did not erupt immediately after Sharon went to the Temple Mount [on September 28]. The real violence erupted when the blood libel erupted – that we killed the child. It was irresponsible to put these images out, because they were not clarified.
What was the basis of the accusation [that the IDF killed al-Dura]? A correspondent who was not physically on location. There was no visual evidence to back up the [charge].
There was no footage of Israeli soldiers shooting, no footage of the boy being shot, no footage of the boy dying. There was nothing to verify this.
This goes to what I was saying about the media immediately getting caught up in a news frenzy. CNN originally did the professional thing and said, "Wait a minute, I need more verification before I put out this story." [But] once it had a life of its own, they had to report it also. And the next day, you had journalists reporting on this deception as if it were fact... Fundamental journalistic principles were not applied.
I wanted the truth. If Israel was responsible, I would be the first person to admit it. So, if they had made a mistake in this, why are journalists incapable of criticizing their colleague? When I raise these questions with journalists, they don't offer a counter-argument.
No, they immediately resort to "Oh, you're a right-wing extremist, these are conspiracy theories..."
"PERHAPS BECAUSE THE STATE OF ISRAEL DIDN'T REALLY BACK YOU UP?"
The State of Israel did back me up... There's no doubt about it today.
France 2 failed. This should not have been reported in the way that it was.
"WOULD THAT BE THE MOST EGREGIOUS EXAMPLE, IN YOUR EYES, OF JOURNALISM FAILING TO REPORT THE STORY ACCURATELY?"
That was the most famous thing.
There was another famous incident I was involved with, involving Al- Jazeera, and our suspension of [some of our] services to them.
[In July 2008] they celebrated [the release in a prisoner exchange of] Samir Kuntar, [the brutal killer of four Israelis, including a four-year-old girl, in Nahariya in 1979] in their offices in Lebanon. Officially. On air. An official celebration by the organization.
Here, we required that they look into [the incident] themselves. It wasn't an apology that I was looking for. It was whether Al-Jazeera, which wants to be treated as a professional media organization, addressed something that was clearly a professional failure.
And in this case I have a lot of respect for the way they addressed it, how they tried to correct it and make sure that kind of thing wouldn't happen again. A lot of Western media organizations can learn from that.
By the way, I was criticized by the Foreign Ministry and the Prime Minister's Office.
"FOR PROTESTING AL-JAZEERA'S CELEBRATION OF THE RELEASE OF SAMIR KUNTAR?"
Yes. According to them I was damaging the very sensitive negotiations going on between Al-Jazeera and the Foreign Ministry [over this incident] at that time, negotiations that existed apparently only in the minds of the people in the Foreign Ministry...
Sometimes you have to stand up [on matters of principle]. That's what I've tried to convey to the system here. It started back with al-Dura. If we are wronged, we're within our rights to stand up and say this is wrong. We should be the first ones standing up and saying that.
Yes, you have to be nice to the journalists. But if they do not conduct themselves professionally, they have to understand that we're no different from any other country in the world.
Journalists are not above the law.
In the year 2000, there was a foreign journalist who went to hotels throughout Israel and would refuse to pay. He would show his press card and then would refuse to pay his bill, saying, "I'm a foreign journalist." At one point he made a point of saying he was an American, and that his taxes subsidize this country. This was a top journalist. Unfortunately, the hotels decided they didn't want to make a big issue out of it.
"A LEADING AMERICAN JOURNALIST WENT AROUND ISRAEL, STAYED AT HOTELS, DIDN'T PAY HIS BILLS AND NOBODY MADE A FUSS ABOUT IT?"
Yes. Then you had cases, such as during the disengagement from Gaza or the war in Gaza, where media organizations hired Israelis, rented rooms, hired services, and then just disappeared without paying.
"AND?"
There's nothing we can do at the Government Press Office. You can file a complaint but there's no legal thing that I can do.
I can make journalists' lives more difficult. There are certain guidelines that allow me to do that. Such as with the case of [Swedish newspaper] Aftonbladet, and their despicable anti-Semitic... I don't use that word lightly, by the way, because I came from a family where my father converted; half my family are Christian. I don't use that word lightly. But in this case, Aftonbladet's report on the IDF [purportedly] abducting Palestinians and using their body organs. We didn't prevent Aftonbladet from working here. We just took our time. To this day, the correspondents from Aftonbladet do not get a press card immediately.
We can take up to 90 days and we can take longer...
There's been continuous frustration over the past 10 years in the GPO – constantly fighting for budgets, for our place among the government bureaucracies, always having the personal sword over my head, always facing threats: "If you do this, you're going to get fired. If you take this position, you're going to be fired." It didn't matter that I could prove to them why I had to "take this position."
When the [second intifada] violence erupted, in many ways the foreign media became a tool being used against the State of Israel. We have clear evidence that shows Marwan Barghouti's and Yasser Arafat's involvement with [Palestinian journalists] who were employed by the foreign press [and whose status and capacity to work in Israel, with attendant concerns about security risks, was an issue that Seaman dealt with extensively, including in court battles and face-offs with various Israeli politicians].
It developed over years, beginning back in the late '80s. [Some of these Palestinian journalists] started off at the Palestinian Information Office [in east Jerusalem], which was shut down by [prime minister Yitzhak] Shamir during the first intifada. They were shut down because it was clear that they were serving to incite people on the ground. So they left and started being employed by the foreign press.
Then foreign journalists started giving cameras to Palestinians because they were getting good pictures. It evolved over the years.
With the advent of the Palestinian Authority, Arafat adapted the same measures [he had used in] Beirut.
Some of these [foreign] media organizations knew. And not only were they sympathetic, they had people who were connected to the PLO who were assigned here as journalists because it gave them that access.
Until the year 2000 it was fine, but the moment all hell broke loose, some of these people saw it as their jobs – and I'm talking about the foreigners right now – to help the Palestinian cause. And the Palestinians involved saw it as their job and they were getting clear instructions.
"INSTRUCTIONS TO DO WHAT?"
To kill certain stories or promote other stories [in the foreign press].
There was an attempted suicide bombing one day in Jerusalem. A border policeman of Ethiopian descent was injured. Earlier that day, the Palestinian Minister for Jerusalem Affairs was caught illegally in Jerusalem and he was being held at the Russian Compound. We know that the Palestinian producers at the major media offices here coordinated among themselves to shift the story [that day] from [focusing on the] suicide attack to the fact that this Palestinian dignitary was being held by the Israelis. They deliberately misled on certain stories. They coordinated with the Palestinian Authority.
A lot of these [Palestinian] people first got jobs in the Palestinian media under Arafat, and then they started applying for jobs [with the foreign media based in Israel]. We started finding out that a lot of these people had been released from Israeli jails. Arafat was giving them jobs as journalists.
"ARE YOU DISAPPOINTED THAT WHEN YOU TRIED TO TAKE A MORE ROBUST OFFICIAL LINE, IN OPPOSING SOME OF THE REPORTING THAT YOU FEEL HAS BEEN UNFAIR IN THE FOREIGN MEDIA, THAT YOU HAVEN'T HAD SUPPORT FROM THE PRIME MINISTER'S OFFICE, FROM THE MINISTRY OF PUBLIC DIPLOMACY?"
From the Ministry of Public Diplomacy I did have support. When I approached the minister regarding the images from Reuters [which had cropped out of its photos weapons held by "activists" confronting Israeli soldiers] from the Mavi Marmara, Yuli Edelstein immediately put his name to [a complaint] and within 24 hours we got a [positive] response [from Reuters].
I understand at times the restraint that people in the Foreign Ministry want to show. There's room for it at times. I'm not picking fights. [But] I believe that we should be standing up for things that we know are wrong, and not [let] journalists think they can get away with everything and that there's no response from the Israeli side...
The same, by the way, goes for our decision not to allow journalists into Gaza for the war [Operation Cast Lead]. A decision was made. And then [various officials] started saying, "Oh, maybe we shouldn't." There were real reasons for this decision.
And it was upheld, but that was because the Ministry of Defense held firm. And prime minister Ehud Olmert.
"BROADLY SPEAKING, YOU'RE SAYING ISRAEL DOESN'T HAVE THE OFFICIAL COURAGE OF ITS CONVICTIONS?"
Sometimes no, it doesn't. It's not everybody in the Foreign Ministry. It's certainly not the Foreign Ministry today. But for a long time those voices within the Foreign Ministry were stronger than the ones who said, "Yes, we have to stand up to it."
This goes back to the whole issue of Israel's hasbara failures since the Oslo Accords. We pulled the rug out from under our arguments. The moment in the Oslo process when we didn't completely stand up for our narrative, we gave legitimacy to the Palestinian claims. [We gave up on] our positions, our claims, our rights!
"AS REGARDS THE OLD CITY, EAST JERUSALEM...?"
Every place! My grandfather came here from Afghanistan, not because of Tel Aviv and not because of Haifa, but because of our ancestral right to the Land of Israel. And without our right to the Land of Israel we have no right to the State of Israel; we are no more than the colonialist occupiers which they claim we are. For many years, we used this claim of our right to Eretz Yisrael, not as a political statement, but as a case of genuine historical reasoning. You can't say that it's a right-wing argument. It has nothing to do with my positions or my being a right-winger. It's a fact.
What is Judaism? Where is the birth of the Jewish people if not in Judea and Samaria? Now that's not to say that we can't compromise. Zionism has been a movement of compromise. But if we deny these [historical] rights, we're undermining our own credibility and our own rights. This is part of the failure that has happened here.
Unfortunately, people with those kinds of positions had a stronger voice in the Foreign Ministry for many years. Other people were afraid to speak up. Over the years, I paid a hefty price for sticking to things that I believed were right to do. And everything that I stood up against, whether it was Aftonbladet, Al-Jazeera, the al-Dura case, I was eventually proven right.
"AND YET YOU STILL LOST YOUR JOB."
I didn't lose my job. I was criticized for [my positions]... I paid a price with a negative portrayal, with a negative image – that I was a right-winger, an extremist, that people weren't getting their press cards for political reasons – that has no basis in reality. Yet this became the prevalent attitude.
I'm controversial. Why? Because I stand up to defend Israel? Because I criticize the media where they fail? Nobody ever argued with me over the issues. They defamed me. And the reality is, it just doesn't hold.
Is this the most stupid article of the year ? Yes, by far (& Hillary's birthday wishes)
November 01, 2010
SIX NEWS ITEMS
(1) British MP stabbed "in revenge for Iraq war"
More "peace activists" at work?
(2) Hillary Clinton wishes Ahmadinejad happy birthday
This is the idea of a foreign policy to counter one of the modern world's most dangerous despots?
(3) While Ali Abdulemam is in jail, Clinton Hails Bahrain "election"
Yesterday, Hillary Clinton also "congratulated the Government and the people of Bahrain on the successful legislative and municipal elections" that finished two days ago.
The "election" was held at the same time that a prominent Bahraini blogger, whose friends subscribe to this list (and made this video calling for his release which they asked me to post), was put on "show trial" together with other pro-democracy activists in Bahrain last Friday. Abduleman has reportedly been tortured in recent weeks.
(4) Meridor cancels UK visit for fear of arrest
Israeli Deputy Prime Minister Dan Meridor – the most moderate minister in the Israeli government – today became the latest Israeli politician to call off a trip to Britain, where he had been due to give a lecture later this week, after he was warned that he may be detained because the UK has yet to pass legislation preventing the arrest of senior Israeli officials.
Last week, a senior politician in the Israeli center-left Kadima party also called off a trip to Madrid for a similar reason, and the Kadima leader Tzipi Livni still can't enter the UK. (Items 3 and 4 here.) Meanwhile, last week Queen Elizabeth II gave a lavish state banquet for the dictator of Qatar (and his three wives) at Windsor Castle, attended by the British Prime Minister and others.
(5) Lonely Planet's top 10 cities for 2011
Released today. Tel Aviv at Number 3.
(You may also wish to see this article on Tel Aviv's 100th birthday, and scroll down for film footage of Tel Aviv in 1913 and 1951.)
(6) I attach one item of mine below.
-- Tom Gross
WHAT THE PROFESSORS TEACH STUDENTS
Is this the most stupid article of the year ? Yes, by far
By Tom Gross
October 31, 2010
At the fringes of the academic Israeli and American Jewish far Left, one is likely to find some unbelievably ridiculous notions dressed up as serious scholarly work. One saw this in the days of Stalin and now ones sees this in the days of Ahmadinejad.
But this new article -- by a University of Colorado professor in Rabbi Michael Lerner's determinedly left-wing Jewish magazine Tikkun -- must qualify as one of the most bizarre articles I've read for a long time.
Here are the opening paragraphs from this article, in the newly-released November/December 2010 edition...

Iranophobia: The Panic of the Hegemons
by Ira Chernus
Iranophobia (noun): an excessive, irrational fear of Iran, almost always expressed as fear of a nuclear-armed Iran.
Israel's Iranophobia may in part be traced back to domestic tensions between secular Ashkenazi (European-rooted) and the Orthodox and Mizrahi (Middle Eastern and North African-rooted) communities, according to Haggai Ram, an Israeli expert on Iran. As the Ashkenazim have gradually lost their power and privilege, he argues, they've been stricken with a "moral panic" and have looked for a scapegoat to blame.
Back in 1979, elite Ashkenazi voices condemned the Iranian revolution for the same reasons they condemned and feared the Orthodox and Mizrahim: for promoting traditional religious and cultural values that the Ashkenazim saw as barriers to the advance of Western modernity. They saw in Iran's present a vision of Israel's future. They still do; hence their fear.
Prof. Chernus continues:
We face the same paradox in the United States, where Iranophobia is also rampant… In some liberal circles, the attack on Iranian theocracy echoes fears of America's own religious Right, which may well heighten Iranophobia…
Ram notes that Iranophobia first appeared during the Egyptian-Israeli peace negotiations in the late 1970s and early 1980s. [Tom Gross adds: Professor Ram, might this possibly have anything to do with the Khomeinist revolution in Iran, which gave rise to the phenomenon of mass suicide bombing, and whose slogan was "Death to Israel"?]
"To convince Israelis that peace could be made with the Arabs it was, at the same time, also 'necessary' to construct the image of threat from elsewhere," he writes. "Israel needs an existential threat." …
The same kind of narrative frame that shapes Israeli Iranophobia has also shaped U.S. foreign policy for at least seven decades. Although these seven decades have been dubbed the era of the "national security state," it would be more accurate to call them the era of the "national insecurity state."
… Any real cure for Iranophobia must include a more equitable sharing of economic resources, both in the United States and around the world. If we did not have so many Americans struggling with or worrying about unemployment and all its attendant ills, fear of a nuclear-armed Iran would find a less fertile breeding ground in public opinion. And at the elite level, the American project of globalization -- leading the world toward a single, integrated, democratic, capitalist system -- has been shadowed since FDR's day by a persistent fear of foreign enemies who might thwart that project. If U.S. policymakers were willing to undertake a global Marshall Plan and share the earth's riches with other nations, they would have less reason to spread fear of Iran or any other nation…
www.tikkun.org/article.php/november2010chernus
***
Tom Gross adds: The author of the article, Prof. Ira Chernus, teaches at the University of Colorado at Boulder, the seat of scholarship that hosted Ward Churchill, infamous for comparing the victims of the 9/11 attacks with Nazi war criminal Adolph Eichmann.
***
Also from the current edition of Tikkun:
From Michael Lerner's peace plan...
"Reparations for Palestinian refugees and their descendents at a sufficient level to bring Palestinians within a ten-year period to an economic well-being equivalent to that enjoyed by those with a median Israeli-level income."
"… Israel must agree to let 20,000 Palestinian refugees return each year for the next thirty years to the pre-1967 borders of Israel and provide them with housing."

And J-Street director Jeremy Ben Ami adds in his article in Tikkun:
"I'm really pleased that I've gotten the chance to know Michael Lerner over the past few months and to discover that we share a very deep and personal bond in our goals related to Israel ... I've told Michael that I'd like very much for the Tikkun Community and for him personally to participate in our next conference in February 2011."
www.tikkun.org/article.php/september2010ben_ami