Obama exposes "that phony settlement excuse" (& new Palestinian Authority torture revelations)
March 31, 2013
The Palestinian Authority have tortured Palestinians using the 'shabeh' – the hooding and tying of the prisoner in a variety of agonizing positions for up to eight hours – merely because of a Facebook posting
* Barack Obama, in Jerusalem, March 21: "I honestly believe that if any Israeli parent sat down with those [Palestinian] kids, they'd say, 'I want these kids to succeed.'" ... Very true. But how does the other side feel about Israeli kids?
* "In Ramallah last week, Obama didn't just address this perennial Palestinian dodge. He demolished the very claim that settlements are the obstacle to peace. Palestinian sovereignty and Israeli security are 'the core issue,' he told Abbas. 'If we solve those two problems, the settlement problem will be solved.' Exposing settlements as a mere excuse for the Palestinian refusal to negotiate – that was the news, widely overlooked, coming out of Obama's trip. It was a breakthrough."
* Britain's Mail: "Hooded, hanged and left in agony for hours on end: Palestinian security chief tells how he has tormented 'suspects' with MI6's knowledge – and reveals how Britain helps pay for it with £33m foreign aid.
* "Our taxpayers give £33 million direct to the PA, while £53 million is donated by Britain for various aid projects – more UK aid per head than we give any other nation."
* Documented cases of torture by the Palestinian Authority rose from 112 in 2012 to 160 cases last year.
I attach two pieces of interest: the first by Charles Krauthammer published in The Washington Post, and the second a lengthy expose published in today's The Mail on Sunday (the Sunday sister edition of Britain's Daily Mail.) (Krauthammer is a subscriber to this list.)
-- Tom Gross
***
* You can comment on this dispatch here: www.facebook.com/TomGrossMedia. Please also press "Like" on that page.
"THAT PHONY SETTLEMENT EXCUSE"
What really happened in Jerusalem
By Charles Krauthammer
Washington Post
March 28, 2013
www.washingtonpost.com/opinions/charles-krauthammer-what-really-happened-in-jerusalem/2013/03/28/5b018070-97d2-11e2-b68f-dc5c4b47e519_story.html
"I honestly believe that if any Israeli parent sat down with those [Palestinian] kids, they'd say, 'I want these kids to succeed.'"
-- Barack Obama, in Jerusalem, March 21
Very true. But how does the other side feel about Israeli kids?
Consider that the most revered parent in Palestinian society is Mariam Farhat of Gaza. Her distinction? Three of her sons died in various stages of trying to kill Israelis — one in a suicide attack, shooting up and hurling grenades in a room full of Jewish students.
She gloried in her "martyr" sons, wishing only that she had 100 boys like her schoolroom suicide attacker to "sacrifice . . . for the sake of God." And for that she was venerated as "mother of the struggle," elected to parliament and widely mourned upon her recent passing.
So much for reciprocity. In the Palestinian territories, streets, public squares, summer camps, high schools, even a kindergarten are named after suicide bombers and other mass murderers. So much for the notion that if only Israelis would care about Arab kids, peace would be possible.
That hasn't exactly been the problem. Israelis have wanted nothing more than peace and security for all the children. That's why they accepted the 1947 U.N. partition of British Palestine into a Jewish and Arab state. Unfortunately — another asymmetry — the Arabs said no. To this day, the Palestinians have rejected every peace offer that leaves a Jewish state standing.
This is not ancient history. Yasser Arafat said no at Camp David in 2000 and at Taba in 2001. And in 2008, Prime Minister Ehud Olmert offered a Palestinian state on all of the West Bank (with territorial swaps) with its capital in a shared Jerusalem. Mahmoud Abbas walked away.
In that same speech, Obama blithely called these "missed historic opportunities" that should not prevent peace-seeking now. But these "missed historic opportunities" are not random events. They present an unbroken, unrelenting pattern over seven decades of rejecting any final peace with Israel.
So what was the point of Obama's Jerusalem speech encouraging young Israelis to make peace, a speech the media drooled over? It was mere rhetoric, a sideshow meant to soften the impact on the Arab side of the really important event of Obama's trip: the major recalibration of his position on the peace process.
Obama knows that peace talks are going nowhere. First, because there is no way that Israel can sanely make concessions while its neighborhood is roiling and unstable — the Muslim Brotherhood taking over Egypt, rockets being fired from Gaza, Hezbollah brandishing 50,000 missiles aimed at Israel, civil war raging in Syria with its chemical weapons and rising jihadists, and Iran threatening openly to raze Tel Aviv and Haifa.
Second, peace is going nowhere because Abbas has shown Obama over the past four years that he has no interest in negotiating. Obama's message to Abbas was blunt: Come to the table without preconditions, i.e., without the excuse of demanding a settlement freeze first.
Obama himself had contributed to this impasse when he imposed that precondition — for the first time ever in the history of Arab-Israeli negotiations — four years ago. And when Israel responded with an equally unprecedented 10-month settlement freeze, Abbas didn't show up to talk until more than nine months in — then walked out, never to return.
In Ramallah last week, Obama didn't just address this perennial Palestinian dodge. He demolished the very claim that settlements are the obstacle to peace. Palestinian sovereignty and Israeli security are "the core issue," he told Abbas. "If we solve those two problems, the settlement problem will be solved."
Finally. Presidential validation of the screamingly obvious truism: Any peace agreement will produce a Palestinian state with not a single Israeli settlement remaining on its territory. Any settlement on the Palestinian side of whatever border is agreed upon will be demolished. Thus, any peace that reconciles Palestinian statehood with Israeli security automatically resolves the settlement issue. It disappears.
Yes, Obama offered the ritual incantations about settlements being unhelpful. Nothing new here. He could have called them illegal or illegitimate. It wouldn't have mattered — because Obama officially declared them irrelevant.
Exposing settlements as a mere excuse for the Palestinian refusal to negotiate — that was the news, widely overlooked, coming out of Obama's trip. It was a breakthrough.
Will it endure? Who knows. But when an American president so sympathetic to the Palestinian cause tells Abbas to stop obstructing peace with that phony settlement excuse, something important has happened. Abbas, unmasked and unhappy, knows this better than anyone.
HOODED AND HANGED
Hooded, hanged and left in agony for hours on end: Palestinian security chief tells how he has tormented 'suspects' with MI6's knowledge... and reveals how Britain helps pay for it with £33m foreign aid
* Chilling confessions made by a former official from the Palestinian Authority
* Said in nineties people were tortured 'badly' and 'beat them hard'
* Now they use 'shabeh', which involves hooding and tying prisoners
* Britain pays £33million to the PA and trains their senior ranking officers
* Documented cases of torture rose from 112 in 2012 to 160 cases last year
By David Rose
The Mail on Sunday (UK)
March 31, 2013

www.dailymail.co.uk/news/article-2301682/Hooded-hanged-left-agony-hours-end-Palestinian-security-chief-tells-tormented-suspects-MI6s-knowledge--reveals-Britain-helps-pay-33m-foreign-aid.html
You try your best to avoid being violent,' the Palestinian security man tells me. 'But in cases where the data is strong, and the prisoner is not co-operating, and when there might be harm done to others – then you must be.
'I'm not going to lie to you. Torture is used. We have to protect our people.
'Interrogation is a war between two personalities. You order the prisoner to sit, and he sits. You offer him a cigarette, and if he says he doesn't smoke, you say, "No, you must smoke."
'So if he takes the cigarette, psychologically you are the master. You have to prepare him mentally to make his confession.
'But some have been trained to resist. We have found a lot of booklets telling the fanatics how to do this: how to cheat the investigators. Torture is not the first step and it only happens when we have concrete information about the prisoner's dealings.
'If you are not sure of the case, I assure you, torture is not going to be used. But if you feel you're not getting what you want – well, then the decision will depend on the investigator's patience and the importance of the information he needs.
'In the Nineties, we used to torture them badly. We beat them hard and we made them like a car that doesn't function. But we were defending our home, the region and the rest of the world. I am happy it was justified.'

Nowadays, he adds, the preferred method is termed 'shabeh' – the hooding and tying of the prisoner in a variety of agonising positions for up to eight hours. He does not elaborate on the details, but claims: 'It works with 95 per cent of the subjects.' It also takes considerable skill: 'You have to deal with it as if you were playing a guitar. Each case has its own speciality.'
This extraordinary interview is the first admission by a former perpetrator of the widespread torture of Palestinians – not by Israel, but by the Palestinian Authority (PA) which governs the Israeli-occupied West Bank.
It was given to me last week in a dusty Palestinian city. Across the table was a well-dressed, middle-aged family man with an infectious smile – a former PA official.
He spoke only on the strictest condition of anonymity as he feared becoming a torture victim himself should his identity become public. But he wanted to speak out because he was sure that the ends – a Palestinian state and the defeat of extremism – justify the means.
But perhaps the most shocking revelation is that torture sessions still being perpetrated by his former colleagues are financed with Britain's help. Our taxpayers give £33 million direct to the PA, while £53 million is donated by Britain for various aid projects – more UK aid per head than we give any other nation.
Then again, Britain's Secret Intelligence Service, MI6, which has officers based in Jerusalem, works closely with the Palestinian agencies that carry out the torture, seeing them as sources of valuable intelligence.
The UK also provides and pays for the training of middle and senior ranking officers from every PA security agency, including the General Intelligence Service or Mukhabarat, the Preventive Security Organisation, Military Intelligence and the ordinary police force. Ironically, the training includes courses on the need to respect human rights and the rule of law.
'Yes, the British are very interested in human rights,' adds the Palestinian security man.
'They say, "We can't convince British taxpayers [to continue to fund the PA] if you violate them." So we do our best. But it happens.'
Just what 'it' means was described by a very recent victim, a professional man in his 40s who was freed without charge two weeks ago after more than a month in Mukhabarat detention.
'For most of the time I was held, they gave me shabeh every day,' he says. 'Always I was hooded, and sometimes they tied my arms in front of me and attached me to the wall, leaving me like that for long, long hours, on tiptoes. You have pain in the arms, in the legs and in the body, and swelling in your muscles. Often I could also hear screaming from the prisoners.
'But it was worse when they suspended me with my arms tied behind me. Your body is curved, like a banana. Most of the time they do not let your feet touch the ground.' He showed me his arms and hands – they were still puffy and swollen. 'During the shabeh, they looked much worse,' he added.
In another variant, the suspect was hog-tied – laid on his back on top of a chair with his wrists and ankles lashed together beneath the seat. Usually the torture happened at night: 'When you're exhausted, they take you back to your cell.'
He was arrested because someone claimed he had an illegal weapon. 'But I've never had a weapon and I am opposed to Islamic extremists. I've criticised the PA at social gatherings – maybe that's why someone denounced me. That was the worst thing of all – that I was in jail at the hands of my own Authority.'
According to the Palestinians' own official monitor, the Independent Commission on Human Rights (ICHR), the number of victims in corroborated and documented cases of torture has surged from 112 in 2011 to 160 last year. And ICHR director Randa Siniora says the increase is continuing.
But the former PA official insists that if radical groups such as Hamas were not tightly controlled, they might try to seize power, as they did in 2007 after months of bloodshed in the Gaza Strip. If they began to mount terrorist attacks against Israel from the West Bank, then the Israelis would take matters into their own hands – so ending any hope of creating a fully fledged Palestinian state.
'I can't sleep unless I make my calculation,' he says. 'Have I done the right thing today? Am I good? Psychologically, I am satisfied. We are building our state and to me that matters more than causing harm to some group or individual.'
A few days after meeting the security man, I travelled to the courthouse in Jericho – supposedly a showcase for UK-funded PA justice.
The Department for International Development (DFID) website says Britain will spend £2.2 million this year on a project to 'strengthen central accountability and oversight of the [PA] security sector', while developing the rule of law in Palestine is one of British aid's principal goals.
Sitting on a bench in the crowded hall was Khalil Fanouneh, 61, from Hebron, a city in the West Bank. Khalil said his son, Maher, 38, a paint salesman, had been arrested by the Mukhabarat on February 24.
Khalil showed me two documents signed three weeks ago after court hearings by Judge Raghda Qawasmi. Both were orders for Maher's release, together with comments from the judge that the Mukhabarat's lawyers did not have evidence to support their claim that he was a member of an extremist militia.
But Maher had not been released – he was still being held in the Mukhabarat detention centre on the outskirts of Jericho. Khalil described a visit to him in jail: 'He was sitting between two officers and so could not speak freely, but he looked in really bad shape.'
A few minutes later, Maher's case was called. Tall and skinny – Khalil said his son has lost a lot of weight – he was led into the dock from a side door in the court. He was wearing a filthy striped kaftan and looked exhausted, his face hollowed out.
Today, the hearing was brief because another lawyer failed to show up. The case was adjourned until April 7 – leaving Maher in custody. But before he was led away, he started shouting: 'I have not slept for more than a week! The law forbids torture, so please be fair to us, we shouldn't have to go through torture, we shouldn't be subjected to shabeh. Please, judges, put a stop to it.'
Ahmad Toubasi, the court's chief judge – aware the room was filled with clean-shaven Mukhabarat agents in dark, shiny suits – looked scared and horrified. 'You tell your lawyer about the torture,' he said, motioning to the guards to remove the prisoner.
Then Khalil stood up from his seat on the public benches: 'I am his father! Please, do something!' The judge told him to be silent. The Mukhabarat men followed me back to the hall. There Samir Abu Arrah, their staff legal adviser, accosted me. 'Maher probably just said this to get the sympathy of the judge,' he said dismissively. 'I can assure you no torture has taken place.'
Maher's case is far from exceptional. The ICHR has documented 87 instances in the past three years where a judge's release order has not been obeyed. It suggests the millions being spent by DFID is simply being wasted.
'Under the PA constitution, this is a crime, and the agency heads could be charged,' said the ICHR's Ms Siniora. 'This has never happened.' In fact, Maher is one of at least 11 men from the same area who have been arrested over the past three months accused of conspiring to kidnap an Israeli soldier.
Their lawyer, Suleiman Husseini, said at least four of them had been 'tortured tremendously, both physically and mentally'. But as with Maher, the Mukhabarat had refused to release them. One of those being held is Tarek Edais, 31, a Hebron accountant arrested on January 7.
Judges Toubasi and Qawasmi have ordered his release on three separate occasions and his family has put up £7,500 bail. 'He told me they left him suspended all night with his arms behind his back and his feet off the ground,' said his father, Anwar. 'Once when we visited, his sister tried to hug him. He couldn't lift his arms to hug her back.'
Away from the Mukhabarat agents, Judge Toubasi agreed to talk about Edais in the privacy of his chambers. 'We decided to release him and then his father came back and said he hadn't been freed. But my job is to make the decision, not to implement it. It's not an acceptable situation, but I don't have an army to force them to comply.'
It's not just Britain that keeps the PA running – the US and EU are also major contributors to a £800 million a year aid package (15 per cent of the EU's donation of £133 million comes from UK taxpayers).
The reason why a territory with fewer than 2.5 million inhabitants gets so much money is political. The Israel-Palestinian peace process has produced no sign of a breakthrough for the past 20 years, but the international community believes the only way to create a Palestinian state is to build on the PA, which is also Israel's negotiating partner.
But with about a third of the PA budget being spent on its security agencies, the consequence of Western generosity has been the creation of a police state.
The wave of arrests in the Hebron area is being mirrored elsewhere. In Biddo, a village in a highly strategic location on the very edge of the West Bank, Hamdi Ali Hmadein, 28, was arrested in possession of a small handgun, and, says his family, subsequently tortured.
No other weapons have been recovered. But just as Edais's arrest was followed by the others in Hebron, so another ten men have been picked up in Biddo – seven apparently because they belonged to the same gym.
Many of them are also represented by Suleiman Husseini. 'These cases follow a pattern,' he said. 'My clients confess, not because they're guilty, but to make the torture stop. They make up plots which don't even really exist. That leads to more arrests and more torture. In court, I have seen these confessions. But I'm not allowed to keep copies.'
In the northern city of Nablus, I met a young man who had been repeatedly interrogated, locked in tiny, unfurnished cells and experienced shabeh because of a Facebook posting – an open letter to his late father, a Hamas member, who was killed by the Israelis ten years ago.
'Just because my dad was in Hamas doesn't mean I am,' he said, 'and I'm not. But they told me the shabeh they gave me was "just hospitality" – that I was lucky.'
He had also been on the receiving end of another widely used technique – being told to report to a Mukhabarat office at 9am in the morning, and then kept waiting until evening. Its purpose, it seems, is purely vindictive.
Raed Neirat, a professor at Nablus's main university and the director of a think-tank called the Centre for Democracy, said the targets were usually young people and students, who were sometimes accused of bizarre crimes such as 'threatening the sectoral balance of Palestinian society'.
The results could be devastating: 'In my class alone, there will be no fewer than ten students each year who fail their exams because they haven't sat them, having been told to report to the Mukhabarat,' said Prof Neirat. 'Their parents have paid for their education, and they have nothing to show for it – they won't be allowed retakes.
'No one keeps figures, but sometimes 100 people will be told to show up and wait on a single day. If they don't go, they will be arrested. And you are paying taxes to keep these guys in business!' Asked about all these forms of abuse, a Foreign Office spokesman said Britain was committed to helping the PA 'build the institutions of a future Palestinian state, governed by the rule of law', and was 'proud to contribute to efforts to strengthen the Palestinian Authority'.
He added: 'When allegations of torture are made anywhere in the world we pursue them at the highest levels of government. When training Palestinian security forces, we place great emphasis on human rights training. Where we hear allegations of human rights abuse, we will continue to pursue them vigorously.'
IF WE DO OUR JOB WELL HERE, YOU CAN SLEEP WELL
British Consul-General Sir Vincent Fean, who leads Britain's diplomatic mission to the PA, has raised concerns with President Mahmoud Abbas and the PA prime minister, Salam Fayyad. But there have been no warnings that if the situation does not improve the flow of cash will stop.
Mohammed Jamil, head of the UK-based Arab Organisation for Human Rights, which has published several reports on PA abuse, said such visits were futile. 'They have been going for years, but nothing has changed. Britain has the power to stop the torture, but it will require much tougher action,' he said.
The ICHR's Ms Siniora added: 'There is no doubt things are getting worse. Last year, we inspected one prison where there was clear evidence of shabeh – we saw the hooks on the walls. But as our 2012 report will say when it is published, not one of the cases of torture that came to light has been properly investigated.
'There is no accountability. There is a culture of impunity – there has not been a single case of an official involved in torture being prosecuted.'
On Wednesday, she added, she was visited by a senior British official from Jerusalem. 'I told him, "You are supporting the security agencies and you are training them. You have a very big responsibility for ensuring that your taxpayers' money is not spent on torture." '
But PA torture does not often make UK headlines. And liaisons are close between MI6 and the Mukhabarat, the very agency responsible for the worst abuse.
The Palestinians have developed crucial sources in places where MI6 cannot easily operate: in the refugee camps of Lebanon and among the ranks of Syrian rebels. After 9/11, sources such as these were invaluable, playing a significant role in defeating Al Qaeda in Iraq.
The former official said that Hamas and other militant groups posed a threat not only to the PA and Israel, but to the broader Middle East and the rest of the world.
That was why if a prisoner had to be tortured, 'we are also defending you. If we do our job, you can sleep well in London. The world has become a village. We might be violating his human rights, but if we don't, he will take away your right to live.'
Erdogan: Homosexuality 'contrary to Islam' (& Palestinian Authority: Erdogan should stay out of Gaza)
March 29, 2013
A mortar strike killed 15 students in Damascus University yesterday
* Israeli hospitals treat a third group of badly wounded Syrians, while the Israeli army sets up a field hospital for other wounded Syrians on Israeli-Syrian border
* Palestinian Authority to require permission for reporting by foreign journalists; removes monument "without Israel" so Obama would not see it
* For the first time since the Inquisition, a Passover Seder is celebrated by descendents of forcibly converted Jews in the traditionally Jewish, Portuguese-owned island of Madeira
* British Muslim commentator: "There are thousands of Lord Ahmeds out there: mild-mannered and well-integrated British Muslims who nevertheless harbour deeply anti-Semitic views. It pains me to have to admit this but anti-Semitism isn't just tolerated in some sections of the British Muslim community; it's routine and commonplace. Any Muslims reading this article – if they are honest with themselves – will know instantly what I am referring to. It's our dirty little secret. You could call it the banality of Muslim anti-Semitism"
***
* You can comment on this dispatch here: www.facebook.com/TomGrossMedia. Please also press "Like" on that page.
CONTENTS
1. Erdogan: Homosexuality 'contrary to Islam'
2. Palestinian Authority: We don't want Turkish PM to visit Gaza
3. Syrian treated by Israel dies of wounds
4. Mortar kills 15 students in Damascus university: Western students fail to protest
5. Syrian opposition honored by recognition of its first foreign embassy
6. Arab League creates billion-dollar fund to promote "Arabic image" of Jerusalem
7. Palestinian Authority to require permission for reporting by foreign journalists
8. PA removed monument "without Israel" so Obama would not see it
9. Egyptian cleric: "American aid to Egypt is a mandatory tax"
10. British lawmaker apologizes over Jewish slur, but UK Jews remain doubtful
11. Passover celebrated openly in Madeira by crypto-Jews for the first time since the Inquisition
12. "Obama: Between Cairo and Jerusalem" (By Hisham Melhem, Saudi Gazette, March 29, 2013)
13. "The sorry truth is that the virus of anti-Semitism has infected the British Muslim community" (By Mehdi Hasan, New Statesman, March 21, 2013)
[Notes below by Tom Gross]
ERDOGAN: HOMOSEXUALITY 'CONTRARY TO ISLAM'
Turkish Prime Minister Recep Tayyip Erdogan has been strongly denounced in gay media across Europe this week, after he alleged that homosexuality was "contrary to Islam and its culture," according to a report in the Turkish daily Hurriyet.
The Turkish prime minister made his remarks after he objected to a Dutch lesbian couple adopting a nine-year-old boy. The boy's birth parents, who were Turkish immigrants, are said to have repeatedly used violence upon the child, and the Dutch social services then removed him from their care.
A Turkish television station, which is headed by Erdogan's stepson, accused the Netherlands of "child abuse" by placing him in the care of a homosexual couple.
Dutch Prime Minister Mark Rutt, criticizing Erdogan's intervention, said the adoption dispute was an internal domestic matter.
Jerusalem Post correspondent Benjamin Weinthal reports that as a result of threats now being made following Erdogan's high profile intervention, the lesbian couple has gone into hiding.
PALESTINIAN AUTHORITY: WE DON'T WANT TURKISH PM TO VISIT GAZA
Senior officials in the Palestinian Authority in Ramallah have said they "strongly opposed" Turkish Prime Minister Erdogan's planned visit to Gaza, on the grounds (they argue) that Gaza is not an independent Palestinian state, and Hamas is not the legitimate representative of the Palestinians.

Erdogan announced this week that he would visit Gaza "in the near future". On Wednesday, the White House said the U.S. sees Erdogan's plans to visit Gaza as "counterproductive". Israel also says that the visit is unwise.
As reported in past dispatches on this list, the Palestinian Authority also opposed recent visits to the Gaza Strip by the emir of Qatar and by the Malaysian prime minister, both of whom then chose to ignore the Palestinian Authority's protests.
By contrast, the Tunisian president called off a planned visit to Gaza recently after protests by the Palestinian Authority leadership.
SYRIAN TREATED BY ISRAEL DIES OF WOUNDS
One of the group of Syrians allowed to enter Israel this week, has died of his wounds. This was the third group of Syrians Israel has taken in and treated on humanitarian grounds in recent weeks.
The Syrian man, who was airlifted by the Israeli army to a hospital in the Israeli coastal city of Nahariya on Wednesday, after managing to stumble across the border into Israel, later died from the bullet wound to the back of his head. Nahariya Hospital director Masad Barhoum, one of a team of doctors that treated the Syrians, said medical staff did their best to save the man's life, but he had suffered "massive bleeding" as a result of a bullet wound through his head.
The Israeli army is letting seriously wounded into the country for treatment while it has now set up a field hospital on the Israeli-Syrian border where Israeli army medical teams are treating less seriously wounded Syrians before returning them to Syria.
Last week, four other badly wounded Syrians were evacuated by Israeli army helicopters to Rambam Hospital in Haifa with shrapnel injuries, where they remain in serious condition.
MORTAR KILLS 15 STUDENTS IN DAMASCUS UNIVERSITY: WESTERN STUDENTS FAIL TO PROTEST
At least fifteen Syrian students were killed when mortar bombs hit a Damascus University canteen on Thursday, state-run news agency SANA reported.
Western student organizations – too busy organizing another round of protests to oppose a fictional "Israeli apartheid" – have remained almost totally silent about the bombing of students in Damascus, just as most were silent when dozens of students were killed at Aleppo University by President Assad's forces, and just as they were silent when students and teachers were blown up by a Palestinian suicide bomber at Jerusalem's Hebrew University.
The canteen shelled in Damascus this week belonged to the College of Architecture – leaving less architects to help rebuild Syria when the war there is eventually over.
***
The United Nations said on Monday it would withdraw about half its international staff from Damascus after a mortar bomb landed near their hotel.
SYRIAN OPPOSITION HONORED BY RECOGNITION OF ITS FIRST FOREIGN EMBASSY
The Syrian opposition on Wednesday opened its first foreign embassy, in Qatar, in what is being seen as another blow to legitimacy of the government of Bashar Al-Assad.
The opening came a day after opposition leader, Sunni Muslim cleric Moaz Alkhatib, took Syria's seat at an Arab League summit in Doha. He said he is frustrated with the international community's unwillingness to arm the rebels in Syria.
Alkhatib resigned this week as leader of the Syrian National Coalition but is staying on in a caretaker role.
ARAB LEAGUE CREATES BILLION-DOLLAR FUND TO PROMOTE JERUSALEM'S "ARABIC IMAGE"
At their meeting in Qatar this week, the Arab League decided to create a $1 billion fund to promote the Arab character of east Jerusalem (money they are not giving to help over a million Syrian refugees living in dire conditions in Jordan, Lebanon and Turkey). It said that the fund, which will be managed by Saudi Arabia's Islamic Development Bank, will "finance projects and programs that would maintain the Arabic and Islamic character of the city."
Speaking at the summit in Doha, Palestinian Authority President Mahmoud Abbas repeated his frequent claim that Israel "is trying to 'Judaize' Jerusalem."
In fact, Jerusalem has been central to the identity of Jews for thousands of years before Islam was founded, and Islam has not historically given Jerusalem a central place in its doctrines. The Koran does not mention Jerusalem, and Arabic and Islamic claims to the importance of Jerusalem largely stem from the period following the 1967 war, when they were used as a means to attack and criticize Israel. The majority of the city's population have been Jews at most periods in the city's history, including in the period from the mid-nineteenth century until the present.
PALESTINIAN AUTHORITY TO REQUIRE PERMISSION FOR REPORTING BY FOREIGN JOURNALISTS
The Western-backed and financed Palestinian Authority this week issued a decree forbidding foreign journalists from working in Palestinian Authority-controlled territory unless the journalists have been vetted in advance by the Palestinian Ministry of Information.
The Palestinian Authority announced that members of the foreign press who ignore this order can be arrested, as can any Palestinian journalists who assist foreign journalists to operate without permission.
Perhaps not surprisingly, the decision was welcomed by the Palestinian Journalist's Syndicate – a body controlled by Fatah.
Foreign journalists who ignore the latest restriction face arrest by Palestinian Authority security forces, said Jihad Qawassmeh, a member of the Palestinian Journalist's' Syndicate.
Khaled Abu Toameh, the West Bank-based Palestinian affairs correspondent for the Jerusalem Post (and a longtime subscriber to this email list) wrote in a piece for the Gatestone Institute: "This latest restriction serves as a reminder that the Palestinian Authority is not much different from other dictatorships, which assign 'minders' so the journalists see and hear only what the dictators want.
"Representatives of the international media – as well as human rights organizations and groups that claim to defend freedom of the press – have not protested against the PA's threat to restrict journalists' work and even arrest them. One can only imagine the response had Israel issued a similar ban or threat."
PA REMOVED MONUMENT "WITHOUT ISRAEL" SO OBAMA WOULD NOT SEE IT
Palestinian Media Watch reports that the official maps which erase the entire State of Israel, including Tel Aviv, and replace it with "Palestine," were temporarily removed from Palestinian Authority headquarters last week for the duration of President Barack Obama's visit.
In addition, after the UN vote in November last year, the Palestinian Authority built a large monument in Bethlehem's central square, called "The State Monument," which shows the "State of Palestine" wiping out all of Israel.
This monument was also temporarily covered up as President Obama's motorcade drove past it in Bethlehem last week, the official PA daily Al-Hayat Al-Jadida reported.
EGYPTIAN CLERIC: "AMERICAN AID TO EGYPT IS A MANDATORY TAX"
Imam Khaled Said, the official spokesman for the country's Salafi Front, an extremist political party that has called for strict Sharia law in Egypt, has told Egyptian television viewers that U.S. aid to Egypt is "mandatory" and should be seen as "a tribute that America pays to honor the Muslim Brotherhood and the Egyptian revolution".
Said's remarks came after Secretary of State John Kerry announced that the U.S. has allocated another $250 million in aid to Egypt.
In comments translated by the Middle East Media Research Institute (MEMRI), he said "They must pay reparations for destroying our country and the Islamic nation – them and others in the West – so that we will agree to cooperate with them."
PASSOVER CELEBRATED IN MADEIRA FOR THE FIRST TIME SINCE THE INQUISITION
For the first time since the inquisition over 500 years ago, a Passover Seder has been hosted on the tiny Portuguese archipelago of Madeira, located 300 miles off the coast of Africa, by Bnei Anousim – descendants of Portuguese Jews who were forcibly converted to Catholicism during the Inquisition. For centuries before the Inquisition, the islands had a thriving Jewish community. (All those who refused to convert were killed.)
This week's Passover Seder in Madeira was led by Marvin Meital, a former professor of Portuguese literature and language at Jerusalem's Hebrew University, who is also an expert on crypto-Jewish history.
The Jerusalem-based charity, Shavei Israel, which helps reconnect descendants of Jews with their people and heritage, helped Meital organize the Passover Seder, which was attended by 13 Bnei Anousim.
"The holding of a Seder in Madeira is truly historic," Shavei Israel Chairman Michael Freund told Israel's best-selling newspaper, Yediot Ahronot.
"More than 500 years after the expulsion and forced conversion of Portugal's Jews in 1497, the Bnei Anousim in Madeira, are now too emerging from the spiritual captivity of the Inquisition," said Freund, who is a longtime subscriber to this email list.
BRITISH LAWMAKER APOLOGIZES OVER JEWISH SLUR, BUT UK JEWS REMAIN DOUBTFUL OF SINCERITY
(This is a follow-up to an item: here.)
Lord Ahmed, who was suspended from the British Labour Party over allegations that he blamed a Jewish conspiracy for the fact he received a 16-day sentence for dangerous driving for killing a Slovak man, has "completely and unreservedly" apologized for his comments.
Lord Ahmed added that he did not "really have any explanation or excuse" for why he made the comments and said he was "embarrassed".
"I only believe in facts and to be honest I should have stuck with the facts rather than with conspiracy theories," he told a journalist for The Huffington Post.
"I'm particularly sorry to all my colleagues in the House of Lords and in the House of Commons because one thing many of them know is that I'm not anti-Semitic or a conspiracy theorist," he claimed. (Lord Ahmed in fact has a long track record of making remarks offensive to Jews.)
But some British Jewish leaders rejected the apology by Lord Ahmed. Mark Gardner, the spokesperson for the (Jewish) Community Security Trust (and a longtime subscriber to this email list) said: "This apology by Lord Ahmed will be greeted with much suspicion as it comes in response to a journalist rather than have been made directly and voluntarily to those who were most offended by the remarks."
***
I attach an article below on the Lord Ahmed affair, by British Muslim commentator Mehdi Hasan in the left-wing magazine The New Statesman (a magazine which itself has several times in recent years been accused of peddling anti-Semitic conspiracy theories).
And after that, for a view of President Obama's speech in Jerusalem last week by a leading moderate Arab commentator, I attach a piece published today in the Saudi Gazette by Hisham Melhem, the Washington bureau chief of the Al Arabiya News Channel.
-- Tom Gross
"THERE ARE THOUSANDS OF LORD AHMEDS OUT THERE: MILD-MANNERED AND WELL-INTEGRATED BRITISH MUSLIMS WHO NEVERTHELESS HARBOUR DEEPLY ANTI-SEMITIC VIEWS"
The sorry truth is that the virus of anti-Semitism has infected the British Muslim community: It's a shameful fact that Muslims are not only the victims of racial and religious prejudice but purveyors of it, too.
By Mehdi Hasan
The New Statesman
March 21, 2013
www.newstatesman.com/politics/2013/03/sorry-truth-virus-anti-semitism-has-infected-british-muslim-community
If tomorrow, God forbid, I were to cause the death of an innocent man with my car, minutes after sending a series of texts on my mobile phone, I'm guessing I'd spend the rest of my life riddled with guilt. What I wouldn't do is go on television and lay the blame for my subsequent 12-week imprisonment at the door of . . . wait for it . . . the Jews. Yet that's what the Labour peer Nazir Ahmed did in April 2012 – less than five years after causing a car crash on the M1 in which Martin Gombar, aged 28, was killed.
"My case became more critical because I went to Gaza to support Palestinians," he says to his Pakistani interviewer in Urdu, in a video recording obtained by the Times. "My Jewish friends who own newspapers and TV channels opposed this." The judge who put him behind bars, Lord Ahmed claims, was appointed to the high court after helping a "Jewish colleague" of Tony Blair's during "an important case".
To claim that your jail sentence for dangerous driving is the result of a Jewish plot is bigoted and stupid. The peer has since been suspended from the Labour Party and forced to stand down as a trustee of the Joseph Interfaith Foundation. I'm not sure how many "Jewish friends" he has left – if, that is, he had any to begin with.
Full disclosure: I know Lord Ahmed and have defended him in the past. In 2007, he flew out to Sudan to help free the schoolteacher Gillian Gibbons from the clutches of the odious Islamist regime in Khartoum. In 2009, an Appeal Court judge noted how the peer had "risked his life trying to flag down other vehicles to stop them colliding with . . . his car". He is not a latter-day Goebbels. But herein lies the problem. There are thousands of Lord Ahmeds out there: mild-mannered and well-integrated British Muslims who nevertheless harbour deeply anti-Semitic views.
It pains me to have to admit this but anti-Semitism isn't just tolerated in some sections of the British Muslim community; it's routine and commonplace. Any Muslims reading this article – if they are honest with themselves – will know instantly what I am referring to. It's our dirty little secret. You could call it the banality of Muslim anti-Semitism.
I can't keep count of the number of Muslims I have come across – from close friends and relatives to perfect strangers – for whom weird and wacky anti-Semitic conspiracy theories are the default explanation for a range of national and international events. Who killed Diana and Dodi? The Mossad, say many Muslims. They didn't want the British heir to the throne having an Arab stepfather. What about 9/11? Definitely those damn Yehudis. I mean, why else were 4,000 Jews in New York told to stay home from work on the morning of 11 September 2001? How about the financial crisis? Er, Jewish bankers. Obviously. Oh, and the Holocaust? Don't be silly. Never happened.
Growing up, I always assumed that this obsession with "the Jews" was a hallmark of the "first-generation" immigrants from the subcontinent. In recent years, I've been depressed to discover that there are plenty of "second-generation" Muslim youths, born and bred in multiracial Britain, who have drunk the anti-Semitic Kool-Aid. I'm often attacked by them for working in the "Jewish owned media".
The truth is that the virus of anti-Semitism has infected members of the British Muslim community, both young and old. No, the ongoing Israel-Palestine conflict hasn't helped matters. But this goes beyond the Middle East. How else to explain why British Pakistanis are so often the most ardent advocates of anti-Semitic conspiracies, even though there are so few Jews living in Pakistan?
It is sheer hypocrisy for Muslims to complain of Islamophobia in every nook and cranny of British public life, to denounce the newspapers for running Muslim-baiting headlines, and yet ignore the rampant anti-Semitism in our own backyard. We cannot credibly fight Islamophobia while making excuses for Judaeophobia.
To be honest, I've always been reluctant to write a column such as this. To accuse my fellow Muslims of being soft on the scourge of anti-Semitism isn't easy; I feel as if I am "dobbing in" the community, telling tales to the non-Muslim teacher. Nor do I particularly want to assist the English Defence League in its relentless campaign to demonise all Muslims, everywhere, as extremists and bigots.
We aren't. And we're not all anti-Semites. But, as a community, we do have a "Jewish problem". There is no point pretending otherwise. That Bradford's Council for Mosques has been campaigning to save the city's last remaining synagogue from closure doesn't change the fact that thousands of British Muslims will have been nodding in agreement as they read Lord Ahmed's comments about Jewish power and influence – or will have assumed that the Times scoop is evidence in its own right of a "Zionist plot" against the peer. Oh, and I'm well aware that this column will also be held up by some of my fellow Muslims as "proof" that "Mehdi Hasan has sold out to the Jews".
I only hope and pray that Lord Ahmed's comments will act as a wake-up call to Britain's moderate Muslim majority. The time has come for us to own up to a rather shameful fact: Muslims are not only the victims of racial and religious prejudice but purveyors of it, too.
In 2011 Baroness Warsi, the then Conservative Party chairman, said that Islamophobia has "passed the dinner-table test" in polite British society. I agree with her, but what she omitted to mention, and what we Muslims must now admit, is that anti-Semitism passed the dinner-table test in polite British Muslim society long ago.
"AN ELOQUENCE TO HIDE HIS INCAPABILITY"
Obama: Between Cairo and Jerusalem
By Hisham Melhem
Saudi Gazette
March 29, 2013
www.saudigazette.com.sa/index.cfm?method=home.regcon&contentid=20130329159000
The first impression of US President Barack Obama's speech in Jerusalem is that it seemed pivotal or even historic because of its eloquence and its essence, especially when he spoke about the importance of peace and its justice; when he requested the Israelis to put themselves in the place of the Palestinians who suffer from the occupation's humiliations; when he requested Israeli youths to bring about the required change by pressuring their leaders to take risks to achieve peace and when he told the Israelis a truth that no one tells them which is that "neither occupation nor deportation is the answer."
But upon further analysis, it is clear that most of the speech was tantamount to an ode to Israel and to the Jews' deep history in ancient Israel and its continuity in modern Israel. Obama confirmed to the Israelis in Hebrew: "You are not alone." He emphasized that American support to Israel is unconditional and steady.
The speech did not provide anything on the practical level. It also did not provide a roadmap that leads to peace. Obama did not address settlements, refugees, the 1967 border lines or even the future of Jerusalem which he chose as a platform to make his speech. Obama supported Netanyahu's insistence that the Palestinians recognize Israel as a Jewish state, which is a request that was not part of the negotiation's references in Madrid. Obama not only gave up the Palestinians' requests but he also gave up his previous requests including that of freezing Israeli settlements. He undermined the situation of the Palestinian authority when during his press conference with Mahmoud Abbas he said that if expectations are that negotiations will be held after everything is resolved, "then there will be no need to hold negotiations."
Following Obama's speech, Palestinians are in a deeper dilemma: they must either go back to negotiations as the building of settlements continues or insist on freezing the building of settlements and thus subject themselves to American pressure and perhaps to punishing procedures implemented by the US Congress. Not to mention the accusation that they said no to negotiations.
During his Jerusalem speech, Obama said that settlements are "not fruitful." Compare this with what he said in a speech in Cairo in 2009: "The US does not accept the legitimacy of the continuity of Israeli settlements." In Cairo, he said American policy would side with those who seek peace. In Jerusalem, he practically said that America would stand with Israel no matter what policy it adopts.
Obama traveled a long way between Cairo and Jerusalem, and he learnt the wrong lessons as he crossed this distance. The most prominent of these wrong lessons is his limited power to pressure Netanyahu.
In Cairo, Obama spoke of his perspective and vision to resolve the dispute. In Jerusalem, he resorted to eloquence to hide his incapability and to explain the advantages of peace to the Israelis and the Palestinians convincing himself that his eloquence is enough to push both parties to achieve peace all by themselves.
Netanyahu phones Erdogan to apologize for flotilla incident – and some reminder videos
March 22, 2013
A "peace activist" aboard the boat Marmara brandishes a knife
SOME REMINDER VIDEOS THAT NOT ALL THE "PEACE ACTIVISTS" ON BOARD WERE SO PEACEFUL
[Note by Tom Gross]
Below, is a press release just sent by Prime Minister Netanyahu's office.
Netanyahu phoned Turkish Prime Minister Erdogan today for the first time since the flotilla fiasco in 2010. Netanyahu made the call just before President Obama got on his plane to leave Israel, presumably after being pressured to do so by Obama.
As far as we know, Erdogan did not apologize for the slew of vile anti-Semitic comments he has made over the last decade, including several recently.
Here is a reminder that many of the Turkish activists on the boat in question were in fact armed, and indeed several Israelis were injured and at least one was thrown off the top deck of the boat.
If the situation between Israel and Turkey really were now to improve, this could have major implications for regional policies on the Iranian and Syrian questions, and of course also be beneficial to both Israel and Turkey, as well as to the U.S.
Press release
PM NETANYAHU SPEAKS WITH TURKISH PM ERDOGAN
(Communicated by the Prime Minister's Media Adviser)
Prime Minister Benjamin Netanyahu spoke today (Friday, 22 March 2013), with Turkish Prime Minister Recep Tayyip Erdogan. The two men agreed to restore normalization between Israel and Turkey, including the dispatch of ambassadors and the cancellation of legal steps against IDF soldiers.
Prime Minister Netanyahu told Turkish Prime Minister Erdogan that he had good talks with US President Barack Obama on the issue of regional cooperation and the importance of Israeli-Turkish relations. The Prime Minister expressed regret over the deterioration in bilateral relations and noted his commitment to working out the disagreements in order to advance peace and regional stability.

Prime Minister Netanyahu said that he saw Turkish Prime Minister Erdogan's recent interview in a Danish newspaper and expressed his appreciation for the latter's remarks. The Prime Minister made it clear that the tragic results regarding the Mavi Marmara were unintentional and that Israel expresses regret over injuries and loss of life. In light of the Israeli investigation into the incident, which pointed out several operational errors, Prime Minister Netanyahu apologized to the Turkish people for any errors that could have led to loss of life and agreed to complete the agreement on compensation.
Prime Minister Netanyahu also noted that Israel has already lifted several restrictions on the movement of civilians and goods to all of the Palestinian territories, including Gaza, and added that this will continue as long as the quiet is maintained. The two leaders agreed to continue to work on improving the humanitarian situation in the Palestinian territories.
* You can comment on this dispatch here: www.facebook.com/TomGrossMedia. Please also press "Like" on that page.
"Remarks of President Barack Obama to the People of Israel"
March 21, 2013
Obama and Netanyahu take a bite of matzah in Jerusalem, earlier today
A number of people asked to see the text of President Barack Obama's speech, delivered a short time ago, to a large audience of Israeli students in Jerusalem. (Many of the students were hand-picked and vetted in advance by the American embassy in Israel so as to try and ensure a sympathetic audience – and indeed, the 1,000 young Israelis roared their approval several times during the speech.)
Below is the text, as released by the White House Press department. The White House says this is the major event of Obama's 50-hour visit to Israel and the West Bank, his first since becoming president.
Obama and the Israeli Prime Minister, Benjamin Netanyahu, have gone out of their way to try and overcome the sometimes-troubled relationship they have had in the past. Yesterday Obama quoted from a letter written by Netanyahu's brother, Yonatan, who died during the 1976 hostage rescue mission at Entebbe, and also referred to the prime minister as "Bibi" on at least 10 occasions.
In today's speech he again called him "Bibi". He made suggestions for Israelis, but disappointed many in Israel by seeming to make no concrete recommendations for Palestinians in steps they could take toward peace and reconciliation when he spoke at a press conference in Ramallah this morning.
Meanwhile, police arrested eight Greenpeace protestors outside the convention center after they chained themselves to Jerusalem's Bridge of Strings, and hoisted up a large banner demanding that Obama halt exploratory drilling in the Arctic.
-- Tom Gross
TEXT OF PRESIDENT BARACK OBAMA'S ADDRESS THURSDAY AT THE JERUSALEM CONVENTION CENTER, AS PREPARED FOR DELIVERY
Remarks of President Barack Obama To the People of Israel
Jerusalem Convention Center
March 21, 2013
Shalom. It is an honor to be here with you in Jerusalem, and I am so grateful for the welcome that I have received from the people of Israel. I bring with me the support of the American people, and the friendship that binds us together.
Over the last two days, I have reaffirmed the bonds between our countries with Prime Minister Netanyahu and President Peres. I have borne witness to the ancient history of the Jewish people at the Shrine of the Book, and I have seen Israel's shining future in your scientists and entrepreneurs. This is a nation of museums and patents, timeless holy sites and ground-breaking innovation. Only in Israel could you see the Dead Sea Scrolls and the place where the technology on board the Mars Rover originated. But what I've looked forward to the most is the ability to speak directly to you, the Israeli people – especially so many young people – about the history that brought us here today, and the future that you will make in the years to come.
Now I know that in Israel's vibrant democracy, every word and gesture is carefully scrutinized. But just so you know, any drama between me and my friend Bibi over the years was just a plot to create material for Eretz Nehederet.
I also know that I come to Israel on the eve of a sacred holiday – the celebration of Passover. And that is where I would like to begin today. Just a few days from now, Jews here in Israel and around the world will sit with family and friends at the Seder table, and celebrate with songs, wine and symbolic foods. After enjoying Seders with family and friends in Chicago and on the campaign trail, I'm proud to have brought this tradition into the White House. I did so because I wanted my daughters to experience the Haggadah, and the story at the center of Passover that makes this time of year so powerful.
It is a story of centuries of slavery, and years of wandering in the desert; a story of perseverance amidst persecution, and faith in God and the Torah. It is a story about finding freedom in your own land. For the Jewish people, this story is central to who you have become. But it is also a story that holds within it the universal human experience, with all of its suffering and salvation. It is a part of the three great religions – Judaism, Christianity, and Islam – that trace their origins to Abraham, and see Jerusalem as sacred. And it is a story that has inspired communities around the globe, including me and my fellow Americans.
In the United States – a nation made up of people who crossed oceans to start anew – we are naturally drawn to the idea of finding freedom in our land. To African-Americans, the story of the Exodus told a powerful tale about emerging from the grip of bondage to reach for liberty and human dignity – a tale that was carried from slavery through the civil rights movement. For generations, this promise helped people weather poverty and persecution, while holding on to the hope that a better day was on the horizon. For me personally, growing up in far-flung parts of the world and without firm roots, it spoke to a yearning within every human being for a home.
Of course, even as we draw strength from the story of God's will and His gift of freedom expressed on Passover, we know that here on Earth we must bear our responsibilities in an imperfect world. That means accepting our measure of sacrifice and struggle, and working – through generation after generation – on behalf of that ideal of freedom. As Dr. Martin Luther King said on the day before he was killed – "I may not get there with you. But I want you to know that… we, as a people, will get to the promised land." So just as Joshua carried on after Moses, the work goes on – for justice and dignity; for opportunity and freedom.
For the Jewish people, the journey to the promise of the State of Israel wound through countless generations. It involved centuries of suffering and exile, prejudice, pogroms and even genocide. Through it all, the Jewish people sustained their unique identity and traditions, as well as a longing to return home. And while Jews achieved extraordinary success in many parts of the world, the dream of true freedom finally found its full expression in the Zionist idea – to be a free people in your homeland.
That is why I believe that Israel is rooted not just in history and tradition, but also in a simple and profound idea: the idea that people deserve to be free in a land of their own. And over the last 65 years, when Israel has been at its best, Israelis have demonstrated that responsibility does not end when you reach the promised land, it only begins.
And so Israel has been a refuge for the diaspora – welcoming Jews from Europe to the former Soviet Union; from Ethiopia to North Africa.
Israel has built a prosperous nation – through kibbutzeem that made the desert bloom, business that broadened the middle class, and innovators who reached new frontiers – from the smallest microchip to the orbits of space.
Israel has established a thriving democracy – with a spirited civil society, proud political parties, a tireless free press, and a lively public debate – lively may even be an understatement.
And Israel has achieved this even as it has overcome relentless threats to its security – through the courage of the Israel Defense Forces, and a citizenry that is resilient in the face of terror.
This is the story of Israel. This is the work that has brought the dreams of so many generations to life. And every step of the way, Israel has built unbreakable bonds of friendship with the United States of America.
Those ties began only eleven minutes after Israeli independence, when the United States was the first nation to recognize the State of Israel. As President Truman said in explaining his decision to recognize Israel, "I believe it has a glorious future before it not just as another sovereign nation, but as an embodiment of the great ideals of our civilization"
Since then, we have built a friendship that advances our shared interests. Together, we share a commitment to security for our citizens and the stability of the Middle East and North Africa. Together, we share a focus on advancing economic growth around the globe, and strengthening the middle class within our countries. Together, we share a stake in the success of democracy.
But the source of our friendship extends beyond interests, just as it has transcended political parties and individual leaders. America is a nation of immigrants. We are strengthened by diversity. We are enriched by faith. We are governed not simply by men and women, but by laws. We are fueled by entrepreneurship and innovation. And we are defined by a democratic discourse that allows each generation to reimagine and renew our union once more. So in Israel, we see values that we share, even as we recognize what makes us different.
Yet I stand here today mindful that for both our nations, these are complicated times. We have difficult issues to work through within our own countries, and we face danger and upheaval in the world. When I look at young people within the United States, I think about the choices that they must make in their lives to define who we will be as a nation in this 21st century, particularly as we emerge from two wars and a painful recession. No matter how great the challenges are, their idealism, their energy, and their ambition always gives me hope.
I see the same spirit in the young people here today. And given the ties between our countries, I believe your future is bound to ours. So I'd like to focus on how we can work together to make progress in three areas that will define our times: security, peace, and prosperity.
I will begin with security. I am proud that the security relationship between the United States and Israel has never been stronger: more exercises between our militaries, and more exchanges among our political, military and intelligence officials than ever before; the largest program to date to help you retain your qualitative military edge. Those are the facts. But to me, this is not simply measured on the balance sheet. I know that here, in Israel, security is something personal. So let me tell you what I think about when I consider these issues.
When I consider Israel's security, I think about children like Osher Twito, who I met in Sderot – children, the same age as my own daughters, who went to bed at night fearful that a rocket would land in their bedroom simply because of who they are and where they live. That's why we've invested in the Iron Dome system to save countless lives – because those children deserve to sleep better at night. That's why we have made it clear, time and again, that Israel cannot accept rocket attacks from Gaza, and have stood up for Israel's right to defend itself. And that's why Israel has a right to expect Hamas to renounce violence and recognize Israel's right to exist.
I think about five Israelis who boarded a bus in Bulgaria, who were blown up because of where they came from; who were robbed of the ability to live, and love, and raise families. That's why every country that values justice should call Hizbollah what it truly is – a terrorist organization. Because the world cannot tolerate an organization that murders innocent civilians, stockpiles rockets to shoot at cities, and supports the massacre of men, women and children in Syria.
The fact that Hizbollah's ally – the Assad regime – has stockpiles of chemical weapons only heightens the urgency. We will continue to cooperate closely to guard against that danger. And I have made it clear to Bashar al-Assad and all who follow his orders: we will not tolerate the use of chemical weapons against the Syrian people or the transfer of these weapons to terrorists. The world is watching, and we will hold you accountable.
America will also insist that the Syrian people have the right to be freed from the grip of a dictator who would rather kill his own people than relinquish power. Assad must go so that Syria's future can begin. Because true stability in Syria depends upon establishing a government that is responsive to its people – one that protects all communities within its borders, while making peace with countries beyond them.
When I consider Israel's security, I also think about a people who have a living memory of the Holocaust, faced with the prospect of a nuclear-armed Iranian government that has called for Israel's destruction. It's no wonder Israelis view this as an existential threat. But this is not simply a challenge for Israel – it is a danger for the entire world, including the United States. It would raise the risk of nuclear terrorism, undermine the non-proliferation regime, spark an arms race in a volatile region, and embolden a government that has shown no respect for the rights of its own people or the responsibilities of nations.
That is why America has built a coalition to increase the cost to Iran of failing to meet their obligations. The Iranian government is now under more pressure than ever before, and that pressure is increasing. It is isolated. Its economy is in a dire condition. Its leadership is divided. And its position – in the region, and the world – has only grown weaker.
All of us have an interest in resolving this issue peacefully. Strong and principled diplomacy is the best way to ensure that the Iranian government forsakes nuclear weapons. Moreover, peace is far more preferable to war, and the inevitable costs – and unintended consequences – that would come with it. Because of the cooperation between our governments, we know that there remains time to pursue a diplomatic resolution. That is what America will do – with clear eyes – working with a world that is united, and with the sense of urgency that is required.
But Iran must know this time is not unlimited. And I have made the position of the United States of America clear: Iran must not get a nuclear weapon. This is not a danger that can be contained. As President, I have said to the world that all options are on the table for achieving our objectives. America will do what we must to prevent a nuclear-armed Iran.
For young Israelis, I know that these issues of security are rooted in an experience that is even more fundamental than the pressing threat of the day. You live in a neighborhood where many of your neighbors have rejected your right to exist. Your grandparents had to risk their lives and all they had to make a place for themselves in this world. Your parents lived through war after war to ensure the survival of the Jewish state. Your children grow up knowing that people they have never met hate them because of who they are, in a region that is changing underneath your feet.
So that is what I think about when Israel is faced with these challenges – that sense of an Israel that is surrounded by many in this region who reject it, and many in the world who refuse to accept it. That is why the security of the Jewish people in Israel is so important – because it can never be taken for granted. But make no mistake: those who adhere to the ideology of rejecting Israel's right to exist might as well reject the earth beneath them and the sky above, because Israel is not going anywhere. Today, I want to tell you – particularly the young people – that so long as there is a United States of America, Ah-tem lo lah-vahd.
The question, then, is what kind of future Israel will look forward to. And that brings me to the subject of peace.
I know Israel has taken risks for peace. Brave leaders – Menachem Begin and Yitzhak Rabin – reached treaties with two of your neighbors. You made credible proposals to the Palestinians at Annapolis. You withdrew from Gaza and Lebanon, and then faced terror and rockets. Across the region, you have extended a hand of friendship, and too often have been confronted with the ugly reality of anti-Semitism. So I believe that the Israeli people do want peace, and you have every right to be skeptical that it can be achieved.
But today, Israel is at a crossroads. It can be tempting to put aside the frustrations and sacrifices that come with the pursuit of peace – particularly when an Iron Dome repels rockets, barriers keep out suicide bombers, and so many other pressing issues demand your attention. And I know that only Israelis can make the fundamental decisions about your country's future.
I also know that not everyone in this hall will agree with what I have to say about peace. I recognize that there are those who are not simply skeptical about peace, but question its underlying premise, and that's a part of democracy and the discourse between our two countries. But it is important to be open and honest with one another. Politically, given the strong bipartisan support for Israel in America, the easiest thing for me to do would be to put this issue aside, and express unconditional support for whatever Israel decides to do. But I want you to know that I speak to you as a friend who is deeply concerned and committed to your future, and I ask you to consider three points.
First, peace is necessary. Indeed, it is the only path to true security. You can be the generation that permanently secures the Zionist dream, or you can face a growing challenge to its future. Given the demographics west of the Jordan River, the only way for Israel to endure and thrive as a Jewish and democratic state is through the realization of an independent and viable Palestine. Given the frustration in the international community, Israel must reverse an undertow of isolation. And given the march of technology, the only way to truly protect the Israeli people is through the absence of war – because no wall is high enough, and no Iron Dome is strong enough, to stop every enemy from inflicting harm.
This truth is more pronounced given the changes sweeping the Arab World. I recognize that with the uncertainty in the region – people in the streets, changes in leadership, the rise of non-secular parties in politics –it is tempting to turn inward. But this is precisely the time to respond to the wave of revolution with a resolve for peace. As more governments respond to popular will, the days when Israel could seek peace with a handful of autocratic leaders are over. Peace must be made among peoples, not just governments. No one step can change overnight what lies in the hearts and minds of millions. But progress with the Palestinians is a powerful way to begin, while sidelining extremists who thrive on conflict and division.
Second, peace is just. There is no question that Israel has faced Palestinian factions who turned to terror, and leaders who missed historic opportunities. That is why security must be at the center of any agreement. And there is no question that the only path to peace is through negotiation. That is why, despite the criticism we've received, the United States will oppose unilateral efforts to bypass negotiations through the United Nations.
But the Palestinian people's right to self-determination and justice must also be recognized. Put yourself in their shoes – look at the world through their eyes. It is not fair that a Palestinian child cannot grow up in a state of her own, and lives with the presence of a foreign army that controls the movements of her parents every single day. It is not just when settler violence against Palestinians goes unpunished. It is not right to prevent Palestinians from farming their lands; to restrict a student's ability to move around the West Bank; or to displace Palestinian families from their home. Neither occupation nor expulsion is the answer. Just as Israelis built a state in their homeland, Palestinians have a right to be a free people in their own land.
Only you can determine what kind of democracy you will have. But remember that as you make these decisions, you will define not simply the future of your relationship with the Palestinians – you will define the future of Israel as well. As Ariel Sharon said, "It is impossible to have a Jewish, democratic state and at the same time to control all of Eretz Israel. If we insist on fulfilling the dream in its entirety, we are liable to lose it all." Or, from a different perspective, think of what David Grossman said shortly after losing his son, as he described the necessity of peace – "a peace of no choice" he said, "must be approached with the same determination and creativity as one approaches a war of no choice."
Of course, Israel cannot be expected to negotiate with anyone who is dedicated to its destruction. But while I know you have had differences with the Palestinian Authority, I believe that you do have a true partner in President Abbas and Prime Minister Fayyad. Over the last few years, they have built institutions and maintained security on the West Bank in ways that few would have imagined a decade ago. So many Palestinians – including young people – have rejected violence as a means of achieving their aspirations.
Which leads to my third point: peace is possible. I know it doesn't seem that way. There will always be a reason to avoid risk, and there's a cost for failure. There will always be extremists who provide an excuse to not act. And there is something exhausting about endless talks about talks; the daily controversies, and grinding status quo.
Negotiations will be necessary, but there is little secret about where they must lead – two states for two peoples. There will be differences about how to get there, and hard choices along the way. Arab States must adapt to a world that has changed. The days when they could condemn Israel to distract their people from a lack of opportunity are over. Now is the time for the Arab World to take steps toward normalized relations with Israel. Meanwhile, Palestinians must recognize that Israel will be a Jewish state, and that Israelis have the right to insist upon their security. Israelis must recognize that continued settlement activity is counterproductive to the cause of peace, and that an independent Palestine must be viable– that real borders will have to be drawn. I've suggested principles on territory and security that I believe can be the basis for talks. But for the moment, put aside the plans and process. I ask you, instead, to think about what can be done to build trust between people.
Four years ago, I stood in Cairo in front of an audience of young people. Politically, religiously, they must seem a world away. But the things they want – they're not so different from you. The ability to make their own decisions; to get an education and a good job; to worship God in their own way; to get married and have a family. The same is true of the young Palestinians that I met in Ramallah this morning, and of young Palestinians who yearn for a better life in Gaza.
That is where peace begins – not just in the plans of leaders, but in the hearts of people; not just in a carefully designed process, but in the daily connections that take place among those who live together in this land, and in this sacred city of Jerusalem. Speaking as a politician, I can promise you this: political leaders will not take risks if the people do not demand that they do. You must create the change that you want to see.
I know this is possible. Look to the bridges being built in business and civil society by some of you here today. Look at young people who have not yet learned a reason to mistrust, and those who have learned to overcome a legacy of mistrust that they inherited from their parents because of the simple recognition that we hold more hopes in common than the fear that drives us apart. Your voices must be louder than the extremists who would drown them out. Your hopes must light the way forward. Look to a future in which Jews, Muslims and Christians can all live in peace and greater prosperity in this Holy Land. Look to the future that you want for your own children – a future in which a Jewish, democratic state is protected and accepted, for this time and for all time.
There will be many voices that say this change is not possible. But remember this: Israel is the most powerful country in this region. Israel has the unshakeable support of the most powerful country in the world. Israel has the wisdom to see the world as it is, but also the courage to see the world as it should be. Ben Gurion once said, "In Israel, in order to be a realist you must believe in miracles." Sometimes, the greatest miracle is recognizing that the world can change. After all, that is a lesson that the world learned from the Jewish people.
That brings me to the final area I will focus on: prosperity, and Israel's broader role in the world. I know that all the talk about security and peace can seem distant from other concerns that you have in your daily lives. And every day, even amidst the threats you face, Israelis are defining themselves by the opportunities you create.
Through talent and hard work, Israelis have put this small country at the forefront of the global economy. Israelis understand the value of education, and have produced 10 Nobel laureates. Israelis understand the power of invention, and your universities educate engineers and inventors. That spirit has led to economic growth and human progress: solar power and electric cars; bandages and prosthetic limbs that save lives; stem cell research and new drugs that treat disease; cell phones and computer technology that change the way we live. If people want to see the future of the world economy, they should look at Tel Aviv: home to hundreds of start-ups and research centers. And Israelis are so active on social media that every day seemed to bring a different Facebook campaign about where I should give this speech.
That innovation is just as important to the relationship between the United States and Israel as our security cooperation. Our first free trade agreement in the world was reached with Israel nearly three decades ago, and today the trade between our two countries is at 40 billion dollars each year. More importantly, that partnership is creating new products and medical treatments, and pushing new frontiers of science and exploration.
That is the kind of relationship that Israel should have – and could have – with every country in the world. Already, we see how that innovation could reshape this region. One program here in Jerusalem brings together young Israelis and Palestinians to learn vital skills in technology and business. An Israeli and Palestinian have started a venture capital fund to finance Palestinian start-ups. Over 100 high-tech companies have found a home on the West Bank, which speaks to the talent and entrepreneurial spirit of the Palestinian people.
One of the great ironies of what is happening in the broader region is that so much of what people are yearning for – education and entrepreneurship; the ability to start a business without paying a bribe, to connect to the global economy – those things can be found in Israel. This should be a hub for thriving regional trade, and an engine of opportunity. And this is already a center for innovation that helps power the global economy. I believe that all of that potential for prosperity can be enhanced with greater security, and a lasting peace.
Here, in this small strip of land that has been the center of so much tragedy and triumph, Israelis have built something that few could imagine sixty-five years ago. Tomorrow, I will pay tribute to that history – at the grave of Herzl, a man who had the foresight to see that the future of the Jewish people had to be reconnected to their past; at the grave of Rabin, who understood that Israel's victories in war had to be followed by battles for peace; and at Yad Vashem, where the world is reminded of the cloud of evil that can descend on the Jewish people and all of humanity if we fail to remain ever vigilant.
We bear that history on our shoulders, and we carry it in our hearts. Today, as we face the twilight of Israel's founding generation, you – the young people of Israel – must now claim the future. It falls to you to write the next chapter in the story of this great nation.
As the President of a country that you can count on as your greatest friend, I am confident that you can help us find the promise in the days that lie ahead. And as a man who has been inspired in my own life by that timeless calling within the Jewish experience – tikkun olam – I am hopeful that we can draw upon what's best in ourselves to meet the challenges that will come; to win the battles for peace in the wake of so much war; and to do the work of repairing this world. May God bless you, and may God bless Israel and the United States of America. Toda raba.
Video dispatch 13: Amazing Israeli innovations Obama will see (& Tchaikovsky Flashwaltz!)
March 17, 2013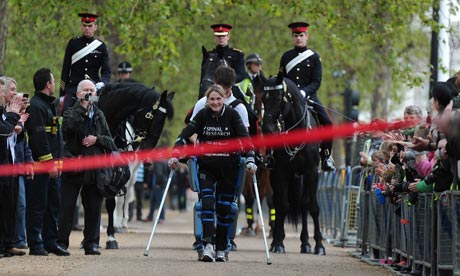 Claire Lomas approaches the London Marathon finishing line in her Israeli-developed ReWalk bionic suit
CONTENTS
1. Israeli technological achievements to be shown to President Obama
2. Tchaikovsky Flashwaltz at Jerusalem's Hadassah Hospital
3. In the field of energy alternatives – Phinergy: revolutionizing how we drive
4. In the field of the struggle against traffic accidents – Mobileye
5. In the field of medicine – Rewalk
6. In the field of search and rescue – robot snake
7. In the field of medicine – BNA technology by ElMindA
8. In the field of medicine – MiniDesktop
9. Israel develops the next generation operating room
ISRAELI TECHNOLOGICAL ACHIEVEMENTS TO BE SHOWN TO PRESIDENT OBAMA
[Notes below by Tom Gross]
There has been considerable coverage already devoted by papers such as New York Times to Barack Obama's forthcoming visit to Israel this week, his first as American President. Much has been written about the prospects for reviving (or not reviving) the Israeli-Palestinian peace process, and about the issue of Iran's race towards a nuclear weapon, which is said to be high up the president's agenda.
But during his visit, Obama will also be shown a special exhibit put on for him highlighting a few of the technological breakthroughs made by Israeli universities and start-ups -- in the fields of renewable energy, the fight against traffic accidents, medicine, search and rescue, and robotics.
Israel was recently ranked first country in the world in "research and development intensity" in a comprehensive study published by the Bloomberg news agency.
The innovations that Obama will see are outlined below, with accompanying videos.
TCHAIKOVSKY FLASHWALTZ AT HADASSAH HOSPITAL
But before that, you may also wish to view this remarkable "Tchaikovsky Flashwaltz" performed last week by forty students from the Jerusalem Academy of Music and Dance, who adopted a classical approach to the flashmob trend as they flashwaltzed Tchaikovsky's Waltz of the Flowers at the new wing at Jerusalem's Hadassah hospital. Doctors, patients and passers-by joined in the fun.
The surprise concert was part of Good Deeds Day, an annual event that originated in Israel in 2007 and now takes place in over 50 countries worldwide.
The Academy students enjoyed the performance so much that they have decided to schedule regular concerts at the hospital. The Hadassah Medical Organization treats over one million patients annually, without regard to race, religion or national origin.
***
For another video of an impromptu performance by Israeli classical musicians – in which members of the Israel Philharmonic Orchestra sing the chorus from Verdi's Il Trovatore at Tel Aviv's Dizengoff shopping center, to the surprise of Friday morning shoppers, please see this video dispatch from 2010.
Six of the seven products that Obama will see, are:
IN THE FIELD OF ENERGY ALTERNATIVES – PHINERGY: REVOLUTIONIZING HOW WE DRIVE
Phinergy has developed an aluminum-air battery designed for electric vehicles, which allows a significant increase in travel range (three times that of a regular electric vehicle). Based on research conducted at Bar-Ilan University near Tel Aviv, the technology will allow for a reduction in global oil consumption. The system is based on metal air technology, including aluminum air and zinc air. The technology also has the significant advantages of zero CO2 emissions, full recyclability, safety and low cost. It could revolutionize the amount of oil used by motorists, with all the political, economic and environmental implications this will have worldwide.
IN THE FIELD OF THE STRUGGLE AGAINST TRAFFIC ACCIDENTS – MOBILEYE
Developed in association with the Hebrew University, the goal of Mobileye (a global pioneer in developing Advanced Driver Assistance Systems (ADAS), is to create vision-based systems that will help drivers keep passengers safe on the roads and decrease traffic accidents by alerting them in advance to dangerous situations and even causing the vehicle to slow down or stop when necessary. To date, Mobileye's technology has been used by BMW, Volvo, GM and Ford in over one million vehicles. Beginning in 2014, the system will become standard for new vehicles as per the standards set by Euro-NCAP.
IN THE FIELD OF MEDICINE – REWALK
Developed by a student at the Technion, the ReWalk aims to give persons with lower limb disabilities, such as paraplegia, an experience that is as close to natural walking as possible.
The ReWalk exoskeleton suit uses a patented technology with motorized legs that power knee and hip movement. Battery-powered for all-day use, ReWalk is controlled by on-board computers and motion sensors, restoring self-initiated walking without needing tethers or switches to begin stepping. ReWalk controls movement using subtle changes in center of gravity, mimics natural gait and provides functional walking speed.
A forward tilt of the upper body is sensed by the system, which triggers the first step. Repeated body shifting generates a sequence of steps, which allows natural and efficient walking. The ReWalk also sits, stands, allows turning and has the ability to climb and descend stairs.
***
I carried an article about ReWalk in this dispatch last year:
"Paralysed Claire Lomas finishes London Marathon 16 days after it began" (The Guardian, sports pages, May 8, 2012)
IN THE FIELD OF SEARCH AND RESCUE – ROBOT SNAKE
Developed in association with Israel's Technion university, this robot is designed to enter spaces in collapsed structures (after accidents, earthquakes or bomb attacks) with minimal disturbance. The robot assists in location and rescue operations.
The robot is said to be unique in its manner of crawling and is very flexible thanks to its great number of segments. Each joint is motorized and has a computer, sensors, wireless communications and batteries. Its head carries a camera.
Thanks to its flexible structure, the snake is able to crawl through wreckage without causing additional structural collapses and provide vital information about inaccessible areas, including the status of people who might be trapped, and the location of hazardous materials.
IN THE FIELD OF MEDICINE – BNA TECHNOLOGY BY ELMINDA
Developed in association with Bar Ilan University, ElMindA's Brain Network Activation technology platform provides a non-invasive tool for the visualization and quantification of BNAs of specific brain functions, disease development and rehabilitation from injuries, reactions to treatment, psychiatric and neurological problems, and pain.
IN THE FIELD OF MEDICINE – MINIDESKTOP
A headset has been developed that enables computers to be controlled by brainwaves or facial movements. The computer is controlled without a mouse or keyboard by means of a headset that images the user's brainwaves from 14 separate points.
The system, which was developed by three software engineering graduates from Ben-Gurion University of the Negev, is designed to serve the physically handicapped who could not otherwise operate a computer or other devices.
See here.
ISRAEL DEVELOPS THE NEXT GENERATION OPERATING ROOM
Here is one more video, although this is not something included in President Obama's itinerary.
Norway admits its aid went to Palestinian terrorists (& "Reward for Obama's capture")
March 15, 2013
British lawmaker Lord Ahmed killed a Slovak man and blamed the Jews when he was sentenced
* Senior Guardian journalist responds to Lord Ahmed outburst against Jews, with a Jew-baiting Tweet against Times journalist
* Calls to sack Greece's new ministerial adviser who justified Auschwitz
* Iran and Hungarian neo-Fascist party form anti-Semitic alliance
***
This dispatch contains a number of items relating to European countries. You can comment on it here: www.facebook.com/TomGrossMedia. Please also press "Like" on that page.
CONTENTS
1. French mayor defends honoring Palestinian murderer of Israeli government minister
2. British lawmaker suspended after suggesting a "Jewish conspiracy" runs Britain
3. "Reward for the capture of Barack Obama"
4. Senior Guardian journalist responds to Ahmed outburst with a Jew-baiting Tweet against Times journalist
5. Norway admits its charitable aid went to Palestinian terrorists
6. Calls by Greek Jews to sack ministerial adviser who justified Nazi crimes
7. Iran and Hungarian party form anti-Semitic alliance
8. French students urge Twitter to release the names of users posting anti-Semitic tweets
[Notes below by Tom Gross]
FRENCH MAYOR DEFENDS HONORING OF PALESTINIAN MURDERER OF ISRAELI GOVERNMENT MINISTER
A French mayor whose municipality last month honored the Palestinian terrorist who murdered an Israeli cabinet minister, has defended the move following criticism by Jewish organizations, and instead accused his critics of "hatred".
Dominique Lesparre, the mayor of the Paris suburb of Bezons, said in a statement sent to the press on Wednesday, that his municipality's vote last month to name Majdi Al-Rimawi an honorary resident of Bezons was part of a "tradition of peace, solidarity and cooperation with the Palestinian people."
Rimawi, a member of the terrorist group the Popular Front for the Liberation of Palestine, has admitted and boasted of his role in the 2001 assassination in a Jerusalem hotel of Israel's minister of tourism, Rehavam Ze'evi. Rimawi is now serving a life sentence in Israel.
The CRIF umbrella group of French Jewish communities and the European Jewish Congress condemned the decision. EJC President Moshe Kantor called the move "outrageous and horrific."
Lesparre called Kantor's reaction "hateful," adding: "It strengthens our resolve to defend the noble and just Palestinian cause."
BRITISH LAWMAKER SUSPENDED AFTER SUGGESTING A 'JEWISH CONSPIRACY' RUNS BRITAIN
Lord Ahmed, a leading Muslim member of the British upper house of parliament, the House of Lords, has been suspended after the Times of London reported yesterday that he claimed he had been handed a jail sentence for killing a Slovak man, because of pressure on the courts from Jews "who own newspapers and TV channels". (In fact, almost no major media in Britain is owned by Jews.)
The British Labour Party yesterday suspended Ahmed "pending an investigation".
In 1998 the Pakistani-born businessman Lord Ahmed was appointed by then Prime Minister Tony Blair as the first male Muslim member of the House of Lords.
Ahmed made his claims in a TV interview broadcast in Pakistan. The Times reported that had Lord Ahmed made the claims in the UK, he might have faced prosecution for incitement to racial hatred under the Public Order Act 1986. A spokesman for the Labour Party said the party "does not tolerate any sort of racism or anti-Semitism. We are suspending Lord Ahmed pending an investigation."
Although Ahmed claimed that "the Jews" were responsible for what he said was a harsh sentence, in fact he only had to serve 16 days in jail after Martyn Gombar, a 28-year-old Slovakian was killed on Christmas Day in 2007 after his stationary car was hit by Lord Ahmed's Jaguar. Ahmed was sending text messages as he drove at 70mph shortly before he hit the Slovak man, and was given this short prison sentence for dangerous driving. None of the judges involved were Jewish.
Ahmed, claiming that the judges were biased against him as a Muslim, was in fact treated very lightly when one compares his sentence to that handed down earlier this week to another former (non-Muslim) British lawmaker Chris Huhne and his former wife Vicky Pryce, who each received a prison term of 8 months for switching points when Huhne was caught speeding, when no one was injured or killed by them.
"REWARD FOR THE CAPTURE OF BARACK OBAMA"
Lord Ahmed has long made outrageous and inaccurate comments about Israel, such as the lie that people in Gaza are "starving".
Last year, Ahmed was also suspended by the Labour party for a short time after it was reported that he offered a 10 million pound ($15m.) bounty for the capture of President Barack Obama and his predecessor George W. Bush for "war crimes". The peer denied having made the comments, published in a Pakistani newspaper, and was reinstated after an investigation by Labour.
In February 2005, Lord Ahmed hosted a book launch at the House of Lords for a Swedish anti-Semite called Jöran Jermas who writes under the pen name Israel Shamir (presumably in an effort to fool people that he is an Israeli-born Jew). Jermas said at the Lords, under Ahmed's watchful eye, that: "All the political parties are Zionist-infiltrated… Your newspapers belong to Zionists… In the Middle East we have just one reason for wars, terror and trouble – and that is Jewish supremacy drive… The Jews like an Empire… This love of Empire explains the easiness Jews change their allegiance… Simple minds call it 'treacherous behavior', but it is actually love of Empire per se."
On his website, which Ahmed is likely to have read, Jermas tells readers that: "Jews asked God to kill, destroy, humiliate, exterminate, defame, starve, impale Christians, to usher in Divine Vengeance and to cover God's mantle with blood of goyim… The Ashkenazi Jews believed that spilt Jewish blood has a magic effect of calling down Divine Vengeance on the heads of the Gentiles… The picture of Jews slaughtering children for cultic reasons exerted huge impact on the Christian peoples of Europe."
At least Labour has suspended Lord Ahmed. The other main leftist party in Britain, the Liberal Democrats, who are the junior partner in David Cameron's ruling coalition government, have not even suspended their MP David Ward who "celebrated" International Holocaust Memorial Day in January by claiming "the Jews" were responsible for the ills of the Middle East, and have not properly learned the lesson they "were taught in the Holocaust".
The British Labour party has in recent years expelled other British politicians who helped stoke anti-Semitism, such as George Galloway.
SENIOR GUARDIAN JOURNALIST RESPONDS TO AHMED OUTBURST WITH A JEW-BAITING TWEET AGAINST TIMES JOURNALIST
Yesterday on Twitter, as news of Ahmed's suspension was reported, the veteran Guardian journalist Michael White attacked Daniel Finkelstein, one of the only senior journalists who happen to be Jewish at The Times of London, with what has been described as a "Jew-baiting tweet".
Noting that Finkelstein was Jewish, White immediately engaged in a completely irrelevant attack on Finkelstein (who had tweeted that he was surprised that The Times Lord Ahmed story was not being reported on the BBC morning news yesterday), by attacking Finkelstein over the topic of Israeli settlements. Daniel Finkelstein (who is a subscriber to this email list) is not an Israeli, nor a specialist writer on Israel or defender of Israeli settlement expansion. And his comments on Lord Ahmed's killing of a Slovak man had nothing to do with Israel.
When asked to apologize during the course of yesterday, Michael White, the associate editor of The Guardian, renewed his attacks on Finkelstein and others who came to Finkelstein's defense.
In 2011, The Guardian's Readers' Editor, Chris Elliott, acknowledged (or at least partly acknowledged) that The Guardian had a problem with anti-Semitism, as I noted in this article.
NORWAY ADMITS ITS CHARITABLE AID WENT TO PALESTINIAN TERRORISTS
Norway's foreign minister Espen Barth Eide admitted on Monday that the Palestinian Authority had "misled the Norwegian government" and provided it with "incorrect information" when it had previously claimed that the money donated by Norway to supposedly aid Palestinian development projects had been used instead to pay rewards to Palestinians convicted of terror attacks in which Israeli adults, children and babies were maimed and murdered.
The Norwegian daily Dagen reported that successive Norwegian governments have long claimed that Norwegian aid did not go to Palestinians responsible for terrorist activities, but that Norway's foreign ministry had now "received new information that revealed major differences to what we have assumed, according to earlier information we received from the Palestinian Authority."
For over a decade, the Palestinian Authority has pledged monthly payments to Palestinian prisoners convicted of killing Israelis and even increased payments by as much as 300 percent in 2011.
Eide said the ministry was waiting for clarifications from Ramallah and may review its aid payments to the Palestinian Authority.
Norwegian aid to the Palestinian Authority came under public scrutiny in last month following a documentary by the Scandinavian country's NRK public TV network showing that aid also went to inciting hate against Israel and Jews.
Norway has contributed more than $50 million a year to the Palestinian Authority.
The Israeli government together with groups such as NGO-Monitor and Palestinian Media Watch have long claimed that aid money from many Western governments was used by the Palestinian Authority to pay for and incite violence against Jews.
CALLS BY GREEK JEWS TO SACK MINISTERIAL ADVISER WHO JUSTIFIED NAZI CRIMES
Greece's remaining small Jewish community has called for the sacking of Ioannis Kotoulas, who works as the advisor to the country's deputy interior minister, after it was revealed on Tuesday that he has repeatedly justified the crimes committed by the Nazis against the Jews during the German occupation of Greece in World War II.
Greece was one of the country's most devastated by the Holocaust. Over 90 percent of Greece's 80,000 Jews were murdered by the Nazis and their Greek collaborators.
The Greek newspaper 'Avgi' on Tuesday brought to light a book written by Kotoulas called "The Rise of the Third Reich" in which he refers to Nazism as "a great revolution," as well as a magazine article in which he says concentration camps are "a normal and established practice of all warring sides."
Since September last year, Kotoulas has served as an adviser at the Interior Ministry on Greece's citizenship law.
The leader of Greek Jewry said his "shameless justification of the Nazi concentration camps and of the German bombardments of Greek cities during the war were an insult to the memory of the victims of the German occupation and of the Holocaust."
IRAN AND HUNGARIAN PARTY FORM ANTI-SEMITIC ALLIANCE
The neo-Fascist Hungarian political party Jobbik has found common ground with Iran in their shared anti-Semitism. Jobbik is now the third-largest party in parliament in Budapest, having increased its share of the popular vote eightfold in recent years.

As Jobbik intensifies its anti-Israel propaganda, blaming Israel for Hungary's economic woes, it is strengthening its ties with Iran.
In the Jobbik stronghold of Tiszavasvari in eastern Hungary, the mayor, Erik Fulop, one of five Jobbik politicians elected to run a Hungarian town, has twinned the town with the Iranian city of Ardabil, and put up signs in Hungarian and Farsi. Another Jobbik mayor, Juhasz Oszkar of Gyogyospata, also twinned with an Iranian municipality.
Jobbik's leader, Gabor Vona, has in recent months hosted a number of Iranian delegations in Tiszavasvari and other Jobbik-controlled towns.
Ferenc Szlazsanszky, a writer for the Hungarian weekly Hetek, says that the "driving force" behind Jobbik's pro-Iranian stance is Marton Gyongyosi, the party's foreign policy chief, who last November called for the registration of all Hungarian Jews, citing their potential as a security risk to Hungarian independence. (The last time such registration was done, was in the Nazi era.)
Gyongyosi has recently said he will be conducting a Hungarian lecture tour on the "Zionist threat to world peace." Anti-Jewish and anti-Israel articles now make up about one third of the content on the party's English-language website.
Gyongyosi last year told the London Jewish Chronicle that it was time to "get over" the Holocaust.
FRENCH STUDENTS URGE TWITTER TO RELEASE THE NAMES OF USERS POSTING ANTI-SEMITIC TWEETS
Twitter has been asked to reveal the names of the individuals who have posted a recent a flurry of anti-Semitic tweets, including:
* "A good Jew is a dead Jew."
* "A good Jew is a gassed Jew."
* "How many Jews can fit in a Volkswagen? Two in the back, two in the front and 100 in the ashtray."
Tens of thousands of anti-Semitic comments have circulated on Twitter over the past year from anonymous accounts based in France and Mexico, attached to the hashtags #UnBonJuif, or "A good Jew" and #EsDeJudios, or "It's Jewish to …"
Hate speech on the Web is not new, of course, but these anti-Semitic tweets have in recent months become so popular that they are now trending topics on twitter alongside such subjects as Justin Bieber or the choice of the new Pope.
After the hashtag #UnBonJuif reached the top three on Twitter's trending topics list in France last fall, the Union of French Jewish Students complained directly to the San Francisco-based social networking company, asking for the names of Twitter users promoting the anti-Semitic hashtag. When Twitter failed to do so, the students took their case to a French court and won.
The French court took the case seriously because of a surge of violent anti-Semitic attacks in France, including the murder of a teacher and three young children at a Jewish school in Toulouse last year, as well as a spate of other attacks in neighboring Belgium.
Yet Twitter has until now refused to release the names so that the culprits can be prosecuted under France's race hate laws.
[Notes above by Tom Gross]
Syrians tear down gold statue of Hafez al-Assad, are then killed by his son (& other items)
March 05, 2013
A woman in last year's Gaza marathon
* Hamas rejects 28 smuggled Libyan long-range rockets after discovering the Mossad has tagged them with tracking devices
* Hamas closes Kerem Shalom crossing into Gaza, preventing food and goods from Israel reaching Palestinian population
* UN agency scraps Gaza marathon after Hamas bars women from race
* If you are reading this sitting down then the chances are you are also increasing your risk of developing heart disease, blood clots on the brain and even certain types of cancer and diabetes.
* A growing body of research is finding that sitting down for extended periods may be one of the most dangerous things we do and that the mere act of standing up – rather than doing physical exercise – is perhaps the best antidote.
***
* You can comment on this dispatch here: www.facebook.com/TomGrossMedia. Please also press "Like" on that page.
A locust lurking on a cactus
CONTENTS
1. Syrians tear down enormous gold statue of Hafez al-Assad, are then bombed by his son
2. Syrian opposition begs Kerry: "We want weapons, not bandages"
3. Syrian refugees now number one million; Israel among those treating the wounded
4. Hamas discovers 28 smuggled Libyan rockets tagged by Israel with tracking devices
5. Hamas closes Kerem Shalom crossing into Gaza
6. UN agency scraps Gaza marathon after Hamas bars women from race
7. Palestinian students attack British diplomat in the West Bank
8. Ehud Barak: Israel might act unilaterally in West Bank
9. In run up to Passover, Egypt hit by a plague of Locusts of Biblical proportions
10. "Racist" Israel chooses a 21-year-old Ethiopian as Miss Israel
11. Keeping up with Shimon Peres, aged 90
12. Note; & "Desk workers - stand up for your health"
[Notes below by Tom Gross]
SYRIANS TEAR DOWN ENORMOUS GOLD STATUE OF HAFEZ AL-ASSAD, BUT ARE THEN BOMBED BY HIS SON
Syrian rebels on Monday seized the northern city of Raqqa, and ecstatic local residents immediately took to the streets to tear down giant posters of the Syrian dictator, Bashar al-Assad, and to topple an enormous gold statue of his late father.
You can see video footage here of the cheering protesters. They beat the statue's head with their shoes, shouting: "God is great." One man swings at it with an axe.
The celebrations, however, soon came an end. A second video taken by local people shortly afterwards shows a government mortar landing in the square, followed by a cloud of thick black smoke. Several dead and injured people lie on the ground. The wounded, including a woman, are hurriedly loaded into cars as a second mortar lands nearby.
SYRIAN OPPOSITION BEGS KERRY: "WE WANT WEAPONS, NOT BANDAGES"
The Syrian opposition has expressed exasperation with the new American Secretary of State John Kerry after he promised $60m in non-military aid, but no military assistance, during his first overseas trip as U.S. secretary of state.
Speaking in Ankara, Kerry, who recently stepped down as a senator after 28 years to succeed Hillary Clinton as America's top diplomat, said Washington "believes the first priority is to try and have a political solution" and "we would like to save lives, not see them caught up in a continuing war".
Kerry even stopped short of offering the requested bulletproof vests or armored personnel carriers. Meanwhile Assad's forces continue to receive an enormous amount of military assistance from Hizbullah, from Iran and from Russia.
President Barack Obama's first term cabinet was split on the issue. Last year Clinton, as well as outgoing Defense Secretary Leon Panetta, and former CIA director David Petraeus, all recommended arming the rebels, but Obama overruled them.
Kerry and the new American defense secretary, Chuck Hagel, have both made clear they agree with Obama.
Senator John McCain said in reaction. "To say that we're really going to change the equation with non-lethal aid is not going to do it. And I think we have written a shameful chapter in American history."
Francis Fukuyama, the Stanford political scientist best known for his book "The End of History," described Obama's response as "terrible".
SYRIAN REFUGEES NOW NUMBER ONE MILLION; ISRAEL AMONG THOSE TREATING THE WOUNDED
More than 40,000 people a week are fleeing Syria and the total number of refugees has now reached one million. The bulk of the refugees are living in Turkey, Lebanon, Jordan, Iraq and Egypt. This is in addition to the hundreds of thousands of internally displaced people within Syria.
The UN puts the death toll in the two-year conflict at 70,000 people, but the real number is likely to top 100,000, according to opposition sources. These are in addition to the tens of thousands who have been arrested, many of whom may now have been "disappeared" by the regime.
***
Last month, the Israeli army also flew seven seriously wounded Syrians, who managed to reach the Israeli border fence, by army helicopter to the Ziv Medical Center in Safed, where Israeli doctors treated the injured, saving the life of one man whose condition was critical.
Israeli officials said the incident should not be seen as a precedent for allowing Syrians to enter Israel, but that all such incidents will be assessed on a case-by-case basis. The Israeli government said the wounded Syrians would be permitted to stay in Israel for the time being while they recuperate, which Israel says it will pay for.
Israel has also provided medical assistance to help wounded Syrians in refugee camps in Jordan.
HAMAS DISCOVERS 28 SMUGGLED LIBYAN ROCKETS TAGGED BY ISRAEL WITH TRACKING DEVICES
The Egyptian paper Al-Youm A-Sabi reported on Monday that Hamas has rejected 28 long-range missiles smuggled from Libya to Gaza through the Sinai peninsula during the past few days, after Hamas operatives discovered that Israel had tagged them with tracking devices somewhere en route from Libya.
The existence of the tracking devices would allow Israel to identify and target the Hamas rocket depots in Gaza from the air at some point in future.
The Sinai desert has been flooded with weapons from Libya since the fall of the Gaddafi regime in October 2011. Last June, for example, the Egyptian army confiscated a huge weapons shipment, which included 138 deadly Grad missiles, and was en route to Gaza.
An anti-aircraft missile fired from Gaza at an Israeli helicopter (in Israeli airspace) last year also came from Libya, according to Israeli security officials.
HAMAS CLOSES KEREM SHALOM CROSSING INTO GAZA
The international media and diplomats regularly accuse Israel (often wrongly) of preventing the free flow of goods into Gaza.
But yesterday Israel sharply rebuked Hamas for closing the main crossing from Israel into Gaza. As of last night, over 70 trucks filled with food and other goods were waiting on the Israeli side of the Kerem Shalom crossing for their Palestinian counterparts to take them.

It is believed that Hamas is trying to take control of the commercial goods crossing from the Palestinian Authority, thus endangering security arrangements between Israel and the Palestinian Authority that allow goods to cross freely into Gaza.
Kerem Shalom Crossing is the primary commercial goods crossing into Gaza from Israel. An average of 300 trucks carrying food and other items cross there every day. The crossing has been the site of many terror attacks in the past that have forced the crossing to close temporarily, but yesterday's events are the first time that Hamas has closed Kerem Shalom in this manner.
***
Last week, Palestinians fired a rocket from Gaza into southern Israel for the first time since a few days after a ceasefire was brokered three months earlier. It landed on a road south of the southern Israeli city of Ashkelon, causing damage but no injuries. The M-75-type Grad rocket has a medium range and was the same kind used to hit Tel Aviv and the outskirts of Jerusalem during November's eight day conflict between Hamas and Israel.
The Gaza branch of Fatah, the Al-Aqsa martyrs Brigade, claimed responsibility for the attack. (Several rockets were fired into Israel by Hamas in the days following the ceasefire three months ago, but Israel did not respond.)
***
An Egyptian court has ruled that the Egyptian government must destroy all tunnels between Egypt and Gaza in order to end weapons smuggling. President Mohammed Morsi's national security advisor said the two-way flow of arms is destabilizing the Sinai Peninsula. Egypt has already flooded dozens of tunnels, sometimes with sewage.
UN AGENCY SCRAPS GAZA MARATHON AFTER HAMAS BARS WOMEN FROM RACE
The United Nations Relief and Works Agency for Palestinian refugees (UNRWA) today posted a notice on its website announcing next month's Gaza marathon would be cancelled and apologizing to participants.
In last year's Gaza marathon, female runners were permitted among the 2,200 participants, but this year Hamas has barred them as "unIslamic".
Last week's Jerusalem marathon (which included Israeli, Palestinian and international participants) drew 20,000 runners including Jerusalem mayor Nir Barkat.
PALESTINIAN STUDENTS ATTACK BRITISH DIPLOMAT IN THE WEST BANK
Dozens of Palestinian students swarmed around a senior British diplomat on Tuesday, leaping on his vehicle, banging the windows and trying to attack him. The outburst forced the British consul general in east Jerusalem, Sir Vincent Fean, to cancel a speech at the Palestinian Birzeit University in the West Bank.
Fean claimed he was not hurt, although an Associated Press photographer said he saw one student kicking Fean in the shins. Student leaders also told AP that they saw rocks hurled at the vehicle.
Fean was hurried away by security and university staff.
Birzeit University condemned Tuesday's incident in a statement.
EHUD BARAK: ISRAEL MIGHT ACT UNILATERALLY IN THE WEST BANK
The outgoing Israeli Defense Minister Ehud Barak, has called on the U.S. to establish a "regional security framework" that would bring together many countries in the Middle East to fight against the "joint challenges of radical Islamist terror, border security, missile defense and Iran."
Barak also called for a "daring peace initiative" for a permanent peace agreement with the Palestinians. He said that an independent Palestinian state is "a compelling imperative" for Israel.
However, he added that if neither "a permanent agreement nor a fair interim agreement" can be achieved, Israel should "consider unilateral steps that would include establishing a border by Israel in which Israel would keep the major settlement blocs close to the green line and "ensure a Jewish majority for generations to come."
In effect, this would mean Israel withdrawing from most of the West Bank, while annexing about 12 percent of the territory where most of the Israelis there live.
IN RUN UP TO PASSOVER, EGYPT HIT BY A PLAGUE OF LOCUSTS ON BIBLICAL PROPORTIONS
Echoing the Biblical Passover story, in which a plague of locusts descended over Egypt, one of ten plagues that are said to have led the Pharaoh to allow the enslaved Israelites to cross the Sinai into Israel, huge swarms of locusts have in recent days been gathering in Egypt.
An estimated 30 million of the crop-destroying bugs are now swarming in Egypt. Egyptian officials say locusts always breed in North Africa around this time of the year, but this year there are a particularly large number. However, they insist that the situation is under control. They urged citizens not to burn tires to try to get rid of the insects as that does not work, but instead causes pollution.
Today, several thousand locusts from Egypt arrived in southern Israel, just ahead of the Passover holiday, retelling the Biblical story of the exodus from Egypt, which will be celebrated by Jews in Israel and around the world later this month.
The last time locusts invaded Israel was 2005. A locust swarm can contain tens of millions of bugs per square mile. A single ton of the insects, which is only a tiny percentage of a large swarm, consumes as much food as 2500 people per day.
"RACIST" ISRAEL CHOOSES A 21-YEAR-OLD ETHIOPIAN AS MISS ISRAEL
Yityish Aeinao, 21, from Netanya has been crowned the first ever Miss Israel from the country's Ethiopia minority. She came to Israel at age 12 with her brother after her parents had died and has served as an officer in the Israeli army.
She will represent Israel in the Miss World pageant in Jakarta, in the mainly Muslim country of Indonesia on September 28.
KEEPING UP WITH SHIMON PERES, AGED 90
Israeli president Shimon Peres may be celebrating his 90th birthday this year, but it seems he has not let up on his incredibly busy schedule. For example, yesterday he left for a visit to the European Union.
His office said, in a press release, that he "will conduct a series of diplomatic, economic and security meetings with senior leaders on a range of issues of importance to Israel including the Iranian nuclear threat, Syria's chemical weapons stockpile, arms smuggling into Lebanon, the peace process between Israel and the Palestinians and the strengthening of strategic relations between Israel and the European Union.
"During the visit President Peres will meet with heads of state including the President of France, Francois Hollande (8 March), the Prime Minister of Belgium Elio Di Rupo (6 March) and the President of Bulgaria Rosen Plevneliev (6 March) as well as with the leaders of the European Union including the President of the European Parliament Martin Schulz (12 March), the President of the European Commission Jose Manuel Barroso (7 March) and the President of the European Council Herman Van Rompuy (6 March). The meetings will take place in the context of the inquiry into the terror attack in Bulgaria which found that Hezbollah was responsible for the bombing and the subsequent discussions within Europe on the consequences.
"President Peres will also hold strategic meetings with the Secretary General of NATO, Anders Fogh Rasmussen (8 March in Brussels) and the OECD Secretary-General Angel Gurria (8 March in Paris) before delivering a speech to the senior economic forum of the OECD which will include hundreds of representatives of global companies, heads of the economic committees and the ambassadors of the member countries. President Peres will lay out his vision for the role of global companies in creating change in the Middle East.
"President Peres will conclude the visit with an historic speech in Strasbourg before the European Parliament. The speech will be the first by an Israeli leader before the European Parliament in its current format.
"President Peres' historic speech at the European Parliament will be broadcast live via the European Union's website."
Tom Gross adds: Men and women half his age might have trouble keeping up with him.
NOTE; & "DESK WORKERS - STAND UP FOR YOUR HEALTH"
Because of my continued problems with my arms and wrists, I am under doctor's orders to avoid typing as much as possible in the coming weeks. (To all those who wrote to ask, I am using voice-activated software, but it makes many mistakes and cannot be used to prepare dispatches of this length.)
So I apologize that I cannot, for the time being, reply to many emails I receive.
But thank you to all the people who wrote to me about my recent article:
The UN's willful ignorance of modern-day slavery.
It was also highlighted as one of the five best columns of the day by The Atlantic magazine.
Below, I attach an article from last week relating to health risks or over-using computers, below.
THE DANGERS OF SITTING DOWN
Desk workers - stand up for your health: Millions may be making themselves ill by spending their working lives sitting down
By Steve Connor
The Independent (UK)
February 27, 2013
www.independent.co.uk/life-style/health-and-families/health-news/desk-workers--stand-up-for-your-health-millions-may-be-making-themselves-ill-by-spending-their-working-lives-sitting-down-8513806.html
If you are reading this sitting down then the chances are you are also increasing your risk of developing heart disease, blood clots on the brain and even certain types of cancer.
The latest evidence suggests that being seated for much of the day can also increase your risk of developing diabetes. However, standing up daily for an extra 90 minutes significantly lowers your chances of developing this serious metabolic disorder.
A growing body of research is finding that sitting down for extended periods may be one of the most dangerous things we do and that the mere act of standing up – rather than doing physical exercise – is perhaps the best antidote.
Studies suggest that on average we spend about 9 or 10 hours a day sitting, either at the office, in the car or train, or in front of the television. But some people spend up to 16 hours a day sitting down – leaving little time for any other activity apart from sleep.
A study of two groups of men and women at risk of developing diabetes has found a link between levels of sugary glucose and fatty acids in the bloodstream – which are biochemical markers for diabetes – and the time spent sitting down.
The research, published in the journal Diabetologica, found a range of behaviours: some of the people in the study spent as little as three hours a day sitting, but most spent more than 10 hours in a chair, and a few regularly sat down for 16 hours a day. The conclusion was that people at risk of diabetes could be well advised to spend less time sitting and more time standing up, said Joseph Henson, a diabetes researcher at Leicester University.
"The longer the time you spend sitting, the higher the amount of sugars and fats that accumulate in your bloodstream regardless of the time you spend exercising," Dr Henson said.
"There's a significant difference between people who sit a lot and those who don't. Those who spend the least time sitting have the lowest values of glucose and fats in their blood."
Scientists have found that a person's metabolic rate crashes to a minimum when sitting and that standing up for an extra three hours a day, even without exercising, would on average burn off about 3.6kg of fat a year.
When a person is standing still they are using their muscles more than when they are sitting still. The muscles that keep someone standing up seem to produce more of the enzymes that break down sugar and fats in the bloodstream, Dr Henson said.
The current advice for lowering the risk of heart disease and type-2 diabetes is to exercise regularly but perhaps it is time to consider the suggestion of standing up more often, especially at work during the day, he said.
"The approach requires a paradigm shift, so that individuals at high risk of developing type-2 diabetes think about the balance of sedentary behaviour and physical activity throughout the day. Anything that breaks your sitting time would be beneficial because the more you move the better it is for you. But people should still exercise – standing should not be seen as a substitute for physical activity."
Office desks that allow people to stand up while working are becoming increasingly popular and could be an easy and simple way for people to lower the risk of developing chronic metabolic disorders such as diabetes, Dr Henson said.
"Standing desks are a great initiative – I've got one myself. I reckon I spend about 80 per cent of my time at work standing up."
STANDING ROOM ONLY: THE UPRIGHT TENDENCY
Working while standing up is nothing new. This was how most manual workers went about earning their living before the age of the office and the computer.
Standing up at a desk has been particularly popular among authors. Vladimir Nabokov, the author of Lolita, wrote on a set of index cards while standing, as did his compatriot Alexander Solzhenitsyn when he was in exile in the United States.
Meanwhile, Ernest Hemmingway preferred to type while standing in a pair of oversized loafers on the hide of a lesser kudu – a type of forest antelope. He said it made him feel more physical.
Winston Churchill liked to stand up while writing and editing, and there is even a brand of standing desk named after him. Donald Rumsfeld, another politician with a love of standing at work, has yet to receive the same honour.
James Murdoch is a famous latter-day user of a waist-high office desk. He once suggested to his employees at News International that they should get rid of their chairs.
"They weren't very happy. It was very funny. They didn't know whether to take me seriously," he said.