Sign up here for the next big Gaza flotilla (& Bibi's historic speech)
May 25, 2011
* "Rich Jews threaten Obama," reads headline in Norway's biggest daily paper
* Deep Purple drummer says pop stars who boycott Israel are "wimps"
* Bob Geldof to visit Israel, accept honorary degree
* Coen Brothers: Boycotting Israel is a mistake
This dispatch concerns boycotts of Israel and the political use of anti-Zionism as a front for anti-Semitism.
ADDITIONAL NOTE: BIBI'S SPEECH
For those who haven't seen it, I think it is worth watching in full the speech yesterday by Israeli Prime Minister Netanyahu before a joint session of the U.S. Congress.
Whether or not you agree with Netanyahu, this was an important speech that goes to the heart of the issues of the Israeli-Palestinian / Arab conflict.
The version I have posted here is from America's PBS – which unlike BBC World and CNN International didn't interrupt and editorialize and pepper its coverage with remarks by PLO spokespersons telling us (in the case of the BBC's coverage) that "Netanyahu has declared war on the peace process".

Extract: "Of the 300 million Arabs in the Middle East and North Africa, only Israel's Arab citizens enjoy real democratic rights... think about that. Of those 300 million Arabs, less than one-half of one-percent are truly free, and they are all citizens of Israel. This startling fact reveals a basic truth: Israel is not what is wrong with the Middle East. Israel is what is right about the Middle East... "
Thank you to those commentators who have written about items in this dispatch, such as Jay Nordlinger at The National Review.
CONTENTS
1. Application form for the upcoming Gaza flotilla
2. Organizers of flotilla condemn Bin Laden killing; claim U.S. used chemical weapons in Iraq
3. U.S. urges Turkish government to stop Gaza flotilla
4. UN Secretary General calls on "all governments to discourage new flotillas to Gaza"
5. "Rich Jews threaten Obama," reads headline in Norway's biggest daily paper
6. Anger as Scottish council bans Israeli books from local libraries
7. World Press Photo exhibit closes after Lebanon objects to Israeli's work
8. Deep Purple drummer: Israel concert cancellers are "wimps"
9. Bob Geldof to visit Israel, accept honorary degree
10. Coen Brothers: Boycotting Israel is a mistake
11. Cannes film festival bans Danish movie director after pro-Hitler rant
12. Belgian justice minister under fire for suggesting Nazi collaboration "be forgotten"
13. Director of Jewish school in Argentina brutally assaulted
14. Hamas Minister: "Jews are despicable"
[All notes below by Tom Gross]
APPLICATION FORM FOR UPCOMING GAZA FLOTILLA
Here is the application form (in Turkish) for those extremists among you that might want to sail to Gaza next month:
www.ihh.org.tr/filo-katilim-formu/tr/
Registration for the flotilla began on May 8. The IHH, the organization behind last year's flotilla and which is playing a central role in organizing the upcoming flotilla, says they expect "a million potential candidates" will apply "from whom a limited number will be chosen."
IHH leader Bülent Yildirim said that 15 ships would participate in the flotilla and added "we are not afraid, we are willing to sacrifice shaheeds [martyrs] for this cause." He said a number of Israeli and Diaspora anti-Zionist Jews had already signed up.
The convoy is set to depart in mid-June, after the Turkish general elections on June 12.
Nine Turks were killed and a number of Israelis injured, as Turkish militants fought pitched battles with Israeli commandos last May 31 on the vessel Mavi Marmara, which was part of a convoy trying to infiltrate Gaza.
For pictures, please see here and here.
And for cartoons, please see here.
ORGANIZERS OF FLOTILLA CONDEMN BIN LADEN KILLING; CLAIM U.S. USED CHEMICAL WEAPONS IN IRAQ
The IHH joined other Turkish Islamist organizations in denouncing the killing of Osama bin Laden by America earlier this month. IHH leader Yildirim made the remarks at a press conference convened with other Turkish Islamist organizations at the Reşadiye Hotel in Istanbul.
The IHH representative spoke under a banner which read "We condemn American terrorism." Osman Atalay, another IHH representative (who participated in the Mavi Marmara flotilla last year) said at the meeting that "America was a terrorist nation". He boasted that IHH has raised $100 million this year (compared with $10 million last time) to give to Hamas.
Atalay also claimed that "millions" of people had been killed in Iraq, and he said that the United States used chemical weapons in Fallujah.
(Amazingly, but perhaps not surprisingly, many supposedly progressive European politicians continue to side with the right-wing Islamist extremists of the IHH in its struggle with the democratic state of Israel.)
U.S. URGES TURKISH GOVERNMENT TO STOP GAZA FLOTILLA
For the first time, the U.S. administration has openly warned the Turkish government not to allow another "aid" convoy to Gaza. In a move aimed at avoiding a repetition of last year's crisis on the Mavi Marmara, U.S. Assistant Secretary of State for European and Eurasian Affairs Philip Gordon last week openly urged the Turkish authorities not to dispatch another flotilla to Gaza.
If they want to send goods to Gaza, they could do so across Israel's land border, along with all the goods and produce that Israel and others send in on a daily basis, he said.
"It is very clear that there are alternative ways to get humanitarian assistance to Gaza," Gordon added.
UN SEC-GEN. CALLS ON "ALL GOVERNMENTS TO DISCOURAGE NEW FLOTILLAS TO GAZA"
From an official statement issued by the UN on May 19, 2011:
"The Secretary-General is also following with concern media reports of potential new flotillas to Gaza that can provoke unnecessary confrontations. The Secretary-General calls on all Governments concerned to use their influence to discourage such flotillas, which carry the potential for escalation. He further calls on all to act responsibly to avoid any violent incident."
Full text here: www.unsco.org/Documents/Statements/MSCB/2008/SCB%2019%20May.pdf
"RICH JEWS THREATEN OBAMA," READS HEADLINE IN NORWAY'S BIGGEST DAILY PAPER
The headline on Saturday in the print edition of Norway's largest paper, Aftenposten, which read "Rich Jews threaten Obama," has been changed online after several readers complained that the Norwegian media was again using its conflict of the Middle East to incite anti-Semitism in the country.
I have noted the questionable reporting of Israel by Aftenposten several times in the past on this website, and was quoted in a story on this yesterday in an article by The Jerusalem Post's European correspondent Benjamin Weinthal, as follows:
Political and media analyst Tom Gross told the Jerusalem Post that "this was by no means the first time there had been questionable reporting of Israel by Aftenposten. For example, in 2006 the paper ran an article titled 'God's chosen people,' (by Jostein Gaarder, author of the bestselling book 'Sophie's World') saying that Tzipi Livni and Ehud Olmert were so evil that Israel 'should be dismantled'."
Tom Gross added: "The article compared Israel's then center-left government to the Taliban regime in Afghanistan and added that 'the first Zionist terrorists started operating in the days of Jesus.'"
Benjamin Weinthal's full report is here.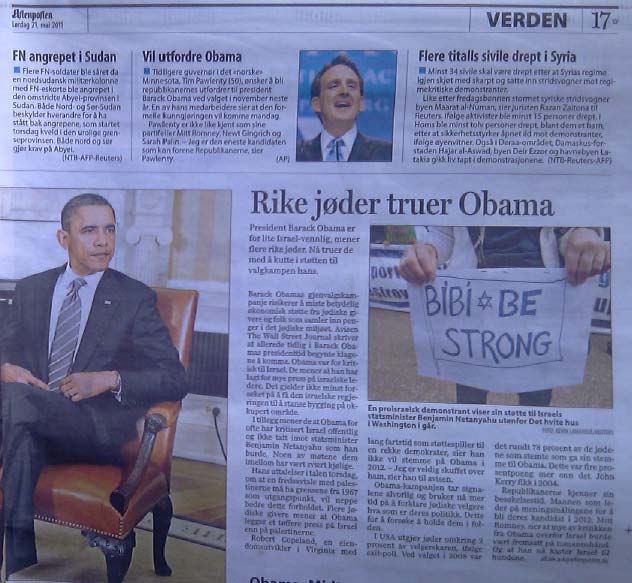 Aftenposten's headline
ANGER AS SCOTTISH COUNCIL BANS ISRAELI BOOKS FROM LOCAL LIBRARIES
West Dunbartonshire Council in Scotland has sparked outrage after it ordered that its libraries ban "any new volumes by Israeli authors, printed or published in the Jewish state."
It follows an earlier decision by the local authority to boycott Israeli goods and produce as part of a pro-Palestinian display.
Now, it has emerged the district's libraries have been told not to stock any new books at all from Israel, depriving readers of novels such as "A tale of love and darkness" by Amos Oz and "See under, love" by David Grossman.
A similar boycott move by Dundee City Council (also in Scotland) was abandoned because legal experts advised such a move is illegal under EU law.
Other Scottish politicians strongly criticized the move by West Dunbartonshire Council. Labour member of the Scottish parliament and the party's newly-appointed Culture and External Affairs spokesman, Ken McIntosh said the council's ban was "deplorable".
He said: "This is not just anti-Israel, it is anti-knowledge. While everybody, including councils have the right to express opinions, this simply smacks of a closed minds and actually shuts down debate. I find the move pretty deplorable. This reflects not so much on Israel, but on West Dunbartonshire Council."
However, a West Dunbartonshire Council spokesman stood by their Israeli ban, saying that "ten other Scottish Councils responded to our request to join the boycott."
In separate news last week, West Dunbartonshire emerged as the worst unemployment blackspot in Britain, with more than 40 people in the area chasing every vacancy.
WORLD PRESS PHOTO EXHIBIT CLOSES AFTER LEBANON OBJECTS TO ISRAELI'S WORK
A World Press Photo exhibit in Beirut is being closed early after Lebanese authorities ordered the removal of an Israeli photographer's prize-winning work.
The Netherlands-based organization said on Friday that they would prefer to close the exhibit 10 days early rather than have photos censored. The World Press award is one of the industry's most coveted prizes.
The award-winning Israeli photographer in question, Amit Sha'al pointed out that his photos include the depiction of Palestinians in a sympathetic light – but denouncing Israel didn't stop the Lebanese authorities boycotting him as an Israeli Jew.
DEEP PURPLE DRUMMER: ISRAEL CONCERT CANCELLERS ARE "WIMPS"
Ian Paice, the drummer for the rock band Deep Purple, said that performers who had canceled their concerts in Israel due to politics are "real wimps". He made the statement at a news conference ahead of two scheduled concerts in Israel.
BOB GELDOF TO VISIT ISRAEL, ACCEPT HONORARY DEGREE
Musician and campaigner Bob Geldof has agreed to accept an honorary degree from Ben Gurion University, awarded to thank him for his anti-poverty activism, including his organization of the Live Aid and Live 8 concerts.
This will be a first visit to Israel for the former front-man of the Boomtown Rats. Geldof will also attend a conference on humanitarian aid while in Israel. The "Israel in Africa – Past, Present and Future" event, organized by IsraAID (The Israel Forum for International Humanitarian Aid) will take place in Herzliya.
In 2004 it was revealed that Geldof's grandmother Amelia, who ran a tea shop in Dublin, was Jewish.
COEN BROTHERS: BOYCOTTING ISRAEL IS A MISTAKE
While on a visit to Israel to collect an award from Tel Aviv University, American filmmakers Joel and Ethan Coen said that they did not believe that boycotting Israel would help bring about a more peaceful Middle East.
The production-direction team responsible for a string of successful Hollywood dramas in the last two decades, from The Big Lebowski to Miller's Crossing, came to Israel to receive the prize for their creative contribution to filmmaking.
Responding to a question about musicians and film makers who boycott the Jewish state, screenwriter and director Ethan Coen said, "People respond to real problems from the heart, and they think that's the right thing to do. We don't agree with that opinion, that that's how to deal with these problems."
Unlike many other boycotting American and European artists, the Coen brothers were modest enough to admit that they don't really know much about Israel. "We don't really know Israel – we write American stories. That's what we know," added Ethan at a press conference.
It was the Coen Brothers first trip to Israel. This year they were nominated for twelve Academy Awards for their movie "True Grit".
CANNES FILM FESTIVAL BANS DANISH MOVIE DIRECTOR AFTER PRO-HITLER RANT
The Cannes International Film Festival last week declared Danish film director Lars von Trier "persona non grata" following pro-Hitler remarks he made at a press conference.
Von Trier later claimed his comments were "just a joke". If so, they are in extraordinarily bad taste and it is nevertheless highly disturbing he would air or even think such remarks. One wonders what the media reaction would have been if he had called for the gassing of Muslims, or black people.
At a special meeting convened on Friday the Cannes organizers condemned the comments and said von Trier would be banned from the rest of the event, effective immediately. They said: "The festival provides artists from around the world with an exceptional forum to present their works and defend freedom of expression and creation. The board profoundly regrets that this forum has been used by Lars von Trier to express comments that are unacceptable, intolerable, and contrary to the ideals of humanity and generosity that preside over the very existence of the festival."
Von Trier had claimed to be a Nazi and also made remarks disparaging Israel at a press conference in Cannes. He finished his remarks saying "OK, I admit it, I'm a Nazi. We Nazis like to do things on a big scale. Maybe I could do the Final Solution."
The European Jewish Congress said the director's comments were the latest in a string of "respectable anti-Semitic comments" by well known European personalities. "Just as the fashion industry has made John Galliano an outcast because of his hate speech, so the film industry should do the same with von Trier," it said.
***
The Israeli film "Footnote" won "Best Screenplay" at Cannes Film Festival. The story centers around a father-son rivalry; both are Talmudic scholars in Jerusalem.
BELGIAN JUSTICE MINISTER UNDER FIRE FOR SUGGESTING NAZI COLLABORATION "BE FORGOTTEN"
Belgium's minister of justice, Flemish Christian Democrat Stefaan De Clerck, is facing calls to resign following his remarks during a TV debate in which he voiced support for a general pardon of all Belgians who helped in the Holocaust and collaborated with Nazi Germany.
A number of other politicians and Jewish groups called his remarks "disgraceful".
However, in a 30 to 26 vote last week, the Belgian Senate accepted draft legislation proposed by the far-right and xenophobic Vlaams Belang party that would grant amnesty to those who collaborated with the Nazis during the war. The bill still needs approval by the lower house of parliament.
The Forum of Jewish Organizations (FJO) in Antwerp said they were "shocked and dismayed by the amnesty proposal."
Over 25,000 Belgian Jews were deported to Auschwitz from the Mechlin army barracks, north of Brussels, after being rounded up by the Belgium authorities.
After years of delay, in 2007 the Belgian government formally apologized for "collaboration unworthy of a democracy". Belgium has also been one of the most anti-Israeli countries in Europe.
DIRECTOR OF JEWISH SCHOOL IN ARGENTINA BRUTALLY ASSAULTED
Jewish groups have strongly condemned a vicious anti-Semitic attack against the director of an Orthodox Jewish school in Buenos Aires, which occured last week on Monday night. Rabbi Moshe Cohen was accosted by a man who yelled "Dirty Jew," "Go to the ovens" and other insults against him and was repeatedly hit on the head with a martial-arts weapon. Cohen is undergoing treatment in hospital for serious head injuries.
Around 250,000 Jews live in Argentina, which has the largest Jewish community in Latin America.
In Argentina, as elsewhere, hatred of Jews is often fueled by media hysteria and out-of-context reporting about Israel by international news agencies and TV networks.
HAMAS MINISTER: "JEWS ARE DESPICABLE"
Former Hamas Culture Minister Atallah Abu Al-Subh told Palestinian Al-Aqsa TV that "The Jews are the most despicable and contemptible nation to crawl upon the face of the earth".
"Allah will kill the Jews in the hell of the world to come, just like they killed the believers in the hell of this world," he added.
President Obama, the UN, the European Union and the so-called international community last week again insisted to Israel that it must cede land to the new Fatah-Hamas government in the Palestinian Authority, despite these kinds of genocidal comments.
"WE MUST RELIEVE HUMANITY OF THE JEWS' EVIL"
And earlier this month (on May 11) Hamas MP and Cleric Yunis Al-Astal told Al-Aqsa TV that "the Jews were brought to Palestine for the 'Great Massacre'."
He said: "All the predators, all the birds of prey, all the dangerous reptiles and insects, and all the lethal bacteria are far less dangerous than the Jews."
"The [Jews] are brought in droves to Palestine so that the Palestinians – and the Islamic nation behind them – will have the honor of annihilating the evil of this gang."
"In just a few years, all the Zionists and the settlers will realize that their arrival in Palestine was for the purpose of the great massacre, by means of which Allah wants to relieve humanity of their evil."
You can watch the clip here:

[All notes above by Tom Gross]
Saudis open world's largest female university (& UAE hires private army)
May 23, 2011
* Who said the Saudi regime weren't feminists?
* Education but no jobs
* German troops gun down Afghan civilians, including children, but few seem to care
CONTENTS
1. Saudi Arabia opens world's largest women's university
2. UAE hires American firm to set up private army
3. Life-saving surgery in Israel for Indonesian toddler
4. Brutal Bahrain set to end its state of emergency
5. German troops gun down civilians, kill children, but few seem to care
6. Kuwait elected to UNHRC after Syria withdraws application
7. Student priorities
8. Two thirds of Arab-Israelis think Jews are "foreign" to the Mideast, poll finds
9. 55% of Americans think Arab world protests make Israel less safe
10. "Palestine may join Gulf Cooperation Council"
11. A coming Iranian-American-Venezuelan missile crisis?
[All notes below by Tom Gross]
SAUDI ARABIA OPENS WORLD'S LARGEST WOMEN'S UNIVERSITY
Who said the Saudi regime weren't feminists?
Saudi King Abdullah bin Abdulaziz last week inaugurated the world's largest women's university. The campus of the Princess Nora bint Abdulrahman University on the outskirts of the Saudi capital Riyadh covers eight million square meters (20,000 acres) and cost over 20 billion riyals ($5.3 billion) to build. As many as 40,000 female students are expected to enroll.
"The King realizes his Dream, Inaugurating the Gate of Knowledge for the Saudi Woman," ran the headline in the Saudi daily Al-Watan last week.
But many women are asking if the skills they acquire will ever be put to use. Many Saudi women have already graduated college but few are allowed to enter the national labor force.
UAE HIRES AMERICAN FIRM TO SET UP PRIVATE ARMY
The United Arab Emirates (UAE) has confirmed American media reports that it has hired an American firm owned by Erik Prince, the founder of the controversial Blackwater private security company. The UAE's official news agency said that Prince's company, Reflex Response, would provide training to its military and would be "compliant with international law and relevant conventions."
But former Reflex employees and U.S. officials said Reflex had been retained to recruit and train a foreign battalion for internal security policing. It said hundreds of Colombian, South African and other foreign troops were already training at a UAE military base.
The UAE's deal with Reflex is reportedly worth over half a billion dollars.
LIFE-SAVING SURGERY IN ISRAEL FOR INDONESIAN TODDLER
While the likes of Jimmy Carter and Thomas Friedman continue to compare Israel to an apartheid state (in fact there is much more de facto segregation in the Washington DC area where both men have lived) Israeli hospitals continue to save the lives not just of many Palestinian children, but of children from countries throughout the Muslim world.
In the latest example, Israeli doctors at Tel Aviv's Wolfson hospital performed life-saving surgery and saved the heart of an 18-month-old boy from Indonesia. The boy is now recovering in hospital in Israel. The boy's flight to Israel (together with the flight tickets for his family) and the cost of the operation was paid for by private Israeli charities. (Israel has some of the leading doctors in the world.)
BRUTAL BAHRAIN SET TO END ITS STATE OF EMERGENCY
King Hamad Bin Isa Al-Khalifa has announced that Bahrain's 3-month old state of emergency will end on June 1.
This follows the brutal and "successful" crackdown against the country's majority Shia population. Bahrain was aided in this by 2,000 Sunni soldiers that Saudi Arabia sent to help quell the protests, as well as by Pakistani Sunni mercenaries hired by Bahrain.
The Saudis are said to have been particularly brutal in Bahrain, even entering hospitals to torture and shoot dead Shia doctors who were treating the injured.
In recent weeks, a number of Bahraini opposition leaders and bloggers have reportedly been tried in secret, and others have simply disappeared.
Naturally, there have not been many moralising New York Times editorials, enraged letters to The Guardian, or one-sided BBC reports on this subject, as these media have been too busy continuing in their sport of undermining Israel on an almost daily basis.
GERMAN TROOPS GUN DOWN CIVILIANS, KILL CHILDREN, BUT FEW SEEM TO CARE
Most international media outlets have also barely shown any concern that last week German troops in the northern Afghan town of Taloqan shot dead 12 people. Those killed had been protesting the previous killing of Afghan civilians (including four children) by U.S. troops a few days earlier.
Germany, one of the largest troop-contributing nations in the U.S.-led coalition, heads the regional command for northern Afghanistan.
Takhar Gov. Abdul Jabar Taqwa has complained to both German and American authorities. German defense ministry spokesman Christian Dienst said the troops had been defending themselves and two German soldiers had been wounded in the incident.
Germany's deployment in Afghanistan is its first major combat mission since World War II. In September 2009, a German officer requested a U.S. airstrike on two fuel tankers, which then exploded killing 140 Afghans, mainly civilians. Except in Germany and Afghanistan, few media and human rights groups seem to care about this.
KUWAIT ELECTED TO UNHRC AFTER SYRIA WITHDRAWS APPLICATION
In a secret ballot on Friday, the UN General Assembly in New York elected another Arab dictatorship (Kuwait) as a new member of the Geneva-based UN Human Rights Council, in place of the Syrian government, which withdrew its candidacy because it has been too busy murdering civilians in over 40 Syrian towns in recent weeks.

In addition to Kuwait, other countries with appalling human rights records, such as Congo, were elected on Friday to the Human Rights Council. There they will join Bahrain, China, Cuba and Saudi Arabia, who already have seats on the Human Rights Council. The Council spends most of its time and considerable amounts of tax payers' money in reports and resolutions condemning one country only: Israel. The most notorious of these was the so-called Goldstone report.
U.S. funding of the UN reached over $6 billion in the fiscal year 2009.
STUDENT PRIORITIES
Meanwhile (two months after Syria began gunning down scores of unarmed pro-democracy protestors), the U.S. has finally imposed financial sanctions on Syrian President Bashar Al-Assad and six of his top officials. European governments are considering doing the same.
On Saturday Syrian troops even sprayed bullets on mourners at a funeral, killing at least 11 and injuring many more. The funeral services were for ten of the 54 people killed by Assad's forces the day before.
Western university students are still holding protests against Israel – where Jewish and Arab men and women study together – but seem to have nothing to say about last week's attacks on protesting university students in Syria's second-largest city, Aleppo. Many of the students there were chased by security forces into their dormitories and badly beaten, and some were killed.
They haven't got much to say about Yemen either, where people are continuing to be shot dead by government snipers on a daily basis, and hundreds of civilians have been killed and thousands seriously injured in the last three months.
***
Incidentally, I have added an additional video to yesterday's dispatch and would urge you to watch it, by refreshing the page and viewing the third video here.
It shows detainees who have survived Syrian torture. France 24 (which has been much better in covering the situation in Syria than other international networks like the BBC and CNN) showed the video and reported that these tortured detainees were deliberately released by the regime in an effort to dissuade other citizens from participating in anti-government protests.
TWO THIRDS OF ARAB-ISRAELIS THINK JEWS ARE "FOREIGN" TO THE MIDDLE EAST, POLL FINDS
According to a new survey by Haifa University, nearly two thirds of the Arab citizens of Israel believe Jews are a foreign implant in the Middle East – this despite the fact that about half of the Jewish population of Israel are Jews who fled Arab countries and have lived continuously in the Middle East for over a thousand years before Islam was even founded.
In addition, 38 percent of Arabs polled in the survey said they did not believe that millions of Jews had died in the Holocaust.
55% OF AMERICANS THINK ARAB WORLD PROTESTS MAKE ISRAEL LESS SAFE
A new Rasmussen Reports national telephone survey has found that 55% of "likely U.S. voters" believe the recent unrest in the Middle East will make Israel less safe in the short term. Only five percent say the political protests in the region have made the Jewish state safer, while others said it had no impact on Israel's security.
"PALESTINE MAY JOIN GULF COOPERATION COUNCIL"
The Palestinian Ma'an news agency reports that "Palestine may join the Gulf Cooperation Council when it establishes its statehood."
The agency noted that years of Palestinian presence in the Gulf had built up strong economic, political and social ties.
The GCC was formed in 1981. On May 10, the council said it may admit Jordan and Morocco into the six-member group.

A COMING IRANIAN-AMERICAN-VENEZUELAN MISSILE CRISIS?
According to a report last week in the leading German daily, Die Welt, Iran is moving ahead with plans to build intermediate-range missile launch bases on Venezuela's Paraguaná Peninsula. This follows an earlier report by Die Welt last November that Iran and Venezuela signed an agreement to establish a military base in Venezuela, to be jointly operated by Iranian and Venezuelan missile officers as well as the Iranian Revolutionary Guard Corps.
The agreement reportedly calls for Iranian Shahab 3, Scud-B, and Scud-C missiles to be deployed on the base – missiles with a trajectory range of 177 to 932 miles. Iranian President Mahmoud Ahmadinejad and his Venezuelan counterpart Hugo Chavez are close allies.
If such Iranian military bases come to fruition in Venezuela, it would drastically increase America's vulnerability to attack from its south.
Die Welt is one of Germany's leading papers. Its editor and foreign editor are both longtime subscribers to this email list.
There are fuller reports from last week here in German. And from last November.
There is an opinion article about this here in English from a former Iranian-based CIA agent.
[All notes above by Tom Gross]
Video Dispatch 8: Syrians burn Iranian and Russian Flags (not Israeli and U.S. ones)
May 22, 2011
This is the eighth in a series of "Video dispatches". This one includes videos taken yesterday and on Friday in Syria.
(Update, 2017: This dispatch was written and posted a few weeks into what was initially a peaceful pro-democracy uprising in Syria, years before ISIS was formed and the Syrian democrats were abandoned and betrayed by Obama and the West.)
Thanks to all the sites that linked to this page, including this one in Persian, this one in French and various sites in English, such as The Weekly Standard or for example, here, here, here and here.
BURNING THE IRANIAN AND RUSSIAN FLAGS IN DEMONSTRATIONS IN SYRIA
In this first video, taken yesterday (Saturday May 21) protestors in Syria burn the Iranian, Russian and Chinese flags.
This contradicts years of "expert analysis" by the Middle East editor of the BBC and others, and suggests President Bush and the neo-cons were right in their analysis that the people of Syria are less interested in opposing Israel and the United States, and more interested in gaining freedom from the regimes in Iran, Russia and China which help prop up the Assad dictatorship in Damascus.
SYRIAN TANK DELIBERATELY RUNS OVER AN INJURED PROTESTOR
In this horrific second video, filmed secretly, a Syrian tank deliberately runs back and forth over what appears to be an injured protestor on a motorcycle in the town of Dara, where hundreds have been killed by the Assad regime in recent weeks.
THOSE DETAINEES WHO HAVE SURVIVED SYRIAN TORTURE IN RECENT DAYS
The video below was shown on France 24, the English-language French network, which has been much better in covering what is happening in Syria than other international networks like the BBC and CNN.
France 24 reports that these tortured detainees have been deliberately released by the regime in an effort to dissuade other citizens from participating in anti-government protests.

This video was made earlier this month in the north-western Syrian city of Banias.
LEAVE, BASHAR, LEAVE
In this large protest in Homs on Friday, the people sing and chant: "Down with Bashar" and "Leave, Bashar, Leave".
Among past recent dispatches on Syria, please see:
* Syria's Assad is worse than Gaddafi in many ways
* Carrying out acts of terror is nothing new for the Assad family
* They couldn't even muster a press statement (& The Syria Lobby)
How the Iranian government spins these dispatches
May 17, 2011
(There is an English version of the interview below.)
IRANIAN VIEWPOINTS
By Tom Gross
The interview I gave last week to Radio Farda has been much discussed among both anti-regime and pro-regime media in Iran in recent days, as well as by Persian-language blogs in and outside of Iran.
(Radio Farda is one of the most prominent pro-democracy stations broadcasting in Persian into Iran, with millions of listeners and tens of thousands of page views on its website daily.)
Among those that republished the interview was the Iranian government-controlled news agency Fars:

www.farsnews.com/newstext.php?nn=9002230446






However, the Fars news agency removed certain key passages from my answers. For example, from the first answer, they took out my words "Were a democratic government, at peace with Israel, to assume power in Iran, that might be a different matter."
And when I answered the question on Obama's foreign policy, they omitted my words about the Iranian regime instituting a crackdown that continues to this day.
However, Fars did translate verbatim my thoughts about how it would have been easier to pressure the governments in Syria and Bahrain if the present Iranian regime was not in power
Here, for the Iranians who subscribe to this list, is the original interview published in Persian. (There is an English version below.)


www.radiofarda.com/content/f5_tom_gross_iv_w_radio_farda_website_on_iran_israel_nuclear_middle_east/24099276.html


(Incidentally, the Iranian regime quite often refers to my dispatches in its media, though they usually spin things in them to suit their worldview. My dispatches are also often picked up and linked to in Arabic among pro-democracy websites in the Gulf, in Lebanon, Syria and elsewhere. The site monitor indicates my website now has about 3000 regular readers in Saudi Arabia too.)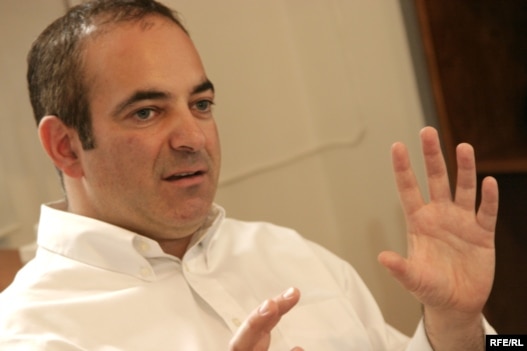 INTERVIEW WITH RADIO FARDA
Radio Farda spoke to Tom Gross, an international relations expert writing for The Wall Street Journal, Sunday Telegraph, National Review and National Post. We asked him questions on Iran, Israel and the Middle East.
Published on line in Persian: May 11, 2011
WOULD ISRAEL ACCEPT A NUCLEAR IRAN?
RADIO FARDA:
Recently Former Mossad chief Meir Dagan declared that an Israeli attack on Iran would be "stupid". Israeli defense officials supported his declaration. Does it mean that Israel has changed its strategy and accepted the possibility of a nuclear-able Iran?
TOM GROSS:
I don't believe that for one minute Israel will accept a nuclear Iran – at least not with the present regime in place in Teheran. Were a democratic government, at peace with Israel, to assume power in Iran, that might be a different matter. But with the present Iranian regime, it could represent an existential threat to Israel.
I would take any public remarks on this issue by such a senior official as Dagan with a pinch of salt. After all, the Mossad, like all intelligence services, engages in disinformation as well as providing information. I am sure that all options are, and will remain, on the table for Israel.
By making such remarks at the present time, Dagan may have been wanting to cool the temperature with Teheran because Israel fears that the regime in Damascus, which is Iran's closest ally, may ask its friends in Teheran to order Hizbullah to attack Israel. Damascus hopes that would provoke a regional war, and distract attention from the present bloody crackdown in Syria.
OBAMA AND THE MIDDLE EAST
RADIO FARDA:
How do you evaluate Obama's doctrine in the Middle East and specifically regarding Iran? How it is different from his presidency at its starting point?
TOM GROSS:
For its first two years, the Obama administration demonstrated a more confused and inept foreign policy than any U.S. presidential administration since Jimmy Carter. There are signs that Obama himself now recognizes what a huge mistake he made when he failed to swiftly support the pro-democracy campaigners in Iran following the rigged election of 2009. He gave the regime there valuable time to regain control and institute a crackdown that continues to this day.
The consequences of the failure by Obama and others in 2009 are not just apparent in Iran. It would probably be much easier for the West to pressure the regimes in Bahrain and Syria now, were a different government in place in Teheran.
ISRAEL AND SYRIA
RADIO FARDA:
According to some media, Israel prefers Assad to an unknown alternative or an Islamist one. Do you agree with such an assumption?
TOM GROSS:
Bashar Assad is, like his father, a bloody tyrant – even though some prominent Western foreign ministers and journalists, amazingly, continue to make excuses for him. No one in Israel, however, has any illusions about Assad. Israel would undoubtedly like to have peace with a liberal democratic Syria.
Naturally Israel is concerned about a post-Assad Syria deteriorating into an anarchic situation reminiscent of Lebanon in the 1970s and 1980s or Iraq a few years ago. But Israel knows that in the long run, making peace with the Assad regime – which has little popular support in Syria – is futile. Only an agreement with a representative Syrian government can bring about a sustainable and lasting peace.
ISRAEL AND EGYPT
RADIO FARDA:
In Egypt, a majority of people according to a poll, are against the peace treaty with Israel. Can we say a democratic Egypt means the end of 30 years of peace with Israel?
TOM GROSS:
Israel and all those who care about Middle East peace are very concerned about developments in Egypt. But I think it is still much too early to say that a post-Mubarak Egypt will mean the end of 30 years of peace with Israel. After all, the Mubarak regime's peace was a very cold one indeed. Consider, for example, the vicious anti-Semitism that was rife in Mubarak's state-controlled media. So the next government may not be much worse. But of course, Israel is very concerned about increased arms smuggling from Egypt into the hands of Hamas in Gaza.
THE AMERICANS AND AL JAZEERA
RADIO FARDA:
Recently Sec. Clinton praised Al Jazeera's coverage. Such a remark is a marked contrast from the open hostility towards Al Jazeera from the Bush administration. Why such a U-turn?
TOM GROSS:
Senior Obama administration officials say one thing one week, another the next. In the last presidential election campaign, Hillary Clinton famously taunted Obama as unfit to take that "3 am call" on American foreign policy. I am still not convinced that either of them is. Certainly the English version of Al Jazeera is relatively fair. For example, it gives Israel a fairer hearing than the BBC and some other prejudiced Western media. But as for the much more influential and widely viewed Arabic-language Al Jazeera, well that's another matter altogether.
AL QAEDA AND THE PEOPLE OF THE MIDDLE EAST
RADIO FARDA:
Some analysts say that "the spring of Arab revolutions" is proof that Bin Laden's ideology is dead among the Arabs masses and young people in the Arab world. Do you agree with this? How do you see the operational power of Al Qaeda in a post-Bin Laden world?
TOM GROSS:
I don't think Bin Laden has ever had that much support among young people in the Arab world – or indeed Iran. Most people in the Middle East, like people everywhere, want to live in a free society where they can choose their leaders and develop their economies for the good of all. Bin Laden only appealed to many people so long as the Saddams and Assads and Gaddafis were in power. In this sense the neo-Conservatives are, and have always been, right.
The real desire of many Middle Easterners is to live in free societies just as other people do from Japan to Canada to Brazil to South Africa. But no doubt in the wake of Bin Laden's death, his extremist supporters will try to conduct acts of terror for some time yet.
ISRAEL, PALESTINE AND PEACE
RADIO FARDA:
Wikileaks revealed that the Palestinian Authority offered major concessions to Israel but negotiations remained at stalemate. Is the main reason that Abbas reunited with Hamas?
TOM GROSS:
It seems that Abbas has never been very serious about peace – at least not a peace that would involve an Arab Palestine co-existing next to a predominantly Jewish state of Israel. Former Israeli Prime Minister Ehud Olmert offered him almost everything he supposedly wanted, and yet he walked away. Current Israeli Prime Minister Benjamin Netanyahu has virtually begged Abbas to come to the negotiating table over the last two years and yet he has refused.
Can you imagine a Chechen or Kurdish or Basque leader walking away from negotiations if the Russians or Turks or Spanish offered them 97% of what they wanted? Israeli leaders agreed to peace in 1948 even though Israel was giving up some of its most significant places, such as Hebron and Jacob's tomb in Nablus. Leaders that truly want peace are willing to compromise.
Palestinians: "Bin Laden could have been buried here" (& "Bin Laden's one mistake")
May 11, 2011
* Below: A tale of two terrorists -- and of startling international double standards.
* Noam Chomsky: "We might ask ourselves how we would be reacting if Iraqi commandos landed at George W. Bush's compound, assassinated him, and dumped his body in the Atlantic."
* Bret Stephens: "How fitting that Noam Chomsky would waste little time denouncing the killing of Osama bin Laden as the 'political assassination' of an 'unarmed victim' whose complicity in 9/11 remains, in the professor's mind, very much in doubt. Osama was fond of quoting Chomsky in his periodic video messages – Jimmy Carter is another American so honored – so maybe the eulogy was just a matter of one good turn deserving another."
CONTENTS
1. Pro-democracy "Voices from the Middle East"; and remembering the "Jewish Nakba"
2. 64% of Palestinians would not object to Bin Laden burial in Palestine
3. Iranian Intelligence Minister: "Bin Laden dead long before U.S. raid"
4. A tale of two terrorists
5. "Bin Laden's one mistake" (By Shmuel Sackett, Israpundit, May 8, 2011)
6. "From Chomsky to Bin Laden" (By Bret Stephens, Wall St. Journal, May 10, 2011)
7. "My reaction to Osama Bin Laden's death" (By Noam Chomsky, May 6, 2011)
[All notes below by Tom Gross]
PRO-DEMOCRACY "VOICES FROM THE MIDDLE EAST"; AND REMEMBERING THE "JEWISH NAKBA"
After yesterday and today's dispatches there probably won't be any dispatches for the next week or so as I will be busy with other work. For those in Britain, you may be interested in attending two of the events I'm participating in:
Today at 7 pm, I will be chairing a talk with Amir Taheri, the first in a new series in London called "Voices from the Middle East". The series consists of six sessions featuring Muslim speakers who will share their work and views. The Iranian-born journalist and author Amir Taheri, as I have pointed out on this website several times before, is one of the world's most formidable and formidably well-informed experts on the Middle East, and it is a great pity that the BBC, New York Times and others don't make more use of him.
WHO TODAY, FOR EXAMPLE, REMEMBERS THAT IN THE 1920S, BAGHDAD WAS ALMOST 40% JEWISH?
On Sunday (May 15) at 5.30 pm, as Palestinians and their supporters mark the 63rd anniversary of their Nakba at dozens of events in London and elsewhere that day, there will be a smaller event to mark the "Jewish Nakba" held at a central London hotel. I am one of the speakers at the event.
The media, politicians and many academics continue to do their best to ignore the fact that the largest single group of refugees resulting from the Arab-Israeli conflict was Jewish. Although Jewish refugees were soon absorbed in Israel and the West, Arab states have never recognized their responsibility for over 800,000 Jewish refugees. Neither have they offered compensation for Jewish suffering and losses. Who today, for example, remembers that in the 1920s, Baghdad was almost 40% Jewish?
At the event, Jewish refugees will present their testimonies, and I have been asked to present an award to a person who helped in their rescue. There will also be a film and other short speeches. This issue could and should be a key element to foster peace and reconciliation between Israel and the Arab world.
More information here: www.harif.org/nakba.html
***
Among previous dispatches on the Jewish Nakba, please see here and here.
64% OF PALESTINIANS WOULD NOT OBJECT TO BIN LADEN BURIAL IN PALESTINE
The Palestinian daily Al-Hayat Al-Jadida reported yesterday that a new poll carried out over the last week by the Palestinian Near East Consulting institute found that 64% of Palestinians "would not object to bin Laden being buried in Palestine, were such a possibility raised."
56% of those questioned said that they believed bin Laden had been killed, while 44% thought that he was still alive.
Tom Gross adds: 64% would welcome a burial and 56% think he's dead, raising the possibility that 8% would like to have him buried alive!
IRANIAN INTELLIGENCE MINISTER: "BIN LADEN DEAD LONG BEFORE U.S. RAID"
Adding to the conspiracy theories flooding the world, Iran's Intelligence Minister Heidar Moslehi said Tehran has "genuine intelligence" showing that al-Qaeda leader Osama bin Laden had "died of disease long before the United States' alleged raid."
"We have accurate information that bin Laden died of illness some time ago," Moslehi told reporters on the sidelines of a Cabinet meeting on Sunday.
"If the U.S. military and intelligence apparatus have really arrested or killed bin Laden, why don't they show his dead body? Why have they thrown his corpse into the sea?" Iran's Press TV reported Moslehi as saying.
Moslehi added that U.S. officials resort to "such PR campaigns to divert attention from their domestic problems as well as their fragile economic situation."
(Full story here from Iran's Fars news agency.)
***
For more on the death of Bin Laden please see: here, here, and here.
A TALE OF TWO TERRORISTS
Here are some contrasting opinions by leaders of the UN, EU, Britain, France, Norway, the Vatican, Japan and elsewhere, following Israel's killing of Ahmed Yassin, the leader of the Hamas terrorist organization in 2004 and the killing of Osama bin Laden last week.
Yassin, of course, was proportionately responsible for far more deaths of Israelis than bin Laden was of Americans, particularly the deaths of Israeli children. Yassin had ordered the bombing of school buses, children's birthday parties and so on, and was continuing to order more attacks at the time of his death. Soon after Yassin and his deputy Abdel Aziz Rantissi were killed, there was a sharp decrease in the number of suicide bombings against Israel.
(Among past dispatches on this, please see: A minute's silence by British MPs for Sheikh Yassin, April 19, 2004.)
***
Israel's killing of Ahmed Yassin:
UN Secretary-General Kofi Annan: "I condemn the targeted assassination of Ahmed Yassin. Such actions are not only contrary to international law but they do not help the search for a peaceful solution."
Killing Bin Laden:
UN Secretary-General Ban Ki-moon hailed Osama bin Laden's death as a key turning point in the struggle against terrorism.
***
Israel's killing of Ahmed Yassin:
EU foreign policy chief Javier Solana, described the assassination as "very, very bad news".
Killing Bin Laden:
EU foreign policy chief Catherine Ashton said: "I would like to congratulate the U.S., pay tribute to its determination and efficiency in reducing the threat posed by terrorists and underline the close cooperation between the EU and U.S. in the fight against terrorism."
***
Israel's killing of Ahmed Yassin:
British Foreign Secretary Jack Straw said: "Israel is not entitled to go in for this kind of unlawful killing and we condemn it. It is unacceptable, it is unjustified and it is very unlikely to achieve its objectives."
Killing Bin Laden:
Prime Minister David Cameron said that bin Laden's death would "bring great relief" around the world.
***
Israel's killing of Ahmed Yassin:
French President Jacques Chirac "unreservedly condemned" Israel's assassination of Hamas terror leader Yassin. French Foreign Ministry spokesman Herve Ladsous also said: "France condemns the action taken against Sheikh Yassin, just as it has always condemned the principle of any extra-judicial execution as contrary to international law."
Killing Bin Laden:
French Foreign Minister Alain Juppé said on that bin Laden's death is a "victory for all democracies fighting the abominable scourge of terrorism. France, the United States and European states work closely together to fight terrorism, so I'm overjoyed at the news."
***
Israel's killing of Ahmed Yassin:
Norwegian Foreign Minister Jan Petersen: "This act will contribute to increased tensions in the area and will make it more difficult to implement an Israeli withdrawal from Gaza."
Killing Bin Laden:
Norwegian Foreign Minister Jonas Gahr Støre called the death of bin Laden "a break-through in the fight against terror".
***
Israel's killing of Ahmed Yassin:
"The Holy See unites with the international community in deploring this act of violence that cannot be justified in any state of law. Lasting peace cannot come from a show of force."
Killing Bin Laden:
Vatican spokesman Fr. Federico Lombardi said that while Christians "do not rejoice" over a death, bin Laden's death serves to remind them of "each person's responsibility before God and men" and "bin Laden must answer to God for having killed an innumerable number of people and exploiting religion".
***
Israel's killing of Ahmed Yassin:
Japan's Chief Cabinet Secretary Yasuo Fukuda said Israel's actions were "thoughtless and reckless, and cannot be justified."
Killing Bin Laden:
Japan's Foreign Minister Takeaki Matsumoto said today that the country welcomed the death of Osama bin Laden as "significant progress of counter-terrorism measures. I pay respect to the US officials concerned."
***
Israel's killing of Ahmed Yassin:
The Brazilian government said it "deplored the murder of Sheik Ahmed Yassin."
Killing Bin Laden:
Brazilian Foreign Minister Antonio Patriota said the death of Al Qaeda's leader Osama bin Laden is "important and positive".
***
Israel's killing of Ahmed Yassin:
Malaysia strongly condemned the assassination of Sheikh Ahmed Yassin: saying the action was a manifestation of terrorism.
Killing Bin Laden:
Malaysian Home Minister Hishammuddin Hussein said he hopes that the death of bin Laden would help bring universal peace and harmony.
This list could go on and on…
BIN LADEN'S ONE MISTAKE
The views in the article below are put somewhat strongly but nevertheless represent the feelings of many in Israel and elsewhere, which is why I include them. -- Tom Gross
Bin Laden's One Mistake
By Shmuel Sackett
Israpundit.com
May 8, 2011
One thing made Osama bin Laden public enemy #1. One thing made him a target for America's hit squad. One thing – and only one thing – made his assassination justified and praised by world leaders. He didn't just kill Jews.
Had he limited his terrorism to Jews only, he would not have been targeted. The same world leaders who today take great pride in his death would have celebrated his life. He would not have been killed by President Obama; he would have dined with him.
He would have been invited to the United Nations. He would have had a worldwide speaking tour. He would have won the Nobel peace prize.
Think I'm crazy? Mahmoud Ahmadinejad is the President of Iran. His resume includes much more than just politics. He and his Persian mentors ordered Hizbullah to bomb the Jewish Community of Argentina in the 90s and killed hundreds of Jews. He has stated – time and again – that he wants to destroy Israel. He wants to kill the 6,000,000 Jews (interesting number) who live here and he is feverishly working to build a bomb that will do just that.
Has he been targeted? Is this animal on anyone's "hit list"? Actually, just the opposite is true. He recently spoke in the UN. He was a guest speaker in Columbia University. Why? Because he is only interested in killing Jews.
Khaled Mashaal is the leader of Hamas. Hamas is a sworn enemy of Israel. It has killed and maimed thousands of Jews since the "peace process" came about. It has fired over 5,000 missiles into Israel, aiming for Jewish homes and hoping to kill Jewish children.
Has he been targeted? Is this beast on anyone's "hit list"? Actually, just the opposite is true. Russian President Vladimir Putin recently invited Mashaal to Moscow. Former US President Jimmy Carter has embraced Mashaal and considers him a "partner for peace". Why? Because he is only interested in killing Jews.
Yasser Arafat was the leader of the PLO for almost four decades. He has more innocent blood on his hands than bin Laden. Yet this murderer was a guest at the Clinton White House more than any other world leader! He spoke in the UN. He was accepted around the world as a leader and spoke in over 30 countries. He won the Nobel Peace Prize. Why? Because he was only interested in killing Jews. [And his successor Mahmoud Abbas is as much of a Jew-murderer as him.]
Although I can go on, I will give just one final example: Adolf Hitler. The world knew about his plans for the Jews as early as 1933. The world knew about Kristallnacht back in November of 1938, and of the concentration camps shortly thereafter. Yet the entire world called this monster "Herr" Hitler. They gave him respect. They recognized him as a leader. All that changed when Hitler invaded Poland on September 1, 1939. From that point on he became an enemy. Why? Because until that day he was only interested in killing Jews.
Osama bin Laden violated the golden rule: In addition to killing just Jews, he also killed non-Jews. That is why he was targeted and for no other reason!
The message to Jews – and the State of Israel – is very clear. Learn to defend yourself. The world will not help you with Iran, Hamas or the PLO/PA.
THE PROFESSOR DONS THE MILITANT'S CAP: IT FITS
From Chomsky to bin Laden
The professor dons the militant's cap: It fits.
By Bret Stephens
The Wall Street Journal
May 10, 2011
How fitting that Noam Chomsky would waste little time denouncing the killing of Osama bin Laden as the "political assassination" of an "unarmed victim" whose complicity in 9/11 remains, in the professor's mind, very much in doubt. Osama was fond of quoting the MIT sage in his periodic video messages – Jimmy Carter is another American so honored – so maybe the eulogy was just a matter of one good turn deserving another.
Then again, philosophical fellow traveling is always interesting, not least for what it tells us about ourselves.
In 1946, Martin Heidegger, incomparably the most significant philosopher of the 20th century, was banned from teaching for five years at the insistence of occupying French forces. The crime? He had been a Mitläufer – a "fellow-walker" – of the Nazi Party during its time in power. He had extolled the "inner truth and greatness of this movement." He had tormented Jewish professors. True, he had done so with caveats and reservations, and from a philosophical vantage that operated according to its own logic, distinct from simple National Socialism. But he had done it all the same.
Does anyone today doubt that the teaching ban was justified? Most of us would say that far worse was due the man who lent Adolf Hitler an aura of intellectual respectability.
Mr. Chomsky is no Martin Heidegger: His contributions to linguistics and cognitive psychology, considerable as they are, pale next to Heidegger's contributions to political philosophy. Nor is he a Heidegger in the sense that he has brought no material harm to anyone, as Heidegger did to his mentor Edmund Husserl.
Yet when it comes to making excuses for monsters, the two thinkers are evenly matched. Among the subjects of Mr. Chomsky's solicitude have been Holocaust denier Robert Faurisson (whom he described as a "relatively apolitical liberal"), the Khmer Rouge (at the height of the killing fields), and Hezbollah (whose military-style cap he cheerfully donned on a visit to Lebanon last year).
As for bin Laden, Mr. Chomsky asks, rhetorically, "how we would be reacting if Iraqi commandos landed at George W. Bush's compound, assassinated him, and dumped his body in the Atlantic. Uncontroversially, his crimes vastly exceed bin Laden's."
Ho-hum: Can anyone be surprised anymore by what Mr. Chomsky thinks and says? Not really. In one of those little ironies of leftist politics, the author of "Manufacturing Consent" has become a victim of what my former colleague Tom Frank likes to call "the commodification of dissent," in which even the most radical ideas come stamped with their own ISBN number. In the West at least, the marketplace of ideas is also the great equalizer of ideas, blunting edges that might once have had the power to wound and kill.
So it is that Mr. Chomsky can be the recipient of over 20 honorary degrees, including from Harvard, Cambridge and the University of Chicago. None of these degrees, as far as I know, was conferred for Mr. Chomsky's political musings, but neither did those musings provoke any apparent misgivings about the fitness of granting the award. So Mr. Chomsky is the purveyor of some controversial ideas about this or that aspect of American power. So what?
Here's what: Dulled (and dull) as Mr. Chomsky's ideas might be in the West, they remain razors outside of it. "Among the most capable of those from your side who speak on this topic [the war in Iraq] and on the manufacturing of public opinion is Noam Chomsky, who spoke sober words of advice prior to the war," said bin Laden in 2007. He was singing the professor's praises again last year, saying "Noam Chomsky was correct when he compared the U.S. policies to those of the mafia."
These words seem to have been deeply felt. Every wannabe philosopher – and bin Laden was certainly that – seeks the imprimatur of someone he supposes to be a real philosopher. Mr. Chomsky could not furnish bin Laden with a theology, but he did provide an intellectual architecture for his hatred of the United States. That Mr. Chomsky speaks from the highest tower of American academe, that he is so widely feted as the great mind of his generation, that his every utterance finds a publisher and an audience, could only have sustained bin Laden in the conceit that his thinking was on a high plane. Maybe it would have been different if Mr. Chomsky had been dismissed decades ago for what he is: a two-nickel crank.
Now bin Laden is dead. Yet wherever one goes in the Arab world, one finds bookstores well-stocked with Chomsky, offering another generation the same paranoid notions of American policy that mesh so neatly with an already paranoid political culture.
In 1946 a self-confident West had no trouble demanding that Heidegger be banned. Ideas, it was understood, had consequences. Today nobody would dream of banning Mr. Chomsky from anything. Yet ideas have consequences even today.
CHOMSKY ON BIN LADEN
And here, to be fair to Noam Chomsky, is his widely-circulated diatribe on Bin Laden's death.
My Reaction to Osama bin Laden's Death
By Noam Chomsky
May 6, 2011
It's increasingly clear that the operation was a planned assassination, multiply violating elementary norms of international law. There appears to have been no attempt to apprehend the unarmed victim, as presumably could have been done by 80 commandos facing virtually no opposition – except, they claim, from his wife, who lunged towards them.
In societies that profess some respect for law, suspects are apprehended and brought to fair trial. I stress "suspects." In April 2002, the head of the FBI, Robert Mueller, informed the press that after the most intensive investigation in history, the FBI could say no more than that it "believed" that the plot was hatched in Afghanistan, though implemented in the UAE and Germany.
What they only believed in April 2002, they obviously didn't know 8 months earlier, when Washington dismissed tentative offers by the Taliban (how serious, we do not know, because they were instantly dismissed) to extradite bin Laden if they were presented with evidence – which, as we soon learned, Washington didn't have. Thus Obama was simply lying when he said, in his White House statement, that "we quickly learned that the 9/11 attacks were carried out by al Qaeda."
Nothing serious has been provided since. There is much talk of bin Laden's "confession," but that is rather like my confession that I won the Boston Marathon. He boasted of what he regarded as a great achievement.
There is also much media discussion of Washington's anger that Pakistan didn't turn over bin Laden, though surely elements of the military and security forces were aware of his presence in Abbottabad. Less is said about Pakistani anger that the U.S. invaded their territory to carry out a political assassination. Anti-American fervor is already very high in Pakistan, and these events are likely to exacerbate it. The decision to dump the body at sea is already, predictably, provoking both anger and skepticism in much of the Muslim world.
We might ask ourselves how we would be reacting if Iraqi commandos landed at George W. Bush's compound, assassinated him, and dumped his body in the Atlantic. Uncontroversially, his crimes vastly exceed bin Laden's, and he is not a "suspect" but uncontroversially the "decider" who gave the orders to commit the "supreme international crime differing only from other war crimes in that it contains within itself the accumulated evil of the whole" (quoting the Nuremberg Tribunal) for which Nazi criminals were hanged: the hundreds of thousands of deaths, millions of refugees, destruction of much of the country, the bitter sectarian conflict that has now spread to the rest of the region.
There's more to say about Cuban airline bomber Orlando Bosch, who just died peacefully in Florida, including reference to the "Bush doctrine" that societies that harbor terrorists are as guilty as the terrorists themselves and should be treated accordingly. No one seemed to notice that Bush was calling for invasion and destruction of the U.S. and murder of its criminal president.
Same with the name, Operation Geronimo. The imperial mentality is so profound, throughout western society, that no one can perceive that they are glorifying bin Laden by identifying him with courageous resistance against genocidal invaders. It's like naming our murder weapons after victims of our crimes: Apache, Tomahawk… It's as if the Luftwaffe were to call its fighter planes "Jew" and "Gypsy."
There is much more to say, but even the most obvious and elementary facts should provide us with a good deal to think about.
Video Dispatch 7: A brave woman stands up to an Imam (& Cheering Bin Laden in London)
May 09, 2011
This is the seventh in a series of "Video dispatches".
I particularly recommend watching the second video below from Pakistan. There is also an interesting video of Benjamin Netanyahu as a student defending Israel in 1978. (There is also another new dispatch here: Many Palestinians "Bin Laden could have been buried here" (& "Bin Laden's one mistake").)
SUPPORTING BIN LADEN IN LONDON
In this first video, members of the British-based radical group, Muslims Against Crusades (MAC), marched through central London two days ago to protest America's killing of Osama bin Laden.
As they passed the U.S. embassy, a small group of English Defense League (EDL) far-right, nationalists were there to intercept the Muslim group. Police struggled to keep the two sides apart and several arrests were made.

(For more on the death of Bin Laden please see here and here.)
A BRAVE WOMAN IN PAKISTAN
Pakistani actress Veena Malik defends herself in a resolute way that could endanger her life. Others who have spoken out in similar ways have been murdered in Pakistan in recent years.
THE BEGINNINGS OF BIBI
This clip shows Benjamin Netanyahu, now Israel's Prime Minister, as a student at MIT in 1978.
Netanyahu, then 28, went by the name of Benjamin Nitay during his time at MIT. His brother, Yonatan was the Israeli commando who led the Entebbe raid in 1976 during which he was killed. Netanyahu chose to use the name Nitay at MIT for security reasons because of his brother's renoun and the massive wave of Palestinian terror attacks aimed at Israelis all over the world at that time.
One of Netanyahu's questioners in the clip is Fouad Ajami, the well known political analyst.
THE MYSTERIES OF STUXNET
Computer expert Ralph Langner speaks on "Cracking Stuxnet, a 21st-century cyber weapon".
NOT FORGETTING PASSOVER
I meant to post these humorous videos two weeks ago at the time of the Jewish Passover festival, but was too busy with other work, so post them now.
Retelling the Passover story employing the modern tools of social networking…

20 things to do with unused Matza after Passover…
Those killed in Bin Laden's compound: The graphic photos
May 05, 2011
[Note by Tom Gross]
According to the Reuters news agency, the pictures below show the results of the U.S. raid on Osama Bin Laden's compound in the Pakistani town of Abbottabad.
Reuters said: "The photos were taken by a Pakistani security official who entered the compound after the early morning raid on Monday. The official, who wished to remain anonymous, sold the pictures. Reuters is confident in their authenticity."
U.S. President Barack Obama yesterday cited "national security" as the reason for his decision not to make public any photos of Bin Laden himself.
The photos below are believed to show Bin Laden's son Khalid (dressed in a T-Shirt in the third photo below), a trusted courier Arshad Khan (in the second photo below), and another aide killed in Monday's raid.
Based on the time-stamps on the pictures, the earliest one was dated May 2, 2:30 am, approximately an hour after the completion of the raid in which Bin Laden was killed.
Warning: The first three of these photos are graphic.
For more on the death of Osama Bin Laden, please see here.
(Please see the end of this page for an update from Syria.)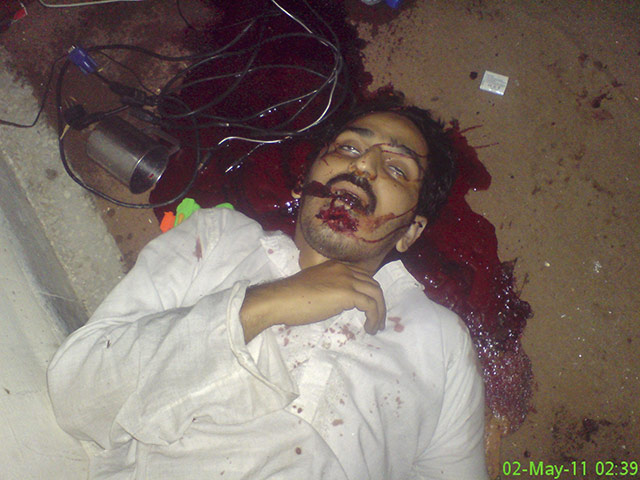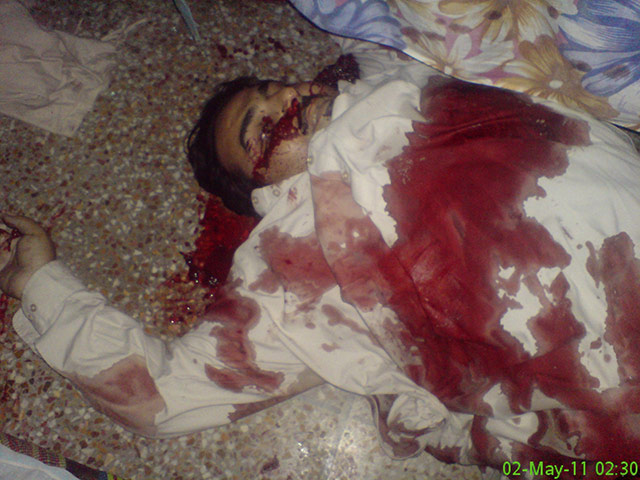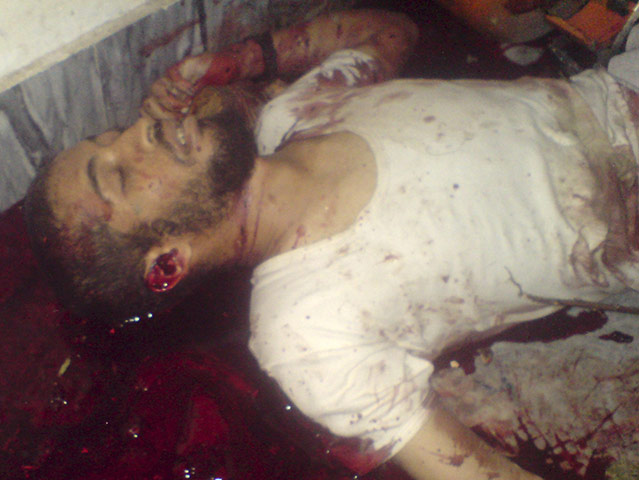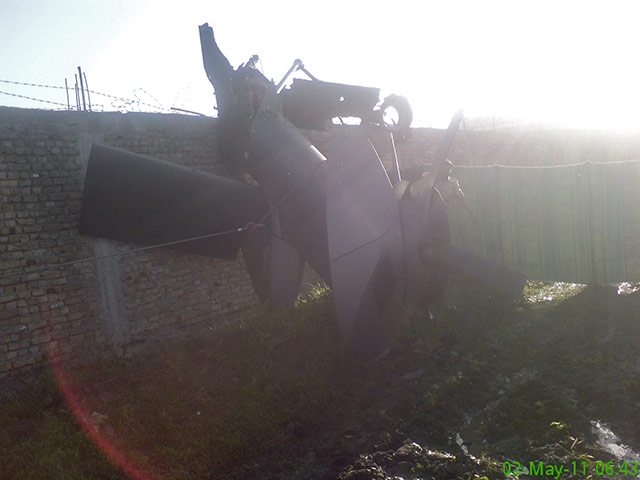 Part of a damaged helicopter is seen lying near the compound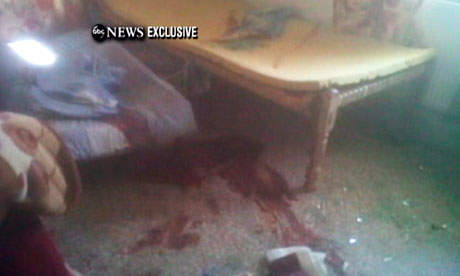 This last photo, showing a section of a room in the interior of the compound where bin Laden lived, is not from the same Reuters photo collection, but is from ABC News
High walls: A Pakistani security official passes by Bin Laden's compound yesterday
Pakistani security officials grant access to journalists to cover the compound where Bin Laden was killed
* For more on the death of Osama Bin Laden, please see here.
* You can comment on this and other dispatches here: www.facebook.com/TomGrossMedia. (You first have to press "Like" on that page.)
BIN LADEN LIVES IN SYRIA
The regime in Syria has used the opportunity of Bin Laden's death to intensify its crackdown on peaceful demonstrators in recent days, while the media looks elsewhere (and the BBC World Service continues to bring us endless reports from Gaza, where the situation is considerably better than in Syria).
The pan-Arab daily Al Hayat reports that "Syrian security forces are moving from one neighborhood to another, backed by tanks and armored vehicles, entering houses and arresting one or two people each time... The authorities are choking the population. There is no water, no food, and no electricity."
As leading Middle East commentator Lee Smith points out "You starve a population by denying it food and water, but to cut off its electricity is, in today's media climate, effectively a death sentence. Without the ability to recharge the cell-phone cameras that have documented the Syrian uprising from its outset, demonstrators will be consigned to a silent death… Bin Ladenism lives on, embodied now by the rulers in Damascus"
"It's different from Hama," adds New York Times columnist Thomas Friedman, referring to the massacre of between 25,000 and 40,000 people there in 1982 by President Assad's father and uncle. "They're doing it now in slow motion, bit by bit."
Compared to their demands that Egyptian President Hosni Mubarak, a U.S. ally, step down, Western governments have been relatively silent about Assad.
Bashar Assad knows that after Hama, his father continued to be feted in European and other capitals for the next 18 years, and then U.S. Secretary of State Madeleine Albright even embarrassed herself by grieving at Hafez's funeral. Will the leaders of the democratic world continue to treat Bashar Assad with respect too?
Among past recent dispatches on Syria, please see:
* Syria's Assad is worse than Gaddafi in many ways
* Carrying out acts of terror is nothing new for the Assad family
* They couldn't even muster a press statement (& The Syria Lobby)
Some notes on the killing of Osama Bin Laden
May 02, 2011
Please scroll down below for various further updates posted on May 3.
HOW MANY NEW YORKERS FEEL
The cover of today's New York Daily News
CHEZ BIN LADEN
Bin Laden's mansion can be viewed here.
It is off the main road, but quite close to the Pakistan Military Academy in Kakul, outside of Abbottabad. It appears in an overhead image from June 2005, but not in an image from 2001.

The Pakistanis have some explaining to do.
HAMAS CONDEMNS BIN LADEN KILLING
Here, from the Beirut Daily Star, via Reuters:
Hamas leader condemns Bin Laden's killing
May 2, 2011
Reuters
GAZA: The Palestinian Islamist group Hamas on Monday condemned the killing by U.S. forces of Osama bin Laden and mourned him as an "Arab holy warrior."
"We regard this as a continuation of the American policy based on oppression and the shedding of Muslim and Arab blood," Ismail Haniyeh, head of the Hamas administration in the Gaza Strip, told reporters.
Though he noted doctrinal differences between bin Laden's al Qaeda and Hamas, Haniyeh said: "We condemn the assassination and the killing of an Arab holy warrior. We ask God to offer him mercy with the true believers and the martyrs."
***
Tom Gross adds: Several leading commentators at major Western news outlets were telling us only 2 or 3 days ago that Hamas was now ready to partner with the West following their reconciliation with Fatah and the Palestinian Authority.
FROM SEPT. 12, 2001
A reminder of Michael Kelly's Washington Post column from September 12, 2001:
In the West Bank city of Nablus yesterday afternoon, the Associated Press reported, thousands of Palestinians greeted news of the slaughter in New York and Washington with an impromptu street party, cheering "God is great" and distributing candy in a traditional form of celebration.
Full column here: http://www.washingtonpost.com/ac2/wp-dyn?pagename=article&contentId=A14322-2001Sep11
(Tom Gross adds: Michael Kelly was tragically killed in Iraq several years ago.)
Update: May 3, 2011
FATAH MILITARY WING CALLS BIN LADEN KILLING "CATASTROPHE"
The Palestinian Maan news agency reports today that the military wing of the Palestinian Authority's governing Fatah party, the Al-Aqsa Martyrs' Brigades, has published a statement calling the killing of Osama bin Laden calling it a "catastrophe." They said that those who killed Bin Laden were "gangs of heretics."
The statement said that: "The path irrigated with the blood of its leaders is the path of victory, Allah willing. If Abu Abdallah [Bin Laden] was killed, then he merited the Shahada (Death for Allah) which he had sought, and inscribed with his blood the landmarks of Jihad, leaving behind an entire generation that follows the path of Sheikh Osama."
Tom Gross adds: The Palestinian Authority receives huge amounts of money from western taxpayers. It seems that this will continue even though Fatah reconciled with Hamas last week. Yesterday the World Bank announced it would make a further grant of $10 million even though Hamas has not renounced the use of violence against Israeli civilians.
Update (May 4, 2011): Some in Fatah are now denying they made any statement, of hold any opinion "one way or the other" on the death of Bin Laden, though others are standing by their statement condemning his death.
Update: May 3, 2011
JERUSALEM ARABS HONOR BIN LADEN
Reuters reports that dozens of Arab residents in east Jerusalem's Silwan neighborhood held a rally in support of Bin Laden yesterday evening.
Some of the participants at the site hurled stones at Israel police forces deployed in the area.
***
An imam from the Al-Aqsa Mosque in Jerusalem also condemned the killing of in Laden and vowed to take revenge over "the western dogs" who supported it.
Update: May 3, 2011
CONSPIRACY THEORIES FLOOD INTERNET
Less than 24 hours after President Barack Obama announced that the al-Qaeda leader had been killed by U.S. Special Forces in Pakistan, the internet is awash with conspiracy theories regarding his killing.
Facebook already has several groups with titles such as "Osama bin Laden NOT DEAD".
My favorite conspiracy theory is the one which apparently started in France, and says that there is a striking resemblance between the Abbottabad compound used by Bin Laden and the map of none other than the State of Israel.
Furthermore, conspiracy theorists are pointing out that the position of the house within the compound where Bin Laden was located and killed, is located exactly where Jerusalem is found on a map of Israel. Coincidence?
Update: May 3, 2011
U.N. RIGHTS BOSS ASKS U.S. FOR FACTS ON BIN LADEN KILLING
The United Nations' top human rights official has called on the United States to give the U.N. details about Osama bin Laden's killing and said that all counter-terrorism operations must respect international law.
But Navi Pillay, the U.N. High Commissioner for Human Rights (pictured below), went on to call Bin Laden a "very dangerous man" who had claimed "command responsibility for the most appalling acts of terrorism."
Of course, when Israel has killed terrorists who (proportionately) have killed even more Israeli civilians than Bin Laden killed American civilians, Navi Pillay and the U.N. called that a "war crime".
JIHADIS IN DISARRAY
The jihadi blogosphere is in disarray. This collection of reactions makes for some interesting reading:
http://jihadology.net/2011/05/01/usamah-bin-laden-is-dead-forum-reactions/#comment-1493
AL-AZHAR SAYS SEA BURIAL OF OSAMA BIN LADEN A "SIN"
The most influential Islamic institution among Sunni Muslims has condemned the sea burial of Osama bin Laden. President Barack Obama's spokesperson took great care to say that Bin Laden would receive a proper Islamic burial, but since he wanted to bury the body quickly (in accordance with Islamic law) and couldn't find a country that would take the body (and probably also didn't want to create a place of pilgrimage), Obama buried him at sea. He was trying to show the Islamic world that the U.S. is not at war with Islam, but ended up enraging many Muslims anyway.
"Bin Laden: Al Azhar, Sea Burial Is A Sin"
(ANSAmed) - CAIRO, MAY 2 - The body of Osama bin Laden must be buried in the ground, and throwing it into the sea would be a 'sin', said Mahmoud Ashour of the Al Azhar Academy of Islamic Research, the most prestigious Sunni educational institute, while speaking to ANSA.
The Al Azhar official rejected the idea of sea burial of the Al Qaida leader for "trivial motives", explaining that even when someone drowns, the body must be searched for in order to be able to "bury it in the ground". "They should bury it in the ground without putting anything on the grave," explained Ashour, responding to a question about whether Osama bin Laden's burial could become a sort of pilgrimage site.
THE MIRACLES OF MODERN TECHNOLOGY
Obama and his senior officials watch the raid in real time from the White House situation room
EGYPT'S AL-ZAWAHRI, BIN LADEN'S DEPUTY, LIKELY NEXT LEADER OF AL-QAEDA
With Bin Laden dead, Ayman al-Zawahri has become the leading candidate for the world's top terror job. Al-Zawahri has often demonstrated his extremist views and his readiness to use violence.
In 2001 he set down the long-term strategy for the jihadi movement – to inflict "as many casualties as possible" on the Americans, while trying to establish control in a nation as a base "to launch the battle to restore the holy caliphate" of Islamic rule across the Muslim world.
Unlike Bin Laden who found his Jihadist calling as an adult, al-Zawahri's activism began when he was in his mid-teens, establishing his first secret cell of high school students to oppose the Egyptian government of then President Anwar Sadat he viewed as infidel for not following the rule of God.
After al-Zawahri trained as a doctor he travelled to Afghanistan to treat Islamic fighters battling Soviet forces. It was then that he first met Bin Laden.
Another potential Bin Laden replacement is Abu Yayha al-Libi, from Libya. More on him here: http://en.wikipedia.org/wiki/Abu_Yahya_al-Libi.
Update: May 4, 2011
PHEW! HE FINALLY BOUGHT A RAZOR...
Teacher Gary Weddle's vow not to shave has finally ended.
Weddle, 50, who teaches science at a middle school in Ephrata, Washington, had vowed not to shave until Bin Laden was caught or killed. He had managed to grow a grizzled beard that reached his chest.
Before, and after. Short back and sides

"When I made the vow after 9/11, I thought it would only be a matter of months," he said. "So I am ecstatic that I was now able to cut it off."
"He looks 10 years younger now," his wife told the Associated Press. "It's a very happy moment for us. It's a very happy moment for the whole nation."
No more press conferences
There is a further dispatch on the death of Bin Laden here.
(You can comment on this dispatch here: www.facebook.com/TomGrossMedia. You first have to press "Like" on that page.)
They couldn't even muster a press statement (& The Syria Lobby)
May 01, 2011
* We are going to "lead from behind," explained the Obama adviser, because "the U.S. is reviled in many parts of the world."
* "But who truly reviles America the hegemon? The world that Obama lived in and shaped him intellectually: the elite universities; his Hyde Park milieu (including his not-to-be-mentioned friends, William Ayers and Bernardine Dohrn); the church he attended for two decades, ringing with sermons more virulently anti-American than anything heard in today's full-throated uprising of the Arab Street.
"It is the liberal elites who revile the American colossus and devoutly wish to see it cut down to size. Leading from behind – diminishing America's global standing and assertiveness – is a reaction to their view of America, not the world's."
* Video below: President Obama's lighter side, at the expense of Donald Trump
* Named below: Some of the Assad family thugs working with Bashar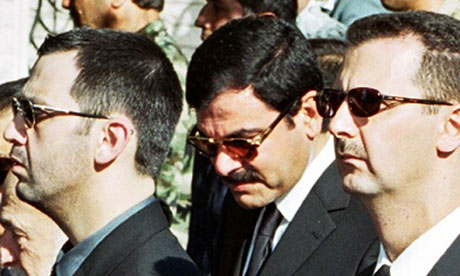 Bashar al-Assad (right) with his brother Maher (left) and brother-in-law Major General Assef Shawkat (center)
(You can comment on this dispatch here: www.facebook.com/TomGrossMedia. You first have to press "like" on that page.)
CONTENTS
1. They couldn't even muster a press statement
2. Video: President Obama's lighter side, at the expense of Donald Trump
3. Obama's serial indecision" (By Michael Gerson, Washington Post, April 26, 2001)
4. "The Obama doctrine" (By Charles Krauthammer, Washington Post, April 29, 2011)
5. "The Syria Lobby: Why Washington keeps giving a pass to the Assad regime" (WSJ)
6. "Six Syrians who help Assad keep an iron grip" (By Ian Black, The Guardian, April 28, 2011)
7. "Why are Palestinians killing people who support them?" (By Khaled Abu Toameh)
8. Why not just move the UN Human Rights Council to Syria? (By Claudia Rosett)
THEY COULDN'T EVEN MUSTER A PRESS STATEMENT
By Tom Gross
I attach six articles below. (The authors of four of these are subscribers to this email list.)
First, a few introductory points of my own:
It would probably be much easier for the West to pressure the regimes in Bahrain and Syria now, were a different government in place in Teheran. Once again, we are seeing what a huge mistake it was for the Obama administration to have failed to swiftly support the pro-democracy campaigners in Iran following the rigged election of 2009, giving the regime there valuable time to regain control and institute a crackdown that continues to this day.
The Obama administration official quoted by The New Yorker last week saying the president's strategy was to "lead from behind," also said "We were still trying to engage the Iranian government and we did not want to do anything that made us side with the protesters."
Now in Syria, President Assad, the man who Hillary Clinton, Nancy Pelosi, and John Kerry as well as European leaders all deluded themselves into thinking was a reformer, is using tanks to fire on unarmed Syrian civilians. Among those shot dead there on Friday were at least 16 people (including women and children) carrying olive branches. And Bashar Assad has ordered Syrian soldiers who refuse to fire on civilians to be shot, according to Al-Jazeera and the BBC. (Several have already been summarily executed for refusing to obey orders.)
Compare Obama's lame reaction against Assad with Egypt. Assad, in case anyone needs reminding, is an enemy of the U.S., and has a human rights record far worse than Egypt's. It took just six days of protests for Obama to urge former Egyptian leader and longtime U.S. ally Hosni Mubarak to begin a transition from power "now." But almost two months after he began slaughtering his own people, there has been no such call by Obama on Assad to go.
Even The New York Times has finally realized that the West's cozying up to Assad will do no good. In a lead editorial last Thursday, the Times wrote: "Even after the violence began, Mr. Obama and his aides kept quietly nudging in hopes that Mr. Assad would make the right choice. In retrospect, that looks naïve." (It is only "in restropect" to The New York Times, of course.)
And while the Syrian army again used ground troops backed by helicopter gunships, tanks and snipers to attack the Omari mosque in the city of Dara'a on Saturday, the UN Security Council hasn't even been able to muster a press statement condemning the regime.
Israeli Foreign Minister Avigdor Lieberman, stepping into the fray, said at a press conference on Friday that "the inability of the international community to make a declarative decision in the UN Security Council to condemn Syria for the violence and murder of innocent people by the Assad regime against its own citizens, raises the question about how much Israel should rely on the international community and that their considerations regarding the Israel-Palestinian conflict are honest and balanced."
-- Tom Gross
Among past recent dispatches on Syria, please see:
* Carrying out acts of terror is nothing new for the Assad family
* Syria's Assad is worse than Gaddafi in many ways
OBAMA HAS A LAUGH AT DONALD TRUMP'S EXPENSE
And before reading the serious critique of Obama's dramatic foreign policy failings below, here for you amusement, is President Obama showing his lighter side, telling jokes at the expense of real estate mogul Donald Trump on Saturday night, mocking his possible presidential ambitions in remarks at the annual White House Correspondents' Association dinner.
ARTICLES
"APART FROM MORAL CONSIDERATIONS, WOULDN'T THE COLDEST PRAGMATIST SEE BENEFIT IN THE OVERTHROW OF IRAN'S MAIN ALLY IN THE MIDDLE EAST?"
Obama's serial indecision on the Middle East
By Michael Gerson
The Washington Post
April 26, 2001
An administration that lacks a consistent foreign policy philosophy has nevertheless established a predictable foreign policy pattern. A popular revolt takes place in country X. President Obama is caught by surprise and says little. A few days later an administration spokesman weakly calls for "reform." A few more days of mounting protests and violence follow. Then, after an internal debate that spills out into the media, the president decides he must do something. But hoping to keep expectations low, his actions are limited in scope. By this point, a strategic opportunity is missed and the protesters in country X feel betrayed.
This record of serial indecision has damaged American interests. The Obama administration initially stood aloof from the Iranian Green Revolution, even though democratic regime change may be the only realistic alternative to American confrontation with the Tehran regime over its nuclear ambitions. In Libya, Obama waited until Benghazi was in the shadow of genocide before an incremental response. Obama has deployed American credibility in Libya – eventually supporting regime change – while pursuing policies that seem designed to result in stalemate. In Syria, the administration calls for "meaningful reforms" while Damascus employs mass violence against mass protests. Apart from moral considerations, wouldn't the coldest pragmatist see benefit in the overthrow of Iran's main ally in the Middle East?
It is no longer credible to blame these failures on inexperience – an argument that years of experience tends to undermine. A novice can learn from his mistakes. Obama apparently doesn't view these outcomes as mistaken. So what explains his positive preference for ambivalence?
First, there is the political context of Obama's 2008 election campaign. Since George W. Bush embraced democracy promotion, Obama would devalue it. Since Bush called out enemies, Obama would cultivate them. But the return to nuance turned out to be remarkably superficial. Did Bush's decisiveness really discredit the idea of decisiveness itself? Events in the Middle East have forced the Obama administration to gradually abandon its philosophy of Bush negation, but the vestiges of that view have slowed an effective response at every stage.
A second explanation concerns Obama's leadership style. He still acts the part of a college professor who has unlimited time to sift and debate his options, as though extended deliberation were a virtue and indecision had no cost. But changes in the Middle East are demonstrating how difficult it is to conduct a seminar during a hurricane. Hesitance precludes options.
Third, the administration's national security team does little to challenge Obama's predisposition toward vacillation. Vice President Biden is, to put it kindly, a quirky foreign policy thinker with a history of getting large strategic issues wrong. Defense Secretary Robert Gates is focused on the war in Afghanistan, making him naturally resistant to American involvement elsewhere. Hillary Clinton has shown flashes of resolve, but the daily task of any secretary of state is to manage the status quo.
Finally, on foreign policy issues Obama seems to have drunk deeply at the well of academic liberalism. In the immediate aftermath of the Green Revolution in 2009, he said, "It's not productive given the history of U.S.-Iranian relations to be seen as meddling, the U.S. president meddling in Iranian elections." Obama was arguing that American support would somehow stain or delegitimize Iranian democratic aspirations – even as protesters were appealing for our help. This sounds more like the buzz of the faculty lounge than the leadership of an American president charged with defending and advancing history's noblest ideals.
Some mix of these factors has combined to render the Obama administration blind to the promise of our times. Ending tyranny in the traditional centers of Arab cultural influence – Baghdad, Cairo and Damascus – would be a transformation akin to the fall of the Berlin Wall. It would demonstrate the exhaustion of authoritarianism in the Arab world and open the possibility of more successful, hopeful societies in the region. This transformation involves considerable risks. But those risks are magnified by an administration that refuses to take risks – that is willing to speak or act only when it becomes obvious that silence and inertia will bring disaster.
Now the Arab revolt has led to a predictable counterreaction – the attempt by regimes such as Libya and Syria to prove the efficacy of brutality. Their success would undermine American interests for decades. Presidential administrations don't get to choose their historical challenges. But they can firmly take a side.
THE OBAMA DOCTRINE
The Obama doctrine: Leading from behind
By Charles Krauthammer
The Washington Post
April 29, 2011
Obama may be moving toward something resembling a doctrine. One of his advisers described the president's actions in Libya as "leading from behind."
– Ryan Lizza, the New Yorker, May 2 issue
To be precise, leading from behind is a style, not a doctrine. Doctrines involve ideas, but since there are no discernible ones that make sense of Obama foreign policy – Lizza's painstaking two-year chronicle shows it to be as ad hoc, erratic and confused as it appears – this will have to do.
And it surely is an accurate description, from President Obama's shocking passivity during Iran's 2009 Green Revolution to his dithering on Libya, acting at the very last moment, then handing off to a bickering coalition, yielding the current bloody stalemate. It's been a foreign policy of hesitation, delay and indecision, marked by plaintive appeals to the (fictional) "international community" to do what only America can.
But underlying that style, assures this Obama adviser, there really are ideas. Indeed, "two unspoken beliefs," explains Lizza. "That the relative power of the U.S. is declining, as rivals like China rise, and that the U.S. is reviled in many parts of the world."
Amazing. This is why Obama is deliberately diminishing American presence, standing and leadership in the world?
Take proposition one: We must "lead from behind" because U.S. relative power is declining. Even if you accept the premise, it's a complete non sequitur. What does China's rising GDP have to do with American buck-passing on Libya, misjudging Iran, appeasing Syria?
True, China is rising. But first, it is the only power of any significance rising militarily relative to us. Russia is recovering from levels of military strength so low that it barely registers globally. And European power is in true decline (see Europe's performance – excepting the British – in Afghanistan and its current misadventures in Libya).
And second, the challenge of a rising Chinese military is still exclusively regional. It would affect a war over Taiwan. It has zero effect on anything significantly beyond China's coast. China has no blue-water navy. It has no foreign bases. It cannot project power globally. It might in the future – but by what logic should that paralyze us today?
Proposition two: We must lead from behind because we are reviled. Pray tell, when were we not? During Vietnam? Or earlier, under Eisenhower? When his vice president was sent on a goodwill trip to Latin America, he was spat upon and so threatened by the crowds that he had to cut short his trip. Or maybe later, under the blessed Reagan? The Reagan years were marked by vast demonstrations in the capitals of our closest allies denouncing America as a warmongering menace taking the world into nuclear winter.
"Obama came of age politically," explains Lizza, "during the post-Cold War era, a time when America's unmatched power created widespread resentment." But the world did not begin with the coming to consciousness of Barack Obama. Cold War resentments ran just as deep.
It is the fate of any assertive superpower to be envied, denounced and blamed for everything under the sun. Nothing has changed. Moreover, for a country so deeply reviled, why during the massive unrest in Tunisia, Egypt, Bahrain, Yemen, Jordan and Syria have anti-American demonstrations been such a rarity?
Who truly reviles America the hegemon? The world that Obama lived in and shaped him intellectually: the elite universities; his Hyde Park milieu (including his not-to-be-mentioned friends, William Ayers and Bernardine Dohrn); the church he attended for two decades, ringing with sermons more virulently anti-American than anything heard in today's full-throated uprising of the Arab Street.
It is the liberal elites who revile the American colossus and devoutly wish to see it cut down to size. Leading from behind – diminishing America's global standing and assertiveness – is a reaction to their view of America, not the world's.
Other presidents have taken anti-Americanism as a given, rather than evidence of American malignancy, believing – as do most Americans – in the rightness of our cause and the nobility of our intentions. Obama thinks anti-Americanism is a verdict on America's fitness for leadership. I would suggest that "leading from behind" is a verdict on Obama's fitness for leadership.
Leading from behind is not leading. It is abdicating. It is also an oxymoron. Yet a sympathetic journalist, channeling an Obama adviser, elevates it to a doctrine. The president is no doubt flattered. The rest of us are merely stunned.
THE SYRIA LOBBY
The Syria Lobby
Why Washington keeps giving a pass to the Assad regime.
Editorial
The Wall Street Journal
April 27, 2011
How does a small, energy-poor and serially misbehaving Middle Eastern regime always seem to get a Beltway pass? Conspiracy nuts and other tenured faculty would have us believe that country is Israel, though the Jewish state shares America's enemies and our democratic values. But the question really applies to Syria, where the Assad regime is now showing its true nature.
Washington's Syria Lobby is a bipartisan mindset. "The road to Damascus is a road to peace," said Nancy Pelosi on a 2007 visit to Syria as House Speaker. Former Secretary of State James Baker is a longtime advocate of engagement with the House of Assad. So is Republican Chuck Hagel, who in 2008 co-wrote an op-ed with fellow Senator John Kerry in these pages titled "It's Time to Talk to Syria." The Massachusetts Democrat has visited Damascus five times in the past two years alone.
Yesterday, the New York Times quoted a senior Administration official saying the U.S. was reluctant to criticize the Syrian President because he "sees himself as a Westernized leader" and that "he'll react if he believes he is being lumped in with brutal dictators." This was meant as a defense of U.S. policy.
The argument made by the Syria Lobby runs briefly as follows: The Assad family is occasionally ruthless, especially when its survival is at stake, but it's also secular and pragmatic. Though the regime is Iran's closest ally in the Middle East, hosts terrorists in Damascus, champions Hezbollah in Lebanon and has funneled al Qaeda terrorists into Iraq, it will forgo those connections for the right price. Above all, it yearns for better treatment from Washington and the return of the Golan Heights, the strategic plateau held by Israel since 1967.
The Syria Lobby also claims that whoever succeeds Assad would probably be worse. The country is divided by sect and ethnicity, and the fall of the House of Assad could lead to bloodletting previously seen in Lebanon or Iraq. Some members of the Lobby go so far as to say that the regime remains broadly popular. "I think that President Assad is going to count on . . . majoritarian support within the country to support him in doing what he needs to do to restore order," Flynt Leverett of the New America Foundation said recently on PBS's NewsHour.
Now we are seeing what Mr. Leverett puts down merely to the business of "doing what he needs to do": Video clips on YouTube of tanks rolling into Syrian cities and unarmed demonstrators being gunned down in the streets; reports of hundreds killed and widespread "disappearances." Even the Obama Administration has belatedly criticized Assad, though so far President Obama has done no more than condemn his "outrageous human rights abuses."
Maybe this is all part of the Administration's strategic concept of "leading from behind," which is how one official sums up its foreign policy in this week's New Yorker. But the deeper problem is a flawed analysis of the Syrian regime's beliefs, intentions and capacity for change. Run by an Alawite minority, the regime was never going to break with its Shiite benefactors in Tehran and join the Arab Sunni orbit. A regime that builds its domestic legitimacy on hostility to Israel is also unlikely ever to make peace, even if it recovered the Golan.
So it shouldn't surprise that Damascus has only stepped up its anti-American rhetoric since President Obama came to office offering engagement (and lately returning a U.S. ambassador to Damascus after a six-year hiatus), or that its ties to Tehran have only grown closer (as Amir Taheri describes nearby), or that it continues to meddle in Lebanon, which it sees as a part of "Greater Syria." What is surprising is that for so long the U.S. has refused to stare these facts in the face.
Though the Administration complains of lacking leverage with the regime, it could recall our ambassador and expel Syria's emissary from Washington. As the Foundation for Defense of Democracies suggests, the U.S. and Europe could also freeze and seize the assets of the Assads, designate Syria's elite units responsible for human rights abuses as Specially Designated Global Terrorist entities, impose sanctions on companies providing the regime's tools of repression, and provide the Syrian opposition with encrypted communications technology to dodge the regime's surveillance. All this would damage the regime while signaling the opposition not to lose courage.
The Obama Administration's single biggest strategic failure during this Arab spring has been not distinguishing between enemies and friends. Syria's House of Assad is an enemy. The sooner the Administration abandons the counsels of the Syria Lobby, the likelier it will be that Syria becomes a country worth lobbying for.
THE ASSAD FAMILY MAFIA
Six Syrians who helped Bashar al-Assad keep iron grip after father's death
The core of the Syrian regime seems solid, with closeness to Assad's family more important than formal responsibilities
By Ian Black
Middle East editor
The Guardian
April 28, 2011
Bashar al-Assad came to power amid high hopes for reform after three decades of his father Hafez's iron rule. But 11 years on he seems determined to crush the unrest sweeping across Syria. And there is no sign that he is taking a softer line than the coterie of relatives and security chiefs who advise him at the heart of the regime's inner circle in Damascus.
Syrian and western analysts, diplomats and academics say the president is bent on using force to preserve his regime – and ready to ignore international pressure.
Political gestures, they argue, have come too late, and have been overtaken by the worst repression since his father crushed an Islamist uprising in 1982.
"Assad has decided to shut this down," said one western diplomat. "The regime is playing survival tactics. It's a security-led approach, first, second and third.
"There is a widespread perception that the president has stronger reforming instincts than the people around him," said another veteran Syria-watcher. "Some may be more hardline than others, but this is one regime and it will be judged by what it does collectively."
Syrian opposition figures describe Assad as having taken "a strategic decision" to intensify the crackdown, possibly after secret consultations in late March.
Defections from the lower levels of the ruling Ba'ath party in the southern city of Deraa do not seem a significant loss, though they could have a snowball effect. Overall the Ba'ath party has become less important under Bashar's rule than it was during the Hafez era.
Assad's recent cabinet reshuffle did little to convince critics of his readiness for real change as government ministers are far less important than security chiefs, who make the key decisions. Closeness to the Assad family remains far more important than a job title or formal responsibilities.
The core of the regime seems solid and close-knit. Assad's chief advisers are almost all members of the president's minority Alawite sect (which makes up just 12% of Syria's 22m people) and several are related to him. Unlike in Libya, no senior Syrian figures have joined the opposition, which has no territorial base. Hence the onslaught on Deraa, which seems designed to prevent the southern town from becoming one. Here's a look at some of the key figures in the inner circle.
MAHER AL-ASSAD
Bashar's younger brother, commander of the elite Republican Guard and the army's powerful 4th mechanised division, which has been involved in suppressing unrest in Deraa. Maher is Hafez's youngest son and helped persuade Bashar to end the short-lived period of liberalisation dubbed the "Damascus spring" shortly after he became president in 2000. Named by UN investigators as implicated in the 2005 assassination of former Lebanese prime minister Rafiq al-Hariri. Hated and feared.
ASSEF SHAWKAT
Married to Assad's sister and Hafez's only daughter Bushra, a significant figure in her own right. Now deputy chief-of-staff of the armed forces and former head of military intelligence. Shawkat was reportedly shot and wounded by Maher al-Assad in a row in 1999. Also named by the UN in the Hariri murder case. Under US sanctions for his role in Lebanon.
RAMI MAKHLOUF
Bashar's maternal cousin. Syria's leading businessman has built an economic empire worth billions over the past decade. Subject to US sanctions for "public corruption". Probably closest to the president in the inner circle and widely seen as symbolising nepotism and corruption. Extensive interests in oil and telecoms (owns Syriatel) as well as real estate. He also owns the country's only private newspaper – the remainder are directly controlled by the state. His brother Hafez Makhlouf is head of general intelligence – the feared Mukhabarat.
ABDEL-FATAH QUDSIYEH
Head of military intelligence. Served in the Republican Guard and as head of the powerful air force intelligence service. Led the security committee investigating the sensational 2008 assassination of the Hezbollah military commander Imad Mughniyeh in Damascus, which was hugely embarrassing for the regime and widely blamed on Israel.
MUHAMMAD NASIF KHEIRBEK
Deputy vice-president for security affairs. Seen as a close Assad confidante and a survivor from the Hafez era. Subject to bilateral US sanctions over his role in Lebanon. Assad's key political link to Iran – a vital foreign alliance. His son also occupies a senior post in internal security.
Ali Mamlouk Special adviser on security to Assad and a former Mukhabarat chief who is close to other intelligence agencies. Features in leaked US cables released by WikiLeaks boasting of Syria's prowess in penetrating terrorist organisations.
Other influential figures round Assad include the vice-president, Farouk al-Sharaa; Ali Habib Mahmoud, the minister of defence and army commander; and General Hisham Ikhtiar, director of the Ba'ath party's National Security Bureau. Assad's adviser Bouthaina Shaaban, a British-educated academic, is credited with improving the president's media image, but her promises of significant reforms early on in the crisis have rung hollow since the violence escalated.
Syrian opposition sources have been playing up claims of desertions from the armed forces as well as unconfirmed reports that regular army soldiers refused to fire on protesters in Deraa and clashed with the Fourth Mechanised Division. But the scale of such incidents remains unclear.
Experts generally agree that the army and security forces remain loyal. "We haven't seen the kind of splintering between the political leadership and the military that we saw in Tunisia and Egypt," said Mohammad Bazzi of the Council for Foreign Relations. "Syria is a different case because the military establishment, the leadership of the military and the security forces is largely Alawite … the sect that Assad comes from. And they're beholden to him and … see their survival as intertwined with Assad's."
Eyal Zisser, Israel's leading expert on Syria, and Assad's biographer, concurs. "In Syria, unlike Egypt, the regime continues to enjoy the unconditional support of the army and security forces," he wrote in a recent report. "Indeed, the leaders of the Syrian army … know that unlike Egypt, where the defence minister took the reins of government from Mubarak and became the favourite son of Tahrir Square, in Syria the protesters also want the heads of the top brass of the army and security forces, so that if Bashar falls, they fall too."
Senior Syrians are clearly worried but still insist the situation can be contained. "We will have a few months of difficult times, but I don't think it will go further," one official predicted privately. "It will be a period of unrest and not an overthrow of the regime. That is highly improbable."
WHY ARE PALESTINIANS KILLING PEOPLE WHO SUPPORT THEM?
Why are Palestinians killing people who support them?
By Khaled Abu Toameh (a leading Palestinian journalist)
Hudson NY
April 26, 2011
In April, two "pro-Palestinian" activists were murdered by Palestinians – one in the West Bank and the other in the Gaza Strip.
The fact that the two were staunch supporters of the Palestinian cause and were known for their deep hatred of Israel was not enough to save their lives.
In the eyes of their murderers, the two "pro-Palestinian" activists were "infidels" who sought to spread corrupt Western values.
While it is true that that the two slain activists had helped the Palestinians – each in his own way – they also contributed to radicalization through their fierce anti-Israel rhetoric. Nevertheless, in the end, the two were murdered by the same radicals they had helped and assisted for years. That is because these radicals do not see a difference between one "infidel" and another. Those who promote hatred against Jews also call for the death of Christians, Hindus, Buddhists and others.
Even more serious, one of them, Israeli Arab actor and film director Juliano Mer-Khamis, had been born to a Jewish mother. This alone was perhaps a good enough a reason to fire seven bullets at Mer-Khamis as he walked out of the Freedom Theater, which he had helped to establish in the West Bank's Jenin refugee camp.
Mer-Khamis was so devoted to helping Palestinians that he moved to live in the refugee camp a few years ago, where he built the theater and trained young Palestinian men and women as actors.
He also played a key role in incitement against Israel, radicalizing young Palestinians even more.
Despite his actions and rhetoric, however, Mer-Khamis received death threats, and his theater was firebombed before he was assassinated on April 4. Mer-Khamis was not accepted by some Palestinians because he was an Israeli citizen born to a Jewish mother and an Arab Christian father. His fierce support for the Palestinians even raised suspicions that he could be a Mossad agent who had been planted in the camp.
Italian activist Vittorio Arrigoni, who was abducted and murdered in the Gaza Strip three weeks later, was said to have been "more Palestinian than many Palestinians." He was even known as a Hamas supporter who hated Israel more than many Palestinians do.
But in the end he was brutally murdered because, in the eyes of the assassins, he was an "infidel" seeking to spread moral corruption.
Both Mer-Khamis and Arrigoni were murdered because of what they stood for – not because of what he did or did not do for the Palestinians.
In wake of the murders, "pro-Palestinian" folks would do well to weigh their words: it is fine to support the Palestinians, but why does that always have to be accompanied by strong incitement against Israel? It will not buy you a pass.
WHY NOT JUST MOVE THE UN HUMAN RIGHTS COUNCIL TO SYRIA?
Why not just move the UN Human Rights Council to Syria?
By Claudia Rosett
Pajamas Media
April 27, 2011
With the Assad regime murdering hundreds of protesters, it's patently grotesque that Syria might get a seat on the United Nations Human Rights Council. And yet, when the General Assembly votes on May 20th on candidates for the Human Rights Council. It looks like Syria will be a shoe-in.
How can that be? At the UN, process trumps human rights, and despots are too often adept at playing that fundamental flaw like a fiddle. Syria's regime is no exception. Seats on the 47 member Human Rights Council are doled out mainly on the basis of geography, rather than decency. Various geographic groups enjoy specific allocations of seats, and nominate members to rotate through as the seats come open. This year, four of the 13 seats apportioned to the Asian group are up for grabs, and the Asian group has nominated exactly four candidates to fill them – India, Indonesia, the Philippines and Syria. With four candidates for four seats, all Syria needs is a simple majority of 97 votes in the 192-member General Assembly. Are there that many members of the General Assembly willing to vote aye in this Orwellian exercise? Quite likely. When Libya ran for a seat in 2010 (from which it was only recently suspended), it got 155 votes. In 2009. Saudi Arabia got 154 votes, Cuba got 163, and China got the same number as the U.S. – 167.
United Nations Secretary-General Ban Ki-Moon – loquacious in such matters as his defense of terrorist-run Gaza, or his desire to see democracies in dialogue with North Korean tyrant Kim Jong Il – has declined to opine on Syria's bid for the Human Rights Council. Ban's spokesman told Fox News [1] that this is not Ban's bailiwick, but a matter to be left to UN member states. The U.S. State Department opposes Syria's bid, but does not yet seem to have any clear strategy for blocking Syria, and evidently has not yet managed to persuade a fifth and preferably benign member of the Asian group to enter the running – which would dim Syria's chances by introducing at least some real competition.
So, what to do? Even before Syria's bid for a seat, this same Human Rights Council was already busy grossly discrediting itself. Back in 2003, its precursor, the Human Rights Commission, became an emblem of UN farce by electing Libya as its chair. The Commission was "reformed" in 2006, into the current Human Rights Council – which the Bush administration refused to join, on grounds that its structure was skewed toward capture by the usual gang of despots. President Barack Obama over-rode that policy, and in 2009 the U.S. joined the Council, arguing that it would be easier to work for change from within. That did nothing to stop the Council from indulging in such bigotries as the Goldstone Report [2]; or its continuing engagement with 9/11 conspiracy theorist Richard Falk, its special rapporteur [3] on human rights for the Palestinian territories; or Libya's Najat Al-Hajjaji [4], whose chairwomanship of the old Human Rights Commission in 2003 did so much to discredit that precursor of the current Council. Russia, China, Cuba and Cameroon are all active current members of the Council. Now, here comes Syria.
If the U.S. won't walk out, then maybe the next best solution would be not just to go with the flow, but strive to accelerate the Council's natural trajectory. Grease the skids so the Council can complete its descent into the moral abyss. Why not try moving the Council itself? There's no reason such members as anti-colonialist Cuba or church-averse Saudi Arabia should have to put up with the alien values implied by housing the Council, with its lavish meeting chamber, in stolidly European, church-filled Geneva. Nor is is fair that delegations of the world's despotisms should be tempted to bank their savings chiefly in Switzerland. Give others a turn. Syria wants a seat? Give Assad the entire table. Move the Council to Syria.
Though, in the interest of the geographic fairness that so concerns the UN, it would be wrong to stop there. If the UN deems Syria worthy of a seat, it would be rank bias to wall out the likes of Myanmar and North Korea. Invite them to join, too. Nor should Asians have all the perks. Give Zimbabwe's Robert Mugabe his due. If the UN deems it fitting to allocate rotating seats on the basis of geography, then why not rotate the location of the Council itself? Send it to places where it could fit right in. Base it one year in Damascus, the next year in Pyongyang, then move it along to Rangoon, Harare, Khartoum and Tehran. One of two things would happen, each useful in its way. Either the democracies of the world would finally write off the Council as the fiasco it is. Or in one of these places – Syria does come to mind – oppressed people, demanding genuine human rights, might seize the chance to break in, take over the proceedings, and give truth to the longstanding lie that this Council has any serious affiliation with human rights.
URLs in the above article post:
[1] www.foxnews.com/world/2011/04/26/human-rights-abuser-syria-set-join-uns-human-rights-council/#ixzz1KhBxxFiB
[2]www.unwatch.org/site/c.bdKKISNqEmG/b.5434977/k.DE22/UN_Fact_Finding_Mission_on_the_Gaza_Conflict_Goldstone_Inquiry.htm
[3] www.unwatch.org/site/c.bdKKISNqEmG/b.1289203/apps/s/content.asp?ct=9213725
[4] www.unwatch.org/site/apps/nlnet/content2.aspx?c=bdKKISNqEmG&b=1316871&ct=9213727